Transgender USAF veteran trapped in Taliban takeover of Kabul
Josie Thomas remains in Afghanistan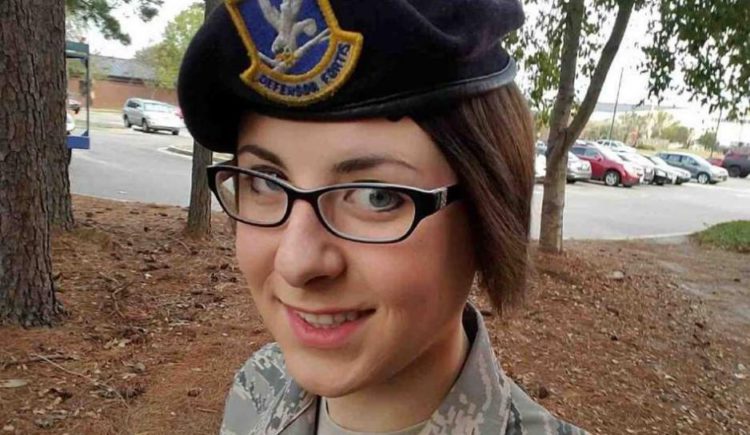 As the government of Afghan President Ashraf Ghani collapsed and he has now fled the country, chaos has descended on the Afghan capital city. Late reports Sunday indicated Afghan security forces had abandoned their posts which were quickly taken over by the Taliban insurgents.
Among the Americans now trapped in the suburban areas of Kabul under Taliban control is Josie Thomas, 32, a Transgender government contractor for the U.S. State Department and former U.S. Air Force Sergeant. Thomas along with several others are trapped at the diplomatic support facility known as Camp Alvarado located on the outskirts of the capital city's airport.
Thomas, in a series of text messages provided to the Blade on background by a colleague of hers, relayed that she and others were aware of the immediate presence of the Taliban insurgents, which was communicated at the time Afghan security forces had abandoned their posts. The texts also expressed frustration at the lack of communication regarding the lack of a presence of U.S. military forces to assist.
Thomas has been communicating with colleagues and friends in the United States in real time as the situation unfolds.
UPDATED at 3:30PM Pacific Time Sunday August 15 (U.S.) One of her colleagues communicating with Thomas received a text from her stating that elements of the United States Army's 82nd Airborne Division had arrived at the Camp Alvarado diplomatic support facility;
"Just talked to her again for several minutes. The 82nd has taken control of her compound and there's a clear route from there to the flight line now. That the place is looking like a refugee camp with the amount of displaced coalition personnel and there's no aircraft coming in to evacuate people yet."
The United States Embassy in Kabul issued a warning to remaining Americans to not head to Kabul's international airport after reports indicated that the facility was taking fire from Taliban fighters.
"The security situation in Kabul is changing quickly including at the airport," the embassy said in a statement. "There are reports of the airport taking fire; therefore we are instructing U.S. citizens to shelter in place."
The New York Times and major wire services reported that at 6:30 p.m. local time, the Taliban issued a statement that their forces were moving into police districts in order to maintain security in areas that had been abandoned by the government security forces. Taliban fighters, meeting no resistance, took up positions in parts of the city, after Zabiullah Mujahid, spokesman for the Taliban, posted the statement on Twitter.
"The Islamic Emirates ordered its forces to enter the areas of Kabul city from which the enemy has left because there is risk of theft and robbery," the statement said. Mujahid added that the Taliban had been ordered not to harm civilians and not to enter individual homes adding, "Our forces are entering Kabul city with all caution."
President Joe Biden who is spending the weekend at the Presidential retreat Camp David in the Catoctin Mountains near Thurmont, Maryland, participated in a series of video conferences regarding the rapidly changing situation on the ground in Kabul.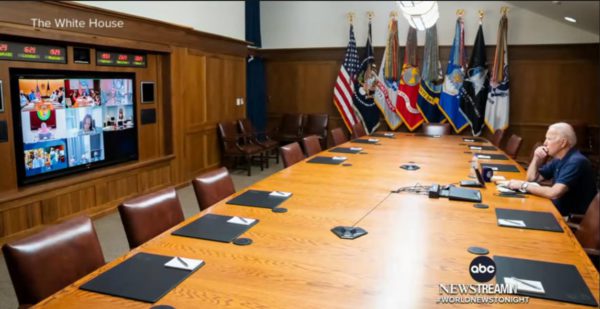 "This morning, the President and Vice President met by secure videoconference with their national security team to hear updates on the drawdown of our civilian personnel in Afghanistan, evacuations of SIV applicants and other Afghan allies, and the ongoing security situation in Kabul.
The President and Vice President met with Secretary Blinken, Secretary Austin, Chairman Milley, Director Burns, Director Haines, National Security Advisor Sullivan, Ambassador Wilson, Ambassador Khalilzad, General McKenzie, and other senior officials," a White House official said.
President Biden ordered an additional 1,000 U.S. troops for deployment to Afghanistan Saturday, raising the overall number of U.S. military personnel to 5,000 that were sent to ensure what what the President defined as an "orderly and safe drawdown" of American and allied personnel.
UPDATED AUGUST 15 Sunday evening: The Department of State and Department of Defense issued a joint statement updating the situation in Afghanistan;
At present we are completing a series of steps to secure the Hamid Karzai International Airport to enable the safe departure of U.S. and allied personnel from Afghanistan via civilian and military flights.
Over the next 48 hours, we will have expanded our security presence to nearly 6,000 troops, with a mission focused solely on facilitating these efforts and will be taking over air traffic control.
Tomorrow and over the coming days, we will be transferring out of the country thousands of American citizens who have been resident in Afghanistan, as well as locally employed staff of the U.S. mission in Kabul and their families and other particularly vulnerable Afghan nationals.
And we will accelerate the evacuation of thousands of Afghans eligible for U.S. Special Immigrant Visas, nearly 2,000 of whom have already arrived in the United States over the past two weeks.
For all categories, Afghans who have cleared security screening will continue to be transferred directly to the United States. And we will find additional locations for those yet to be screened.
RELATED: Kabul falls to Taliban
Openly gay man elected to Honduran congress
Víctor Grajeda will serve as Congresswoman-elect Silvia Ayala's substitute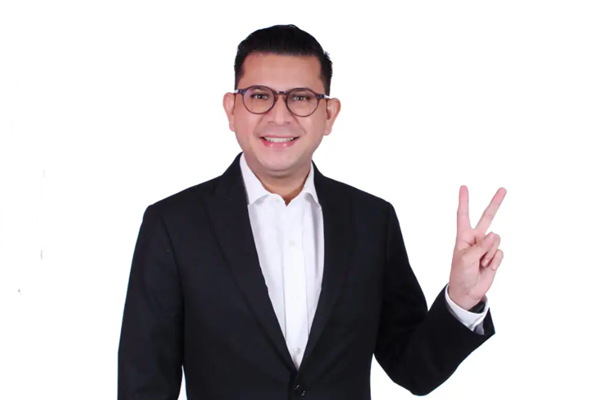 An openly gay man in Honduras made history on Sunday when he won a seat in the country's Congress.
Grajeda will serve alongside Congresswoman-elect Silvia Ayala of the leftist Free Party (Partido Libre), who represents Cortés department in which the city of San Pedro Sula is located, as her substitute.
Reportar sin Miedo, the Washington Blade's media partner in Honduras, and Agencia Presentes, reported Grajeda received more than 100,000 votes. Grajeda is one of five openly LGBTQ candidates who ran for Congress.
"I am looking to open spaces and eliminate discrimination based on sexual orientation or identity," said Grajeda.
Tegucigalpa Mayor Nasry Asfura, a member of outgoing President Juan Orlando Hernández's ruling National Party (Partido Nacional), on Tuesday conceded defeat to President-elect Xiomara Castro of the Free Party.
Castro's husband, former President Manuel Zelaya, was ousted from power in a 2009 coup.
Activists with whom the Blade has spoken say LGBTQ Hondurans continue to flee the country and migrate to the U.S. in order to escape rampant violence and discrimination and a lack of employment and educational opportunities. Castro, among other things, has publicly endorsed marriage rights for same-sex couples in Honduras.
Canadian government introduces bill to ban conversion therapy
Prime minister says discredited practice as 'discriminatory and degrading'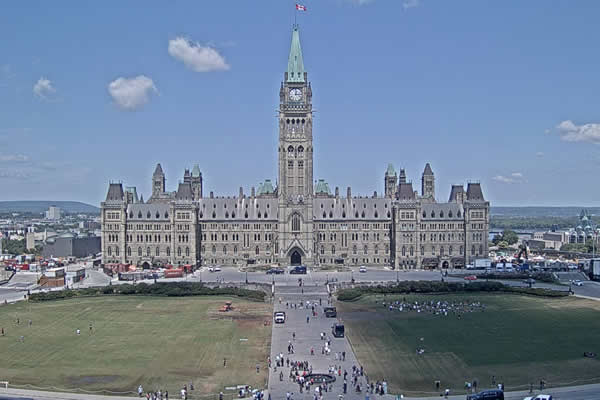 The Canadian government on Monday introduced a bill that would ban so-called conversion therapy in the country.
The bill that Attorney General David Lametti and Women and Gender Equality and Youth Minister Marci Ien introduced would amend Canada's Criminal Code to specifically ban:
Causing another person to undergo conversion therapy
Removing a minor from Canada to subject them to conversion therapy abroad
Profiting from providing conversion therapy
Advertising or promoting conversion therapy
A press release the Canadian government issued said the bill would allow courts "to order the seizure of conversion therapy advertisements or to order their removal from computer systems or the internet."
"The pain and trauma caused by conversion therapy practices continue to have a devastating impact on LGBTQ2 communities across Canada," said Ien. "Our government is focused on promoting equality rights and tackling discrimination against lesbian, gay, bisexual, transgender, queer and two-spirit people. Criminalizing this practice upholds basic human rights, while also ensuring that every Canadian is free to live their authentic lives."
Prime Minister Justin Trudeau in a tweet said conversion therapy "is discriminatory and degrading, and has had devastating impacts on LGBTQ2 Canadians."
"It has no place in our country," he said.
Conversion therapy is discriminatory and degrading, and has had devastating impacts on LGBTQ2 Canadians. It has no place in our country – and that's why, today, @DavidLametti and @MarciIen introduced legislation to ban it once and for all. More details: https://t.co/28jSblDPyR https://t.co/hLhzT1nJbD

— Justin Trudeau (@JustinTrudeau) November 30, 2021
Tourism Minister Randy Boissonnault, who previously advised Trudeau on LGBTQ issues, also applauded the bill's introduction.
"Conversion 'therapy' is akin to torture," said Boissonnault. "I encourage all of my colleagues in the House (of Commons), to support this bill that will move to criminalize conversion therapy in Canada once and for all."
I've said it before, and I will say it again. Conversion "therapy" is akin to torture. I encourage all of my colleagues in the House, to support this bill that will move to criminalize conversion therapy in Canada once and for all. 🏳️🌈 pic.twitter.com/AbCwaMf30w

— Randy Boissonnault 🏳️🌈 (@R_Boissonnault) November 29, 2021
Trudeau, who won re-election in September, has previously called for a prohibition of the widely discredited practice. The Canadian Senate earlier this year tabled a separate conversion therapy ban bill.
The House of Commons on Wednesday unanimously approved the recently introduced bill. It now goes to the Senate.
Canada would join Malta and a handful of countries that ban conversion therapy.
Hungarian lawmakers back LGBTQ rights referendum
Prime minister under fire for ongoing crackdown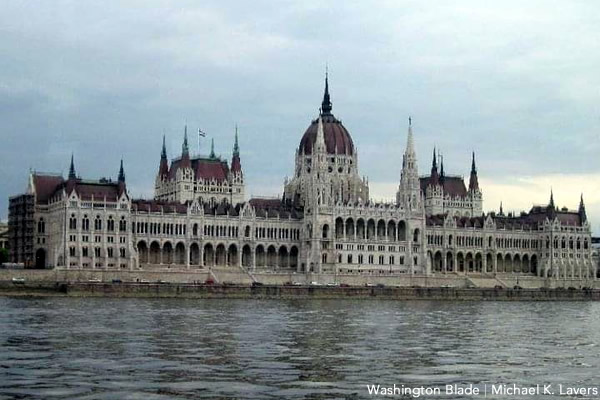 Hungarian lawmakers on Tuesday approved a resolution that paves the way for a referendum on LGBTQ issues.
Reuters noted Prime Minister Viktor Orbán, who is running for re-election in 2022, earlier this year proposed a referendum on a law that that bans the promotion of homosexuality and sex-reassignment surgery to minors in Hungary.
"The Hungarian government proposes that citizens should have a chance to express their stance on the issues of gender propaganda," Deputy Minister Balázs Orbán told Hungarian MPs, according to Reuters. "We are committed. We believe that we … have to say no to LGBTQ propaganda in schools carried out with the help of NGOs and media, without parental consent."
Orbán continues to face criticism over his government's efforts to curtail LGBTQ rights in Hungary.
Lawmakers late last year amended the country's constitution to define family as "based on marriage and the parent-child relation" with "the mother is a woman, the father a man" and effectively banned same-sex couples from adopting children. Hungarian MPs in April 2020 approved a bill that bans transgender and intersex people from legally changing their gender.
Hungary in August issued a decree that restricted the sale of children's books with LGBTQ-specific themes.
The European Commission in July announced legal action against Hungary after the law that will go before voters took effect.
Orbán in September said Brussels has withheld funds for the country's pandemic recovery plan because of his government's anti-LGBTQ policies. An EU spokesperson said LGBTQ issues did not factor into the decision to withhold the money.