Israel election results could prove disastrous for LGBTQ community
Former Prime Minister Benjamin Netanyahu poised to return to office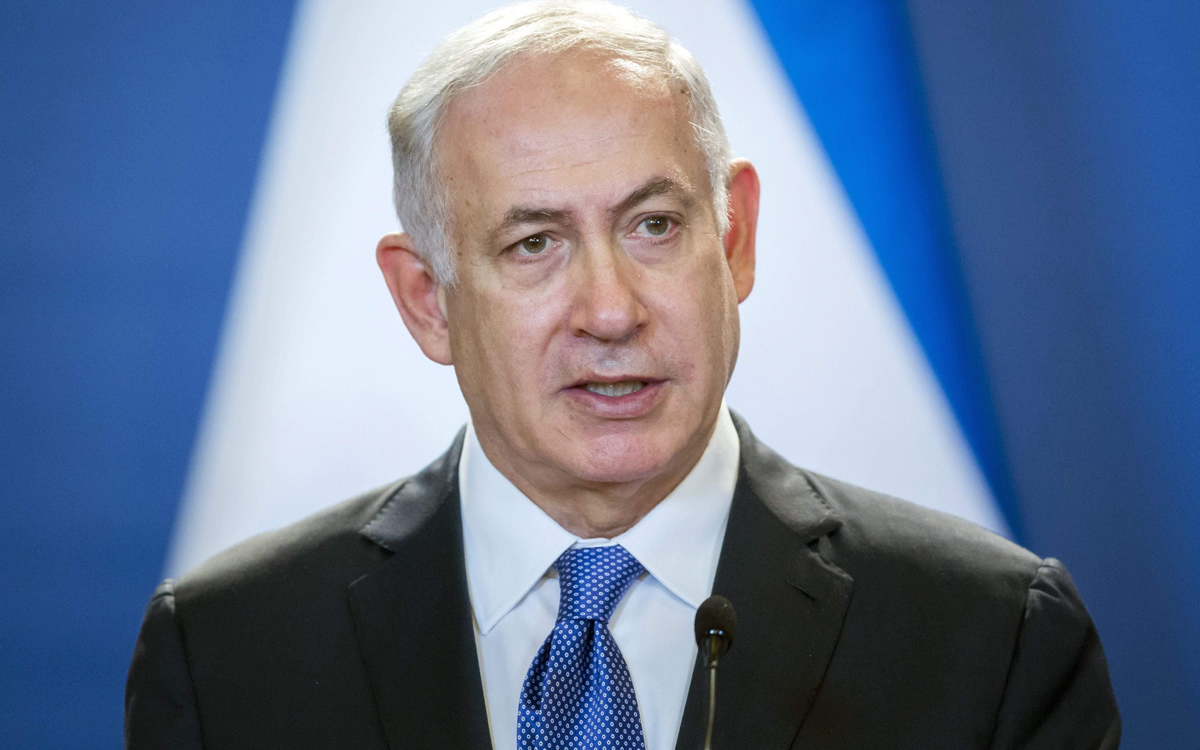 WDG, the Washington Blade's media partner in Israel, wrote this article.
Around five million Israelis voted in the elections that took place on Tuesday.
After five election campaigns in three and a half years, as of now it seems that the tie between the two (political) blocs has been broken. Benjamin Netanyahu will once again be prime minister and he will be the one to form the next government.
The results that are slowly coming in are extremely worrying for many Israelis, including members of the LGBTQ community.
The far right Hatzionut Hadatit (Religious Zionist Party), which includes Bezalel Smotrich, the organizer of the infamous Cattle Parade, a parade of cattle that marched at the same time as the Jerusalem Pride Parade, did well. Itamar Ben Gvir, who regularly protests against Pride parades and supports so-called conversion therapy, and Avi Maoz, whose anti-LGBTQ agenda is based on preserving family values, are also members of the party.
The Otzma Yehudit party and Hatzionut Hadatit include new, unfamiliar figures who may turn out to be much more extreme than Smotrich and Ben Gvir in regards to their attitudes towards LGBTQ people, women and other minorities.
Does the LGBTQ community have to worry about the election results?
Even before the formation of the government, it is already clear that LGBTQ representation in the Knesset will decrease. After a Knesset with five openly LGBTQ representatives, the next Knesset will have only three LGBTQ members and they will all be men: Amir Ohana from the Likud party and Yorai Lahav and Idan Roll from Yesh Atid.
Another concern for the LGBTQ community is the fear that Meretz, the first party that supported LGBTQ rights and has historically been the political home for the members of the LGBTQ community, will not earn enough seats to get its representatives into the Knesset, which would give the Netanyahu bloc a crushing victory.
The achievements achieved by the LGBTQ community in the previous Knesset may also be in danger.
The LGBTQ community over the past year has managed to achieve a number of significant achievements that include the repeal of the ban on gay men from donating blood, the approval of surrogacy for male couples, reforms of the Committee for Gender Reassignment, the promotion of activities for LGBTQ Arabs and a budget of 90 million NIS ($24,460,991) for local authorities all over the country to carrying out activities for the benefit of the LGBTQ community.
Due to the complexity of the previous government that was made up of different parties from all ends of the political spectrum — from Naftali Bennett on the right to Meretz and Ra'am on the left — all of these achievements did not come through legislation, but through regulations that various ministers implemented. This fact may be to the community's detriment, because new government ministers could just as easily reverse them.
The far-right's goal of reforming the justice system could also hurt LGBTQ achievements, some of which resulted from Supreme Court decisions. The legislation of the Override Clause will give the Knesset the authority to re-enact a law that the High Court has invalidated, thereby overruling Supreme Court decisions.
Poll indicates most LGBTQ Israelis fear right-wing government
In a study the Israeli Institute for Gender and LGBTQ Research at the Aguda conducted before the election, 87 percent of LGBTQ Israelis said that they fear the next Knesset will violate their rights. This fear is not only from the lack of promotion of pro-LGBTQ legislation, but also from the promotion of regulations and laws that will actively harm LGBTQ organizations.
If the right-wing government fulfills its promises, it would remove the LGBTQ education organization Hoshen from schools, end financial support for Israel Gay Youth, ban hormone treatments for transgender people and provide financial support for organizations that offer conversion therapy. And as we have learned during all the years of the LGBTQ struggle, when public figures incite against members of the community, this affects the public and the verbal cancellation turns into discrimination of LGBTQ people in businesses, bullying in schools against LGBTQ students and physical assaults in the street.
How LGBTQphobic will the next government be?
The results of the elections in Israel are the will of the Israeli voter. The people of Israel gave a significant power to parties that seek to harm the rights of the LGBTQ community, but these parties were not necessarily elected due to being anti-LGBTQ.
The fact that Ben Gvir and Smotrich and their parties received significant support is not necessarily about LGBTQ issues, but it is mainly based on the state of internal security in Israel. Violence and crime in large areas of the country that have become no man's land, the internal terrorism that culminated in riots in Arab Jewish cities in May 2021, and the disappointment of many from the right-wing parties that entered the last government together with an Arab party caused many voters, some of them LGBTQ, to vote for extreme right-wing parties.
Another parameter that helped Ben Gvir and Smotrich in the election is the timing.
They entered an election system in which there is no other right-wing party except Likud. All the right-wing leaders (Avigdor Lieberman, Bennett and Gideon Sa'ar) moved towards the center-left and new, more extreme right-wing leaders who previously failed to enter the Knesset filled the vacuum.
The people of Israel are patiently waiting to see what the results will be and how the map of the blocks will look. We still won't know which government will be formed, even after the final results are announced. Netanyahu will receive the mandate from the president and will begin the task of forming the government, which history has already taught us is impossible to predict how it will end. Israeli politics is unpredictable and full of surprises, and any possibility we didn't think about can become a reality.
It is likely that in the first phase Netanyahu will choose to form a narrow right-wing government with his natural ultra-orthodox and Religious Zionist partners. In this case, Netanyahu will depend on extremist Zionist elements, such as Smotrich and Ben Gvir, and even Maoz, each of whom has the power to topple the government.
The question is whether those parties will use their power to harm LGBTQ achievements and even enact anti-LGBTQ laws, and if so, how will the more liberal Likud members, LGBTQ members and their supporters, will react to these proposals, and whether both parties will be willing to endanger the right-wing government on this subject?
Later, difficulties at home, including excessive demands of the extreme parties, or international pressure from the outside, may cause Netanyahu to strive to expand the government, and perhaps even to replace the extreme elements with more moderate centrist elements such as Benny Gantz. Such a government would be less anti-LGBTQ, but even here the chance of promoting LGBTQ issues is almost non existent, and it is likely that there will be no progress with what will remain. No anti-LGBTQ laws will be promoted either.
Two points to consider
The first one is how the new Knesset members who proudly declared themselves to be LGBTQphobic will sit in a coalition and cooperated with Ohana, a gay MP and a father for two children who he had via surrogate.
The second one is how will Netanyahu and the secular Likud members deal with the extreme demands of the religious parties, which range from the closing of places of entertainment on Shabbat, the termination of women's service in the IDF, and the application of Torah laws to the judicial system.
"Just as the outgoing government protected the rights of all citizens of the country, the incoming government is also expected to do the same.," outgoing Health Minister Nitzan Horowitz, a member of the LGBTQ community who will not enter the next Knesset, said. "If Smotrich or Ben Gvir think they will harm women's rights, LGBTQ or Arabs, a large and strong front will stand in front of them and will prevent this from them."
Will the opposition to this new government will be strong and determine enough to stop these scenarios from happening? 
Only time will tell.
Hamas releases gay Israeli man's sister
Militants kidnapped Yarden Roman-Gat on Oct. 7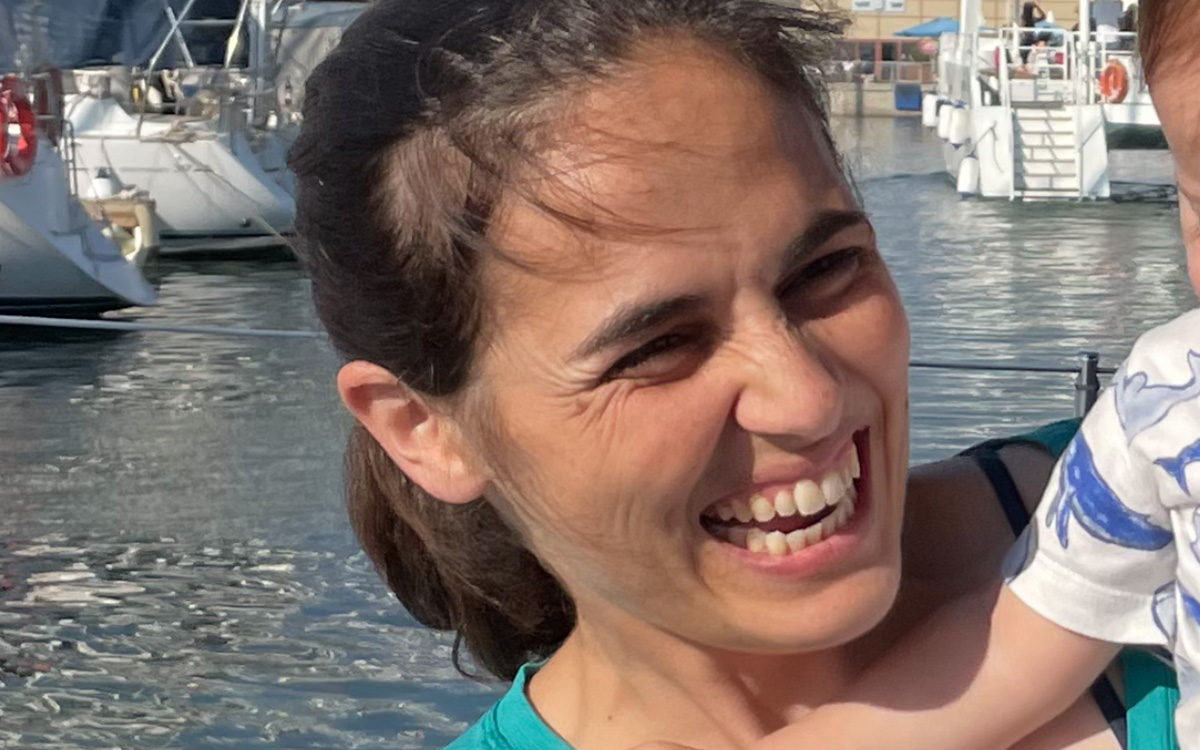 Hamas on Wednesday released a gay Israeli man's sister who had been held hostage in the Gaza Strip since Oct. 7.
Media reports indicate Yarden Roman-Gat is one of 12 Israelis and four Thai nationals who the militant group released.
Roman-Gat, a physical therapist who works with elderly people and those with physical and mental health issues, and her family had just returned to Israel after a vacation in South Africa when they decided to spend the Simchat Torah holiday with Gat's parents in Be'eri, a kibbutz that is near the border between Israel and Gaza. They were in their home on Oct. 7 when Hamas launched its surprise attack.
Media reports indicate four militants placed Roman-Gat, Gat, their 3-year-old daughter and two other Be'eri residents into a car. One of them had reportedly been placed into the trunk.
Roman-Gat and Gat jumped out of the car with their daughter as it approached Gaza. Roman-Gat's brother, Gili Roman, a teacher and member of the Nemos LGBTQ+ Swimming Club who lives in Tel Aviv, on Oct. 30 told the Washington Blade that the militants began to run after them. He said they were shooting at them when his sister handed her daughter to her husband because he was able to run faster. 
Gat hid with his daughter for 18 hours before they reached Israeli soldiers in Be'eri. He told Roman he last saw his wife hiding behind a tree to protect herself from the militants who were shooting at her.
"For us it's like a Holocaust story," Roman told the Blade. "It's a horror story, the worst horror story that you can imagine."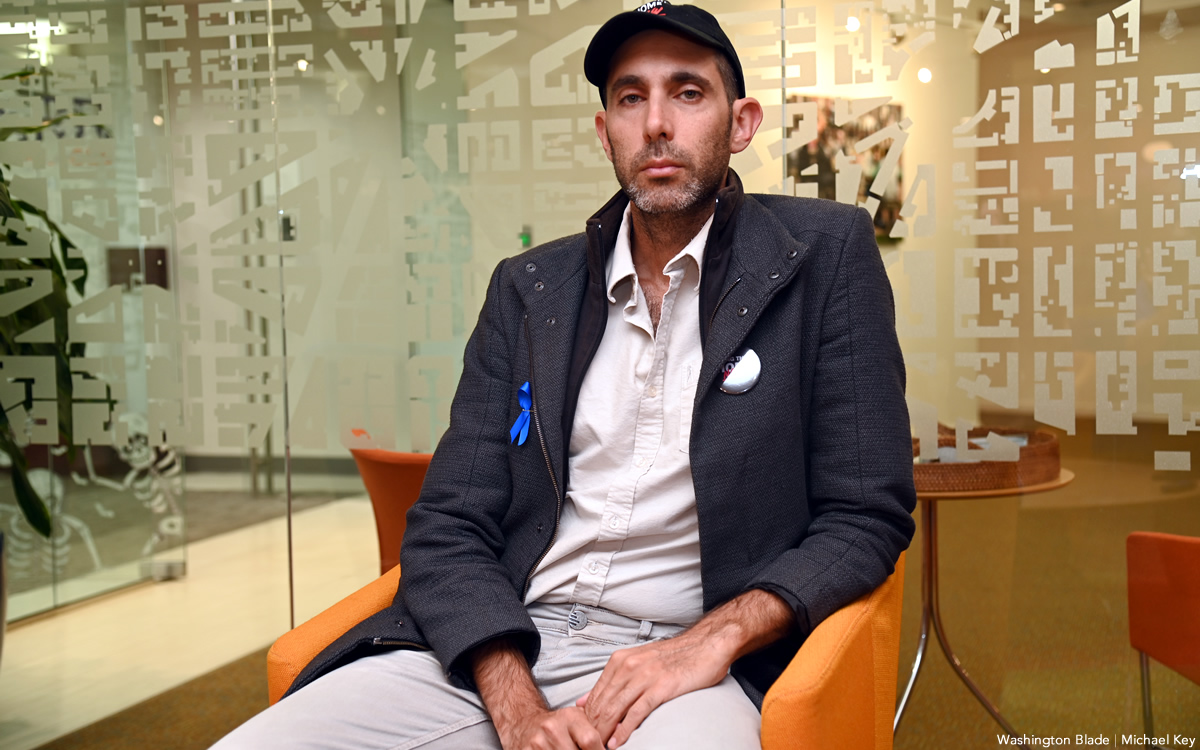 More than 1,400 Israelis have been killed since the war began. This figure includes at least 260 people who Hamas militants murdered at an all-night music festival in Re'im, a kibbutz that is a few miles away from Be'eri. Thousands of other Israelis have been injured and Roman-Gat is among the 240 people who militants from Hamas and other Muslim terrorist groups kidnapped.
The Hamas-controlled Gaza Health Ministry says Israeli airstrikes have killed more than 13,000 people and injured thousands of others in the enclave.
A truce between Israel and Hamas that allowed for the release of hostages in exchange for the release of Palestinians in Israeli prisons took effect on Friday.
The Associated Press notes roughly 160 hostages remain in Gaza. The truce that the U.S., Egypt and Qatar brokered was extended two days on Monday, but is slated to expire tonight.  
'This wedding is both defiance and pride'
IDF reservist married partner in Ein Yahav on Nov. 22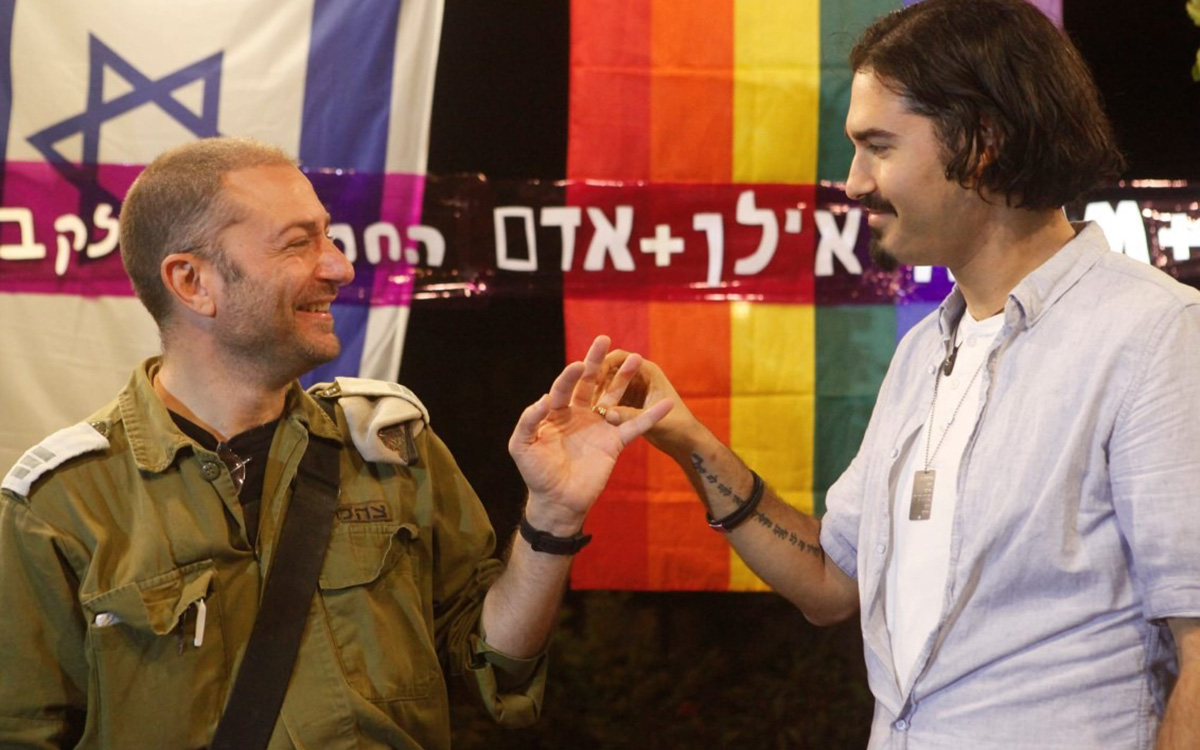 WDG is the Washington Blade's media partner in Israel. This article ran on WDG's website on Nov. 23.
Among dozens of reservists who became a family, with a spontaneous canopy at the B&B in Ein Yahav and refreshments donated with much love from Eilat businesses and residents, Adam Din and Ilan Cohen held their wedding ceremony Nov. 22.
"We did this wedding because it is important to us that the world knows that there is love even in the middle of the war and that we can celebrate love as well through it all," said the couple.
Adam and Ilan's wedding was scheduled to take place about two weeks ago on the beach between Ashdod and Nitzanim. The invitations were already prepared, but the terrible massacre on Oct. 7, and the war that broke out in its wake, postponed all their plans.
Ilan was immediately drafted into the reserves in the Gaza Division, leaving Adam alone at home. Nati Harosh, the couple's best friend who was supposed to be the groomsman at the wedding, was also drafted into the reserves as a Givati Brigade fighter.
"We were supposed to get married on the beach," says Adam, "The war postponed the wedding, and also took Nati."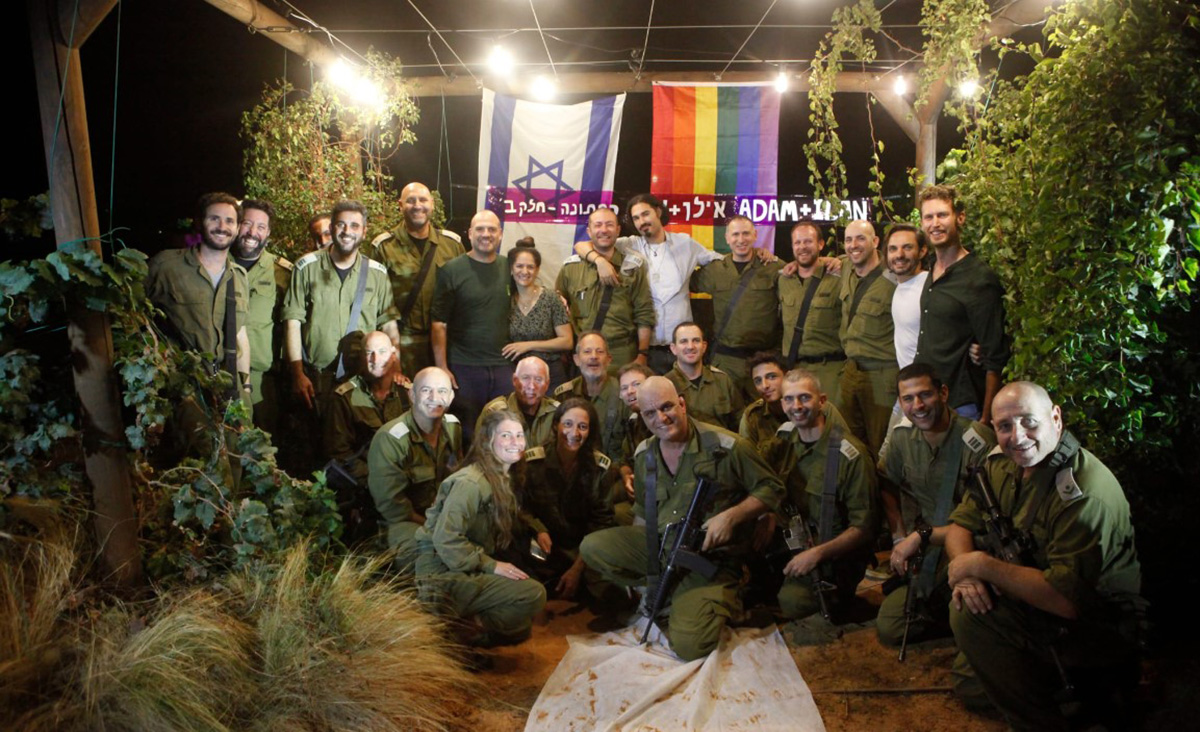 Adam and Ilan met a year and eight months ago.
"We met on Tinder, not for a serious purpose," says Adam. "After we met, Ilan introduced me to a group of travelers from the gay community and we used to go on trips together. Over time we got to know each other more and more and in an organic and natural way we became together. It never had an official date."
The short acquaintance was very significant for both of them.
"I was in the closet in front of the family before I met Ilan, and also childfree. And getting to know Ilan changed me completely," says Adam. "I came out in front of my family and introduced them to Ilan, and I also decided that I wanted us to become parents together. My life changed thanks to him and we are really a family."
The first friend Adam introduced to Ilan was Nati.
"Nati is a friend of mine from the time I lived in Jerusalem during my internship. We met through mutual friends and became very close friends. Nati was a giving person, like the meaning of his name Nathaniel. One of those people who were untouched by the cruelty of the world. Always ready to help. Doesn't hold a grudge even when he is treated badly, and I would get angry for him and he wouldn't get angry," says Adam.
"Nati's move from Jerusalem to Ramat Gan was one of the reasons that led us to move there as well, and since then we have been at each other's house a lot on Shabbat," he adds. "Nati came from a religious family, and he is liberal and open and loves every person regardless of who they are. And it was very clear and natural to me that he would be the one to accompany me on this significant occasion of mine. In the Utah wedding we held in Zoom, Nati was my witness, and we planned for him to be the groomsman in the wedding party."
An April Fool's prank that turned into a marriage proposal
Adam proposed to Ilan a few months ago.
"On April 1, we repeated one of our significant dates at the Saker Garden in Jerusalem," says Adam, "Then Ilan knelt down as if he was going to propose to me and took out a Kinder egg. Kind of an April Fool's prank. He thought it was funny. So I decided to get back at him and a few months later I also gave him a Kinder egg, only my Kinder egg had a ring in it."
Three months ago, the two were married in a Utah wedding on Zoom in order to receive recognition as a couple who married abroad, with Nati accompanying them as a witness. They planned to hold the party itself at the beach between Ashdod and Nitzanim, at the exact place where Adam proposed to Ilan. About two months ago they returned to the place, found the perfect location for the wedding and we set a date.
But as mentioned, the events of Oct. 7 postponed the plans, and Ilan was drafted into the reserves.
"During his reserve service, Ilan saw horrible and terrible sights," says Adam, "[It is] a horror that has no name, that gives him nightmares and scars his heart and soul. But when he comes home he comes to his shelter and his safe environment. Here he can get away for a moment from the horror outside. With the announcement of Nati's death, the bereavement burst into our house, into our safe place."
The two found out about Nati's death through a news website.
One evening at the beginning of November, when Ilan was at home for a short break, a message about the death of a Givati Brigade soldier in Gaza popped up on his phone.
"He fell silent and went to the side," Adam recalled. "His face went blank, the way it went blank when he remembered the terrible things he saw there. I asked him what he saw. He didn't want to show me and started crying. I asked him again what happened and then he told me that Nati died. I didn't believe him and then he showed me the news. I looked and couldn't believe what I was reading. I saw Nati's photo in the article and I said, 'What idiots, they accidentally put a photo of Nati. What a mistake.'"
"I quickly called Nati to tell him to ask for the photo to be taken down so his family wouldn't see it, but he didn't answer," he added. "Since then I send him WhatsApps all the time. Yesterday I sent him a selfie of us and wrote to him: Tomorrow I'm getting married, you're invited."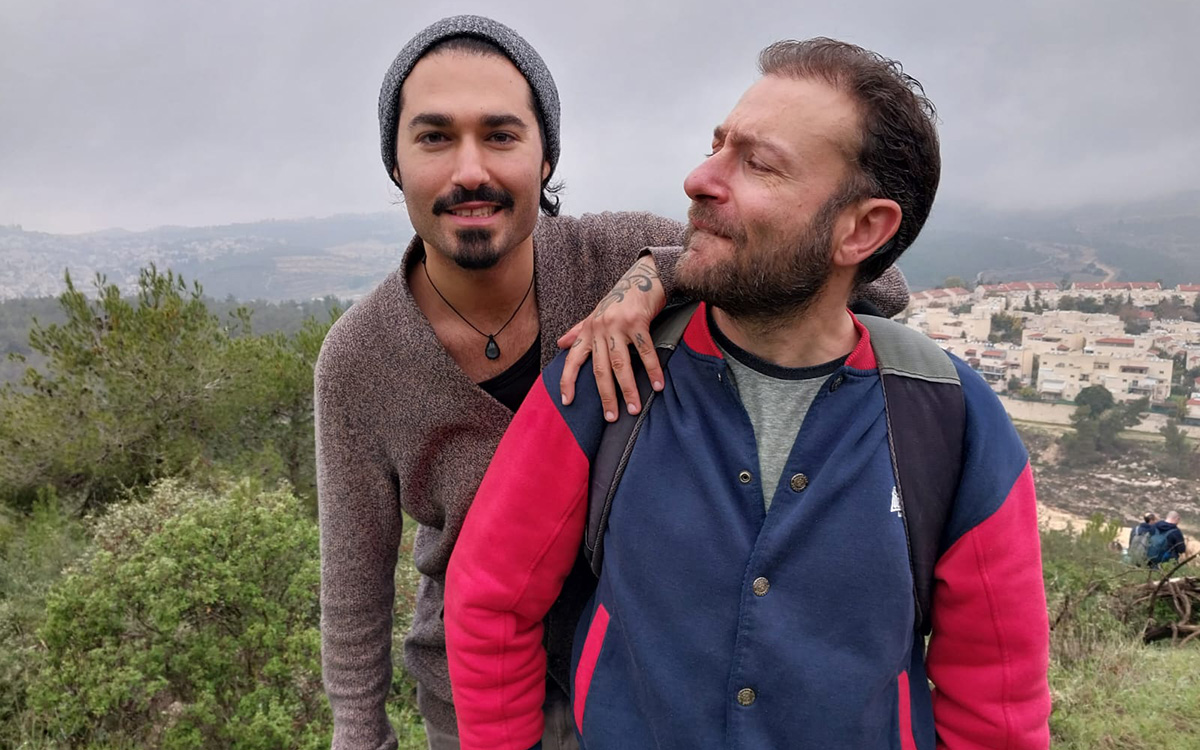 Many people will have to die for there to be equality
After Nati was killed, the two felt that the wedding was becoming more urgent. Ilan told the story of the wedding to his friends in the reserve battalion, and also told them about Nati, who was killed in the war.
"He told them that the wedding is now more urgent than ever, and that it is precisely now in this war that love should be celebrated, and his friends suggested that the wedding be held in the unit. Two days ago he came to me and asked: What are you doing on Wednesday? And I answered him that I was working. Then he asked me, do you want to get married? I told him yes and asked him if he was coming back from the reserves, and he told me: No. We will do it in the battalion."
WDG: Did you felt complete with the choice?
ADAM: Ilan and his colleagues have been together for over a month. When I talk to him I hear them, and I hear him talking about them, they really became family. So although the wedding is spontaneous without my friends and family being able to come, it is being held with his family, who are actually the army and the friends from the reserves. And Nati will be there in spirit too. He died among soldiers, so we will feel his love among other soldiers who will be happy with us"
WDG: How does it feel to have a "military wedding"?
ADAM: This is not the wedding I expected, but I always told Ilan that I would marry him even inside a volcano. Everywhere. At the same time, this wedding has a lot of mixed emotions. This period is full of sadness and disappointment. The LGBTQ community is an equal partner in the national effort and the war, and its men and women do not receive equal status when they return home.
We could get married like everyone else but we have to do it in a crooked way with Zoom, and in no way, LGBTQ people are literally dead to protect us but no one counts them.
Ilan has been in service for a month and a half, and yet he had to find crooked ways to get married, feeling that he is worth less than other people, who don't even join the army.
So for me this wedding is both defiance and pride. And this is the ambivalence. We feel a part and we sacrifice the most precious, and yet we don't deserve to be married like everyone else and we are in a less good position. And yet we continue and get married in the middle of the war."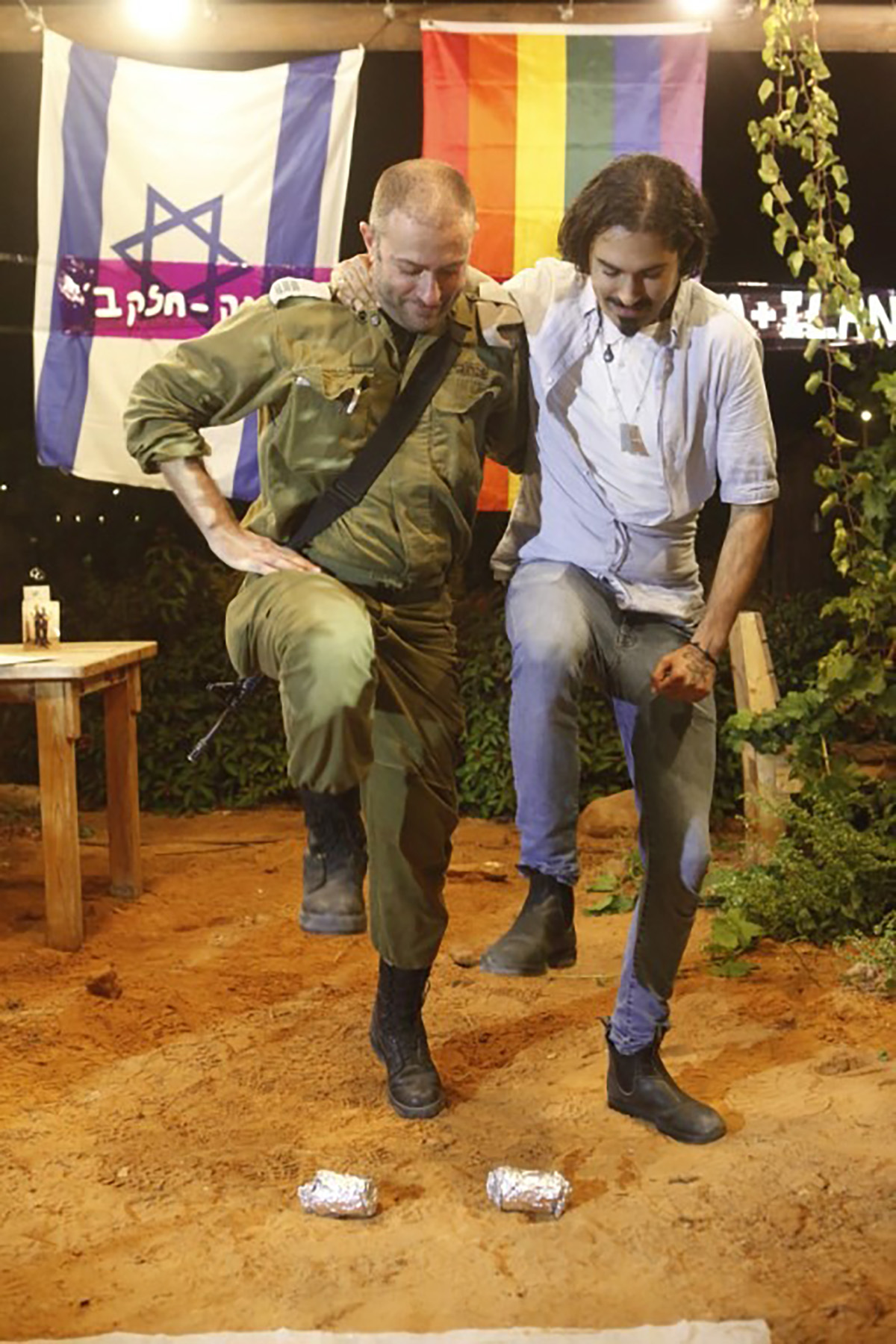 WDG: Do you think that following this period, which highlights the gap between what we give to the state and what we receive, a change will come?
ADAM: For Sagi Golan's law, Sagi had to die. Part of his mate is dead too, I guess. I do believe that we will have equal rights, I believe that many people will have to die for it.
WDG: What is it like to live when your partner is so far from home for such a long period of time?
ADAM: Since that terrible Saturday when he was called I have been sleeping on the sofa. I can't sleep in bed without him. There are long periods when he is without reception on the phone and I am constantly refreshing the pages of the news sites, to see if anything has happened. And when he returns home afterwards there is a tremendous feeling of momentary relief and an opportunity to be together for a bit. Even though as a volunteer in the LGBTQ help line, even when he goes out to retire from the reserves, he takes a shift and volunteers remotely."
The couple and WDG would like to thank WILLOW – Zimmer in Arava, for volunteering to host the ceremony.
סיקור מלחמת חמאס נגד ישראל
אמריקאים להט"ב קראו לגנות ארגון טרור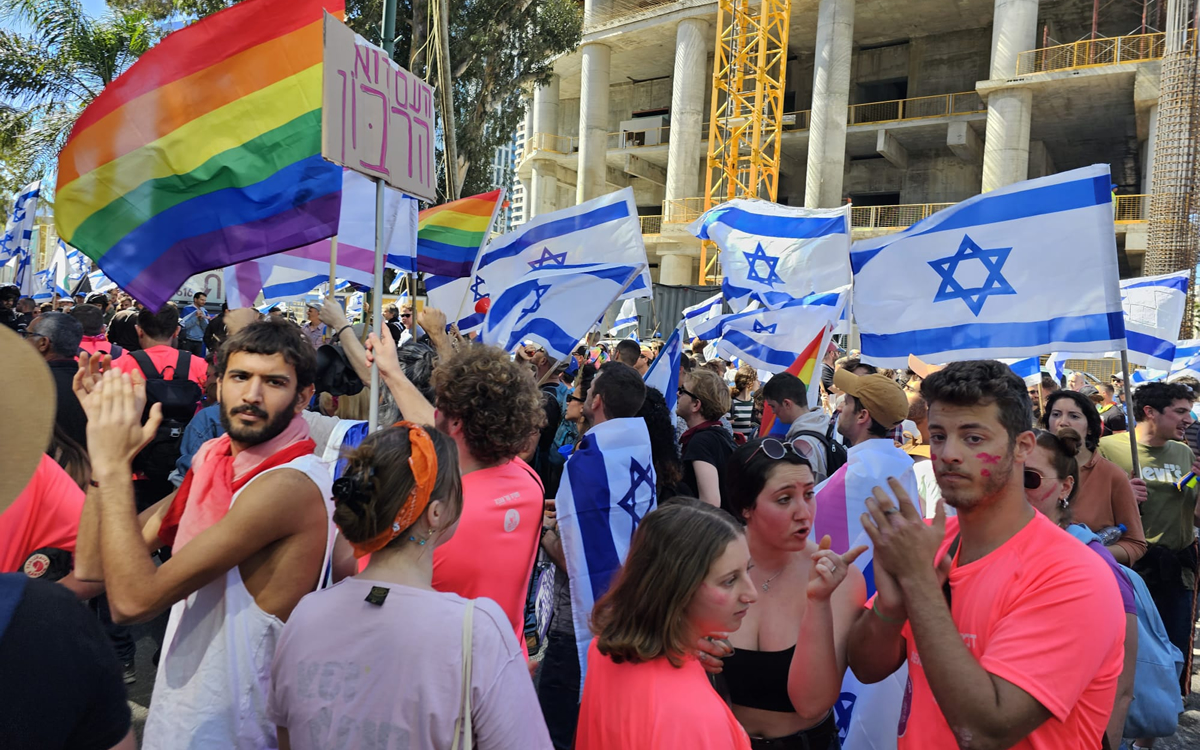 ובשיתוף Washington Blade, שותף המדיה של WDG בארה"ב
בעקבות מתקפת הטרור על ישראל בשבת השחורה של השביעי באוקטובר, יצאו חמישה ארגונים להט"בים אמריקאים בעצומה הקוראת לכלל ארגוני הלהט"ב האמריקאים לתמוך בישראל.
העצומה, שפורסמה ביום שישי האחרון, קוראת ללהט"ב אמריקאים לגנות את המתקפה הרצחנית שביצע חמאס נגד ישראל ואזרחיה.
מאחורי הקמפיין, הנושא את הכותרת "להט"ב אמריקאים מתאחדים נגד טרור חמאס" עומדים חמישה ארגונים – ארגון A Wider Bridge הפועל לקידום הקשר בין הקהילה היהודית לקהילה הלהט"בית, ארגון One Community מאריזונה, ארגון SAVE מדרום פלורידה, ארגון Equality California וארגון Garden State Equality מניו ג'רסי.
"באוקטובר 7, 2023, ארגון הטרור חמאס פתח במתקפה על מדינת ישראל והעם היהודי", נכתב בעצומה, "מתקפה זו הביאה לרציחתם באכזריות של למעלה מ-1,400 ישראלים – כולל ניצולי שואה וילדים, חטיפתם ולקיחתם כבני ערובה של לפחות 200 נוספים, ולמותם הטראגי של אינספור פלסטינים חפים מפשע שחמאס מנעה את פינויים.
אנטישמיות, הומופוביה וטרנספוביה הולכות יחד. כאמריקאים להט"בים ובעלי ברית, אנחנו יודעים מה זה כשקיצוניים אלימים מנסים להרוג אותנו בגלל מי שאנחנו ומי שאנחנו אוהבים. יתרה מכך, אנו יודעים היטב מה זה שאנשים שסמכנו עליהם שישמיעו קול של אומץ ומוסר שותקים לנוכח ההרס שלנו. חיפשנו את ליבנו בשבועות האחרונים כאשר מלמולים של "זה מסובך", נשמעו מסביבנו כאזעקה מוכרת מדי. למרבה הכאב, אפילו ראינו כאלה שמאשימים את היהודים באלימות שהם סבלו.
לא נשתוק.
רצח של חפים מפשע לעולם אינו מוצדק. למרות שאנו מכירים בכך שאנשים בעלי רצון טוב עשויים לחלוק על ממשלת ישראל הנבחרת, איננו נקראים לפתור את סוגיית האוטונומיה – למרות שאנו תומכים בה הן עבור ישראלים והן עבור פלסטינים. זה הכרחי לחלוטין שכלהט"בים וכאמריקאים בעלי ברית, נגנה באופן חד משמעי את ההתקפות האכזריות של חמאס.
אנו מבקשים מכם להצטרף אל אבלנו על כל החיים התמימים שאבדו, ועל בני הערובה שעדיין מוחזקים. ומבקשים מכם להצטרף אלינו לקריאה כי למדינת ישראל יש זכות קיום וכי לעם היהודי מגיעה מולדת שבה יוכל לחיות בחופשיות; ושאין עוד לנצל את העם הפלסטיני ומגיע לו שלטון עצמי לגיטימי באומה שלו.
להטב"קים ובני בריתם האמריקאים יודעים שכל קבוצה המוקדשת לשנאה היא איום קיומי על כל האנשים המודחים לשוליים. עמדו איתנו בצד הנכון של ההיסטוריה היום. עמדו איתנו למען צדק, הוגנות ושוויון לכל האנשים".