Watching the Prop 8 trial, part 7
Special to DC Agenda
For more on the Prop 8 trial, visit lgbtpov.com
I wonder if the opening minutes of Tuesday's federal Proposition 8 trial in San Francisco will be business as usual — or if the participants and observers will acknowledge the profound irony of having a federal holiday honoring Martin Luther King Jr. the day before.
Yusef Robb, spokesperson for the American Foundation for Equal Rights, says the witness list lineup for Tuesday's session includes San Diego Mayor Jerry Sanders and University of Massachusetts professor M.V. Lee Badgett.
I confess, I had never really heard of Sanders until his name came up in connection with a city council resolution to have the city attorney file an amicus brief in support of the marriage equality case. I confess, too, that once I heard he was a major law enforcement Republican in that very conservative city, I didn't hold out much hope for him agreeing to the brief, especially since he was up for re-election.
Slap my wrist and shame on me for stereotyping before investigating.
Sanders gave a news conference that surprised the hell out of the LGBT community — tearfully telling how he had to support marriage equality because he didn't want anything less for his lesbian daughter and her girlfriend. We panted for that video which we played and re-played, some of us wondering with tears streaming down our faces if our fathers would put their careers on the line to stand up for us.
M.V. Lee Badgett is a professor of economics at the University of Massachusetts Amherst. Those of us in Southern California know her as one of those extraordinary experts associated with the Williams Institute at the University of California Los Angeles' School of Law.
Robb said Badgett will testify "about the private harms and public costs caused by Prop 8, differences between marriage and domestic partnership, and the impact of same-sex marriage on the marriages of different-sex couples."
Presumably, she will include information researched for her new book, "When Gay People Get Married: What Happens When Societies Legalize Same-Sex Marriage." She's notably written a piece for Slate and was interviewed by The New York Times.
Robb says another witness slated for today, Ryan Kendall, is a gay man who was subjected to "conversion therapy" in his youth. He will testify about how sexual orientation discrimination and "conversion therapy" affected him.
This will hopefully get in information about so-called "reparative therapy," which has been disavowed by the American Psychological Association. At an APA convention last year in Toronto, Judith Glassgold, chair of the APA's task force examining the issue said:
Contrary to claims of sexual orientation change [by its] advocates and practitioners, there is insufficient evidence to support the use of psychological interventions to change sexual orientation.

Scientifically rigorous older studies in this area found that sexual orientation was unlikely to change due to efforts designed for this purpose. Contrary to the claims of [sexual orientation change efforts] practitioners and advocates, recent research studies do not provide evidence of sexual orientation change as the research methods are inadequate to determine the effectiveness of these interventions.

At most, certain studies suggested that some individuals learned how to ignore or not act on their homosexual attractions. Yet, these studies did not indicate for whom this was possible, how long it lasted or its long-term mental health effects. Also, this result was much less likely to be true for people who started out only attracted to people of the same sex.
Nonetheless groups such as NARTH and Exodus International continue to operate.
National Gay & Lesbian Chamber of Commerce Certifies Brown, Naff, Pitts Omnimedia, Inc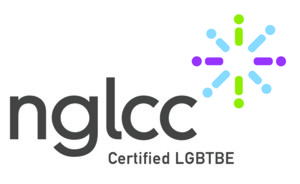 Washington, D.C. — Brown, Naff, Pitts Omnimedia, Inc, the parent company of the Washington Blade and Azer Creative, announced today it has been certified by the National Gay and Lesbian Chamber of Commerce (NGLCC) as an LGBT Business Enterprise. The NGLCC supports and advocates for diversity and inclusion for LGBT-owned businesses. With this certification the Blade's parent company joins more than 510 business and 134 corporate partners of the NGLCC.
Brown, Naff, Pitts Omnimedia, Inc. owns and operates the Washington Blade, the oldest and most acclaimed LGBT newspaper in the country. In 2012, the company launched Azer Creative, a full-service design firm. The company employs more than a dozen full-time LGBT staff.
"We are excited to become one of the 500 LGBT businesses across the country certified by NGLCC," said Lynne Brown, the Blade's publisher and a co-owner of the company. "The LGBT community has been part of our company from the beginning and we look forward to continue that for many years to come."
The Washington Blade was founded in 1969 and is known as the "newspaper of record" for the LGBT community both locally and nationally. Visit washingtonblade.com for more information. Azer Creative is a full-service graphic design firm based in Washington, D.C. Visit azercreative.com for more information. 
Vote now for the 2013 Best of Gay DC!
Choose in dozens of categories among hundreds of nominees, and make your voice heard!
Nominate the 'Best of Gay D.C.' now!
Dozens of categories cover all the best for LGBT Washington. Who deserves the prize this year?