Local galleries, museums packed with memorable exhibits
How to cull just a baker's dozen — 13 in all — of the best of D.C.-area fine arts offerings may be a fool's errand because of the literal overflowing cornucopia of painting and sculpture and photography and video, an array of so many dishes on the groaning banquet table of the nearby galleries and museums.
But fools rush in anyway. And a feast for the senses awaits the art lover this spring, from the baroque excesses of 17th Spanish sacred images of the passion of Christ, to a stunning display of Georgia O'Keefe abstractions, to the feminist aesthetic of contemporary Turkish artists confronting the gaze of male gender-privilege, to "the boys of Washington" — the beefcake of the P Street beach and environs brought to pigment and canvas and captured in the camera's aperture.
Someone once wrote that "something for everyone is not enough." But for the art lover seeking insight from what the eye can see, there is surely something for everyone in our very likely idiosyncratic list of the top 13, organized here in a purely arbitrary fashion — alphabetically.
AARON GALLERY
1717 Connecticut Ave., N.W.
202-234-3311
aarongallerydc.com
Gallery owner Annette Aaron carries on her parents' tradition at this intimate shop just north of Dupont Circle, which continues to show the remarkable work of 78-year-old, Barcelona-born Javier Cabada. Painting since he was 17, Cabada emigrated to the U.S. long ago and lives today in Arlington but keeps his studio just over the shop of the gallery. Check out his impassioned use of color in his expressionist abstractions and also in his series of acrylic paintings of the great composers, including Beethoven and Chopin.
CORCORAN GALLERY OF ART
500 17th St, NW
202-639-1700
corcoran.org
Do not miss a first-time-ever U.S. exhibit of 53 works, most never seen before on this side of the Atlantic, collected by two remarkable and well-to-do sisters born in Wales more than 100 years ago, Margaret and Gwendoline Davies. The show, "Turner to Cezanne: Masterpieces from the Davies Collection, National Museum of Wales" is a must-see roundup of a collection that at one point was the largest holding of Impressionist and Post-Impressionist paintings in Britain. The works are ordered chronologically by when they were purchased and show the changes in taste moving from picturesque realism to more modernist styles such as Van Gogh's dramatic "Rain-Auvers," this rain-drenched village scene among the sisters' final purchases and completed only a few weeks before the artist killed himself. The show runs through April 25.
Coming to the Corcoran on April 10 through July 18 is a retrospective of all aspects of the pioneering photography of "Eadweard Muybridge in a Time of Change" showing all aspects of his art from his studies of animal and human locomotion — with many male nudes — to innovative landscapes and documentary subjects.
Also opening on April 10 and closing in July is a new multi-projection video installation, "American Falls," by the experimental filmmaker Phil Solomon, inspired by the Corcoran's well-known masterpiece "Niagara" by painter Frederic Edwin Church and also by D.C.'s monumental memorials.
FREER GALLERY OF ART
and ARTHUR M. SACKLER GALLERY
Jefferson Drive and 12th St., S.W.
202-633-1000
asia.si.edu
These twin Smithsonian-managed and adjacent museums are centers of South and East Asian art and culture. Be sure to see the eye-opening abstract moonlit landscapes or "nocturnes" by orientalist James McNeill Whistler. These 15 works of "The Texture of Night" will be on view at the Freer through June 30.
At the Sackler, meanwhile, are two remarkable exhibitions exploring the sacred arts of Tibetan Buddhism. The first, "The Tibetan Shrine from the Alice S. Kandell Collection," an extraordinary Tibetan Buddhist shrine room, filled with bronze sculptures, scroll paintings and textile banners, acknowledged by devotees as a sacred space, are on public display for the first time.
The second is "Lama, Patron, Artist; The Great Situ Panchen," sculptures and paintings from the 18th-century artist and founder of the Palpung Monastery. Beginning on Sunday, March 14, the sacred art of making a sand mandala has been on exhibit in the Sackler pavilion as monks work together to execute the intricate yet geometrically balanced composition for meditation. The work continues daily through Saturday, March 20 and the dissolution ceremony takes place starting at noon Sunday March 21.
Beginning May 15 through the end of next January, the Sackler will host "Gods of Angkor: Bronzes from the National Museum of Cambodia," 36 exceptional works of religious sculpture and casting, some only recently unearthed, dating from the ancient time of third century BCE to the 14th century CE.
GALLERY PLAN B
1530 14th St., N.W.
202-234-2711
galleryplanb.com
Owned by painter Paula Amt and managed by David Kalamar, this gallery is perfect for shows like its newest, the just opened "Persona Grata," running through April 11 and featuring an array of shirtless and sometimes nude males in pigment and photos, among them paintings and drawings by gay artist and Dupont Circle resident Gordon Binder.
On the near horizon for Gallery Plan B will be the exhibit "Inside/Outside," beginning April 14 through May 16, of several gay artists including Brazilian-born and Shaw-resident Aster da Fonseca whose acrylic paintings show exceptionally vivid colors both in his abstractions and in his more figurative work. His work can also be seen by appointment at his studio, Studio 14, 1327 14th St., N.W.
HILLWOOD ESTATE, MUSEUM & GARDENS
4155 Linnean Ave., N.W.
202-686-8500
hillwoodmuseum.org
This is the museum "where Fabulous lives." The first U.S. exhibition — "Sevres Then and Now; Tradition and Innovation in Porcelain, 1750-2000" — presents through May 30 the earliest Sevres porcelain pieces alongside contemporary works of the 20th and 21st centuries and shows how innovation has led to Servres' pre-eminence as a porcelain factory. The final evening in a four-part lecture series led by curator Liana Paredes takes place 6:30-8 p.m. on March 24, with a focus on modern and contemporary ceramic presented by Douglas Burton, owner of Apartment Zero. To register, call 202-686-5807 or go online. The cost is $15 ($10 for Hillwood members and college students).
HIRSHHORN MUSEUM & SCULPTURE GARDEN
Independence Avenue and 7th St., S.W.
202-633-1000
hirshhorn.si.edu
"Joseph Albers: Innovation and Inspiration." Be sure and see this show, which closes on April 11, for a great survey of this Bauhaus modernist grand master notable for his use of color and for painting squares within squares. At first controversial, when he fled Nazi Germany in the 1930s and took refuge at the experimental Black Mountain College, critics scoffed at his paintings as merely decorative. Now we know better. See for yourself how his use of color changes can affect your own mood.
"Directions: John Gerrard," through May 31, discover how this Irish artist uses customized 3-D gaming software, taking 360-degree photographs of farm scenes and oil fields and then uses his computer to simulate cinematic movement around these landscapes as he re-imagines landscape scenery, especially from America's Dust Bowl period. A technological tour-de-force!
"Yves Klein: With the Void, Full Powers." This show should be a knock-out when it opens May 20 (through Sept. 12). It will survey the work of perhaps the most radical and innovative mid-20th century European artist, whose untimely death at 34 came at the height of his powers as a pioneer of monochromatic abstraction — such as large canvases vacant except for fields of blue or gold; conceptualism — emptying instead of filling a gallery; and performance art — such as using pigment in public to paint the bodies of naked women. And take note of the special blue paint he invented to glow.
JEWISH COMMUNITY CENTER
Ann Loeb Bronfman Gallery
1529 16th St., N.W.
202-518-9400
washingtondcjcc.org/center-for-arts/gallery
"Andy Warhol — Ten Portraits of Jews of the 20th century: In Retrospect." The JCC is re-staging this show, first presented 30 years ago amid considerable controversy, by this iconic gay artist and pop-culture impressario. The show consists simply of 10 silkscreen images of such figures as Einstein and Freud and Buber — and the Marx Brothers! On April 7 at 7 p.m., USC professor Richard Meyer, author of the catalogue "Warhol's Jews reconsidered," will discuss the history of the show and its controversies ($12/$9 members).
Also plan to see a Theatre J companion piece, "Andy Warhol: Good for the Jews?" — the world premiere of a one-man comedy starring as well as written and directed by D.C. favorite Josh Kornbluth, playing at the JCC's Goldman Theatre through March 21.
LONG VIEW GALLERY
1234 9th St NW
202-232-4788
longviewgallery.com
Check out the contest winners of the DCIST Exposed photography show, but move quickly, as it closes on March 21. Otherwise, take in the current exhibit, "Til Death Do Us part," featuring paintings by Dana Ellyn and Matt Sesow. Also marvel at the spacious backdrop to this newly relocated gallery, managed by gay director Drew Porterfield. The space makes an excellent venue for private events.
NATIONAL GALLERY OF ART
East Building
3rd Street and Constitution Avenue, N.W.
202-737-4215
nga.gov
Whether or not you are religious, you owe it to your aesthetic sense not to miss seeing the marvels of "The Sacred Made Real: Spanish Painting and Sculpture, 1600-1700," a true landmark collection of paintings and polychrome painted and gilded wooden sculptures, cross-over media depicting the passion of Christ and the devotion of Mary.
Get ready for high Baroque intensity and drama that will pierce your soul and kindle your loins like St. Sebastian. This outstanding show runs through May 31.
Then return to a far more astringent aesthetic with "Editions With Additions: Jasper Johns' Working Proofs," more than 40 proofs for his lithographs, etchings and screenprints that the artist would expand with a range of media including paint, pastel and ink. Through April 4. Also plan to see selected works from the Robert and Jane Meyerhoff Collection, illuminated in 10 themes including scrape, dip and gesture — through May 2.
NATIONAL MUSEUM OF AFRICAN ART
950 Independence Avenue SW
202-633-4600
africa.si.edu
Children of ALL ages, and that means everybody, will swoon with delight to see "Artful Animals," a playful exhibit of all the ways that African artists have depicted the animal world, from spiders and snakes through large biting animals, the beasts with open jaws and sharp teeth appearing as mask designed to protect villages from harm or for use in tribal initiation ceremonies. Also be sure to see the oil-on-paper painting of two crocodiles protecting their eggs by Kaballa, a member of a central African modernist art movement and the mid-20th century wooden couching-monkey figure, holding a bowl for sacrifices, a work associated with trance divination cults of the Baule culture of Cote d'Ivoire. It closes July 25.
"African Vision," highlights from the Walt Disney-Tishman African Art Collection, now in the permanent collection, is also must-see!
NATIONAL MUSEUM OF THE AMERICAN INDIAN
4th Street and Independence Avenue, S.W.
202-633-1000
nmai.si.edu
"Brian Jungen: Strange Comfort." This major survey of the Canadian-born artist showcases his playful sense of ways to transform familiar and banal objects — like soccer balls and trashcans — into objects of artistic beauty and wonder. Expect the unexpected here, including his reflections on how Indian images can be reduced to commodities. It closes Aug. 8.
InDivisible: African-American Lives in the Americas" is thought-provoking about cross-cultural issues, depicted in a 20-panel banner, raising questions about how folk of blended heritage come to terms with identity. It runs through May.
NATIONAL MUSEUM OF WOMEN IN THE ARTS
1250 New York Ave., N.W.
202-783-5000
nmwa.org
Put a check mark here, to see this striking exhibit "A Dream…but not Yours: Contemporary Art from Turkey," featuring 11 female artists from Turkey who create subversive art in response to outlined, often constraining, Muslim gender roles, and who propose new ways of managing "the dreams they are supposed to live and those that they want to live." The 24 works of photography, video, paintings, textiles and installations straddle tradition and modernity and challenge pre-packaged life-paths, asking "whose dream is this?" The show closes May 16.
Take special note of the moving images in Inci Eviner's "Harem" (2009). You have seldom seen anything quite like this moving picture.
But don't visit this gem of a museum without also seeing its permanent collection, including a breathtaking colorful self-portrait of the Mexican artist Frida Kahlo, her 1937 "Self-Portrait Dedicated to Leon Trotsky."
PHILLIPS COLLECTION
1600 21st St NW
202-387-2151
phillipscollection.org
It is the exhibit of a lifetime for Georgia O'Keefe fans — to learn that this truly iconic American artist (1887-1986), famous for her paintings of flowers, animal bones and stark New Mexican cliffs, is also notable for the radical abstract art she made throughout her career. This exhibit showcases more than 100 paintings, drawings, watercolors and sculpture dating from 1915 to the late 1970s. See this American legend in a whole new light.
On March 27 at 1 p.m. you can also see the award-winning documentary film titled simply "Georgia O'Keefe," and meet the director Perry Miller Adato (part of the Environmental Film Festival). The Phillips Collection is also offering a host of collateral events — talks, gallery discussions, and music/videos — around this exhibit, which closes on May 9.
Disco Funk Brunch at Crazy Aunt Helen's
Tara Hoot and DJ Phil Reese perform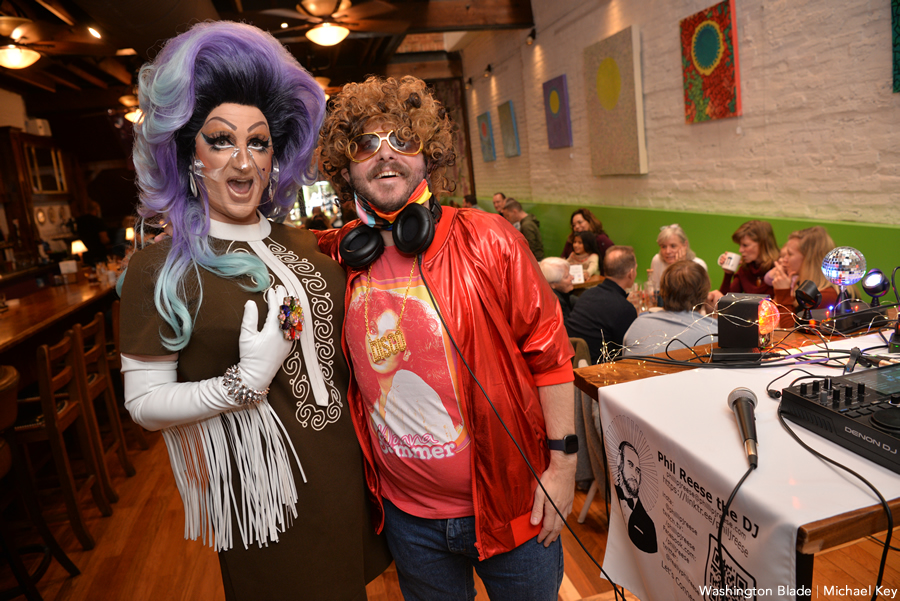 Drag queen Tara Hoot and DJ Phil Reese perform at the biweekly Disco Funk Brunch at the LGBT-owned Crazy Aunt Helen's on Sunday. For future showtimes, go to crazyaunthelens.com. (Blade photo by Michael Key)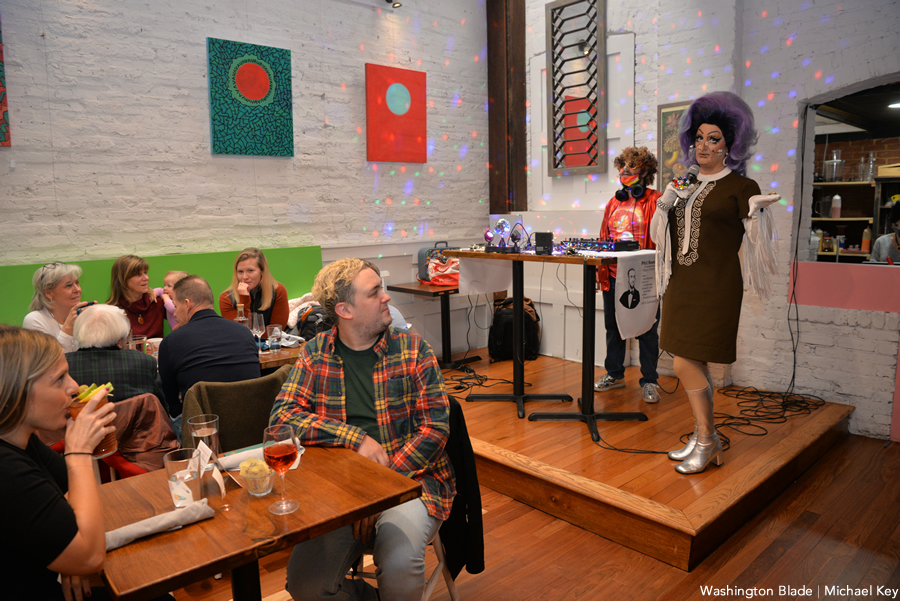 Blade's summer closing party set for Sept. 17 in Rehoboth
Benefits journalism scholarship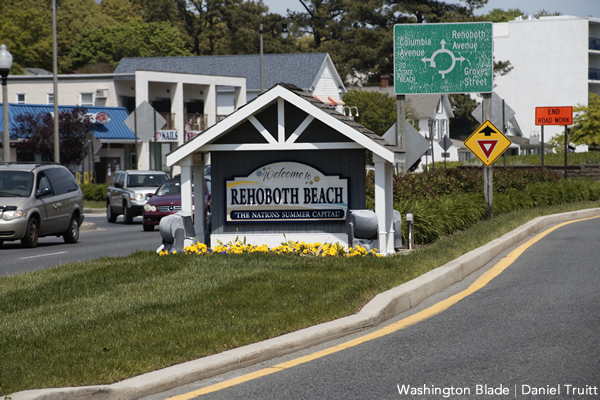 The Washington Blade's 15-year tradition of hosting a summer kickoff party in Rehoboth Beach was disrupted due to COVID restrictions. In lieu of that May event, the Blade is hosting a summer closing party on Friday, Sept. 17 at 6 p.m. at The Pines (56 Baltimore Ave., Rehoboth Beach, Del.).
Tickets are $20, which includes two drinks and appetizers. The event benefits the Blade Foundation's Steve Elkins Memorial Journalism Fellowship, a 12-week program in which an LGBTQ student journalist covers stories of interest to Delaware's queer community each summer.
All COVID safety protocols will be followed, including a requirement that attendees furnish proof of vaccination to gain entry.
If you are unable to attend you can make a donation to the Blade Foundation at BladeFoundation.org. Sponsors of the event include Delmarva Power and The Pines.
Rehoboth to close out summer with SunFest
Series of events to replace long-running Sundance due to pandemic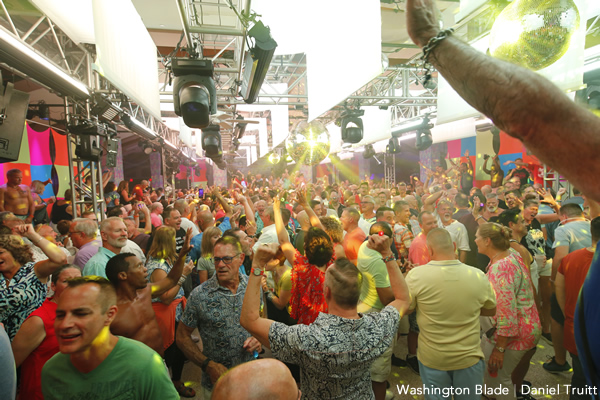 SunFest will feature a week of live performances, dances, and a live auction, sponsored by non-profit LGBTQ+ center CAMP Rehoboth.
The weeklong festival runs from Aug. 29 to Sept. 5 and is a change from the annual SunDance that CAMP Rehoboth has sponsored since 1988. This transformation began last year when the event was forced to go digital due to the coronavirus and the in-person events scheduled this year are important, according to development director and co-coordinator of SunFest Anita Broccolino.
"We love that community feel and the in-person makes all the difference in the world for us. Not being able to do it last year just reminded everyone how important we all are to one another," Broccolino said. "I think that bringing back these events this year is just huge for us and it will be extra celebratory as a result."
The festival begins with a 5k race and online auction opening on Sunday. Monday night features a give-back event at Iron Hill Brewery while Tuesday's agenda is still to be determined, said Broccolino. Diego's will host a Studio 54 give-back dance party on Wednesday and Thursday is the Port 251 women's give-back.
Live performances featuring the Skivvies, Randy Harrison and Diane Huey are scheduled for Friday night and Jennifer Holiday will follow with a performance on Saturday night, both at the Rehoboth Beach Convention Center. The festival closes out Sunday with auction pick-ups and Fun in the Sand and Sun, according to the CAMP Rehoboth website.
This event is also important to the organization's contributions to the community, said Broccolino.
"The essential services we provide for free to the community, which is a huge amount of health and wellness activities, as well as arts programming, a lot of youth programming and the community counts on us for those things. We never stopped during COVID, we made as much as we could virtual, but we took quite a hit not being able to raise those funds and awareness of the programs," Broccolino said. "We invite the entire community to come celebrate with us and make it to Rehoboth Beach, and let's make it joyful, and wonderful and make sure we're living up to the standards of all the people who helped found CAMP Rehoboth and live up to their legacy and beyond."