D.C. has marriage, so now what?
Despite successes, activists say 'we have not overcome yet'
When the weddings for same-sex couples began in the District of Columbia on March 9, many in the community hailed the occasion as the capstone of the city's decades-old LGBT rights movement.
The District government's enactment of a same-sex marriage law in December and Congress's decision not to stop it follows a long list of existing city laws and policies that protect LGBT people from discrimination, some of which were approved more than 30 years ago.
With this as a backdrop, some in the community wondered whether the same-sex marriage law marked the completion of the LGBT rights movement within the city, enabling activists to move on to other causes and endeavors.
But an informal Washington Blade survey of local LGBT activists conducted over the past two weeks shows that virtually all those contacted believe a wide range of LGBT-related problems and concerns remain on the agenda of local advocacy groups.
"There's still so much work to be done," said veteran D.C. gay and Ward 8 community activist Phil Pannell. "We have not overcome yet."
Pannell and others involved with local LGBT organizations pointed to alarmingly high rates of HIV infection among D.C. men who have sex with men, the city's unwelcome status of having the nation's highest rate of reported anti-LGBT hate crimes, and its distinction of being one of the few major U.S. cities that fails to provide ongoing city funds for its LGBT community center.
The same contingent of activists expressed caution that the fight for same-sex marriage in the city is not yet over. They noted that a lawsuit seeking to force the city to hold a voter initiative calling for repealing the law is scheduled to come up for a hearing May 4 before the D.C. Court of Appeals.
City attorneys, who have already won several earlier court challenges to the marriage law, say they are optimistic the city will ultimately win its case in defending a provision of its initiative and referendum law that bans ballot measures seeking to take away rights from minority groups.
That law, which gay activists persuaded the City Council to pass in the late 1970s, has so far spared the city a divisive ballot fight over gay marriage that has rocked other states, including California and Maine.
"We still have to stay vigilant and make sure we are actively monitoring what will come down through the courts," said Aisha Mills, president of the Campaign for All D.C. Families, one of the lead groups that lobbied for the city's same-sex marriage law.
"And we also know that Congress still has an opportunity to get involved and intervene in D.C. in a number of ways," she said, pointing to Congress's authority to overturn a D.C. law at any time, including through its process of approving the city's annual appropriations bill.
"We are not going to be able to rest on our laurels and be safe and secure in having marriage at least, I would say, for another year or two or even longer," she said.
Veteran D.C. gay activist Bob Summersgill, who is credited with mapping the strategy for passing a same-sex marriage law, said he, too, is hopeful that a ballot measure seeking to repeal the law will be defeated in court. However, he noted that Congress could always exert its authority to force the city to put the issue before the voters.
"The Democrats will not hold both houses [of Congress] forever, and it is unlikely that any Republicans will back marriage equality in D.C. if they gain a majority," Summersgill said. "The longer that they are put off, the safer we are, but we must be prepared to fight a ballot initiative."
On other matters, Summersgill and Rick Rosendall, vice president of the Gay & Lesbian Activists Alliance, point to GLAA's 21-page 2008 LGBT Agenda, or policy paper for D.C., which describes a wide range of issues that the group believes are related to gay, lesbian, bisexual and transgender city residents.
Rosendall said the group is updating the Agenda document in time to present it to candidates running in this year's mayoral and City Council races.
"Marriage equality is only part of one of six sections in our policy paper," Rosendall said.
In addition to addressing LGBT families, Rosendall said the document lists LGBT-related concerns over public safety, including the Police and Fire and Emergency Medical Services Departments and the Department of Corrections; public health, including AIDS; human and civil rights; education and youth; and consumer and business issues.
"Even if we achieve equality on paper — and we have a long way to go in some of these areas — continued vigilance is required to ensure that good policies are put into practice," he said.
Among the specific issues addressed in the document are bullying of LGBT youth in the city's public schools "while adult authority figures often look the other way," lack of social services for transgender residents, and a local health care system that doesn't sufficiently serve lesbians.
The GLAA Agenda document is available online at the organization's web site, glaa.org.
Lesbian Democratic activist Barbara Helmick cited a litany of issues similar to those raised in the GLLA Agenda document, but said that local activists should go a step further by joining others in the community to push for changes in federal law.
Of particular concern to same-sex married couples, she said, is the existing federal law barring them from obtaining Social Security spousal benefits given to straight married couples.
"I think with our unique seat right here with the federal government down the street, the local community becoming active in that campaign would have enormous benefits for many of our married couples here in the city as well as married couples throughout the country," she said.
David Mariner, executive director of the D.C. LGBT Community Center, said many of the LGBT-related social services programs that groups like GLAA seek to improve are performed in other cities by LGBT community centers.
Pointing to a call by activists in Philadelphia for "brick and mortar" projects and programs for LGBT youth, seniors and other vulnerable populations, Mariner said the D.C. LGBT Center has the ability to house or operate such programs if the city helps fund the center.
"We are the only major U.S. city that doesn't have a permanent building for our local LGBT Community Center," Mariner said. "In our short time at 1810 14th St., N.W., we've seen what is possible when we have an appropriate facility. Unfortunately, we will have to leave this facility, possibly as soon as this summer, and our future is uncertain."
Mariner was referring to a lease the Center has for a building formerly used by the Whitman-Walker Clinic. The building is owned by a real estate development company that plans to demolish it to build a new condominium and office complex. The Washington Blade offices also are located in the building.
Brian Watson, director of programs for the non-profit social services group Transgender Health Empowerment, and longtime transgender activist Earline Budd, an outreach worker for the group, both said the community's work in addressing transgender issues is far from complete.
The two pointed to the organization's Wanda Alston House for LGBT youth, which provides temporary housing and social services to gay and trans youth. Due to city budget cuts, the Alston House lost a sizable portion of its city funding, requiring THE to reduce services to the youth staying at the house.
"Homelessness in our community is mostly invisible," Budd said. "One of my priorities for our movement is to find out how we can reach the social and economically disadvantaged in our community."
Gay Democratic activist Peter Rosenstein said an important part of the community's continuing agenda should be making sure the mayor and city agencies properly implement LGBT-related laws and policies already on the books. He noted that agencies such as the public school system haven't been aggressive enough in carrying out anti-bullying polices, for example.
"We may also need to legislate action" requiring the agencies to better carry out such programs, he said.
Carlene Cheatam, a same-sex marriage advocate and longtime member of the D.C. Coalition of Black Lesbian, Gay, Bisexual & Transgender Men & Women before recently stepping aside from the group, called for a fundamental change in the LGBT movement's approach on the local level.
Instead of working mostly within specific LGBT groups that limit their work to LGBT-specific issues, Cheatam said activists should become fully involved in their local communities and integrate LGBT advocacy into the broader community.
"I have always thought that the community does it wrong," she said. "I feel the community does it separate from other issues and the broader community. … You can't just go to the straight community and say let's talk about LGBT."
She said a small number of LGBT people who are involved in their local communities work on broader, non-LGBT issues as well as LGBT issues.
"But as an agenda, the community does not get involved in something that's not LGBT," she said. "And yet we expect our allies to support us. … And so what I want is for the LGBT community to become part of the broader community and participate, support other people, other communities to establish allies."
Cheatam also said that LGBT people who take a low profile in their involvement in the broader community should be fully out and self identified as LGBT.
"This also helps other people who are in the closet to see LGBT [people] who are visible, who are cleaning up neighborhood alleys with the gay T-shirt on. You can see that from your window and say, 'Wow, they're able to be out and in the neighborhood.'
"That's my wish for the community."
Wanda Alston Foundation chosen as Casa Ruby receiver
Judge approves move at recommendation of D.C. Attorney General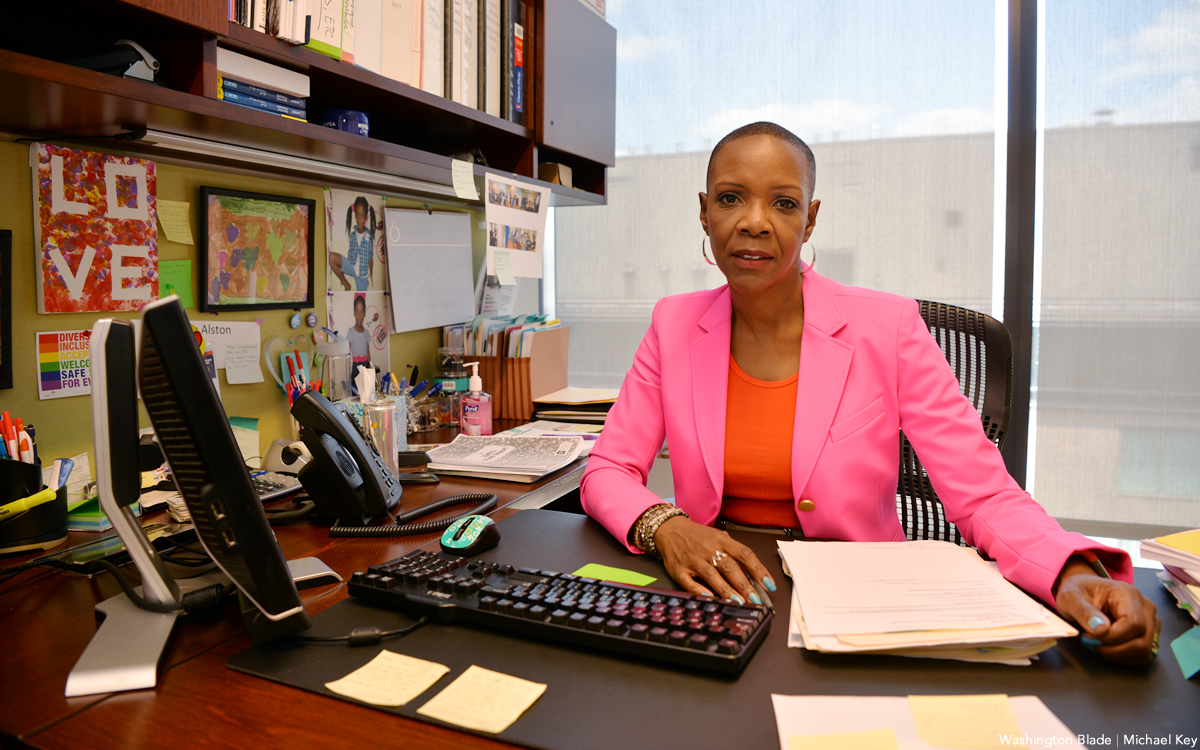 A D.C. Superior Court judge on Friday, Aug. 12, appointed the Wanda Alston Foundation as the city's receiver for the LGBTQ community services center Casa Ruby in a role in which the Alston Foundation will assume full control over Casa Ruby's operations and finances.
Judge Danya A. Dayson stated in an order she issued at 2:27 p.m. on Friday that she appointed the Alston Foundation for the receivership role at the recommendation of the Office of the D.C. Attorney General, which asked the judge to place Casa Ruby in receivership in a court motion filed on Aug. 3.
Founded in 2008, the Wanda Alston Foundation provides housing and support services for D.C. homeless and at-risk LGBTQ youth ages 18 to 24 and advocates for expanded city services for LGBTQ youth, according to a statement on its website.
During a virtual court hearing on Thursday, Aug. 11, Dayson approved the AG office's request to place Casa Ruby under receivership. During the hearing, Adam Gitlin, chief of the AG office's Public Integrity Section, announced that the AG office had two organizations under consideration for the Casa Ruby receiver – the Alston Foundation of D.C. and the Baltimore-based LGBTQ services organization Safe Haven, which has announced it planned to open a facility in D.C.
Gitlin asked the judge if the AG's office could have one more day to make a final decision on which of the two groups should be named as the Casa Ruby receiver, and Dayson granted his request.
Among those who spoke at the Aug. 11 hearing was June Crenshaw, the Wanda Alston Foundation's executive director. Crenshaw told the judge her organization has long supported the mission of Casa Ruby and it was prepared to do all it could to continue that mission in its role as receiver.
In a seven-page order issued on Aug. 12 approving the AG's recommendation that the Alston Foundation be appointed as receiver, Dayson restated her earlier findings that the AG's office provided sufficient evidence that a receivership was needed. Among other things, she pointed to the AG office's allegations that Casa Ruby and its founder and former executive director Ruby Corado violated the District's Nonprofit Corporations Act.
"The District alleges in its petition that Defendant violated the Act by failing to maintain a lawfully constituted Board of Directors, failing to maintain control and oversight of the Corporation; permitting Ruby Corado, the executive director, to have exclusive access to bank and PayPal accounts held in the name of, or created to benefit, Casa Ruby; and permitting Corado to expend hundreds of thousands of dollars of nonprofit funds without Board oversight and for unknown reason," Dayson stated in her order.
"Accordingly, it is on this 12th day of August 2022 hereby ORDERED that the District's motion for appointment of a receiver is GRANTED, and it is FURTHER ORDERED that until further order of this court, the Wanda Alston Foundation, Inc., 1701 Rhode Island Avenue, N.W., 2nd Floor, Washington, D.C. 20036 (the "Receiver"), is hereby appointed as Receiver," Dayson declared.
Dayson stated in her Aug. 12 order that she has "hereby lifted" her Aug. 3 order granting the AG office's request that Casa Ruby's bank accounts and all financial assets be frozen. The Aug. 12 order states that the receiver will now have full control over the bank accounts and Casa Ruby assets.
But the judge adds in her latest order, "Notwithstanding the lifting of the August 3, 2022, freezing Order, Ruby Corado shall not regain access to the affected accounts."
In addition, Dayson "further" states in her Aug. 12 order that Casa Ruby's "trustees, directors, officers, managers, or other agents are hereby suspended and the power of any directors or managers are hereby suspended. Such persons and entities shall have no authority with respect to Casa Ruby's operations or assets, except to the extent as may hereafter be granted by the Receiver."
The order concludes by directing the receiver to prepare a written report to the court by Sept. 13, 2022, on these issues:
• Assessment of the state of Casa Ruby's assets and liabilities
• Identification of potential D.C. grant funds that could still be accessed if Casa Ruby met the grant requirements and how Casa Ruby could meet those requirements
• Determine whether Casa Ruby can pay outstanding financial obligations, including but not limited to employees, landlords, and vendors
• A recommendation regarding whether Casa Ruby's Board should be reconstituted, and it should resume providing services, or instead whether Casa Ruby should be dissolved in an orderly manner pursuant to D.C. Code.
Corado also spoke at the Aug. 11 virtual hearing through a telephone hookup. Among other things, she said she does not oppose the appointment of a receiver.
But Corado disputed the AG office's allegations against her and Casa Ruby, claiming the group's financial problems that resulted in its shutdown of most Casa Ruby programs were caused by the D.C. government's decision to discontinue many but not all city grants providing funding for Casa Ruby.
In its court filings, the AG's office has disputed Corado's claims, saying the city grant funds for many of Casa Ruby's programs were suspended or discontinued because Casa Ruby failed to comply with the grant requirements that all city grantees are obligated to comply with.
"The mission of the Wanda Alston Foundation is to eradicate homelessness and poverty for LGBTQ youth between ages 18 and 24, the group states on its website. The statement adds that the Alston Foundation seeks to accomplish that mission by advocating for LGBTQ youth by "providing programs including housing, life skills training, case management services, linkages to medical care and mental health care and other support services, support in staying and returning to school, and employment support."
Another gay couple assaulted in D.C. in suspected hate crime
Two men holding hands when hit from behind by group of attackers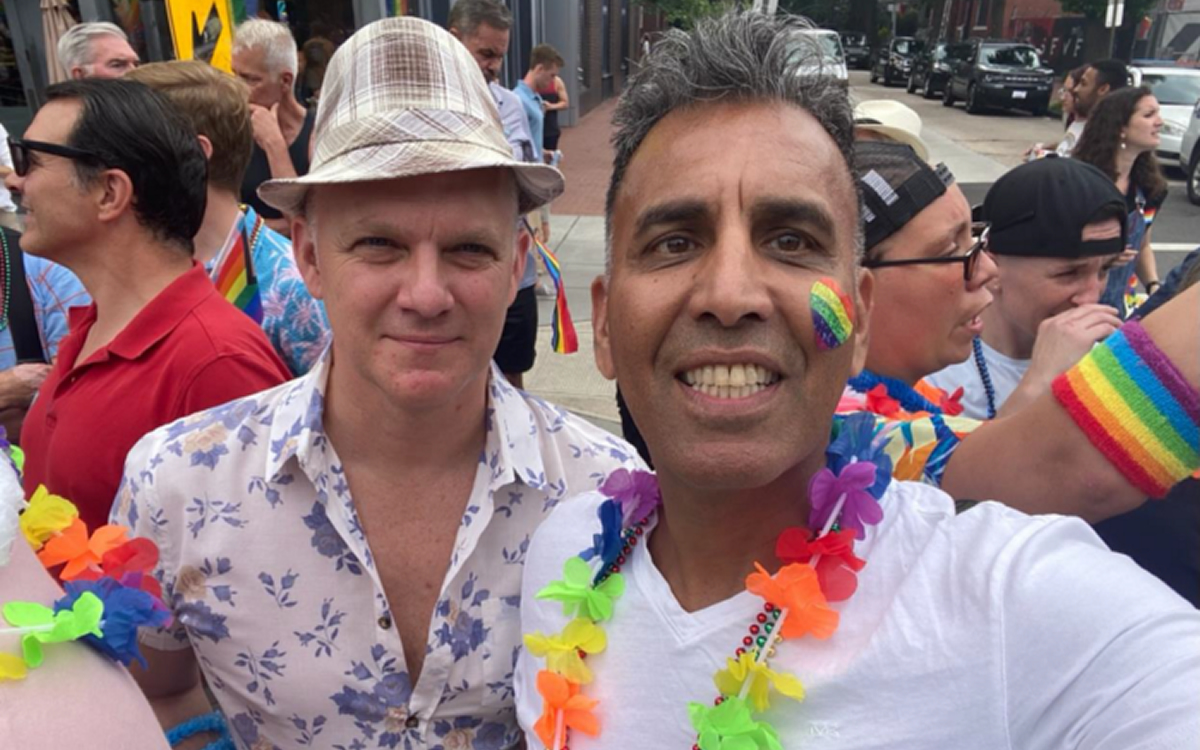 A gay male couple informed the Washington Blade this week that they were assaulted by a group of young men on June 17, at least of one of whom shouted the word "faggots," while the couple was holding hands walking home on the 1500 block of T Street, N.W. a few doors away from their house.
One of the two men suffered a broken jaw and fractured thumb when two or three of the attackers punched and kicked him in the head and face after knocking him to the ground, according to a D.C. police report that lists the incident as a suspected anti-gay hate crime.
The incident took place about six weeks before another gay male couple was attacked and punched in the head and face by a group of young males appearing in their late teens as at least one of them shouted "monkeypox faggots." The incident occurred on Aug. 7 along the 1700 block of 7th Street, N.W. in the Shaw neighborhood as the men were walking to a nearby bus stop.
D.C. police, who have released photos of two suspects in the Aug. 7 incident and a photo of one suspect in the June 17 case, say no arrests have been made in either of the cases but both cases remain under active investigation.
The two victims in the June 17 case identified themselves as J.P. Singh, Professor of Global Commerce and Policy at George Mason University, and Charles D. "Chuck" Johnson Jr., CEO and President of the Aluminum Association industry trade organization. They initially identified themselves in a little-noticed article about the incident that they wrote and published on June 23 in the blog Medium in which they also posted a photo of themselves.
"We, JP and Chuck, are a middle-age interracial gay couple," the two wrote in the article. "We have been together for nearly 27 years, and live in a gay neighborhood in Washington, DC. On Friday, June 17, while walking back from the gym at 10 p.m. and holding hands, a group of young African American men assaulted us on our street," the two wrote.
Their article goes on to explore issues surrounding racial justice and crime, and the possible impact of the Black Lives Matter movement on police response to crime, including anti-LGBTQ hate crimes, among other related issues.
"Assaults like ours open wounds in our society around race and LGBTQ issues," they state in the article. "Through writing this article, we want to emphasize context and healing, and not encourage racialized ways of thinking that we associate with divisive tactics."
Singh told the Blade the incident began on T Street, N.W., steps away from their house and in front of the house of gay D.C. Advisory Neighborhood Commissioner Kyle Mulhull. He said a group of the attackers approached him and Johnson from behind and the couple didn't see the attackers until they were struck with punches.
"Before we knew it, I heard Chuck yell," Singh said. "And when I turned to him, I felt a punch on my ear."
According to Singh's account, the attackers ran toward 15th Street and Johnson ran after them presumably to be able to inform police of their location, with the intent that the attackers could be apprehended.
But Singh said that another group of attackers emerged from an alley and appeared to have joined the first group and began assaulting Johnson again. The D.C. police report says officers responding to a 911 call from Johnson arrived on the scene when Victim 1, who was Johnson, was observed at the intersection of 15th and U Streets, N.W.
"The officers observed that Victim 1 was bleeding from his mouth as a result of the assault," the report says. The report says the officers call the D.C. Fire and Emergency Medical Services Department for assistance.
"Victim 1 stated that he and Victim 2 were walking eastbound in the 1500 block of T St., N.W. when 4 to 8 suspects approached from behind and assaulted them with punches," the report continues. "Victim 1 stated that at least one of the suspects yelled homophobic slurs at him as the assault was perpetrated.
Singh said he accompanied Johnson to the emergency room where he was treated and underwent surgery two days later to treat his jaw, which was broken in two places. Singh said Johnson was also treated for a fractured thumb.
Comings & Goings
Brian Reach joins Arlington Food Assistance Center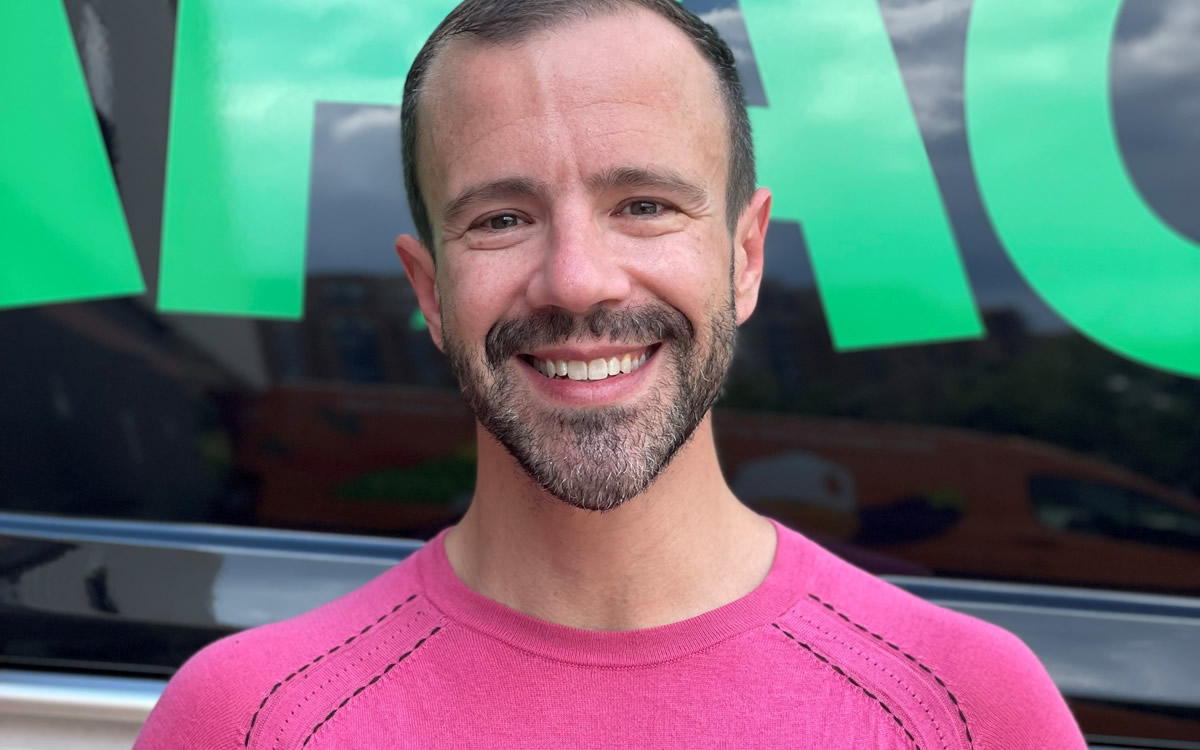 The Comings & Goings column is about sharing the professional successes of our community. We want to recognize those landing new jobs, new clients for their business, joining boards of organizations and other achievements. Please share your successes with us at: [email protected].
Congratulations to Brian Reach on his new position as Associate Director of Marketing and Communications of the Arlington Food Assistance Center (AFAC). Reach has more than 18 years of experience in the nonprofit sector and deep roots in Northern Virginia.
Charles Meng, CEO of AFAC said, "I'm very pleased to have Brian Reach on our staff as we enter a new and very challenging year. A year when even more families suffering from inflation in food and fuel are coming to our doors seeking help."
Jolie Smith, director of development at AFAC added, "Brian will be a wonderful addition to the AFAC development team as we start our new year with a strong focus on new opportunities outside of Arlington County. Given his experience, he'll be a significant part of our new growth and development."
Reach previously worked at MCI USA (formerly The Coulter Companies) in a number of positions including director of Information Systems and Credentialing. Before that he was with the Interstitial Cystitis Association as its nonprofit coordinator/accounts receivable coordinator; and the American Society for Therapeutic Radiology and Oncology, Fairfax, Va., as Education coordinator.
Reach is an activist and leader in the LGBTQ community. He currently serves as president and executive director of NOVA Pride, a 501c3 he founded in 2011, as well as on other LGBTQ boards and task forces. A Northern Virginia local, whose grandparents met at Fairfax High School, he is extremely passionate about the area and is personally dedicated to making an impact on the lives of his neighbors in need. He has worked on political campaigns in Virginia for Jennifer Wexton, Justin Fairfax, Barack Obama, Hillary Rodham Clinton, John Kerry, Chap Peterson, and Al Gore.
Reach is currently attending George Mason University and was a business major at Northern Virginia Community College.