D.C. mayor's office apologizes for anti-gay group's award
Staff error blamed for 'Certificate of Appreciation' to PFOX leader

A spokesperson for D.C. Mayor Adrian Fenty issued an apology Thursday for a mayoral Certificate of Appreciation awarded to the leader of the anti-gay group Parents & Friends of Ex-Gays & Gays known as PFOX.
PFOX characterizes homosexuality in its literature as a psychological disorder and says gays can change their sexual orientation to become heterosexual through "reparative therapy." LGBT organizations have pointed to scientific literature refuting such claims and have denounced reparative therapy, saying it's harmful and based on "junk science."
"A staff level error was made when the request for the certificate in question was fulfilled," Mafara Hobson, Fenty's communications director, told the Gay & Lesbian Activists Alliance in an e-mail.
"The mayor is proud of his ardent support of the LGBT community as illustrated in his championing of the Marriage Equality legislation he signed into law on December 18, 2009," Hobson wrote in her e-mail.
Hobson's apology on behalf of the mayor came after GLAA and other LGBT groups learned of the November certificate from a PFOX press release. PFOX issued the press release Wednesday — some six months after the mayor's office issued the certificate.
The certificate says, "Government of the District of Columbia — Certificate of Appreciation is hereby awarded to Regina Griggs — In recognition of your dedication, commitment and outstanding contributions as Executive Director of Parents and Friends of Ex-Gays and Gays." The document bears Fenty's signature.
Hobson told the Washington Blade on Thursday that similar to the hundreds of honorary certificates and proclamations that the mayor's office issues each year, the mayor's signature was affixed to the PFOX award by an "auto pen."
She said Fenty neither saw nor knew anything about the matter until activists brought it to the attention of the mayor's office Wednesday.
GLAA Vice President Rick Rosendall noted that in 2007, the mayor's office issued a ceremonial proclamation to an organization calling for abstinence until marraige as a policy for curtailing AIDS in the city. In response to complaints by LGBT and AIDS activists, the mayor's office acknowledged the award application was not properly vetted and noted the office processing such awards would tighten its vetting process.
One District government source familiar with the newest misstep, who spoke on condition of anonymity, said a staff person within the Mayor's Office of the Secretary, which processes ceremonial certificates and proclamations, failed to follow the standard vetting procedures required for such documents.
The source said the staffer apparently treated the PFOX application for the award for Griggs as a request to honor a private citizen for an occasion such as a 90th birthday or graduation, which calls for a less rigorous vetting.
According to the source, procedures established in the Office of the Secretary call for including the Mayor's Office of GLBT Affairs in the vetting of all LGBT-related applications for certificates and proclamations. Christopher Dyer, the head of the GLBT Affairs Office, was never contacted about the matter, which amounted to a breach of the procedures, said the source.
On its web site, GLLA noted that Fenty pledged during his 2006 mayoral campaign not to issue awards or ceremonial tributes to individuals and groups that advocate discrimination against minorities, including LGBT people.
Gay activist Bob Summersgill posted a message on the GLLA web site forum saying the mayor's office did not go far enough in its apology. He noted that Hobson's public statement did not answer GLAA's specific questions of who in the mayor's office approved and processed the certificate and what actions have been taken to prevent a similar development from happening again.
GLAA members also called on Fenty to issue a statement denouncing the so-called ex-gay movement that Griggs represents.
A separate District government source who spoke on condition of anonymity because the person was not authorized to speak to the media said the mayor's office has issued numerous ceremonial tributes to LGBT organizations and events, including the Mid-Atlantic Leather Weekend events.
"Our record is clear on where we stand on the LGBT community," said that source.
But mayoral candidate and D.C. Council Chairman Vincent Gray called the decision by Fenty's office to issue an award to the leader of anti-gay group an "embarrassment" to the city.
"For the mayor to issue a certificate of appreciation honoring an organization that has done so much to alienate so many is not only an insult to the LGBT community, it is yet another example of the insensitivity of his administration," Gray said in a statement.
"It is an embarrassment to our city that he would make such an offensive mistake," he said. "It was the mayor's signature on the certificate, not a staff-member's, and I hope the mayor will personally take responsibility."
Gray's decision to weigh in on the situation was expected to interject the matter into a mayoral campaign in which the LGBT community is expected to be divided between Fenty and Gray. Both politicians have strong records of support for LGBT rights.
Griggs did not return calls from the Blade seeking comment, but she told the Washington Post, "I obviously didn't nominate myself. This was brought to the mayor by a D.C. resident, and I was given an award."
She told the Post that ex-gays "have a right to self-determination."
Comings & Goings
Jimmy Alexander joins WTOP News as a feature reporter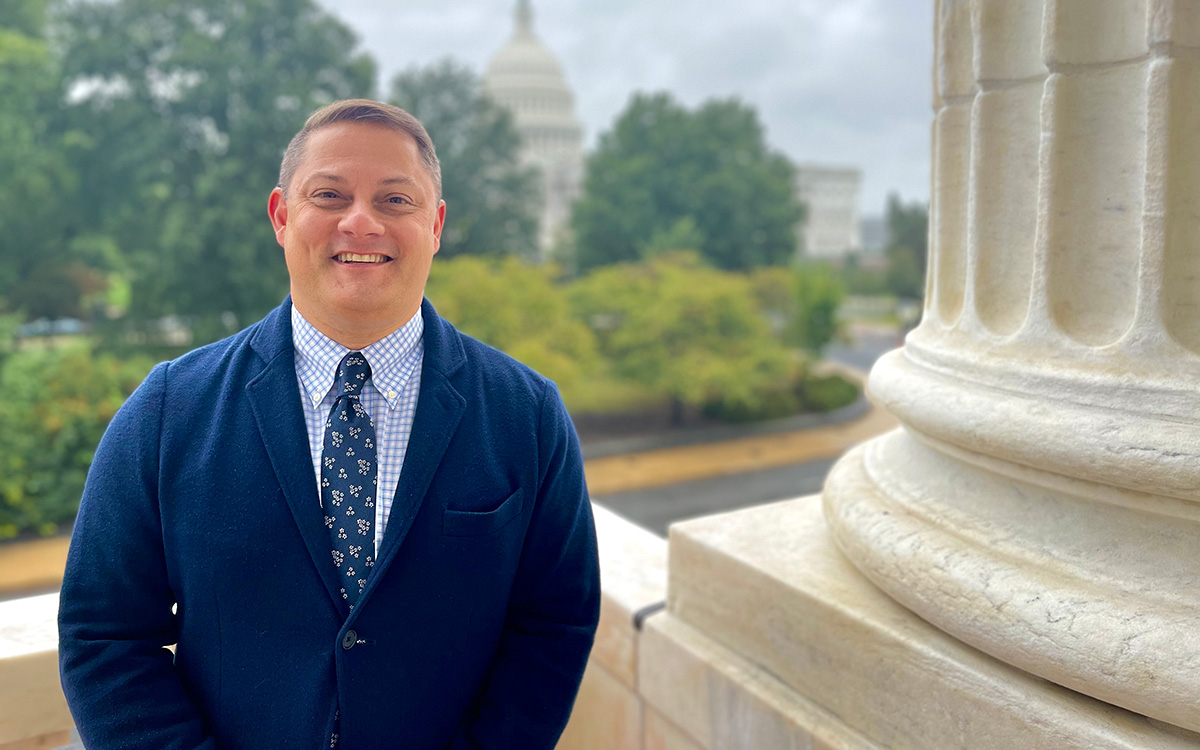 The Comings & Goings column is about sharing the professional successes of our community. We want to recognize those landing new jobs, new clients for their business, joining boards of organizations, and other achievements. Please share your successes with us at: [email protected]. 
Congratulations to Jimmy Alexander who has been hired at WTOP News as a feature reporter. Over the last four years Alexander has been covering stories as varied as the Jan. 6 insurrection to the 17th Street High Heel Race. He has been working as a co-host on the Jack Diamond Morning show on Cumulus Media, Manning Media. On his acceptance of the new position Alexander said, "I'm thrilled that at WTOP News, I will be able to focus on events and people that bring hope to your heart and a smile to your face."
Alexander is a versatile multimedia broadcaster with more than two decades of experience covering both major news events in Washington D.C., and important human-interest stories outside the Beltway. He is an engaging interviewer with a track record of having compelling conversations with the biggest names in government and show business, from presidents to Paul McCartney. Prior to this he worked as a freelance feature reporter with WDCW50-DC News Now. He is also with Writer-20, Twenty Country Countdown, United Stations Radio Networks. There he developed a concept for a countdown show featuring country music's weekly top songs on-air and online and prepared weekly scripts for a three-hour show.
Alexander conducted the only Jan. 6, 2021 interview with "The QAnon Shaman" Jacob Chansley. Since 2016, he has served by request of the D.C. mayor as official host of the 17th Street High Heel Race, the city's second largest LGBTQ event of the year. He is featured in the documentary "Joan Rivers: A Piece of Work," and is a frequent guest on CNN's Morning Show "New Day." He covered White House visits by Queen Elizabeth, the Pope, and the yearly Easter Egg Roll. He also won $10,000 on the game show "Pyramid."
LGBTQ University of Maryland students prepare to celebrate Hanukkah
Eight-day festival to begin Thursday night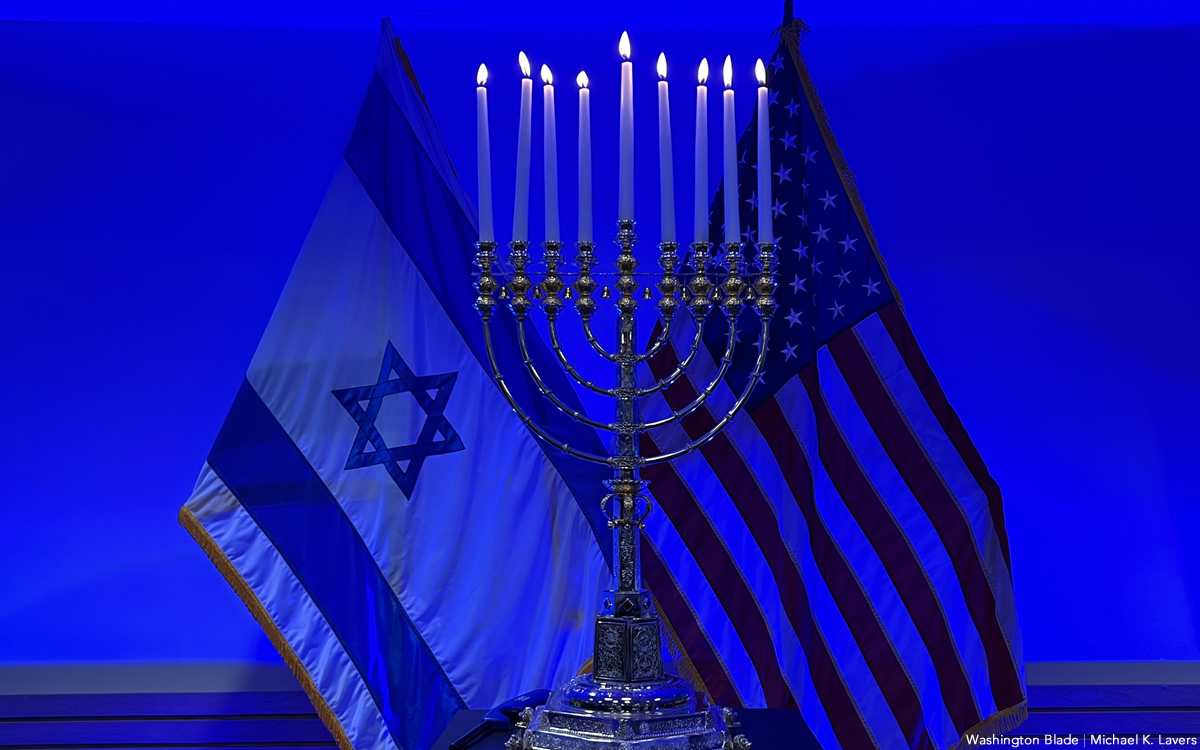 A number of Hanukkah events for LGBTQ students will take place at the University of Maryland this week.
Queer Jewish students and allies are welcome to attend Crazy Cozy Chill Chanukah Celebration on Sunday at the University of Maryland Hillel. Hamsa, home to queer Jewish life on campus, hosted a study break with hot drinks, snacks and games and a chance to welcome Hanukkah early. 
The first night of Hanukkah is Thursday.
Chabad UMD is hosting a menorah lighting on Thursday in front of McKeldin Library and plans to mention the war between Israel and Hamas, according to Rabbi Eli Backman of Chabad UMD. The event is going to be a focus on the positivity and the message of the Hanukkah story.  
"We've been around for thousands of years and all those who've tried to make sure that we didn't live to see the next generation (is) no longer here," Backman said. "That message will really resonate at home for the holiday."
The story of the Maccabees is one of the few stories where Jewish people fought, Backman said. In Jewish history, people don't see a military response in many of the other holiday moments.
"It should give us a boost of energy," Backman said. "A boost of strength (and) a boost of hope."
Part of the Hanukkah story's message is that Jewish people were in a position that they needed to form a military to secure their borders, Backman said. And they succeeded. 
For some, celebrating Hanukkah depends on the people they're around, Florence Miller, a sophomore English and Women, Gender and Sexuality Studies who is Hamsa's president, said.
Miller is agnostic and does not find themself to be a religious person, but the thing that has kept their Jewish faith is the people about whom they care are Jewish and the sense of community that comes from being Jewish.
"I just wanted to do a Hanukkah event," Miller said. "It's been a good refresher with how the semester has been."
Miller last year attended a Hanukkah party and played a game of dreidel, a spinning top with four sides marked with a Hebrew letter. The people who were in attendance wanted to bet something, but the only thing they could find were pinto beans.
"When I took them out of my pocket one got stuck in there," Miller said. "I still have that bean."
For some Jewish students it's important to go to Hanukkah events like Hamsa's celebration to be around like-minded Jewish people, Yarden Shestopal, a sophomore American Studies major, said.
"Which is why I like Hamsa," Shestopal said. "Since we're all queer people or allies we kind of share that mentality of acceptance."
Being part of the Jewish community at the University of Maryland has opened Shestopal up to how diverse the LGBTQ and Jewish communities are. Shestopal this year, however, debated whether or not to put his menorah up on the windowsill of his apartment because of the rise in anti-Semitism due to the war in Israel.  
"I'm pretty sure I am going to put the menorah in my window," Shestopal said. "The only way to combat anti-Semitism is to stay visible." 
Several University of Maryland students lived in Israel before or during their time at the university.
Elisheva Greene, a junior animal science major, went to seminary, a school for women to learn about Torah, during the pandemic. Greene said celebrating Hanukkah while a war is happening is going to be a similar feeling. 
"I'm able to do what I can from over here by supporting my family and friends," Greene said. "The biggest thing I can be doing is living my life as a Jewish person and showing that I express my Judaism and I'm not afraid."
Greene recalled they could not go more than 1,000 feet from home for two months and Hanukkah took place during that time. While it was difficult, Greene said people still put their menorahs on their windowsill.
"Knowing the resilience the Israelis have and the fact people like to show their Jewishness (is not) gonna stop me," Greene said. "Like there's a war going on but you're gonna be a Jew and you're gonna flaunt that."
Hearing postponed for gay D.C. gym owner charged with distributing child porn
Prosecutors call for Everts to be held in jail until trial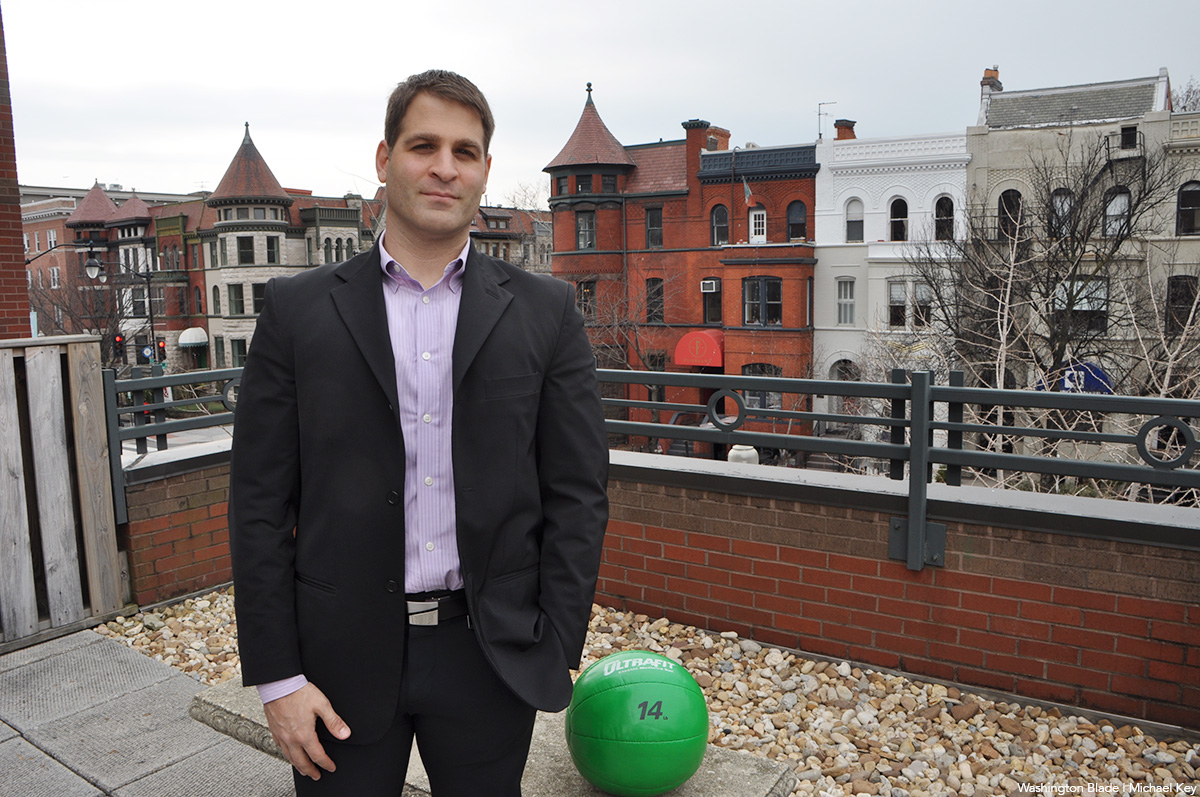 A detention hearing scheduled for Monday, Dec. 4, in which a judge would decide whether gay D.C. gym owner Michael Everts should remain in jail or be released while he awaits a trial on a charge of distribution of child pornography was postponed with no immediate date set to reschedule it.
However, records with the U.S. District Court for the District of Columbia, before which the case is being held, show that Everts's defense attorney later in the day on Dec. 4 filed a motion in which Everts waived his right to a detention hearing and requested that a preliminary hearing be scheduled on Jan. 10, 2024.
In his motion, defense attorney David Benowitz says the lead prosecutor with the Office of the U.S. Attorney for D.C. does not oppose this request. As of Tuesday morning, the magistrate judge presiding over the case had not ruled on Benowitz's motion.
But an entry in the court record on Wednesday, Dec. 5, states that Magistrate Judge G. Michael Harvey approved the motion and agreed to set the date for the preliminary hearing on Jan. 10 at 4 p.m. The court record shows that Magistrate Judge Robin M. Meriweather will preside over the preliminary hearing, in which prosecutors must present evidence, sometimes through testimony by witnesses, that probable cause or sufficient evidence exists to proceed to a trial. Meriweather will issue a ruling on whether probable cause exists.
Everts has been held without bond since the time of his arrest on Nov. 29 on a single charge of distribution of child pornography following a joint D.C. police-FBI investigation that led to his arrest.
He has owned and operated the FIT Personal Training gym located at 1633 Q St., N.W., near Dupont Circle since its opening in 2002.
Court records show that Benowitz filed a motion on Dec. 3 seeking a one-day postponement of the detention hearing to give him time to review the evidence presented by prosecutors with the U.S. Attorney's office. But Benowitz's second motion waiving Everts's right to a detention hearing and calling for a preliminary hearing on Jan. 10 appears to have voided his first motion and will result in Everts being held in jail until at least the time of the preliminary hearing in January.
"Mr. Everts has been advised of his rights under the Speedy Trial Act ("STA") and agrees to toll the time under the STA until the next hearing in this matter," Benowitz's second motion states. 
On Dec. 1, Assistant U.S. Attorney Jocelyn Bond, the lead prosecutor in the case, filed a 20-page Memorandum In Support of Pretrial Detention that describes the government's evidence against Everts and argues strongly in favor of having Everts held in custody at least until the time of his trial.
"Distribution of Child Pornography is a crime of violence and there is no condition or combination of conditions that will reasonably assure the safety of children in the community – both in the physical world and online – if Mr. Everts is released," the memorandum states.
The memorandum notes that Everts's arrest came about after an employee at the gay and bi hookup site Sniffies alerted the FBI that a Sniffies user was exchanging messages with other users expressing an interest in images of underage boys for sexual gratification. A joint FBI and D.C. police investigation traced the messages to Everts, according to an arrest affidavit and the U.S. Attorney's memo.
The affidavit and memo point out that an undercover D.C. police detective working with the FBI and posing as someone interested in underage boys contacted Everts through the Sniffies site and a social media messaging address of @ethaneffex. The undercover detective, who is identified in charging documents as the "online covert employee" or "OCE," engaged in messaging with Everts that prompted Everts to send the OCE video and photo images of child pornography, the arrest affidavit and memo state.
The memo seeking pretrial detention for Everts says Everts went beyond just expressing interest in viewing or sending the OCE child porn videos or photos but also described his interest in interacting with and possibly having sex with underage boys he knew.
"On multiple occasions he discussed his sexual interest in actual children that he encountered in his life, particularly emphasizing his desire to sexually abuse Minor 1 and noting that he had surreptitiously recorded Minor 1 at the playground in the past," the memorandum says.
"Not only did he send photos of these children to someone whom he had reason to believe also had a sexual interest in children," the memo states, "but he sent multiple voice messages to the OCE reiterating his sexual interest in Minor 1 – as well as in Minor 2 and other unknown minors — and describing the specific sexual acts he wanted to engage in with these minors."
The memo adds, "Only amplifying his danger to children, Everts then bragged about having previously engaged in sex with a minor and his willingness to sexually abuse a child as young as 10 years old."
Benowitz, Everts's attorney, didn't immediately respond to a request by the Washington Blade for comment on the case and whether he or his client dispute any of the allegations against Everts brought by prosecutors.