Miss Ross 'The Boss'
Legendary diva shines in triumphant D.C.-area appearance

Tuesday night provided a rare opportunity to see and hear Diana Ross in concert as she brought her "More Today Than Yesterday" tour to the Strathmore in Bethesda, Md. Ross shimmied and sang her way through a deliciously well-paced 22-song, 90-minute set that found her darting around to all corners of her vast discography with several wonderfully unexpected results.
There's so much mythology surrounding Ross, it lent the evening a rather surreal air. From her earliest days with the Supremes, Ross has always been flamboyant and over the top. And Motown, now having reached the 50-year mark, is engulfed in its own mythology. Ross, one of its biggest stars — some would say its biggest of all — carries with her a sort of pop culture immortality that's aided by the fact that the woman, save for an ever-so-slightly fuller face, appears only to have aged about five or eight years in the last 30. She looks and sounds astoundingly good, her long-underrated vocals as lustrous and elastic as they were in the '60s and '70s.
It would be stretching things to call this tour a comeback. She only did one album in the '00s, a covers project at that, and rarely shows up in public except to accept a Kennedy Center Honor or something like it. She has toured intermittently in the last few years but last night seemed more focused, better planned than reports indicated her other recent outings have been.
Working with a tight, though at times overpowering, 18-piece band that included a four-member horn section and five-piece string ensemble, Ross looked confident and seemed to genuinely enjoy the adulation the apparently sold-out crowd, comprised of many gays, lavished on her. Now 25 years removed from former fellow Supreme Mary Wilson's unflattering memoir and with her D.U.I. arrest nearly a decade behind her, Ross seems rejuvenated, looking ahead and eager to remind us why we loved her in the first place — she's a great singer with a staggering collection of hits, the majority of which have proved timeless.
The singer has been varying her set list from night to night this time out so Tuesday's show had a wonderfully unexpected feel to it. Refreshingly, she's ditched her decades-long tradition of throwing mere snippets of Supremes songs together into one mega medley and instead has returned to performing several alone in their entirety. That means, of course, there's no way to touch on everything ("Baby Love," "Come See About Me" and "I Hear a Symphony" were noticeable absences), but I was thrilled to hear full renditions of "Reflections," "You Can't Hurry Love" and "Stop in the Name of Love," clearly the biggest crowd pleaser in which the entire audience joined along in the famous choreography. "Love Child" retained its status as a game changer. A creative departure upon its release in 1968, it again broke new ground last night. Though nobody bats an eye today at a child born out of wedlock, the players breathed new life into the cut with a fiery salsa makeover, most pronounced during an extended jam outro during which Miss Ross changed gowns.
Other standouts included a dance medley featuring "Love Hangover" and "Take Me Higher," a stunning rendition of "Endless Love," a lovely — and highly unexpected — rendition of "It's Hard for Me to Say," a deep album cut from her RCA years during which, ironically, she showed slides of her fabled Motown cohorts which were poignantly presented. Earlier, during one of the Supremes numbers, Ross showed tons of footage and photos of her with Mary and Flo, her former teammates, indicating, perhaps, that the years have softened some of the bruised egos and hurt feelings of their notoriously thorny collaboration.
The evening wasn't perfect. The concert opened with an unfathomably muddy sound mix that found Ross's vocals so buried, you could barely tell what song she was singing. It improved gradually as the evening wore on but the band/Ross balance was never quite right. It's a problem that, according to reviews, has plagued the tour on other stops. Ross even stopped in the middle of one early number to confer offstage with someone while the band played on. And there were a few points that seemed slightly half-hearted. It was hard to tell if Ross was merely improvising jam-style or was covering for a few forgotten lines, but could-have-been showstoppers like "Touch Me in the Morning" and "Do You Know Where You're Doing To" featured odd lulls and lapses that shot their momentum. Both have fiery bridges I hated to see her shrug through. She made up for it, though, with a magnificent rendition of her trademark anthem "Ain't No Mountain High Enough," the climax of which was as glorious as I've ever heard her sing it.
The evening's loveliest moments came during a jazz set that featured Dusty Springfield's "The Look of Love" (which Ross has recorded) and two songs from "Lady Sings the Blues." The unexpected "Don't Explain," which Ross sing over just a minimalist jazz combo, was exquisite, her vocals, finally, in the full spotlight.
And even with the sound mix problems, it was obvious Ross is in fine voice. Much ballyhoo was made of then up-and-comer Whitney Houston invading Miss Ross's turf in the 1980s. Houston, in her prime, could out-sing Ross but still it's rather sad now to hear reports of Houston wheezing and gasping through raspy, croaky renditions on her current overseas tour while Ross, who quit smoking decades ago, sounds as lovely and rich as she ever did.
SET LIST:
* Band overture
1. The Boss
2. Every Day is a New Day
3. Reflections
4. You Can't Hurry Love
5. Stop in the Name of Love
6. It's Hard For Me to Say
7. Love Child
8. Medley: I'm Coming Out/Upside Down
9. Touch Me in the Morning
10. It's My House
11. Medley: Love Hangover/Take Me Higher
12. Ease on Down the Road
13. The Look of Love
14. Fine and Mellow
15. Don't Explain
16. Why Do Fools Fall in Love
17. Endless Love
18. Do You Know Where You're Going To
19. Ain't No Mountain High Enough
20. I Will Survive
ENCORE
* band intros
21. Reach Out and Touch (Somebody's Hand)
22. I Love You (That's All That Really Matters) (excerpt)
* band jam outro
National Gay & Lesbian Chamber of Commerce Certifies Brown, Naff, Pitts Omnimedia, Inc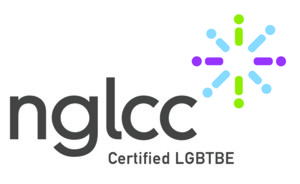 Washington, D.C. — Brown, Naff, Pitts Omnimedia, Inc, the parent company of the Washington Blade and Azer Creative, announced today it has been certified by the National Gay and Lesbian Chamber of Commerce (NGLCC) as an LGBT Business Enterprise. The NGLCC supports and advocates for diversity and inclusion for LGBT-owned businesses. With this certification the Blade's parent company joins more than 510 business and 134 corporate partners of the NGLCC.
Brown, Naff, Pitts Omnimedia, Inc. owns and operates the Washington Blade, the oldest and most acclaimed LGBT newspaper in the country. In 2012, the company launched Azer Creative, a full-service design firm. The company employs more than a dozen full-time LGBT staff.
"We are excited to become one of the 500 LGBT businesses across the country certified by NGLCC," said Lynne Brown, the Blade's publisher and a co-owner of the company. "The LGBT community has been part of our company from the beginning and we look forward to continue that for many years to come."
The Washington Blade was founded in 1969 and is known as the "newspaper of record" for the LGBT community both locally and nationally. Visit washingtonblade.com for more information. Azer Creative is a full-service graphic design firm based in Washington, D.C. Visit azercreative.com for more information. 
Vote now for the 2013 Best of Gay DC!
Choose in dozens of categories among hundreds of nominees, and make your voice heard!
Nominate the 'Best of Gay D.C.' now!
Dozens of categories cover all the best for LGBT Washington. Who deserves the prize this year?