Why the LGBT movement should emulate NRA
Let's vote out politicians who don't support us

It has been suggested by some that the LGBT movement should be more like the National Rifle Association. As the euphoria of the impressive repeal of "Don't Ask, Don't Tell" begins to wane and the long struggle toward equality continues, it's time for the organizations in the movement to become as strong as the NRA.
The NRA has more than 4 million members and an operating budget of more than $200 million a year. It has been credited with mobilizing its members at the polls to vote out elected officials who oppose their platform. The organization has successfully lobbied 23 state legislatures to pass constitutional amendments that protect the rights of hunters.
Right here in the District of Columbia it played a role in blocking the District from finally getting a vote in Congress because of the controversial amendment added to the legislation that would have stripped away many of the city's gun laws. More importantly, the NRA has convinced a majority of Americans that owning a gun is a right and that gun ownership is part of our great cultural tradition. It's an impressive record of accomplishment for a contentious issue.
The LGBT movement has made tremendous progress, especially in the past 10 years. A recent HRC report on polling shows that there have been double-digit gains in support for marriage equality and workplace discrimination protections as well as in overall acceptance of LGBT people. Five states and the District of Columbia have full marriage equality; 21 states prohibit employment discrimination on the basis of sexual orientation and gender identity and an additional nine states prohibit discrimination on the basis of sexual orientation. Yet, there is great progress to be made and some tangible steps that can be taken to achieve equality.
First, raise more money! HRC has the largest budget of the national organizations with $37 million. The combined budget of all national LGBT organizations is approximately $90 million a year. More money equals more mission and we are kidding ourselves if we think we've raised enough. There are an estimated 10 million LGBT people in the U.S. If each of us contributed an extra $1 a week, the movement would have more than $500 million to launch aggressive public education campaigns, hire more program staff and lobby elected officials. There are some of us who are struggling and can't afford to give so some of us might have to give an extra $2 a week.
Second, strengthen our presence in the states. It is not likely that great progress will be made on the federal level with the 112th Congress. There are several opportunities for states to pass workplace discrimination legislation (Florida, Utah), and there might be advances in marriage equality in Maryland and Rhode Island. Additionally, there are several anti-bullying initiatives being introduced and recently, the state of New Jersey passed a fairly comprehensive policy.
Third, vote out elected officials who vote against us. Politicians have a healthy respect for the NRA candidate rating. Even though "Don't Ask, Don't Tell" repeal and ENDA have the majority support in recent polls, it is unlikely that a member of Congress will lose his or her job for voting against such bills. There was a successful attempt in New York to remove four state senators that voted against marriage equality. This should be repeated in other key swing districts.
Fourth, expand the agenda: Marriage equality, ending workplace discrimination and reducing violence in schools have been identified as priority issues. There are a myriad of other changes that can be  made on a state and local level. Aging, foster care reform, homeless issues, public safety, mental health and other concerns and disparities need to be addressed as well and success on these issues will build toward greater equality. The movement should include these and begin to figure out ways to implement the laws that have been passed.
Finally, come out! There are numerous polls that show that people are much more likely to be supportive of equality if they know an LGBT person. TV shows like "Glee" help, but we need more allies and you can be our best recruiter.
The NRA didn't achieve its victories overnight and our movement will continue to face a long and drawn out battle to achieve equality. We are an incredibly talented and awesome group and will achieve our victory someday as we take it to the next level.
National Gay & Lesbian Chamber of Commerce Certifies Brown, Naff, Pitts Omnimedia, Inc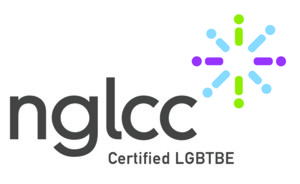 Washington, D.C. — Brown, Naff, Pitts Omnimedia, Inc, the parent company of the Washington Blade and Azer Creative, announced today it has been certified by the National Gay and Lesbian Chamber of Commerce (NGLCC) as an LGBT Business Enterprise. The NGLCC supports and advocates for diversity and inclusion for LGBT-owned businesses. With this certification the Blade's parent company joins more than 510 business and 134 corporate partners of the NGLCC.
Brown, Naff, Pitts Omnimedia, Inc. owns and operates the Washington Blade, the oldest and most acclaimed LGBT newspaper in the country. In 2012, the company launched Azer Creative, a full-service design firm. The company employs more than a dozen full-time LGBT staff.
"We are excited to become one of the 500 LGBT businesses across the country certified by NGLCC," said Lynne Brown, the Blade's publisher and a co-owner of the company. "The LGBT community has been part of our company from the beginning and we look forward to continue that for many years to come."
The Washington Blade was founded in 1969 and is known as the "newspaper of record" for the LGBT community both locally and nationally. Visit washingtonblade.com for more information. Azer Creative is a full-service graphic design firm based in Washington, D.C. Visit azercreative.com for more information. 
Vote now for the 2013 Best of Gay DC!
Choose in dozens of categories among hundreds of nominees, and make your voice heard!
Nominate the 'Best of Gay D.C.' now!
Dozens of categories cover all the best for LGBT Washington. Who deserves the prize this year?