November 3, 2011 at 3:26 pm EDT | by Kevin Majoros
Hitting the slopes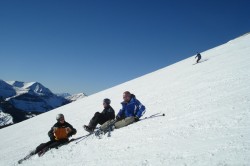 The Ski Bums have announced their 2012 skiing and snowboarding season and the theme this year is "It is time to power down," a double entendre meaning it's time to power down your gadgets and it is also time to power down a mountain.
Ski Bums president Chris French says when new members were asked last year why they joined the group, he heard a common theme. "I just wasn't meeting the kind of people I wanted to meet." These days with people increasingly finding each other online, the Ski Bums are hoping that gadget frustration will bring new members to the adventuresome group.
Ski Bums is the world's largest LGBT club for skiers and snowboarders. They began hosting trips in 2005 and today have about 800 members from the United States, Canada and Europe. They are headquartered in New York with chapters spread out across the country, including one in Washington.
The group hosts a variety of local, national and international trips for slope-seekers. Annual member dues are $49 and the dues are applied as a rebate when you sign up for your first trip. The 2012 season includes treks to Salt Lake City, Beaver Creek, Telluride, Sun Valley, Killington and more.
"Newbies are the celebrities of the day on their first trip," French says. "They receive a free skiing or snowboarding lesson and oftentimes there are clinics with other members of the group." He also described the vibe as "super outgoing" and the trips being a great way to meet new friends.
The Bums are not ones to squander all their energy on the mountain. They have an active community outreach program that has benefited the Anti-Violence Project, change.org, the Trevor Project, the Victory Fund and more. Recently they held their annual Bums Rush charity event in New York which is similar to the two-person "Amazing Race." After racing throughout the streets of New York, two people won a trip to St. Anton, Austria with money raised being donated to the Project.
The Ski Bums website is full of stats on member demographics. I was surprised to read that skiing has made a comeback from the snowboarding explosion and that 66 percent of the Bums prefer to ski. French says they're proud of their diverse member base, which has some trans members.
The group also has a policy of inclusiveness. They have announced their all-women's trip to the resorts at Killington and Okemo, Vt., March 2-4. French says resorts all over the country and Europe have been welcoming to Ski Bums members since their inception.
During the course of each year, the Bums host a series of "avalanche parties" across country, a chance for members and nonmembers to socialize, talk skiing and snowboarding, get advice on gear or even find roommates for an upcoming trip.
On Nov. 18, the D.C. Ski Bums will be at Nellies Sports Bar starting at 8 p.m. for the "blizzard bash." Join them for prize giveaways, games and info about their trips.
Also on the docket that night will be the chance to sign-up for two Ski Bums day trips specifically for D.C. area members. More information on the trips is coming but the dates are set: Jan. 28 and Feb. 11.
"Your personal goal should be celebrated," says French says. "We try to corral people into skill level groups so they get the most out of their experience."
If you miss your days of skiing and snowboarding or want to try for the first time, check out the Bums at ski-bums.org. They can also be found on Facebook at skibumslgbt.