December 1, 2011 at 2:52 pm EST | by Juliette Ebner
Going local
Editor's note: This is the second of a five-part series on holiday gift giving. Next week: the season's best in books, DVDs and other media.
Buying online is fast and convenient but nothing says holiday shopping like hitting up local stores, having the item instantly in your hands and enjoying the sights and sounds of Washington's streets as you patronize local businesses. Here are a few good places to get you started.
CB2 (3307 M St., N.W.)
These holiday-themed appetizer plates will be a cute addition to any party and at only $2.95 each, they can be used as stocking stuffers or gift favors. There are even three non-holiday designs.
This large snow globe features a model of the Neville house, complete with floor-to-ceiling windows, a '50s style fireplace and more for $29.95.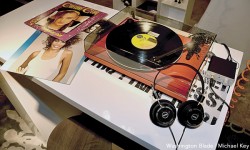 For those old school music lovers, this $399, bright red, "pro-ject" turntable just might be the perfect gift. It plays LPs and 45s with true analog audio and features a USB connection to digitize all that vinyl.
Hill's Kitchen (713 D St., S.E.)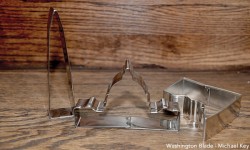 Visitors and D.C. natives alike will enjoy these cookie cutters. The Washington Monument and Capitol cutters, $3.25 each, are custom made with stainless steel for the store. There's also a D.C. cookie cutter for $1.75 and all the states, except Hawaii.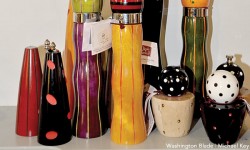 These pepper mills and salt shakers come in an array of colors, designs and sizes, like the small pawn shakers and the taller, 10-inch vase mill. They range from $29.95 to $79.95.
Miss Pixie's (1626 14th St., N.W.)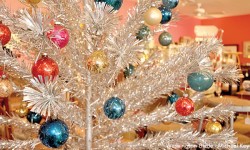 Need more ornaments for the tree? These pieces, ranging from $1 to $5, come in all colors, shapes and sizes. Collected from auctions and other sources, some of these ornaments are antiques and some are new.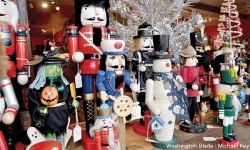 These nutcrackers just might be what's needed to finish decorating the mantle, table or any other surface and with prices ranging from $8 to $55, there's a good chance of finding the perfect one.
Stem (1412 U St., N.W.)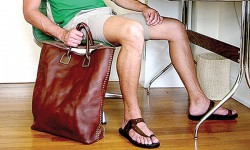 For the fashion-forward men and women on your list, don't miss Stem, which features handmade collections of accessories and leather goods, like this sturdy and stylish leather bag.
Home Rule (1807 14th St., N.W.)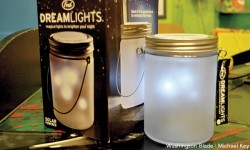 A solar-powered lantern, Dreamlights looks like fireflies in a jar. The LED lights can be set to come on at night or with a shake. At $29.95, this could be a great gift for a kid afraid of the dark or mood lighting on a date.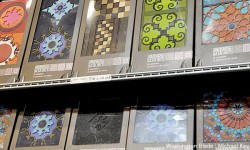 These coasters, with Middle Eastern-inspired designs, come in sets of two for $14.99 and six for $34.99.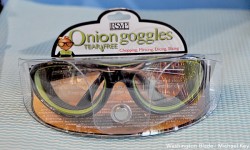 Looking for a gift for the chef? These $20 onion goggles protect eyes from the vapors that case irritation and tears while chopping.
Pulp (1803 14th St., N.W.)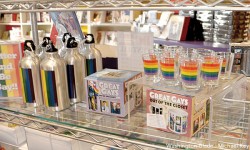 Want to spread a little Pride this holiday season? Try decorating the tree with these rainbow ornaments that come in a set of six for $12.95.
There's also this rainbow disco ball for $5.99 that can be hung on the tree, rearview mirror or just about anywhere.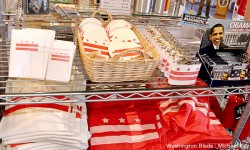 Need something to help get through time with the in-law? This D.C. flask for $14.95 is a great way to get that little bit of liquid courage.
Trohv (232 Carroll St., N.W.)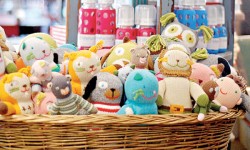 You could easily do all your holiday shopping in Takoma Park and one of the best places to start is Trohv. It's filled with great gift ideas, from home accessories to furniture to kids toys, like these unique stuffed Blabla dolls knitted by Peruvian artisans.
American Plant (5258 and 7405 River Rd., Bethesda; 10106 Georgetown Pike, Great Falls, Va.)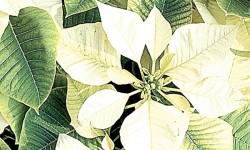 From orchids and custom arrangements to pots and garden furniture, American Plant's three area locations offer great gift ideas for the gardener in your life. You'll also find cut trees, garland and poinsettias to deck your own halls with maximum style.