Skating into Signature
Gay-helmed musical 'Xanadu' gets regional premiere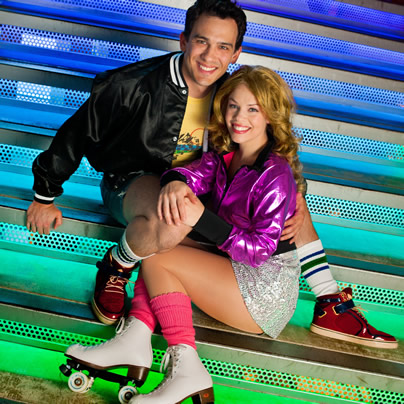 'Xanadu'
May 8-July 1
Signature Theatre
4200 Campbell Ave., Arlington
$62-$86
703-820-9771
Had the 1980 roller disco flick "Xanadu" never been made into the same-titled Broadway musical comedy, the clunky Olivia Newton-John vehicle would most likely have been relegated to the narrow shelf reserved for similar cult films.
A mostly awkward paean to mythology and passing fads, the movie's saving distinctions include an ear worm-y pop score split between Newton-John's personal composer John Farrar and Electric Light Orchestra's Jeff Lynne, a parade of curiously hideous disco-era costumes and the fact that it features MGM's dance legend Gene Kelly on skates in his final movie role.
Happily, the movie has been hilariously reimagined as "Xanadu," the hit musical that's poised to make its Washington premier at Signature Theatre this week.  What's most striking about the show is the way it pairs a sugary screen score ("Xanadu," "Magic," "Have You Ever Been Mellow," etc.) with the sophisticated wit of gay playwright Douglas Carter Beane who's also written librettos for "Sister Act" and "Lysistrata Jones." He also wrote "To Wong Foo, Thanks for Everything! Julie Newmar," "The Little Dog Laughed" and "As Bees in Honey Drown."
Via phone from Manhattan, he describes "Xanadu's" leap from screen to stage as the brainchild of the movie's primary producer Rob Ahrens. After being let go by one of the major studios, Beane explains, Ahrens took a surfing trip to Central America. While lying on his board waiting for a wave, Ahrens formulated his next move — he needed to bring "Xanadu" to Broadway. Through mutual friends Ahrens was advised that Beane was the right man to pen the adaptation. Beane was skeptical.
"I knew the film," he says. "In the early days of HBO, I think they played 'Xanadu' and 'Clash of the Titans' on an endless loop. Anyone who ever skipped school in those days knew them well. They're not good. I remember telling my agent that the job sounded like a real résumé stopper. But Ahrens was relentless. He said I could do whatever I wanted, so I took another look at the film. It was still bad — it had become all nostalgia without the cumbersome taste."
The plot is simple: Greek muse Clio leaves Mount Olympus for early 1980s Venice Beach, Calif., where, disguised as an Australian roller girl named Kira, she hopes to inspire artist Sonny in creating his decisive achievement, a roller disco. When Clio falls into forbidden love with Sonny, her jealous sisters see it as an opportunity to make trouble.
"Greek muses. Inspiration," Beane says. "That's the beginning of theater — everything we hold to be good, pure and beautiful. On the other hand, putting a bad movie on stage is the absolute butt hole end of theater. What would happen if I put classic Greek and '80s trashiness together? What would Aristophanes say? And I just started writing. I'd found my way in as they say. … I wrote the dialogue as if it were a good Edith Hamilton translation of the classics, but set in the 1980s. In turn, the set designer created a Greek amphitheater that was a really a disco roller rink. The choreographer fused Solid Gold with Martha Graham. The actors pulled out their best classical voices. Everything fell into place quickly; it all worked."
Xanadu opened on Broadway May of 2007, ran for more than 500 performances and garnered Beane a Drama Desk Award for Best Book. Gay actor Cheyenne Jackson played Sonny.
Signature's "Xanadu" is directed and choreographed by Matthew Gardiner, the company's associate artistic director, and stars Helen Hayes Award-winner Erin Weaver and handsome Charlie Brady ("South Pacific" on Broadway) as Clio and Sonny. Local favorites Sherri L. Edelen and Harry A. Winter, and big-voiced recent Helen Hayes Award-winner Nova Y. Payton are also featured.
Gardiner, 28, first saw "Xanadu" with Signature's artistic director Eric Schaeffer during its New York run.
"As we left the theater, I remember thinking it was the most joyous, funny smart work I'd seen in a long time. I said to Eric that I had to direct this show sometime, someplace," Gardiner says. "Time passed and he [Schaeffer] randomly told me that we were putting 'Xanadu' in this season. He thought it would be a good fit and that I'd be directing."
He says the show works for reasons that aren't obvious.
"Audiences love it because it's funny, but they probably won't see — and I wouldn't expect them to see — what a well-crafted piece of theater it is. With its satyr play and party at the end, it's like a Greek drama. I noticed that when I saw the New York production."
Gardiner admits a weird fondness for the film version. When they were about 5, Gardiner and his twin brother James Gardiner (a talented local actor) spent a lot of time watching it and "Grease," also with Olivia Newton-John. Gardiner says to enjoy "Xanadu," the musical, it's not mandatory to know the movie, but a cursory knowledge of its leading lady and her music, and a sense of what the '80s were, certainly helps.
Native to the D.C. area, Gardiner grew up in the arts. He played Tiny Tim at Ford's Theatre and danced in the "Nutcracker" for 10 years at the Washington School of Ballet. He successfully co-directed and choreographed the terrifically fun and campy "Reefer Madness" and "Jerry Springer: The Opera" at Studio 2ndstage. He was named Signature's associate artistic director just prior to this year's season. Most recently he staged Signature's hit premier "Really Really," Paul Downs Colaizzo's play about self-serving young adults and an alleged date rape.
After "Really Really," Gardiner, who's gay, says he was ready for something fun. With "Xanadu," a brisk 90-minute zany sendup of a really bad '80s movie, he found his antidote. "It's been great finding beats, punch lines and gags, but I've also enjoyed exploring the show's real intentions underneath — love and joy and real life emotions. The process has been joyous."
Young actor Mark Chandler, a pop tenor whose voice is perfect for the score, is thrilled to be cast in the production. As part of the ensemble, he plays assorted characters including one of the Greek muses. And while he's been singing, acting and dancing professionally for some time, this is his first time on skates before an audience. Luckily, a skating instructor (Gregory VanderPloeg) was brought to bring the actors up to speed.
"Before 'Xanadu,' the last time I skated was at a birthday party in L.A. a couple years ago, and nobody was entirely sober," says Chandler, also gay. "I can tell you, learning to skate has been a bonding experience for the cast. Falling and embarrassing yourself repeatedly does that."
He and the cast, says Chandler, have a come a long way in little time. Now he's performing all sorts of tricks — jumps, leaps and cartwheels on skates — and he does them all in gold sequined and lamé booty shorts no less.
"I didn't know much about the movie. I first watched it after I was cast. It's interesting," he says diplomatically. "But the musical is another story. It's a good time. I promise you'll walk out of the theater laughing, and you'll probably have a little glitter on you too."
Put this out gay trailblazer's supportive coach in your bracket
'Coach Willard's awesome,' says Derrick Gordon of Maryland's Kevin Willard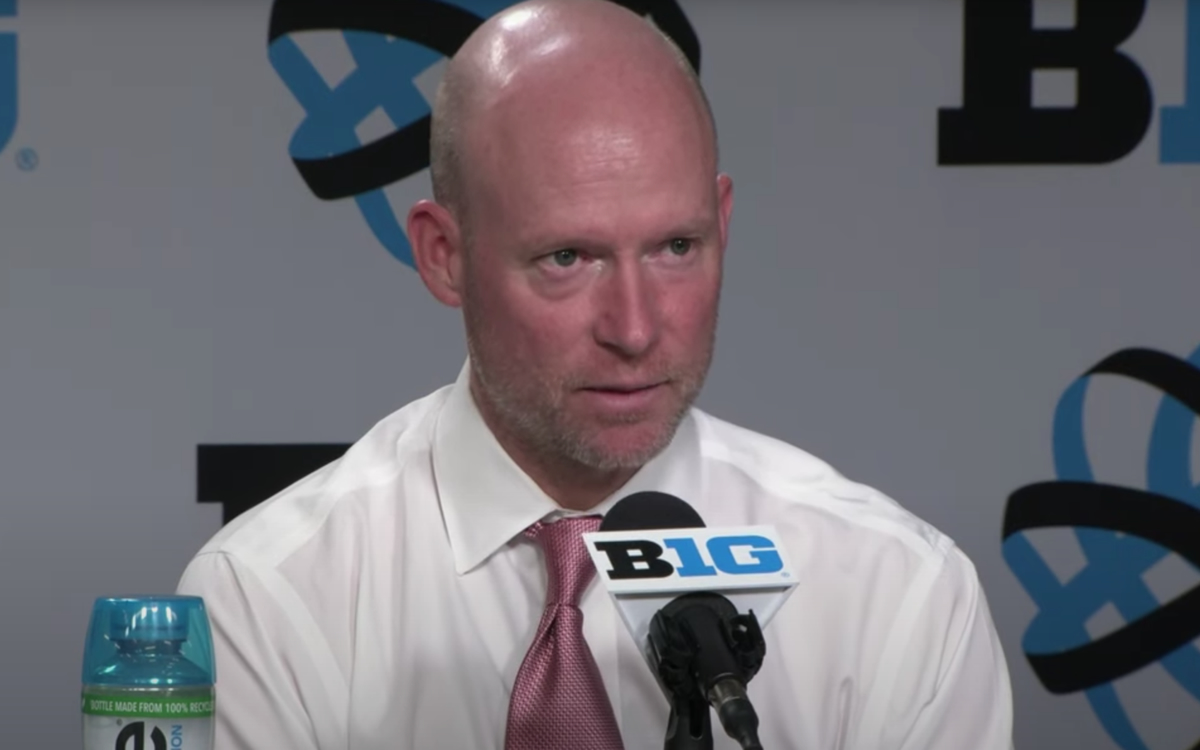 When the 8th seeded Maryland Terrapins faced off against No. 1 Alabama in the second round of the NCAA Men's Basketball Championships last weekend, it wasn't just the players on the hardwood who were working hard for the win. Nate Oats coached the Crimson Tide to a 73-51 victory less than an hour from their home court. And on the other side was Kevin Willard, who is not just a seasoned coach, but a strong LGBTQ ally.
Willard was Derrick Gordon's coach at Seton Hall when he transferred from UMass in 2015, a year after he came out as the first out gay Division I Men's basketball player in the NCAA.
Gordon has credited Willard with creating a comfortable environment, after he "bumped heads" with former UMass coach Derek Kellogg during his two seasons with the Minutemen. In contrast, he said he instantly connected with Willard, and told his teammates and Willard following his final season at Seton Hall that he wished he had another year of eligibility remaining. He's said he considered Willard the best coach he'd ever played for.
"He just made it comfortable for me," Gordon told Glenn Clark Radio in an interview broadcast on March 22, 2022. "He said, 'You know what, we're more focused on who you are as a person and a basketball player and what you bring to the team.' He voiced that over and over again. When I went on my visit, I just felt even more comfortable, met a couple of the guys. They made me feel right at home as well, so it was kind of like an easy decision. Coach Willard's awesome. He's an amazing guy."
If you don't believe Gordon, ask the West Virginia Mountaineers, who lost to the Terrapins in the first round 67-65. Maryland's win "took the paint off the floor at Legacy Arena" in Birmingham, Ala., as Brendan Quinn wrote in The Athletic. He described Willard's style of coaching this way:
"Willard paced the sideline, as he does. The man is intense. Doesn't suffer fools. Serious stuff. No BS. Black eyes screwed deep in a bald head, no pupils. He regards things sideways, incredulous toward anyone who doesn't come correct. It's his whole thing. If Guy Ritchie cast a college basketball coach, it'd be Willard."
Gordon told Glenn Clark Radio that he particularly recalled the kind of support Willard gave him in one practice early in his Seton Hall career, according to Press Box Online.
"I remember a particular situation that happened in practice — came down the court and I was wide open and I didn't shoot it," Gordon said in the 2022 interview. "[Willard] stopped practice and he said, 'You're not at [UMass] anymore. I trust you. I believe in you. Shoot the ball.' Ever since then, my confidence was through the roof, especially dealing with I had to deal with when I was at UMass with that coach to playing under Coach Willard and him telling me that specifically, he just let me play my game."
Last July, Gordon posted on Instagram that after playing a few seasons in Europe for Cyprus and Germany, "I decided to end my career as a professional athlete."
Gordon is now 31, and he told his followers he is working on a book about his life "on and off the court," in hopes he might "help gay young people, student athletes in particular and others who are struggling to pursue careers in professional sports or any career paths they chose without fear or shame."
Since Christmas, he's been sharing posts that include photos with his boyfriend, actor Scott Backman of Los Angeles, including one from last week, captioned: "Every time we're together, it's like falling in love all over again."
10 LGBTQ events this week
Drag, dancing and kite flying among highlights
Below are our picks for some of the most fun and creative things to do this week in the DMV that are of special interest to the LGBTQ community.
---
Drag Queen Trivia Tuesday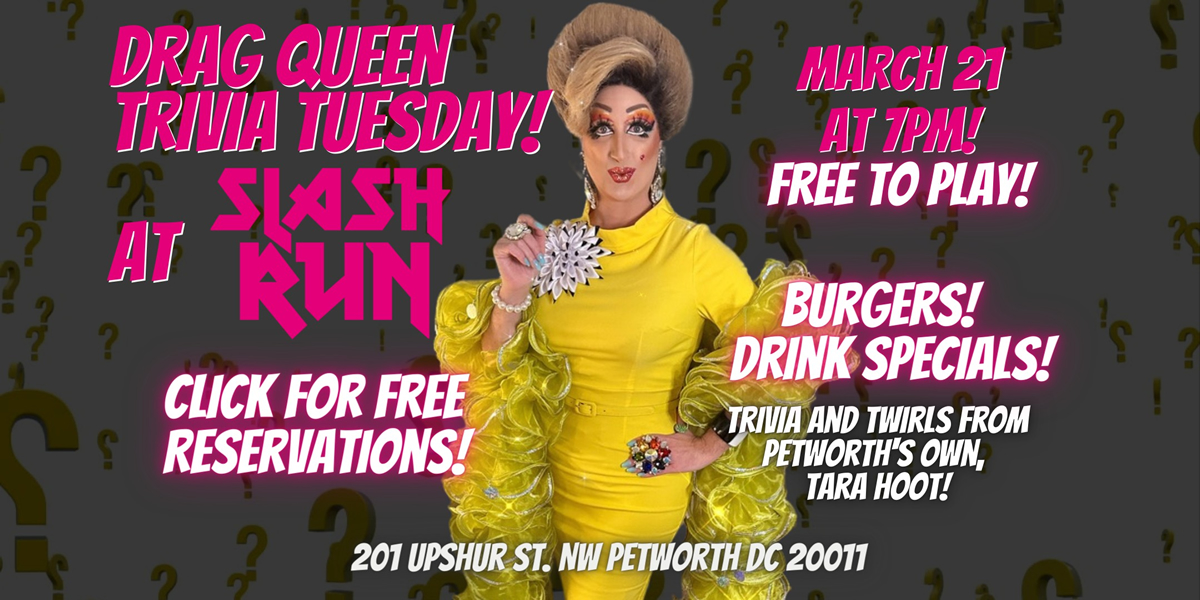 Tuesday, March 21
7 p.m.
Slash Run
201 Upshur Street, N.W.
Facebook | Reservations
Tara Hoot leads a game of trivia at Slash Run on Tuesday.
---
Daddy Issues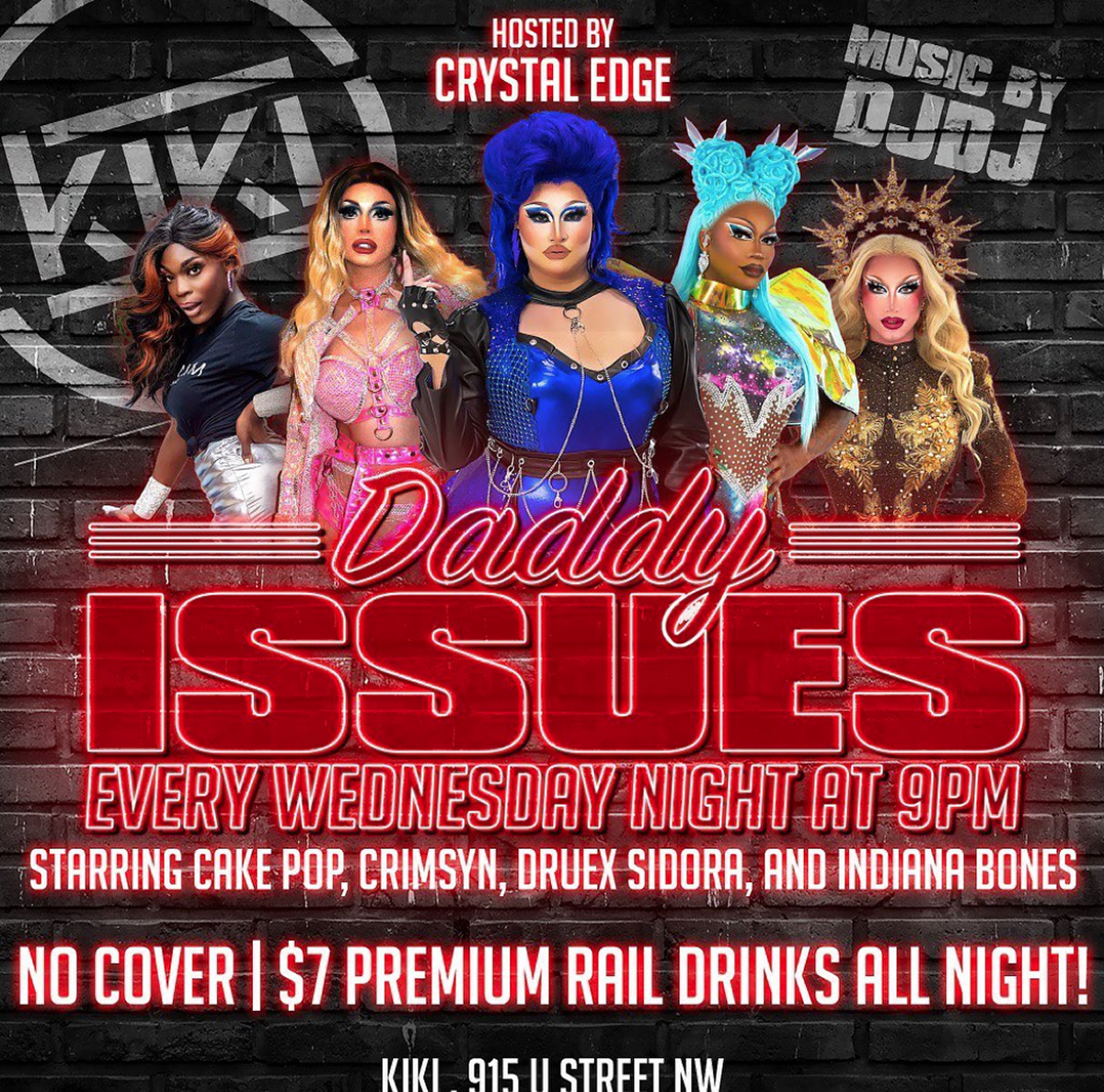 Wednesday, March 22
9 p.m.
Kiki
915 U Street, N.W.
Instagram | Website
Crystal Edge leads the weekly drag show at Kiki on Wednesday.
---
DC Boys of Leather – March Happy Hour

Thursday, March 23
6-9 p.m.
Trade
1410 14th Street, N.W.
Facebook
Grab your gear and make your way to Trade for the March Happy Hour of the DC Boys of Leather.
---
RuPaul's Drag Race Viewing Party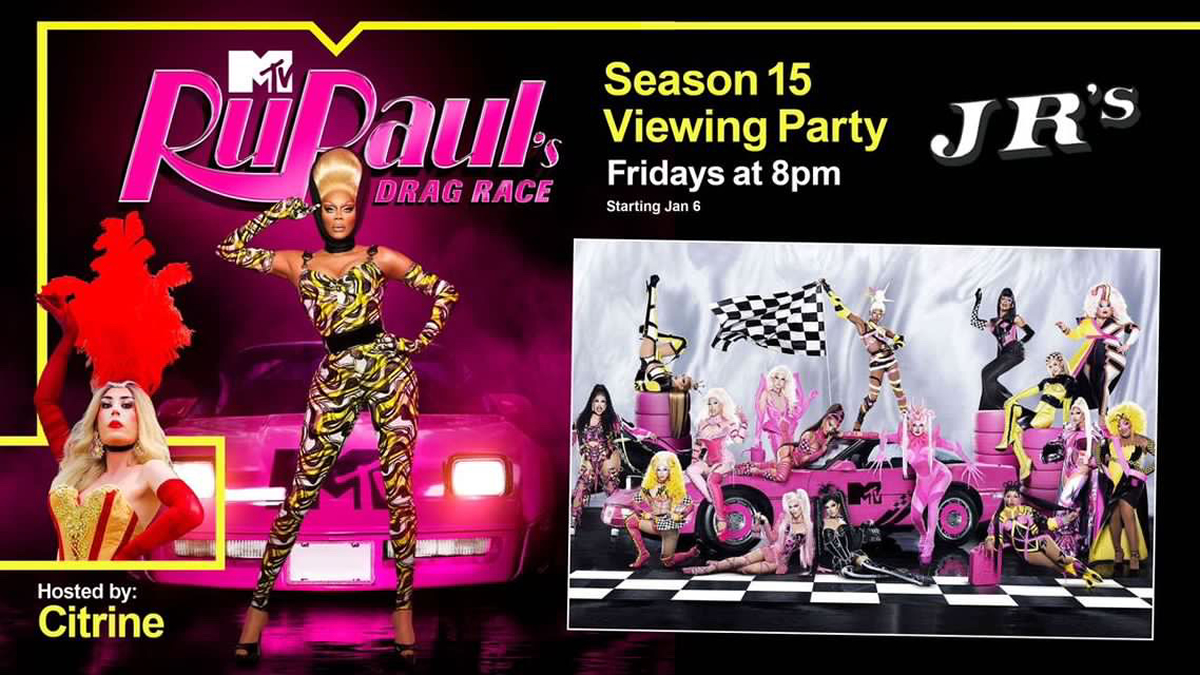 Friday, March 24
8 p.m.
JR.'s Bar
1519 17th Street, N.W.
Facebook
Citrine leads the RuPaul's Drag Race Season 15 Viewing Party at JR.'s Bar on Friday.
---
Kicks & Giggles Glow Crazy! Blacklight-Glow Paint Party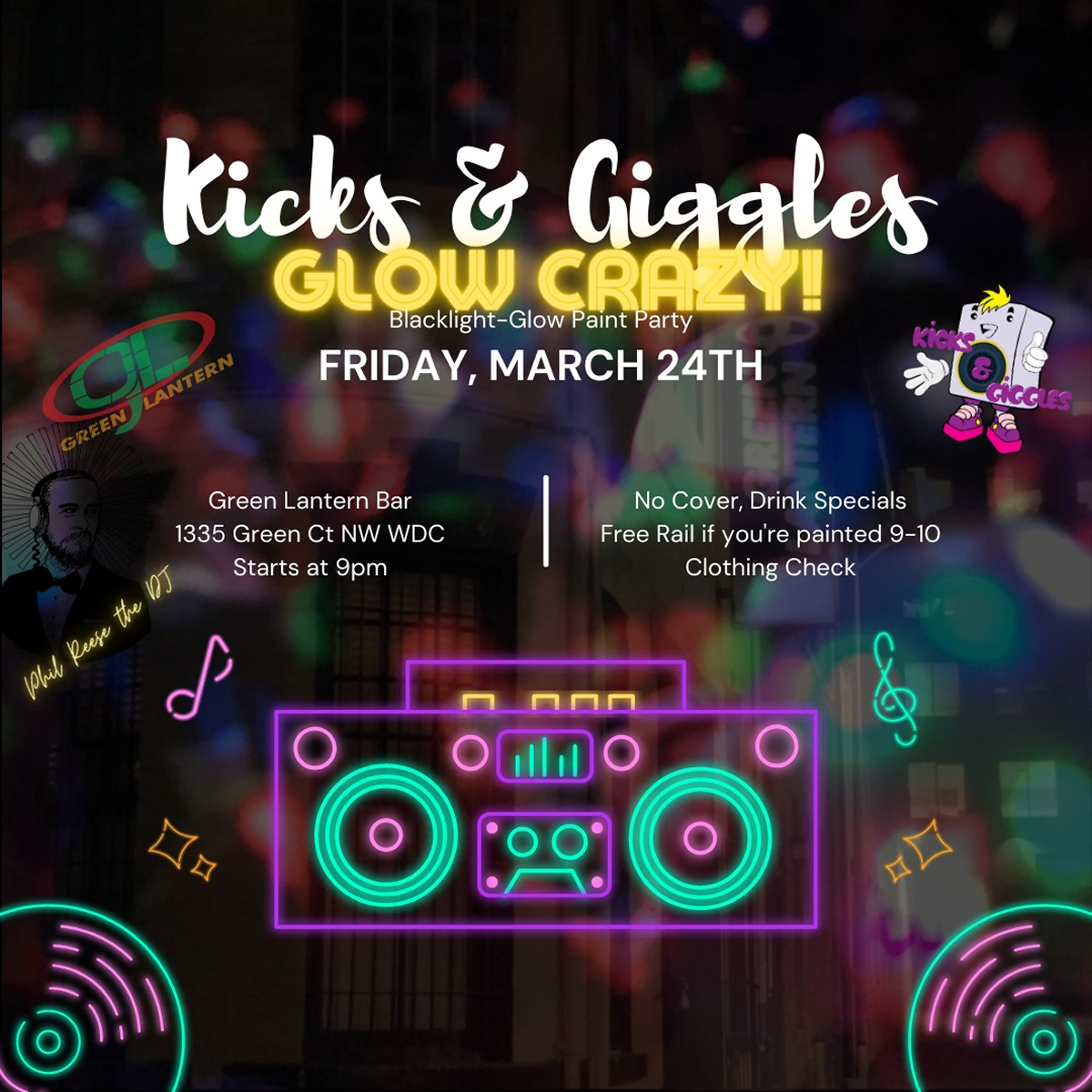 Friday, March 24
9 p.m.
Green Lantern
1335 Green Court, N.W.
No cover
Facebook
Kicks & Giggles bring you a glow-tastic time on Friday with a blacklight-glow paint party at the Green Lantern. There is a clothes check and there are free rail drinks if you are painted with glow paint between 9 and 10 p.m.
---
Good Times (Disco House Party)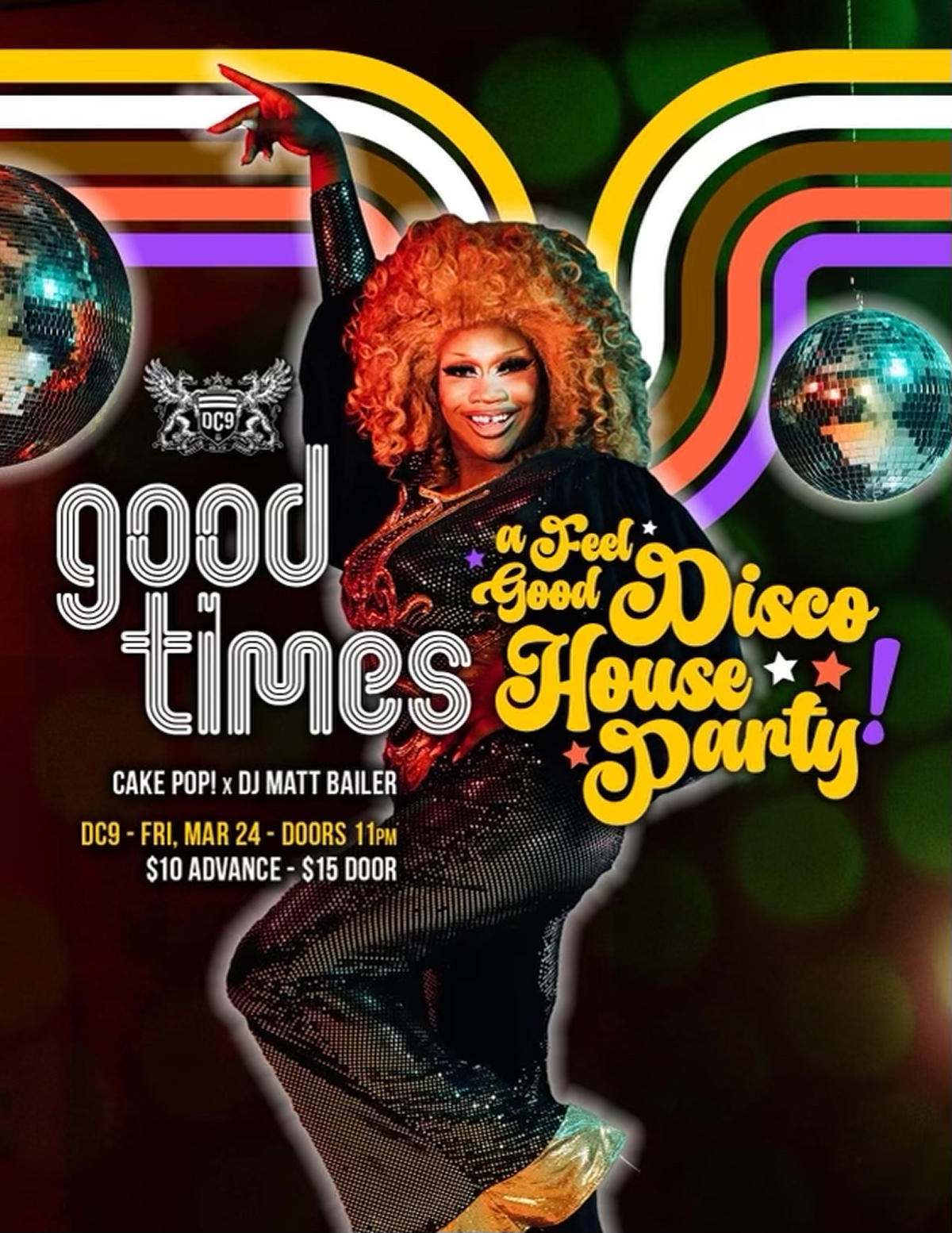 Friday, March 24
11 p.m.
DC9 Nightclub
1940 9th Street, N.W.
$10 advance / $15 door
Facebook | Eventbrite
Cake Pop! and DJ Matt Bailer entertain on Friday with a feel good Disco House Party at DC9 Nightclub.
---
Candela! UPROAR's Latinx Party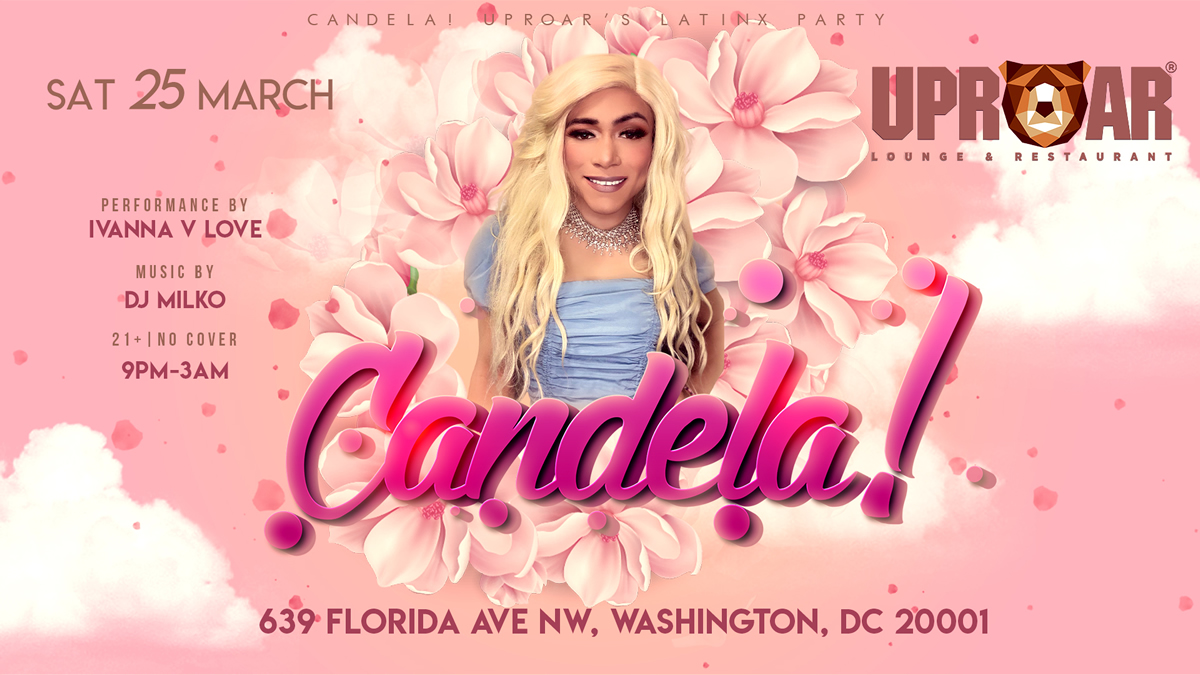 Saturday, March 25
9 p.m.
UPROAR Lounge & Restaurant
639 Florida Avenue, N.W.
Facebook
UPROAR Lounge & Restaurant hold a Latinx party on Saturday with a performance by Ivanna V Love.
---
Cherry Blossom Kite Festival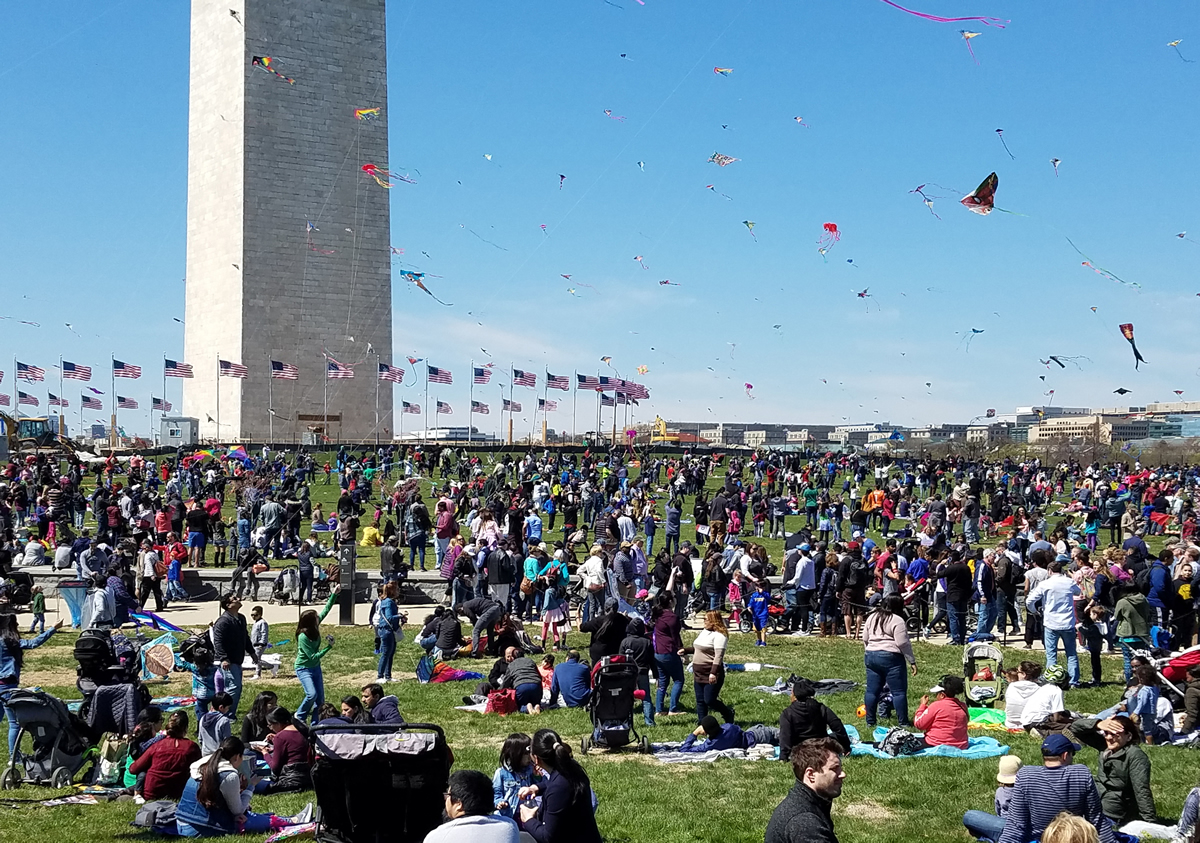 Saturday, March 25
10 a.m.-4:30 p.m.
Washington Monument
Facebook | Website
The annual kite festival is back on Saturday by the Washington Monument.
---
Cambria Drag Brunch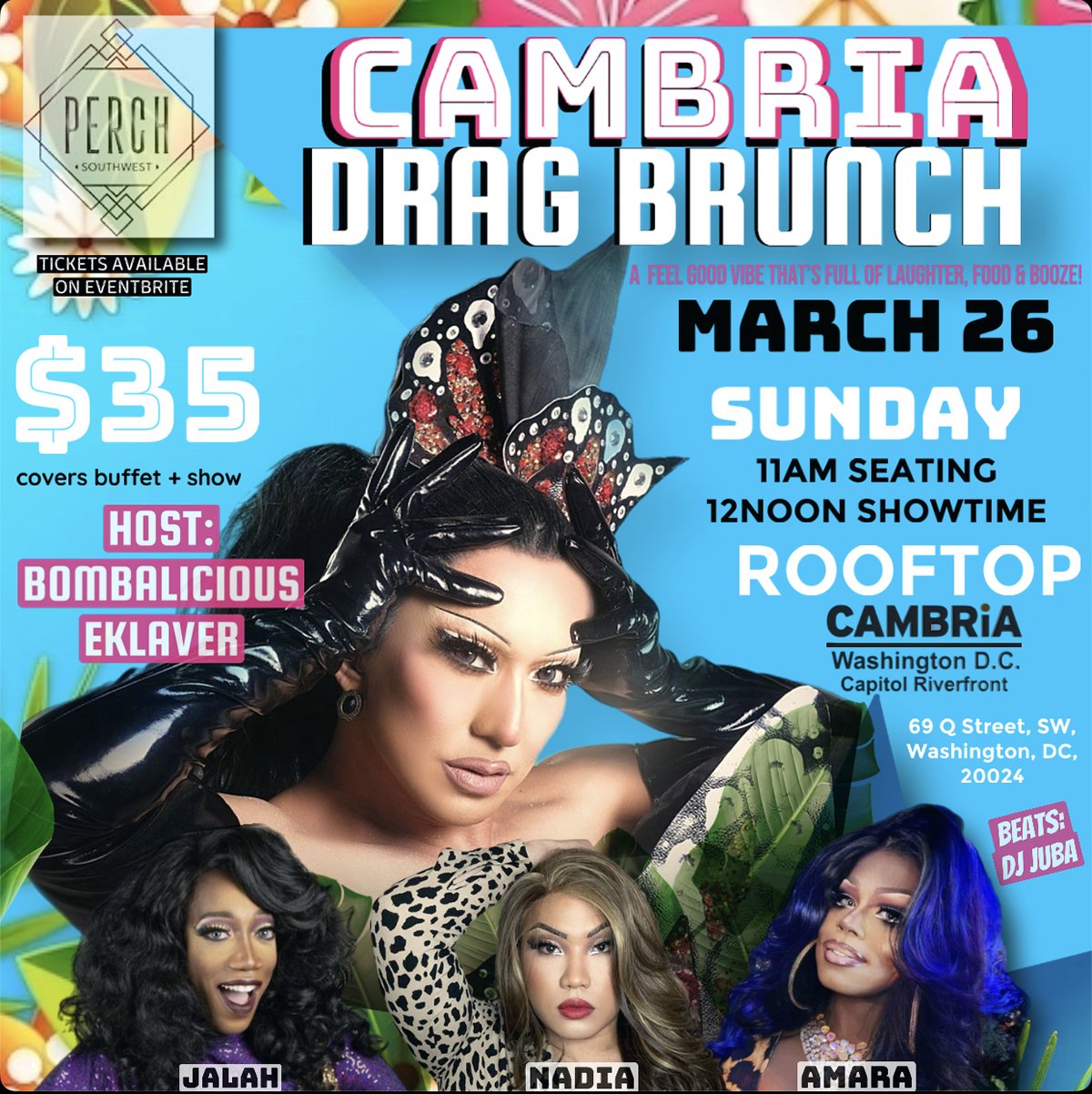 Sunday, March 26
11 a.m.
Rooftop Cambria Capital Riverfront
69 Q Street, S.W.
$35
Eventbrite
Bombalicious Eklaver leads a fun drag brunch on Sunday with performers Jalah, Nadia and Amara. $35 covers the buffet and show, but bring your dollar bills to show your support to the performers.
---
Drag Show for Charity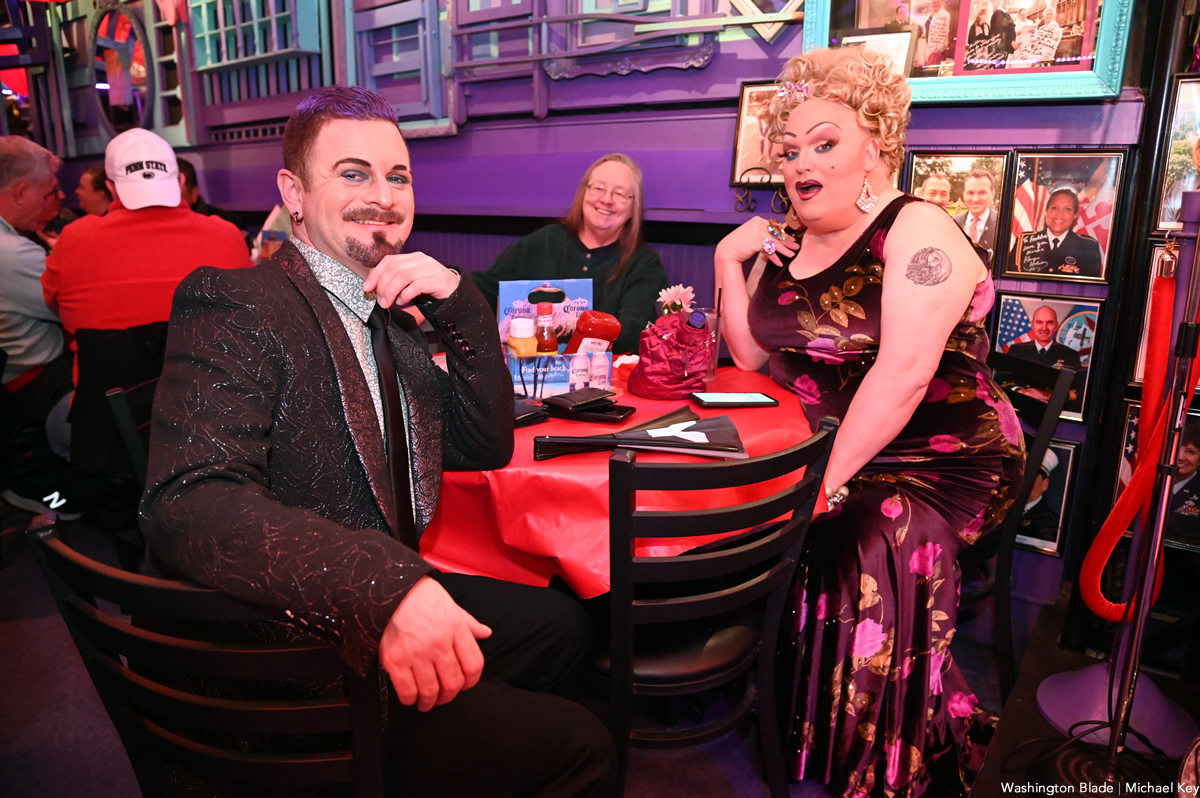 Sunday, March 26
8-10 p.m.
Freddie's Beach Bar
555 23rd Street S
Arlington, Va.
Facebook
AGLA and Go Gay DC present a drag show for charity at Freddie's Beach Bar on Sunday.
PHOTOS: Freddie's Follies 20th
Arlington drag show celebrates milestone
Freddie's Follies had a 20th anniversary show at Freddie's Beach Bar in Arlington, Va. on Saturday, March 18. Performers included Destiny B. Childs, Monet Dupree, Patti Lovelace, Sasha Adams Sanchez and Ophelia Bottoms.
(Washington Blade photo by Michael Key)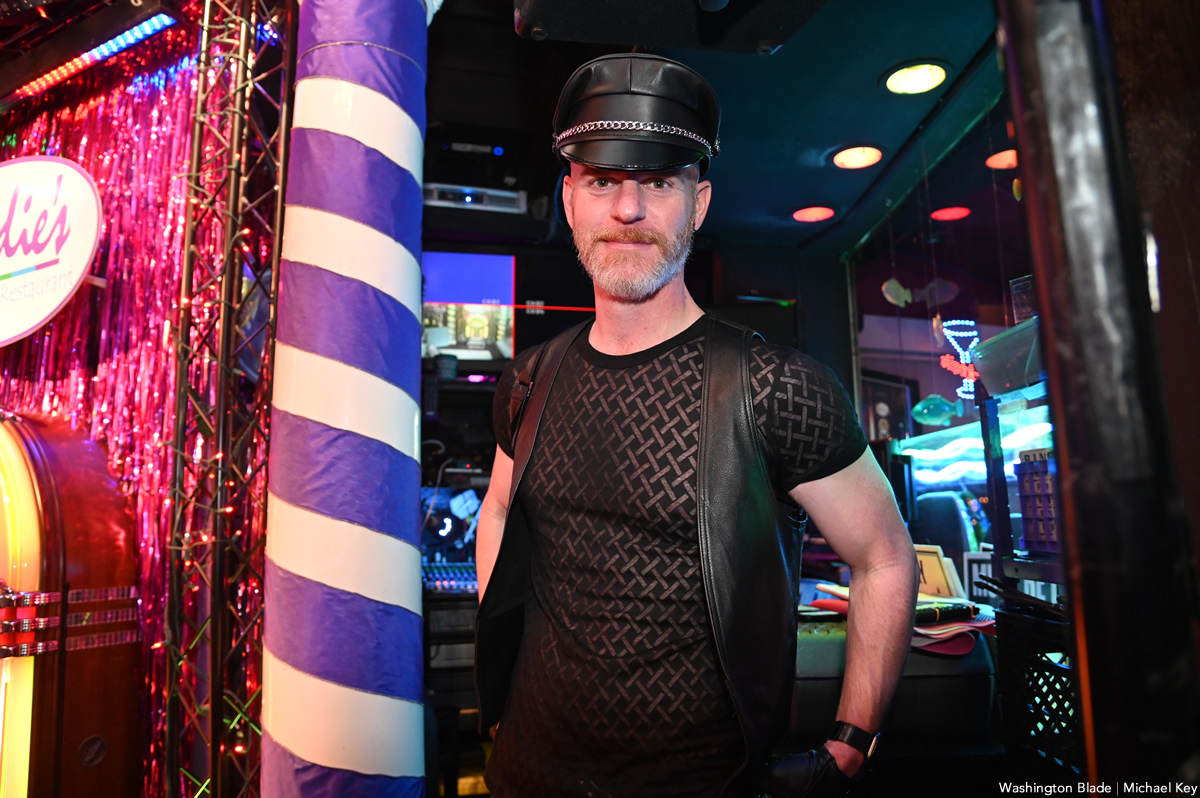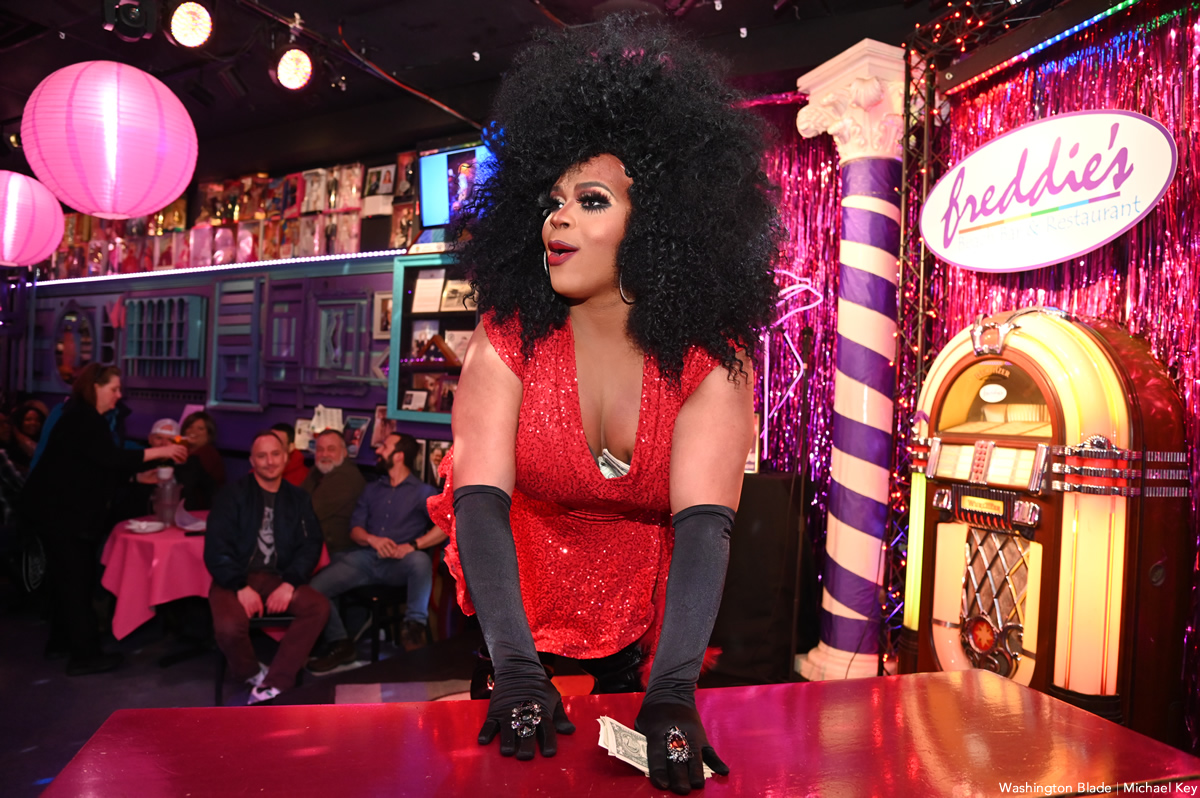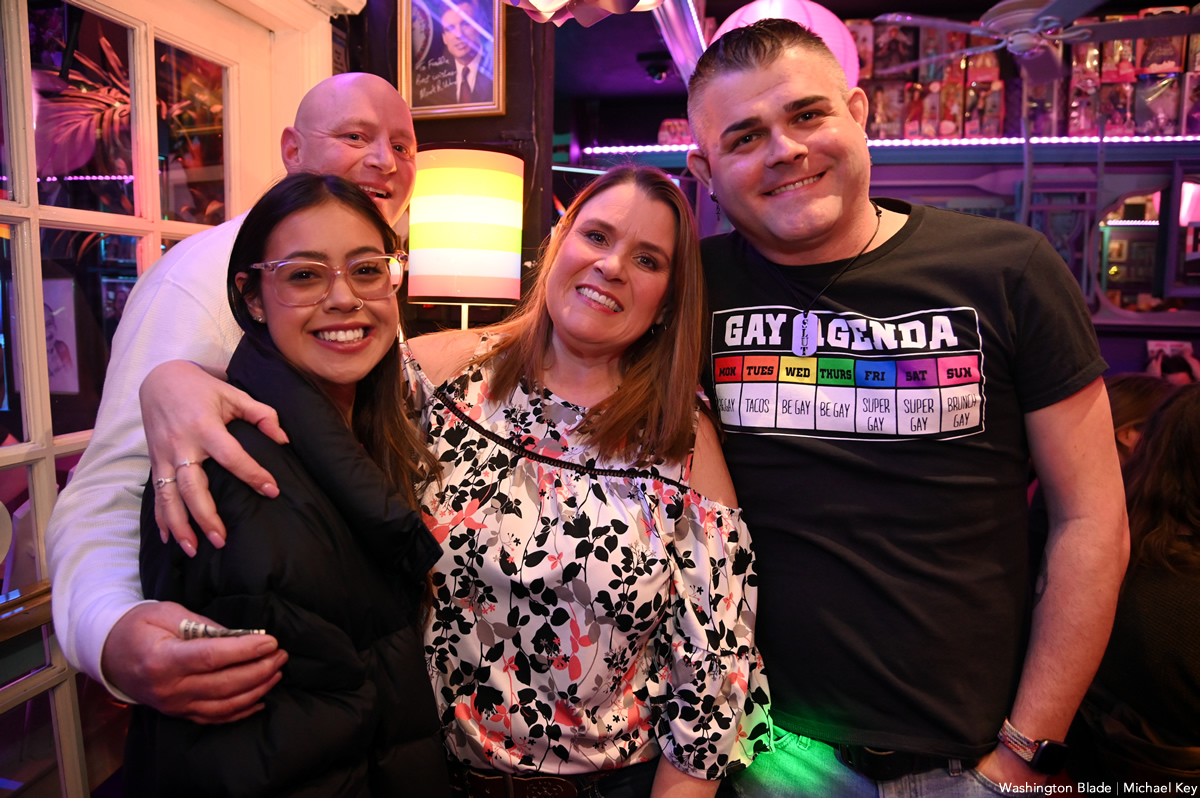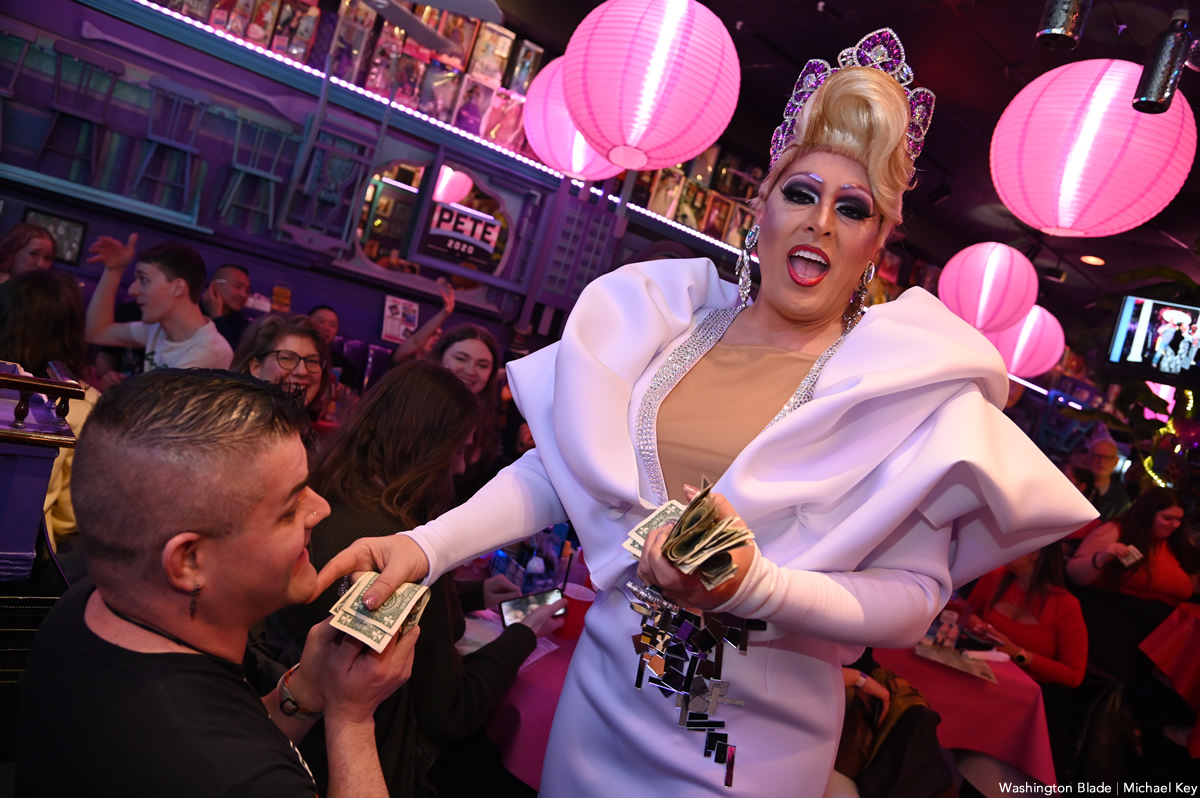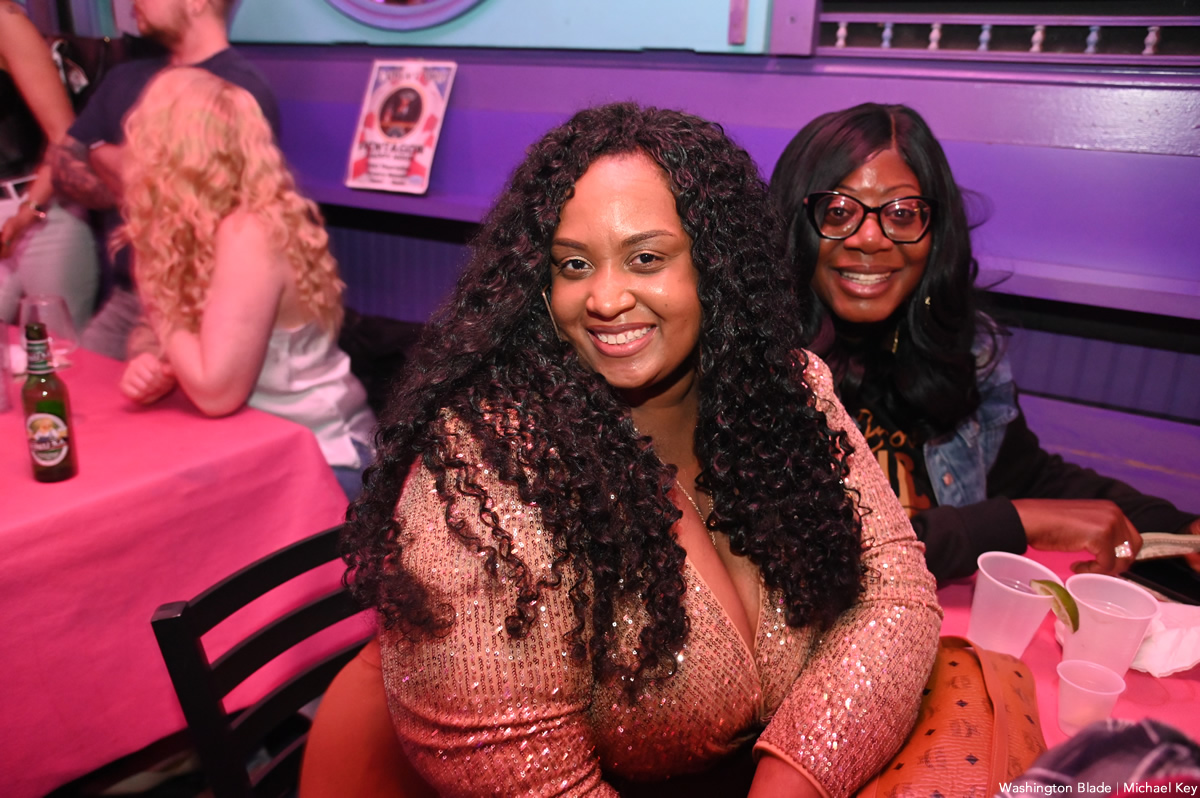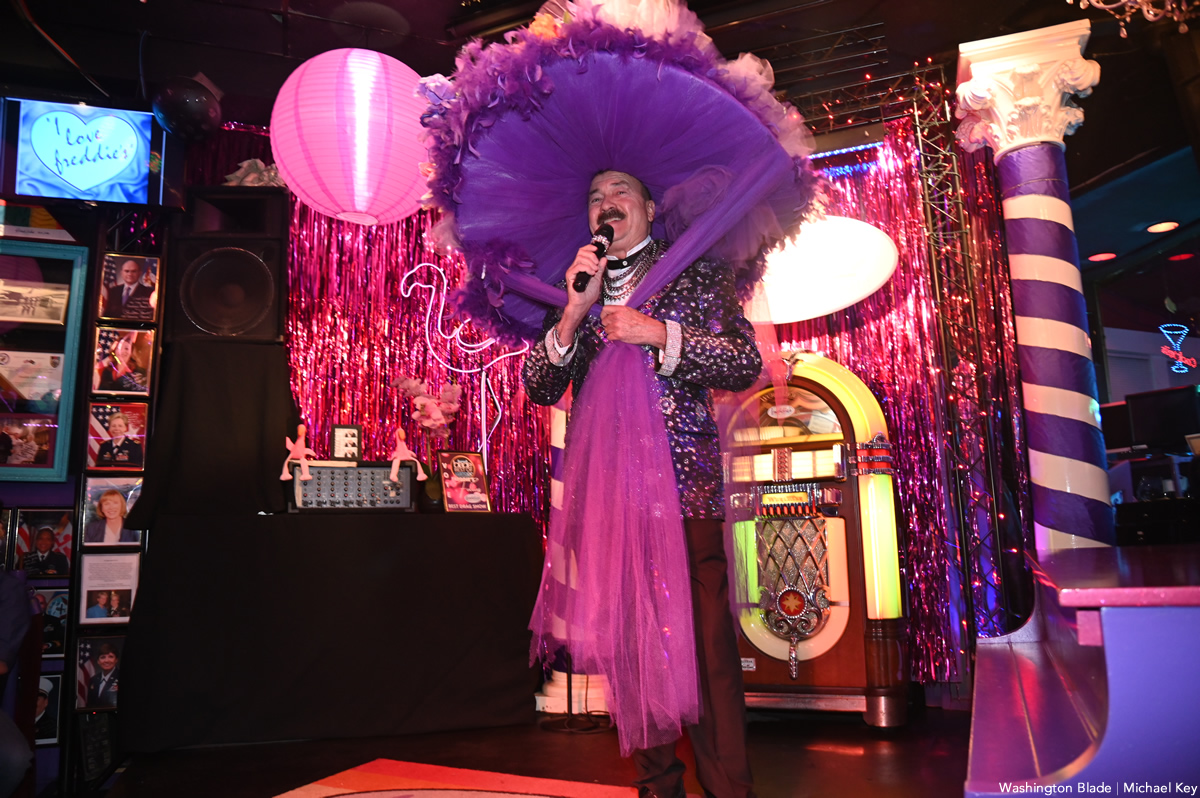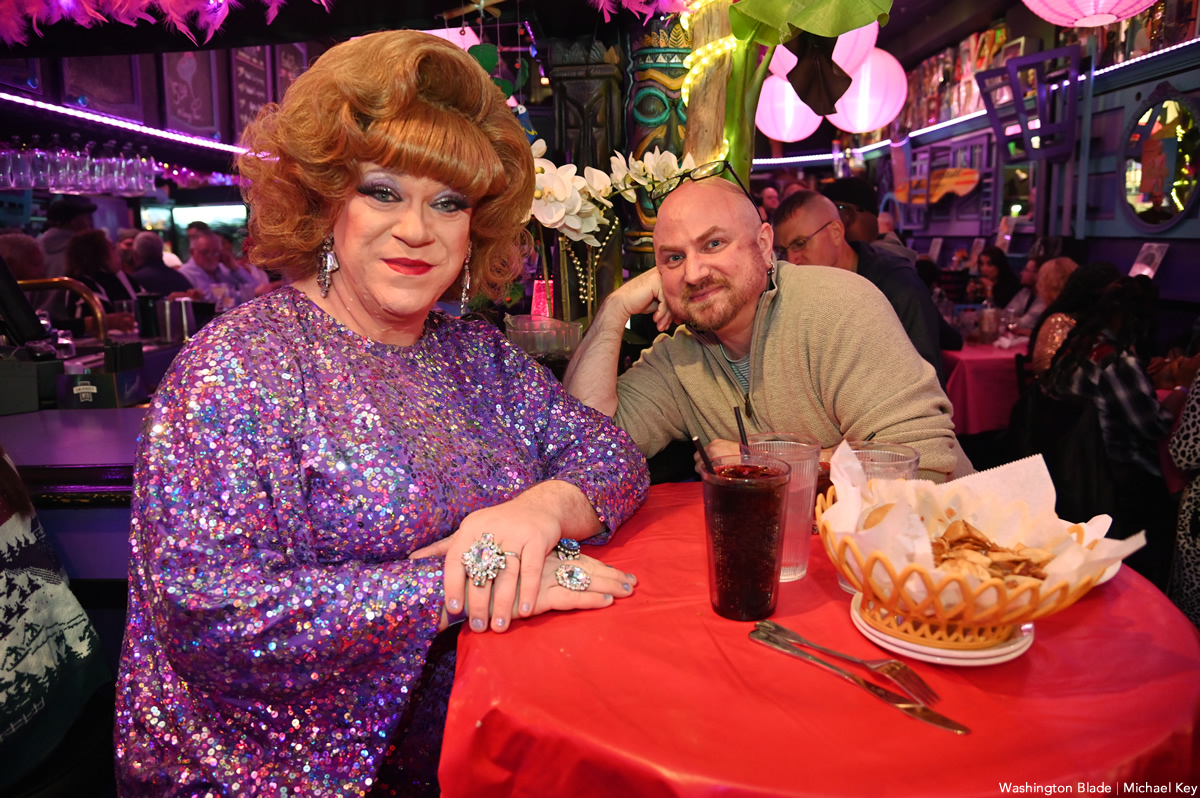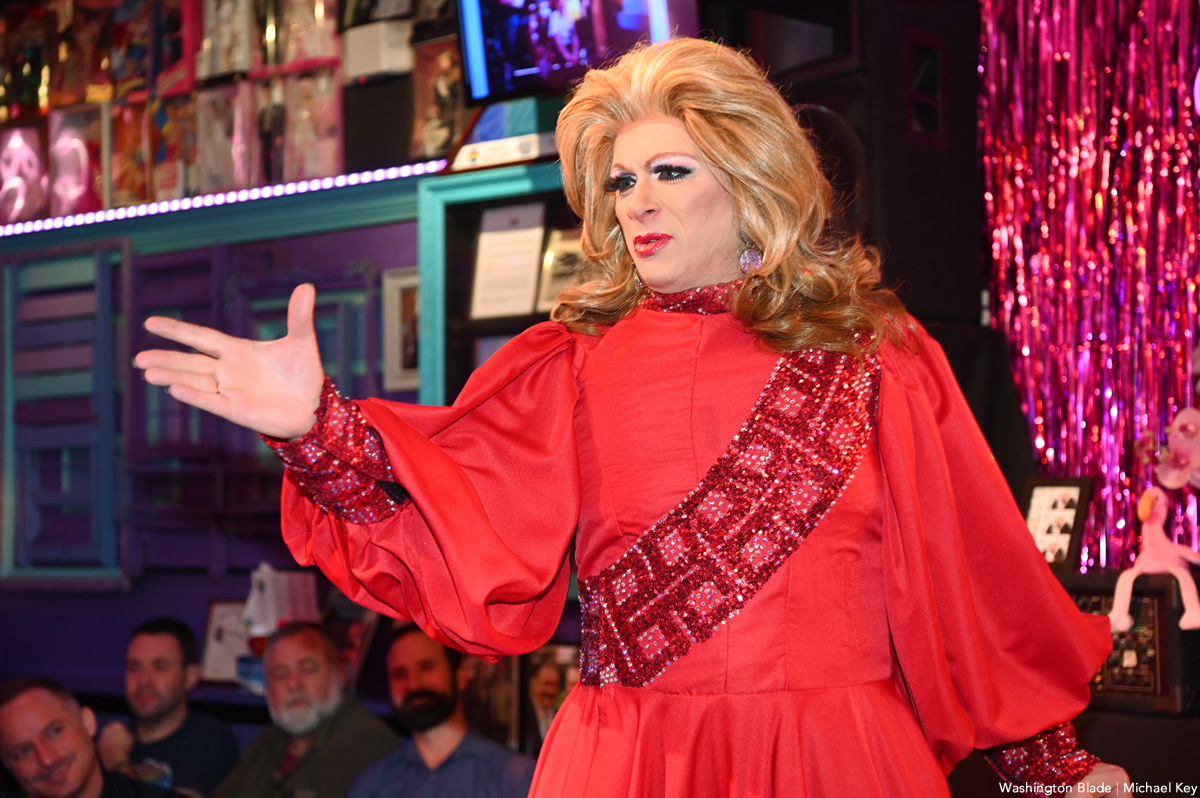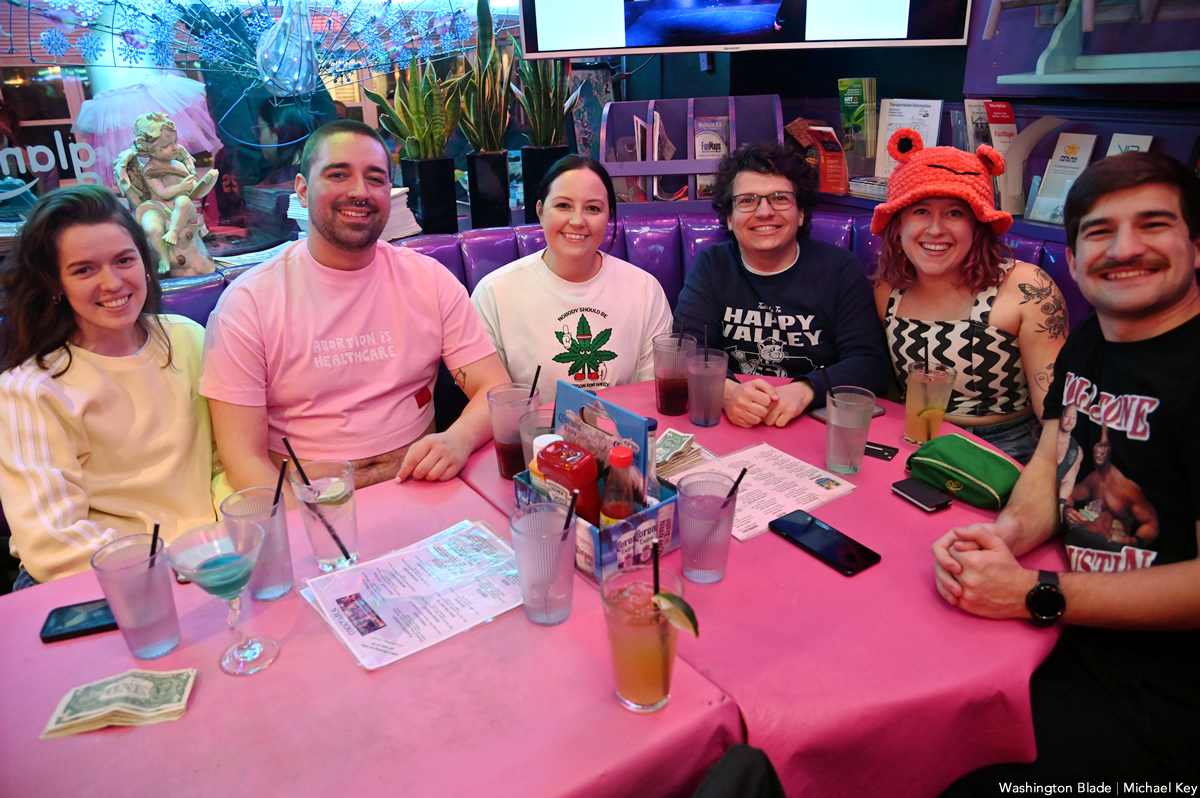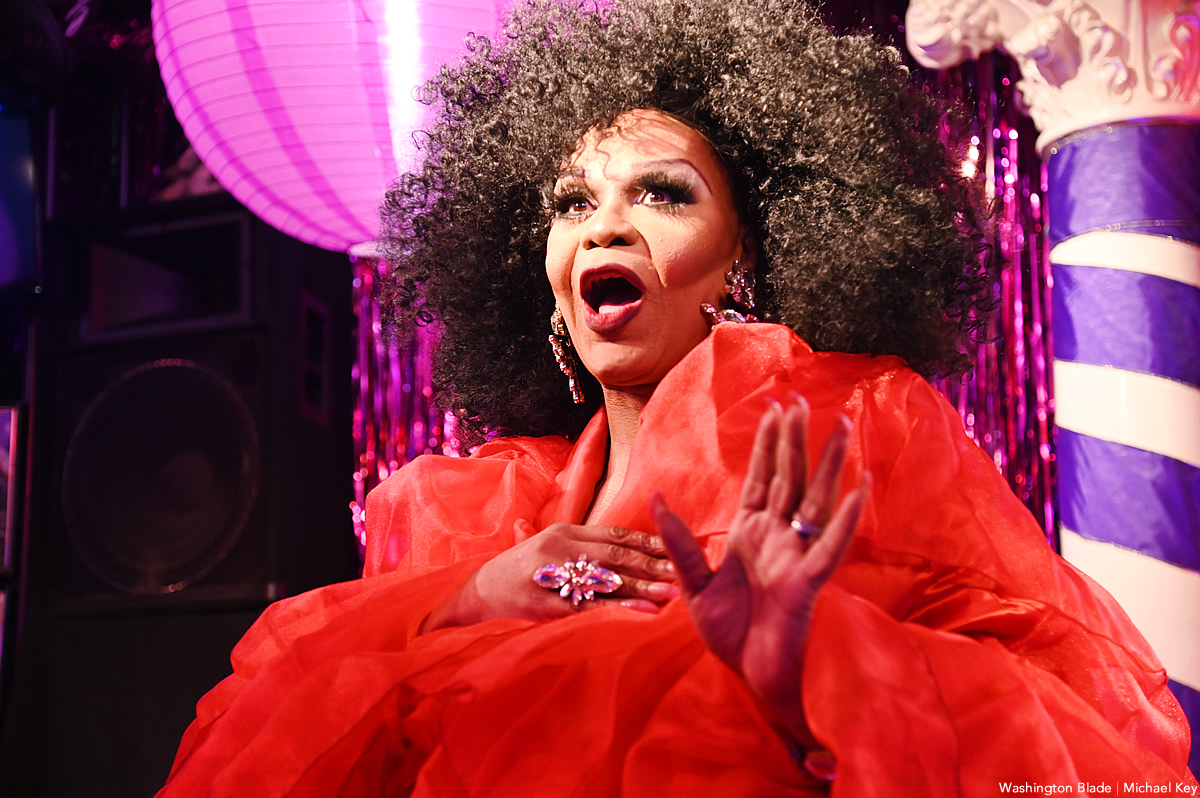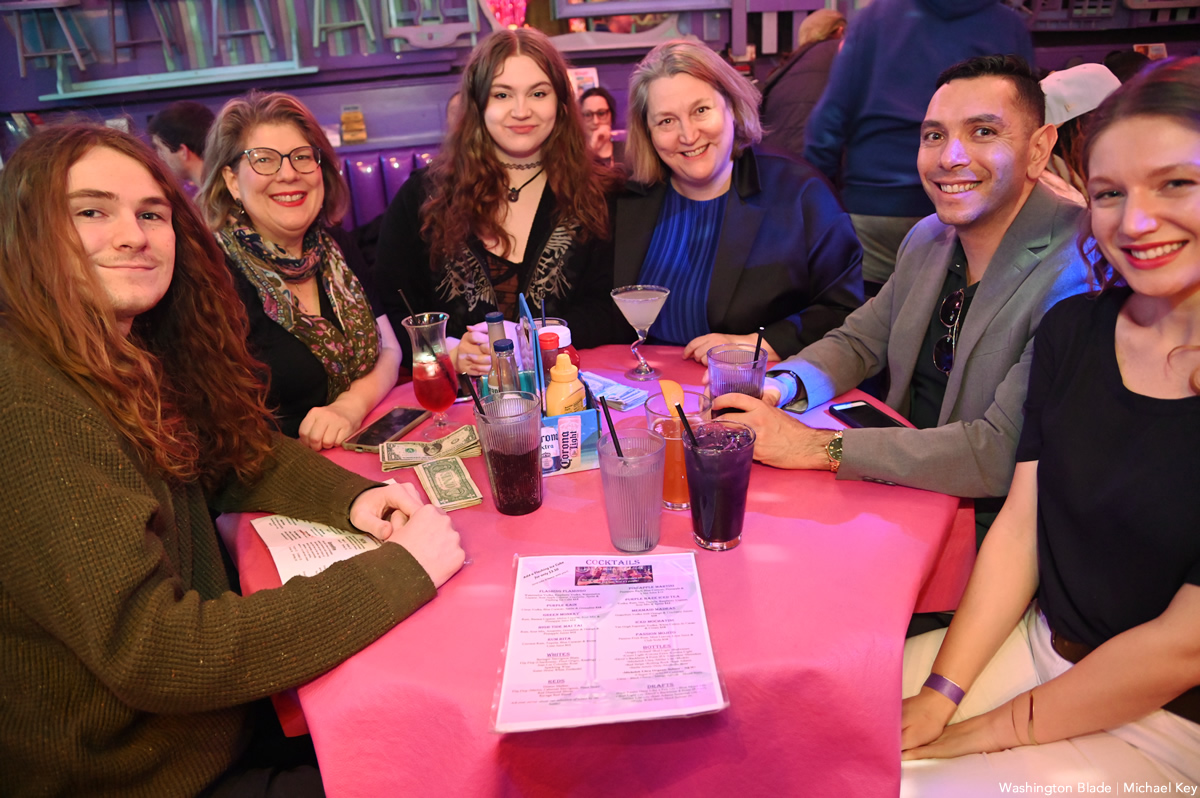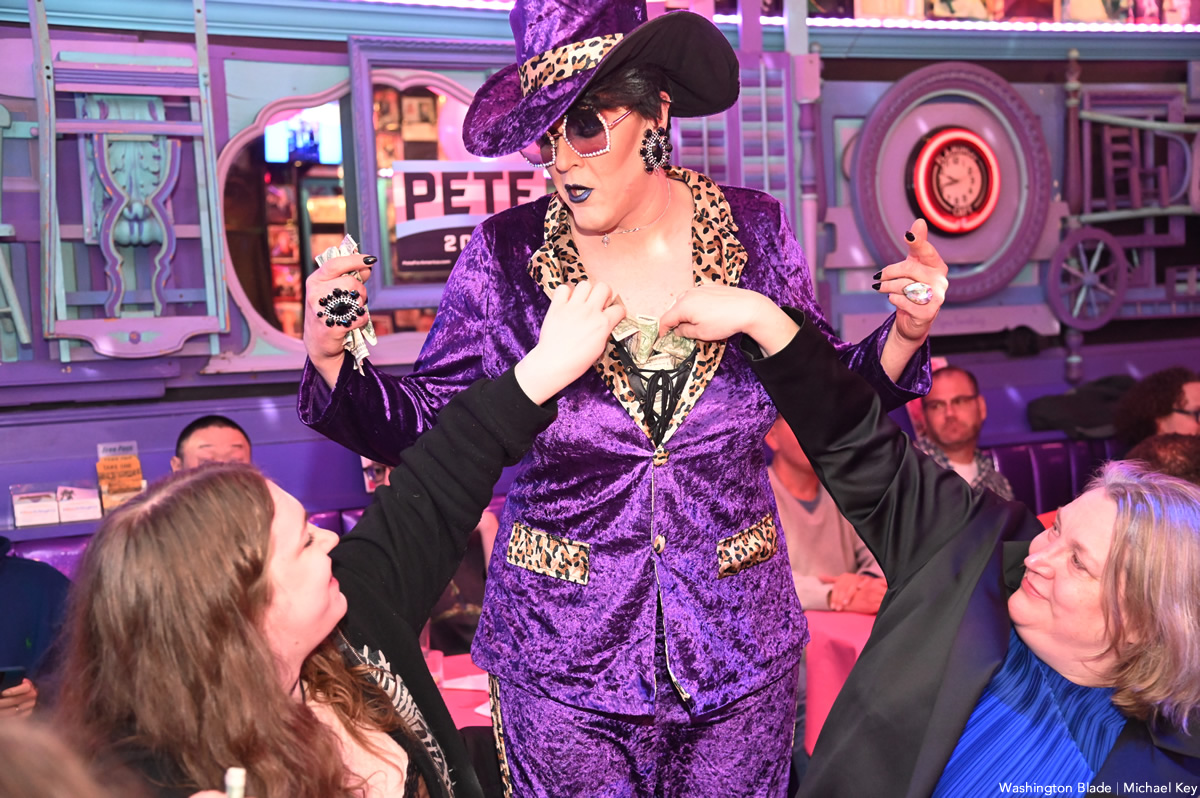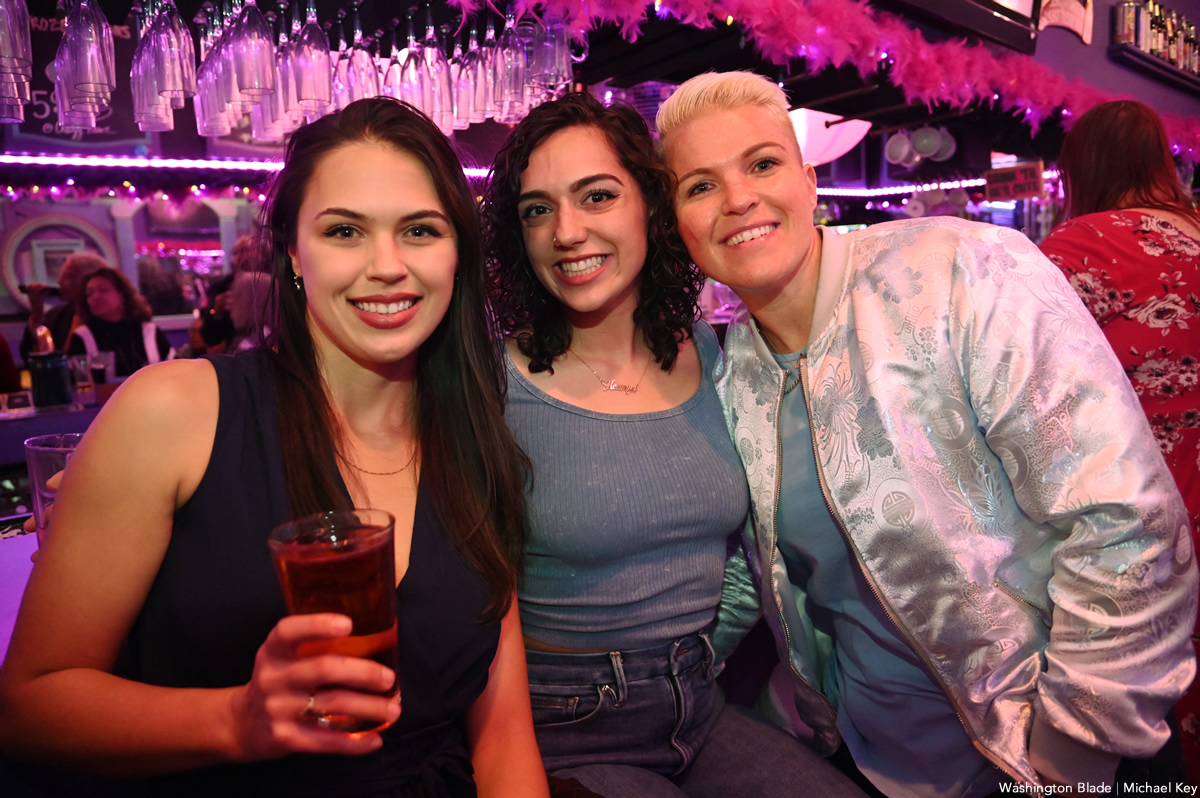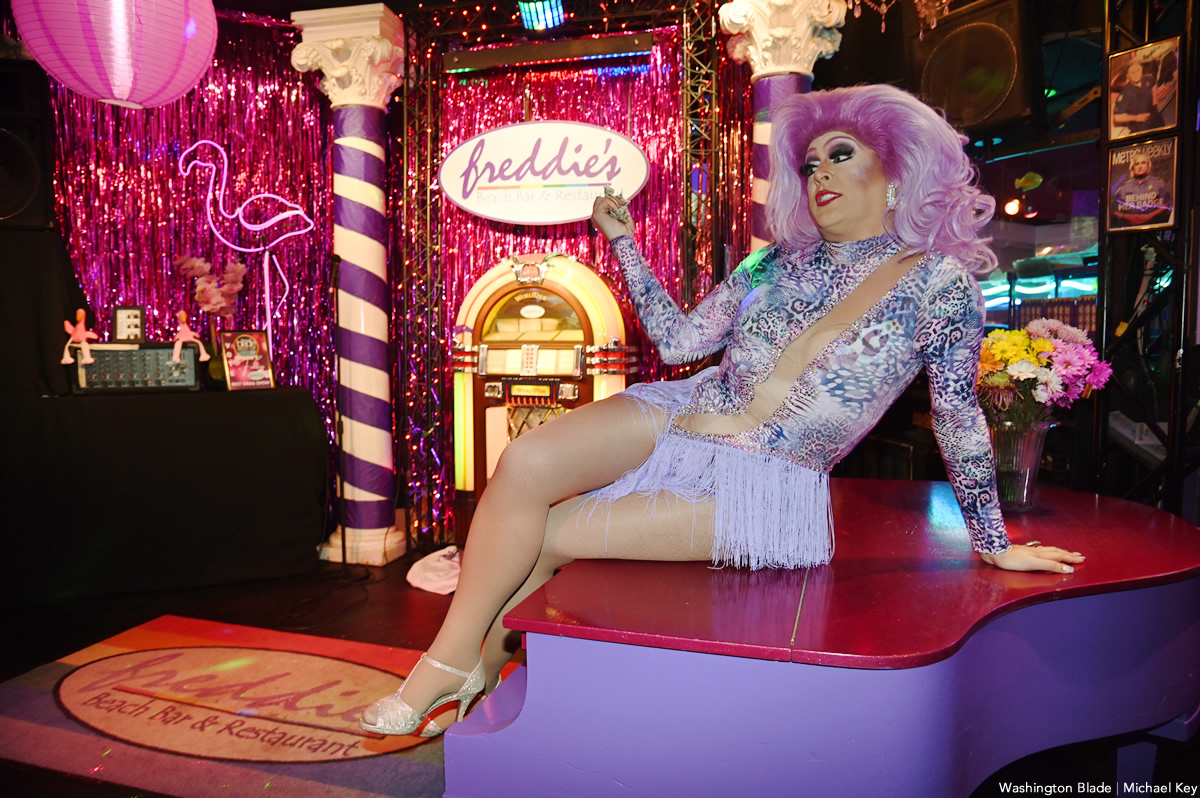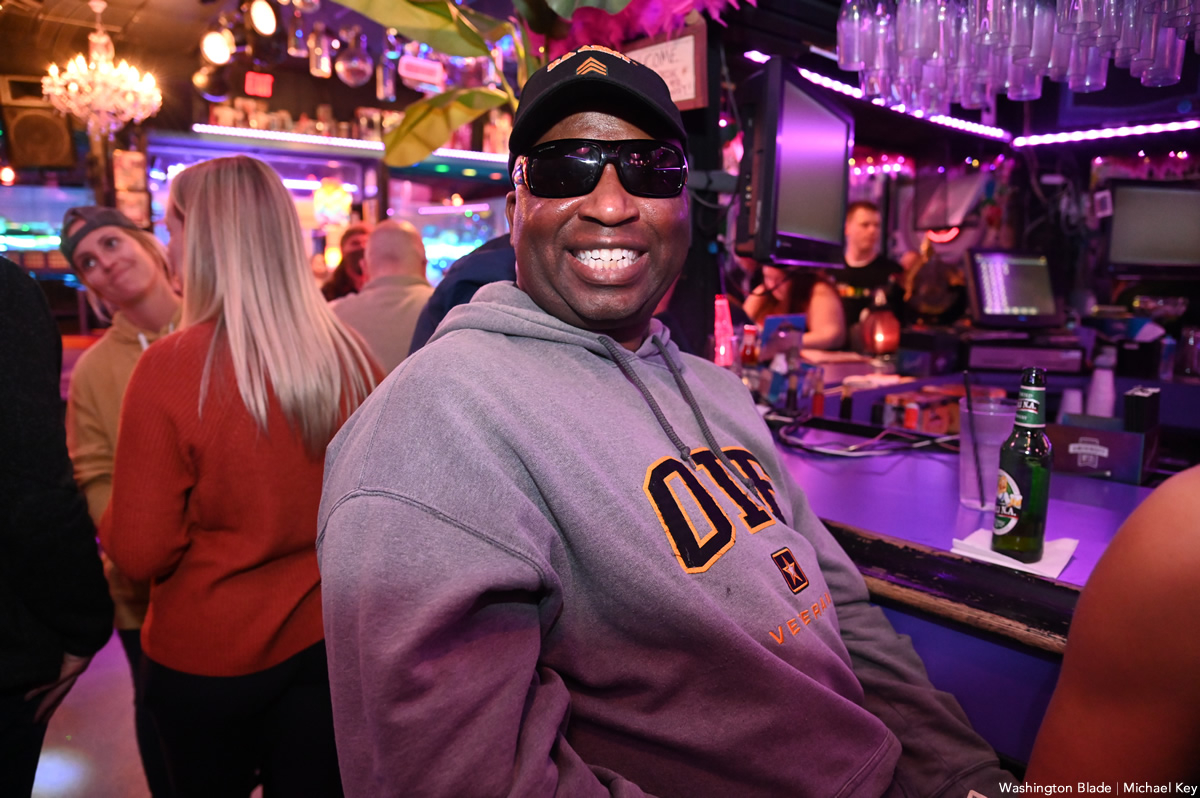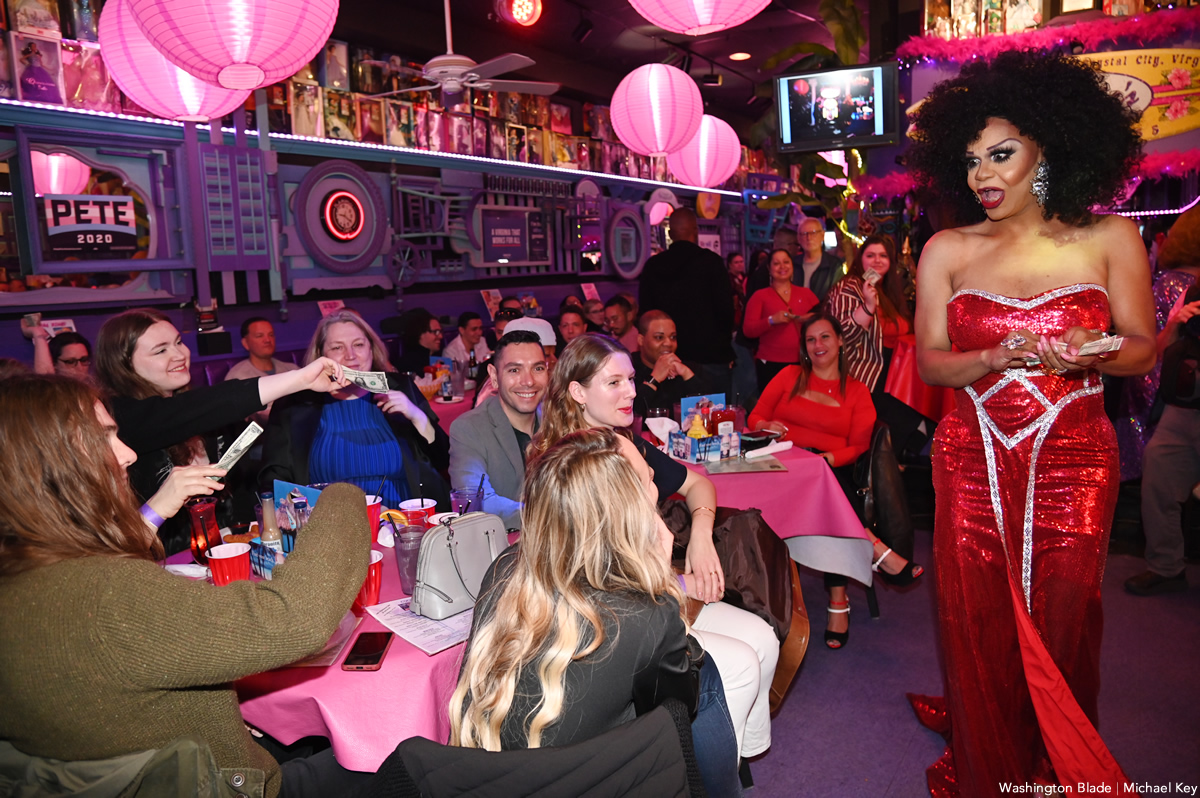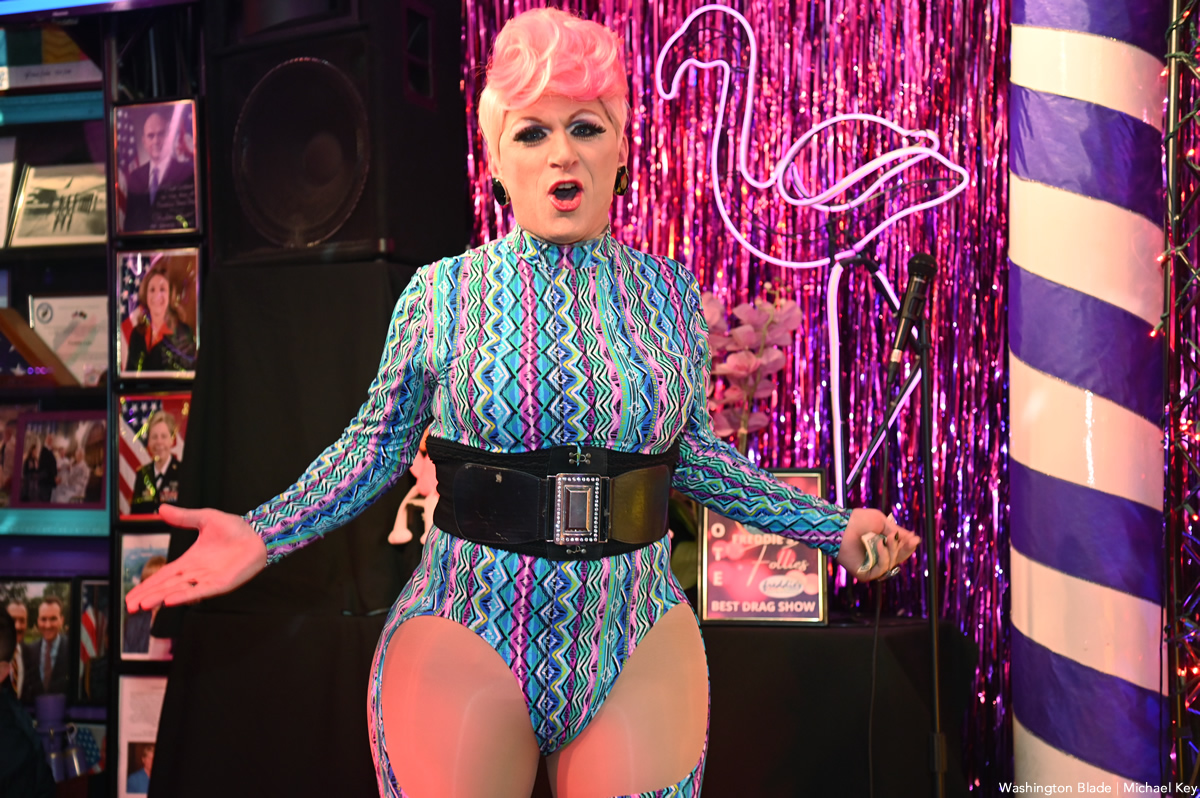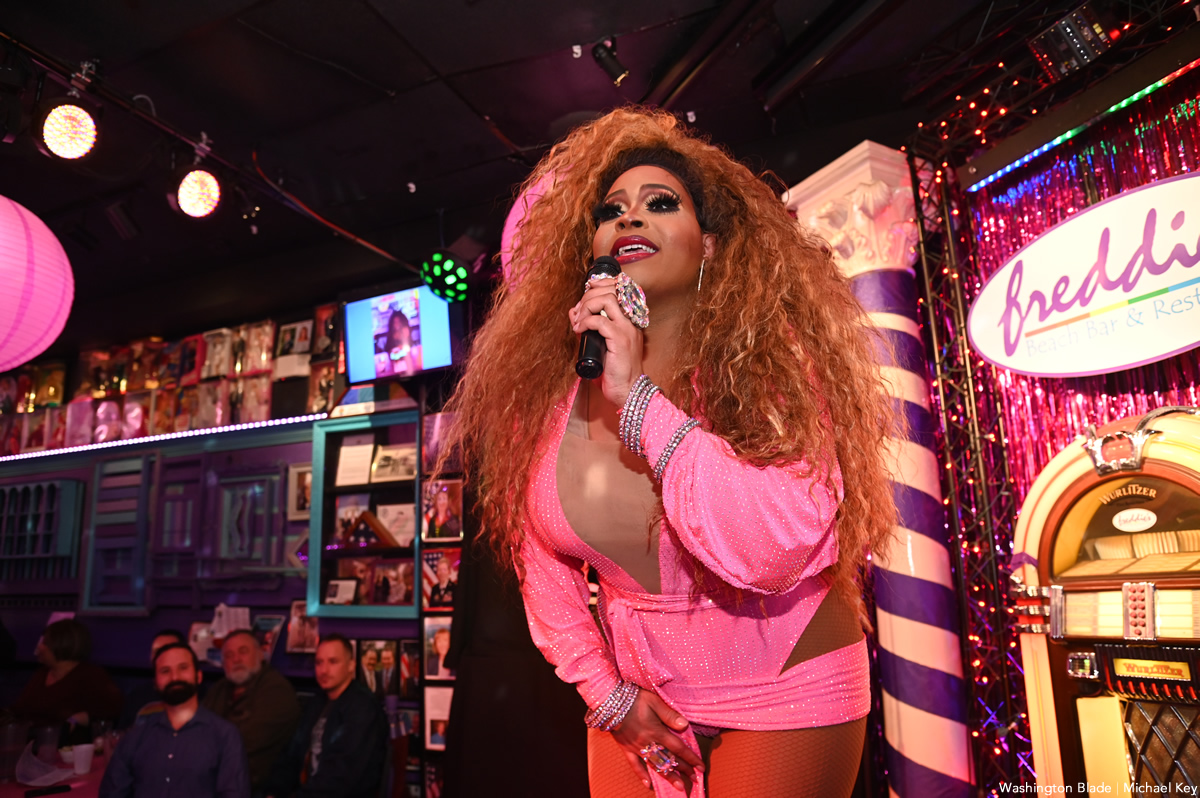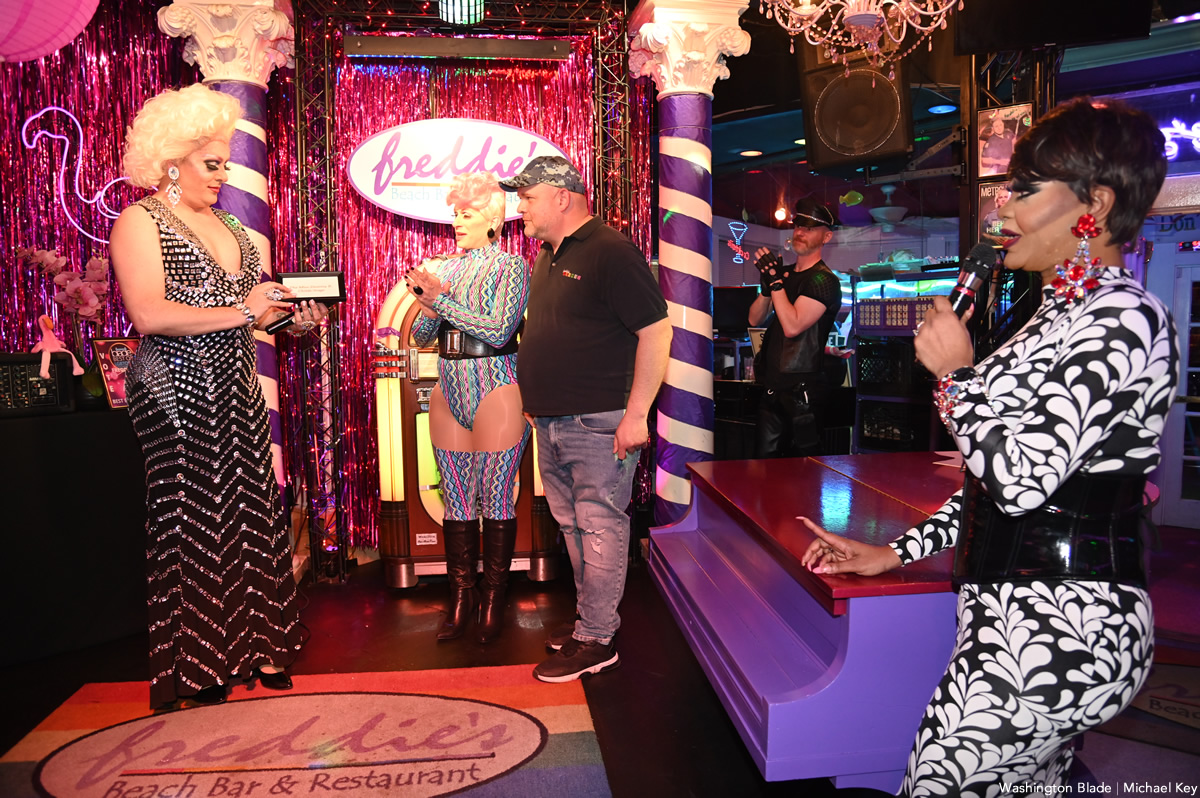 Covering Freddie's Follies 20th Anniversary for @WashBlade . @DestinyBChilds performing: pic.twitter.com/urpHgiMZ05

— Michael Patrick Key (@MichaelKeyWB) March 19, 2023