Delicate dances
Studio double header explores romantic nuances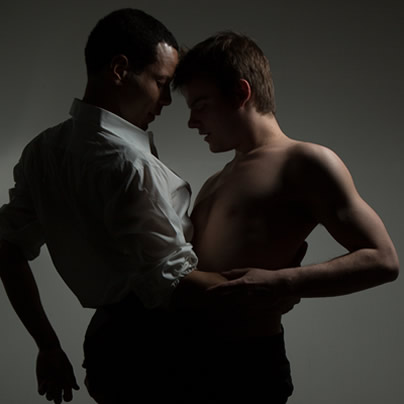 'Pas de Deux: Plays from New Zealand and Canada'
Through May 19
Studio 2ndStage
1501 14th Street, NW
$30-$35
202-332-3300
studiotheatre.org
Jim only likes to do it with the lights off. And when it's the first time, he likes to go to the other guy's place. But James, the interested guy that Jim just met at the club, doesn't like to bring new guys home either. Sometimes it's hard to get them out in the morning. This could be problematic. But despite the many little bumps that might derail their destiny before it even gets going, they become a couple — for a while anyway
Out playwright Daniel MacIvor's "2-2 Tango" (now at Studio 2ndStage) hastily moves through the arc of Jim and James' brief love affair beginning with their nocturnal meeting, an early passion, the blissful honeymoon to discontent and ultimate parting. Told mostly from inside the respective guys' heads, MacIvor frames the same-sex romance as an ongoing dance with varied steps (disco, jazz and a seductive tango), beats and counts. And smartly director Eric Ruffin has cast a pair of appealing actors who can really dance as the lovers — Jon Hudson Odom plays Jim, the needier of the pair, and Helen Hayes Award-winning out actor Alex Mills is the more resilient James.
Not long after they meet, James says he's independent and values an independent partner. Eager to please, Jim hastily nods in agreement, but his actions indicate otherwise. For him, independence isn't a priority. James wants space. A cloying boyfriend isn't what he had in mind. Things don't look good.
But along the way, there are sexy exchanges, some songs and a lot of rug cutting (choreographed by Nancy Bannon) and quality hip shaking. And while McIvor's one act flirts with the too cutesy, he captures the disparities of love with laser-like precision. The depiction of the couple's not mutually sought breakup is uncomfortable to watch. It's also the play and actors' most honest moment.
"2-2 Tango" is one of two relationship-exploring plays that make up Studio2ndStage's aptly-titled "Pas de Deux" (dance for two). The evening's first one act is "Skin Tight," a couple's rough tumble down memory lane by New Zealand playwright Gary Henderson. Unlike McIvor's piece, which focuses more on how people get together, Henderson's play starkly reveals the details and intimacies of a longer union. But just because we're dealing with a presumably more settled couple here, don't expect the action (staged by Johanna Gruenhut) to be desultory or slow moving. Henderson's one act opens with husband and wife wrestling wildly — a scene that initially reads more violent crime than playful roughhouse.
Tom and Elizabeth have been together forever. Recently they've lost their farm and now Elizabeth plans to go away. Together they reminisce: meeting as youths, the horrors of war, Elizabeth's uneasy relationship with their daughter. Intermittently throughout the long conversation, they romp and wrestle (these kinetic antics belie the characters' true age and reality). She shaves him with a straight edge razor. He peels an apple with a pocket knife. They engage in erotically charged knife play — the usual stuff. Led by the more emotional and impulsive Elizabeth, the married couple reveal the most tender and painful details of their relationship.
Henderson's funny and heartfelt script is a stunning mix of poetic and plain language. As Tom and Elizabeth, Jens Rasmussen and Emily Townley are at home with the words and action; they give terrific, fearless performances.
JD Madsen's simple sets are pleasingly spare: a patch of Astroturf and rusted bathtub for "Skin Tight" and a sleek sunken dance floor for "2-2 Tango." Jedidiah Roe's evocative lighting — quiet to fiery, and James Bigbee Garver's ably done sound design add to the effect.
"Pas de Deux" is all about being with someone. And though dissimilar, they both convey the complexity and universality of relationships. So different, yet so well coupled.
Put this out gay trailblazer's supportive coach in your bracket
'Coach Willard's awesome,' says Derrick Gordon of Maryland's Kevin Willard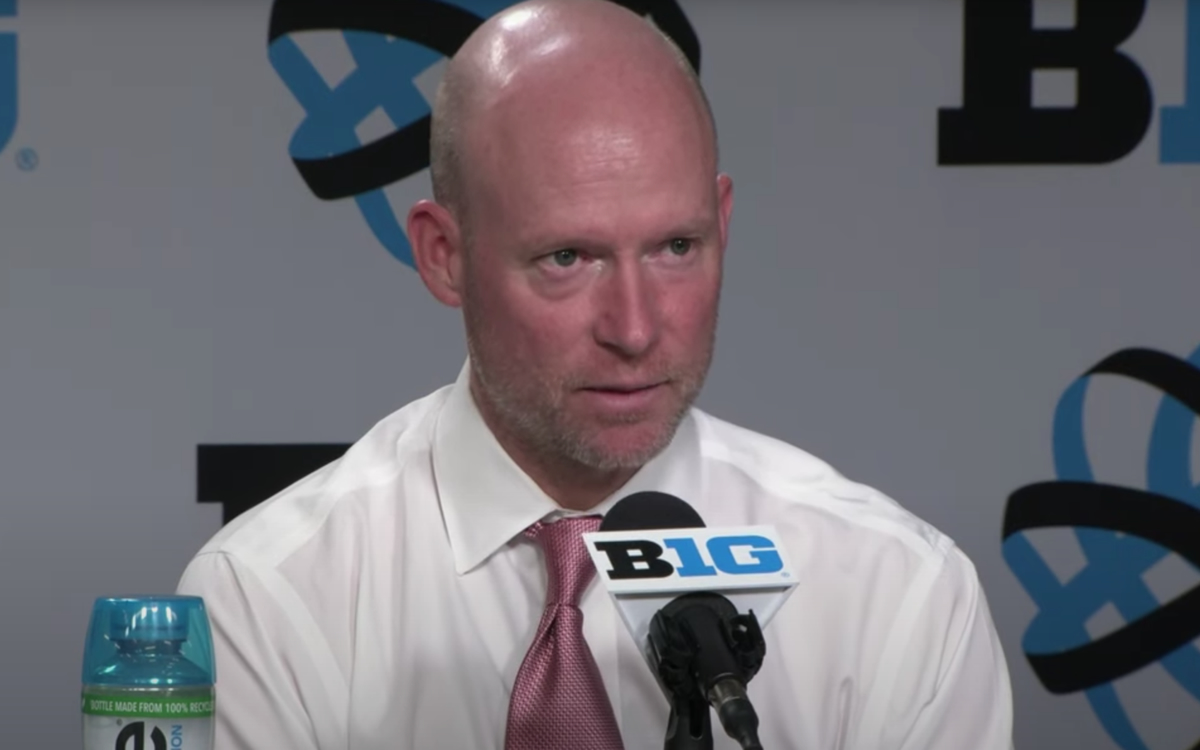 When the 8th seeded Maryland Terrapins faced off against No. 1 Alabama in the second round of the NCAA Men's Basketball Championships last weekend, it wasn't just the players on the hardwood who were working hard for the win. Nate Oats coached the Crimson Tide to a 73-51 victory less than an hour from their home court. And on the other side was Kevin Willard, who is not just a seasoned coach, but a strong LGBTQ ally.
Willard was Derrick Gordon's coach at Seton Hall when he transferred from UMass in 2015, a year after he came out as the first out gay Division I Men's basketball player in the NCAA.
Gordon has credited Willard with creating a comfortable environment, after he "bumped heads" with former UMass coach Derek Kellogg during his two seasons with the Minutemen. In contrast, he said he instantly connected with Willard, and told his teammates and Willard following his final season at Seton Hall that he wished he had another year of eligibility remaining. He's said he considered Willard the best coach he'd ever played for.
"He just made it comfortable for me," Gordon told Glenn Clark Radio in an interview broadcast on March 22, 2022. "He said, 'You know what, we're more focused on who you are as a person and a basketball player and what you bring to the team.' He voiced that over and over again. When I went on my visit, I just felt even more comfortable, met a couple of the guys. They made me feel right at home as well, so it was kind of like an easy decision. Coach Willard's awesome. He's an amazing guy."
If you don't believe Gordon, ask the West Virginia Mountaineers, who lost to the Terrapins in the first round 67-65. Maryland's win "took the paint off the floor at Legacy Arena" in Birmingham, Ala., as Brendan Quinn wrote in The Athletic. He described Willard's style of coaching this way:
"Willard paced the sideline, as he does. The man is intense. Doesn't suffer fools. Serious stuff. No BS. Black eyes screwed deep in a bald head, no pupils. He regards things sideways, incredulous toward anyone who doesn't come correct. It's his whole thing. If Guy Ritchie cast a college basketball coach, it'd be Willard."
Gordon told Glenn Clark Radio that he particularly recalled the kind of support Willard gave him in one practice early in his Seton Hall career, according to Press Box Online.
"I remember a particular situation that happened in practice — came down the court and I was wide open and I didn't shoot it," Gordon said in the 2022 interview. "[Willard] stopped practice and he said, 'You're not at [UMass] anymore. I trust you. I believe in you. Shoot the ball.' Ever since then, my confidence was through the roof, especially dealing with I had to deal with when I was at UMass with that coach to playing under Coach Willard and him telling me that specifically, he just let me play my game."
Last July, Gordon posted on Instagram that after playing a few seasons in Europe for Cyprus and Germany, "I decided to end my career as a professional athlete."
Gordon is now 31, and he told his followers he is working on a book about his life "on and off the court," in hopes he might "help gay young people, student athletes in particular and others who are struggling to pursue careers in professional sports or any career paths they chose without fear or shame."
Since Christmas, he's been sharing posts that include photos with his boyfriend, actor Scott Backman of Los Angeles, including one from last week, captioned: "Every time we're together, it's like falling in love all over again."
10 LGBTQ events this week
Drag, dancing and kite flying among highlights
Below are our picks for some of the most fun and creative things to do this week in the DMV that are of special interest to the LGBTQ community.
---
Drag Queen Trivia Tuesday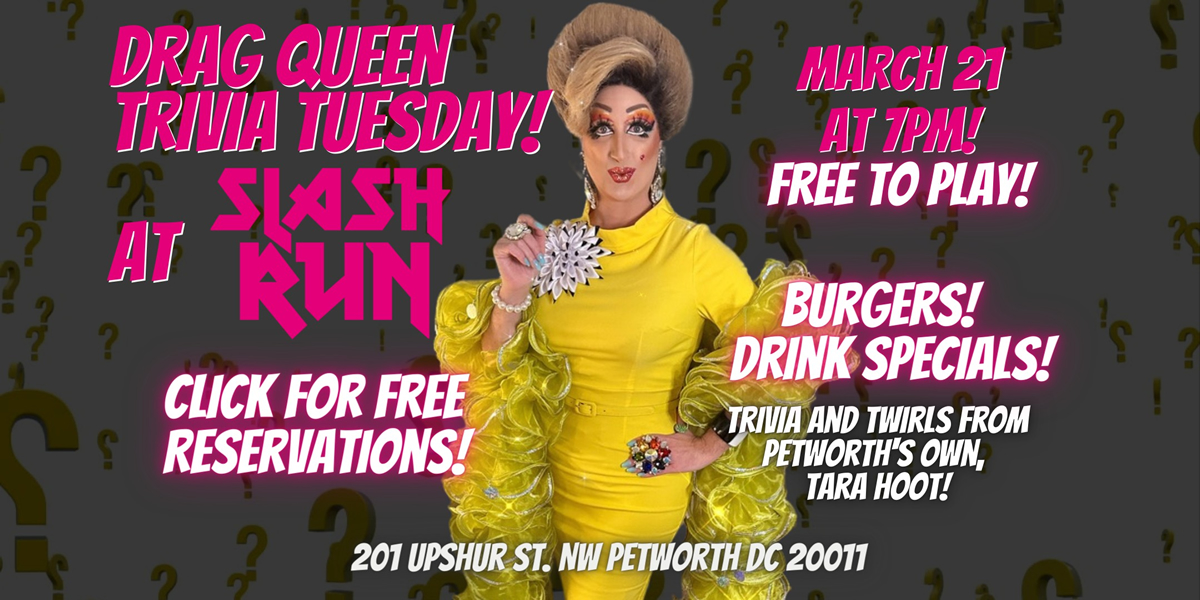 Tuesday, March 21
7 p.m.
Slash Run
201 Upshur Street, N.W.
Facebook | Reservations
Tara Hoot leads a game of trivia at Slash Run on Tuesday.
---
Daddy Issues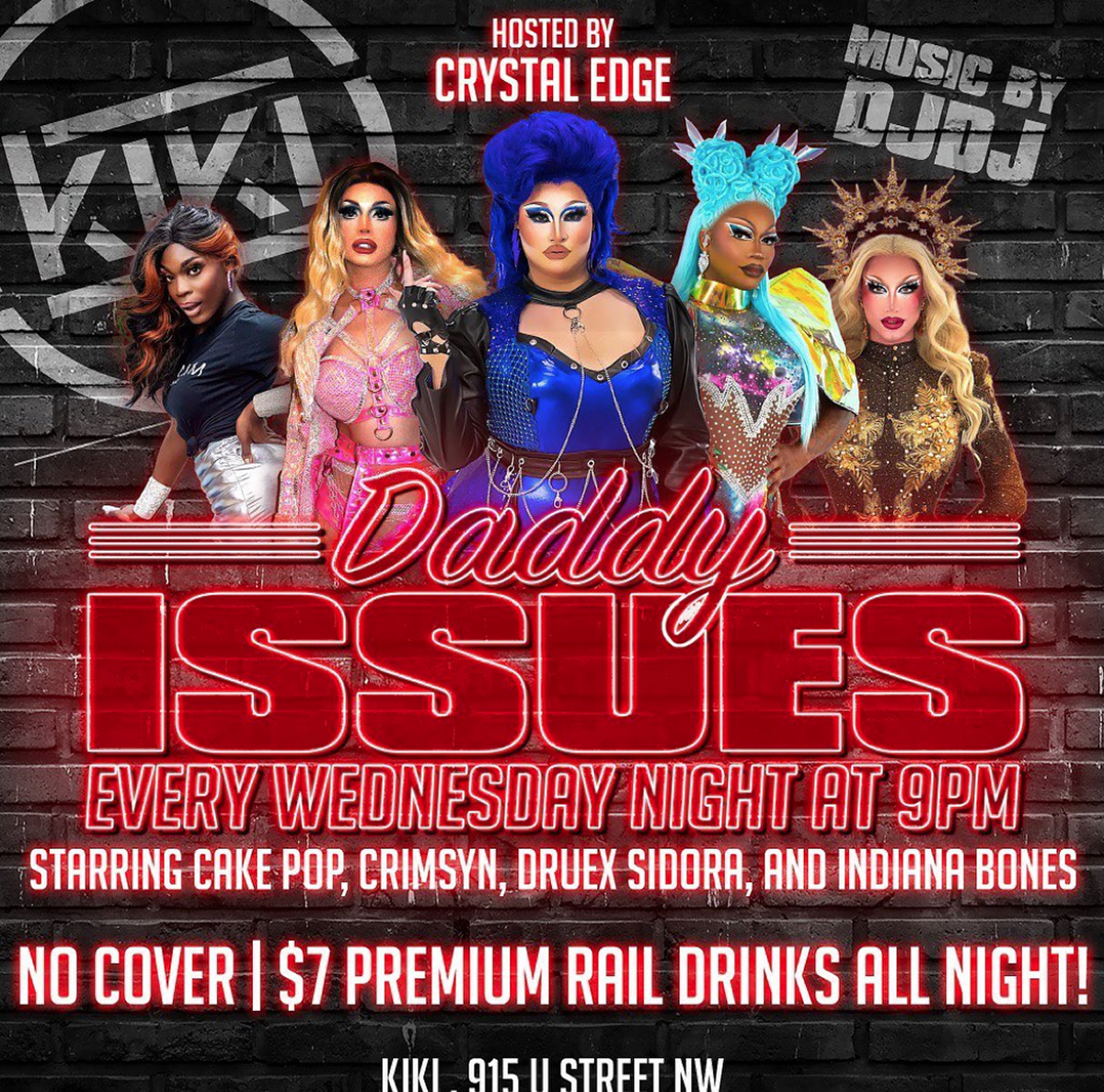 Wednesday, March 22
9 p.m.
Kiki
915 U Street, N.W.
Instagram | Website
Crystal Edge leads the weekly drag show at Kiki on Wednesday.
---
DC Boys of Leather – March Happy Hour

Thursday, March 23
6-9 p.m.
Trade
1410 14th Street, N.W.
Facebook
Grab your gear and make your way to Trade for the March Happy Hour of the DC Boys of Leather.
---
RuPaul's Drag Race Viewing Party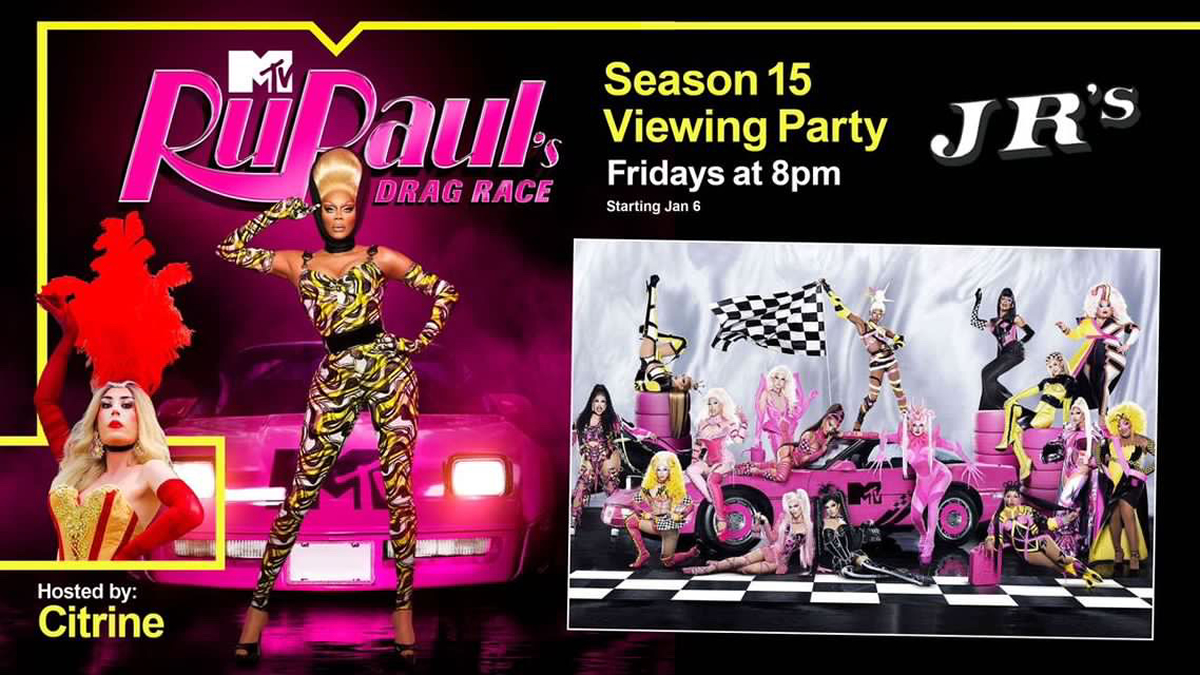 Friday, March 24
8 p.m.
JR.'s Bar
1519 17th Street, N.W.
Facebook
Citrine leads the RuPaul's Drag Race Season 15 Viewing Party at JR.'s Bar on Friday.
---
Kicks & Giggles Glow Crazy! Blacklight-Glow Paint Party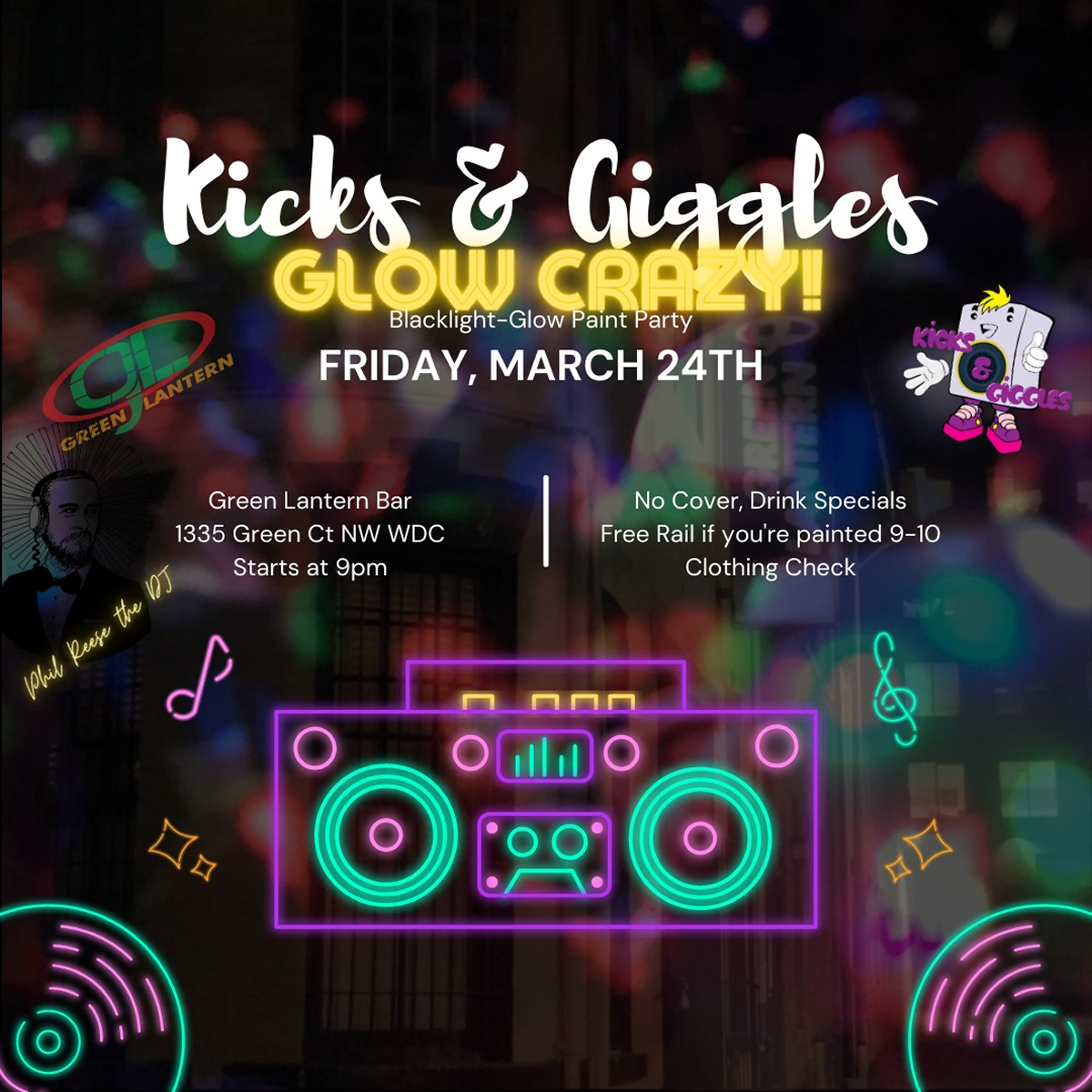 Friday, March 24
9 p.m.
Green Lantern
1335 Green Court, N.W.
No cover
Facebook
Kicks & Giggles bring you a glow-tastic time on Friday with a blacklight-glow paint party at the Green Lantern. There is a clothes check and there are free rail drinks if you are painted with glow paint between 9 and 10 p.m.
---
Good Times (Disco House Party)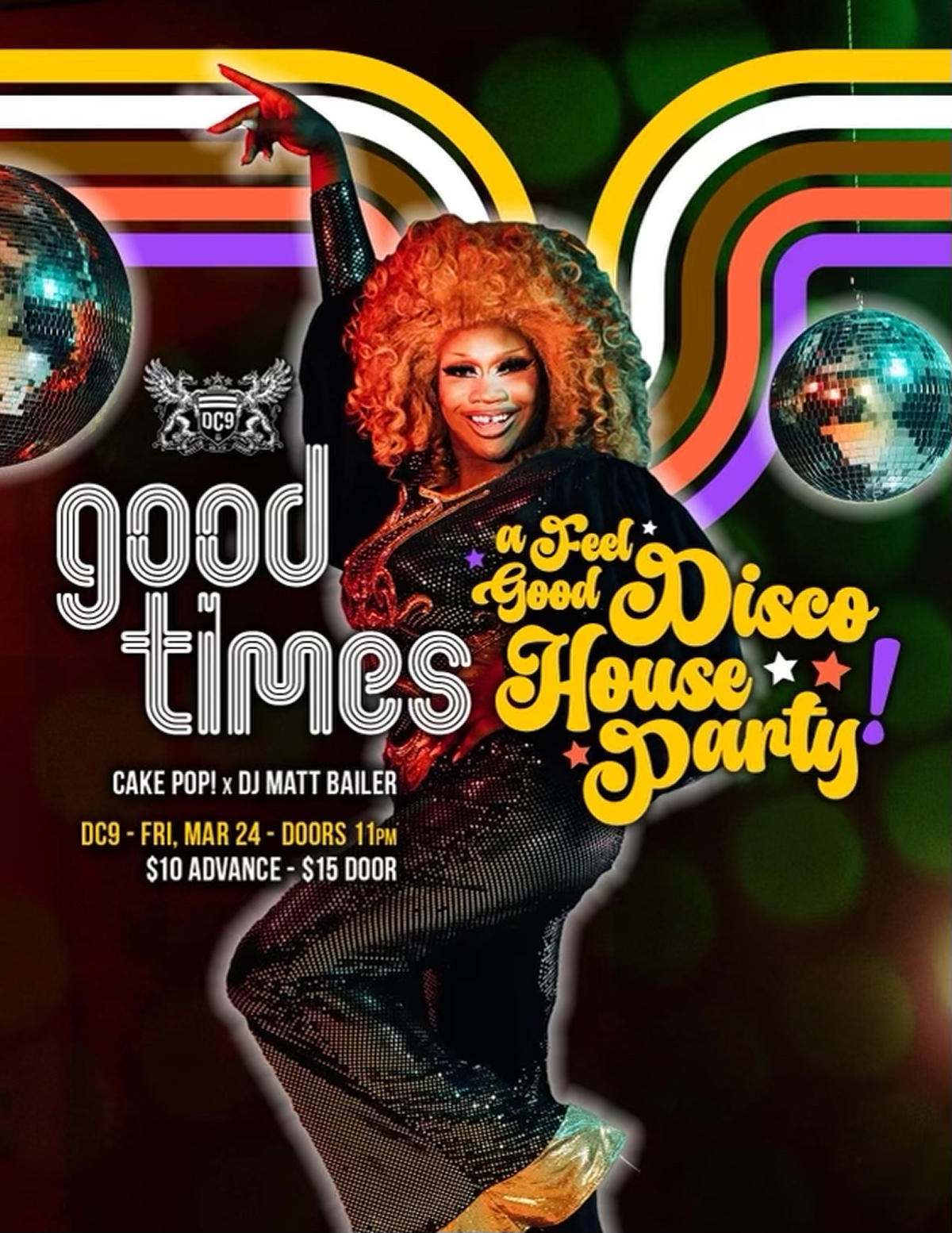 Friday, March 24
11 p.m.
DC9 Nightclub
1940 9th Street, N.W.
$10 advance / $15 door
Facebook | Eventbrite
Cake Pop! and DJ Matt Bailer entertain on Friday with a feel good Disco House Party at DC9 Nightclub.
---
Candela! UPROAR's Latinx Party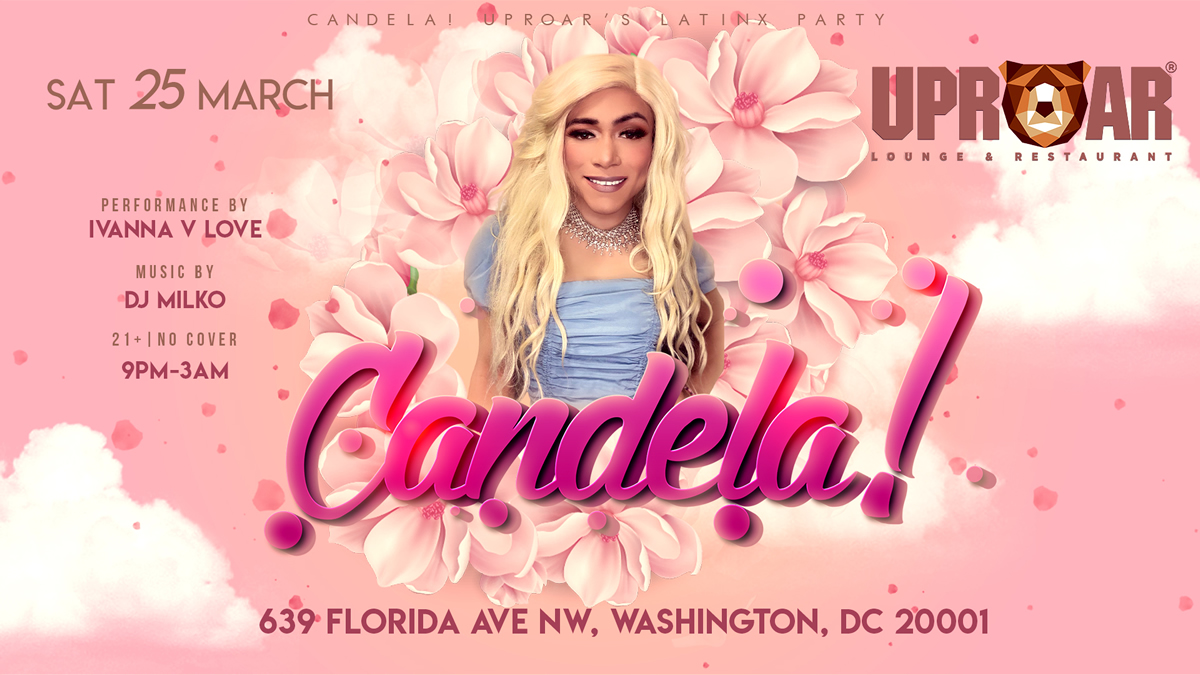 Saturday, March 25
9 p.m.
UPROAR Lounge & Restaurant
639 Florida Avenue, N.W.
Facebook
UPROAR Lounge & Restaurant hold a Latinx party on Saturday with a performance by Ivanna V Love.
---
Cherry Blossom Kite Festival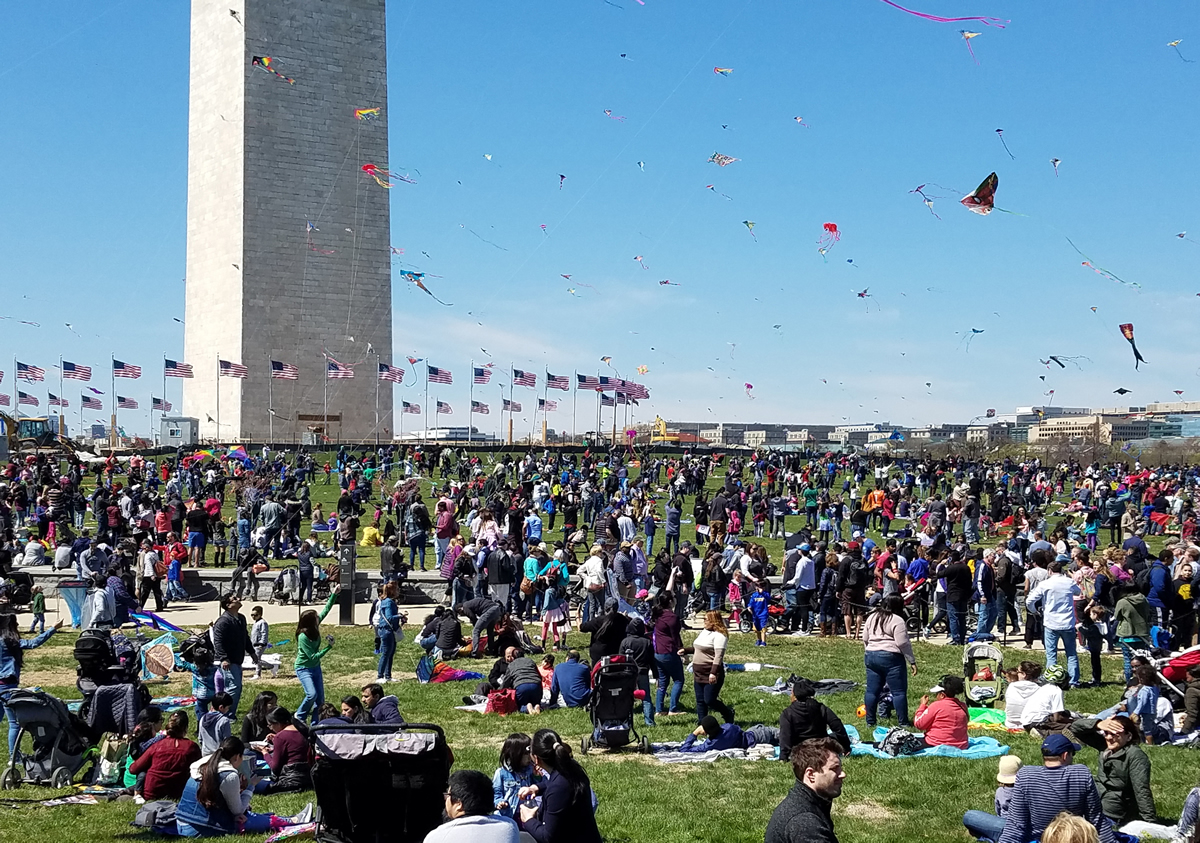 Saturday, March 25
10 a.m.-4:30 p.m.
Washington Monument
Facebook | Website
The annual kite festival is back on Saturday by the Washington Monument.
---
Cambria Drag Brunch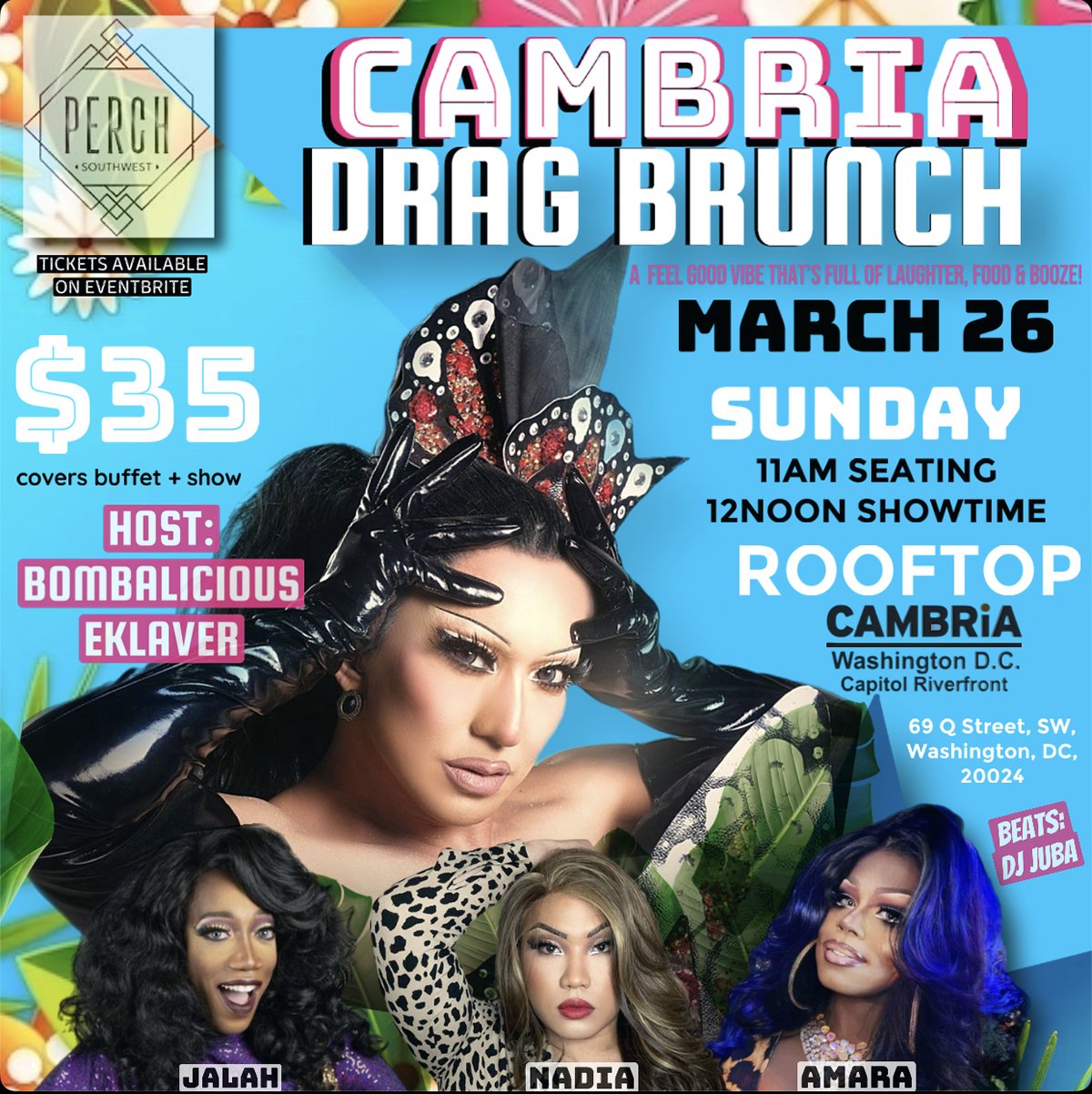 Sunday, March 26
11 a.m.
Rooftop Cambria Capital Riverfront
69 Q Street, S.W.
$35
Eventbrite
Bombalicious Eklaver leads a fun drag brunch on Sunday with performers Jalah, Nadia and Amara. $35 covers the buffet and show, but bring your dollar bills to show your support to the performers.
---
Drag Show for Charity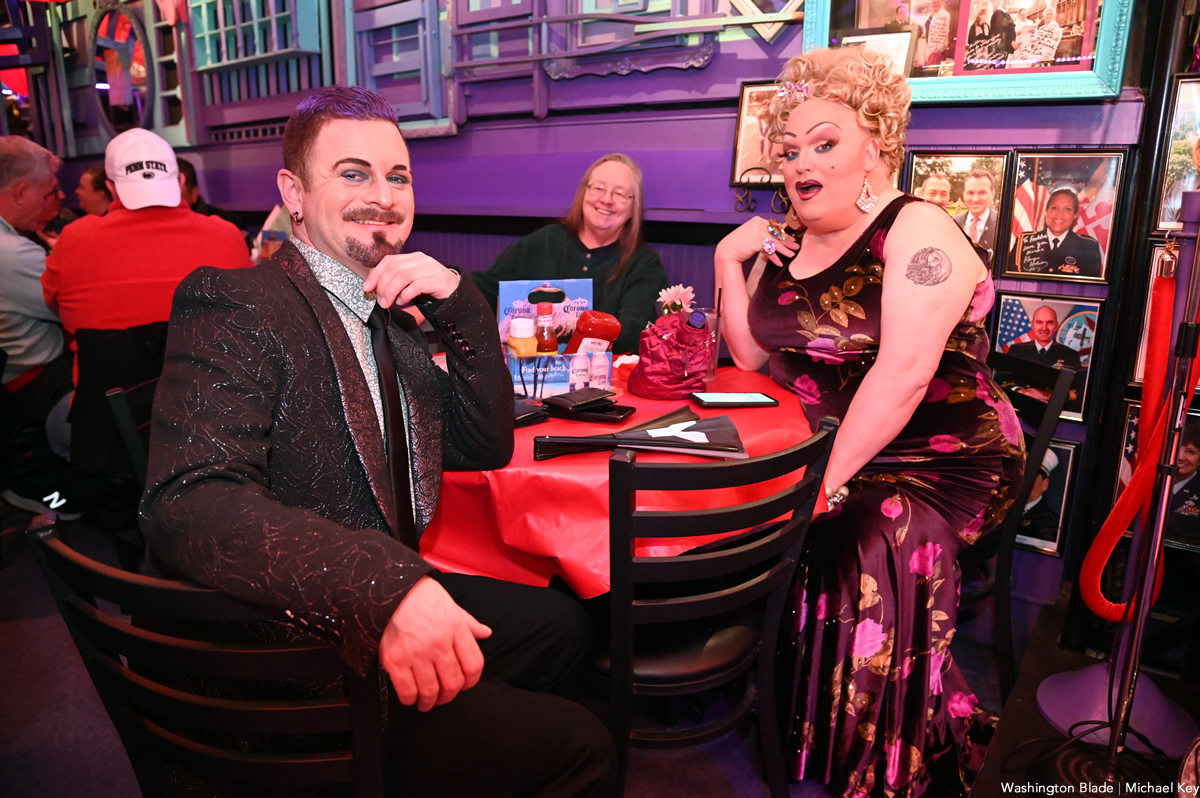 Sunday, March 26
8-10 p.m.
Freddie's Beach Bar
555 23rd Street S
Arlington, Va.
Facebook
AGLA and Go Gay DC present a drag show for charity at Freddie's Beach Bar on Sunday.
PHOTOS: Freddie's Follies 20th
Arlington drag show celebrates milestone
Freddie's Follies had a 20th anniversary show at Freddie's Beach Bar in Arlington, Va. on Saturday, March 18. Performers included Destiny B. Childs, Monet Dupree, Patti Lovelace, Sasha Adams Sanchez and Ophelia Bottoms.
(Washington Blade photo by Michael Key)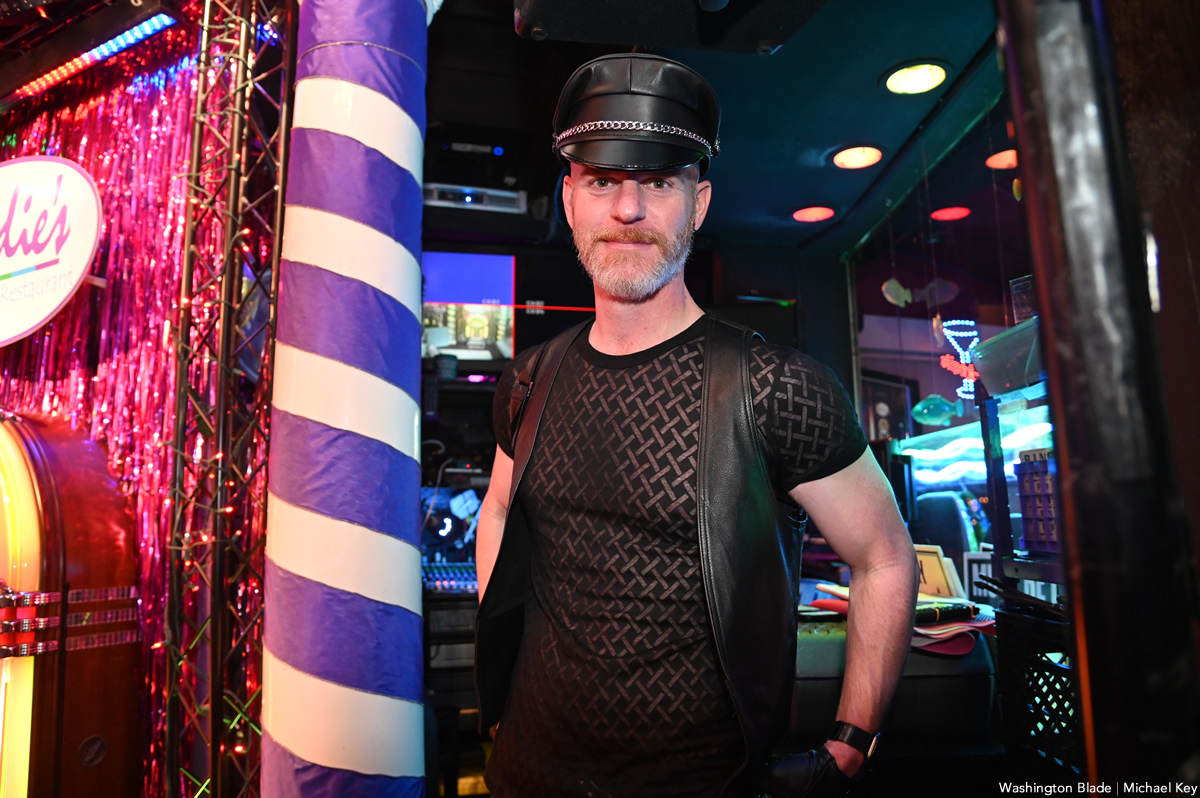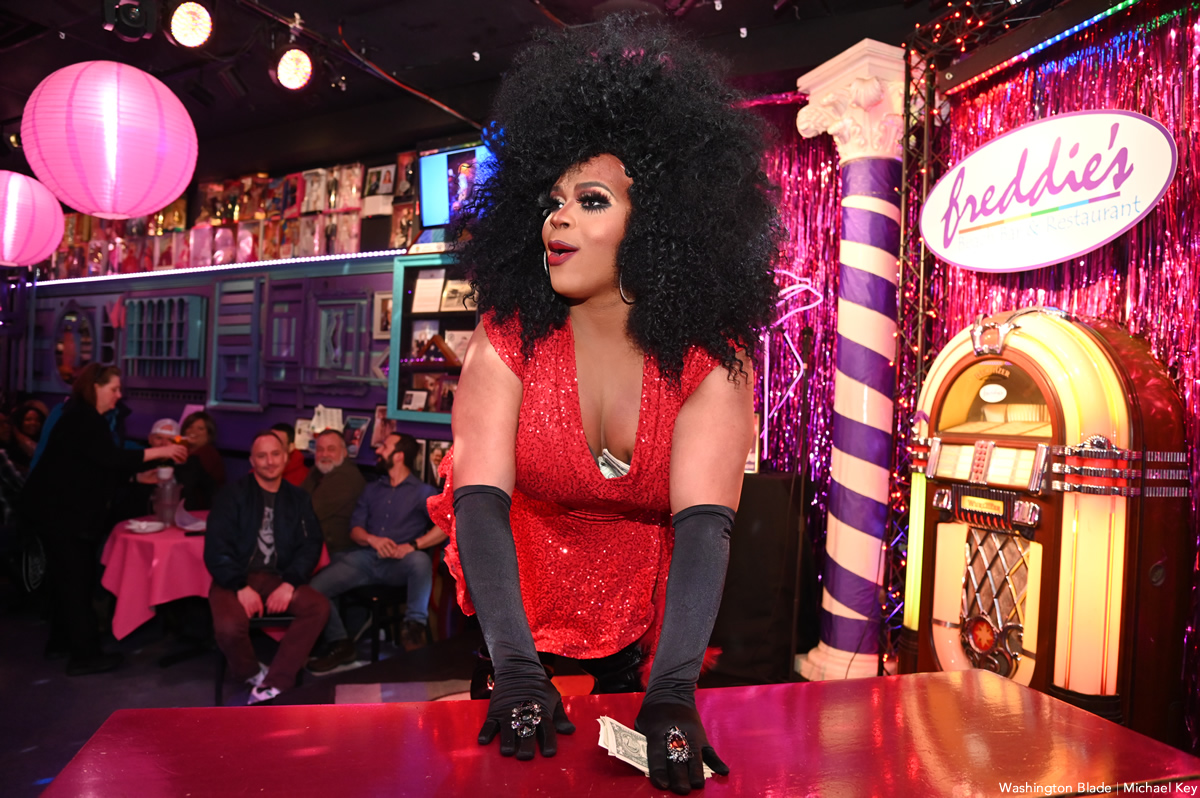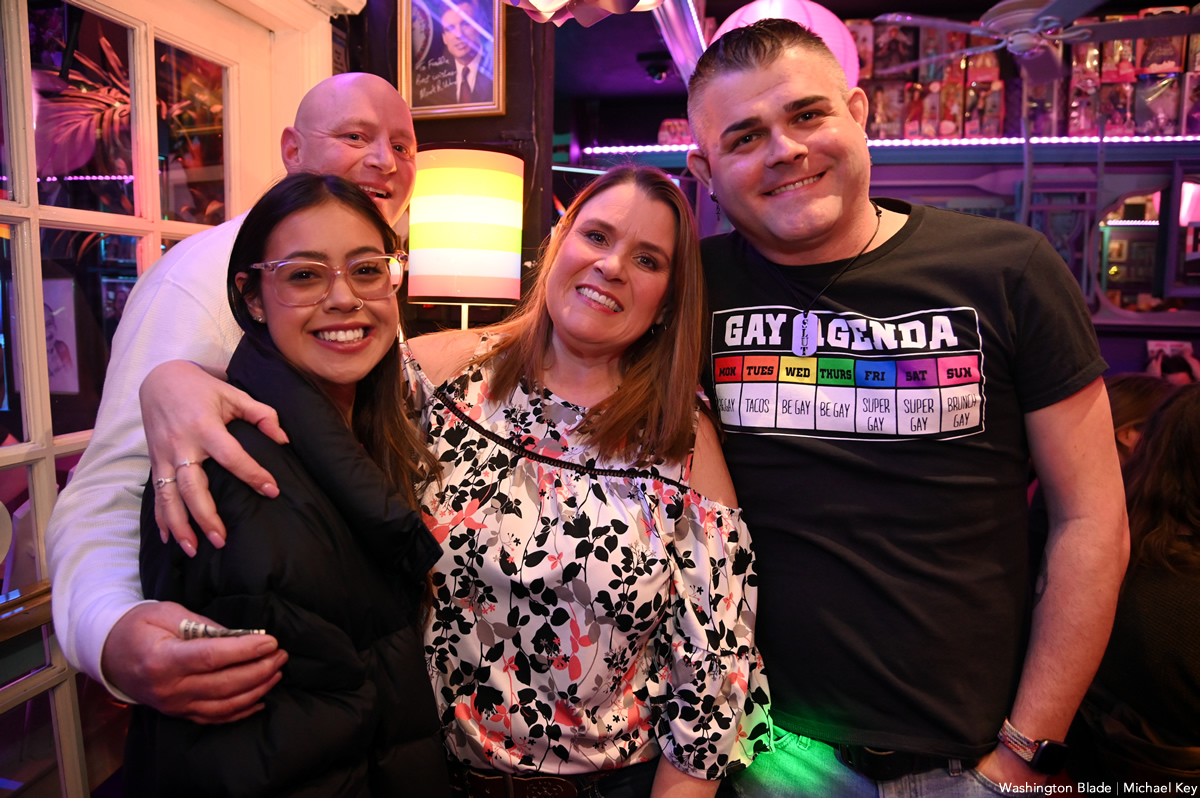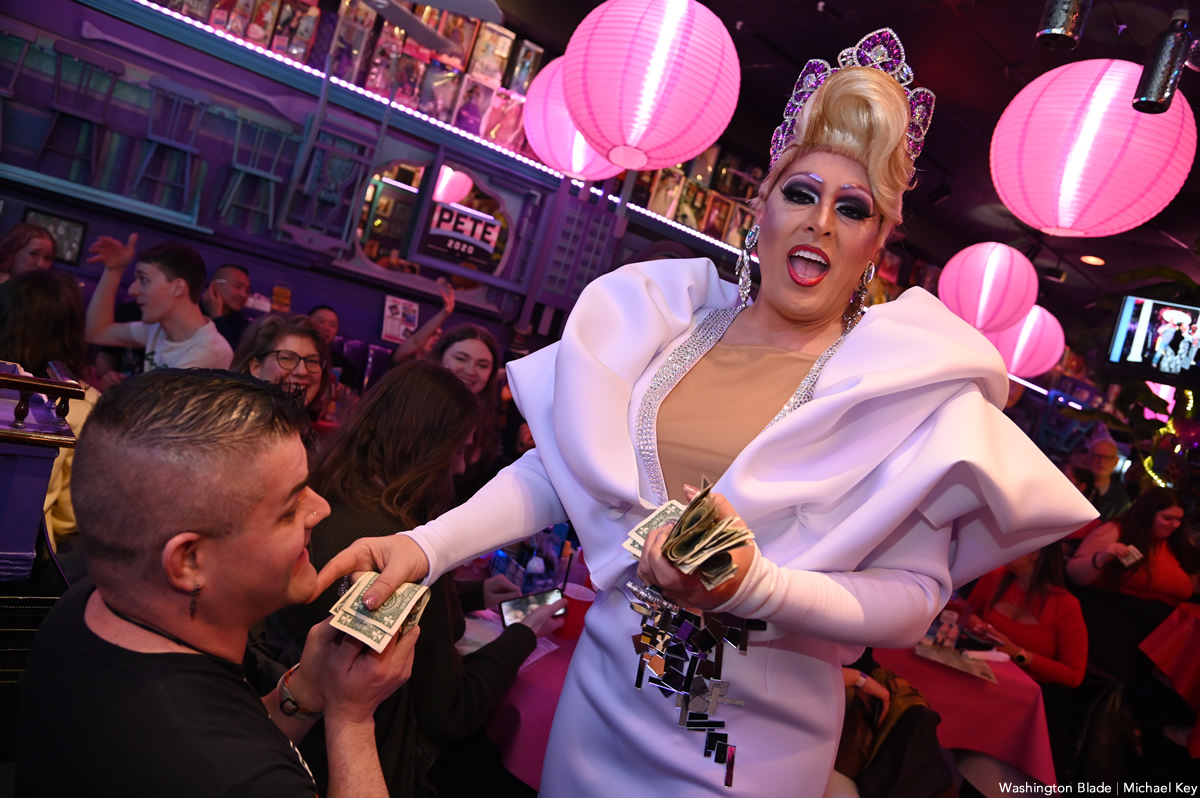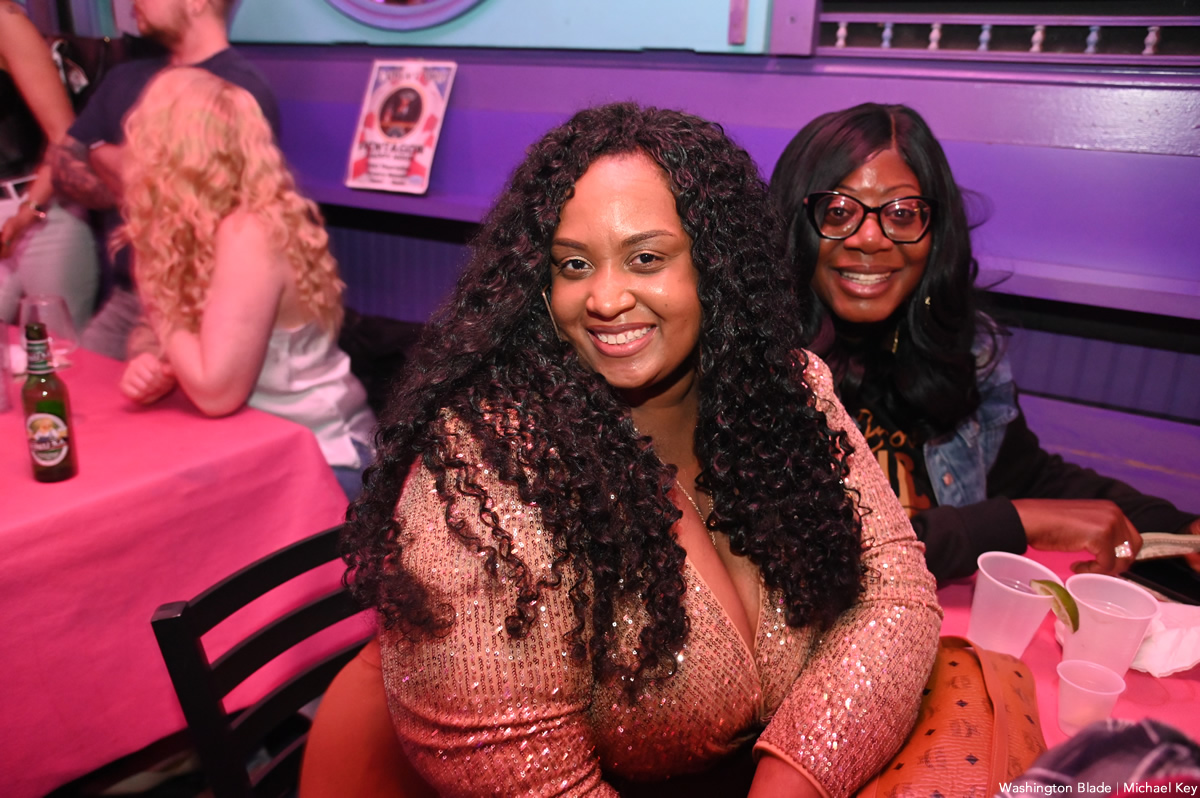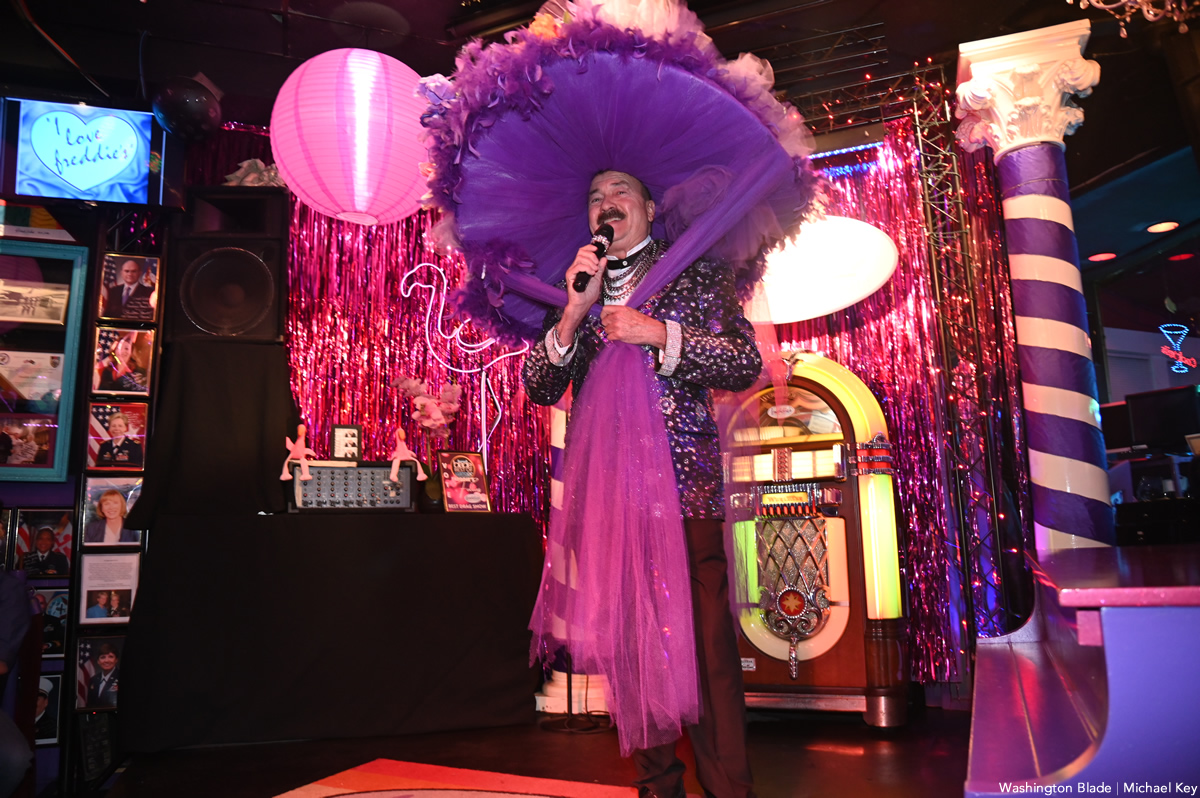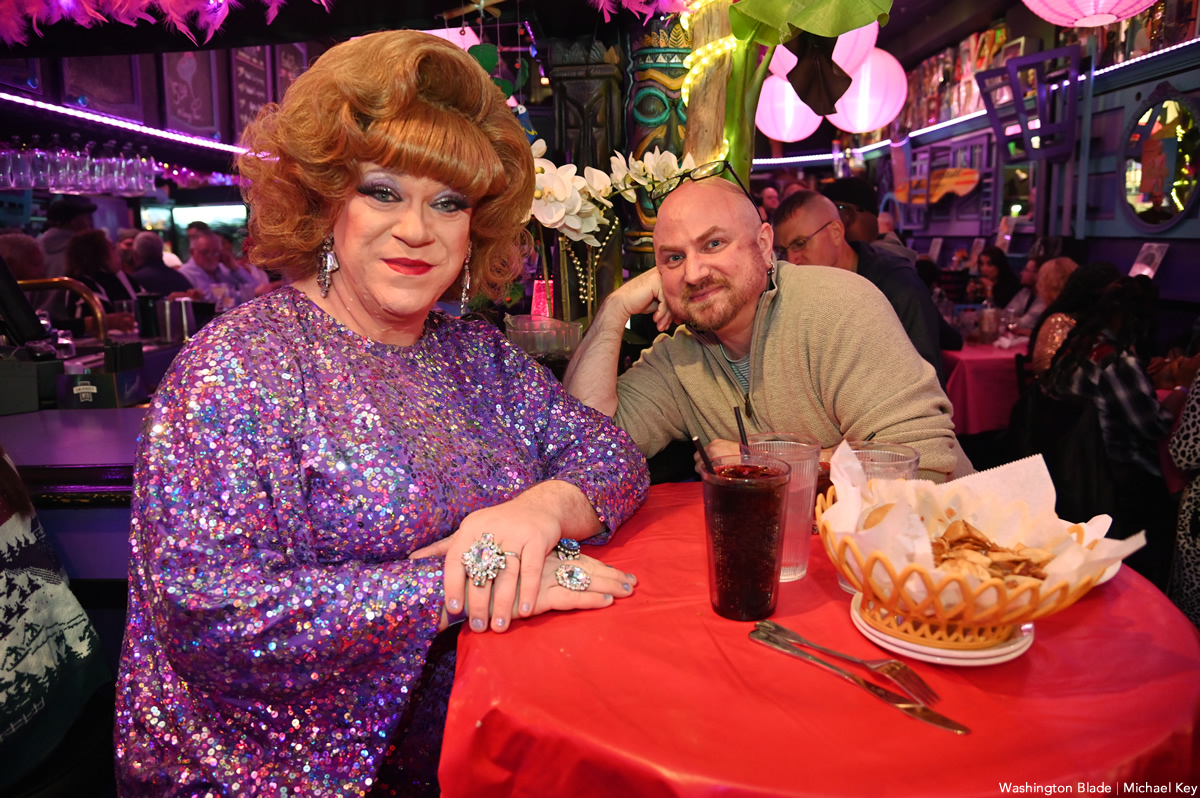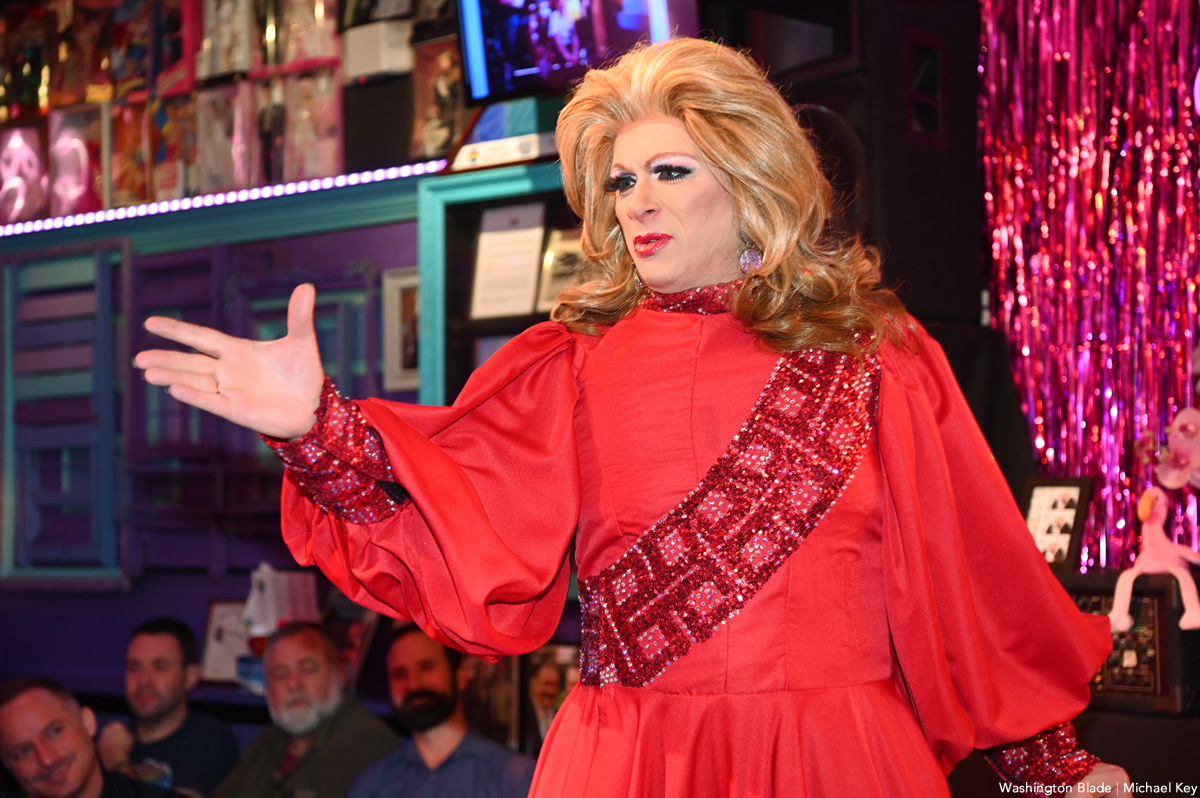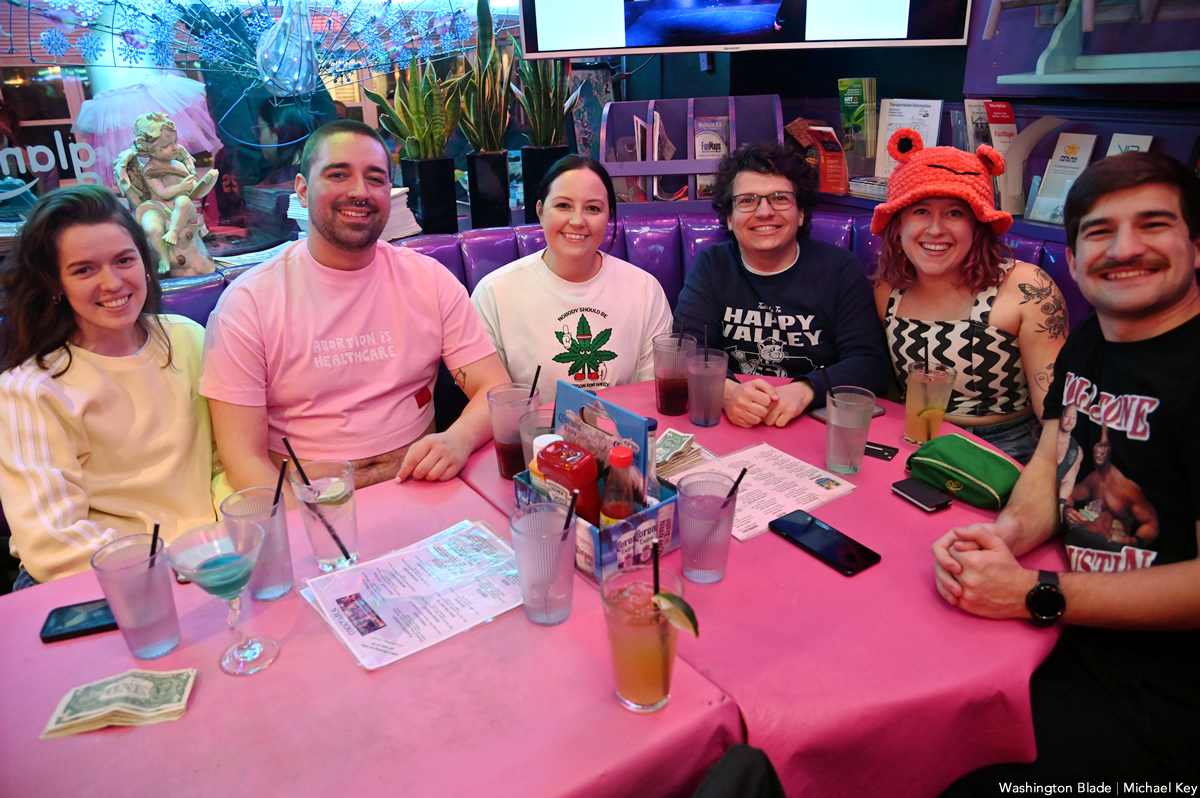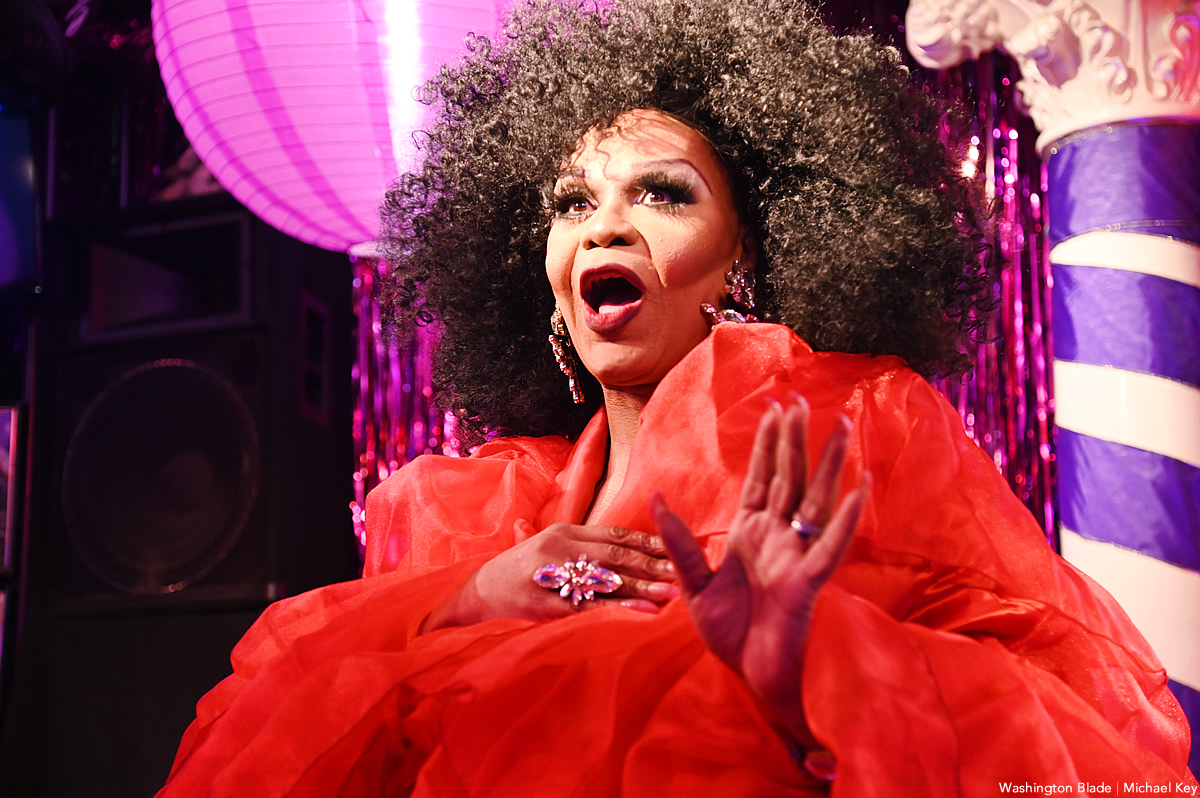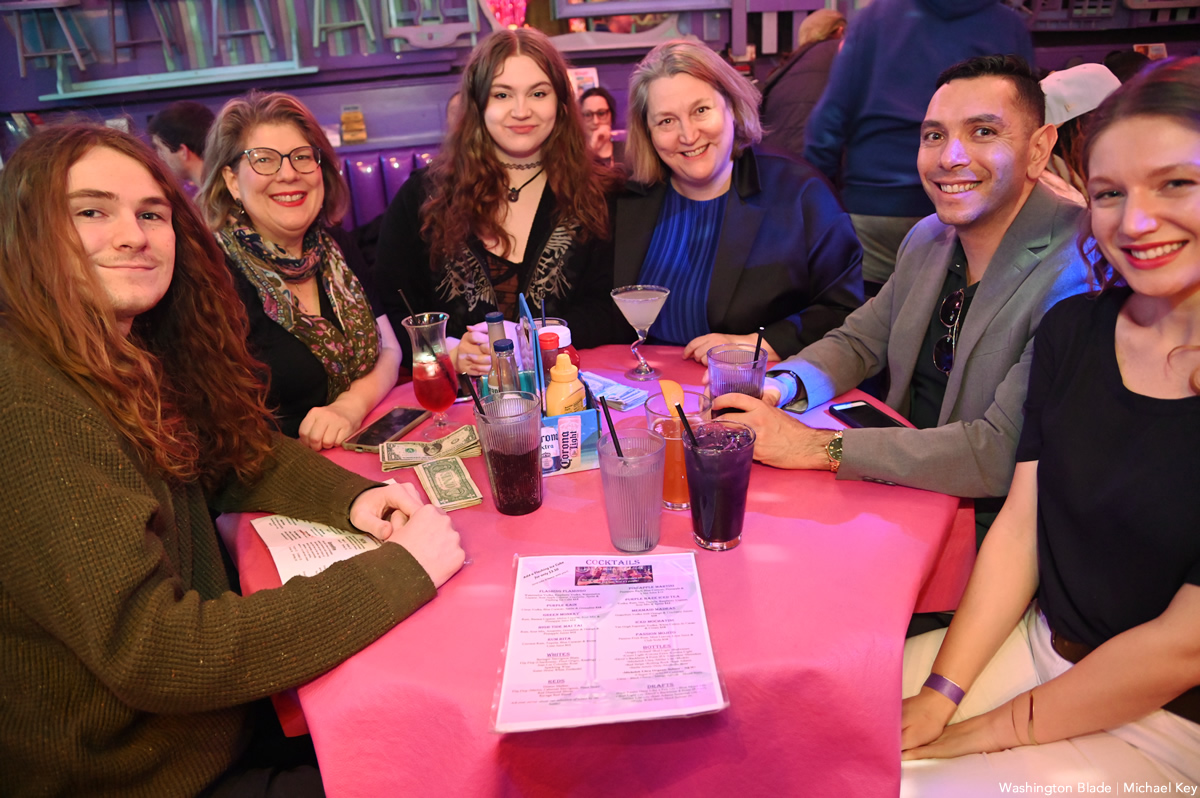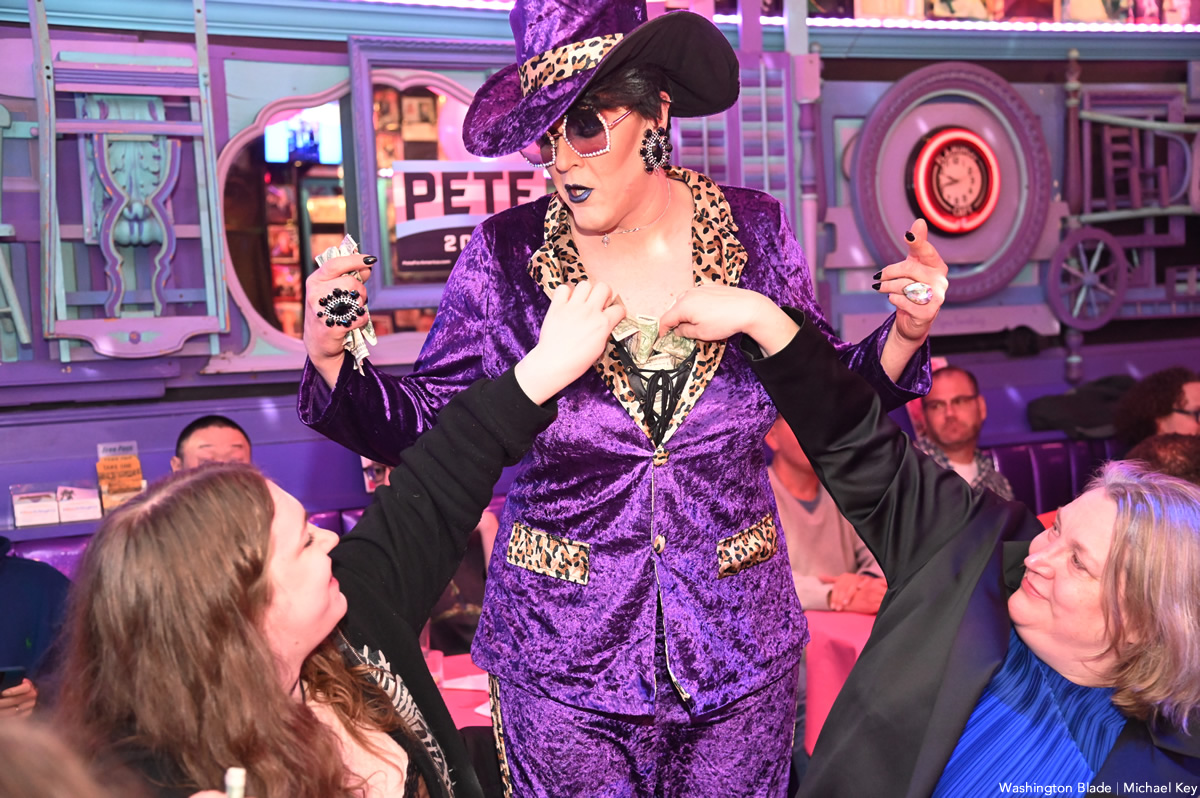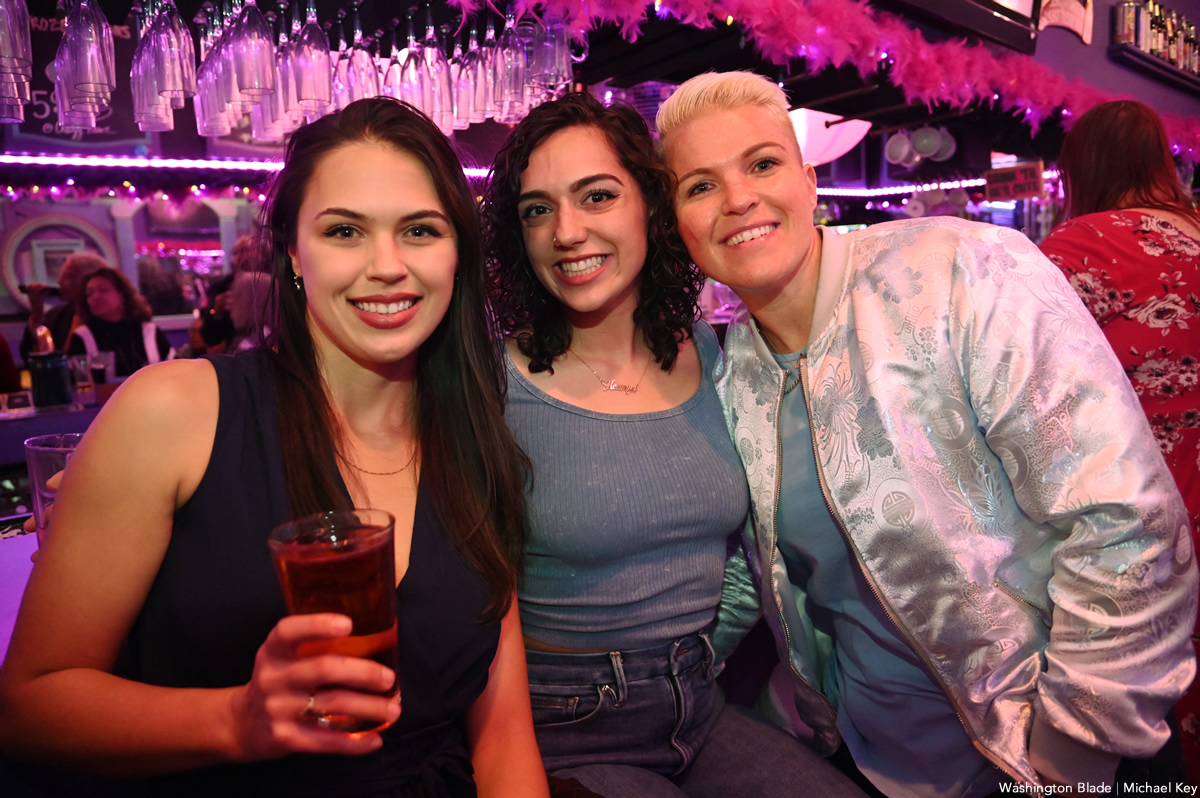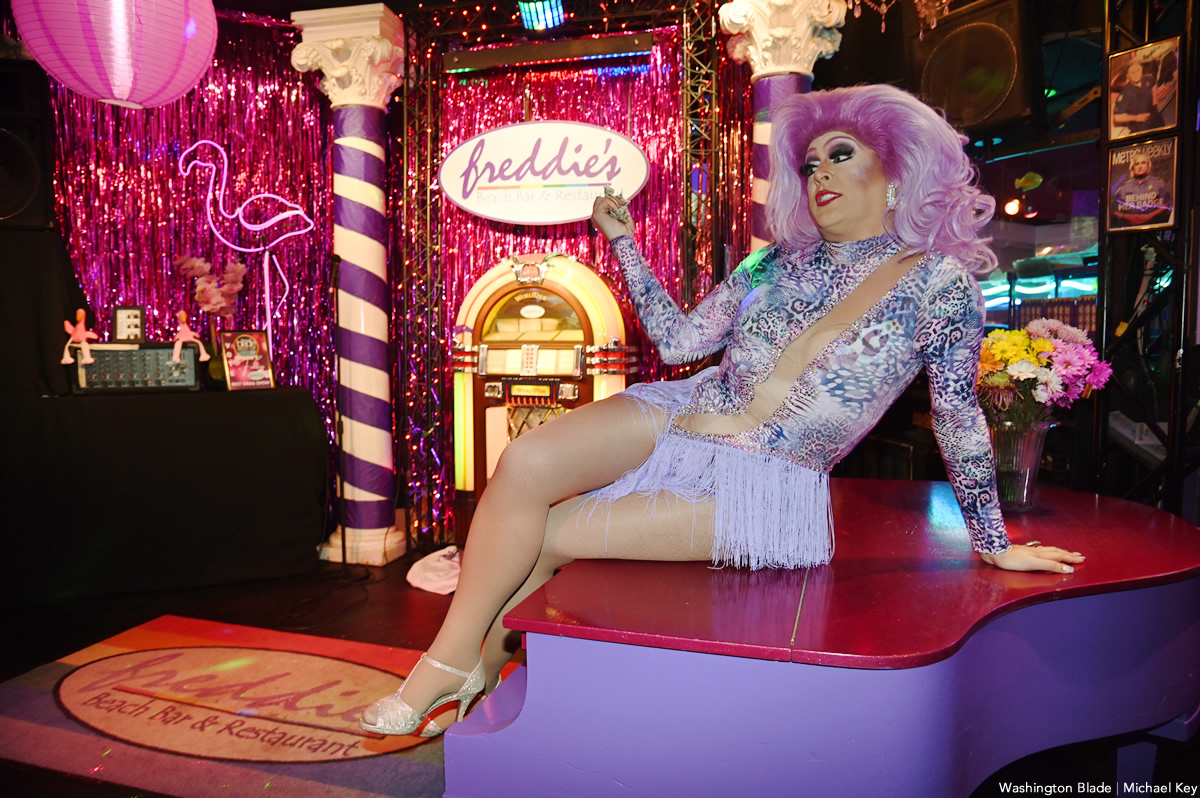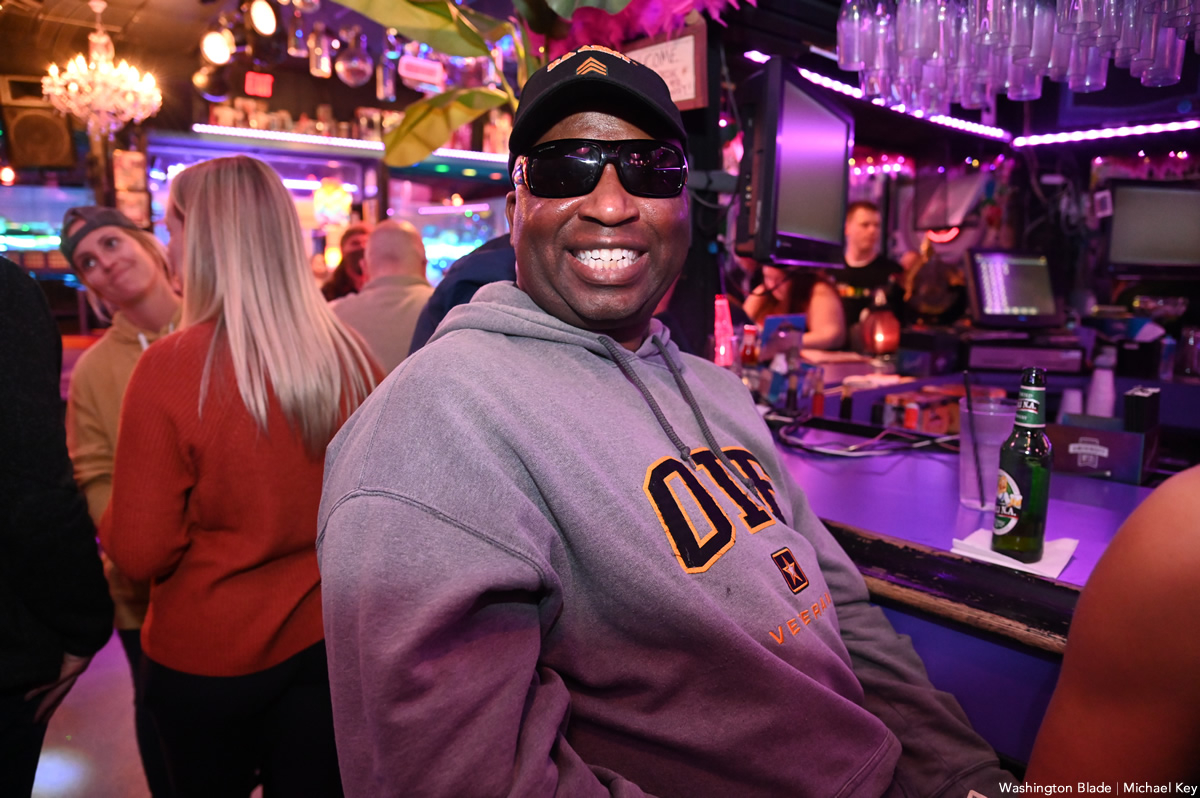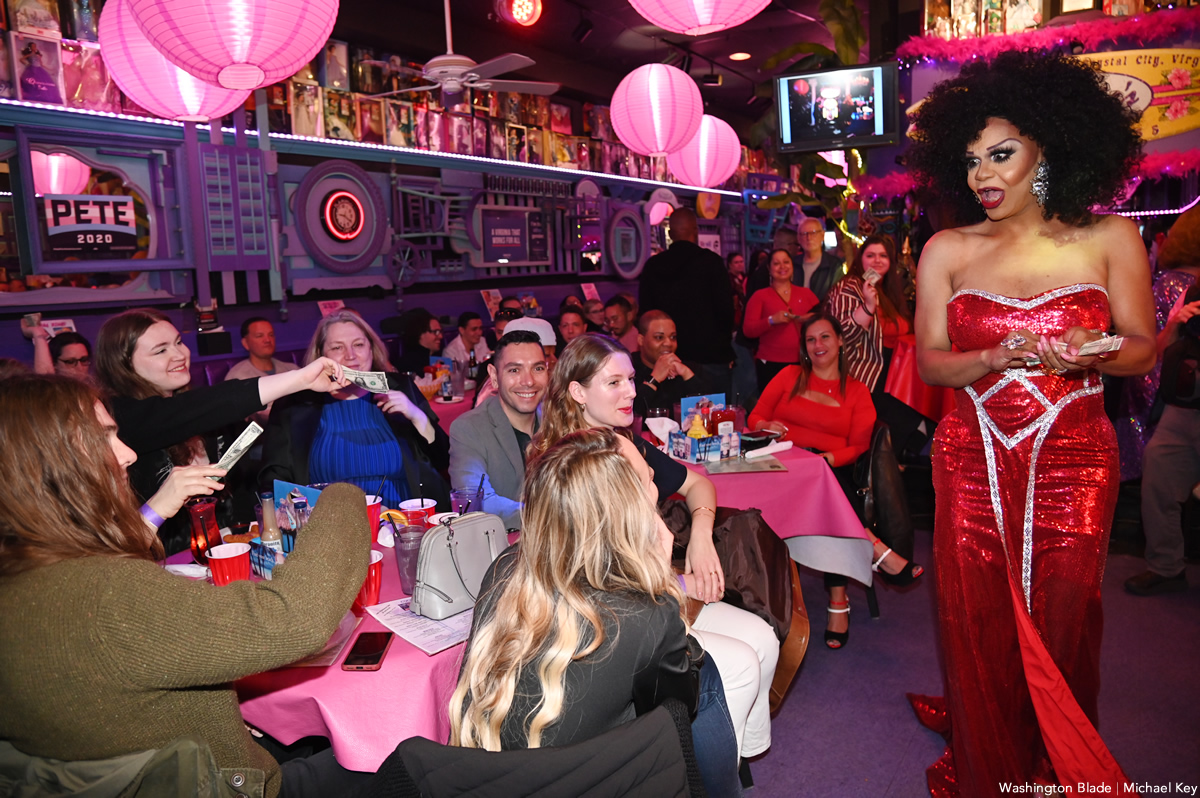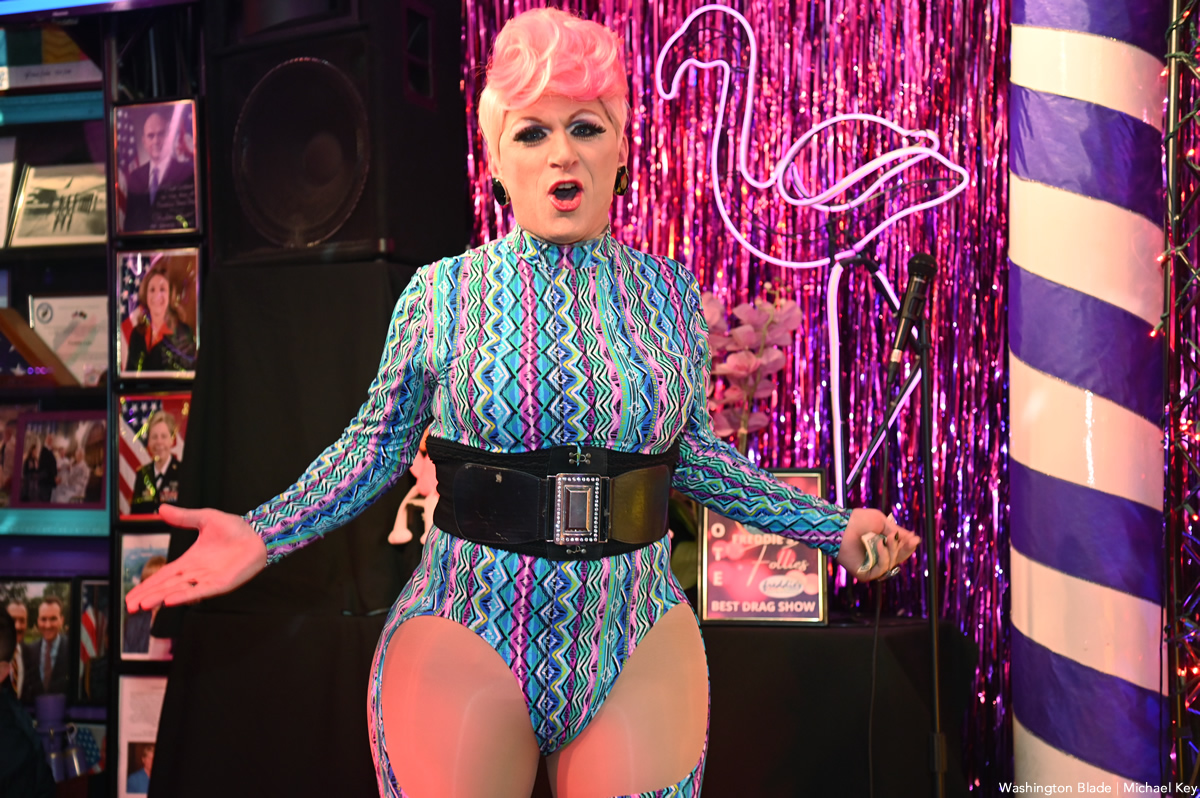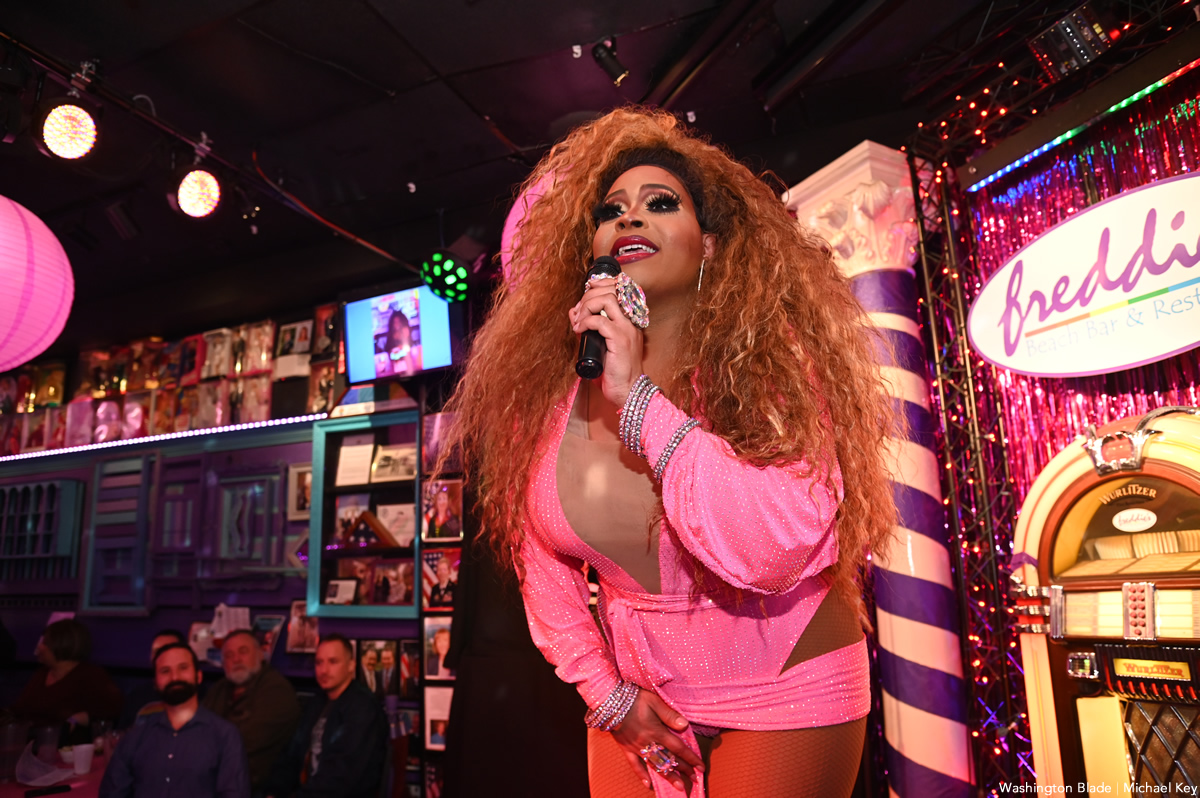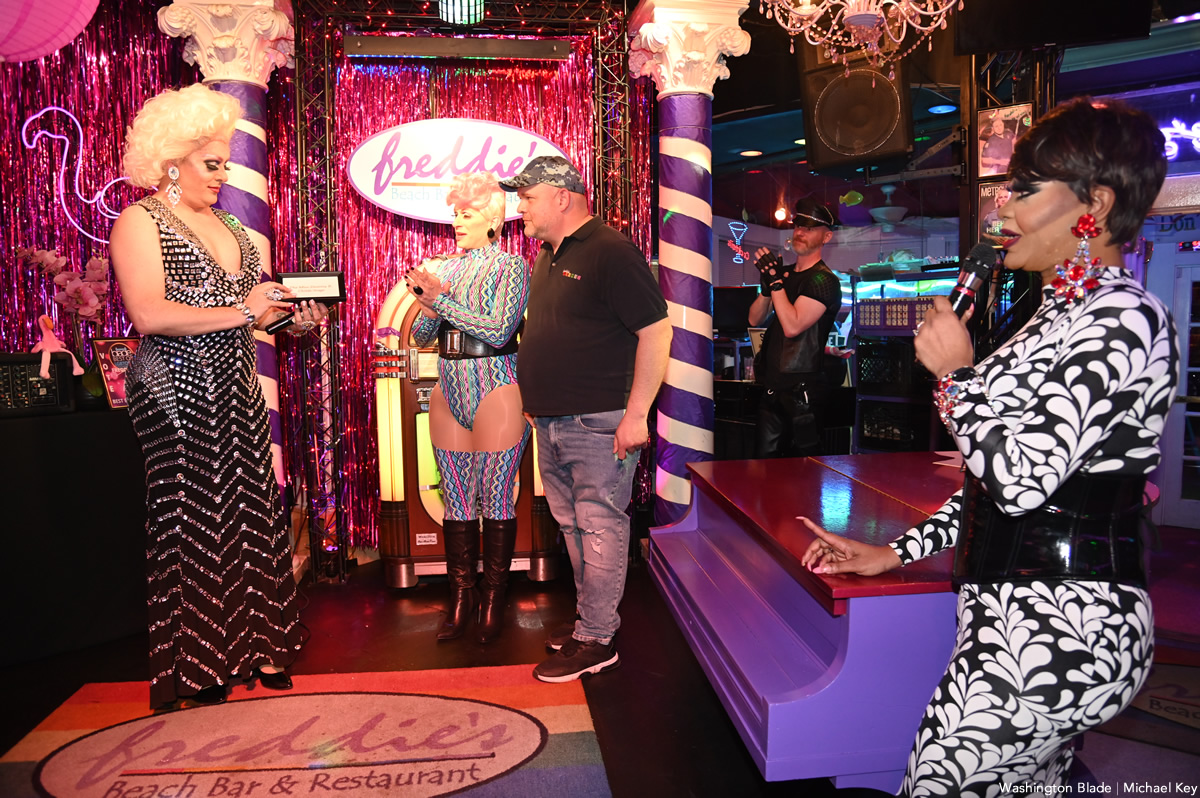 Covering Freddie's Follies 20th Anniversary for @WashBlade . @DestinyBChilds performing: pic.twitter.com/urpHgiMZ05

— Michael Patrick Key (@MichaelKeyWB) March 19, 2023