June 5, 2013 at 8:40 pm EST | by Lou Chibbaro Jr.
D.C. budget bill includes marriage equality 'clarification'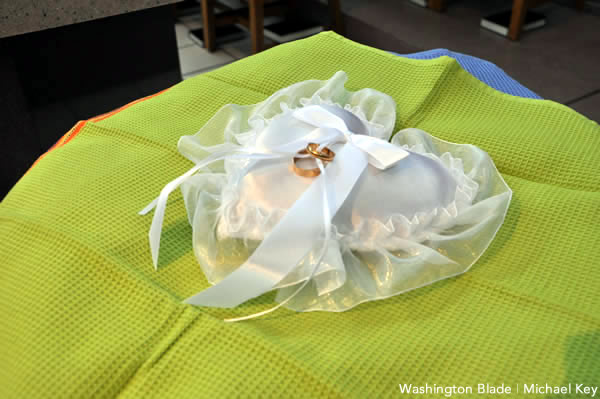 The D.C. fiscal year 2014 budget, for which the City Council gave preliminary approval on May 22, includes a "marriage equality estate tax clarification" provision that has raised questions about whether the city's Office of Tax and Revenue has properly implemented the D.C. same-sex marriage law for purposes of estate taxes.
The provision added to the budget bill by D.C. Council member Jack Evans (D-Ward 2) "directs the Chief Financial Officer to amend all estate tax forms, filing instructions, and regulations necessary to indicate that all married couples are eligible for certain tax deductions and exclusions, regardless of whether the marriage is recognized under federal law."
D.C. resident Marc Nicholson said he contacted Evans after an estate planning attorney advised him that the city's estate tax law appeared to prevent a surviving spouse of a same-sex married couple from obtaining an exemption to the city's inheritance tax based on existing tax forms, rules and instructions. Evans, who is chair of the Council's Committee on Finance and Revenue, said he believes the law as currently worded adequately covers same-sex couples on matters involving the D.C. estate tax.
"I just wanted to reinforce that all of this is applicable so that we don't have any misunderstandings or ambiguities or any interpretation that could lead to some other understanding," Evans said. "That the reason behind it," he said of his clarification language in the budget bill.
When asked by the Blade whether the Office of Tax and Revenue failed to properly change its estate tax rules and forms three years after the D.C. Marriage Equality Act took effect, spokesperson Natalie Wilson said, "OTR directed its efforts first to individual income tax forms and instructions, which affected more taxpayers more immediately."
Wilson said "OTR will refund any taxes overpaid" if a surviving spouse of a same-sex marriage brings information about a possible improper estate tax bill the office's attention.
Michelle Zavos, a local attorney specializing in LGBT family law, said the D.C. marriage equality law "absolutely" enables surviving same-sex spouses to receive the same estate tax exemption that a surviving spouse of a heterosexual marriage receives.
"It's probably a good idea for the City Council to put that language in the budget, but the law as it stands makes this very clear," Zavos said. Same-sex couples have the exact same rights and benefits of marriage as opposite sex couples, she said.