European LGBT rights advocates gather in Croatia
Uzra Zeya of U.S. State Department addressed ILGA-Europe conference participants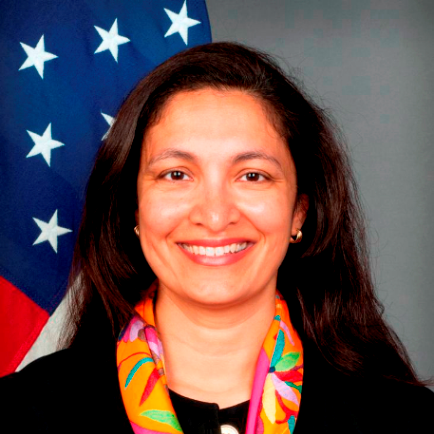 Croatian President Ivo Jospović on Thursday welcomed those who attended the gathering in Zagreb, the country's capital, in a video message.
"I take this opportunity to congratulate you on your courage and perseverance in the struggle for your right to be different, your right to be public and visible," Jospović said.
Uzra Zeya, acting assistant secretary of the Bureau of Democracy, Human Rights and Labor at the U.S. State Department joined European Union Special Representative for Human Rights Stavros Lambrinidis, Portuguese LGBT rights advocate Miguel Vale de Almeida and other officials who spoke during the conference. Denis Dison of the Gay and Lesbian Victory Fund, Russian LGBT rights advocates Igor Kochetkov and Polina Andrianova, Neil Grungras of the Organization for Refugee Asylum and Migration and Hilde Vossen of the European Bisexual Network are among the activists who attended the gathering.
"The exchange of experiences and policy development is highly beneficial to us in Europe, as the European societies as well as the national laws differ widely across the continent," Søren Laursen of LGBT Denmark, a Danish advocacy group, told the Washington Blade. "The activists fighting the course need to understand the differences and learn the different political realities to be able to formulate policies. An ILGA-Europe conference is a big sharing experience."
The ILGA-Europe conference took place less roughly five months after same-sex couples began to marry in France.
Gays and lesbians can also legally tie the knot in Portugal, Spain, Iceland, the Netherlands, Belgium, Norway, Sweden and Denmark.
Same-sex couples will be able to legally marry in England and Wales in the spring, while Scottish lawmakers have begun to debate their own gay marriage measure. Irish voters next year will consider a proposed constitutional amendment that would extend marriage rights to same-sex couples in the country.
Maltese parliamentarians earlier this month began to debate a measure that would allow gays and lesbians to enter into civil unions. A Croatian parliamentary commission on Thursday approved a December referendum on whether to amend the country's constitution to ban same-sex marriage.
The upper house of the Dutch Parliament later this fall is expected to vote on a measure that would allow trans people to petition a judge to change their gender on their birth certificates, passports and other official documents without undergoing sterilization and sex-reassignment surgery.
Activists continue to combat homophobia, transphobia
Anti-LGBT discrimination and violence in Europe remains a serious concern in spite of these legislative advances.
Nearly half of the respondents who took part in a survey the European Union Agency for Human Rights conducted in E.U. countries in 2012 said they experienced anti-gay discrimination or harassment. A quarter of respondents said they experienced violence or were threatened during the past year — this figure increases to 35 percent among trans people who took part in the survey.
The annual ILGA-Europe conference took place less than a week after police in Montenegro clashed with protesters who sought to disrupt a Pride march in Podgorica, the country's capital.
Hundreds of Serbian LGBT rights advocates late last month criticized their government's decision to ban a Pride march in Belgrade because of what officials described as the threat of violence from anti-gay extremists.
The European Union and the governments of the Netherlands and other member countries have also repeatedly criticized Russia over its LGBT rights record that includes a law that bans gay propaganda to minors.
"Laws that validate discrimination, as we have seen in Russia, can lead to an increase in violence and harassment," Zeya said during her speech at the ILGA-Europe conference. "This is particularly true when authorities don't act to protect all of their citizens and when they fail to investigate and prosecute crimes committed by or against particular groups."
Jospović did not specifically reference Russia in his remarks, but he did stress human rights "imply the right of every human being to achieve his or her potential in that which he or she is."
"This includes the right to freely express one's sexual orientation and gender identity without the threat of anyone being humiliated, insulted and subjugated to violence as a result or to be excluded from social and public life," the Croatian president said.
Saša Gavrić, executive director of the Sarajevo Open Centre, an LGBT rights group in the Bosnian capital, co-presented a workshop on responding to hate crimes in the country.
"We believe [in] high level events, like this one," Gavrić told the Blade. "The grassroots work like our work in Sarajevo will together contribute to achieving full equality of LGBT persons in Europe."
Members of Famiglie Arcobaleno, an Italian group that advocates on behalf of LGBT parents and those who want to have children, also presented at the ILGA-Europe conference.
Luca Possenti of the Famiglie Arcobaleno Board of Directors noted to the Blade his organization continues to work with schools and other institutions to recognize same-sex couples and their families, even though gays and lesbians remain unable to marry or adopt children in Italy. He stressed working with teachers in particular to become more LGBT-friendly is "fundamental throughout Europe" because prejudice, homophobia and transphobia remain pervasive in many European countries.
Transgender Europe, a continent-wide trans advocacy organization with more than 70 affiliates in 35 countries, also participated in the conference.
The group notes 71 anti-trans murders have been reported in Europe over the last five years. Two dozen European countries still require trans people to become sterilized before they can legally change their gender.
"The ILGA-Europe conference is one of the regular opportunities to meet, work and network in one place with many relevant stakeholders in the field of LGBTI work," Transgender Europe Secretary Alecs Recher told the Blade. "ILGA-Europe strengthens trans representation in this meeting space and supports greater cohesion of the joint struggle for human rights on grounds of sexual orientation and gender identity."
Nearly 300 LGBT rights advocates from across Europe gathered in Croatia from Oct. 24-26 for ILGA-Europe's annual conference.
Victory Fund honors Maine House speaker at D.C. conference
Ryan Fecteau is gay Catholic University alum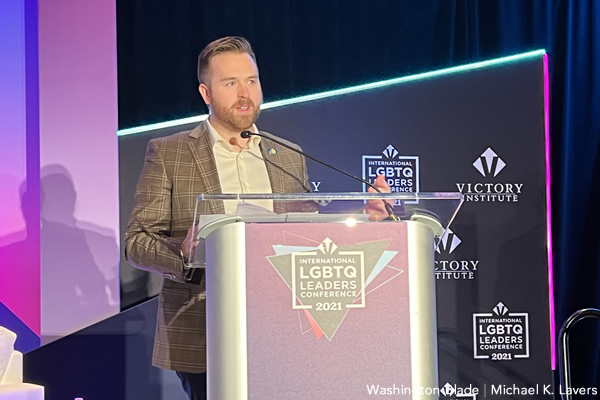 The Victory Fund on Saturday honored Maine House Speaker Ryan Fecteau on the last day of its International LGBTQ Leaders Conference in D.C.
Fecteau — an openly gay Catholic University of America alum — won a seat in the Maine House of Representatives in 2014. He became the chamber's speaker in 2018.
"Hate and intolerance will not derail us," said Fecteau after Florida state Rep. Carlos Guillermo Smith presented him with the Tammy Baldwin Breakthrough Award, which is named after U.S. Sen. Tammy Baldwin (D-Wis.). "Our community will not be intimidated."
The Victory Fund on Friday honored Guatemalan Congressman Aldo Dávila, a gay man who is living with HIV.
Victory Fund honors gay Guatemalan congressman at D.C. conference
Aldo Dávila a vocal critic of country's government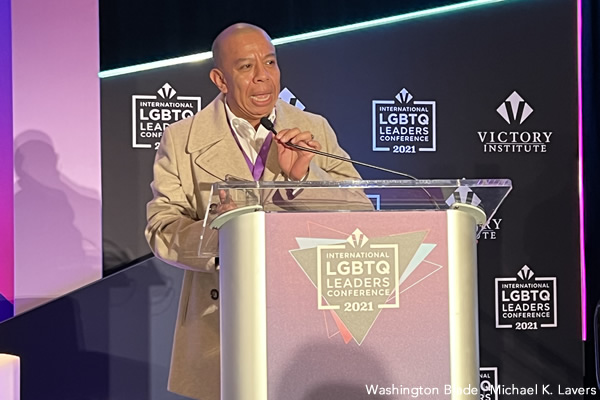 The Victory Fund on Friday honored an openly gay Guatemalan congressman who has faced death threats because of his efforts to fight corruption in his country.
Dávila — a member of the Winaq movement, a leftist party founded by Rigoberta Menchú, an indigenous human rights activist and Nobel Peace Prize winner — in 2019 became the first openly gay man elected to Guatemala's congress. Dávila, who also lives with HIV, had previously been the executive director of Asociación Gente Positiva, a Guatemala City-based HIV/AIDS service organization.
Supporters of President Alejandro Giammattei have lodged several formal complaints against Dávila after he publicly criticized the government over corruption, its response to the pandemic and other issues.
Three men on April 19 approached Dávila's vehicle near Guatemala's National Library and tried to rob him. One of Dávila's bodyguards shot one of the men, but the two other assailants fled the scene before police officers and passersby arrived.
Dávila told the Washington Blade in September during an interview at a Guatemala City hotel that he and his partner installed cameras in their apartment after someone killed their dog.
Two female police officers who arrived at the hotel with Dávila sat in the lobby while he spoke with the Blade. The government a few weeks later reduced his security detail.
"Guatemala is living through the worst democratic crisis in the last 40 years," said Dávila after he accepted the Victory Fund's Global Trailblazer Award at its 2021 International LGBTQ Leaders Conference that is taking place in-person at the JW Marriott in downtown D.C. "Guatemala right now is being paralyzed by corruption and impunity and my voice is uncomfortable because of this."
Dávila became emotional at the end of his remarks.
"I will keep fighting for our rights," he said.
Comings & Goings
Nathanson takes role at Outright Action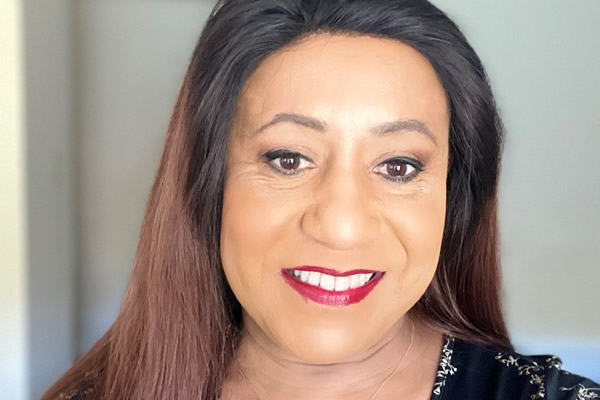 The Comings & Goings column is about sharing the professional successes of our community. We want to recognize those landing new jobs, new clients for their business, joining boards of organizations and other achievements. Please share your successes with us at: [email protected]
The Comings & Goings column also invites LGBTQ+ college students to share their successes with us. If you have been elected to a student government position, gotten an exciting internship, or are graduating and beginning your career with a great job, let us know so we can share your success.
Congratulations to Rikki Nathanson on her new position as Senior Advisor – Global Trans Program with OutRight Action International in New York. Nathanson will be based in D.C.
"I am absolutely thrilled to be taking on this new role as Senior Advisor in OutRight's Global Trans Program," said Nathanson. "I have finally found the perfect fit for me: as a trans woman who has been fighting for equality not only for myself, but for others globally, this position is not only a job, it's intrinsically part of who I am. So, what better way to live, nurture and grow myself."
Nathanson will be working closely with all program staff to ensure a cohesive and intentional approach to gender issues throughout OutRight's programs, including its approach to gender ideology movements. She will lead new initiatives on gender advocacy and policy change, focused but not limited to legal gender recognition and anti-discrimination legislation and policies.
Prior to this Nathanson was director of housing programs at Casa Ruby in D.C. She has also held a number of other positions including: founder/executive director of Trans Research, Education, Advocacy & Training (TREAT), Zimbabwe; chairperson Southern Africa Trans Forum, SATF, Cape Town, South Africa; executive director, Ricochet Modeling Agency, Zimbabwe; and company secretary for Dunlop Zimbabwe Limited, Zimbabwe.