Groups link Utah polygamy ruling to gay marriage
NOM, FRC blame LGBT advocates for opening 'path' to bigamy, incest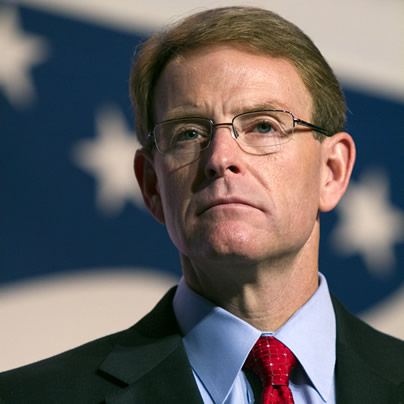 Two of the nation's leading anti-LGBT groups — the National Organization for Marriage and the Family Research Council — said a decision by a federal judge in Utah last week overturning part of the state's law banning polygamy was made possible by earlier court rulings supportive of same-sex marriage.
An official with the marriage equality group Freedom to Marry disputed that assertion, saying the Utah ruling was limited to the right of people to choose personal living arrangements unrelated to marriage.
But statements by NOM and FRC linking the Utah ruling to same-sex marriage were reported widely in the media, with cable news outlets inviting FRC President Tony Perkins to appear on news programs to express his views on the issue.
Judge Clark Waddoups of the U.S. District Court of Utah ruled on Dec. 13 that a section of Utah's anti-polygamy law that prohibits "cohabitation" violates the U.S. Constitution's First Amendment guarantee of freedom of religion as well as the Constitution's due process clause.
Waddoups' ruling left in place the anti-polygamy law's provisions prohibiting someone from obtaining two or more valid marriage licenses to marry more than one person.
In a statement released by the National Organization for Marriage, the group's president, Brian Brown, called Waddoups' ruling the first step in an effort by polygamists to bring a test case to the Supreme Court to obtain legal recognition of "plural" marriages.
"There's no doubt that the arguments for same-sex marriage were a template for this case," Brown said. "People in polygamist, plural marriages are just a short step away from winning official marriage rights. Adult incest practitioners will have similar claims, as will adult siblings and other close relations," he said.
"This decision is the next step along the path blazed by same-sex marriage advocates who have convinced federal judges to transform the societal norm of marriage as the union of one man and one woman designed primarily for the benefit of any children produced of their union into an institution that recognizes intimate, romantic relationships between consenting adults," Brown said.
Evan Wolfson, founder and president of the same-sex marriage advocacy group Freedom to Marry, said Brown's interpretation of Waddoups' ruling was incorrect.
"Contrary to yet another predictable breathless rush to misrepresent from NOM and its anti-gay ilk, this decision is no more about marriage than NOM is," Wolfson told the Blade in an email.
"It's about cohabitation, that is, whom you may choose to live with," he said. "As anyone reading the judge's ruling can see, the decision leaves intact other prohibitions on bigamy, polygamy, and fraud. Instead it's about choices people make about living together, not marrying."
Wolfson added, "Do the NOM/FRC crowd really believe that in a free country the government should be dictating to Americans – married or otherwise, religious or otherwise – whom they may even live with?"
The challenge to the Utah polygamy law stems from a lawsuit filed by Kody Brown, the lead figure in the reality television show "Sister Wives," in which Brown stars with people he identifies as his four wives and 17 children.
Brown and his family are members of the Apostolic Brethren Church, a breakaway sect from the Mormon Church whose members embrace polygamy as part of their religious beliefs. The Mormon Church ended its support for polygamy in the 1890s when Congress required the then territory of Utah to prohibit polygamy as a condition for becoming a state.
George Washington University law professor Jonathan Turley represents the Brown family in connection with their lawsuit. He argued before the court that the provision of the Utah polygamy law prohibiting cohabitation violated the family's right to privacy and religious freedom.
Texas GOP Governor Greg Abbott signs anti-Trans youth sports bill
"Despite the powerful testimony of trans kids & adults- the emails to the Governor to veto this harmful piece of legislation it is now law"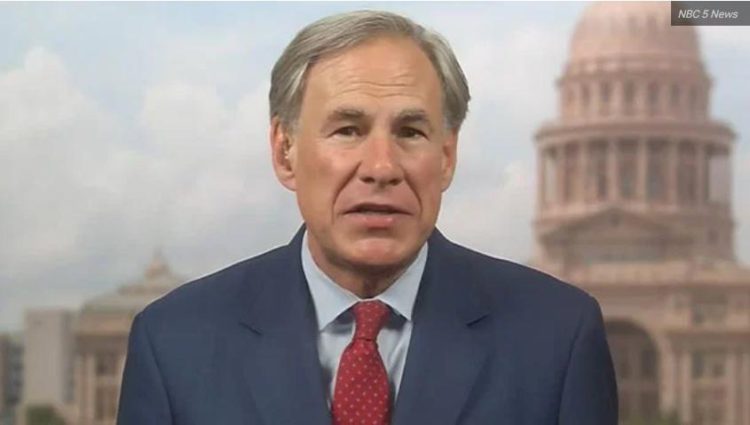 AUSTIN – Texas Republican Gov. Greg Abbott signed into law Monday H.B. 25, an anti-Transgender youth sports bill banning Trans K-12 student-athletes from playing on sports teams consistent with their gender identity.
H.B. 25 is the 9th statewide bill signed into law this year banning transgender youth from participating in school sports and the 10th in the country. This bill also comes during a year when Texas lawmakers have proposed nearly 70 anti-LGBTQ bills, including more than 40 bills that specifically target transgender and nonbinary youth — far more than any other state.
"We are devastated at the passage of this bill. Despite the powerful testimony of trans kids and adults, families and advocates, and the many emails and calls our community placed to the Governor's office to veto this harmful piece of legislation it is now law," Ricardo Martinez, CEO of Equality Texas, said.
"Most immediately, our focus is our community and integrating concepts of healing justice to provide advocates who have already been harmed by this bill with spaces to refill their cup and unpack the acute trauma caused by these legislative sessions. Our organizations will also begin to shift focus to electing pro-equality lawmakers who understand our issues and prioritize representing the vast majority of Texans who firmly believe that discrimination against trans and LGB+ people is wrong," he added.
Earlier this month, the Texas state government was criticized for removing web pages with resources for LGBTQ youth, including information about The Trevor Project's crisis services. The Trevor Project the world's largest suicide prevention and crisis intervention organization for LGBTQ+ young people.
"Transgender and nonbinary youth are already at higher risk for poor mental health and suicide because of bullying, discrimination, and rejection. This misguided legislation will only make matters worse," Amit Paley, CEO and Executive Director of The Trevor Project said in a statement released Monday afternoon.
To every trans Texan who may be feeling hurt and attacked by this legislation and months of ugly political debate — please know that you are valid, and you are deserving of equal opportunity, dignity and respect. The Trevor Project is here for you 24/7 if you ever need support, and we will continue fighting alongside a broad coalition of advocates to challenge this law," Paley said.
Breaking: Transgender students in Texas will be restricted from playing on K-12 school sports teams that align with their gender identity under a bill Gov. Greg Abbott has signed into law. https://t.co/54kMy2fWGu

— Texas Tribune (@TexasTribune) October 25, 2021
********************
Additional resources:
Research consistently demonstrates that transgender and nonbinary youth face unique mental health challenges and an elevated risk for bullying and suicide risk compared to their peers.
If you or someone you know needs help or support, The Trevor Project's trained crisis counselors are available 24/7 at 1-866-488-7386, via chat at TheTrevorProject.org/Help, or by texting START to 678678.
Ohio high school cancels play with Gay character after Pastor complains
The School's fall production of "She Kills Monsters" was scheduled to open in less than one month until the play was canceled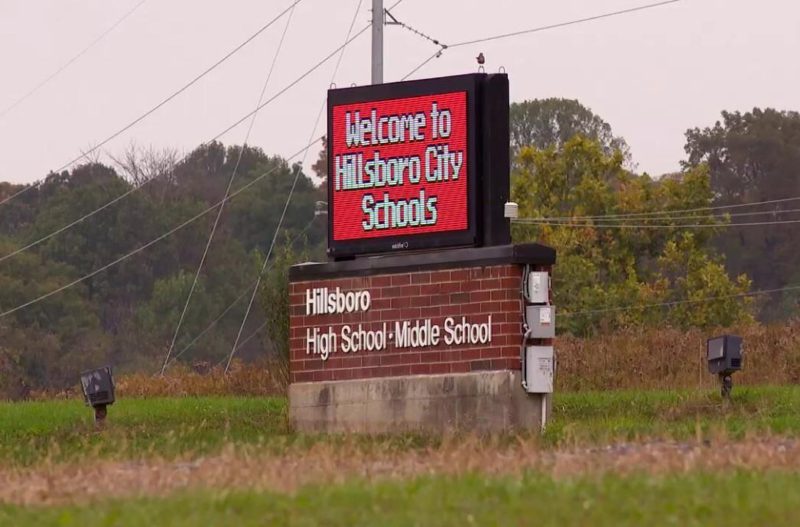 HILLSBORO, Oh. — A Southwest Ohio high school's play was abruptly canceled after Jeff Lyle, a local pastor from Good News Gathering, complained of a gay character.
Hillsboro High School's fall production of "She Kills Monsters" was scheduled to open in less than one month, until students learned the play would be canceled last week, reports Cincinnati's ABC affiliate WCPO.
The story follows a high school senior as she learns about her late sister's life. It is implied throughout the play that her sister is gay, according to the news station.
The play's cancellation comes a week after Lyle, a long-time voice of the anti-LGBTQ+ religious-right in Ohio, and a group of parents confronted the production's directors at a meeting, according to Cincinnati CBS affiliate Local 12. Lyle denies pressuring school officials, but tells WCPO he supports the decision.
"From a Biblical worldview this play is inappropriate for a number of reasons, e.g. sexual innuendo, implied sexual activity between unmarried persons, repeated use of foul language including taking the Lord's name in vain," Lyle said.
Some families say they believe Lyle did influence the school's decision.
"I think that's wrong," Jon Polstra, a father of one of the actors, told WCPO. "All they would have had to do if they objected to something in the play was not go to the play."
In a statement to Local 12, Hillsboro City Schools Superintendent Tim Davis said the play was canceled because it "was not appropriate for our K-12 audience."
The Lexington Herald Leader reports that the school planned to perform a version intended for audiences as young as 11 years old.
Students were "devastated" and "blindsided" by the news, according to WCPO.
"It felt like we had just been told, 'Screw off and your lives don't matter,'" Christopher Cronan, a Hillsboro High student, said. "I am openly bisexual in that school and I have faced a lot of homophobia there, but I never expected them to cancel a play for a fictional character."
Cronan's father, Ryan, also voiced his frustration.
"They want to say the town is just not ready, but how are you not ready? It's 2021," Ryan Cronan said.
Students have started a GoFundMe in hopes of putting on the production at a community theater in 2022.
"If we do raise enough money, I am going to be genuinely happy for a very long time, because that means people do care," Cronan told WCPO.
VIDEO: Utah deal promoted as national model for LGBTQ rights, religious liberty
Data finds state has 2nd highest support for LGBTQ rights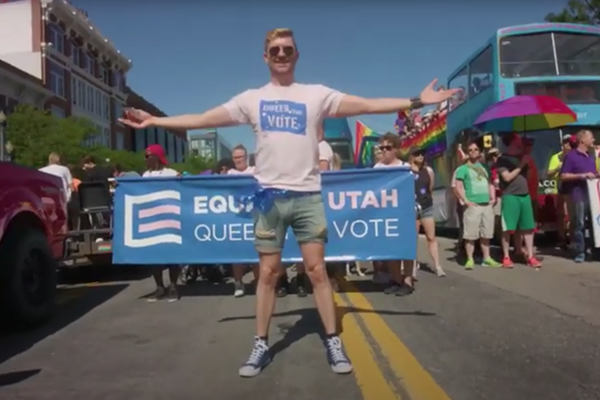 A new video from the premier LGBTQ group in Utah, challenging the idea LGBTQ rights must be at odds with religious liberty, promotes an agreement reached in the state as a potential model to achieve a long sought-after update to civil rights law at the federal level.
The video, published Friday by Equality Utah, focuses on a 2015 agreement in Utah between the supporters of LGBTQ rights and the Mormon Church to enact a compromise acceptable to both sides. The agreement by those two sides led to an LGBTQ civil rights law in the state, which has Republican control of the state legislature and the governor's mansion.
Troy Williams, executive director of Equality Utah, says in the video dialogue is key to achieving meaningful success, whether its among the people of Utah, a state legislature or lawmakers in Congress.
"When you are working with LGBT rights in a state like Utah, and you want to advance legal equality, you can't do it without working with Republicans, with conservative, with people of faith," Williams says.
Williams, speaking with the Washington Blade over a Zoom call, said the main audience for the video is people on "the center right and the center left" willing to listen to other side when it comes to LGBTQ rights and religious liberty.
"People that have the courage to reach out to each other, and sit down across from each other and say, 'Hey look, let's hammer this out," Williams said. "That's who my audience is."
Not only did Utah enact non-discrimination protections for LGBTQ people, but the state under a Republican governor administratively banned widely discredited conversion therapy for youth. When lawmakers proposed legislation that would ban transgender youth from competing in school sports, the proposal was scuttled when Gov. Spencer Cox (whom Williams called a "super Mormon") said he'd veto it after it came to his desk.
Marina Gomberg, a former board for Equality Utah, is another voice in the video seeking dispel the narrative religious liberty and LGBTQ rights are in conflict.
"in order to protect LGBTQ people, we don have to deny religious liberty, and in order to provide protections for religious liberties, we don't have to deny LGBTQ people," Gomberg says. "The idea that we do is a fallacy that Utah has dismantled."
In July, new polling demonstrated the surprisingly the Utah, despite being a conservative state, has the second highest percentage of state population in support for non-discrimination protections for LGBTQ people. The data Public Religion Research Institute from 77 percent of Utah residents support LGBTQ people, which is just behind New Hampshire at 81 percent.
Tyler Deaton, senior adviser for the pro-LGBTQ American Unity Fund, said the Utah agreement demonstrates the possibility of reaching an agreement at the federal level once "second order" issues are put into perspective.
"The first order question has to be how are we winning the culture," Deaton said. "Do people even want to pass the bill? And if they do, you then figure out the details."
The American Unity Fund has helped promote as a path forward for LGBTQ non-discrimination at the federal level the Fairness for For All Act, legislation seeking to reach a middle ground on LGBTQ rights and religious freedom. Polling earlier this year found 57 percent of the American public back a bipartisan solution in Congress to advance LGBTQ civil rights.
Supporters of the Equality Act, the more established vehicle for LGBTQ rights before Congress, say the Fairness for For All Act would give too many carve-out for LGBTQ rights in the name of religious freedom. The Equality Act, however, is all but dead in Congress and has shown no movement in the U.S. Senate.
Skeptics of the Utah law would point out the law doesn't address public accommodations, one of the more challenging aspects in the fight for LGBTQ rights and one or remaining gaps in civil rights protections for LGBTQ people in the aftermath of the U.S. Supreme Court's decision last year in Bostock v. Clayton County. As a result, it's perfectly legal in Utah for a business owner to discriminate against LGBTQ coming as patrons.
Williams, however, shrugged off the idea the lack of public accommodations protections in Utah make the agreement in the state makes it any less of a model, making the case the spirit behind the deal is what matters.
"I think copying and pasting Utah's law doesn't work for lots of reasons," Wililams said. "What's most important is a model of collaboration because when you are sitting around the table with each other — Democrats and Republicans, LGBTQ people and people of faith — that's when the transformation happens. That is when the mutual respect is really forged."