Spencer Perry continues moms' tradition of activism
Son of Prop 8 plaintiffs reflects on marriage fight, stays involved at GWU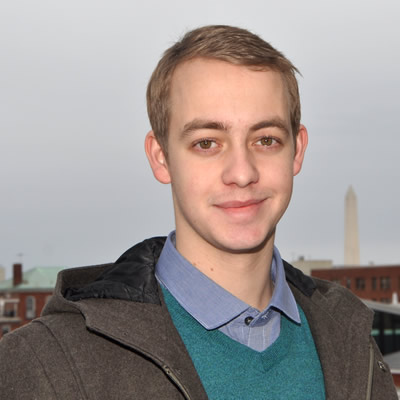 Spencer Perry takes after his parents.
The 19-year-old son of the lesbian plaintiff couple in the case against California's Proposition 8 is straight, but as a freshman at George Washington University, he's taken leadership roles in the school's gay-straight alliance and LGBT graduate program.
In an interview with the Washington Blade at GWU's Duques Hall, Spencer says he would pursue LGBT activism even if his parents — Kris Perry and Sandy Stier — weren't plaintiffs in the case that restored marriage equality to California, because of his experience in youth government programs during his adolescence.
"Sometimes I got the opportunity to travel across the country and meet others with different views on LGBT rights," Perry says. "More often than not, I found myself even just in conversations casually, advocating for my parents and advocating for the family that we have and families just like theirs. I really felt proud of myself doing that. It was a good feeling and I wanted to keep pursuing it."
After growing up in Berkeley, Calif., which he calls a "bubble" in terms of support for LGBT people, Spencer enrolled at GWU, where he double majors in political science and economics. Shortly after enrolling, he was elected freshman representative for Allied in Pride and was appointed as a board member of GWU's LGBT Health Graduate Certificate Program.
He moved to D.C., where he lives on campus at Thurston Hall, at the same time his parents relocated to the area after Kris Perry accepted a job as executive director of the First Five Years Fund, a non-profit that seeks early childhood education for disadvantaged children.
Spencer says his focus at Allied in Pride is getting the culture at GWU "to be more embracing of LGBT individuals" on campus.
The next big task? Preparing for the second annual amateur drag show set for Feb. 13 called "Allied in Greek" — a collaboration between the Allied in Pride and Greek life in which members of GWU's fraternities and sororities dress up in drag. The goal for the event, which will take place at 7 p.m. at Lisner Auditorium, is to show support for fellow LGBT students and benefit The Trevor Project, which seeks to help LGBT youth considering suicide.
Nick Gumas, who's gay and president of Allied in Pride, praised Perry.
"Spencer has been an important part of Allied in Pride since he joined at the start of last semester," Gumas says. "He always brings his creativity and positive energy to all of our meetings and events. It has been an absolute pleasure getting to know Spencer and I know he is going to continue to do great things in the future."
Spencer knows firsthand the feeling of having the rights of his family taken from him. On Election Day in 2008 — the same day that President Obama was elected to office — voters in California approved Prop 8, rescinding the marriage rights that gay couples already enjoyed in the state.
"Anyone will tell you who lived in California and is part of the LGBT community, that was a very embarrassing moment because No. 1, we elected a phenomenal president, the first black president, which was a terrific feeling to be part of that, but at the same time, Proposition 8 was passed, too," he says.
The day the California Supreme Court upheld Prop 8, Kris Perry and Stier — along with Los Angeles couple Paul Katami and Jeffrey Zarrillo — filed a lawsuit in federal court seeking to overturn Prop 8. They were represented by the legal dream team of Ted Olson and David Boies, who were hired by the then newly formed American Foundation for Equal Rights.
The lawsuit wasn't filed before Kris Perry, his birth mother, and Stier, who became his stepmother after a previous relationship Kris Perry had with another woman, asked their four children, including Spencer and his twin brother Elliott, whether it was OK.
"I remember one day after school right before dinner around that time, Kris and Sandy sat us down," Spencer says. "They said, 'Listen, we've been approached by this group called AFER and they're interested in pursuing a lawsuit to overturn Proposition 8 as unconstitutional. We're very interested, but we want to make a collective decision as a family. So they asked us if Elliott and I would be OK with that."
It didn't take much to convince Spencer to be willing to come on board.
"Elliott and I jumped at the opportunity," he says.
At first, Spencer says his parents "did their darndest to keep us kind of protected" from the public interest surrounding the case. But as the case proceeded through the district court, to the U.S. Ninth Circuit Court of Appeals and to the Supreme Court, and Spencer grew older and more interested in public affairs, he was able to speak out and talked to media outlets.
"I really did enjoy it," Spencer says. "Not to be someone who's devoted to attention, but it really was a good feeling to voice my opinion and to make sure people understand there are kids who have gay parents all across America."
In addition to speaking at various news conferences, Spencer gave interviews to the San Francisco Chronicle, People magazine, the Los Angeles Times and New York Times, among others
One of the views against same-sex marriage that Spencer had to address — and one that he was living proof to counter — was the often-used argument that children of same-sex parents don't fare as well as those raised by their opposite-sex biological parents.
"I've heard the argument a million and one times, but if anything, my gut reaction is that it's kind of hurtful to hear that because my parents love each other, I'm worse off for it," Spencer says. "I can't tell you how loving and proud, and just absolutely supportive, my parents are of me. And how much better I am for them being my parents."
After years of litigation, the case ended up before the U.S. Supreme Court, where justices ruled 5-4 that proponents of Prop 8 had no standing to defend the lawsuit, leaving in place a U.S. District Court decision from Judge Vaughn Walker that overturned the amendment on the grounds that it violated the equal protection rights of gay couples in the state.
But before that momentous decision, the justices scheduled oral arguments on March 26 to hear both sides in the case. Although Spencer wasn't initially expecting to attend that day, an AFER board member was kind enough to give seats to allow him and Elliott to attend.
Spencer found himself sweating and uncomfortable as he observed Olson, anti-gay attorney Charles Cooper and Solicitor General Donald Verrilli makes their arguments before the justices, but for reasons other than the historic nature of the occasion.
"I caught food poisoning the night before," Spencer says. "I never had food poisoning before, so I didn't know what was happening, but I was just clenching the arms in my chair and sweating a little bit. I thought it was just nerves or something."
Still, Spencer says he was inspired by what he saw, especially the comments from U.S. Associate Justice Anthony Kennedy.
"It was absolutely fantastic, especially listening to Justice Kennedy, it really touched my heart when he spoke about the kids who were involved in these cases, the children who belong to these families and feel disenfranchised by their government," Spencer says.
Decision day came on June 28. This time Spencer wasn't in D.C. — even though his parents were there to celebrate along with Human Rights Campaign President Chad Griffin on the steps of the Supreme Court — and instead was in North Carolina with other students involved in the debate team.
"The entire period when I was doing that, I was checking my phone, checking my Twitter, Instagram, everything I could get my hands on, every media outlet if it was going to happen," Spencer says.
Despite the ups and downs as the case went through the courts, Spencer says the experience as a whole was positive and brought him closer to his family.
"Looking back on it, I feel immensely proud of my moms," Spencer says. "I never felt closer to them than when I saw Kris and Sandy testifying in front of a federal judge. Even now, I still feel proud to know that they changed the lives of so many people for the better."
Peter Rosenstein, a gay Democratic activist and friend of Spencer's, calls him "a great kid" and says the apple doesn't fall far from the tree in terms of the pursuit of activism shared by his parents.
"I enjoyed his response when I was first introduced to him and asked if he was gay or straight," Rosenstein says. "He said, 'straight, my mom's didn't rub off on me' to which I responded my parents didn't rub off on me either. I think his being at GW will be great for the school and great for all the kids that meet him."
What should the national LGBT movement focus on next? Spencer says it should be winning state battles on marriage equality throughout the country, so when the issue returns to the Supreme Court, justices will make a favorable ruling for gay couples throughout the country.
"There's going to be political ideology in any ruling, and there's going to be influence in public opinion, but I think the way that public opinion has absolutely shifted in the past four years in support of marriage equality and LGBT rights, it really does speak to the fact that there's an opportunity for a national precedent on marriage equality in the Supreme Court," Spencer says.
Elected officials turn out for annual Equality NoVa Ice Cream Social
Northern Virginia LGBTQ group stresses 'political awareness, education'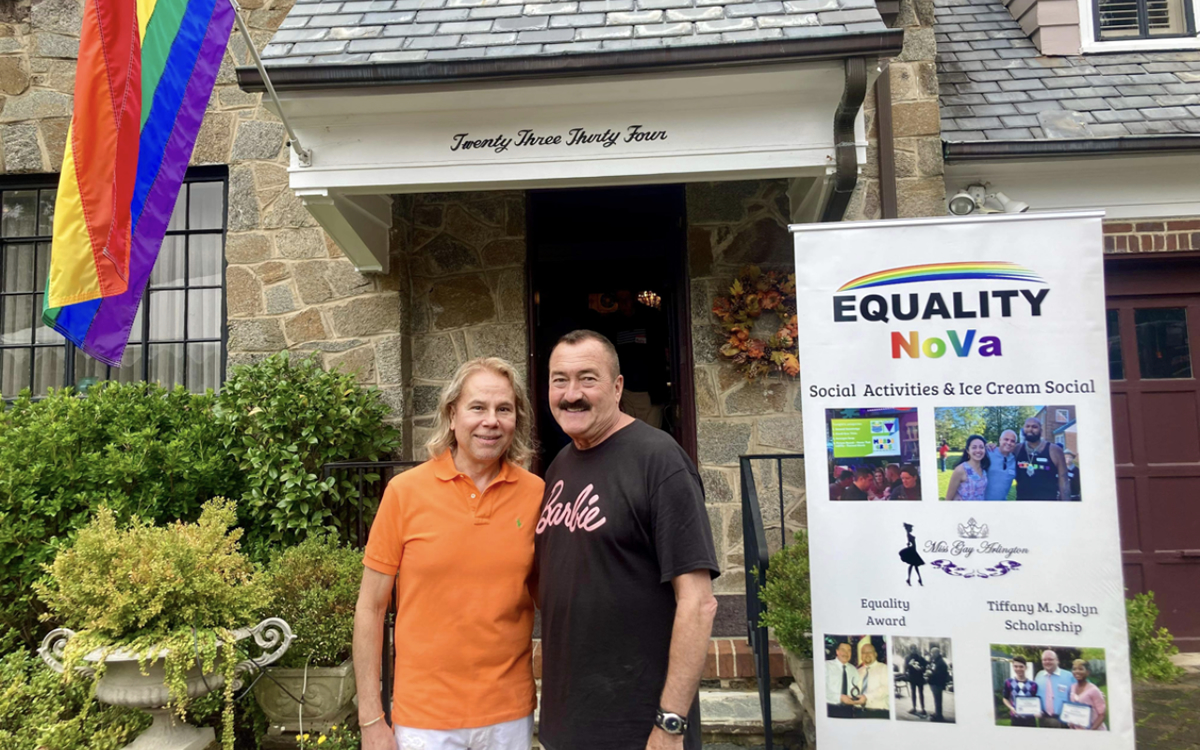 Four LGBTQ supportive members of the Virginia General Assembly and two candidates running for seats on the Arlington County Board were among more than 100 people who turned out on Sunday, Sept. 24, for the LGBTQ organization Equality NoVa's annual Ice Cream Social.
The event was held at the Arlington, Va. home of Freddie Lutz, owner of the Arlington gay bar and restaurant Freddie's Beach Bar, and Lutz's husband, Johnny Cervantes.
Daniel Hays, president of Equality NoVa, told those attending the event in introductory remarks that Equality NoVa, which recently changed its name from the Arlington Gay and Lesbian Alliance (AGLA), was founded in 1981 and is the oldest continuously operating LGBTQ organization in Virginia.
In an announcement in April the group said the name change came after it had taken on for some time the activities and representation of the now-defunct LGBTQ groups in Alexandria and Fairfax counties and had expanded its operations to cover most if not all the regions known as Northern Virginia.
Hays noted that the group is a nonpartisan organization that doesn't endorse candidates for public office but organizes educational and political awareness events and awareness campaigns on issues impacting LGBTQ people related to statewide and local government agencies and officials.
The elected officials attending the event were Virginia House of Delegates members Charniele Herring (D-Alexandria & Fairfax), Elizabeth Bennett-Parker (D-Alexandria & Arlington), and Vivian Watts (D-Fairfax).
Also attending was Virginia State Sen. Barbara Favola, a Democrat whose district includes parts of Arlington, Fairfax, and Loudoun Counties.
Joining the state lawmakers attending the Equality NoVa social were Arlington County Board candidates Maureen Coffey and Susan Cunningham and Arlington County School Board candidate Miranda Turner.
Many of those attending the event said they were rooting for the re-election of Herring, Bennett-Parker, Watts, and Favola in the upcoming Virginia elections in November. All members and candidates for the General Assembly will be on the ballot in an election that political observers say could decide which party controls both houses of the state legislature.
Currently, Democrats control the 40-member Virginia Senate by a margin of 22-18 seats. Republicans currently control the House of Delegates by a margin of 51 to 46 seats, with three vacancies in the 100-member House.
With Virginia Gov. Glenn Youngkin (R) putting in place through executive action public school policies that LGBTQ activists consider hostile and discriminatory for transgender students, LGBTQ activists are hopeful that a Democratic takeover of the House of Delegates would result in a reversal of Youngkin's school policy.
Some of the activists attending the Equality NoVa event said they were fearful that a Republican takeover of the state Senate and if Republicans retain control of the House of Delegates could result in the General Assembly approving the type of anti-LGBTQ legislation passed in Florida and other states.
Anti-transgender heckler interrupts Danica Roem during debate
Trans lawmaker is running for the Va. state Senate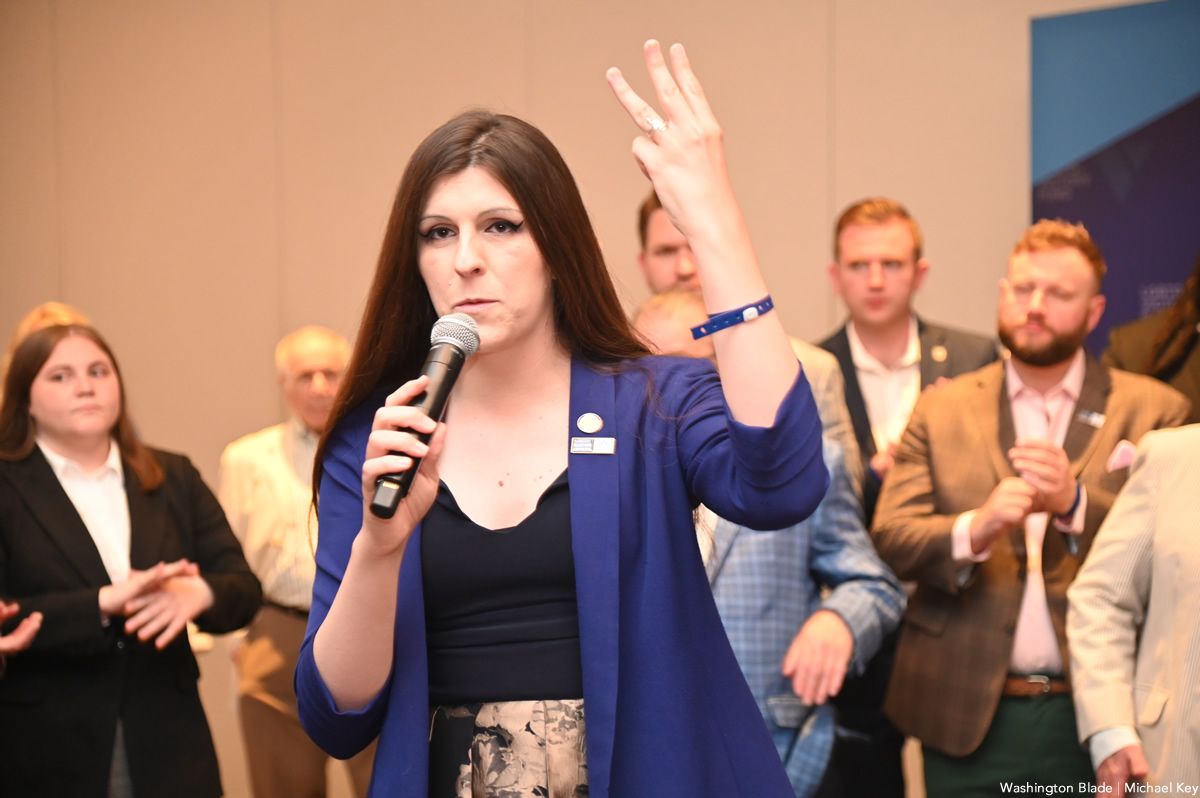 An anti-transgender heckler interrupted Virginia state Del. Danica Roem (D-Manassas) on Sept. 28 during a debate with her Republican opponent for the state Senate.
The woman heckled Roem during the Prince William Committee of 100-organized debate between her and Bill Woolf that took place at Metz Middle School in Manassas. 
"Thank you for reminding me why I won three elections in this district in Prince William County, which is the most diverse county in all of Virginia and the 10th most nationally where we welcome everyone because of who they are, not despite it, no matter what you look like, where you come from how you worship, if you do, or who you love because you should be able to thrive here because of who you are, never despite it," said Roem.
Audience members applauded Roem after she responded to the heckler who was eventually removed from the auditorium.
Roem in 2017 defeated then-state Del. Bob Marshall, a vocal LGBTQ rights opponent who co-wrote Virginia's constitutional amendment defining marriage as between a man and a woman that voters approved 11 years earlier. Roem subsequently became the first openly transgender person seated in a state legislature in the U.S.
Roem in 2019 became the first out trans state legislator to win re-election. Roem in May 2022 announced she is running to represent the newly redistricted Senate District 30, which includes western Prince William County and the cities of Manassas and Manassas Park.
Woolf during the Sept. 28 debate did not say whether he would support the repeal of the marriage amendment. Woolf also reiterated his support of a bill that would require school personnel to out trans students to their parents.
Virginia Beach high school students stage walkouts to support transgender rights
City's school board approved policy to out trans students to parents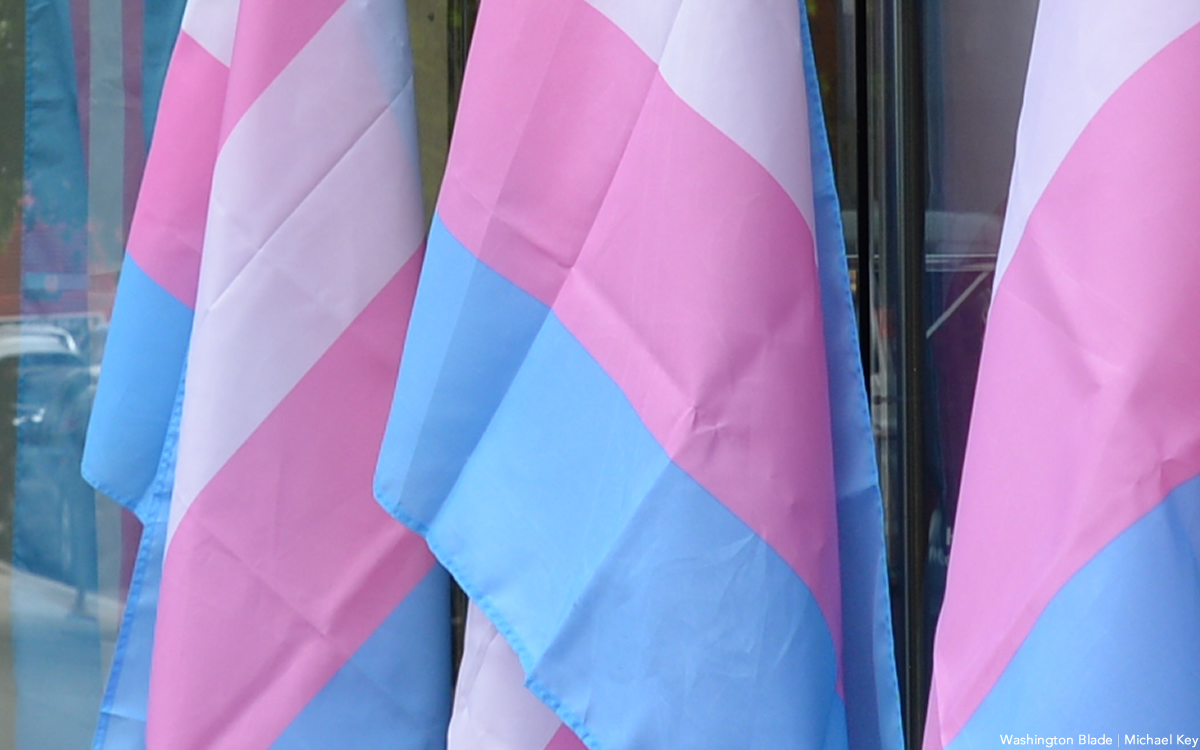 Students at five Virginia Beach high schools on Friday staged walkouts in support of transgender rights.
The walkout is in response to the Virginia Beach School Board potentially approving policy 5-31, which the Pride Liberation Project says will require schools to out trans students to their parents.
Students have been organizing walkouts across the state since Republican Gov. Glenn Youngkin earlier this year announced new guidelines for trans and nonbinary students.
"Students like me aren't going to be able to talk to our teachers if we're constantly worried about our school officials calling home to forcibly out us," AJ, a trans Kellam High School Student, told the Pride Liberation Project.