April 11, 2014 at 11:00 am EST | by Ted Smith
Housing type vs. housing ownership
With the variety of housing terms floating around, it's often confusing to renters and buyers to say just what it is they are looking for. So here's a guide to two categories that are often confused: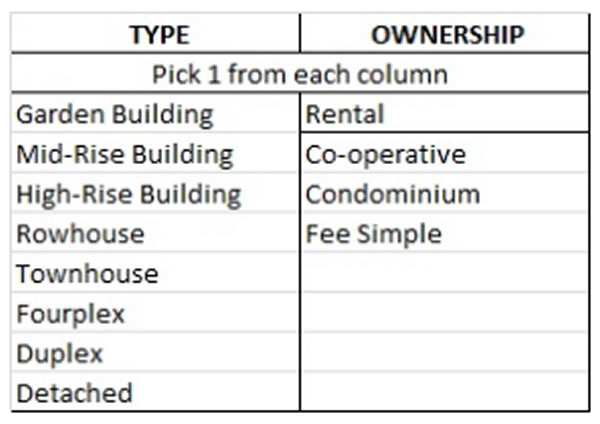 Housing type refers to the architectural configuration of a desired home. In DC, the MLS service (MRIS) designates various housing types. Apartments (sometimes called flats) are typically living spaces all on one floor in multi-unit buildings.  Apartment buildings are categorized by the number of stories: garden buildings have from 1 –4 stories, mid-rise buildings have from 5 – 8 stories, and high-rise buildings have 9+ stories.
Attached housing types include rowhouses, townhouses, fourplexes, and duplexes (not an exhaustive list). Rowhouses are usually 2-story living spaces (may include a basement) that are connected with shared side walls. Townhouses are typically 3- or even 4-story living spaces that may include a basement rental apartment (in older townhouses) or a ground-floor garage and office (in newer townhouses), also attached in a row like rowhouses.  Fourplex and duplex houses typically only share one common side wall; in the case of fourplexes, there is also an upstairs/downstairs barrier between the units.
Detached houses share no common walls or floors/ceilings with other houses, and may even have additional buildings on the property—like an exterior garage or toolshed.
Ownership refers to the legal status of a house. Here the big divide is between rental housing and owned housing, whether the ownership is for the whole property (fee simple) or whether it is for partial ownership (co-operative or condominium). There is often confusion between the latter two, so here is a good way to distinguish them: In a housing co-operative (or co-op), you own a proportional share of the corporation that owns the building; in a condominium (condo), you actually own the real property constituting your house.
Now let's combine housing type and housing ownership categories. It's possible to rent any housing type. However, not all owned housing categories can be combined with all housing types.  For example, it's only to purchase detached house or duplex on a fee simple basis. Any other type of multiple-unit housing requires a different form of ownership. Typically, smaller clusters of the same housing type (rowhouses, townhouses, fourplexes, duplexes, even detached houses in an enclosed community) use a condominium form of ownership, and  condominium ownership is also common for apartment buildings.
In contrast, typically only multi-unit apartment buildings use co-operative ownership. For example, many of the co-operatives in Washington are former rental apartment buildings, e.g. the buildings along Connecticut Avenue in Woodley Park and Cleveland Park. In next month's article, I'll talk more about the differences between condominiums and co-operatives, and the relative advantages of each.
Meanwhile, armed with a better understanding of the difference between housing type and housing ownership categories, you should have a clearer sense of how to focus your search for a new home.
Happy hunting!
Ted Smith is a licensed Realtor with Real Living | at Home specializing in mid-city D.C.  Reach him at TedSmithSellsDC@rlathome.com and follow him on Facebook.com/MidCityDCLife , Youtube.com/TedSmithSellsDC  or @TedSmithSellsDC. You can also join him on monthly tours of mid-city neighborhood Open Houses, as well as monthly seminars geared toward first-time home buyers. Sign up at meetup.com/DCMidCity1stTimeHomeBuyers.