The Invisible Moor Speaks
Who is afraid of a large black thespian?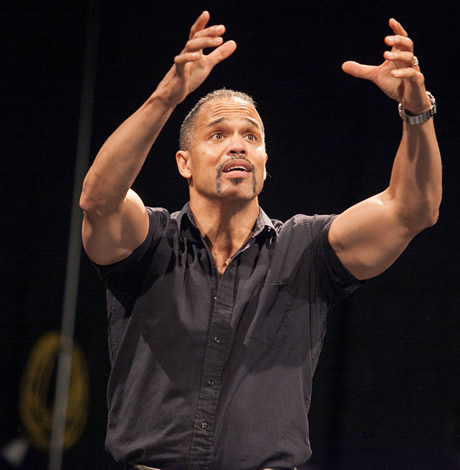 Summer is a time to pause from our struggles and refresh our spirits. There is much to absorb, both at home and abroad.
Despite progress, racial and sexual minorities still must fight to be seen as human beings. Henry Davis won the right to sue Ferguson Police for excessive force after being charged with destruction of property for bleeding on their uniforms when they beat him. Teenager Shira Banki died after being stabbed at Jerusalem Pride by an Israeli terrorist. Activists in St. Petersburg were arrested for protesting for the right to hold a Pride parade. On the bright side, peace prevailed at Jamaica's first Pride celebration. Texas officials finally reflected a gay couple's marriage on a death certificate following a federal judge's order. Defense Secretary Ashton Carter announced that transgender Americans will be allowed to serve openly in the military.
On the night of a blue moon, I turn from these concerns and seek escape in a small community theater. In the best way, it ends up being no escape at all.
The lively arts can give us fresh eyes when they beguile us into identification with other people and places. In the body and voice of a living performer, a long-vanished composer or playwright can provoke a flash of recognition. Such moments can bind us together more than political arguments could do. Yet their transformative power flies on delicate wings. It requires collaboration and vision and receptivity and mutual challenge. Our impulse to connect can be thwarted in a hundred ways.
The urge to come together despite difference is brought powerfully and movingly to life in the play American Moor, written and performed by Keith Hamilton Cobb, at Anacostia Playhouse through August 16. The situation is an actor's audition. His agent used to tell him, "You're an actor. You can do anything!" But people didn't buy him as 'anything,' only as one thing. He is invisible, as Ralph Ellison wrote, because people refuse to see him. So the tall black thespian, with unrealized visions of Hamlet, Prince Hal, and Romeo dancing in his head, tries out for Othello.
While waiting, he recalls his student days when he recited Titania's "forgeries of jealousy" speech from A Midsummer Night's Dream. His skeptical teacher asks why he chose Titania. "I like what she says," he answers. "The Faerie Queen?" the teacher mocks. "Yeah, sure." Decades later, his intoxication with Shakespeare still inspires him to climb into selves unlike his own. He channels Desdemona's thoughts of Othello: "For the fact that such as you so much as breathes I am jubilant. I feel you deeply, great and lovely thing, in my heart, and in my throat, and in my belly."
Ironically, the actor himself is caught in a mistaken identity, like an unarmed black man stopped by police on a false suspicion. The young white director's privilege blinds him to the possibility that the tall black actor might understand the tall black character better than he. The actor confronts him: "It will not grace my cause, nor Othello's cause, the play's cause, the American theatre's cause, to pretend that I don't know that you are frightened of me. You are afraid of me. I am afraid that nothing will ever change. And these are the forgeries of jealousy."
The years take their toll, yet the actor has only to stretch out his muscular arms to show that his instrument — himself — remains a finely wrought splendor. As a young man he knew he was an actor in the same sense that a person is gay. It was in him, it was him. He makes himself vulnerable because that is what an actor does, because he has insights from a lifetime in the theatre. We open ourselves in return. The American Moor will not stifle us. He offers wisdom: "Show me you have half the courage of a Desdemona and I will lift you, in life and love, in death and despair…. We will lift each other and this American form."
Our theatre, like our nation, remains vital despite the blind folly of some. Keith Hamilton Cobb shows us its beating heart. His boldness and resilient hope encourage our own.
Richard J. Rosendall is a writer and activist. He can be reached at [email protected].
Copyright © 2015 by Richard J. Rosendall. All rights reserved.
Re-energizing Pride in our communities and workforce
"We don't believe advocacy should be limited to June."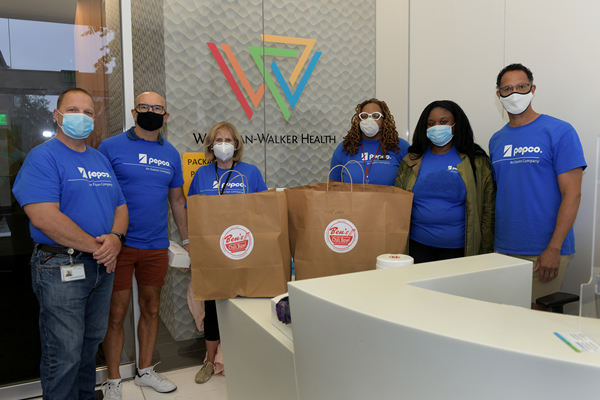 At Pepco, we recognize it's been a tough year in so many ways for our communities. Discrimination and hate crimes affected Asian American and Pacific Islanders (AAPI), new forms of anti-transgender legislation emerged across the nation, and we anxiously awaited the sentencing of Derek Chauvin for the murder of George Floyd. In the midst of all these extensively covered events, the everyday reality for many – including some of our employees – meant teleworking and participating in virtual meetings and activities. To realign, revitalize, and reunite ourselves, Pepco re-energized our 2021 Pride programming. This June, we, along with our sister companies Atlantic City Electric and Delmarva Power, proudly showcased inclusivity, openness, and ways to reaffirm our commitment to our diverse local communities.
Realigning Ourselves. Pepco is one of three utilities that make up Pepco Holdings, a company providing electric and gas service to portions of southern New Jersey, the Eastern Shore of Maryland, and Delaware, in addition to the District of Columbia and nearby Prince George's County and Montgomery County. Historically, there were two separate Pride employee resource group (ERG) chapters serving our LGBTQ+ employees and allies, one for our northern region and one based in Washington. In January of this year we combined the two chapters, ensuring employees have access to the same events and resources, no matter their work location. The new, rebranded Pepco Holdings Pride ERG gives employees the space, safety, and support needed to feel empowered at work and to help foster professional relationships.
The newly combined ERG also rotated in a new employee leadership team with highly enthusiastic representatives from all over the company. The diverse board includes employees from IT, HR, Engineering, Finance, Regulatory, and field-based operations, who were at the forefront of planning fresh events for June.
Revitalizing Our Communities. Whether we're providing essential services, or volunteering our time, supporting the communities we serve is a critical part of our everyday work – and we were excited to finally be able to engage with our customers in person. We renewed our annual sponsorship with The Capital Pride Alliance and were honored to be the advocate sponsor of the "Paint the Town Colorful with Pride" month-long event. You may have even spotted a few of our electric vehicles and bucket trucks rolling downtown with the rest of the PrideMobile parade, or our Edison Place headquarters decorated with rainbow LED lights at night. We greatly missed the energy of the annual Capital Pride parade, and we were thrilled to be back in person showing our support for our LGBTQ+ customers, families, and friends.
We also acknowledge the many men and women who haven't been able to work from home during the pandemic – including those who continue serving our communities at healthcare facilities, and our very own field workers. So, we wanted to pay homage to our local heroes by delivering hundreds of Ben's Chili Bowl lunches to employees at Whitman-Walker Health.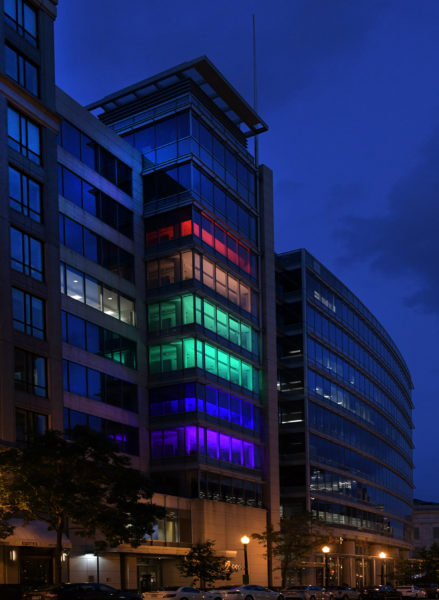 Reuniting the Workforce. We wanted this Pride month to be memorable for both our communities and our employees, so we pulled together a variety of virtual events for our employees to celebrate Pride. From joint events with BGE (part of our larger Exelon family of companies) where we discussed Netflix's Death and Life of Marsha P. Johnson film, to a special AAPI and LGBTQ+ intersectionality panel featuring the Blade's publisher Lynne Brown. Both events served as a forum for participants to share stories about the struggles that people have faced and how they prevail to live their true, authentic lives.
To round out our employee events, our Pepco Holdings Political Action Committee recently hosted a panel featuring Sarah McBride, senator, Delaware General Assembly; Luke Clippinger, chairman of the Maryland House Judiciary Committee; and Jeremy LaMaster, executive director, FreeState Justice. The trio showed immense dedication to expanding protections and removing barriers for LGBTQ+ individuals in our region and nationally.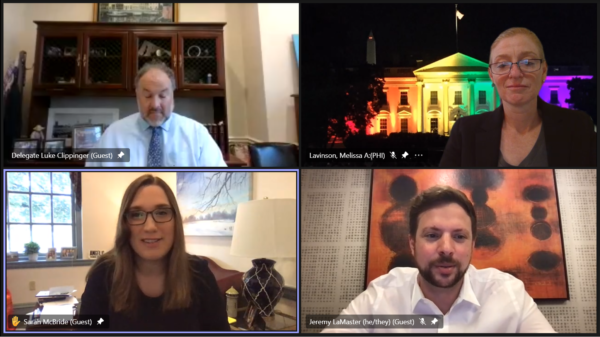 What's Next? Reflecting on the past year we've had, we've found there is a silver lining. Had these events not occurred, would our employees be as open to sharing their stories? Would we take such pleasure in being outside with our neighbors on a hot June afternoon? And would we be as quick to offer thanks to those who work each day to keep our communities safe? While Pride month may be coming to a close, we don't believe the advocacy, discussions, and celebrations should be limited to June. We'll continue powering Pride for our employees, customers, and communities, with a drive that is just beginning to re-energize.
Megan Clark is senior communications specialist at Pepco Holdings.
Coming out is not the serve you think it is
This rite of passage does not center queerness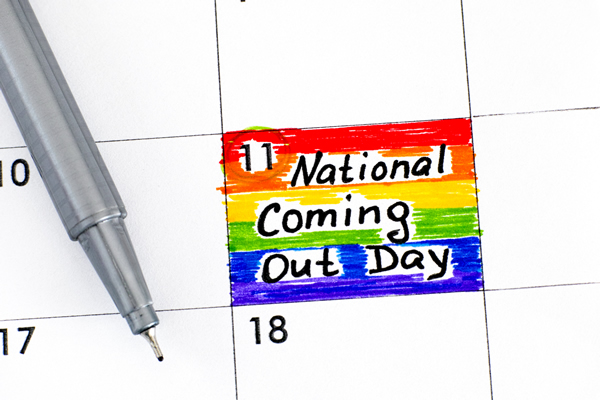 Coming out is undoubtedly part of the essence of contemporary queer culture. It represents a point in one's journey to complete self-actualization where they fully accept themselves, their body, and also demand to occupy space in an insidiously cis-heternormative world.
This concept/journey has become such a treasured part of queerness, so much so that National Coming Out Day is celebrated every year on Oct. 11, not only to commemorate the 1979 National March on Washington for Lesbian and Gay Rights which demanded civil rights and legislation for LGBTQ people, but to also allow queer people to be visible, unabashedly live in their truths, and inspire others who may be fearful to do likewise.
On this day, millions of people around the world take to social media to pen heartfelt posts that usually include a picture of the individual (most probably displaying some iteration of a Pride flag) coupled with a paragraph about their journey "living in the closet" and how they're elated to be free. By letting the world know that they aren't afraid to fully be themselves, queer people are claiming space where their presence has intentionally been ignored.
Albeit the power of "coming out" has to accent personal self-autonomy and challenge the pervasive nature of gender and sexual conformity, it ultimately does what queer liberation exists in contrast to: Appeasing cis-heternormative culture, or quite simply, making cis-straight (to be loosely referred to as "straight" for the rest of this piece) people feel comfortable.
When LGBTQ people come out, they participate in a kind of performance that requires them to explain themselves to straight people. Queer people dig deep into their past experiences, which are often traumatic struggles, and in the process present what often translates into a chronology of why straight people should accept them, and more importantly, be "comfortable" with them. This is wrong.
Queerness should never center on straightness or straight feelings. By giving attention to straight people in queer journeys, we relegate undeserved power to straight people and allow for them to feel as if they need to be placated.
Contemporary coming out culture indirectly uplifts what we are so vehemently fighting against — practices that prioritize being straight over being queer. So, as we continue to come out, employers will feel as if they have the right to know of one's queer identity and terminate their employment upon learning of it.
Parents will demand to know of their children's identity to "protect" them, which has more to do with managing their own appearances rather than caring for and empowering their queer children.
Friends and acquaintances will fight tooth and nail to decipher one's queerness so they can gauge what this entails for their personal and religious beliefs, and ultimately whether the friendship should continue because they feel as if they may be courted by their queer friend (which mostly likely will never happen), thereby unsettling their perception of themselves.
Random strangers may also physically abuse and/or kill someone who reveals their sexual and/or gender identity on the basis of feeling as if they've been "lied" to or intentionally deceived.
So, if coming out is not the serve we think it is, then how to LGBTQ people live in their truth and show the world it's okay to be queer? Well, the answer is simple: The culture surrounding gender and sexuality must change.
With regards to gender, we must get rid of both the "sex" and "gender" markers. Sex, in simple terms, refers to the genitals you were born with. Gender is the norms and behaviors that your parents and community around you project on you based on your sex.
Time and again, it has become clear that, sex and gender simply cannot exist in binaries (yes, there are people who are born with both a penis and vagina simultaneously, or even neither.) The culture we function under has prescribed behaviors to people with certain genitals and expectations to people who identify with either of the two genders. This should stop.
When it comes to health, medical professionals should be able to care for patients adequately and efficiently if they conceive of a person's sexual organs as just being and not in relation to society's faulty prescriptions. You might ask, what does this mean for science and research? Well, we can be inclusive in medical research by drawing on the experiences of all possible sex identities instead of just narrowing it down to just male/female. Intersex people exist too!
We should also abolish the notion of gender. When children are born, we should raise them as non-binary. Non-binary identity is the pinnacle of liberation because it rebels from the traditional boxes that confine identities. It allows people to be whoever they want, whenever, and on their own accord.
By encouraging children to socialize into nonbinary identity, we allow them to fully discover who they are and allow them to exist at any point in the identity spectrum without feeling the pressure to contort into a specific, one-dimensional mold of behavior. There is no one way to be anything. Identity is subjective and shifts and changes with time. Let children grow into themselves without being told from an early age that there's a right and wrong way to be.
We should also set boundaries on how to have conversations about sexuality. Oftentimes, the people most interested in a person's sexuality have no business knowing about it. Sexuality and sex is intimate, and therefore, people should respect that boundary. What someone does during intercourse and with whom they do it should be no one's business. It should have no repercussions on one's social capital. Quite frankly, with whom someone sleeps affects no one but themself and the sexual partners involved. You won't die if your friend didn't tell you they slept with someone who has the same genitals as them. Your company won't go bankrupt if your employee doesn't disclose that they're transgender.
We should move past caring about representation and work towards actualizing our liberation. Representation is good; it is important to see yourself reflected in society. However, representation is not the end goal.
We should work to give poor queer people access to stable food, shelter and money. We should push for more queer-friendly mental health facilities. We should establish free universal healthcare that allows transgender individuals to medically transition at little to no cost. We should actively become anti-racist and create an environment where queer people of color never have to live under the shadow of racism.
Finally, we must stop worrying about straight people. The truth is, no matter how much we may try to create space for ourselves at a straight table, we'll never be truly welcome. If we want to liberate ourselves we have to center ourselves, experiences and feelings. We have to fashion our own tables. 
Appealing to straight people will never bring the acceptance and freedom we yearn so much for. If anything, it places us in an unending cycle where queerness is othered and never the norm enough for it to not matter.
So should queer people stop coming out? Not necessarily. However, it is imperative that we create a world where queerness is normal enough that we don't need to come out.
Celebrating resilience of LGBTQ-owned small businesses
3 examples of companies that pivoted during pandemic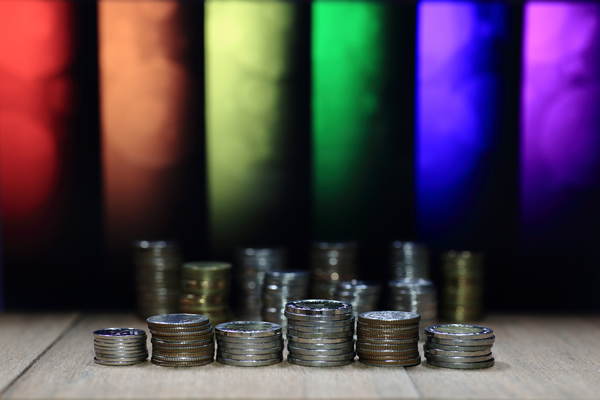 Since the pandemic began, a staggering number of small businesses have permanently closed across the country. In fact, roughly 200,000 U.S. businesses have closed in the first year of the pandemic, according to a study released recently by economists at the Federal Reserve. Despite the millions of dollars of federal and local aid made available in the form of loans and grants, many small businesses had to think creatively to stay afloat. Many of these small businesses leveraged their own identity and community as sources of inspiration -including the LBGTQ community.
As we celebrate our LGBTQ identity and community, we must acknowledge that many LGBTQ entrepreneurs are still reeling from the effects of the pandemic and that, now more than ever, a strong community is needed to help rebuild these businesses and create a more inclusive economy. At Next Street, I'm proud to be part of a mission-based firm where I can focus on uplifting members of my LGBTQ community. I wanted to take this opportunity to share some successful approaches that LGBTQ-owned small businesses in our network adopted to pivot and sustain their businesses during the pandemic. By harnessing the power of their community and prioritizing their core business offering and identity, the following LGBTQ-owned businesses were able to come out of the pandemic stronger than ever.
Cubbyhole, a small but mighty bar located in the iconic West Village neighborhood of New York City, has been open to the queer community for more than 27 years. Despite crises, such as 9/11, 2003 blackout, and Hurricane Sandy, the bar was forced to close its doors for the first time ever on March 16, 2020. Given the 100% loss of income for the bar and its staff, Cubbyhole launched a Go Fund Me campaign to secure financial support from its legion of fans and faithfuls. In just a few weeks it had well surpassed its $30,000 fundraising goal and at the time of this writing has raised $78,432. In addition, the bar also banded together with the country's other 15 lesbian bars for the Lesbian Bar Project, which collectively raised additional funds that enabled the bar to keep its doors open.
Ciao Andiamo, a boutique travel company organizing authentic journeys to Italy, has been in operation for more than 10 years. On March 9, 2020, the government of Italy imposed a national lockdown, which prevented residents from leaving their homes and tourists from entering the country. With no line of sight into when borders would reopen, Ciao Andiamo had to quickly figure out a way to generate revenue and stay engaged with its clients and collaborators. The owner, together with his partners in Italy, made a major pivot, launching two new offerings — a virtual classroom featuring interactive cooking classes, wine tastings, and language lessons, as well as a marketplace for authentic Italian foods, small production wines, and local goods shipped directly from Italy to the U.S. This paved the way for Ciao Andiamo to keep in close touch with its loyal fan base and build awareness and excitement around all things Italy at a time when Italy travel was not possible. Now, as the country is reopening for international tourism, Ciao Andiamo has not only survived, it is in prime position for a strong 2021 season.
Finally, Lambda Lounge began as a spirits brand that sold its products online. In fall 2020, the company had plans to open a brick and mortar lounge in Harlem. When the pandemic struck, Lambda was forced to pause its plan to open the lounge despite having made significant investments in rent and construction. To sustain itself, Lambda shifted its focus from the lounge and refocused its effort on its core business, its spirits brand. Lambda once again began prioritizing its online platform and existing customer base. They quickly found this to be the key to short- and long-term success in the midst of the pandemic. In fact, they were so successful in generating revenue for their business that they were able to see their dream of opening the bar and lounge in spring 2021.
Like so many other small business owners, these LGBT entrepreneurs used the most powerful tool in their arsenal — their identity and community. Each of them leveraged their personal connections to their customers to help them sustain their business and face the challenges the pandemic threw their way. This Pride month and beyond, shop at your local LGBTQ-owned business and become part of the community that can help build a more inclusive and successful economy.
Donald Jones is the head of Next Street's Small Business Delivery practice. Learn more at nextstreet.com.