May 13, 2016 at 10:41 am EDT | by Lou Chibbaro Jr.
City officials pledge support at LGBT public safety meeting
D.C. and Metro transit police officials told nearly 100 people who turned out Wednesday night for an LGBT Public Safety Meeting at the Reeves Municipal Center that the two departments work hard to apprehend criminals that target the LGBT community.
Sgt. Jessica Hawkins, supervisor of the D.C. Metropolitan Police Department's LGBT Liaison Unit, and Deputy Chief Kevin Gaddis of the Washington Metropolitan Transit Authority, or Metro, Police said officers of their departments receive ongoing training to help them better address the needs of LGBT crime victims.
The two said their respective departments are aware of how the transgender people in the city, especially transgender women, have been and continue to be targeted for violence, including hate crimes.
More than a dozen officers and officials from the two departments, including MPD Captain Cheryl Crawley, who oversees the LGBT Liaison Unit, either spoke or attended the meeting to listen to the concerns of LGBT community members.
A statement from the Mayor's Office of LGBTQ Affairs says the event was organized jointly by that office and jointly hosted by the two police departments in cooperation with the Trans Women of Color Collective, Casa Ruby and the local advocacy group HIPS.
The purpose of the meeting was to "equip the LGBTQ community with information and resources to stay safe," the statement says.
Sheila Alexander Reid, director of the LGBTQ Affairs Office, and Terrence Laney, the office's deputy director, said the meeting, among other things, was intended to provide information to the community about services for crime victims that many in the LGBT community may not know about.
In a slide presentation, Courtney Fisher, Deputy Director of Victim Services at the D.C. Office of Victim Services and Justice Grants, told about a wide range of services offered by her office for which LGBT crime victims could be eligible, including emergency housing, mental health and medical care and financial assistance.
She said the office has programs to provide immediate assistance to victims of sexual assault and intimate partner violence.
"All programs are 100 percent free of charge," Fisher said.
A separate program run by the D.C. Superior Court, the Crime Victims Compensation Program, also provides direct financial assistance to crime victims, Fisher and others said.
Following presentations by Fisher and the police officials, longtime transgender activist Lourdes Ashley Hunter, chief operating officer for Casa Ruby, served as moderator for a discussion with two trans women and a trans man who spoke about their personal experiences facing anti-trans discrimination and violence.
"It's been an amazing event," said Ruby Corado, founder and executive director of Casa Ruby, after the meeting. "It's been a great turnout, which leads us to believe that the conversation of hate crimes in our nation's capital is an important issue."
Added Corado: "To have a lot of government officials here shows that they are paying attention. We still have a problem of hate crimes in the community. It takes the conversation with decision makers to create that change we need to decrease them."
Lou Chibbaro Jr. has reported on the LGBT civil rights movement and the LGBT community for more than 30 years, beginning as a freelance writer and later as a staff reporter and currently as Senior News Reporter for the Washington Blade. He has chronicled LGBT-related developments as they have touched on a wide range of social, religious, and governmental institutions, including the White House, Congress, the U.S. Supreme Court, the military, local and national law enforcement agencies and the Catholic Church. Chibbaro has reported on LGBT issues and LGBT participation in local and national elections since 1976. He has covered the AIDS epidemic since it first surfaced in the early 1980s. Follow Lou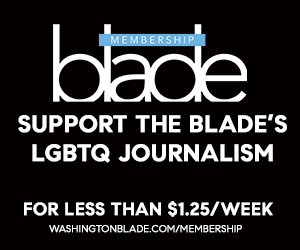 Sign Up for Blade eBlasts