Comings & Goings
New roles for locals at ConferenceDirect and EDF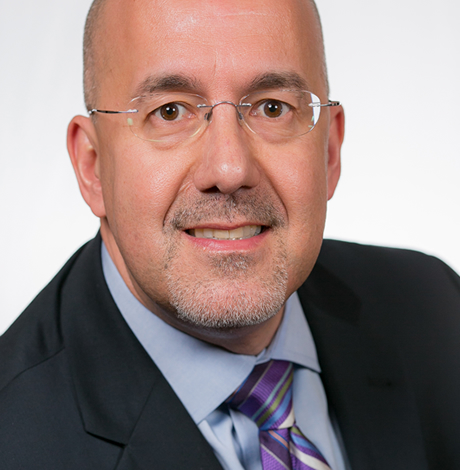 The Comings & Goings column is about sharing the professional successes of our community. We want to recognize those landing new jobs, new clients for their business, joining boards of organizations and other achievements. Please share your successes with us at [email protected].
Michael H. Sicheri has taken a new position as Global Account Executive with ConferenceDirect, a leading provider of global meeting planning solutions. Sicheri said he is proud to be working with them the company because, "We help clients save time and money by securing the best hotel accommodations, meeting space, conference venues and hospitality services available at the most favorable terms possible."
Sicheri has more than 30 years' experience in the hospitality industry. He has worked at hotels including the Omni Shoreham Hotel, as a senior sales manager; the Loews Madison Hotel, as a national sales manager; and the Hilton Alexandria Mark Center, as sales manager. In addition to his work with ConferenceDirect he is an owner of Cruise Planners, Travelisto.
Sicheri is a past vice president of Alexandria Gay Lesbian Association; past president of Capital Area Gay and Lesbian Chamber of Commerce. He also served in the United States Navy. He is a Persian Gulf War veteran stationed on the USS Theodore Roosevelt. He graduated from Mercyhurst University with a bachelor's in Business/Hotel Restaurant and Institutional Management.
Mark W. Rupp recently began a new position with the Environmental Defense Fund (EDF) as director, Wildlife Campaign. Within the organization he will coordinate the activities and strategies among several EDF functional areas: political affairs, ecosystems, marketing and communications and legal. He will also facilitate activities and strategies with outside partners and coalitions and represent EDF to elected officials and members of the administration.
After President Trump's election, Rupp left his position at the U.S. Environmental Protection Agency where he served as deputy associate administrator for intergovernmental relations. Prior to that, he worked for former Washington State Gov. Christine Gregoire as director of her D.C. office and as legislative counsel to U.S. Sen. Maria Cantwell (D-Wash.).
He worked as a law clerk for both the National Center for Lesbian Rights (NCLR) and the San Francisco Environmental Law and Justice Clinic.  Rupp has been active in the community as a member of the Gay Men's Chorus of Washington, D.C., and was on the board of the Community Coalition for Environmental Justice. He has received numerous awards including a 2016 Recognition for Service to the Environment and the States, Environmental Council of States (ECOS); 2012 Appreciation for Leadership on behalf of the Chair, Western Governors Association; and 2005 Distinguished Congressional Staff Award, National Association of Community Health Centers.
Scott Widmeyer was recently named chair of the School of Media and Public Affairs Council at The George Washington University. The National Council for Media and Public Affairs functions as the director's advisory body for the School of Media and Public Affairs (SMPA). Comprised of distinguished national and international alumni and friends, the Council works to address issues impacting the growth and development of SMPA. In addition, members help to promote the mission of the university and SMPA through their work on the Council.
Widmeyer is a founding managing partner at Finn Partners and founder of Widmeyer Communications. Talking about Finn Partners, he said, "In June, we celebrated the fourth anniversary of Widmeyer Communications joining Finn Partners. It's been a good and evolving endeavor. At mid-year, Finn Partners, a global marketing communications firm, is approaching nearly 600 employees in 14 offices throughout the U.S. and globally. Our most recent acquisition of Ying Communications enables Finn to establish its Asia-Pacific hub in Singapore."
D.C. rejects request by gyms to lift mask mandate
LGBTQ-owned venues sign letter calling requirement 'devastating' for business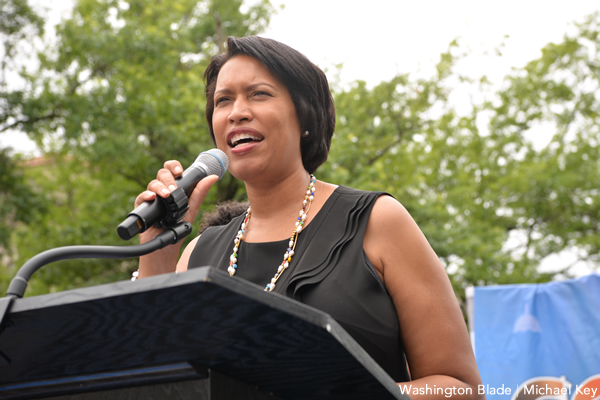 Owners of two LGBTQ-owned D.C. fitness studios and one gym signed on to a joint letter with the owners of six other similar businesses urging D.C. Mayor Muriel Bowser and D.C. Department of Health Director Dr. Laquandra Nesbitt to lift a city mandate requiring patrons of gyms and fitness studios to wear masks.
The Oct. 4 letter, written by gay businessman Bryan Myers, the CEO and president of a chain of local fitness studios using the trademark name of [solidcore], states that the mask mandate, which applies to people who are fully vaccinated for the coronavirus, is based largely on outdated data pertaining to gyms and fitness studios collected prior to the widespread availability of the COVID vaccine.
"More relevant data to inform decision-making would be to study the data from two, large Northeastern cities that have opted to allow fitness classes to continue with the requirement of vaccination in lieu of a mask requirement," the letter states. "In both New York City and Philadelphia, which have opted for this approach, we have not seen an increase in the trajectory of the Delta variant," Myers says in the letter.
In the last week of July, the U.S. Centers for Disease Control and Prevention issued a recommendation that cities and local jurisdictions with 50 new COVID cases per 100,000 residents per week, which at that time included D.C., should ask residents to voluntarily resume wearing masks indoors. That same week, Bowser announced she would go one step further by mandating the indoor use of masks in most public places, including gyms and fitness spas or studios.
Bowser and Nesbitt said their intention was to take immediate steps to curtail the spread of the coronavirus so that the city would not be forced to return to the full shutdown mode, including the closing of businesses, that the mayor lifted earlier this year.
Maryland Gov. Larry Hogan and Virginia Gov. Ralph Northam announced they would ask residents of their states to consider using masks in crowded indoor spaces as recommended by the CDC, but said they would not require mask use.
In their letter to Bowser and Nesbitt, the gym and fitness studio owners called on the mayor to provide the same exemption to their businesses as the city has provided for restaurants, bars, and nightclubs, which requires masks except when patrons are eating and drinking.
"While it is true that bars, restaurants, and clubs technically have to follow the same guidelines, we know that in practice, these venues have been granted exceptions by D.C. Health," the letter says. "On any given night, you can find hundreds of individuals crowded into a U Street bar, at a Capitol Hill restaurant, or thousands at a performance or party at The Anthem enjoying themselves – singing, dancing and physically exerting themselves, shouting – maskless – so long as they have a drink somewhere nearby," says the letter.
"And to be unequivocally clear, we are not advocating that there is anything wrong with what is happening in other industries or that there be a change to the management of those industries/venues," the letter continues. "We are simply advocating that we be treated the same as they are."
The letter adds, "Finally, but perhaps most importantly, the mask mandate for fitness studios and gyms has resulted in devastating financial impact to these businesses – many of which are small locally owned."
It says patronage has dropped 50 percent for some of the fitness centers and gyms since the mayor's mask mandate took effect July 29. It points out that the drop in customers comes at a time when many of these businesses have spent thousands of dollars and in some cases hundreds of thousands to upgrade their ventilation and filtration systems and other structural steps to curtail the spread of the coronavirus.
Myers told the Washington Blade in a statement that neither the Department of Health nor the mayor's office replied directly to the gym and fitness studios' letter.
Channel 7 News reported that in response to its request for the city's reaction to the gym and fitness studios' concerns, the Department of Health released a statement saying, "D.C. Health's stance is that persons should wear masks in gyms and during this time [we] do not have plans to change our stance on this guidance."
In his statement to the Blade, Myers said the D.C. gym and fitness studios were frustrated and disappointed that the city at this time is not open to reconsidering the mask mandate for gyms and fitness studios, many of which he said are barely surviving.
"This mandate is directly affecting the livelihoods of residents of the District, many of whom are women, people of color, and/or LGBTQ+ in a policy that is simply not equitable, and is steering residents away from services that can help improve the overall health of our community," Myers said.
Heather Mizeur congressional campaign raises more than $1M
Former Md. delegate challenging Andy Harris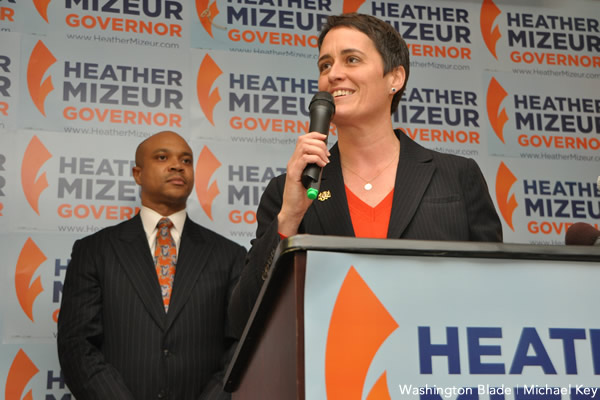 Heather Mizeur has raised more than $1 million in her campaign against anti-LGBTQ Republican Congressman Andy Harris in Maryland's 1st Congressional District.

"No candidate in #MD01 of either party, incumbent or challenger, has ever hit the $1M milestone this early in the election cycle," Mizeur tweeted on Oct. 6.

The Victory Fund in an Oct. 8 press release said 80 percent of this $1 million came from Maryland-based donors, "a sign the district is ready for new representation." And Mizeur continues to outpace Harris, according to campaign finance reports filed with the Federal Election Commission that say she raised $717,445 for the cycle ending June 30, while Harris raised $425,288.

"Andy Harris has taken every opportunity to attack and vilify trans individuals, trying to score political points with his base at the expense of the safety of some of his constituents," Mizeur told the Washington Blade.

In 2014 Harris made the Human Rights Campaign's "Hall of Shame" for proactively working "to undermine existing legal protections and promote anti-LGBT discrimination."

"In contrast, the LGBTQ community knows me for my record," Mizeur said. "And knows I'll always lead with compassion and stand up for civil and human rights. I think the 1st District will respond to my message of respect and understanding."

Mizeur, who now lives on the Eastern Shore with her wife, served on the Takoma Park City Council. Mizeur was a member of the Maryland House of Delegates for eight years.

In 2014, she launched a long-shot, grassroots campaign for governor where she finished a strong third in the Democratic primary, despite being outraised by better-known opponents.

But Mizeur also said she is aware of the challenges her team faces in taking on a well-entrenched Republican in a solidly conservative district.

The Cook Partisan Voter Index in 2017 rated the district as R +14, meaning the previous two presidential election results in the district skewed 14 percentage points more Republican than the national average.

"We have over $760,000 in the bank, and we've outraised him during our time in the race," Mizeur said. "We're raising the money we need to go toe-to-toe with Andy Harris next year."

The Baltimore Sun in February reported Harris was "flush with campaign cash" mostly due to a 2010 redistricting that "packed" the area with Republican voters to increase Democrats' chances in other district races.

"Yes, Andy Harris has over $1 million in the bank, stockpiled over a decade in office," Mizeur said. "But in the short time I've been in the race, we've cut significantly into his cash on hand advantage."

Harris has represented the 1st Congressional District—which includes Maryland's Eastern Shore and parts of Baltimore, Carroll and Harford Counties—since 2011 and easily fended off most challenges with at least 60 percent of the vote. These challengers include Mia Mason, a transgender military veteran, who ran against him in 2020.
The 2010 redistricting made Harris' seat safe enough not only to donate nearly a third of his war chest to conservative groups and candidates, such as U.S. Reps. Lauren Boebert (R-Colo.) and Marjorie Taylor Greene (R-Ga.), but to openly court controversy himself.
Harris last year openly defended then-President Trump's discredited efforts to overturn the 2020 election. And in December he signed onto an amicus brief supporting a failed lawsuit contesting the presidential election results.

This year he downplayed the violence of the Jan. 6 insurrection in which numerous police officers were attacked, members of Congress were threatened, and the U.S. Capitol was vandalized.

Mizeur told the Blade that while Harris' actions regarding the Jan. 6 insurrection were the catalyst for her challenging his seat, she feels the district is changing and he no longer represents their interests.

"Our supporters know he's been embarrassing Maryland in Congress for far too long, and that some of his actions have shown he's completely unfit to serve in public office, regardless of ideological views," Mizeur said. "They want someone who will bring compassionate leadership and innovative thinking back to the first district. And that's appealing to people across party lines."

Maryland's primary election is June 28, 2022, and its general election follows on Nov. 8.
AU student expelled over arrest in attack on gay Asian man, parents
Patrick Trebat no longer affiliated with university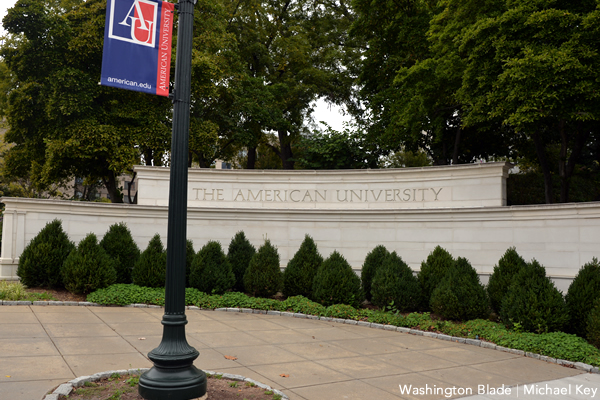 An American University graduate student who was arrested by D.C. police on Aug. 7 on charges that he assaulted a gay Asian man and the man's parents while shouting homophobic and anti-Asian slurs "is no longer affiliated with the university and will not be allowed on campus," according to a report by WTOP News.
In an Oct. 9 broadcast that it updated this week, WTOP said Patrick Trebat, 38, who had been taking a night class at the university's Kogod School of Business, was banned from returning to the campus.
Charging documents filed in D.C. Superior Court show that Trebat was charged by D.C. police with one count of felony assault, two counts of simple assault and one count of destruction of property for allegedly assaulting and injuring Sean Lai, 30, an out gay man of Chinese ancestry, and his parents on the 3700 block of Fulton Street, N.W., on Aug. 7.
The charging documents say Trebat allegedly began to follow Lai and his parents as they were walking along the street in the city's Observatory Circle neighborhood near the National Cathedral. According to a statement by a police official from the police district whose officers made the arrest, Trebat punched and kicked the three victims as he stated, "Get out of my country." The police statement says the family was taken to a hospital for treatment of non-life-threatening injuries.
A separate police report says Trebat shouted the word "faggots" at the family and shouted, "You are not Americans!"
Based on these allegations, prosecutors classified the assault charges as an anti-Asian bias related crime, but they did not add an anti-gay classification to the charges.
Court records show that Trebat was released two days after his arrest while awaiting trial under the court's High Intensity Supervision Program, which, among other things, imposed a curfew requiring him to return home by 10 p.m.
An Oct. 8 story in The Eagle, the American University student newspaper, says it learned that Trebat's attorney filed a motion in court, which the Washington Blade also discovered from court records, asking a judge to extend the curfew deadline from 10 p.m. to 11:45 p.m. so that Trebat could attend at night class at American University.
The motion, which prosecutors with the U.S. Attorney's Office did not oppose and the judge approved, identified Trebat in the public court records as an AU graduate student.
According to the Eagle, representatives of the university's Asian American and LGBTQ student groups criticized university officials for not alerting students that an AU student charged with an anti-Asian hate crime while hurling homophobic slurs had access to the campus and could pose a danger to students.
"Patrick Trebant is not affiliated with American University and is not allowed on campus," AU told the Blade on Wednesday in a statement. "While we cannot discuss details of an individual matter, when a student has been arrested, charged, convicted of, or sentenced for a felony crime, the university's student conduct code provides for an administrative adjudication process. The safety of our students and our community is our priority."
The Eagle reports that the code of conduct states that the dean of students or their designee can administratively adjudicate a case when a student has been accused of a non-academic offense "where the student has been arrested, charged, convicted of, or sentenced for a felony crime" for certain misconduct. The code of conduct applies in a situation in which a student is arrested for an off-campus allegation.
Court records show Trebat is scheduled to return to court at 9:30 a.m. on Nov. 15 for a felony status hearing before Superior Court Judge Judith Pipe.
Neither Trebat nor his attorney, Brandi Harden, could immediately be reached for comment.