Rick Perry: 'I totally support' Trump's transgender military ban
Energy sec'y bases objections on dubious claims about cost of care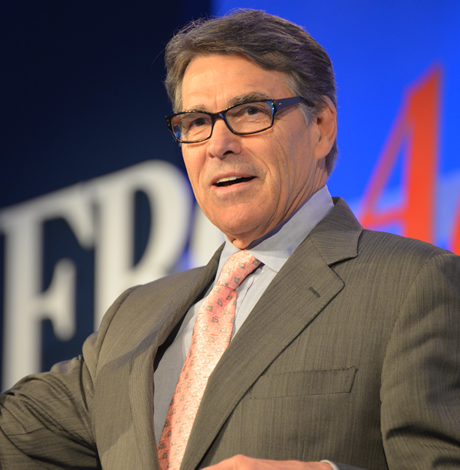 Energy Secretary Rick Perry took time Friday during his visit to an air conditioning manufacturer in Texas to declare support for President Trump's ban on transgender military service.
Perry told reporters he backs the policy change after his visit to the Daikin Texas Technology Park in Waller, Texas, basing his reasoning on the cost of transition-related care, according to the Texas Tribune.
"I totally support the president in his decision," Perry was quoted as saying. "The idea that the American people need to be paying for these types of operations to change your sex is not very wise from a standpoint of economics."
Trump made dubious claims about "tremendous medical costs and disruption" posed by transgender military service when announcing his ban Wednesday on Twitter.
According to a study the RAND Corp., costs associated gender reassignment surgery would actually be very little. The study estimated those surgeries would consume between $2.4 million and $8.4 million annually out of the Pentagon's multi-billion dollar budget.
"I think the president makes some good decisions about making sure that we have a force that is capable," Perry reportedly added.
As ThinkProgress reported, the U.S. military actually spends ten times as much $84 million on erectile dysfunction medication than it would under RAND Corp.'s estimate for gender reassignment surgery.
Asked about that cost comparison, Perry reportedly quipped, "You know what, I don't check on the price of Viagra."
Perry has a long anti-LGBT history as Texas governor and perennial Republican presidential candidate, which includes declares support for the now lifted ban on gay troops in the Boy Scouts of America. As energy secretary, penned an op-ed against his alma mater Texas A&M over the election of its first openly gay student president, Bobby Brooks, saying the system was rigged in his favor in a "quest for diversity."
Minnesota middle school principal ousted for displaying Pride flag
Critics ramped up attacks on the career educator- some compared her to the Devil after publicly associating with LGBTQ+ people and students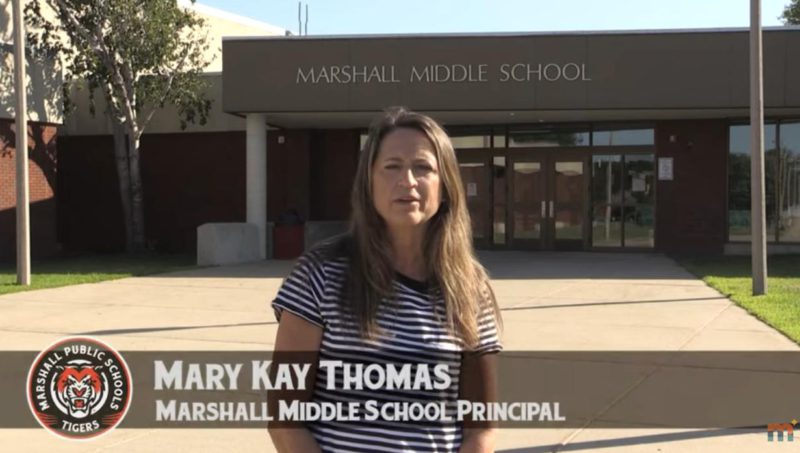 MARSHALL, Mn. — A former middle school principal in Minnesota who lost her job after displaying a Pride flag alleges in a federal lawsuit that the school system retaliated against her for supporting LGBTQ+ students.
Mary Kay Thomas filed the complaint against Marshall Public Schools in the U.S. District Court of Minnesota Tuesday after anti-LGBTQ+ middle school staff, parents, students and local clergy began efforts to remove the Pride flag that she put up in her middle school's cafeteria in 2020 as a part of an inclusiveness effort.
According to the lawsuit, Thomas has been a teacher and principal for more than three decades with a long track record of success. She held the principal position at Marshall Middle School for 15 years, receiving contract renewals, pay raises and praise for her performance.
"But when Thomas decided to display an LGBTQ Pride Flag in the school cafeteria in early 2020, everything changed," reads the complaint.
Thomas refused to take down the Pride flag as critics ramped up attacks on the career educator. The lawsuit alleges that some even compared her to the Devil after publicly associating with LGBTQ+ people and students.
"Sadly, the Marshall School District has sided with these critics," her lawyers wrote.
What followed was an "escalating series of adverse actions" taken by the Marshall School District, said the lawsuit. She claims that the school targeted her by threatening her employment, conducting a "bad-faith" investigation, putting her on indefinite involuntary leave, suspending her without pay and putting a notice of deficiency in her personnel file.
The complaint says that the deficiencies were "false, distorted, and/or related to Thomas's association with members of the LGBTQ community."
Thomas also claims that the District attempted to get her to quit by removing her as principal and assigning her to a "demeaning 'special projects' position."
At one point, Marshall Public Schools Superintendent Jeremy Williams, who is named as a defendant in the case, told Thomas he could "make this all go away" if she stepped down, according to the complaint.
The school removed the Pride flag in August 2021 after settling a lawsuit brought by residents who opposed it.
The Blade reached out to Williams for comment but did not receive a response. However, according to the Marshall Independent, Williams did release a statement on the matter.
"Marshall Public Schools is committed to the education of every child and has strong policies and practices in place against discrimination, against both students and staff members. The school district is committed to creating a respectful, inclusive, and safe learning and working environment for students, staff and our families," Williams said. "While the school cannot comment about the specific allegations made in the complaint, the school district strongly denies any allegation of discriminatory conduct. The school will vigorously defend itself against these allegations."
In addition, Thomas alleges that she resisted unwanted sexual advancements from school board member Bill Swope. She claims she told Williams about the sexual harassment.
As of Thursday, the school has not filed a response, and no hearing has been scheduled yet.
Thomas is seeking a jury trial, damages and reinstatement as principal of Marshall Middle School.
Rachel Levine: Efforts to deny health care to trans youth are 'politics'
Former Pa. health secretary opened Victory Fund conference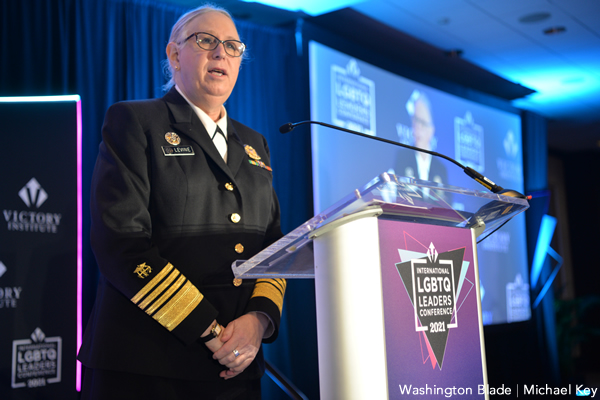 Assistant Health Secretary Rachel Levine on Thursday criticized efforts to prevent transgender youth from accessing health care.
"Unfortunately, some have fought to prevent transgender youth from accessing the health care that they need," she said in a speech she delivered at the opening of the Victory Fund's 2021 International LGBTQ Leaders Conference that took place in-person at the JW Marriott in downtown D.C. "This is politics and this politics has no place in health care and public health and they defy the established standards of care written by medical experts."
Levine was Pennsylvania's Health Secretary until President Biden nominated her to become assistant secretary of health.
She became the first openly trans person confirmed by the U.S. Senate in March. Levine in October became a four-star admiral in the U.S. Public Health Service.
The conference will take place in-person and virtually through Sunday.
VIDEO: Biden addresses advocates on World AIDS Day
President says end to transmission 'within striking distance'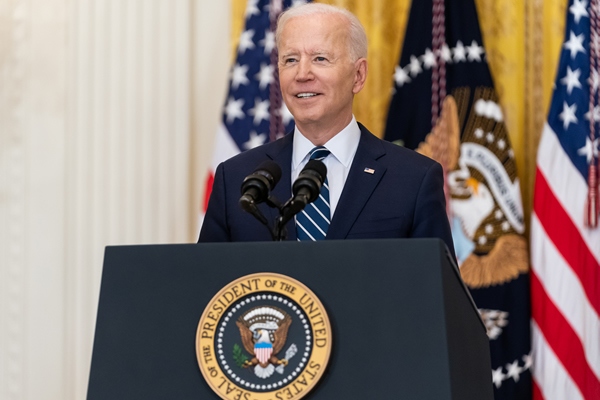 President Biden, in remarks delivered Wednesday at the White House in recognition of World AIDS Day, said to advocates in the fight against HIV/AIDS the end to HIV transmission was near.
"It's because of you and it's not hyperbole to suggest that we are within striking distance of eliminating HIV transmission, within striking distance," Biden told attendees in the East Room.
Joining Biden in the East Room were Secretary of Health & Human Services Xavier Becerra and Gabriel Maldonado, an HIV/AIDS Advocate and founder of TruEvolution, a Riverside, Calif.-based LGBTQ group.
Biden also during his remarks touted having made the appointment of Harold Phillips to lead the White House Office of National AIDS Policy — a position that had gone vacant throughout the entirety of the Trump administration.
Notably, Biden talked about the Ending the HIV Epidemic plan, an initiate health officials started in the Trump administration, by saying was to beat HIV domestically by 2030. That was initial target date when the initiative, but Biden had campaigned on defeating by HIV by 2025 to the skepticism off observers.
Watch Biden full remarks below: