Trump nominee refuses to say foreign laws criminalizing gays unjustified
Brownback nominated as U.S. ambassador for int'l religious freedom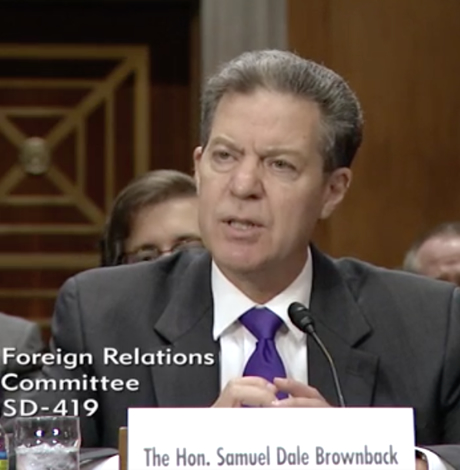 President Trump's pick as U.S. ambassador for international religious freedom faced tough questioning Wednesday over his anti-LGBT record during which he refused to say laws in foreign countries criminalizing LGBT status were always unjustified.
Kansas Gov. Sam Brownback, whom Trump nominated in July to become U.S. ambassador at-large for international religious freedom, was non-committal on opposition to these foreign laws, which in some cases penalize homosexuality with death, under questioning from Sen. Tim Kaine (D-Va.).
Seeking to connect the issue of anti-LGBT discrimination to religious freedom, Kaine asked Brownback if he's aware that countries have laws punishing homosexuality with imprisonment or death.
When Brownback replied, "I believe that's correct," Kaine pointed out the justification for these draconian anti-gay laws is religious reasons.
In response, Brownback said the day before his confirmation hearing, he had a "lengthy conversation" with Randy Berry, who continues to serve during the Trump administration as U.S. envoy for the State Department for international LGBT human rights issues, and how he worked with the Obama administration's U.S. ambassador for religious freedom David Saperstein.
"We had a good conversation about how these two offices work together," Brownback said. "I don't see doing anything any different than what they worked together."
Kaine started to reply, "That wasn't really my question," but Brownback responded, "But that really is the point."
Seeking to get back on topic, Kaine asked the nominee if there's any situation in which religious freedom could be used to justify laws imprisoning or executing people for being LGBT, but Brownback didn't directly answer.
"I agree with what Randy Berry did around the world on that topic," Brownback said. "I'm not fully briefed on the various specifics of what he basically did and described to me yesterday and the work he did back and forth with ambassador Saperstein, I wouldn't see changing."
With his question unanswered, Kaine asked again if there's any circumstance in which criminalizing homosexuality for religious reasons is justified, but Brownback again declined to directly answer.
"I don't know what that would be and what circumstance, but I would continue the policies that had been done in the prior administration in work on these international issues," he said.
Kaine wasn't satisfied: "I really would expect an unequivocal answer on that, but my time is up."
Brownback refused to say outright laws criminalizing homosexuality are always unjustified days after the Trump administration faced criticism for voting against a U.N. resolution condemning the death penalty for homosexuality. The Trump administration defended that action by saying the resolution was about the death penalty in general, not specific to gays, and previous administrations declined to support similar resolutions.
The choice of Brownback as ambassador for religious freedom overseas has inspired consternation among LGBT rights supporters since Trump announced his choice based on the Kansas governor's anti-LGBT record, which was explored during the hearing.
Brownback also faced tough questions from Kaine about rescinding as governor an executive order barring anti-LGBT discrimination in the state workforce.
Referencing Brownback's decision in 2015 to reverse the order established by his Democratic predecessor Kathleen Sebelius, Kaine asked the nominee to defend his actions.
"That was an order that created a right by the executive branch that wasn't available to other people and it wasn't passed by the legislative branch," Brownback replied. "I believe those sorts of issues should be passed a legislative branch."
But Kaine wouldn't have Brownback's explanation the protections should be left the legislature, asking the nominee, "Isn't that kind of the point to an executive order?"
"You issue an executive order on something that the legislature doesn't pass," Kaine added. "If it was clearly in statute, you wouldn't need to issue an executive order."
But Brownback said an executive order against anti-LGBT discrimination would be inappropriate because it was "a foundational issue that you were creating a right for state employees that wasn't available to the rest of the people in the state."
When Kaine replied "was it bad" to give state employees a course of action under anti-LGBT discrimination, Brownback insisted the state legislature should be responsible for those protections.
Kaine asked Brownback a series of questions on whether as Kansas governor he appoints Cabinet secretaries and agency heads, and the nominee more or less affirmed that was the case. When Kaine asked Brownback if he applies a high standard to state employees, Brownback replied "yes."
Kaine's follow up: Why then, as Kansas governor, could he also not protect LGBT state employees through executive order?
"If you're hiring for honesty, if you're hiring for competence, wouldn't that be an appropriate thing that the governor as a chief of state personnel operation would want to know about leaders in state government," Kaine said.
Brownback's defense: "I think that would be a rational thing. I just don't think it's a right the executive branch should create without the legislative branch."
Reversing the executive order isn't the only anti-LGBT action Brownback took as governor. Last year, he signed into law a "religious freedom" bill allowing student groups at taxpayer-funded public universities in Kansas to deny membership to LGBT students.
As a member of Congress — first as U.S. House member, then as U.S. senator — Brownback built a significant anti-LGBT reputation. Among other things, Brownback championed a U.S. constitutional amendment that would have banned same-sex marriage.
Kaine recalled during his tenure as Virginia governor issuing an executive order against anti-gay discrimination in state employment, saying that was the first action he took as governor even though he faced resistance from then-Virginia Attorney General Bob McDonnell over the legislature not having acted on the issue.
"Can't you see that the retraction of an executive order like this that had been in place for eight years sends a message that that is not a value, non-discrimination against folks on the grounds of sexual orientation, that's not a value that you share?"
Brownback disagreed and insisted for the role at hand as ambassador for religious freedom, he wouldn't engage in any kind of discrimination.
"I look forward to working with people, working with everybody regardless of their ideas or views on how we can advance the agenda of religious freedom," Brownback said.
Also questioning Brownback on LGBT rights was Sen. Jeanne Shaheen (D-N.H.), who after raising the issue of Indonesian refugees in her state facing deportation asked Brownback if he's willing to work with civil society groups working not just on religious freedom, but LGBT and women's rights.
In response, Brownback insisted his focus will be religious freedom to maintain bipartisan support for that role.
"I will work with anybody that I can on the topic of religious freedom and not veer out of that lane because I think if you start to veer out of that lane, you get pulled to other topics that other people are charged with doing, you're going to lose bipartisan support for the position, which is critical to have," Brownback said.
Coming to Brownback's defense was Sen. Marco Rubio (R-Fla.), who was chairing the hearing and said his colleagues were asking him about topics other than religious freedom.
"If there is persecution on the basis of religion, or oppression on the basis of religion, or the denial of liberty on the basis of religion, your job would be to advocate for that freedom for them to practice in peace religion in peace," Rubio said. "That is the scope of the job that you'd been nominated to, is that correct, not to litigation theological points or policy differences beyond the scope of that liberty?"
Brownback affirmed that view and repeated his response that bipartisan support for his role is important, adding a distraction into other issues would make the position "less effective if effective at all."
David Stacy, the Human Rights Campaign's director of government affairs, said after the hearing his organization remains "deeply concerned" about Brownback's nomination.
"Brownback's long history of anti-LGBTQ actions in Congress and as governor was reflected in his refusal at his hearing today to unequivocally condemn the inhumane treatment, including execution, of people based on sexual orientation and gender identity," Stacy said. "While he expressed some support for the LGBTQ human rights work at the State Department, his other responses give us every reason to believe that Brownback will continue to use his own narrow view of 'religious freedom' as permission to discriminate against LGBTQ people."
Rep. Pocan introduces legislation to create nat'l LGBTQ history museum
Bills seek answer on including site as part of Smithsonian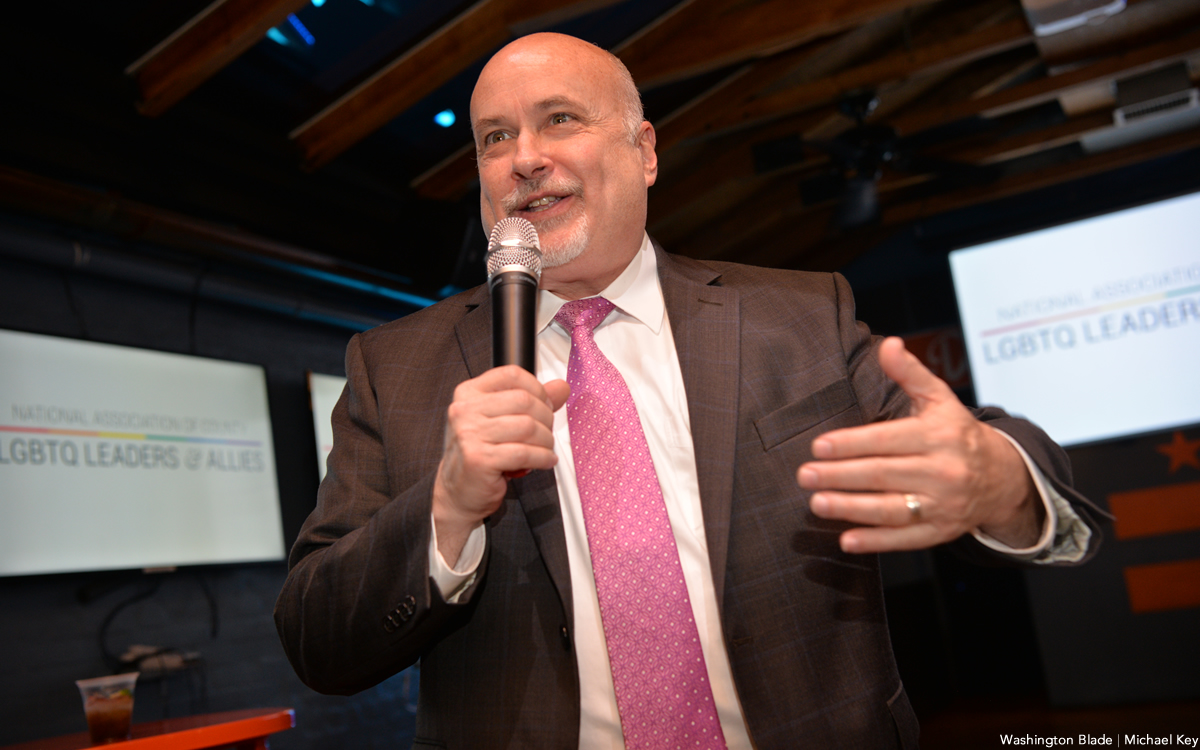 Rep. Mark Pocan (D-Wis.) has introduced legislation that would set up the process to create a National Museum of American LGBTQ+ History & Culture, potentially as an official site within the Smithsonian Institution in Washington, D.C.
Pocan, one of nine openly gay members of the U.S. House and co-chair of the LGBTQ+ Equality Caucus, said in a statement Thursday the measures would are effort to preserve LGBTQ history "as our community faces unprecedented attacks and attempts to erase our history." The pair of bills is H.R.9070 and H.R.9071.
"It is vital to remember our collective past – particularly when certain states seek to constrain and repeal existing rights by passing bills that harm LGBTQ+ youth and our community at large," Pocan said. "Let's tell these stories, and honor the many contributions the LGBTQ+ community has made to this nation with a museum in Washington, D.C."
The first bill, according to a news statement, would creates an eight-member commission of individuals with expertise in museum planning or LGBTQ+ research and culture "to look into the viability of establishing such a facility in the nation's Capital."
Among other things, the commission would be charged with recommending a plan on action for museum, including fundraising for the museum, and submitting to Congress a plan for construction of the museum, the statement says.
The bill would also instruct the commission to address whether the museum should be part of the Smithsonian Institution, based in the nation's capital and the world's largest museum and research complex, per the news statement. The full study, the statement says, would have to be completed in 18 months.
If the Smithsonian were to adopt the a museum on LGBTQ history and culture, it would be similar to other museums under its jurisdiction focused on minority populations in the United States, including the National Museum of African American History & Culture and the National Museum of the American Indian.
The second bill, according to a news statement, would be eligible for consideration by Congress after the commission completes its work and issues its recommendations and allow for formal creation of the museum. More than 50 lawmakers, including all nine openly gay members of the U.S. House, co-sponsor the legislation.
Judge postpones ruling on whether Casa Ruby should be dissolved
Request by Corado for gag order to stop 'one sided' information denied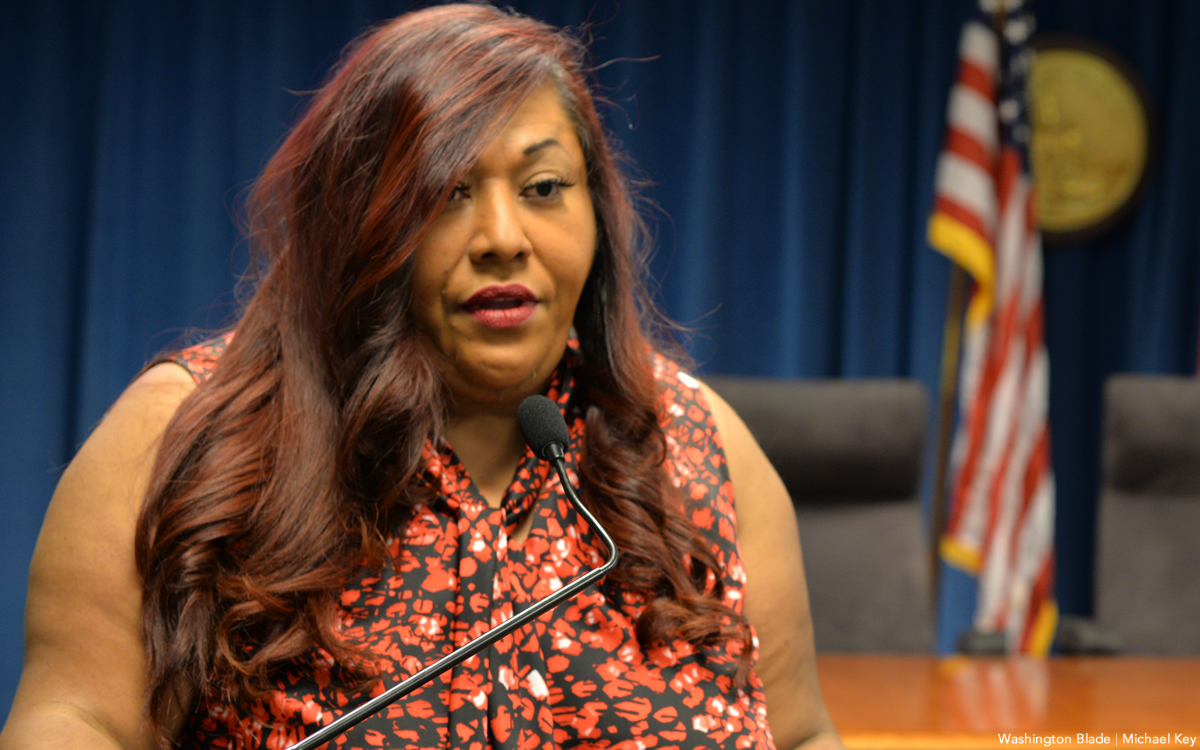 A D.C. Superior Court judge on Thursday said she was not ready to issue a ruling on whether the LGBTQ community services center Casa Ruby should be dissolved as recommended two and a half weeks earlier by a court-appointed receiver that took control of Casa Ruby's operations.
Judge Danya A. Dayson stated at a Sept. 29 court status hearing that the Office of the D.C. Attorney General, which filed civil charges against Casa Ruby and its founder and former executive director Ruby Corado in July, needed more time to complete its investigation into Casa Ruby's operations.
"We think it may be premature to immediately commence proceedings for dissolution while our investigation is still pending," Cara Spencer, an official with the Office of the Attorney General, told the judge. "We're still gathering information. We still intend to shortly serve discovery so we can bring it to a resolution promptly," she said.
The AG's office filed a civil complaint against Casa Ruby and Corado on July 29 alleging that the LGBTQ group had violated the city's Nonprofit Corporations Act for the past several years. The complaint says improper actions by Corado, including the unaccounted-for expenditure of funds and a failure by the Casa Ruby Board of Directors to provide oversight led to a financial crisis.
The complaint notes that Casa Ruby employees were not getting paid and over $1 million was owed to landlords in back rent for at least three buildings Casa Ruby used for its offices and to provide emergency housing for homeless LGBTQ youth.
With Corado spending most of the past year in El Salvador, according to Casa Ruby employees, the employees and managers struggling to keep its operations going said they were forced to shut down all operations in late July.
Corado, who attended the Sept. 29 status hearing through a phone hookup, said she had yet to retain a lawyer due to a "shortage of funds." She told Dayson she expects to finally retain an attorney but said she had not received a copy of the receiver's report that recommended Casa Ruby be dissolved. One of the attorneys with the AG's office told Dayson the office sent a copy of the report to four email addresses it had for Corado and Casa Ruby.
At the judge's request, one of the AG office officials sent another copy of the report to Corado during the hearing to an email address that the judge asked Corado to provide.
Dayson on Aug. 12, at the recommendation of the AG's office, appointed the Wanda Alston Foundation, a D.C. organization that provides housing for homeless LGBTQ youth, as the Casa Ruby receiver. One day earlier, Dayson approved the AG office's request that Casa Ruby be placed under receivership.
On Aug. 3, also at the request of the AG's office, the judge issued an order that all of Casa Ruby's bank accounts and financial assets, which had been under the sole control of Corado, be frozen. Dayson lifted that freeze after the Alston Foundation assumed control of Casa Ruby under the receivership.
As she had at the Aug. 11 court hearing, Corado stated in the Sept. 29 hearing that Casa Ruby's financial problems were caused by the D.C. government withholding as much as $600,000 in grant funds for services Casa Ruby had provided.
Officials with the D.C. Department of Human Services, which initially approved the grants, have said some of the grant funds were withdrawn or cancelled because Casa Ruby failed to comply with the terms of the grants. In some cases, the officials said, required financial reports were not filed to substantiate how the funds were spent.
Corado also asked Dayson at the Sept. 29 hearing to order the receiver and officials with the AG's office stop releasing "one-sided" information that she said was falsely placing her and Casa Ruby in a negative light through reports in the press.
"The story that has been painted is that Casa Ruby left the clients in the cold," Corado said. "That is not accurate."
When asked by Dayson what she wanted the court to do, Corado said, among other things, she did not want the receiver to be allowed to disclose information about what happened in the court proceedings that Corado said was being reported by the press inaccurately.
She said highly negative publicity resulting from the release of information from the previous court hearing resulted in her receiving death threats and damage to the engine of her vehicle in an act of vandalism that cost $1,700 to repair.
Dayson said Corado appeared to be seeking a gag order to prohibit the receiver or the AG's office from discussing or releasing information that was part of the public record. Saying there were insufficient grounds for such an order, Dayson announced she was denying a request to seal court records or issue a gag order against the receiver.
The judge ruled in favor of a request by the AG office attorney to file an amended complaint for the case, directing them to file the amended complaint by Nov. 28. Court records show that Dayson directed the parties to return to court for scheduling hearings on Oct. 28 and Jan. 6.
Art used to spotlight people of color lost to AIDS in the South
National AIDS Memorial, Southern AIDS Coalition created Change the Pattern exhibit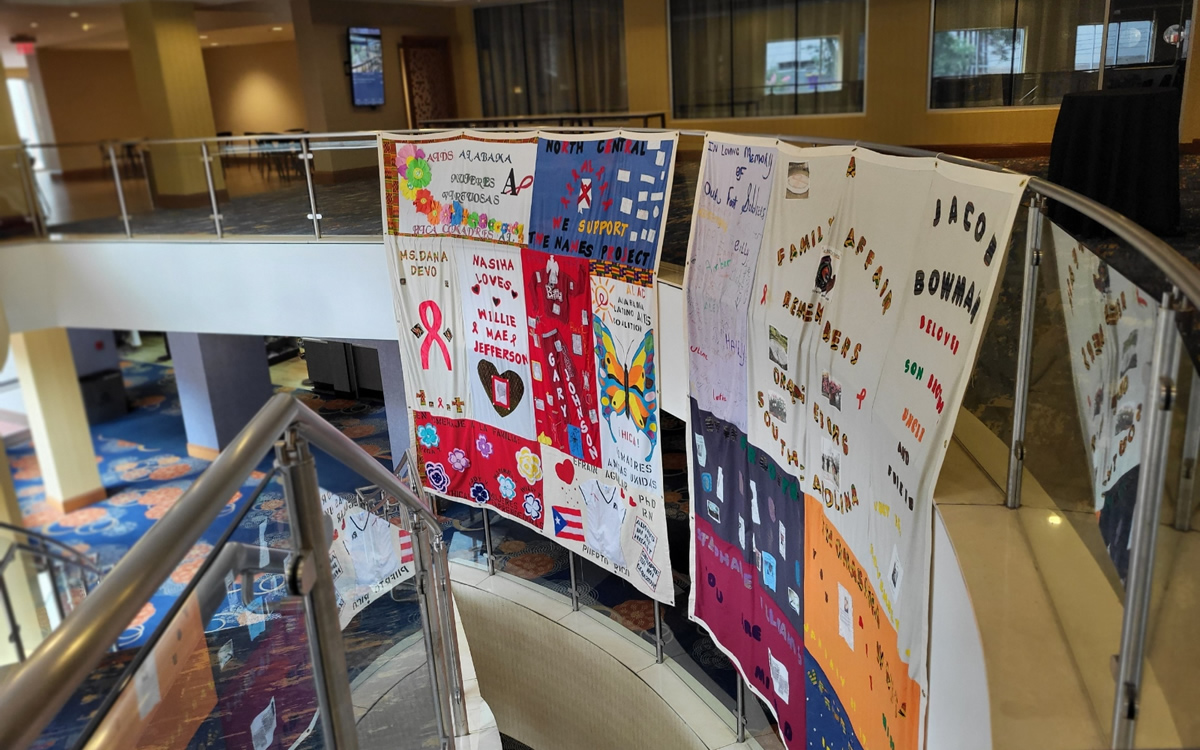 The National AIDS Memorial has joined forces with the Southern AIDS Coalition to stage a series of art exhibitions and educational forums to honor Black and Brown people in the South who have been lost to HIV/AIDS.
The initiative, titled Change the Pattern, began in Jackson, Miss., on Wednesday with curated quilt exhibitions, displays, educational forums, advocacy, storytelling and quilt-making, according to a press release from the National AIDS Memorial. A $2.4 million grant from the biopharmaceutical company Gilead Sciences, Inc., funded Change the Pattern.
More than 500 hand-stitched quilt panels from the area were featured in what the National AIDS Memorial says is "the largest display of the AIDS Memorial Quilt ever" in Mississippi.
"By creating an empowering message and safe spaces for conversation, we can uplift, inspire and make progress toward ending the HIV epidemic, challenge cultural stigmas and continue the legacy of advocacy that the quilt represents," said National AIDS Memorial CEO John Cunningham in the release. 
Change the Pattern was announced in honor of Southern HIV/AIDS Awareness Day during the Southern AIDS Coalition's annual Saving Ourselves Symposium that took place in August.
The conference, which was heavily attended by LGBTQ activists from the South, featured 100 quilt panels, and attendees participated in quilt-making workshops to make new quilt panels representing their loved ones.
Interested LGBTQ advocacy organizations in the South were invited to apply for funding to support local quilt-making workshops in their communities so as to ensure that the legacies of Black and Brown people are captured through newly-sewn panels on the quilt through the Memorial's Call My Name program, according to the National AIDS Memorial press release. 
The application process opened on Sept. 15 with up to 35 eligible organizations receiving as much as $5,000 to support hosting local workshops.
The first major Change the Pattern Quilt was founded 35 years ago as a visual representation of the need to end stigma and provide equitable resources to communities most impacted by HIV/AIDS, according to Southern AIDS Coalition Executive Director Dafina Ward.
"Change the Pattern is a call to action and change in the South," said Ward. "Quilt-making has such a deep cultural connection in the Black community and in the South. The sharing and telling of these powerful stories through the quilt, coupled with advocacy and open dialogue, can help end HIV-related stigma and bring the stories of those we've lost to light."
As the Change the Pattern initiative occurs, conversations about how to handle health epidemics within LGBTQ communities of color have become national topics, especially with the prevalence of monkeypox cases amongst Black gay men.
Despite earlier panic about the disease, the Centers for Diseases Control and Prevention in a report released on Wednesday said that individuals who were vaccinated against the disease were less likely to be affected over the summer compared to those who weren't.
The effectiveness and duration of immunity after a single dose, however, is not known, and few individuals in the current outbreak have completed the recommended two-dose series, according to the report.
The most recent CDC data reports that 25,509 monkeypox cases have thus far been confirmed in the U.S. Only one death has been reported.