Sandra Bernhard on 'Pose,' 'Drag Race,' the 'Roseanne' reboot and more
Stand-up legend dishes freely in advance of Pride week D.C. appearance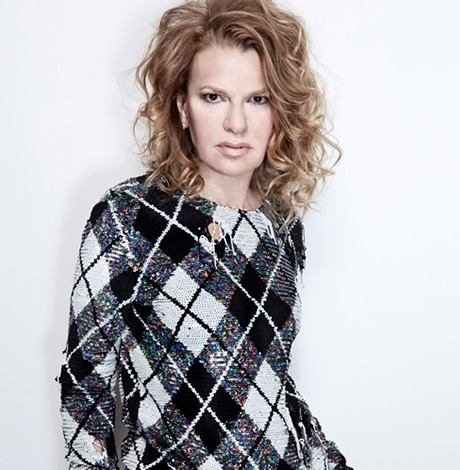 Washington Blade presents: Sandra Bernhard 'Sandemonium'

Shakespeare Theatre Company

Harman Center for the Arts

Friday, June 8

7:30 p.m.

$59-99
These are dark days and Sandra Bernhard knows it.
"Are you gender neutral? Come face to face with a white supremacist? Swam through a flood? Run from a fire? Observed a chunk of the polar ice cap floating away? …," the promos for her show "Sandemonium" read.
If so, well, Sandy is here to help.
She returns to Washington next week with a performance presented by the Washington Blade at Shakespeare Theatre Company. She spoke to the Blade by phone May 18 from her home in New York City. Her comments have been slightly edited for length.
WASHINGTON BLADE: You were just in D.C. recently, weren't you?
SANDRA BERNHARD: Exactly a week ago, actually.
BLADE: Where did you play?
BERNHARD: I was at the City Winery, a new venue and it was fantastic. It was packed and the audience was terrific. We had a great time. I hadn't been to D.C. in a while and now I'm excited to come back again. I'll be doing a lot of different material than I did at the City Winery. All the songs will be different and there'll be a lot of material I didn't do at City Winery plus a few little gay Pride surprises.
BLADE: This is your show "Sandemonium," right?
BERNHARD: Well, that's just a title, you know. I put a new show together every year at Joe's Pub so I always have a new title, but essentially I'm always writing new material because of doing my (Sirius XM radio) show "Sandyland" every day, I'm constantly curating new material so it's nice to keep things really fresh and there'll be some of that and some newer stuff too. It's always a work in progress.
BLADE: Are you always listening for songs you'd like to cover or do you keep a list or what?
BERNHARD: Kind of a little bit of both because a lot of times I'll think my set list is all signed, sealed and delivered and then Mitch Caplan, who's my musical director, we've been collaborating for years, he always laughs because literally a day before I'll be doing a new show, I'll find a completely different opening song or a totally different closing song because sometimes the spirit just moves me and then I'm trying to find the absolute right thing that really works so I'm always open to something new even if it's just an hour before the show.
BLADE: You seem really jaded in your standup at times but yet in interviews you sometimes seem rather joyous and upbeat. Is that just naturally your personality? Is it hard to balance the two extremes?
BERNHARD: It depends on the situation. What's fun about doing "Sandyland" is I've been able to tap into more of my positive side, you know, I think that part of my personality, I just think it registers better on radio and I'll talk about what's happening politically or gun violence or things that have a lot of emotion around them. But then day to day, I think I've been able to access that part of my personality that people have started coming to day in and day out, so it's a surprise for me and it's been a great self discovery.
BLADE: How did your radio show come about?
BERNHARD: I've been friendly with Andy Cohen for years and about three years ago, he put his channel Radio Andy together and we had lunch and he said, "I have this idea, I don't know if you'd be into it, but I'll be doing this channel on Sirius, I'd love for you to do this show." I said, "Yeah, that sounds perfect," because I kind of needed a platform and it's harder and harder to get a talk show quote-unquote off the ground and they usually just don't work and radio, especially Sirius, has this sense of freedom that you can't find anywhere. Never once has anybody walked into my studio and said, "No, don't say that, don't do that." Nobody cares. They just let you do whatever you want because after all, it is home to Howard Stern. How can you be more obnoxious or outrageous than Howard Stern? … It's just been really cool.
BLADE: What's the hardest part of doing your stage show that the average person wouldn't ever think about?
BERNHARD: Well, behind the scenes, there's just always the logistics. You know, like who's going to the be the person to get your from point A to point B. I have a few different people who work with me in terms of tour manager and I don't really go out on the road like Stevie Nicks or some big rock band. I do two or three dates a month and sometimes I'm off the road for two months doing other stuff. … It's sort of a semi-well-oiled machine but sometimes gig to gig it takes a little more or less effort to make sure it goes smoothly.
BLADE: Speaking of Stevie Nicks, what was it like at the (April, 1998) concert for the "Stormy Weather" album? When you're doing something like that, are the super A-listers like her, Joni Mitchell and so on, are they polite but kind of stand-offish or what?
BERNHARD: Well I've known all those ladies for years and I've been really lucky in the course of my career to get to be friendly with a lot of people in the music business. Chrissie Hynde is one of my best friends. I'm friends with Debbie Harry, Belinda Carlisle is one of my best friends and I don't mean to name drop, but you know, music was really my first love. I wanted to be just a singer and I kind of got sidetracked into comedy and I have no regrets because I think the combination of both has been really very fulfilling for me and fun for the audience. But I know Stevie, I know Joni, I know all those people and you know, I don't always get to see all of them all the time, but in that setting, of course, I'm a little bit intimidated because they're the best at what they do. I consider myself a decent singer and pretty decent musical person but, you know, I always defer to those people. But they're always totally supportive and lovely and most people think I have a pretty good voice, so I take that as a nice compliment obviously.
BLADE: Is there anybody of that ilk who is privately much different from their public persona? Maybe somebody who's actually raunchy or shy or something we'd never guess?
BERNHARD: (laughs) No, nobody's really raunchy. I think Belinda Carlisle is probably one of the most humble and shy people and so is Debbie Harry. Everybody who is really, really good, they play down what they do in their day-to-day life and almost all of them do something that is very grounding and they're involved with a lot of different social causes so I don't know — I just think people who are really talented are usually very complex and interesting and not full of themselves.
BLADE: Was it kind of trippy and surreal to see the "Roseanne" set so faithfully recreated for the reboot?
BERNHARD: Um, yes it was and yet also in a way not because it just sort of felt like, well, it's not that shocking that it happened again because it was so iconic and it's been on the air every single day since it went off the air, you know, officially. It's been in rotation for 20 years so I think it was different than it would have been if it was a show we hadn't seen at all in 30 or 40 years, then it would have been more weird. So it was and it wasn't.
BLADE: Does it feel much different on the set this time?
BERNHARD: It feels a little different. There's new kids and new writers but generally speaking, you know, Laurie Metcalf and all the main people, John Goodman, it has that continuity so it didn't feel that much different. I think people have all evolved a lot emotionally and spiritually so I think things are a little more relaxed than they were maybe early on.
BLADE: What's Roseanne like between takes? Is she high strung or kind of chill?
BERNHARD: She's pretty chill. She gets tired out pretty easily you know. She's not like a hard-charging person so I think sometimes she just needs to like, escape and regroup a little and she'll kind of keep to herself, but you know, when she's around, she's friendly, she's nice to everybody.
BLADE: How did you first hear of the reboot and are you going to be in more of it or do you know yet?
BERNHARD: Well, I sort of read about it like everybody else to be perfectly honest with you. And then I reached out to Sara Gilbert who was sort or rebooting the whole project and then I didn't hear back from her for quite a while and then all of a sudden out of the clear blue, I did hear back from her and that's sort of when it all came together for the last episode. It was the last episode they shot, even though it just aired a couple weeks ago. I'm sure they'll have me back at least one or two more times during the next go-around, but they haven't committed to anything yet. (Bernhard's Blade interview occurred prior to the news this week that the "Roseanne" reboot was cancelled.)
BLADE: Now that it's had a long time to sink in, what impact do you think your (lesbian/bi) storyline and the kiss and all that had culturally? Do you think it reached more people because of "Roseanne's" demographic?
BERNHARD: Yeah, I think it reached everybody because the average weekly viewership of the show in its prime was 15-20 million … so I think it had a huge impact and opened the doors for a lot of different conversations about sexuality and, you know, certainly it's gone to places nobody could have imagined and that's a cool thing.
BLADE: Does Roseanne's Trump support bother you, either on the show or in real life?
BERNHARD: I'm not happy about it. I think if it was strictly Roseanne the character, it would have been understandable but even then, not really because Roseanne and Dan were always liberals and he was a union guy and so none of it really makes sense at all and I think when they come back, I think it's probably less political. I just read an article and the president of ABC, who's a woman of color, she was saying, "No, it's not gonna be this way next time around." Because what's the point of it? I mean, oh, to show people that Muslims are people too? Do we really need that primer in 2018? Really? I would hope people are smart enough and open enough to know that there are people in every path of life that are good and bad. I mean, how many more conversations do we need to have about this shit? I just don't think it really resonates to me and I don't think it resonates with anybody because I would hope people are intelligent enough to figure that out on their own.
BLADE: I heard Carol Burnett say recently that shows take way longer to tape than they did back in the '60s and '70s. She was saying on her show, it was zip-zip-zip, they'd be done in a few hours and go home, now it's like a 10-hour ordeal when she guests on something. How long is a normal day when you're taping something?
BERNHARD: They're all totally different. If it's a four-camera show, which "Roseanne" is, in other words, you're shooting in front of a live audience, it's really like preparing a little play every week and it can be a Wednesday or a Monday, it depends on the shoot. But you start with a table reading and work out sort of like what needs to get changed out initially. Then you go to the set, you do a run through and then as the week progresses you do more and more rehearsals and you start blocking and the longest day on "Roseanne" is the shoot day. You usually get there by 11 or 12 and they start shooting by 6 and you're kind of done by 8 or 9. Roseanne doesn't like to be around for hours and hours, nobody does. If you're shooting single camera, that's a whole different ball game because you can be there for 12-14 hours because you're setting up every shot and it's a much more frustrating experience.
BLADE: You've been on so many shows — "DTLA," "Brooklyn Nine-Nine," "2 Broke Girls." Are there any you felt had more life in them or you wish would have really taken off?
BERNHARD: Well I certainly would have liked more "Brooklyn Nine-Nine" because it was really fun playing Chelsea Peretti's mom and I think she was a fun, blowsy, kooky character but now that they've been picked up by NBC, maybe I'll get a chance to reprise the role. "2 Broke Girls" was great because they had a five-episode arc and I got to fulfill that character's sort of destiny on that show. I should also tell you that this coming Monday and Tuesday I'm shooting a role on the new show "Pose," the new Ryan Murphy show so I'm really excited about that. I'm playing a nurse in an AIDS ward in 1986 or '88 and, you know, having lost a lot of friends during the AIDS crisis and having visited many friends in hospitals, it's sort of a fitting role that I get to play opposite Billy Porter who's a terrific actor and supposedly it's a recurring role. So I'm really excited. It's the first time I've done a Ryan Murphy project so I'm excited about it.
BLADE: I know you have a few things in development yourself. Is it any harder or easier to get a green light in Hollywood than it was, say, 20 years ago?
BERNHARD: It's about the same. I mean there's certainly more outlets for things. I have a couple of scripted projects but now two of the shows are back on hold again but one of them jumped ahead of the pack and I have a very well-known producer involved with it so it seems to be progressing and hopefully at some point this summer I'll be pitching it to some of the different outlets. I'm keeping my fingers crossed. This is a little broader, kind of comedy than I'm normally, you know, thought of, so I'm kind of excited about that because I think it's very accessible but still cutting edge and funny so we'll see.
BLADE: What's your favorite venue for your live show?
BERNHARD: Well I'd have to say Joe's Pub. It's my incubator for new material and I've done shows there now for well over 10 years. I've kind of lost track. People just come there, it's intimate and it's just the right setting for doing something new and people are very, you know, supportive and it just creates a vibe. I always do it the day after Christmas to New Year's Eve and it kind of sets the tone for the end of the year and the beginning of the year. … It's nice to have a little launching pad for everything.
BLADE: You don't mind working that time of year? Most people like to lay low that week.
BERNHARD: No, I prefer it actually. I don't love sitting around during the holidays and I certainly wouldn't want to travel at that time. It's crazy. I'd rather be on stage performing and engaged, then when it's done, that's when I like to go away when everybody else is going back to school and work.
BLADE: How are (partner) Sara and (daughter) Cicely?
BERNHARD: They're great, terrific. They're both super busy. Sara is doing a project for a magazine called Fast Company and Cicely just got home from college. She's going to be doing an internship and working and volunteering this summer so everybody is fully engaged.
BLADE: Did you give up Kabbalah?
BERNHARD: No, but I do it on my own. I don't go there to the center anymore. I go to a synagogue here in New York where there's a very cool young rabbi and his wife and it's just much less crazy. The scene there is more chill.
BLADE: I've heard you say you like the more traditional prayers and songs and such. I'm just wondering because it's the same thing in Christianity — I want the progressive, gay-friendly churches and it's great, but the music and prayers suck.
BERNHARD: I grew up conservative. It's truly a crap shoot. I found this one place here in New York that's totally LGBT friendly and even though it's not a gay synagogue, there are a lot of gay people. … It's a great mix and the kind of people I grew up with … so it reminds me of my family and there's all these groovy young people and gay people and it's very fulfilling to see everybody getting along and nobody judging anybody. That's how I think the world should be. I don't think people should just have to be with their own people all the time. I think we should all be able to be together and embrace the difference and have fun together.
BLADE: I sense you may be more of a traditionalist than people would guess. Are you?
BERNHARD: I like continuity in my life and day to day, I like things that are sort of mundane in a way, things that are familiar. I guess that's why I embrace certain aspects of my religion. It's just sort of the way I roll in life.
BLADE: Do you make it a point to put yourself out there more than you might otherwise be inclined to generate stuff you can use in your comedy?
BERNHARD: No, that happens naturally. There's no way you could put yourself in a situation hoping something comes out of it because nothing ever does. It's always when you least expect it. Literally shit happens when I'm in the grocery store or I'm trying to get a taxi or just my reaction to things in conversations with Sara, she's really funny. We'll sort of riff off each other and I'll run to my notes and write things down. It just flows naturally.
BLADE: Have you ever been invited to be a guest judge on "RuPaul's Drag Race"?
BERNHARD: No, I have not darling and I know RuPaul from the day. I don't know why Miss RuPaul's so shady with me 'cause I was on RuPaul's show on VH1 Hanukkah special and now Ru gets so shady with me and I don't know why 'cause I've never had any problem with Ru. I think I should have been one of the first judges because listen, "Without You I'm Nothing," the film, all my background singers are drag queens. I embraced the drag world when I was like 19 years old. … I was hip to the drag world in the '70s when I was very, very young, so for me it's sort of a natural but what the fuck? But whatever. I was a groundbreaking supporter of drag and every other kind of interesting gay, you know, anomaly, so I don't have anything to worry about.
BLADE: What did you think of Michelle Wolf's bit at the Correspondents' Dinner?
BERNHARD: I thought it was brilliant. I thought she worked her ass off. It was A-list material. It was fucking brilliant. She went for broke and I thought her whole approach to taking down, you know, the journalists on both sides was brilliant and I thought what she said about smoky eye was fucking genius. She wasn't trashing (Sarah Huckabee Sanders) for her looks, she was just saying how brilliant that she takes the ashes of lies and makes a smoky eye. How anybody could have interpreted that as saying she was ugly — no, you're hearing that because is ugly is what's going on inside the White House and it's a reflection of people who don't want to fucking face it. And the moral bankruptcy of this country and this particular moment and people don't want to hear about it, even on the left, even that the Democrats have not fucking, you know, been able to squelch this thing as well, they should have a certain culpability in it. And that's just the reality. So yeah, she fucking blew the roof off the joint.
BLADE: Do you enjoy doing "The Wendy Williams Show"?
BERNHARD: I love doing Wendy's show. She's always great, she loves me, she's supportive, she's fun, she's not intrusive. I do it, I kiss her, we're done and she's totally cool.
BLADE: How do you stay so thin? Do you work at it or does it come naturally?
BERNHARD: Well I'm naturally skinny and then as I've aged, and once I had Cicely my body shifted a little bit. Now I gotta work on it but I think like Catherine Deneuve says, at a certain point you gotta keep an extra 10 pounds on your ass to make sure your face looks good and that's the truth. … I'm 5'10" so that just makes a big difference in how the weight falls and I've just been lucky but yeah, of course I'm not as skinny and trim as when, you know, I was 25-30 or even 40 but I still think I look pretty good and I take excellent care of myself.
BLADE: Do you have jokes that are like your greatest hits people expect to hear?
BERNHARD: There's a few lines. Like my Mom's line about there must have been dust on those mints, I think that's the one that's most recognizable and it's a great honor for my Mom. She passed away four years ago and she always got a kick out of that.
BLADE: How do you keep track of all your material?
BERNHARD: Most of it is printed out. I have, like, these folders of different shows I've done. Some are in storage in L.A., some are in script form like "Without You I'm Nothing" or "I'm Still Here, Damn It!" The shows that were more theatrical are in script form. But then shows where I'm more like going all all over the place, they're written out on pads and I have them in various folders jammed into my closet.
BLADE: It seems like you have a nice level of fame where you can still go out to dinner and go shopping and not be hounded to death. Are people ever obnoxious when they recognize you?
BERNHARD: No, almost never. Sometimes they want to talk a little bit or say hi and take a quick picture but people are very cool with it. I'm always flattered when they say nice things. I ride the subway and feel very protected and safe maneuvering around and getting to do what I want to do. I'm really glad my life is like that.
BLADE: This isn't really a question but whenever I see "Truth or Dare" and that dancer, I think Oliver, is fumbling with your name, I just want to scream, "It's Bernhard — it's not that hard."
BERNHARD: Well, you know, it was probably just his way of pulling focus and getting a little extra attention in that huge miasma of ego that everybody was, you know, floating around in. I hope he's OK. I'm sure he hasn't been able to sustain that.
BLADE: Well, you know they did a reunion movie with all those dancers.
BERNHARD: Yeah, I know. I need to see that. I read about it but I didn't see it yet.
BLADE: Are you a clotheshorse?
BERNHARD: Well I'm lucky, I get to borrow a lot of things from designers and that's great because once you've worn something and been photographed a lot, you can't really wear it again anyway so it's nice to be able to give things back and I always try to give it back in excellent shape. I have a wonderful stylist. We've been working together about a year and a half, Scott Allgauer, he always pulls me terrific stuff and that's sort of been a game changer.
BLADE: Is he gay?
BERNHARD: He is!
BLADE: Do you watch much TV yourself? What do you like?
BERNHARD: I always watch "Homeland," that season just ended. Oh God, you know — it's so funny, you kind of forget what you watch once it's off the air. I like "Veep." I like "The Affair." I watch "Grace and Frankie" 'cause I love Lily and Jane. I watched a great show called "Babylon Berlin" that was on Netflix. A German show, very well done. I watch a lot of tennis. I'm a Venus and Serena acolyte.
BLADE: Are you a "Handmaid's Tale" person?
BERNHARD: I'm not. I literally can't stomach it. It's too much for me. It's so painful and horrifying. I dip in and out but I can't binge watch it. I did love "Top of the Lake" with Elisabeth Moss, which was great. And I loved "Big Little Lies" on HBO. That was one of my favorite shows last year.
BLADE: Do you have a favorite venue to play in D.C. or do they all sort of run together?
BERNHARD: No, they don't really run together. I've played the Howard a couple times and the George Washington campus. I've been playing D.C. since the beginning of my career way back some comedy club that I doubt even exists anymore. But it's like any town. You get a sense of it but unless you really spend time there, you don't really know what it's like. I played the JCC for a month, that was awhile ago. … D.C. is amazing. When you're in the eye of the storm by the Mall and you see all the monuments, you think, "God, this is amazing." Then you go out to the suburbs and you're like, "Where is everything?" It's kind of a crazy, mixed-up bag there. But I'm looking forward to coming back for Pride.
Another busy summer season arrives in Rehoboth Beach
Fine dining, drag shows, theater, and more on tap for 2023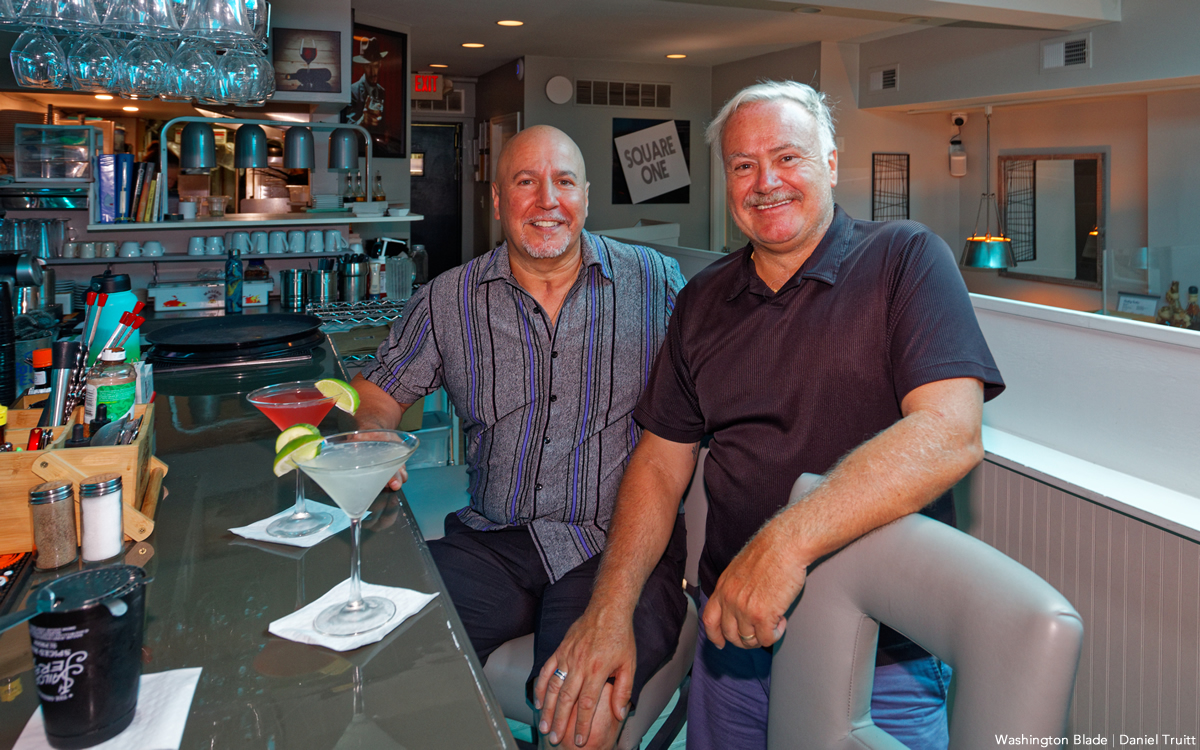 The summer of 2023 will be an exciting time in Rehoboth Beach, with lots to see and do as always. Great people, and of course the sand, sea, and boardwalk. Everyone in town has been working hard over the winter to make this the best season ever at the beach. New businesses, old ones moving to new locations, milestone anniversaries, and just loads of fun all around.
While I am often just a burger and fries' guy, Rehoboth has become a real foodie paradise for those who enjoy, and appreciate, really fine dining. (For more on the dining scene, see separate story in the Blade.)
The City of Rehoboth has fewer than 1,500 full-time residents. Many who have a Rehoboth address like me, live outside the city boundary. But at any time during the summer season, the population swells to more than 25,000. Among them are many members of the LGBTQ community. If you are one of them, stop by CAMP Rehoboth, the LGBTQ community center, founded by Murray Archibald and Steve Elkins in 1991.
Today, many of the businesses in town are owned by members of the community and even those that aren't are supportive of the community. The most famous residents of the area are President Biden and first lady Jill Biden, who try to spend some weekends at their home there. Not sure how much time they will have this summer between the duties of being president and running for reelection. I do know when there, they love the famous chicken salad sandwiches, among other great things, from Lori Klein's Lori's Oy Veh Café in the CAMP courtyard. Lori's is celebrating its 27th season. If you stop in the courtyard, you will be pleased to see new tables and chairs where you can sit and enjoy your meal.
My favorite hangout on Baltimore Avenue, the gayest block in Rehoboth, is Aqua Grill. The perfect place to spend happy hour any day of the week. Chris, one of the hot and charming waiters, is back serving drinks on the deck. Then there is The Pines restaurant across the street with a great showroom upstairs and always fun entertainment. The guys who own it have expanded their operations with Drift on Baltimore and now taken over the old Philip Morton Gallery and turned it into their offices. They are also preparing to open Bodhi on 1st street. One of the great old standbys at the beach is The Purple Parrot Grill and Biergarten on Rehoboth Avenue. Owners Hugh Fuller and Troy Roberts make everyone feel welcome. The old girl has a bright new paint job this year and she's better than ever with some great entertainment. 
Make sure you read the Blade's column on food at the beach but here are just some of the places I passed on my walk around town on sidewalk sale weekend. There are Eden Restaurant, Azafran, and La Fable on the beach block of Baltimore Avenue. Then the always reliable standby the Blue Moon. In addition to some of the best food in town, the Moon has an extensive calendar of special events planned for summer, including the much anticipated return of talented NYC pianist Nate Buccieri beginning June 25. He plays Sunday-Thursday for most of the summer; check bluemoonrehoboth.com for specifics.
There is also Ava's and Theo's and Frank and Louie's on the second block.The venerable Back Porch on Rehoboth Avenue has been serving some of Rehoboth's finest food for decades, and, of course, Houston White further up the street if you're craving a steak.Then there is Goolee's Grill on 1st street and the new location of JAM on 2nd. Goolee's is celebrating its 20th anniversary with a cocktail party on June 1, 5-9 p.m.; tickets are $15 and available online.
My favorite morning place, it has become my afternoon place as well, is the totally refurbished Coffee Mill in the mews between Rehoboth Avenue and Baltimore Avenue, just next to the wonderful Browseabout Books on Rehoboth Avenue. Dewey Beach residents will soon have their own Coffee Mill in a beachfront location, 1700 Coastal Highway. It will have a great view of the beach and ocean from its rooftop deck. Mel and Bob are going to be busy this year with all their places including Brashhh on 1st street, now celebrating its 11th year, and The Mill Creamery serving Hopkins ice cream. Longtime Rehoboth business owner Steve Fallon, one of the best promoters of the beach I know, has the fun Gidget's Gadgets on Rehoboth Avenue and his second place selling vinyl records, Extendedplay. Then there is Coho's Market and Grill on Rehoboth Avenue.
Back on the gayest block in Rehoboth, Baltimore Avenue, don't forget to stop in and purchase some incredible one-of-a-kind jewelry pieces, and now original art, at Elegant Slumming and then get your hair cut in The Grateful Head Salon.
For more afternoon and evening entertainment there is the popular Diego's Bar and Nightclub (37298 Rehoboth Avenue Ext.), a perfect spot for outdoor happy hours and late night dancing. Local legend Magnolia Applebottom holds court all summer with performances slated for the Thursday and Sunday of Memorial Day Weekend. Sunday's show runs 6-9 p.m. followed by DJ Mags "with her boys" from 9 p.m. to 1 a.m. In addition to Magnolia, Diego's brings internationally known DJs to town during the summer. And the free parking is a nice bonus in a town with a chronic shortage of parking spaces. Diego's has an exciting summer of special events planned, so follow them online for updates. Among the acts coming to Diego's this summer are "Jaws the Musical" (June 18), Ada Vox (July 5), and Edmund Bagnell (July 17).
Don't miss the always fun Freddie's Beach Bar on 1st street, where the amazing Freddie Lutz has brought his wonderful concept from Virginia to the beach. The beloved Pamala Stanley performs periodically at Freddie's; follow her on social media for updated dates.
Remember Rehoboth still has some great culture even if the town commissioners have been trying to force it out of town. The amazing Clear Space Theatre is stillon Baltimore Avenue. This season's productions include Lucy in the Sea with Darvon, Jesus Christ Superstar, Kinky Boots, and The Spongebob Musical. 
This will be a summer not to miss at the beach. Better make your plans to visit soon, if you haven't already, because hotels and rentals are booking fast.
Pride season arrives!
LGBTQ community events planned across region
Pride season has already begun. Last month's Roanoke Pride filled the Virginia city's Elmwood Park with rainbow flags. Pride events begin in D.C. this month and continue through June. Regionally, some cities have opted to hold their Pride events as late as the fall.
May
Organizers of Trans Pride D.C. (transpridewashingtondc.org) plan a full day of workshops and events on Saturday, May 20 at Martin Luther King, Jr. Memorial Library (901 G Street, N.W.). These events are currently listed on Facebook and Eventbrite as running from 9 a.m. – 4 p.m.
The HIV/PrEP Programs at the Charles County Department of Health are hosting PrEP for Pride 2023 at 4545 Crain Highway in White Plains, Md. on Saturday May 20 from 12-7 p.m.
The festival is free, though those who RSVP will be entered into a door prize drawing. PrEP for Pride's Eventbrite page advertises a pride walk, a PrEP Mini Ball, music, art, health & wellness information, food options and other vendors.
Equality Prince William Pride (equalitypincewilliam.org) will be held on Sunday, May 21 at the Harris Pavillion (9201 Center Street, Manassas, Va.) from 12-4 p.m., according to its Facebook events page.
The event is billed as a family-friendly event with music, vendors and kids activities. Performers include musician John Levengood, BRUU Band & Choir and the drag artists Coco Bottoms, Muffy Blake Stephyns and Ophelia Bottoms.
D.C. Black Pride (dcblackpride.org) events are held throughout the city May 26-29 primarily at the Renaissance Washington DC Downtown Hotel (999 9th Street, N.W.).
Official events include a Unity Ball, a vendor expo, a talent showcase, forums, parties and the annual Pride Festival in the Park at Fort Dupont Park on May 29 from 12-7 p.m.
The third Caroline County Pride Festival (carolinepride.com) "A Carnival Adventure" will be held in downtown Denton, Md. (301 Market Street) on Saturday, May 27 from 3-8 p.m. according to the group's Facebook event page.
June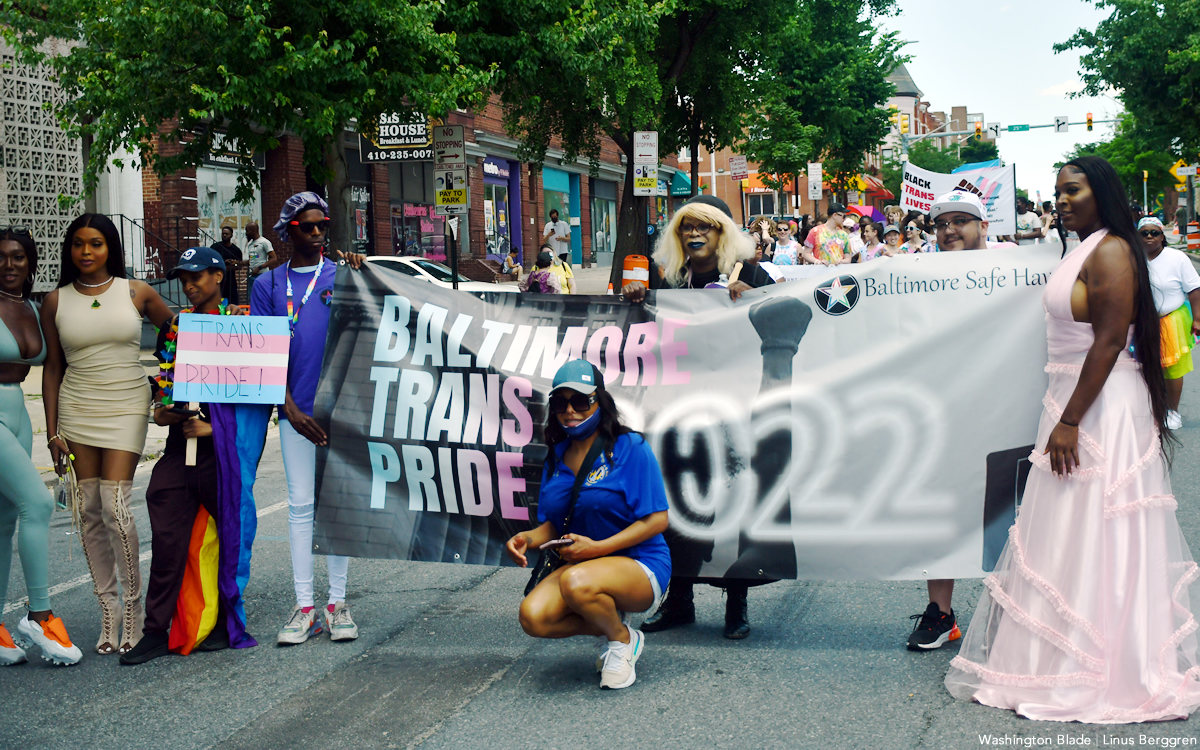 Baltimore Trans Pride (baltimoresafehaven.org/transpride) kicks off the month at 2117 North Charles Street in Baltimore, Md. on Saturday, June 3, according to Baltimore Safe Haven's Facebook event page.
The Baltimore Trans Pride 2023 Grand March is to be held at 1 p.m. on Saturday along North Charles Street between 22nd and 23rd. The Block Party continues at 3 p.m. with performances beginning at 4 p.m.
Afterparties are scheduled at The Crown (1901 North Charles Street) and Ottobar (2549 North Howard Street). Baltimore Safe Haven also hosts a kickoff ball on Friday, June 2 at 2640 Saint Paul Street at 6 p.m.
Annapolis Pride (annapolispride.org) holds its annual parade and festival on Saturday, June 3 from 12-5 p.m. on Inner West Street in Annapolis, Md. according to the Facebook event page.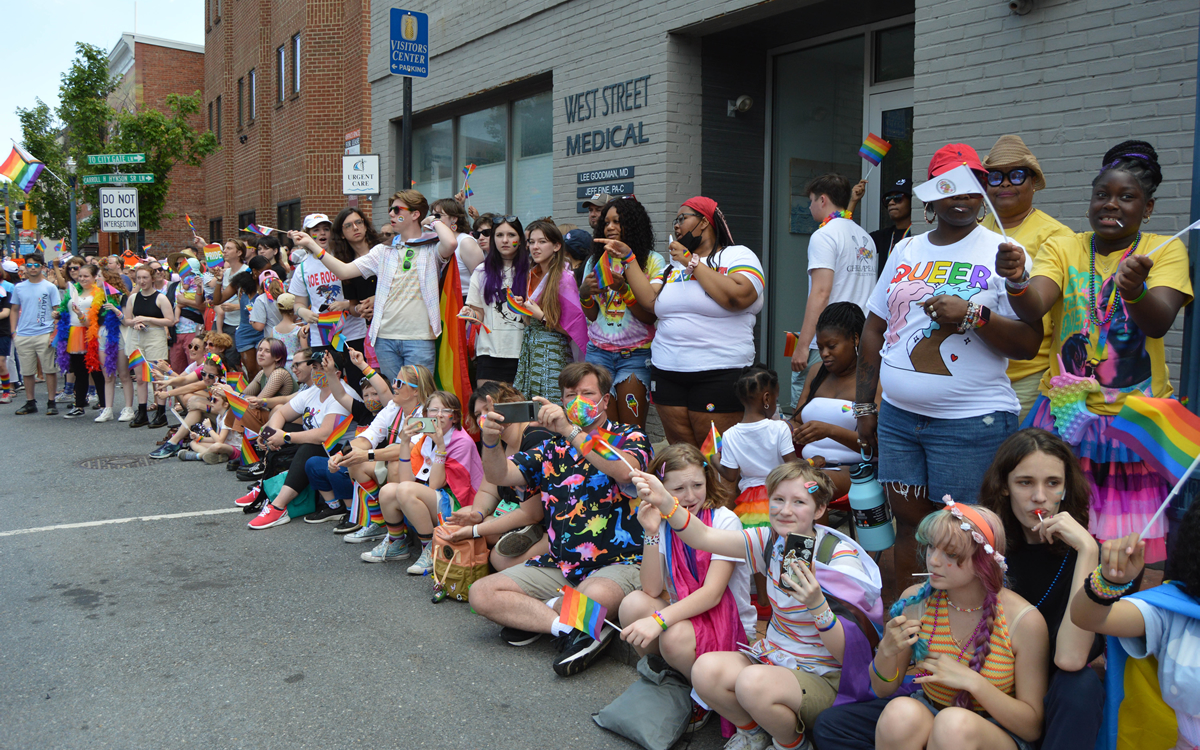 Reston Pride (restonpiride.org) holds its annual festival at Lake Anne Plaza (1609 Washington Place) in Reston, Va. on Saturday, June 3 from 12-6 p.m., according to the Facebook event page.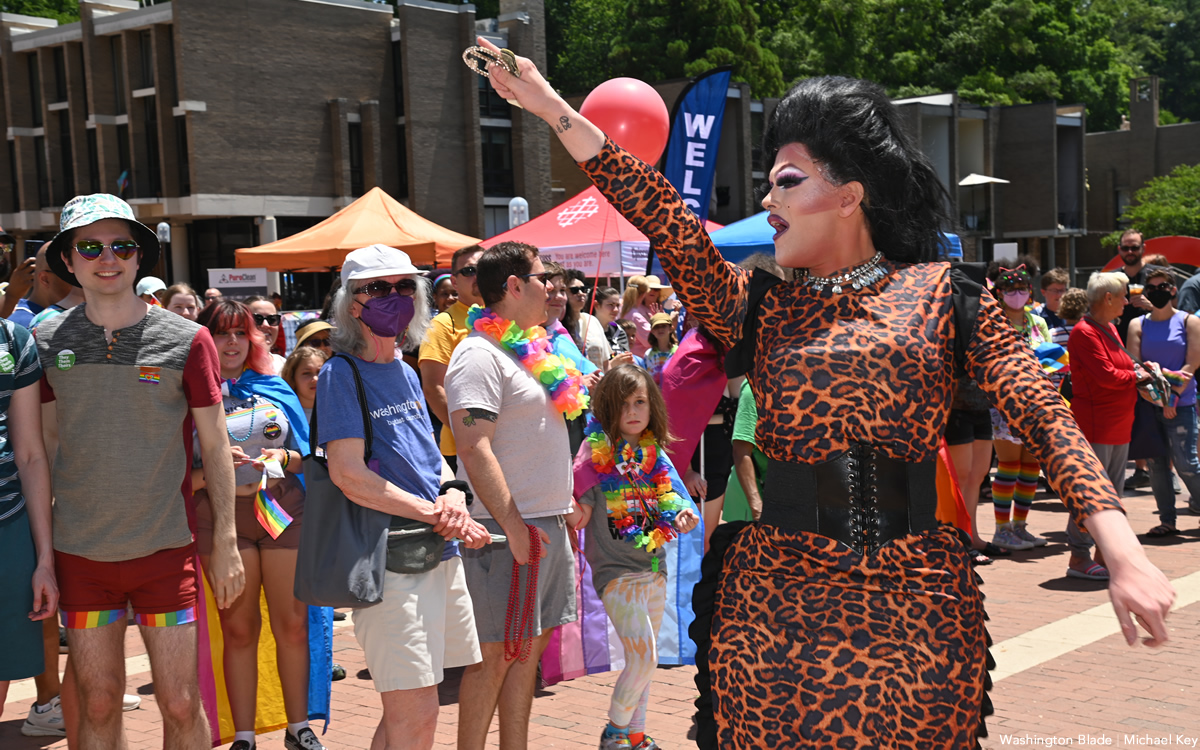 Ellicott City, Md. holds OEC Pride (visitoldellicottcity.com/events/oec-pride) on June 3-4 in Old Ellicott City. Events include a mascara run up and down Main Street and a movie presentation of "Priscilla, Queen of the Desert". 
Suffolk, Va. holds its third annual Suffolk Pride Festival (facebook.com/SuffolkPrideVA) on Saturday, June 3 from 5-8 p.m. at Bennetts Creek Park (3000 Bennetts Creek Park Road, Suffolk, Va.), according to the Facebook event page.
Portsmouth Pride Fest '23 (portsmouthprideva.com) is the second annual LGBTQ community celebration in Portsmouth, Va. The festival is to be held on Saturday, June 3 from 11 a.m. to 6 p.m. at the Portsmouth Festival Field next to Atlantic Union Pavilion, according to the Facebook event page.
The Alexandria LGBTQ Task Force presents the sixth annual Alexandria Pride (alexandriava.gov/LGBTQ) at Alexandria City Hall in Market Square of Old Town Alexandria, Va. (301 King Street) on Saturday, June 3 from 1-5 p.m.
Newport News, Va. has its first I Am What I Am (IAWIA) Pride Festival on Sunday, June 4 from 12-7 p.m. at Tradition Brewing Company (700 Thimble Shoals Boulevard, Newport News, Va.), according to the Facebook event page.
The 2023 Cumberland Pride Festival (cumberlandpride.org) will be held at Canal Place (13 Canal Street, Columbia, Md.) Sunday, June 4 from 12-4 p.m., according to the Facebook event page.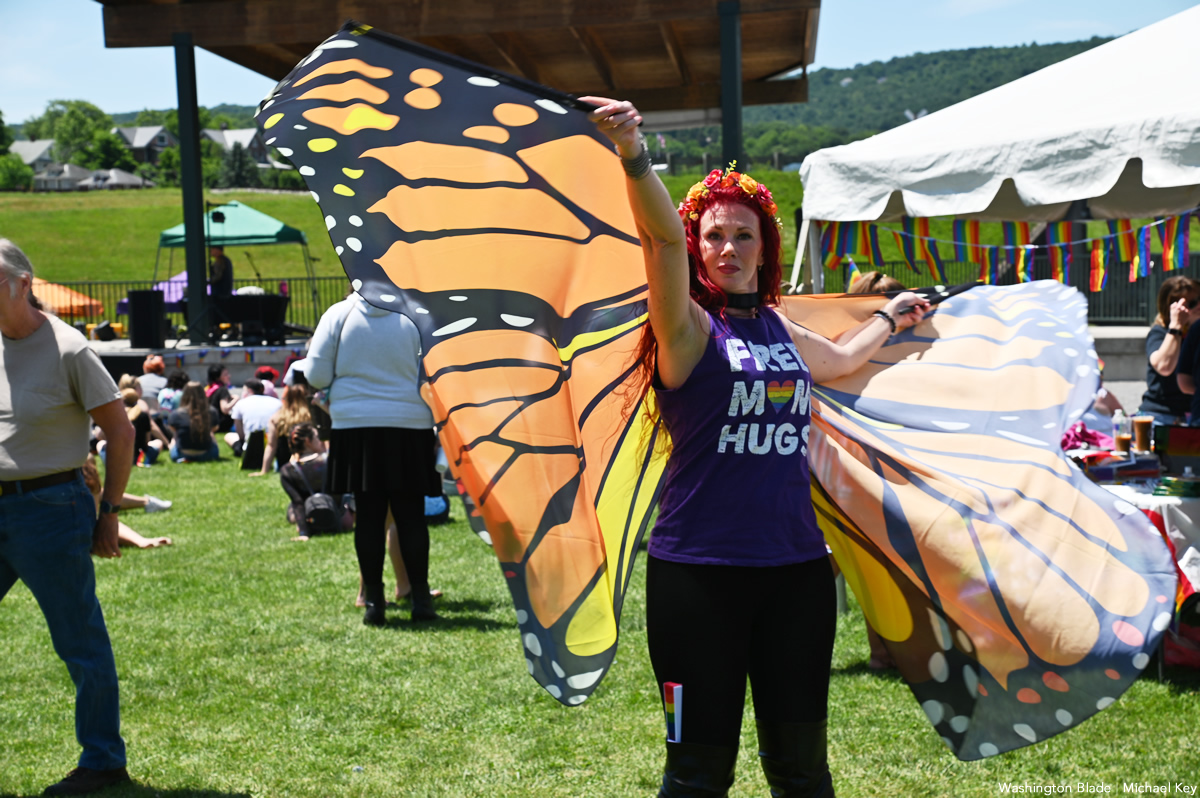 Culpepper County in rural Virginia will be getting its very first pride celebration with Culpepper Pride Festival (culpeperpride.com) on Sunday, June 4 from 12-5 p.m. at Mountain Run (10753 Mountain Run Lake Road, Culpepper, Va.). An after-hours 21+ drag show will be held.
Equality Loudoun's "Across the Decades" 2023 Loudoun Pride Festival (eqloco.com) will be held on Sunday, June 4 from 1-7 p.m. at Claude Moore Park (21668 Heritage Farm Ln, Sterling, Va.). This is a ticketed event with a $5 general admission.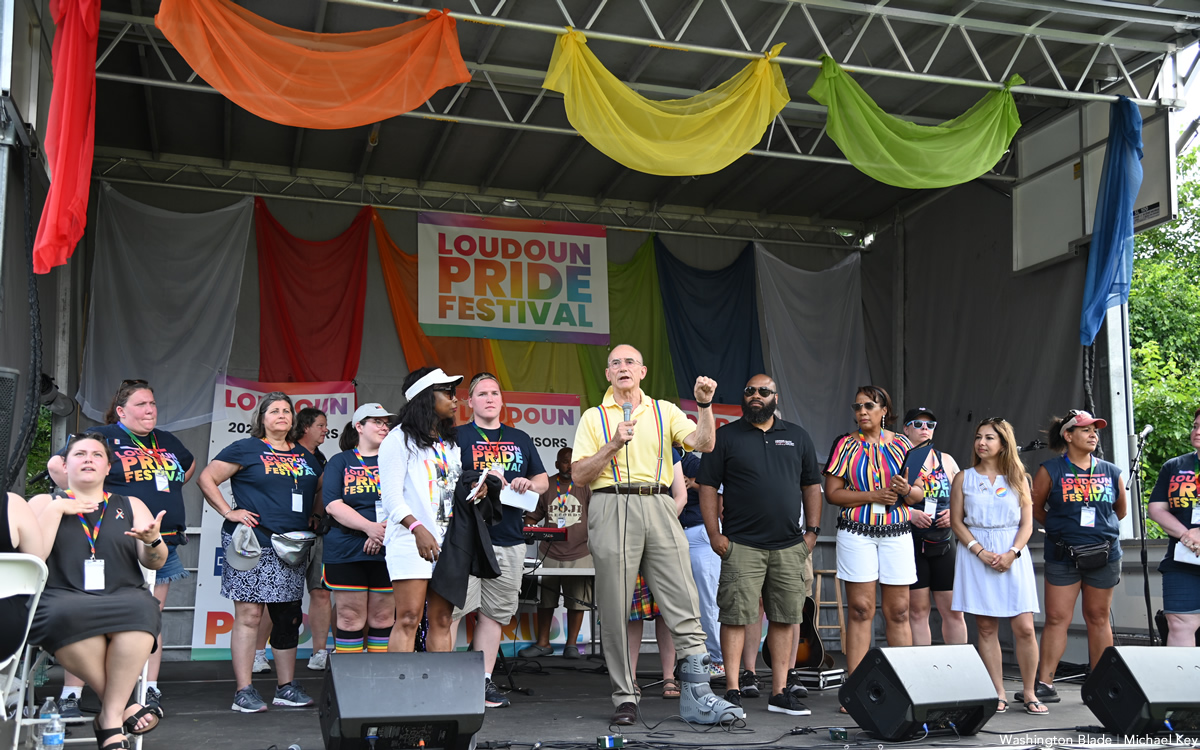 Delaware Pride (delawarepride.org) is being celebrated as a festival on Saturday, June 10 at Legislative Hall (411 Legislative Avenue, Dover, Del.) from 10 a.m.-5 p.m. according to the Facebook page.
D.C.'s massive Capital Pride (capitalpride.org) includes the 2023 Capital Pride Parade on Saturday, June 10 and the 2023 Capital Pride Festival on Pennsylvania Avenue on Sunday, June 11. On top of the many official events, there are a great number of parties in venues throughout the city over the week, including the not-to-be-missed Pride on the Pier and Fireworks Show, held 2-9 p.m. on Saturday, June 10 at the Wharf. There are two timed VIP sessions that include catered food and open bar. The region's only Pride fireworks display, sponsored by the Leonard-Litz Foundation, takes place at 9 p.m. Visit prideonthepierdc.com for tickets and information.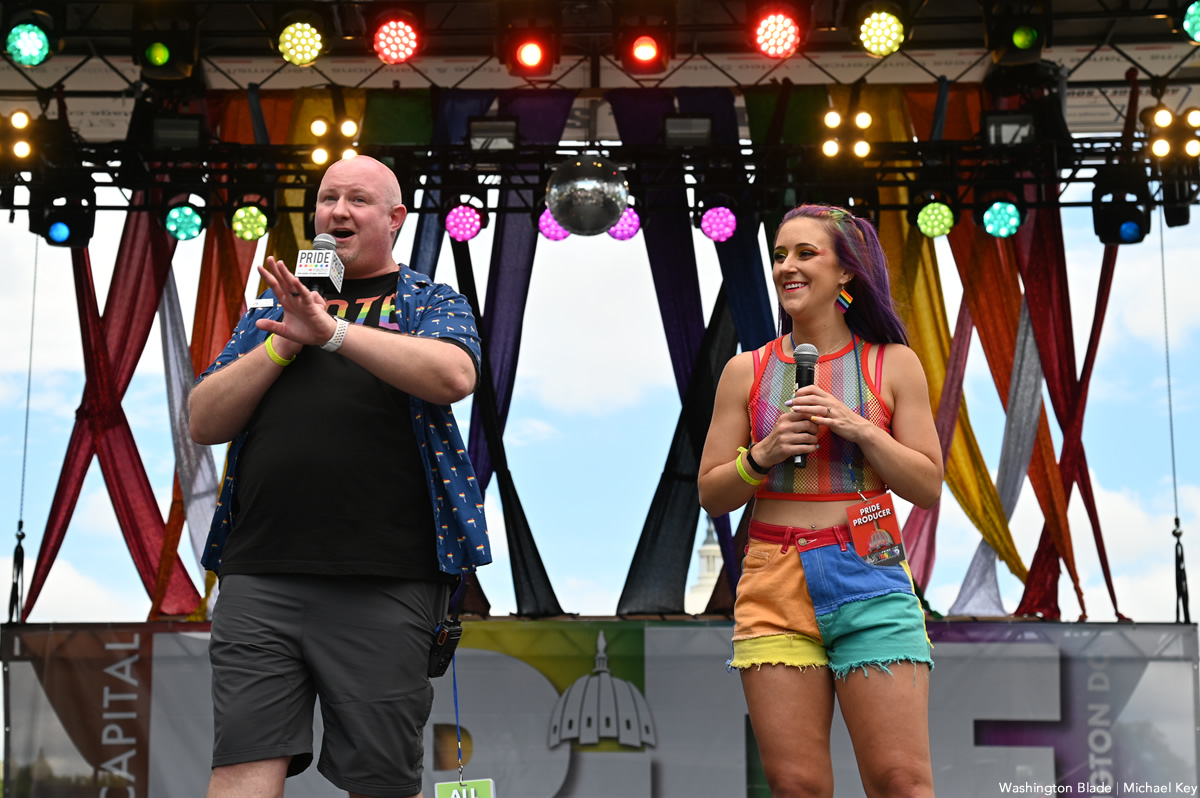 The Third annual Pride in the ViBe, will be held at ViBe Park (1810 Cyprus Avenue, Virginia Beach, Va.) on Sunday, June 11 from 1-6 p.m., according to the Facebook event page.
Scenic Chesapeake, Va. is the backdrop for Pride in the 'Peake 2023 at City Park Section B next to the basketball courts on Sunday, July 11, according to an allevents.in posting.
Eastern Panhanlde Pride is to be held on Saturday, June 17 from 12-5 p.m. in downtown Martinsburg, W.Va., according to EPP's Facebook page.
The Delmarva Pride Center presents DELAMRVA Pride (delmarvapridecenter.com) with events from June 16-18. The DELMARVA Pride Festival is to be held on Saturday, June 17 along South Harrison Street in downtown Easton, Md. Other events include a drag show and a Sunday brunch, according to the Pride Center's Facebook page.
The Ghent Business Association presents Ghent Pride "Party at the Palace Shops" on Tuesday, June 20 from 6-10 p.m. at The Palace Shops and Staton (301 West 21st Street, Norfolk, Va.), according to the Facebook event page. This is a ticketed event with general admission $13.
The Human Rights Commission of the City of Rockville holds the seventh annual Rockville Pride (rockvillemd.gov/2276/Rockville-Pride) on Saturday, June 24 from 1-4 p.m. at Rockville Town Square (131 Gibbs Street, Rockville, Md.).
Arlington Pride (arlvapride.com) holds events from June 23-25 that include a pageant, a brunch, a festival and an afterparty. The Arlington Pride Festival returns for its second year on June 24 from 12-7 p.m. at the Rosslyn Gateway Park (1300 Lee Highway, Arlington, Va.), according to the Eventbrite listing.
Fredericksburg Pride (fxbgpride.org) holds events throughout the month, but everything culminates in the Pride March and then Festival on Saturday, June 24. The Pride March is held at Riverfront Park (705 Sophia Street, Fredericksburg, Va.) at 10 followed by the Festival at 11 a.m.-5 p.m. at Old Mill Park (2201 Caroline Street, Fredericksburg, Va.).
The 10th anniversary Frederick Pride (frederickpride.org) is to be held at Carroll Creek Linear Park on Saturday, June 24 from 11 a.m.-6 p.m. with food, music, drag, vendors and more, according to the Facebook event page.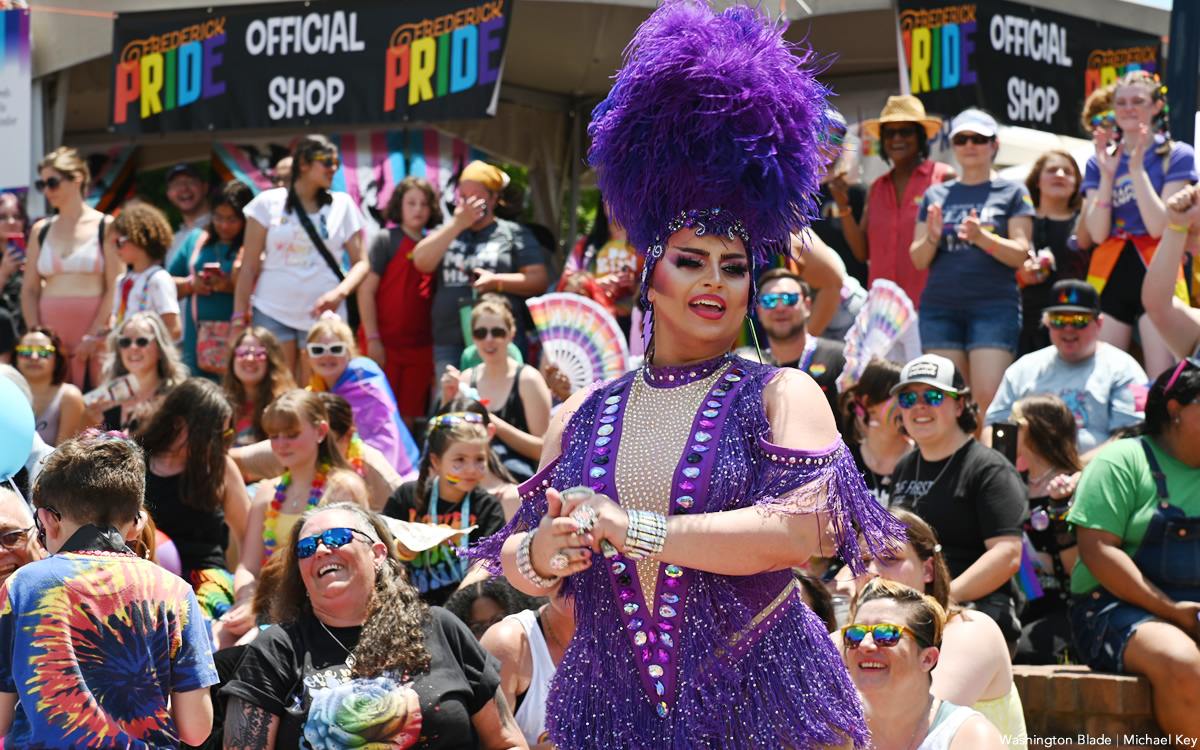 The Salisbury Pride (salisburyprideparade.com) Parade and Festival is on Saturday, June 24. The Parade begins at 2 p.m. at West Main Street and Camden Street. The parade moves along Main with the festival following the parade at 2:30. Magnolia Applebottom is the headliner and grand marshall, according to Salisbury Pride's Facebook page.
The "Break Free 23" Hampton Roads Pride (hamptonroadspride.org) is set for Saturday, June 24 at Town Point Park (113 Waterside Drive, Norfolk, Va.) and includes the famous boat parade.
The Pride Center of Maryland hosts a number of Baltimore Pride (baltimorepride.org) events June 19-25. The big events include the annual parade and block party on Charles Street on Saturday, June 24 and the festival at Druid Hill Park on Sunday.
July and beyond
You can look forward to LGBTQ pride celebrations in Harrisburg, Pa. and the Maryland towns of Hagerstown and Westminster as well as Black Pride RVA in Richmond, Va. in July. Other municipalities have decided to hold their pride celebrations a little later in the year. These pride events include Winchester Pride in Winchester, Va. (Sept. 9), Shenandoah Valley Pride in Harrisonburg, Va. (Sept. 16), SWVA Pridefest in Vinton, Va. (Sept. 16), Virginia Pridefest in Richmond, Va. (Sept. 23), TriPride in Johnson City, Tenn. (Sept. 23), Staunton Pride in Staunton, Va. (Oct. 7), Upper Chesapeake Bay Pride in Harve de Grace, Md. (Oct. 7), Pride Franklin County in Chambersburg, Pa. (Oct. 8) and Laurel Pride in Laurel, Md. (Oct. 14).
Self-identification: What the plus in 'LGBTQ+' means
Terminology rapidly expanding into mainstream dialogue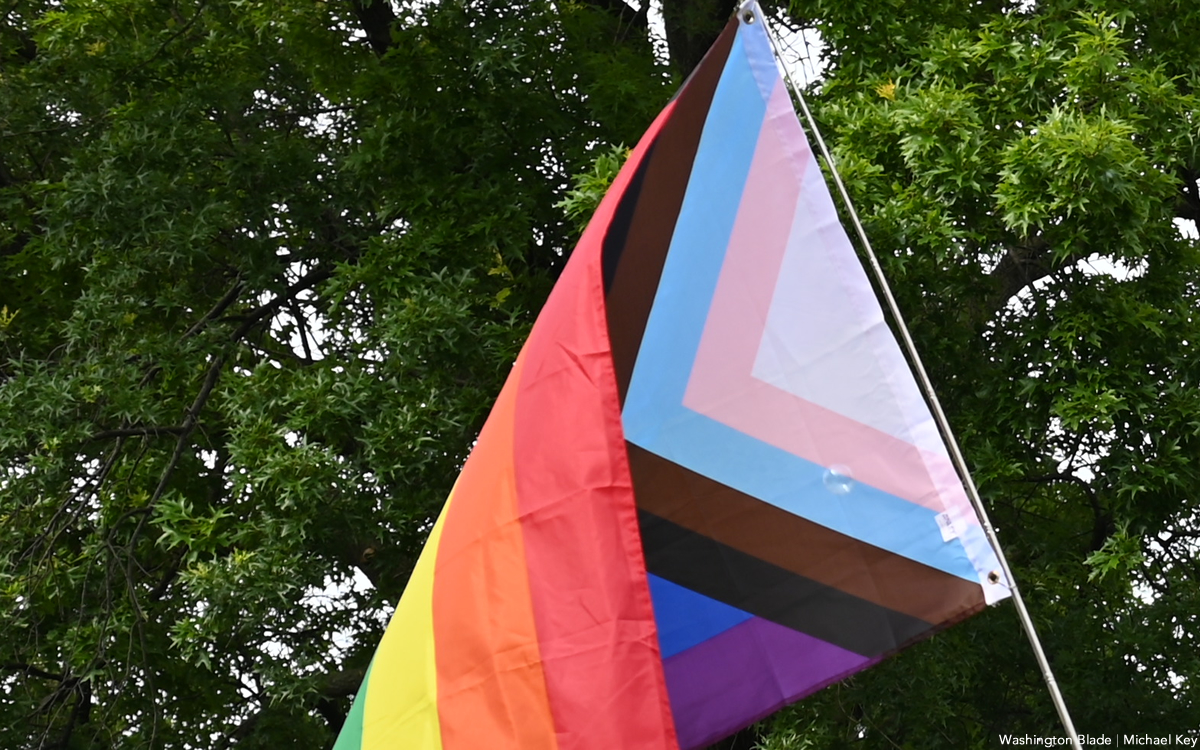 For a long time, many Americans refrained from talking about sexual orientation and gender identity because it was taboo. While these conversations are still uncomfortable for some people, others stay quiet simply because they're afraid of saying the wrong thing.
Among allies, there is fear that misgendering someone or misspeaking about another person's sexuality will be viewed as being less inclusive. Meanwhile, older generations, even those within the LGBTQ+ community, also struggle to keep up as terms beyond "LGBTQ" rapidly enter mainstream lingo.
In either scenario, the plus in "LGBTQ+" can be misunderstood. But as awareness of these terms continues to rise, it's important to know what they mean.
Below are some of the most popular but misunderstood terms of self-identification, compiling gender identities (one's concept of self as male, female, a blend of both or neither and what they call themselves) and sexual orientation (how one identifies in terms of whom they are romantically and/or sexually attracted to).
Asexual refers to someone who lacks a sexual attraction or interest in sexual activities with others. Often called "ace(s)" for short, asexual individuals exist on a spectrum, wherein someone can be completely or partially asexual, meaning they may experience no, little, or conditional sexual attraction to another person. Little interest in sex, however, doesn't diminish a person's desire for emotionally intimate relationships.
Cisgender, or simply "cis," describes a person whose gender identity aligns with the sex assigned to them at birth. The terms cisgender and transgender originate from Latin-derived prefixes of "cis," meaning "on this side of," and "trans," meaning "across from." Just as "trans" can be added to terms describing gender to identify someone as a trans-woman or trans-man, the same can be done to say cis-woman or cis-man to identify someone as adhering to the sex associated with their gender at birth.
Meanwhile, gender non-conforming refers to someone who doesn't behave in line with the traditional expectations of their gender. These individuals may express their gender in ways that aren't easily categorizable as a specific gender. While many gender non-conforming people also identify as transgender, that isn't the case for all gender non-conforming people.
Under the larger umbrella of gender non-conforming identity, non-binary describes a person who does not identify exclusively as a man or a woman. Non-binary people may identify as being both a man and a woman, somewhere in between, or completely outside of those labels.
Some non-binary people identify as transgender, but non-binary also references other identities such as agender (a person who does not identify as any gender), bigender (a person with two gender identities or a combination of two gender identities), genderqueer or gender-fluid.
Genderqueer people commonly reject notions of rigid categories of gender and embrace a fluidity of gender identity and sometimes sexual orientation. People with this identity may see themselves as being both male and female, or neither as they fall outside of binary gender norms. Gender-fluid is also within this range of non-conformity as these individuals don't identify with a single fixed gender.
In terms of sexuality, pansexual refers to someone with the potential for emotional, romantic, or sexual attraction to people of any gender. These feelings don't necessarily arise simultaneously or to the same degree, and sometimes the term is used interchangeably with bisexual.
More recently, the two-spirit gender identity has enjoyed more mainstream use. Chosen to describe certain North American Indigenous and Canadian First Nation people who identify with a third gender, the term implies a masculine and feminine spirit in one body.
Other gender expressions such as masc, referring to representations of masculinity without necessarily claiming a relationship to manhood, and femme, meaning expressions of femininity regardless of gender and relations to womanhood, are also used to describe how people dynamically express gender outside of gender norms.
Yet, just as terminology for self-identification is introduced, so are also new ways to describe how an individual feels about their identity. One term that everyone can relate to or aspire to have is gender euphoria – the joyful experience and sense of self that occurs when a person's authentic gender is expressed and acknowledged by themselves and/or by others.
Most importantly, though, LGBTQ+ people use a variety of terms to identify themselves, some of which may not be mentioned in this article. Always listen for a person's self-identification to use the preferred terms for them.
(The Human Rights Campaign and Johns Hopkins University contributed to this report.)