March 27, 2019 at 10:00 pm EDT | by James Wellemeyer
Gay University of Richmond law student running for Va. Senate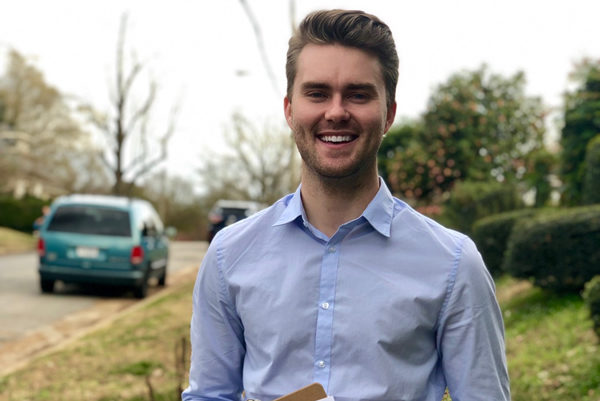 He comes from Southern California and has only lived in Virginia's 10th Senate District for seven months, but that hasn't deterred an openly gay 23-year-old law student at the University of Richmond from pursuing elected office.
Zachary Brown is hoping to unseat Republican state Sen. Glen Sturtevant (R-Richmond) in this November's election.
Brown says he was inspired to run by the wave of youth political activism that's sweeping the country.
"What inspired me is this new wave of leadership that's stepping up all across the country. And it's a really exciting moment for younger and more diverse voices," he said in a telephone interview with the Washington Blade.
Brown says "health care, public education and fighting for LGBTQ and women's rights" are the most important tenets of his platform. He sees universal health coverage as the ultimate goal and hopes to introduce a public option plan in Virginia to achieve that.
"There are too many people in Virginia who are choosing between paying for prescription drugs or buying their groceries," Brown said.
His health care proposal includes "a statewide public option plan to generate competition within the health care market, particularly against private insurance companies, which would dramatically reduce the costs not only of coverage but of prescription drugs overall." He told the Blade the plan, if implemented, would also be able to provide subsidies for those who cannot afford private insurance or the public option.
On education, Brown is hoping to fight for legislation that would entitle young people who come from families with an income of less than $85,000 to a tuition-free four-year public education in Virginia.
"If a high school student has the grades and the will but doesn't necessarily have the family resources to go to school, we want to support them as a state and making sure they can do that," Brown said.
Beyond education and health care, Brown has centralized LGBT equality as a key aspect of his campaign.
If elected, he will become the second openly LGBT senator in the Virginia Senate and will replace Sturtevant, who voted against adding sexual orientation and gender identity to the state's hate crimes law.
Brown says his priorities will be passing protections for LGBT individuals in housing and public employment as well as repealing the amendment in the Virginia constitution that defines marriage as between a man and a woman.
Though the 10th Senate District is currently represented by a Republican, Brown believes his progressive platform will be a strength for his campaign.
"The demographics of the district have been changing over the past decade from a much more conservative area to a much more liberal democratic area," Brown said. "The district went for Hillary Clinton, went for Tim Kaine, and now we're hoping to do the same thing in November."
He's also not worried about his age or the short amount of time he's lived in the district.
"Being of this new generation that is dealing with school shootings, that is dealing with global warming, and dealing with an economy that has a growing wealth gap, it provides me with that personal stake in the decisions that are being made," Brown said.
"People of all ages will know that when I step into the statehouse every day, I will be fighting for them like my future depends on it because it does," he added.
Asked about gaining trust from residents of a district he only recently arrived in, Brown said, "human issues are human issues."
"What I have seen from this district and from Virginia has a whole has been largely what a lot of Americans are feeling across the country," he said.
Brown has shaped his campaign proposals based on the conversations he has had with district residents and with his own family.
"My aunt is a public school teacher with a disability who struggles every single month to make her rent and has three roommates and struggles to pay for and struggles to collect on these disability benefits. So, these issues really touch home to me," Brown said.
If he wants a chance to face off against Sturtevant in the general election, he'll have to defeat Eileen Bedel and Ghazala Hashmi in the Democratic primary.
"What is really inspiring is that there are two women in this race who are bringing their own set of values and experiences to the table," Brown said of his two opponents.
Until June, he plans to continue knocking on doors and meeting the people he hopes will become his constitutes. But he says he will back the Democratic nominee regardless of the primary outcome.
"I will do everything in my power to make sure they get elected in November."