April 30, 2019 at 10:57 am EDT | by James Wellemeyer
Tensions overshadow Md. House speaker race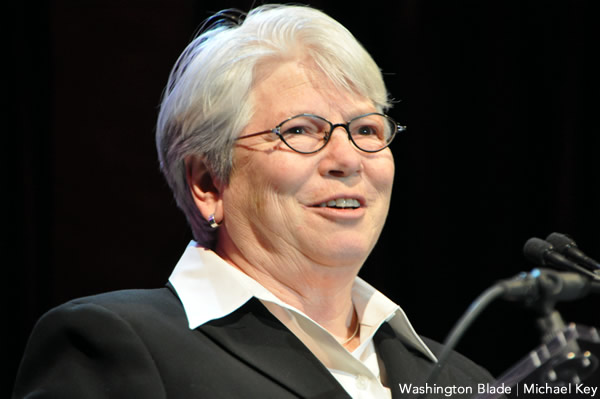 Drama is unfolding in the race for speaker of the Maryland House of Delegates with a vote scheduled for this Wednesday.
State Del. Maggie McIntosh (D-Baltimore City), who reportedly has enough Democratic lawmakers supporting her bid to win the race, is running against state Del. Dereck E. Davis (D-Prince George's County). Both are hoping to replace Michael Busch, the longest-serving speaker in Maryland's history who died three weeks ago.
Davis would become the first African American speaker if elected. McIntosh would become the first openly LGBT person and the first women to hold the position.
Tensions are high as the race nears a close.
State Del. Regina T. Boyce (D-Baltimore City) is resigning from Maryland's Legislative Black Caucus in protest of comments from state Del. Darryl Barnes (D-Prince George's County), who chairs the group.
In an email to Barnes obtained by Maryland Matters, Boyce accused the chair of saying, "We are going to let a white lesbian be the speaker of the House?" She called the comments "unacceptable and infuriating."
"I was ashamed and embarrassed that our caucus could be so obsessed with having a 'first black person' in leadership that they would tear down someone else to express that desire," Boyce wrote to Barnes. "The white lesbian is my district mate, Maggie McIntosh, a woman who has tirelessly supported me and so many others in the [General Assembly]."
Barnes said he had no intention of maligning McIntosh and rejects some of Boyce's assertions.
"I did not say that we would not support a white lesbian in a closed-door meeting. I never used those words," Barnes told Maryland Matters, adding that he holds McIntosh in "high regards."
"We are all concentrated on getting an African-American male to be the next speaker of the House," said Barnes in reference to Davis.
Davis currently serves as chair of the House Economic Matters Committee and has been a member of the House since 1995. During his time in the legislature, he has also chaired multiple other committees and served as deputy majority whip.
Among others, he has received the 2011 Maryland Clean Energy Centers Legislative Leadership Award, the 2010 Maryland Black Caucus Foundations Outstanding Leadership Award, and the 2002 Mothers Against Drunk Driving Award of Excellence.
"I want to foster collaboration among all parties," Davis said in a press conference on April 26. "I will work on behalf of the people that puts everyone on a more level playing field while also supporting an environment that's conducive and competitive to the business community."
"I'm not running for speaker to represent a single caucus," Davis added.
State Del. Adrienne Jones (D-Baltimore County), a member of the Legislative Black Caucus who is speaker pro tem, also launched a bid for speaker but dropped out a few days ago to support Davis.
If the vote goes to the House floor, some are speculating Republican members will be more likely to support the more centrist Davis. He has a path to victory if he receives some Democratic support and the votes of GOP lawmakers who say they will vote as a bloc.
McIntosh has criticized the idea of electing a Democratic speaker through Republican support.
"This has happened in two other states, and the outcome was a disaster," McIntosh told the Washington Post. "They lost the ability to get things done."
State Sen. Mary Washington (D-Baltimore City), a former delegate and the first openly LGBT person of color to be elected to the Maryland Senate, on Monday wrote on her Facebook page that she is "deeply frustrated and increasingly concerned with the tenor of the campaign to succeed the Honorable Michael E. Busch as speaker of the House."
She asserted both McIntosh and Davis's campaigns are responsible for the situation.
"Both have foregone any thoughtful discussion of how to reform, modernize and make the House of Delegates a more representative assembly, and instead have tried — in the crudest of ways — to subdivide its members by race, gender, sexual orientation, political philosophy and partisanship," Washington wrote.
The Washington Blade has reached out to both Davis and McIntosh for further comment on the race.