June 26, 2019 at 1:42 pm EST | by Joey DiGuglielmo
QUEERY: Gina Nicole Brown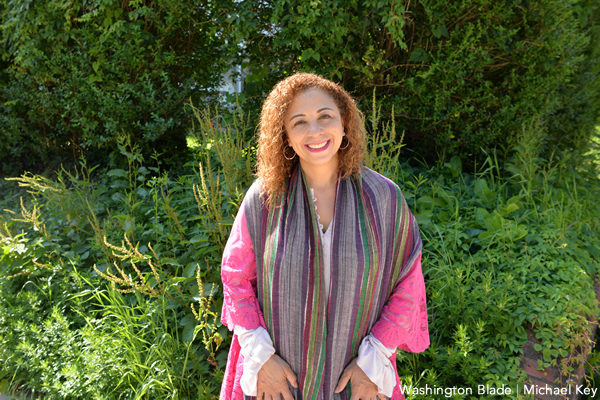 Though she's been doing standup longer than she's been putting out books, Gina Nicole Brown considers herself a writer first, then a performer.
"I don't really describe myself as a standup comic, but rather somebody who does standup comedy," says the 52-year-old bi, Rochester, N.Y., native.
She's been doing comedy off and on for six years.
"People have always said I was funny so I honestly just decided to do it one day," she says. "I wanted to see if my written thoughts got a pop in front of an audience."
They did, so she hasn't stopped. She took a standup class but says, like any craft, you "have to keep doing it to improve. It's not something you study for and take a test."
Her book "Teeth Should Not Be Optional: Random Thoughts from an Insomniac" came out last fall after a decision she made to more fully commit to her passion projects.
Brown will be one of the guests at "The Ask Rayceen Show" July edition on Wednesday, July 3 at 6 p.m. at the HRC Equality Center (1640 Rhode Island Ave., N.W.). It's free. The program will include the annual #AskRayceenPoetrySlam and a discussion of authors who will be at the OutWrite Book Festival Aug. 2-4. Details at askrayceen.com.
Brown is having a very Rayceen-alicious summer. She did standup at the June show, is on the panel for July and will be honored for her volunteer work at the August edition. Rayceen is always the first Wednesday of the month. Brown achieved Internet fame earlier this month when she won BuzzFeed's "Black Moms Try Other Black Moms' Soul Food" contest with her fried chicken and mac 'n cheese.
She's devoted her life to creative projects after 30 years in the corporate world and is working on a one-woman show now.
Brown is divorced and has two children, Gabrielle and Dominique. She came to Washington in 1985 for college. She lives in Chevy Chase and enjoys writing, theater and live music in her free time. She's on all major social media under her full name.
How long have you been out and who was the hardest person to tell?
I've been out since the early '90s, but I don't really have a dramatic story around it. I remember telling my mom, "Hey, I have a girlfriend so I think I might be a lesbian." She was like, "Oh, OK." If you want to talk to somebody, you can talk to X (referring to a family friend who was out). Then it never really came up again. And since I went back and forth between men and women, it was just a thing. I never really made a big deal about it and neither did anybody around me.
Who's your LGBTQ hero?
Ellen
What LGBTQ stereotype most annoys you?
As a bisexual, it's assumed we're all polyamorous or we're open to threesomes, foursomes or many-somes. There is nothing wrong with being poly or loving group activity, but I'm not into either and neither are all bisexuals.
What's your proudest professional achievement?
My book. I self-published (quelle horreur to traditionalists), and while it isn't a literary masterpiece (it's a book of quips), I did it myself through trial and error with Amazon's publishing site.
What terrifies you?
Not following my passion, but also following my passion. I don't want to leave this life never having made all attempts to pursue the life I envisioned for myself.
What's something trashy or vapid you love?
Watching "Claws." Let's be honest, the show is ridiculous and nothing about it is in any way realistic, but I dig it. I can't lie.
What's your greatest domestic skill?
Cooking is my best and possibly only good domestic skill. And I clean up after myself. I like a clean kitchen.
What's your favorite LGBTQ movie or show?
"The L Word." I wipe a daily tear from my cheek because the show isn't on anymore and nothing since has come close (there may be a pun in there, but I'm not sure). And "Pose," because duh.
What's your social media pet peeve?
"I'm so tired." That empty post. What am I supposed to do with that? Do I like it? Do I sad face it? We come out of the womb tired. Stop that nonsense. Or posting an article without a caption – so, you want me to weigh in on my thoughts for this controversial topic, but you have no opinion? If you post something, have a perspective.
What would the end of the LGBTQ movement look like to you?
A beautiful, fluid society where any being could live and love as they so choose.
What's the most overrated social custom?
Taking somebody else's last name. Or naming children Junior or the second or the third. I'm very big on being an individual and I'm not any less a part of you if our names aren't the same.
What was your religion, if any, as a child and what is it today?
I was raised (and confirmed) Episcopalian (ya know, Catholic without any of the rules). I guess I would say I'm still an Episcopalian, but I don't attend any sort of church. I find church walls very claustrophobic and I'm troubled by many extreme evangelicals' thoughts on love. They say God is love, but as my mother would say, actions speak a whole lot louder than words.
What's D.C.'s best hidden gem?
The original Thai X-ing on Florida Avenue (not the one on 9th). I'm not sure it's hidden, but it's a gem for sure. No menu. You have to be open to eating what's put before you. It's like going to somebody's house for dinner, but with many, many courses, and also the hosts don't talk to you. They just bring you food. The food is divine.
What's been the most memorable pop culture moment of your lifetime?
Laverne's L, Janet's nip slip.
What celebrity death hit you hardest?
Luther Vandross, Whitney Houston and Prince. I don't think Luther and Whitney could ever live as their true selves and that makes me sad. Prince was such an unparalleled talent that I miss all of what he brought to the music industry.
If you could redo one moment from your past, what would it be?
I spent three years with a domestic abuser. If I could remove that relationship and its associated PTSD, I would.
What are your obsessions?
The Oxford comma. Verb and subject agreement. My purse (don't ever touch it). My boots (all of them).
Finish this sentence — It's about damn time:
… we bring civility and decorum back to the White House.
What do you wish you'd known at 18?
Nobody really cares. They just don't. Find your tribe and do what you want to do. Make left turns. Get lost. And for the love of all that's good, stop participating in groupthink.
Why Washington?
For all its egotistical, self-centered, wonky ways, Washington has some really good people. On the surface, it seems very manicured and political, but if you dig a few layers down, you'll find there is depth here. The epidermis of every city, and its people, is that way. You have to make that initial cut into the skin and you'll see the blood of Washington.