July 8, 2019 at 9:18 am EDT | by Mark Lee
Democratic debates deflate gays, party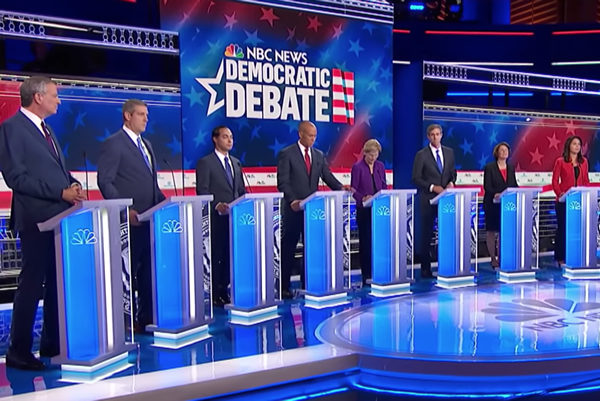 Campaign operatives at the Democratic National Committee should be grateful that not many Americans tuned in to witness the party's recent debacle of dual debates.
The twin episodes, broadcast on two consecutive nights, were a train wreck of both politics and performance. Dominant among both real-time and later-reflective observations by ordinary party supporters, as well as incumbent-disaffected independents, were reactions ranging between depressed and panicked.
Any thought that the top-20 presidential candidates allowed to participate would comprise a credible array of potential victors or convey a certain signal of prospective victory were quickly dispelled during a cumulative four embarrassing hours.
Although the second-night line-up set a record for Democratic presidential debate eyeballs, at 18 million viewers, that number fell far short of those watching both the first and second Republican debates in 2015 that captured the attention of 24 and 23 million viewers, respectively. The Democrats' first-night debate was viewed by only 15.3 million.
While pundits parsed the winners and losers for each night – and there were both – the common view from living-room televisions and personal mobile devices was decidedly downbeat. Strong was the reaction assessing these contenders as a lackluster group.
The debates were one of the worst collective political performances and controversial issue narratives presented to a modern mainstream audience. It came at a moment Democrats ached to restore confidence after the party's humiliating defeat in 2016.
Candidates seemed to forget they were addressing an entire nation and introducing themselves to a diverse electorate. Instead, they focused on fighting for support from the minority of party members eager to applaud leftist calls for much higher taxes and taking away the employer-provided private health insurance a large national majority enjoys and overwhelmingly wants to keep, while striking the most unpopular and nearly incomprehensible posture on immigration policies possible. It was a two-night kook-fest of radical issue pronouncements with scant resonance for voters.
While playing to the party's far-left activists may produce short-term gains in seeking the nomination, eventually "walking back" those extremist positions for the general election could prove nearly impossible. Sen. Kamala Harris, deemed to have possibly jump-started her languishing campaign, is ample proof of that. Harris immediately took to the airwaves the next morning to disavow for an incredible second time her again-indicated intention to eliminate private health insurance.
Producing ridicule among LGBT voters and occurring early the first night, long-shot contender and former HUD Secretary Julian Castro blurted out a commitment to inclusion of abortion rights for "a trans female." This declaration prompted viewers to scratch their heads in anatomical contemplation of whom he might be referencing. Chatter among gay wags dubbed Castro the "I believe in miracles" candidate, and his comment came across as a craven and awkward attempt to be the first to mention the LGBT community.
There was little additional overture to the "LGBTQ" on either evening, and consistently with that deer-in-headlights micro-pause typical of politicians bracing to correctly recite the acronym, especially when utilizing either queer-elongated or further-extended varietals. Passing reference to the "Equality Act" was made only once or twice among legislative litanies and a blur of demographic appeals.
LGBT voters over recent decades had come to mirror Hispanics when casting ballots, with upwards of one-third backing Republicans – particularly in congressional, state and local contests, and especially in non-presidential years. Current gay preferences have changed with the ascent of Donald Trump and a smaller percentage is presently inclined to support the GOP. For that reason, the public disappointment and political dismemberment resulting from the debates has noticeably deflated many in the gay community.
For party partisans and the LGBT voters desperately searching for an illuminated pathway toward ousting the current president they despise, the presentation of candidates at the debates promulgated a startling level of wariness and worry.
It's quite possible none of them can win.
Mark Lee is a longtime entrepreneur and community business advocate. Follow on Twitter: @MarkLeeDC. Reach him at [email protected].