BLADE 50: A 50-year gay love affair with cars
Long-time Blade autos columnist recalls adventures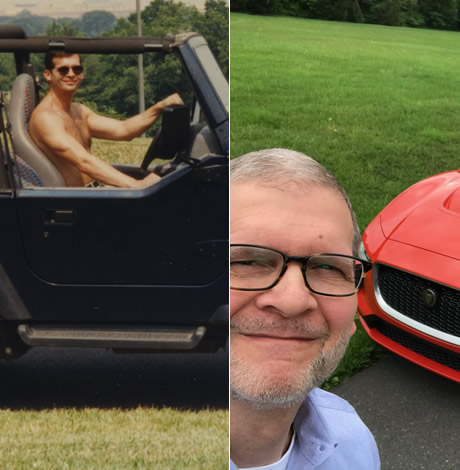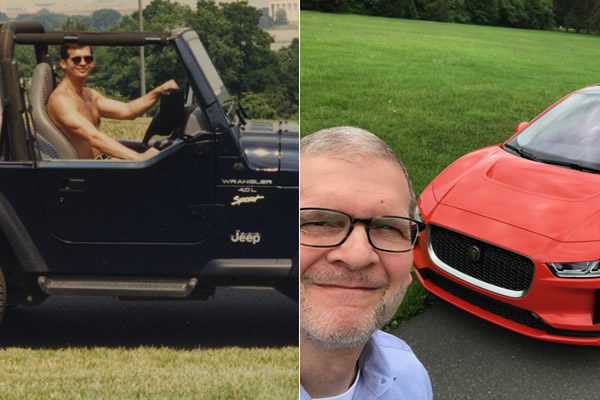 For almost two decades, I've written the monthly auto column for the Blade. Back then, I didn't know any gay publication that covered cars. That seemed a shame, considering all the gay gearheads out there.
My partner Robert — who could care less about horsepower and antilock brakes — broached the topic during dinner with the editor of the Blade at the time. We all had a story to tell about memorable cars and this jump-started the column. I soon found that Lynne Brown, who would later become publisher, loved cars as much as I did.
Since then I've reviewed all sorts of vehicles, from Jeeps to Jaguars. And no, I don't have a favorite (everyone always asks).
But then, how could I? There are hundreds of new vehicles arriving in showrooms each year, and they now include traditional hybrids, plug-ins, electrics, hydrogen fuel cell, various types of autonomous rides and the like. The list of gadgets has grown from one-touch windows, which now seem like no big whoop, to blind-spot monitors, massaging seats, self-parking systems, night-vision windshield displays and more.
Yet the thrill of anticipation when I get behind the wheel of a new car has stayed the same. Think butterflies before a first date.
Yes, there have been some absolutely fabulous rides: the first Mazda Miata in 1989, the 2000 Audi TT, 2005 Ford GT, 2016 Rolls-Royce Wraith and others. With many cars, my partner and I have driven across country to see family and friends. And our beloved dog (a 70-pound Rhodesian Ridgeback who loved riding in cars) had especially good taste — she preferred vehicles with deep rear seats, like the BMW 7 Series and Lexus LS.
Of course, there have been real clunkers. Most notorious was the short-lived Yugo in the early 1990s. Full of creaks and rattles, this econobox had the herky-jerky steering of a dumpy go-kart. I should have known better than to attend a ride-and-drive event with other journalists in Napa Valley, where Yugo execs started things off with a two-hour reception full of wine and little food. Only then were we sent off in test cars on narrow mountain roads. The assumption: We journalists would be so overcome with good cheer as to overlook all of a Yugo's foibles. This desperate tactic didn't work and, as it turned out, neither did the car.
Good or bad, the vehicles I remember most aren't necessarily the ones I've driven. That's because over the past half century there have been plenty of iconic cars in gay movies, TV shows, books and even concerts.
These vehicles, which moved me as much as the LGBTQ productions they were in, are a major reason I enjoy reviewing cars. With that in mind, here's a quick drive down memory lane to celebrate just some of them.
Liberace — Mr. Showmanship, who described himself as a "one-man Disneyland," would arrive onstage in flamboyant, chauffeur-driven cars, including a 1961 Rolls-Royce Phantom V (which also appeared in the 2013 HBO movie "Behind the Candelabra") and a crystal-covered roadster at Radio City Music Hall.
"Thelma and Louise" — Sure, this film has Susan Sarandon, Geena Davis and Brad Pitt. But the real star is the 1966 Ford Thunderbird that Sarandon and Davis drive across country and over a cliff into the Grand Canyon. A classic film with a classic car.
"The Adventures of Priscilla, Queen of the Desert" — This cult fave is renowned for its soundtrack as much as its positive portrayal of two drag queens (Hugo Weaving and hunky Guy Pearce) and a transgender woman (Terence Stamp) as they trek across Australia in a lavender tour bus named Priscilla.
"To Wong Foo, Thanks for Everything! Julie Newmar" — One year later, another film follows three drag queens (Wesley Snipes, Patrick Swayze and John Leguizamo) on a similar soul-searching road trip from New York City to Los Angeles. Their ride: a 1967 Cadillac DeVille convertible.
Subaru — The automaker targets the LGBT market — especially lesbians — when it features Martina Navratilova in ground-breaking TV commercials and print ads in 2000.
"The Birdcage" — In this movie, there are more cars than stars. A Lincoln Town Car ferries Gene Hackman, Dianne Wiest and Calista Flockhart to Miami Beach. Christine Baranski drives a BMW 325i convertible. Nathan Lane, dressed in a chic canary-yellow outfit from head to toe, gets behind the wheel of a matching 1957 Ford Thunderbird. And dozens of vehicles cruise past The Birdcage nightclub on Ocean Boulevard, including a Buick Roadmaster, Ford Mustang, Geo Tracker, Suzuki Sidekick and more.
"In & Out" — Tom Selleck drives a Ford Taurus when he stops to confront Kevin Kline and give him a big manly kiss. Debbie Reynolds and Wilfred Brimley show up in a dowdy Plymouth station wagon. And jilted Joan Cusack speeds off in a Toyota Camry.
"Will and Grace" — Grace inherits an old Chevy Citation from her Uncle Larry, sells it to charity, then tries to buy the car back from wisecracking Ellen DeGeneres as a nun who delivers cheesecakes.
"Queer as Folk" — In the first episode, Brian drives new boy-toy Justin to high school in a Jeep Wrangler. The car was vandalized the night before, with "Faggot" spray-painted on the side. But Brian doesn't care, and his defiance sets the tone for the rest of the series.
Cat on the Scent — Part of the Mrs. Murphy mystery series by Rita Mae Brown, Cat on the Scent features three sleuths — two cats and a corgi — who work together to drive a car.
"Brokeback Mountain" — Various trucks appear throughout the tragic love story, including Ford and GMC pickups from the 1950s and 1960s.
"Cars 3" — Finally, the Disney/Pixar franchise gets a butch lesbian. Lea DeLaria is the voice of Miss Fritter, a decked-out school bus, who is a force of nature at the demolition derby.
Smart rides for trying times
Two affordable options as supply dwindles and demand soars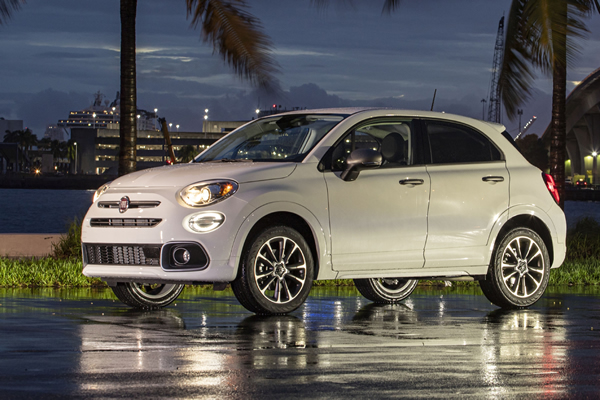 As if the pandemic, political discord and even cicadas weren't enough, now there's trouble brewing when trying to buy a new car. Parts shortages of computer chips, rubber, and other supplies mean new-vehicle inventory is down a whopping 40 percent. And with supply so low, demand is ratcheting up. So expect higher prices, along with fewer dealer and automaker incentives. But there are still opportunities out there. This includes opting for less popular models, such as coupes or sedans instead of hot-ticket SUVs and trucks. Or choosing niche models like the Fiat 500X or Mini Cooper Countryman. These two rather off-beat rides may lack the overall room and practicality of larger crossovers, but they perform nicely and are relatively affordable—at least for now.
FIAT 500X
$25,900
Mpg: 24 city/30 highway
0 to 60 mph: 8.7 seconds
Buying a Fiat is all about making a fashion statement, combining Italian flair with frugal pricing. The automaker's decision to reduce its lineup and focus on just one vehicle—the 500X subcompact crossover—only adds to the cachet. Everything about the 500X is charming, including the Lilliputian size, retro exterior and dazzling dashboard with interlocking display gauges. And the name of the base-model adds a bit of whimsy: Pop. There are three other trims—Sport, Trekking and Trekking Plus—but none of them is exactly racy or off-road ready.
Built on the same platform as the Jeep Renegade, the 500X handles fairly smoothly, at least on the freeway. The short chassis makes it difficult to glide over bigger bumps and potholes, and some body sway is noticeable on tight curves. With just 14 cubic feet of back-end cargo space, there's room only to haul some groceries and such. Still, the four-cylinder turbo engine is perky enough, and the standard all-wheel drive came in handy during a few unexpected downpours. The well-bolstered seats now have updated upholstery, and those funky circular headrests look like something from a Flash Gordon spaceship. There are a surprising number of safety features, including automated emergency braking, blind-spot monitor with rear cross-traffic alert, and lane-departure warning with lane-keeping assist. And warranty coverage is decent, though there is no complimentary scheduled maintenance. Sure, the 7-inch infotainment touchscreen seems tiny compared with larger displays in other crossovers. But those vehicles cost more, and at least the Fiat comes with smartphone integration and three USB ports. Options include a Beats stereo, heated seats, LED headlamps, front and rear parking sensors, and even a panoramic sunroof. Yes, there's plenty of personality here and also a decent number of amenities.
MINI COOPER COUNTRYMAN JCW
$42,400
Mpg: 23 city/31 highway
0 to 60 mph: 4.4 seconds
For a bit more room and a lot more vroom, there's the Mini Cooper Countryman. The base model starts at a very affordable $29,200. But the test vehicle that arrived for me to review was the souped-up JCW edition. While it's definitely pricey, this pocket rocket costs much less than high-performance crossovers from BWW or Mercedes. Yet it's just as blisteringly fast. The acceleration literally took my breath away, and the guttural exhaust rumble—which was downright primal—turned more than a few heads.
The Countryman is the largest vehicle in the Mini lineup, and for 2021 the exterior gets a tasteful refresh. This includes a flashier grille and bumpers, as well as the clever Union Jack design etched into the taillights. The JCW model boasts larger wheels, more form-fitting seats, rear spoiler and a sport-tuned suspension that helps transform this crossover into a tuner car. Along with keyless entry and power-folding mirrors, there's also a rear-view camera, ambient lighting and wireless charging. But while Apple CarPlay is available, Android Auto is not. As with the Fiat 500X, the high seating and deft placement of side pillars help with driver visibility. But the Countryman does offer a tad more legroom and rear cargo space. Either vehicle will do, though, if you're itching to toss in a few overnight bags to simply get away from it all.
Sport sedans make spirited return
Forget crossovers, these models are a thrill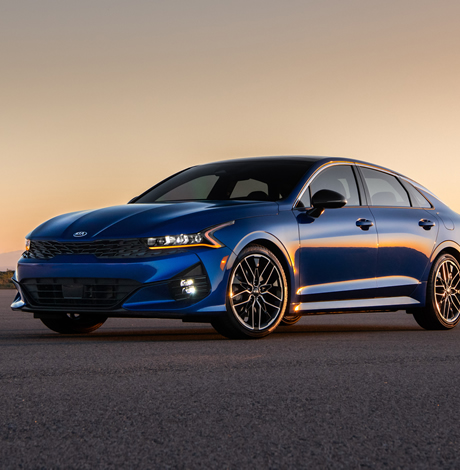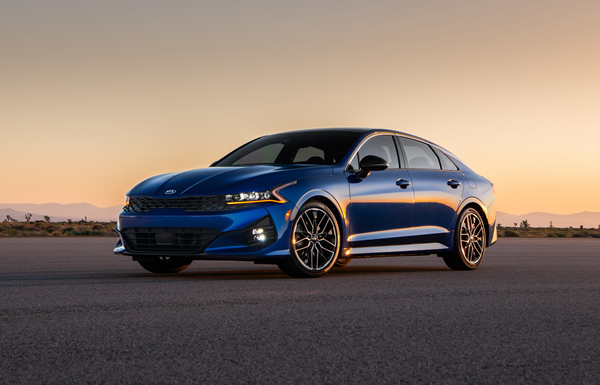 Remember four-door sedans? Once upon a time, they ruled the road. But today the buzz is all about crossovers and SUVs. Last year Ford phased out most of its sedans, and cars were only 8% of GM's retail sales. Case closed, or so it seemed. After recently testing the all-new Kia K5 and a restyled Mercedes E 450 for a week, I was blown away with how a true sport sedan—done just right—is still a thrill ride. Perhaps Nietzsche said it best: What doesn't kill you makes you stronger.
KIA K5
$24,000
Mpg: 29 city/38 highway
0 to 60 mph: 5.8 seconds
Gay magician Michael Carbonaro would feel right at home at Kia. The automaker keeps pulling rabbits out of the hat with dazzling vehicles at affordable prices. Such is the case with the all-new K5, which replaces the once-formidable Optima midsize sedan. Optima sales slid some 40% the past few years as consumers gobbled up crossovers, so Kia sprinkled pixie dust on the sheet metal to come up with styling that borrows heavily from the high-test Stinger muscle sedan. The result is a snotty-nosed grille on the K5, along with zig-zag headlights and a cascading rear that evokes a sexy fastback coupe.
Yet the base price is $10,000 less than a Stinger. The K5 also gets better gas mileage and comes with more standard safety gear, including automatic emergency braking, forward collision warning, driver attention warning, pedestrian detection and other goodies. There's even a rear-occupant alert—an audible reminder to check the backseat when exiting the vehicle—and a safe-exit system to prevent rear passengers from opening doors into vehicles approaching from behind. The base four-cylinder turbo is dandy, especially for daily commutes. But to unleash your inner speed demon, the GT model boasts a lustier engine, bigger brakes, sportier suspension and wider tires. No, this isn't a BMW 5 Series sedan, but the GT's ride and handling are close. The interior on all trim levels looks chic, with a sculpted dash full of user-friendly knobs and switches, tasteful wood trim and smartphone integration. Among the many options: all-wheel drive, heated/ventilated seats, ambient lighting, panoramic sunroof and a 10.25-inch touchscreen. I also enjoyed bopping to tunes on the premium 12-speaker Bose stereo, which benefited from an acoustic-laminated windshield that muffles outside noise.
MERCEDES E 450 4MATIC
$64,000
Mpg: 23 city/31 highway
0 to 60 mph: 4.3 seconds
If your queer eye craves lots of glitz and glamour, there's the Mercedes E 450. At almost three times the price of a Kia K5, this swanky sport sedan has a split personality: sportster wannabe versus luxe-like land yacht. Yet the vibe works, combining jazzier-than-expected styling with a boatload of amenities.
The effortless acceleration and engaging steering are sublime, especially when dodging potholes and wayward delivery trucks. And the richly appointed cabin brought miles of smiles during my first weekend getaway in over a year. A wraparound dash has two ginormous 12.3-inch screens: one for the digital instrument cluster and another for all the infotainment gizmos. You can even add augmented reality navigation, with turn-by-turn directions ala Waze. Other options include rapid-heat front seats, heated armrests and heated front center console, as well as a 360-degree bird's-eye camera, rear sunshade and Burmester surround-sound stereo with 23 speakers. The finely crafted seats are exquisite—and slightly erotic, with deep-massage functions that caressed and stimulated me in sinful ways.
Alas, some of the creature comforts are almost too high tech, like the touchy steering-wheel audio controls and numerous options for accessing and updating channels and presets. I finally got the hang of it after a few days, but it would have been nice if the infotainment system was more intuitive from the get-go. Still, such quibbles turned out to be minor. As with the Kia K5, the Mercedes E 450 was a real pleasure to drive. Despite—or because of—fewer sedans on the road these days, both rides were also turning a lot of heads. That's the power of retro rides, when everything old becomes new again.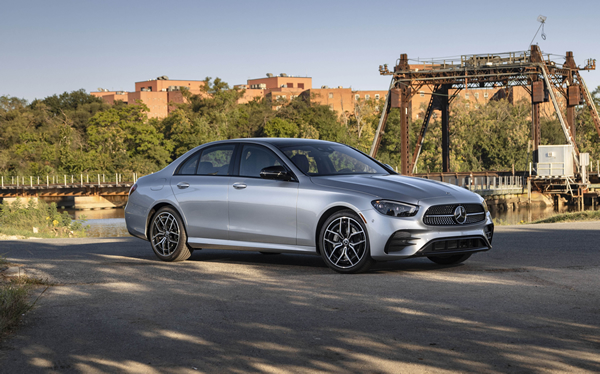 Driving away the winter blues
Nifty features, pleasant surprises in three crossovers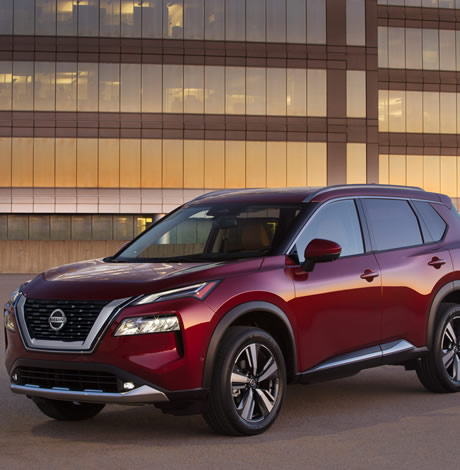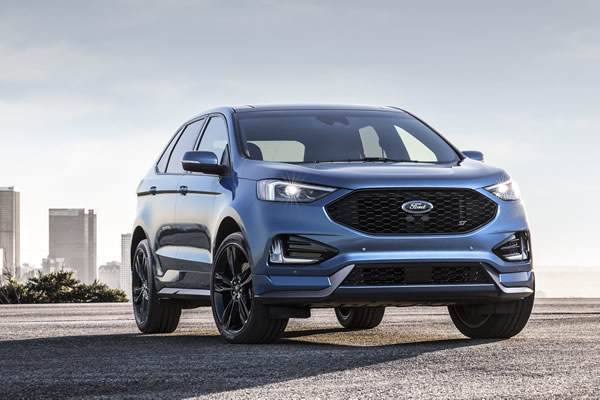 To help keep the winter doldrums at bay, I recently test drove three fun crossovers. All had plenty of nifty features, as well as a few pleasant surprises.
FORD EDGE
$32,000
Mpg: 21 city/29 highway
0 to 60 mph: 7.6 seconds
During these uncertain times, it's nice to know a Ford Edge offers steady reassurance. This five-seat mid-sizer is surprisingly quiet, with a comfy ride and precise steering. A base four-cylinder turbo is peppy enough, especially for in-town driving. But for more gusto, the sporty ST model—with a potent V6 engine, larger tires and firmer suspension—scoots from 0 to 60 mph in less than 6 seconds.
A major redesign a few years ago gave the Edge the snazzy exterior styling of an upscale Lexus RX. This year the updates are on the inside: 12-inch vertical touchscreen (the largest in its class) with smartphone compatibility, Wi-Fi hotspot, improved voice-recognition system and over-the-air software updates. Top safety scores are a plus, as is the adaptive cruise control, semiautonomous parking and 180-degree front-end camera. I loved the long list of options, even if they can be a bit pricey: all-wheel drive, heated/ventilated seats, heated side mirrors, power liftgate, panoramic roof and 12-speaker Bang & Olufsen premium stereo. For anyone needing a weekend away from the Washington scene, the Edge can tow up to 3,500 pounds—perfect for small campers and such.
KIA SELTOS
$24,000
Mpg: 29 city/34 highway
0 to 60 mph: 7.3 seconds
Looking for totally new versus tried and true? This year the Kia Seltos makes its grand debut, with "crown jewel" headlights, a tiger nose grille and a front end with vertical chrome lines inspired by—OK, wait for it—buffalo horns. At least that's how Kia designers describe the look of this funky subcompact crossover. Entering what is an already crowded market segment, the Seltos is based on the same refined platform as the popular Hyundai Kona. Both provide a composed ride and high-quality cabin at an affordable price. But while the Seltos has the same sure handling, it's also taller and roomier.
The base four-cylinder is certainly capable, but I was enamored with the extra oomph from the optional turbo engine. Gas mileage is almost the same anyway, and a top-of-the-line SX Turbo—fully loaded—is just $28,000. Keyless entry, tinted rear glass and smartphone integration are standard on all models. And depending on trim level, the long list of amenities includes heated seats, automatic high beams, sunroof, premium Bose audio and more, as well as the latest safety features. For me, the Seltos seemed to be a nice mix of style and substance, with a refreshing bit of whimsy.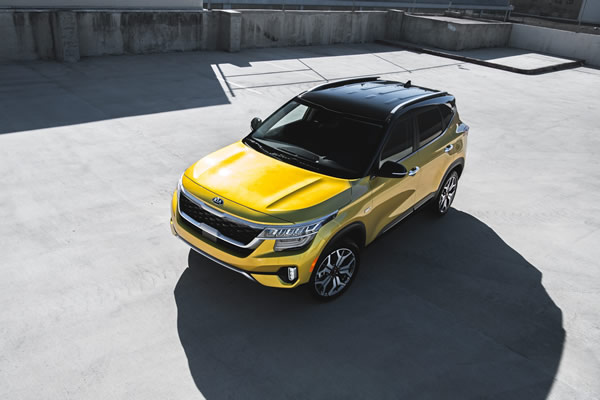 NISSAN ROGUE
$26,000
Mpg: 27 city/35 highway
0 to 60 mph: 8.1 seconds
It's been seven years since the Nissan Rogue was updated. That's an eternity in the auto biz. But this year the automaker's most popular vehicle gets an extreme makeover, with a glitzy new profile, freakishly thin headlights and racy rear spoiler.
With the ongoing hullabaloo about former Nissan Chairman Carlos Ghosn skipping out of Japan to avoid facing criminal charges, it's easy to forget that this company churns out very impressive and reliable vehicles. This includes the updated Rogue, with its zippy engine—tweaked for a bit more horsepower this year—and extremely smooth suspension. Those Zero Gravity seats were a pleasant surprise, as was the minimal body roll and solid braking. Inside, the cabin is now more upscale, with an almost BMW-like dash and acoustic glass in the windshield for a quiet ride. Standard gear includes remote keyless entry and rear parking sensors, as well as automatic braking, blind-spot monitor and lane-departure warning. Despite being 1.5 inches shorter than before, the updated Rogue has more rear-seat legroom.
Options include tri-zone climate control, large head-up display, floating 9.0-inch touchscreen and 12.3-inch digital gauge cluster. There's also wireless charging, Wi-Fi hotspot, front/rear heated seats and a panoramic moonroof. As for those rear-window sunshades, you likely won't find them on competing models—at least not in this price range.