October 18, 2019 at 2:27 pm EDT | by Joe Phillips
BLADE 50: A 50-year gay love affair with cars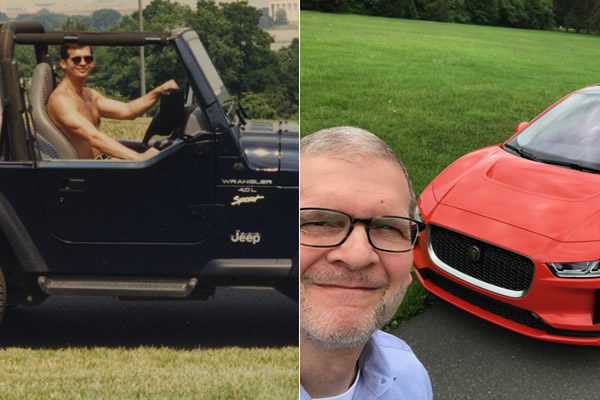 For almost two decades, I've written the monthly auto column for the Blade. Back then, I didn't know any gay publication that covered cars. That seemed a shame, considering all the gay gearheads out there.
My partner Robert — who could care less about horsepower and antilock brakes — broached the topic during dinner with the editor of the Blade at the time. We all had a story to tell about memorable cars and this jump-started the column. I soon found that Lynne Brown, who would later become publisher, loved cars as much as I did.
Since then I've reviewed all sorts of vehicles, from Jeeps to Jaguars. And no, I don't have a favorite (everyone always asks).
But then, how could I? There are hundreds of new vehicles arriving in showrooms each year, and they now include traditional hybrids, plug-ins, electrics, hydrogen fuel cell, various types of autonomous rides and the like. The list of gadgets has grown from one-touch windows, which now seem like no big whoop, to blind-spot monitors, massaging seats, self-parking systems, night-vision windshield displays and more.
Yet the thrill of anticipation when I get behind the wheel of a new car has stayed the same. Think butterflies before a first date.
Yes, there have been some absolutely fabulous rides: the first Mazda Miata in 1989, the 2000 Audi TT, 2005 Ford GT, 2016 Rolls-Royce Wraith and others. With many cars, my partner and I have driven across country to see family and friends. And our beloved dog (a 70-pound Rhodesian Ridgeback who loved riding in cars) had especially good taste — she preferred vehicles with deep rear seats, like the BMW 7 Series and Lexus LS.
Of course, there have been real clunkers. Most notorious was the short-lived Yugo in the early 1990s. Full of creaks and rattles, this econobox had the herky-jerky steering of a dumpy go-kart. I should have known better than to attend a ride-and-drive event with other journalists in Napa Valley, where Yugo execs started things off with a two-hour reception full of wine and little food. Only then were we sent off in test cars on narrow mountain roads. The assumption: We journalists would be so overcome with good cheer as to overlook all of a Yugo's foibles. This desperate tactic didn't work and, as it turned out, neither did the car.
Good or bad, the vehicles I remember most aren't necessarily the ones I've driven. That's because over the past half century there have been plenty of iconic cars in gay movies, TV shows, books and even concerts.
These vehicles, which moved me as much as the LGBTQ productions they were in, are a major reason I enjoy reviewing cars. With that in mind, here's a quick drive down memory lane to celebrate just some of them.
Liberace — Mr. Showmanship, who described himself as a "one-man Disneyland," would arrive onstage in flamboyant, chauffeur-driven cars, including a 1961 Rolls-Royce Phantom V (which also appeared in the 2013 HBO movie "Behind the Candelabra") and a crystal-covered roadster at Radio City Music Hall.
"Thelma and Louise" — Sure, this film has Susan Sarandon, Geena Davis and Brad Pitt. But the real star is the 1966 Ford Thunderbird that Sarandon and Davis drive across country and over a cliff into the Grand Canyon. A classic film with a classic car.
"The Adventures of Priscilla, Queen of the Desert" — This cult fave is renowned for its soundtrack as much as its positive portrayal of two drag queens (Hugo Weaving and hunky Guy Pearce) and a transgender woman (Terence Stamp) as they trek across Australia in a lavender tour bus named Priscilla.
"To Wong Foo, Thanks for Everything! Julie Newmar" — One year later, another film follows three drag queens (Wesley Snipes, Patrick Swayze and John Leguizamo) on a similar soul-searching road trip from New York City to Los Angeles. Their ride: a 1967 Cadillac DeVille convertible.
Subaru — The automaker targets the LGBT market — especially lesbians — when it features Martina Navratilova in ground-breaking TV commercials and print ads in 2000.
"The Birdcage" — In this movie, there are more cars than stars. A Lincoln Town Car ferries Gene Hackman, Dianne Wiest and Calista Flockhart to Miami Beach. Christine Baranski drives a BMW 325i convertible. Nathan Lane, dressed in a chic canary-yellow outfit from head to toe, gets behind the wheel of a matching 1957 Ford Thunderbird. And dozens of vehicles cruise past The Birdcage nightclub on Ocean Boulevard, including a Buick Roadmaster, Ford Mustang, Geo Tracker, Suzuki Sidekick and more.
"In & Out" — Tom Selleck drives a Ford Taurus when he stops to confront Kevin Kline and give him a big manly kiss. Debbie Reynolds and Wilfred Brimley show up in a dowdy Plymouth station wagon. And jilted Joan Cusack speeds off in a Toyota Camry.
"Will and Grace" — Grace inherits an old Chevy Citation from her Uncle Larry, sells it to charity, then tries to buy the car back from wisecracking Ellen DeGeneres as a nun who delivers cheesecakes.
"Queer as Folk" — In the first episode, Brian drives new boy-toy Justin to high school in a Jeep Wrangler. The car was vandalized the night before, with "Faggot" spray-painted on the side. But Brian doesn't care, and his defiance sets the tone for the rest of the series.
Cat on the Scent — Part of the Mrs. Murphy mystery series by Rita Mae Brown, Cat on the Scent features three sleuths — two cats and a corgi — who work together to drive a car.
"Brokeback Mountain" — Various trucks appear throughout the tragic love story, including Ford and GMC pickups from the 1950s and 1960s.
"Cars 3" — Finally, the Disney/Pixar franchise gets a butch lesbian. Lea DeLaria is the voice of Miss Fritter, a decked-out school bus, who is a force of nature at the demolition derby.