April 29, 2020 at 4:05 pm EDT | by Joey DiGuglielmo
QUEERY: Sean Holihan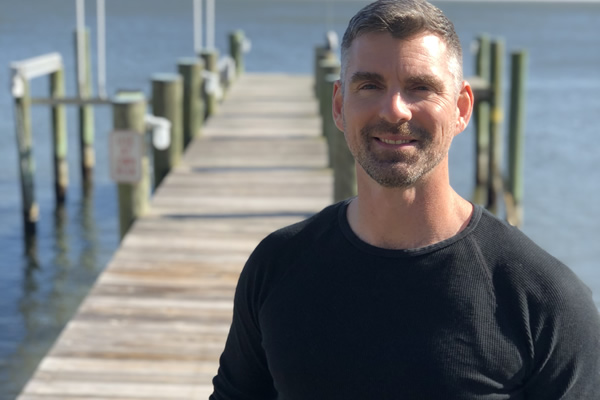 Editor's note: Doing something interesting or creative during lockdown? The Blade is always looking for compelling Queery subjects. To be eligible, the subject must be a D.C.-area resident, openly LGBTQ and someone who's never previously done it. Trans folks, queer women and people of color are especially desired. Send Queery suggestions to Features Editor Joey DiGuglielmo at joeyd@washblade.com and you or a friend could be in an upcoming issue!
For more than 25 years, RAINN (Rape, Abuse & Incest National Network) has provided critical support to survivors and their loved ones through the National Sexual Assault Hotline (800-656-HOPE or rainn.org).
As the primary provider of services in the U.S., RAINN takes a survivor-centered, trauma-informed approach to developing programs and services that support survivors of sexual violence and their loved ones and works to end sexual violence in all its forms.
After working with Camille Cooper, RAINN's vice president of policy, for more than a decade, Sean Holihan "jumped at the chance" to join the staff as policy manager just over a year ago.
Although RAINN does not track the sexual orientation of its callers, HRC has said LGBTQ youth are twice as likely to have experienced sexual dating violence or physical dating violence and that "many" of its callers are queer. The coronavirus lockdown is likely exacerbating the issue, Holihan says.
"For children quarantined with their abusers, stay-at-home orders have exacerbated abuse they are experiencing," the 39-year-old Norfolk, Va., native says. "History has shown that sexual and domestic violence actually increase during times of crisis or natural disasters, but because many victims are stuck at home, unable to get away from an abuser or even report that the abuse is happening, sexual assault exams are down during this time. Once stay-at-home orders are lifted across the country, we expect to see a large increase of reports, as well as calls to the National Sexual Assault Hotline and are working to ensure we can be there to support survivors at this crucial time."
RAINN was started by Scott Berkowitz in 1994. Singer/songwriter Tori Amos was RAINN's first spokesperson and continues to be involved.
Holihan worked previously as a communications and policy consultant with his husband, Danny Barefoot, at their small firm. Holihan came to Washington 11 years ago to work with the Democratic Party.
He's been isolating at home during the pandemic and says, "I've accepted that I can't change what's happening."
Highly active in D.C. gay social circles, Holihan says he's known "a handful" of friends and acquaintances who've had COVID-19 but "thankfully they've all recovered by now."
He lives in Shaw and enjoys baseball, video games, his cats, Pokemon Go and "binge watching old seasons of 'Drag Race'" in his down time.
How long have you been out and who was the hardest person to tell?
I came out when I was 17 as bisexual to my mom. All she said was, "Yeah sure, bi now, gay later." Never loved that sentiment, but she wasn't wrong.
Who's your LGBTQ hero?
Bayard Rustin. He was an out gay man who spent more than two years in prison as a conscientious objector to the draft, participated in the first Freedom Rides, helped desegregate the Armed Forces and worked alongside MLK Jr. for equality. This man is a legend.
What LGBTQ stereotype most annoys you?
I think I hate the idea that all gays are exclusive and mean to each other. Anyone and everyone CAN be mean to each other. However, if anything, I've found D.C. to be a great place for new people to make a family of their own.
What's your proudest professional achievement?
Over the years I've worked to help pass legislation that helped out-of-work fishermen create new careers as ship builders (long story), help people get protective orders against their abuser and ensure that victims of sexual assault had access to medical help.
What terrifies you?
Being alone in this world. I saw my Uncle Bobby suffer and die from AIDS when I was a kid. He passed without anyone to care for him except for my mom. It terrified me and made me think that's what living my life as an openly gay man held in store. I'm happy to say my life has turned out differently, but it's something that I still fear.
What's something trashy or vapid you love?
Miller Lite and the arcade game Buck Hunter.
What's your greatest domestic skill?
I am a pretty decent bartender.
What's your favorite LGBTQ movie or show?
Movie: "But I'm a Cheerleader" still holds up despite coming out in 1999. TV show: "Six Feet Under."
What's your social media pet peeve?
People commenting on other people's posts or tweets just to be a jerk. Why engage? Just keep scrolling.
What would the end of the LGBTQ movement look like to you?
A completely trans-inclusive country.
What's the most overrated social custom?
Right now, I guess I'd have to say shaking hands when you greet someone.
What was your religion, if any, as a child and what is it today?
I was baptized as a Methodist to get back at my Catholic grandparents. My grandparents made my mom marry my dad right before I was born to avoid the shame of having a baby out of wedlock. My parents divorced five years later and I haven't been religious in a long, long time.
What's D.C.'s best hidden gem?
So's Your Mom in Adams Morgan makes amazing sandwiches. Just give them your cash and get out because they don't take cards and you can't eat inside.
What's been the most memorable pop culture moment of your lifetime?
Gathering with my first group of gay friends in Virginia Beach, Va., to watch "Queer as Folk" before heading out to this bar called Ambush is probably something that will always stick with me.
What celebrity death hit you hardest?
I moved around a lot as a kid and instead of playing outside, I would watch a ton of "Saturday Night Live" reruns. I absolutely loved Phil Hartman. Hearing about his death hit me hard.
If you could redo one moment from your past, what would it be?
I dropped out of college to drive cross country and live in Berkeley for a short time with my brother and sister. It wasn't even that fun.
What are your obsessions?
This is going to sound so hokey but it's the people around me. I have an amazing group of people around me and I'm incredibly lucky to have them in my life. Not being able to see all of them at this time is a big reminder of that.
Finish this sentence — It's about damn time:
… baseball comes back.
What do you wish you'd known at 18?
To aim higher. It took me until I was 25 to realize I wanted to do more with my life than just scrape by.
Why Washington?
The most passionate group of people I've ever met.