July 28, 2020 at 3:15 pm EDT | by Chris Johnson
Inside the anti-LGBTQ candidate loss, declared win for gay candidate in NY-15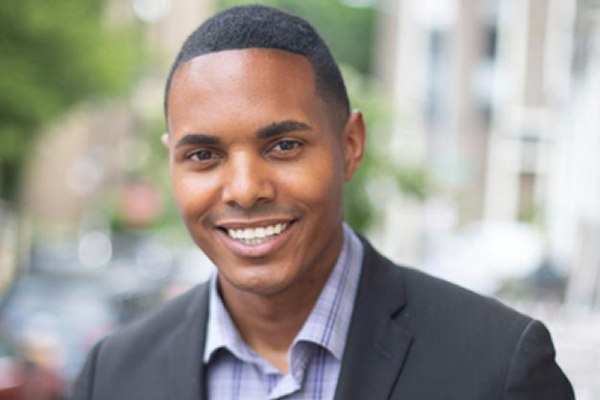 With Ritchie Torres declaring victory in the Democratic primary for New York's 15th congressional district, the New York City Council member appears on his way to becoming one of the first openly gay black men elected to Congress — but progressive advocates say that took a dedicated campaign to flip the script on his anti-LGBTQ, anti-abortion opponent.
Claims the New York City Council is "controlled by the homosexual community" and LGBTQ people are "cursed" were among the anti-LGBTQ views Bronx City Council member Ruben Diaz Sr. have expressed, making him a rare breed among Democrats.
As a state senator in New York, Diaz Sr. was the chief Democratic opponent of legalizing marriage equality in 2011. In addition, Diaz Sr. called New York the "abortion capital of the United States" and voted against pro-choice bills.
Although Diaz Sr. was initially in the lead in the crowded primary per early polls, the trend was reversed shortly before the June 23 primary, which cleared the way for Torres. Although the Associated Press has yet to call the race and the results aren't official, Diaz Sr. has announced his retirement from politics in the wake of the primary and Torres has declared victory.
"The counting is all but over," Torres tweeted. "On Primary Day, we were ahead by 4516 votes. As of yesterday evening, our lead had grown to 7803 (far larger than the # of uncounted ballots). Even if our nearest rival were to win every single one, we would remain ahead by a wide margin."
Progressive groups trumpeted the declared win by Torres as a victory for their values, asserting grassroots and digital efforts were responsible for changing the outcome of the race, which by early indications looked like a win for Diaz Sr.
Ben Needham, director of strategic initiatives in the policy and political affairs department at the Human Rights Campaign, said in an interview with the Blade the interest of progressive groups in the race "started a lot longer before the polling came out."
"We were looking at the candidates and where they stood on issues as they related to LGBTQ equality," Needham said. "And we came to the decision that Ritchie Torres was just the best candidate, as it related to the issues that we want to advance like the Equality Act, and other LGBTQ issues in Congress, and so that led to us making a decision to endorse Ritchie."
After a conversation with independent expenditure partner groups, Needham said progressive groups concluded Torres had a path to success, but a campaign against Diaz Sr. was necessary because it "didn't seem that people fully understood that he was a Democrat in name only."
A coalition of groups — Planned Parenthood Action Fund, LGBTQ Victory Fund, NARAL Pro-Choice America, Latino Victory Fund, the Congressional Hispanic Caucus BOLD PAC, Bend the Arc Jewish Action, Congressional Progressive Caucus PAC, Human Rights Campaign, Equality PAC and People for the American Way — launched in May a social media-focused campaign on the record of Diaz Sr.
A chief component of this campaign, Needham said, was a background document on Diaz Sr.'s' "bad rhetoric and bad votes around LGBTQ issues around women's reproductive rights" developed by the Human Rights Campaign's research team, which was highlighted in video ads on social media.
"We had a ton of equality voters in the district, and these are people that said they would vote for a candidate based on their stance around LGBTQ issues," Needham said. "And so, we took the process of communicating with Diaz Sr. and making sure that people understood his record, but also making sure people understood that Richard Torres was going to be an advocate for the LGBTQ community, not just because he was part of our community, but because of his record as well."
Lucas Acosta, a spokesperson for the Human Rights Campaign, said the social media post from the campaign had 1.1 million imprints and 417,000 on Facebook alone.
The amount of money allocated for the campaign, Acosta said, was a "5-figure buy and our largest expenditure in any race outside the presidential this cycle," but he declined to give an exact figure.
Initial polling found Diaz Sr. was favored to win the primary. A Data for Progress poll earlier this month showed Díaz receiving 22 percent of the vote from likely voters and Torres with 20 percent. The next three closest competitors, all progressives, received support from just six percent of likely voters.
Bronx United, a political action committee, had similar data in April, finding Diaz was favored to win the primary by at least double digits, taking home nearly one-third of the vote.
But a subsequent memo on the primary results from Bronx United noticed a change in Diaz Sr.'s trajectory as the race went on, crediting that with negative press on the candidate's anti-LGBTQ views.
"This relentless onslaught of negative press and active social media pushback on his events and antics helped freeze any last-second political support Diaz Sr. may have picked up during the home stretch of the race," the memo says. "The effort also exposed his shady tactics. In the end, Diaz Sr. could not hold a single event without Bronx United monitoring it and hammering him for improprieties."
The shift became apparent on the night of the election, when early results showed Torres had won the primary and media outlets predicted he was on his way to Congress. According to initial results with 40,791 ballots cast, Torres has won with 30.5 percent, followed by New York Assembly member Michael Blake with 19.4 percent and Diaz Sr. with 14.8 percent.
Needham said with primary voters disaffected with Diaz Sr., they naturally were drawn to Torres, in part because of the charismatic way he engaged with the district amid civil unrest over the death of George Floyd.
"I think if you just saw Ritchie Torres out in the streets with advocates, calling for reforms to the policing and saying 'Black Lives Matter' really sort of resonated with voters in that district," Needham said. "And so I think it was a combination of everything, but I do think that we had to tell the story of Diaz's record but also tell the story of why Ritchie Torres was the better choice."
But the results are still not yet official. A New York Board of Elections spokesperson told the Blade about two-thirds of ballots cast in the state primary were absentee ballots, which is an unprecedented amount, and when counting will be done is "impossible to say." An Associated Press spokesperson said Friday the media outlet is awaiting the "results of mail-in ballots from the Bronx, which have yet to be released" before making the call.
Jenny Lawson, executive director of Planned Parenthood Votes, was among the progressive activists nonetheless saying it's clear based on the known results that the pro-choice candidate has come out on top.
"New York primary voters delivered a resounding message: When politicians come for our reproductive rights, we'll leave them behind at the ballot box," Lawson said. "Rubén Díaz Sr.'s record of opposing abortion and LGBTQ+ rights is way out of step with the voters of New York's 15th congressional district."
New York's 15th congressional district is heavily Democratic, so the winner of the primary is basically assured the seat in the U.S. House. As a result, Torres, who's Afro-Latino, seems on his way to becoming one of the first openly gay black men elected to Congress. Upon claiming his seat, he'll share that distinction with Mondaire Jones, who's on his way to Congress after a win in the Democratic primary to represent New York's 17th congressional district.
While a change in the trajectory of the NY-15 primary is apparent, which factors exactly are responsible for the result are up for debate. One political analyst had a different take on the primary and said the fall of Diaz Sr. was more the result of his ties to President Trump, rather than his anti-LGBTQ, anti-choice views.
David Wasserman, House editor of the Cook Political Report, said the role progressive advocates played was more about the fundraising end of the campaign.
"Although Diaz Sr.'s views on abortion and LGBTQ rights helped Torres raise money and draw attention to the race in D.C. and more progressive corners of the country, social issues were absent from most of the paid communications in the district," Wasserman said. "Instead, Torres and his allies used the money they raised from progressives to highlight Diaz's praise for President Trump. They calculated that attacking Diaz Sr. over Trump, rather than gay rights, would resonate in the Bronx and in the end, that strategy looked like it worked."
Sean Meloy, senior political director for the LGBTQ Victory Fund, said, however, he doesn't think the impact of the campaign highlighting Diaz's anti-LGBTQ and anti-choice views was "mutually exclusive" from the campaign tying him to Trump.
"We also showcased that he wouldn't say if he would vote for the Democratic nominee over Donald Trump," Meloy said. "That's all capsulated in the idea that he's way too conservative for the district, and you really don't know where he's going to be in a moment when people really need to know if you're going to be against Donald Trump."
Whatever the combination of causes, Diaz Sr. has acknowledged defeat in the primary and announced shortly afterward he'd retire from politics, saying he'd "follow the example of my two sons," one biological, one figurative, who both declared the end to their political careers.
According to the news website AMNY.com, Diaz Sr. in his parting message said in the past three years he "had to defend my principles, values and faith, while being a 'punching bag' by friends and foes alike."
In contrast to Diaz Sr., whose win as a Democrat would have been a slap in the face to progressives, Torres' expected election and seating in the U.S. House will expand the number of openly gay members and mark a historic first for gay Black Americans.
Meloy said Torres's expected election to the U.S. House is important not only because he'd be the first openly gay Black man elected to Congress, but he would be a "testament to building the pipeline."
"That's going to be important to our community as we continue to build a pipeline of diverse folks that appropriately represent our country moving up and entering Congress," Meloy said. "I think it's also really important around the ideas of what our country actually looks like, right? He's Black and Latino, and he's gay."