Rufus Gifford gets nod to become State Dept. chief of protocol
Gay Biden supporter was ambassador in the Obama years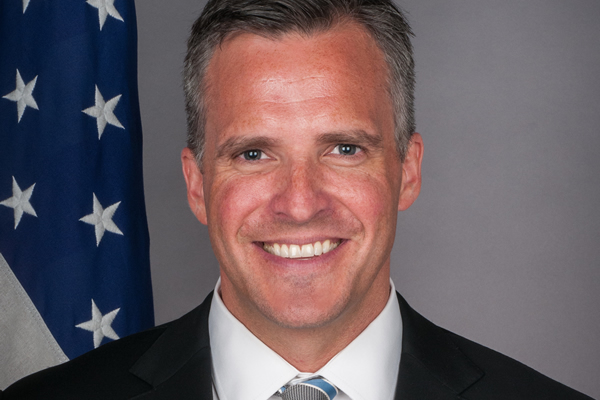 Rufus Gifford, who was one of seven openly gay ambassadors during the Obama administration before becoming an early supporter of President Biden in the 2020 campaign, has officially obtained the nod for the position as State Department chief of protocol.
A White House announcement on presidential nominations on Friday lists Gifford as one of three new picks for upcoming roles in the Biden administration. Each of the nominations is subject to Senate confirmation, including Gifford's.
Gifford's nomination was expected. The media outlet Axios reported in January Gifford would obtain the nomination as chief of protocol for the State Department. The official is responsible for being on the front-lines of engagement in U.S. foreign policy, which means being the gateway between foreign leaders and the president.
For example, Gifford would likely be a point person between Biden and Vladimir Putin for their upcoming summit next month in Switzerland, making an openly gay man the face of the United States for a country in talks with a leader who has rolled back LGBTQ rights and looked the other way from violence against LGBTQ people in Chechnya.
No stranger to foreign policy, Gifford served during the Obama administration as U.S. ambassador to Denmark, a role he obtained after his work as a fundraiser for the Obama campaign and the Democratic National Committee in the 2008 and 2012 elections.
During the 2020 presidential primary, Gifford early on endorsed Biden for president and became a top adviser and deputy campaign manager for the campaign.
According to his White House, Gifford is actively engaged as a civil society leader and has promoted and sponsored a variety of organizations, including UTEC in Lowell, Massachusetts, the LGBT History Museum in New York, the Human Rights Campaign and the Provincetown Center for Coastal Studies in Provincetown, Mass. Gifford received a bachelor's degree from Brown University in 1996. 
D.C. LGBTQ community reckons with anti-Blackness, gentrification after Nellie's incident
Preston Mitchum among those calling for boycott of U Street bar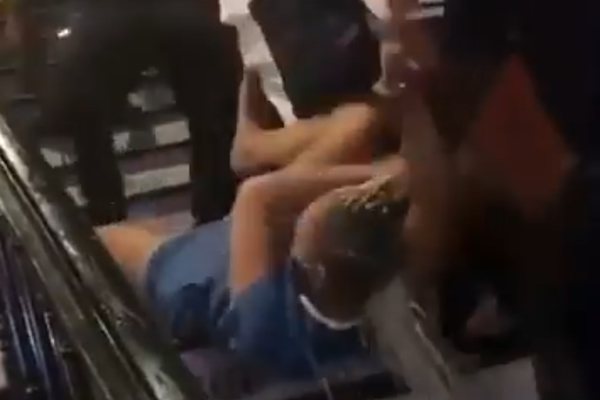 A video posted to Twitter earlier this month showed a member of Nellie's Sports Bar's security detail dragging Keisha Young, a 22-year-old Black woman, down the stairs by her hair after confusing her with a different customer who had reportedly tried to sneak liquor into the bar.
The video went viral, attracting massive online attention, including from Mayor Muriel Bowser and many others. A second video that appears to show an altercation between Young and other patrons seconds before security dragged her down the stairs has also emerged.
"Obviously, entrepreneurs enforce rules in their restaurants, but they're not allowed to assault anybody," Bowser told the Washington Post. "If that's a matter for the Metropolitan Police Department, we'll take it up."
In a Facebook post that has since been deleted, Nellie's responded to the surfacing of the video.
"We were incredibly upset and disturbed to see the unfortunate event that took place at Nellie's last night," referring to the June 12 incident. "We are undergoing a full investigation of the situation. At Nellie's, we foster an inclusive and safe environment, so events like this are completely unacceptable to us."
The statement garnered negative reactions online, forcing Nellie's to issue a follow-up statement, part of which read, "We offer a heartfelt apology to all who witnessed the horrific events of the past weekend … Nellie's will be closed this week as we evaluate this regrettable situation."
Since Nellie's closed and a protest in solidarity with Young was staged outside the bar on June 13, the queer community has been forced to reckon with what some describe as Nellie's history of racist practices, as well as D.C.'s increasing gentrification.
Accusations of racism at Nellie's are not new. Whitman-Walker Health in a June 15 tweet noted the incident that involved Young "is not the first time we have heard calls for respect for Black patrons of Nellie's Sports Bar." The Capital Pride Alliance in its statement about what happened to Young said Nellie's response "will impact the CPA's relationship with Nellie's."
"Over the years, the culture [at Nellie's] became one that seemed hell-bent on pushing Black patrons out and making it a bar more for straight people and white gay men. In fact, [owner] Doug Schantz has gone on record calling his bar 'straight-friendly'," said Preston Mitchum, director of policy for Unite for Reproductive and Gender Equality (URGE) and a former avid Nellie's patron. 
Mitchum moved to D.C. in 2011 and started frequenting Nellie's because of its reasonably priced drinks, which "sounded good" to him as a then-25-year-old professional.
On the alleged racial profiling at Nellie's, Mitchum added, "I noticed that when more Black people went, particularly on Sundays, security increased. That always felt peculiar because Friday and Saturday nights were packed and had less security, based on observation. Staff also paid minimal attention to the interactions [between] white patrons. In short, there were many racist interactions and drunken behavior, and no one moved a muscle."
Mitchum also claims that Black patrons were treated poorly compared to white customers in similar situations. He recalls incidents in which police officers were called on Black patrons and they were kicked out whereas many white patrons received warnings or "had fights broken up."
Nellie's in 2018 was embroiled in controversy over its display of a Blue Lives Matter flag on social media.
FOX 5 reported Nellie's claimed to display the flag in support of LGBTQ officers who were "attending a meeting in a welcoming space." However, many on social media were enraged by the display of the flag, which is viewed as opposing the Black Lives Matter movement, which hinges on advocating for victims of police brutality, and more importantly, reforming or abolishing the police and replacing it with community security efforts to reduce instances of racial profiling and Black deaths.
As a Black customer invested in making Nellie's safer for him and the rest of the POC queer community, Mitchum said he participated in a number of measures to help change the culture at Nellie's.
In a Facebook post published on his page, Mitchum wrote, "Myself and others have written letters, did interviews, conducted 'sensitivity' trainings, met with the owner, and even planted ourselves as observers to document our experiences."
The efforts, however, were in vain, as according to Mitchum, Schantz did not take the efforts seriously.
For instance, Mitchum in June 2017 met with Schantz and his manager to discuss the issues at Nellie's and to draft solutions moving forward. The meeting proved futile as Mitchum notes in a letter to Schantz, made public on social media, that among others things, asserts that Mitchum experienced rudeness from Schantz's manager and that Schantz uttered statements with racist undertones.
"I have revisited our conversation many times and I'm still unsure of the purpose of your manager at our May 30 meeting. Not only did it create an attacking atmosphere of two-on-one, she was your 'yes woman' thus another person to shut down my opinion because it didn't jive with both of yours," penned Mitchum.
Mitchum added, "I hope you can genuinely realize that you equated hip-hop music (that uses "fuck" and the N-word) to violence … there is no valid statistical proof that creates a casual relationship between rap music and violence. Even as I pressed this fact, your response (as well as your manager's) was 'it's his/my bar' so you can play any music you like."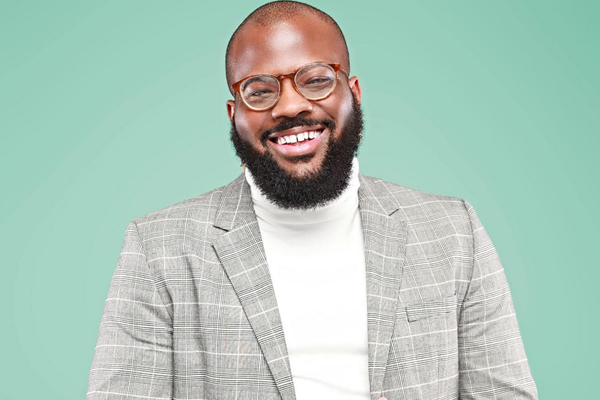 Given the lack of change in culture at Nellie's and the recent incident involving Young, Mitchum and others have called for a boycott of the bar.
A protest was staged outside Nellie's on June 13.
The Georgetown Voice reports that Nee-Nee Taylor, co-conductor of Harriet's Dreams (a Black-led community defense organization) said, "we ask the people to protest and boycott Nellie's because the owner, who is a white man, don't care about Black women."
The Georgetown Voice also reports that Mitchum, who was present at the protest, "accused Nellie's of relying on the business of Black patrons and gentrifying the local community while failing to care for its Black employees and patrons."
As Mitchum reflects on how venues safe for Black LGBTQ people are disappearing, he mentions, "What was once 'Chocolate City,' we now see a city hovering around 50 percent Black. That's intentional. I live a few blocks from U Street and anyone need not to be in the area to understand just how much the landscape has shifted."
Regarding places to frequent now, Mitchum recommends Mr. Braxton's Bar and Restaurant; Hook Hall; BIN 1301; and Fireplace.
The Washington Blade has reached out to Schantz for a response to Mitchum's allegations but did not receive a response.
Michael K. Lavers contributed to this story.
Transgender immigrant activists march to White House
Marchers demanded end to ICE detention of trans, HIV-positive people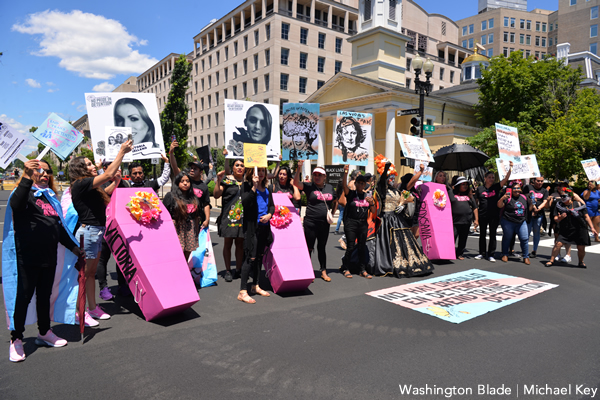 More than 100 people marched to the White House on Wednesday to demand the Biden administration end the detention of transgender people and people with HIV/AIDS in U.S. Immigration and Customs Enforcement facilities.
Casa Ruby CEO Ruby Corado and other marchers left National City Christian Church in Thomas Circle after organizers held a "funeral" for three trans women — Roxsana Hernández, Victoria Arellano and Johana "Joa" Medina Leon — who died while in ICE custody or immediately after the agency released them.
Hernández, a trans woman with HIV from Honduras, died in a hospital in Albuquerque, N.M., on May 25, 2018, while in ICE custody. Arellano, a trans woman with HIV from Mexico, passed away at a hospital in San Pedro, Calif., while in ICE custody.
ICE released Medina, a trans woman with HIV from El Salvador, from its custody on May 28, 2019, the same day it transferred her to a hospital in El Paso, Texas. Medina died three days later.
Hernández's family has filed a lawsuit against the federal government and the five private companies that were responsible for her care.
Isa Noyola, deputy director of Mijente, one of the immigrant advocacy groups that organized the march, emceed the "funeral." Noyola played a message that Hernández's nephew in Honduras recorded.
"The state does not recognize our humanity," said Noyola, who became emotional at several points during the service.
A press release that announced the events said 25 trans women who had previously been in ICE custody participated. They, along with other participants, blocked traffic at the intersection of 16th and H Streets, N.W., near Black Lives Matter Plaza for several minutes before they marched into Lafayette Square.
March participants also carried three pink coffins that represented Hernández, Arellano and Medina. They propped them up on a security fence along Pennsylvania Avenue before they staged a die-in.
The march took place a week after Mijente and seven other immigrant advocacy groups in a letter to Homeland Security Secretary Alejandro Mayorkas and acting ICE Director Tae Johnson demanded the release of all trans people and people with HIV who are in immigrant detention facilities.
The White House on Tuesday announced asylum seekers who saw their cases closed under the previous administration's "Remain in Mexico" policy will be allowed to enter the U.S. in order to pursue them. Vice President Kamala Harris, who traveled to Guatemala earlier this month, has also acknowledged anti-LGBTQ violence is one of the "root causes" of migration from Central America's Northern Triangle.
'Our only crime is to seek opportunities, to seek refuge'
Li An "Estrella" Sánchez, a trans woman from Mexico's Veracruz state who the U.S. has granted asylum, is among those who participated in the march.
She told the Washington Blade during an interview in Lafayette Square after the march that she spent 13 months in ICE custody at three Georgia detention centers — the Atlanta City Detention Center, the Irwin County Detention Center and the Stewart Detention Center — before her release in 2013. Sánchez, who founded Community Estrella, an Atlanta-based organization that advocates for ICE detainees who identify as LGBTQ, said she and other trans ICE detainees face inadequate access to health and solitary confinement, among other things.
"I know first hand what they felt," said Sánchez, referring to the three trans women who died in ICE custody or immediately after their release. "I wouldn't wish it upon my worst enemy to be in a jail."
"Our only crime is to seek opportunities, to seek refuge, to seek protection, to seek security," she added.
Sánchez also had a message for President Biden.
"Listen, because the people are continuing the fight," said Sánchez. "You have promised to support the LGBT community and you are really forgetting the immigrant community."
Kamala Harris addresses LGBTQ community activists at White House roundtable
VP calls herself 'long-standing ally of the community'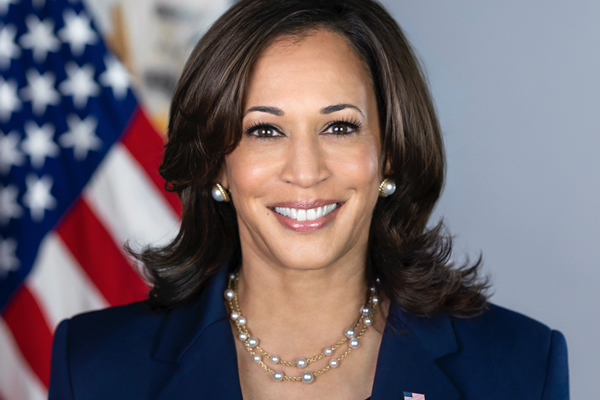 Vice President Kamala Harris addressed LGBTQ leaders Wednesday at White House roundtable in recognition of Pride Month, declaring "there's a lot of work to be done" in terms of LGBTQ issues.
"You as community activists, you all have your eyes and ears to the ground," Harris said in her prepared remarks for the event, which took took place in the Ceremonial Office of the Vice President next to the White House.
Harris, speaking in her prepared remarks that lasted about five minutes, touted the efforts of the Biden administration in advancing LGBTQ rights, including the most recent announcement from the Department of Veterans Affairs it would begin to cover gender reassignment surgery for transgender veterans.
Looking forward, Harris said passage of the Equality Act, legislation that would expand the prohibition of anti-LGBTQ discrimination under federal law, was among the work items to be completed.
"We still don't have full rights when it comes to employment, housing — things of that nature," Harris said. "So there's a lot of work to be done."
Harris, calling herself a "long-standing ally of the community" also identified her past efforts in support of LGBTQ community, going back her time as San Francisco District Attorney when she created for an LGBTQ hate crimes unit, then as California attorney general pushed the state to become the first to outlaw LGBTQ panic defense in court.
"You are the voices of so many who probably will never walk into this room, and probably over the course of time were not thought to be invited into this room," Harris concluded.
Harris also talked about ongoing violence against the transgender community as well as the wave of new state legislatures against transgender youth, restricting their access to school sports and transition-related care.
The LGTBTQ leaders in attendance at the event were, per the White House:
Imani Woody, Founder, Mary's House
Amiri Nash, DC Youth Poet Laureate
Marcelle Afram, Chef and Co-Owner, Shababi Palestinian Rotisserie Chicken
D Ojeda, Policy Advocate, National Center for Trans Equality
Mia Ives-Roblee, Director of Disability Justice Initiative, Center for American Progress
Anthony Musa, Chair, Pride in Federal Service & Sanctions Licensing Officer, U.S. Department of the Treasury
Kevin Jordan Contreas, Community Health Supervisor, Whitman-Walker (Frontline Healthcare Worker)
The Washington Blade attempted to shout out a question after Harris' remarks on efforts to reach out on the Equality Act, but it was drowned out by other reporters' inquiries as White House staffers escorted the pool out of the Ceremonial Room.