'And Just Like That,' season one is wrapped
Despite imperfections, an entertaining blend of story and representation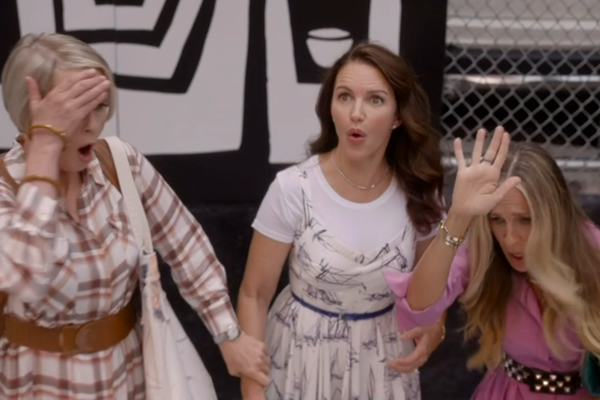 (Note: This article contains spoilers.)
In Billy Wilder's 1959 masterpiece "Some Like It Hot," Osgood Fielding III proposes marriage to Daphne (Jack Lemmon). "Well, nobody's perfect," Osgood says after Daphne reveals that he's Jerry, a man.
Nothing is ever perfect.
Though I can't help but wonder (as Carrie Bradshaw would say) how perfect "And Just Like That," the "Sex and the City" revival would have been if only Wilder had been at the helm.
"And Just Like That," the HBO Max series, recently released its first season finale.
As of this writing, it's not known if the show will have a second season. Variety has reported that Michael Patrick King, the series' executive producer, writer, and director, and Sarah Jessica Parker, who stars in the show as Carrie Bradshaw, are interested in continuing the series. "Definitely, yeah," Parker told Variety, "there feels like there's momentum."
"Sex and the City" fans looked forward to the revival with a mixture of anticipation and dread.
We missed writer and shoe-aficionado Bradshaw (Parker); lawyer Miranda Hobbes, (Cynthia Nixon); art dealer and docent Charlotte York-Goldenblatt (Kristin Davis); and public relations pro and force of nature Samantha Jones (Kim Cattrall).
We had fond memories of their husbands and boyfriends (especially, Carrie's Mr. Big, Charlotte's Harry, Miranda's Steve and Samantha's Smith).
Every self-respecting "Sex and the City" fan fondly remembers how much Charlotte and Miranda enjoyed the vibrator affectionately named "the Rabbit" and how Samantha loathed "funky spunk" and fantasized about "Father Fuck."
Yet, we worried: How would these fab characters fare 17 years after the 2004 "Sex and the City" series finale? After all, "Sex and the City" premiered more than two decades ago.
When I reviewed "And Just Like That" for the Blade after it was released in December, only two episodes of the show had streamed. "The reboot has its awkward, clunky, annoying moments, but shows glimmers of tenderness, wit, and promise," I wrote then.
"Sex and the City" and the two movies made of the series (the first mediocre, the second unspeakably bad) have been rightly criticized for being too white, too hetero, bi-phobic and transphobic. (Think of Samantha's relationship with a stereotypically depicted Latina lesbian or when Carrie ditches a date because he's bisexual.)
The creators of "And Just Like That" took this criticism to heart. There are people of color, including the talented Samantha Irby and Keli Goff, in the show's writers' room. "And Just Like That" has characters who are people of color, LGBTQ+ as well as POC and queer.
As I watched the series' first two episodes, I, thought the show had an interesting, provocative premise, but, at times, wondered if "And Just Like That" should have been created.
For starters, because Cattrall didn't want to be in it, Samantha is absent from the series. The show's other characters, new and old, are wonderful. Yet, "Sex and the City" without Samantha is like the solar system minus one of its planets. No new planet could replace it.
Then, at the end of the first episode, Big, in his 50s dies from a heart attack after a workout on his Peloton bike.
The "Sex and the City" women, now in their 50s, talk about aging endlessly. They seem bewildered by everything from podcasts to ebooks.
Yet, the sterling performances of the actors, particularly, Sara Ramirez as Che Diaz, the "queer, nonbinary, Mexican-Irish diva," a podcaster, Miranda's love interest and Carrie's boss, compelled me to watch the series to its end.
What I discovered was a rarity for TV: 50-something women grieving, lusting, loving, laughing and changing (everything from their professions to their sexuality and gender identities). The show is a feast for party-animals – featuring everything from a "they mitzvah" with a trans rabbi to a surprise wedding to a Diwali celebration.
"And Just Like That," despite its imperfections, is an entertaining blend of story and representation.
A queer-friendly year for the Emmys – almost
One glaring problem? Chapelle's aggressively transphobic "comedy" special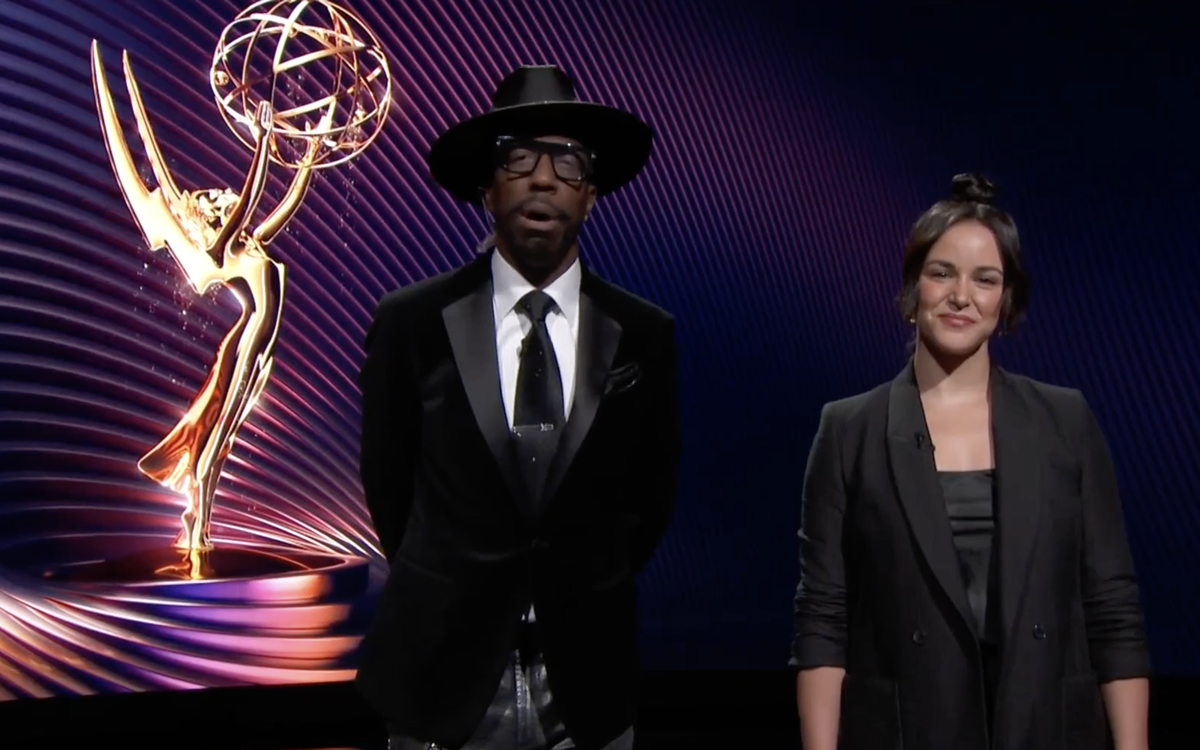 Earlier this week, the Academy of Television Arts and Sciences kicked off Hollywood's second "Awards Season" of the year with the announcement of its nominations for the 74th Annual Emmy Awards, with actors JB Smoove and Melissa Fumero doing the honors in an early morning virtual ceremony on July 12.
That means it's time for the Blade to break down the nominees for our readers and call attention to the LGBTQ+ shows and talent that are included in the mix – and since the word count on the complete list is probably comparable to a 19th-century Russian novel, that's no small feat, so we'll just say "You're welcome" right now.
At first glance, the list might not look too queer-inclusive. Out of all the nominees for the leading actor categories, there is only one out LGBTQ+ individual – Sarah Paulson, whose performance as Linda Tripp in FX's "Impeachment: American Crime Story" made the cut for Best Lead Actress in a Limited Series – and that was for playing a straight character.
The supporting categories look somewhat queerer, however. Nominations in the Comedy Series division include both Bowen Yang and two-time previous winner Kate McKinnon for NBC's "Saturday Night Live," alongside previous nominee Hannah Einbinder for HBO's "Hacks."
In addition, Murray Bartlett scored a nod in the Limited Series Supporting Actor category for his work in HBO's "The White Lotus," while Nathan Lane and Jane Lynch each received nominations, as Best Guest Actor and Actress in a Comedy Series, respectively, for their turns on Hulu's "Only Murders in the Building."
Comedian Jerrod Carmichael, who came out publicly in his 2022 HBO stand-up special "Rothaniel," was also singled out as Best Guest Actor in a Comedy for hosting "SNL."
For off-camera contributions, Carmichael was also nominated for Outstanding Writing for a Variety Special for "Rothaniel," and bisexual "White Lotus" creator Mike White scored a nod for both Outstanding Writing and Direction for a Limited or Anthology Series or Movie.
Other shows that received nominations for queer non-acting contributions include "American Crime Story: Impeachment" (Sarah Burgess, Writing for a Limited Series, Movie, or Drama Special), "Only Murders in the Building" (Jamie Babbit, Cherien Dabis, Directing for a Comedy Series), and Hulu's "The Dropout" (Francesca Gregorini, Directing for a Limited Series).
Considering the sheer number of total nominations (there are 119 categories, after all), the number of openly queer contenders feels like a mere handful – especially in an era when television has made notable strides toward LGBTQ+ inclusion. Yet precisely for that reason, we can't fault the Emmys for a lack of queer-friendliness based simply on the number of queer individuals it has chosen to recognize – because many of the shows represented in the list, including several major contenders in major categories, are fully queer-inclusive.

Most notable, arguably, are the number of queer characters represented among the acting categories. In addition to the nominees noted above, several straight-identifying performers are nominated for playing LGBTQ+ roles. 
Colin Firth's starring turn in HBO's true crime drama "The Staircase," as bisexual accused murderer Michael Peterson, scored him a nod as Best Lead Actor in a Limited Series; Jodie Comer and Sandra Oh each received nominations for Lead Actress in a Drama Series for playing the lesbian assassin/lovers of Hulu's "Killing Eve," and their competition includes previous winner Zendaya, whose drug-addicted bisexual teenager is at the center of HBO's hugely queer "Euphoria," as well as Reese Witherspoon for her performance as a newly-out queer newscaster in Apple TV's "The Morning Show"; Alex Borstein earned a richly-deserved nod for Best Supporting Actress in a Comedy for her performance as queer comedy manager Susie Myerson in Amazon's "The Marvelous Mrs. Maisel"; Kaitlyn Dever is nominated as Best Supporting Actress in a Limited Series or Movie for playing a lesbian coal miner in Hulu's "Dopesick"; and heavy-hitters John Turturro and Christopher Walken each got nominations for Best Supporting Actor in a Drama for playing gay men in Apple TV's "Severence."
Looking through a wider scope, it's easy to see that queerness, while it may not always be front-and-center, permeates many of the shows nominated the list, and even if they didn't make the cut in the acting categories, the recognition they receive is still a victory of LGBTQ+ inclusion.
For Best Comedy Series, the unapologetically queer "Hacks" – which won awards at last year's ceremony for writing, directing, and Lead Actress Jean Smart – leads the pack, with "The Marvelous Mrs. Maisel" and ABC's much-buzzed-about "Abbot Elementary" likely running close behind. Other queer-inclusive shows in the category are FX's "What We Do In the Shadows," HBO's "Barry," and "Only Murders in the Building."

For Drama, Showtime's "Yellowjackets," which has numerous queer female characters, might just ride its surprise hit status to victory on Emmy night, though the aforementioned "Euphoria" is likely to be a strong favorite. "Severence" and Netflix's hugely popular "Stranger Things," which also include LGBTQ+ characters, are in the running, too.
In the Best Limited Series Category, "The White Lotus" – likely the favorite to win – and "Dopesick" are both heavily queer-inclusive.
Other LGBTQ+-relevant nominations of note include nods in the Best Reality Competition Show category for Amazon's "Lizzo's Watch Out for the Big Grrrls," Bravo's "Top Chef," Netflix's "Nailed It," and VH1's perennial Emmy favorite "RuPaul's Drag Race," which scored a few additional nods including one for RuPaul himself as Outstanding Host for a Reality or Competition Program; in the latter category, his competition includes all five of the hosts of Netflix's "Queer Eye" (another Emmy favorite), which also picked up nods for its Production Design and Casting; YouTube's "The Randy Rainbow Show" was nominated for Outstanding Short Form Comedy, Drama or Variety Series; and the race for Best Variety Sketch Series includes "SNL" and HBO's "A Black Lady Sketch Show."
There are also, of course, the inevitable snubs and disappointments. Omitted this year were Harvey Guillén (the loveable Guillermo of "What We Do in the Shadows") and previous nominee Carl Clemons-Hopkins ("Hacks") as Best Supporting Actor in a Comedy Series, as well as breakout trans actress Hunter Schafer ("Euphoria"); coming up empty-handed were also FX's acclaimed LGTBQ-adjacent "Reservation Dogs" and HBO Max's "Station Eleven" for Best Comedy and Drama Series, respectively.

Still, there will always be fans disappointed that their favorites didn't make the cut, and one of the good things about being on a successful television series is the possibility of getting another chance next year, so our overall assessment of the Academy's choices this year doesn't suffer because of a few oversights.

There is, however, one glaring problem that gives us reservations about Emmy's solidarity with the LGBTQ+ community – the choice to reward Netflix's "The Closer," Dave Chapelle's aggressively transphobic stand-up "comedy" special with not one, but two nominations, for Outstanding Pre-Recorded Variety Special and Outstanding Directing for a Variety Special. Any recognition for a show that is essentially centered on the validation of transphobia sends a deeply troubling message.

For that reason, we can't quite give the Emmys a pass this year on their commitment to acceptance and equality for all, despite the high marks on their scorecard for all the queer content and talent in this year's competition. Instead, we have no choice but to strongly object to the Academy's elevation of transphobia through the inclusion of Chapelle's show among all these shining examples of what true LGBTQ+ representation looks like.

That doesn't mean we won't be rooting alongside all our readers for our favorites when the presentation of the Primetime Awards airs on September 12 – but no matter how many queer winners there may be that night, as far as we're concerned, this year's Emmys are already an epic fail.
You can find the full list of nominees on the Emmy website.
'Umbrella Academy' and Elliot Page elevate trans representation
Netflix hit a subversive metaphor for America itself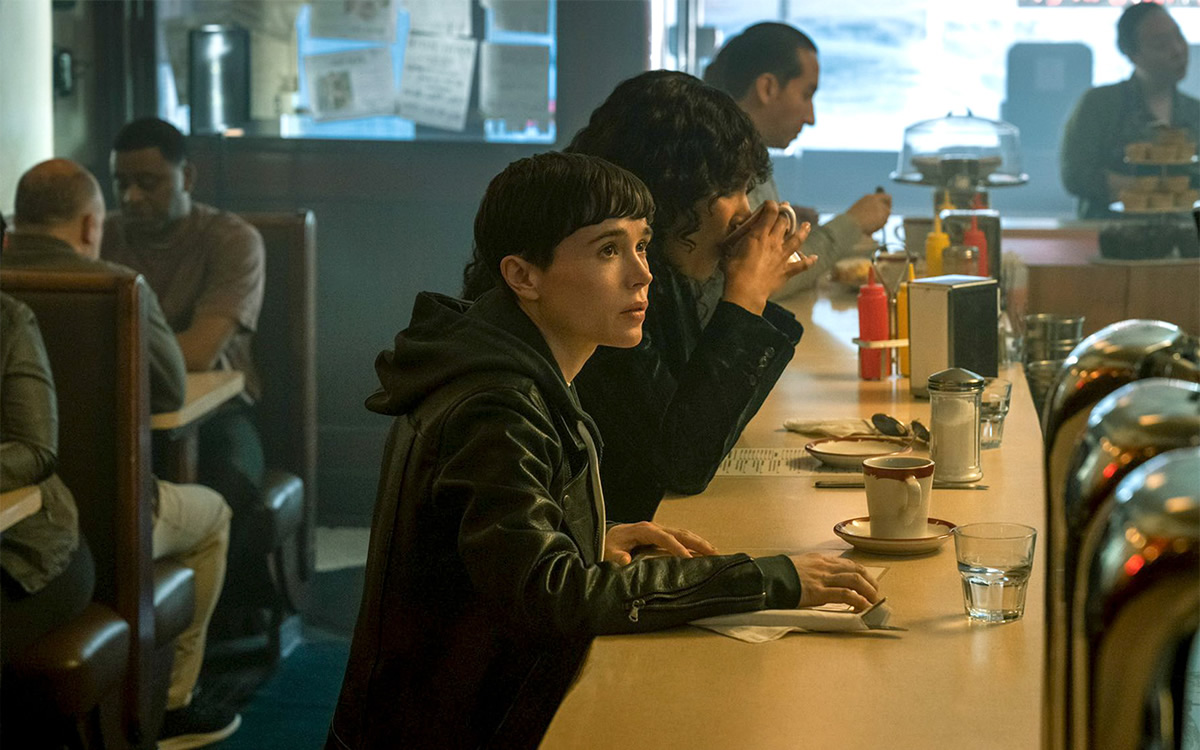 There's been a lot of bad news over these last couple of weeks, and there's no way to sugar-coat it. The conservative Supreme Court seems determined to roll back the clock to an era when rights belonged only to a privileged few, and that's just one current in an endless stream of worrisome developments that make watching the news enough to give even the most optimistic among us a sense of, well, impending doom.
Still, in such overwhelming times, it's crucial to remind ourselves that good things happen, too, even if they tend to get lost in the shadows; and even in an easily catastrophized set of circumstances like the one we're facing now, there's a cultural moment taking place that deserves to be acknowledged — and you don't even have to turn on the news to see it, because it's on Netflix.
In 2019, when the streaming giant premiered its adaptation of "The Umbrella Academy," Gerard Way and Gabriel Bá's Dark Horse comic book series about a dysfunctional family of superhero siblings, it was already at the forefront of the industry in terms of LGBTQ representation in its lineup; with two queer characters among its leading cast, the new show was no exception. Well-received by critics, the series was also embraced by fans, becoming one of Netflix's most-streamed titles of the year. A second season debuted in 2020, further expanding the tale's queer storylines and meeting with similar success.
Now, after a pandemic-slowed production schedule, the much-anticipated third season has finally appeared, and it's a ray of positivity in our current sea of woes. The reason has nothing to do with the show's wild-and-wooly fantasy narrative about bickering superheroes time-hopping from one narrowly averted apocalypse to another — although as with all the best fantasy stories, it's easy to draw a few notable parallels with real life. Indeed, it's a real-life parallel that gives this season its real significance — and it's only there because of Elliot Page.
Page has been part of "Umbrella Academy" since the beginning, and is the show's biggest "name," but when he came out as trans in 2020, his presence in the cast took on even more importance. How the series would handle his transition suddenly became the most important question on the minds of the show's creators – especially since, as showrunner Steve Blackman recently revealed, the scripts had already been written. To their great credit, the show's creative team handled things right; they brought in trans writer Thomas Page McBee, who worked with Page and Blackman to craft a rewrite that would allow Vanya Hargreeves, Page's already-established character, to transition in the story, too.
The result is perhaps a bigger success than any of them – or of us – might have expected. On the surface of it, the change is executed without much ado. Early in the season's first episode, Vanya simply shows up at a family meeting and announces that he is now Viktor, and that's that. His siblings accept him, and everyone just moves on to the business of figuring out how to save the universe from yet another existential threat.
Wisely, however, the show doesn't merely make the change and then move forward as if nothing has really happened. Viktor's new gender identity may have nothing to do with the main plot, but it is clearly pertinent to himself and his siblings, and we get to watch these relationships adjust as they process the change. These moments are small, but important; it's a testament to the show's excellent writing that each character meets the moment in a way that's in keeping with their own unique persona. That none of them chooses to be unkind makes for good "behavior modeling," certainly, teaching audiences by example how to approach similar encounters with transitioning loved ones in their own lives — but it also rings true within the narrative itself, underscoring the deep loyalty to each other that repeatedly emerges as this not-as-broken-as-they-think family's most valuable asset in its fight against universal destruction. After all, when you're facing the end of the world, what hero has time to argue about pronouns?
The show, too, gives both Page and Viktor ample opportunities to experience those little "aha" moments that are so much a part of transitioning into a more complete, more authentic version of oneself. From the self-discovery of seeing himself in his first "boy" haircut, to the expansion of empathy he feels for the struggles faced by his siblings, to his ability to just be, at long last, comfortable enough in his own skin to dance with complete abandon despite the impending end of the world – all these and more are nuances that don't NEED to be there, but were nevertheless included by choice. "The Umbrella Academy," violent and irreverent as it may be, has never been shallow, but in its determination to present a positive and authentic transition experience and honor that journey for the character, actor, and audience alike, it sounds new and unexpected depths, and it's all the better for doing so.
It's worth pointing out some other reverberations that Viktor's transition sets off in the overall premise of the show. He is after all, part of an ethnically diverse family whose members all struggle to overcome the childhood trauma they experienced under the supposed care (really exploitation) of a narcissistic adoptive father, a man with all the earmarks of a white imperialist colonizer who rationalizes his abuses in the name of the greater good. Damaged, divided, and combative, they've long since grown disillusioned with the old man's vision, yet it continues to shape their lives and their behavior as surely as if it were in their mutated DNA. Add to this the fact that the apocalypses they keep having to avert tend to be of their own creation, and it's hard not to see "The Umbrella Academy" as a subversive metaphor for America itself – yet one that is enlightened enough to embrace Viktor Hargreeves (and his other queer sibling, the pansexual fan-favorite Klaus, played by Robert Sheehan) with complete acceptance.
Clever allegorical touches aside, it's this season's pitch-perfect, elegantly drawn transition of Viktor that elevates the series to historic status. It does what no show has ever done before: it gives us a character that fans already know and love, in whom they are already invested, and then they let us see that character come out as their authentic self. From Edith Bunker's doomed drag queen friend Beverly on "All in the Family," to Pedro Zamora's presence in "The Real World," to Cam and Mitch's long-running gay marriage on "Modern Family," game-changing queer representation on popular television shows has played an immeasurable but undeniable role in advancing LGBTQ acceptance in our culture; Viktor Hargreeves is just such a character, a benchmark in trans representation that feels like the harbinger of a sea change to come, despite the ominous threats of our seemingly unhinged SCOTUS.
"The Umbrella Academy" can't save us from the impending apocalypse in our own world, but maybe it can supply us with the hope we need to do it ourselves.
'Flatch' delivers a 'welcome' dose of comfort comedy
A place where people are accepted, no matter their sexual orientation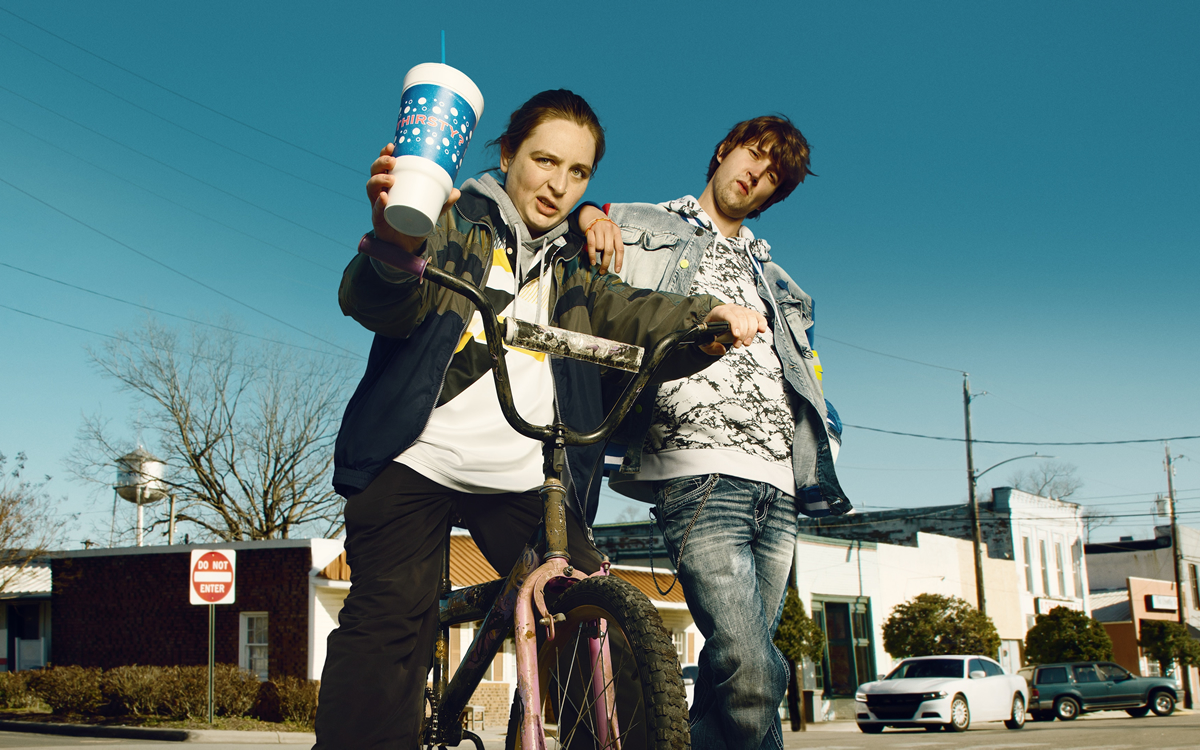 Television, a medium less than a century old, has evolved so much since it became a fixture in our households that the pioneers who first produced its content would surely be overwhelmed by what it is today. Where there was once a limited selection of mostly middle-of-the-road (i.e., bland and banal) entertainment choices designed to amuse and distract us during our after-dinner family time, there is now a seemingly infinite array of channels to choose from, loaded with enough complex, provocative, stimulating, and otherwise challenging content to keep even the most intellectual viewers busy for the rest of their lives.
And yet, with all that, sometimes you just want to shut your brain off and laugh – and that's when we are reminded that television, no matter how respectable it may have become, is still at its most essential when it gives us an outlet to do exactly that.
Take, for example, "Welcome to Flatch," a new half-hour comedy from Fox that might seem, at first glance, to be about as mindless as they come.
Adapted from a BAFTA-winning BBC series titled "This Country," "Flatch" has been brought to U.S. television by writer Jenny Bicks ("Sex and the City," "The Greatest Showman") and producer/director Paul Feig ("The Office," "Bridesmaids"), who joined forces to executive produce it. It's set in a small Midwestern town called, well, Flatch, and its unabashedly flimsy premise revolves around the idea that a documentary crew has been sent to explore small-town American life. That's more than enough to let you know exactly what to expect going into it.
The first episode introduces us to most of the townsfolk who will become our main characters, starting with a pair of young cousins and best buddies – the Mallets, Kelly and Lloyd (who goes by "Shrub") – who quickly establish themselves as our unofficial guides; they're your classic underachievers, two teens in a town where there's nothing to do except indulge in juvenile pranks and concoct get-rich-quick schemes. Played by out queer newcomer Holmes and former "The Kids are Alright" actor Sam Straley, their effortless chemistry, combined with their endearingly dim-witted blend of false bravado and insecurity, wins us over right from the start.
We next meet Flatch's local minister, "Father" Joe (Seann William Scott), whose enthusiasm for his role as the "youthful-and-hip" spiritual center of the community doesn't quite keep him from missing his former girlfriend Cheryl (Aya Cash), now the plucky and determined editor of the town newspaper, for whom he still carries decidedly worldly feelings. There's also Big Mandy (Krystal Smith), a large-and-in-charge force of nature whose confidence and street smarts make her as respected as she is incongruous in this tiny rural town; Nadine (Taylor Ortega), Kelly's rival and "frenemy," a teen socialite and mean girl who runs the Flatch historical society; and Mickey (Justin Linville), an eternally upbeat nerd who relentlessly attempts to become Shrub's best friend.
There are others, too, that we meet as the show progresses, but you get the idea. It's a cast of eccentrics – probably the number one ingredient in making a "mockumentary."
Of course, it's not enough for them just to be eccentrics. They have to be loveable, too – something that has been the hallmark of every great mockumentary since "This is Spinal Tap" more or less created the genre as we know it today. That film, and the series of comic masterpieces from Christopher Guest ("Waiting for Guffman," "Best in Show," "A Mighty Wind") that followed in its wake, all made us laugh with the absurdity of the insular communities they were sending up, but they won our hearts with characters who never let us lose sight of their humanity even in their most wacky and embarrassing moments. It's a formula that has proven to be comedy gold for TV shows from "The Office" to "Modern Family" to "What We Do in the Shadows" – not to mention "Parks and Recreation," which along with "Guffman" is closest of these examples in tone and spirit to "Flatch" – and in every case, it only works when the characters are played by a remarkably gifted cast of actors.
In this regard, "Welcome to Flatch" is off to a good start. The performers make a strong showing from the very start, and while it's hard to say this early in the series whether the character arcs they develop will be worthy of the players' talent, they earn enough credit within the first seven episodes (all available if you're a Hulu subscriber, doled out a week at a time if you're not) to keep us watching longer.
That's a good thing, because "Flatch" – perhaps unsurprisingly for a comedy about a place where nothing interesting ever happens – has some challenges if it's going to have any staying power. Early on, the episodes are geared around skewering aspects of modern life by putting them into a small-town context; in one, for instance, Kelly starts her own version of a ride-share app, while in another an elderly resident is "catfished" on a dating site while attending an adult computer education class at the church. Others rely on bemusing us with the eternal tried-but-true tropes about small-town life; there's a rivalry between Flatch and neighboring Pockton over an obscure historical dispute, and a contingent of outraged conservative women who try to close the town's combination vape-and-magic shop for Satanism. These familiar scenarios are enough to conjure smiles, maybe even chuckles, for a while – but without some more substantial fodder to drive the show's development, it won't be long before they start to wear thin.
Fortunately, the seeds for future storylines are clearly planted within the first handful of shows. Most obvious is the will-they-or-won't-they interplay between Father Joe and Cheryl, given a twist by their status as an ex-couple with second thoughts on their split, but Kelly's unrequited need to be accepted by her estranged father (Jason MacDonald) is an early recurring theme, as is Shrub's infatuation with home-schooled Beth (Erin Bowles). These and other beginnings seem promising as avenues toward opening the characters up and allowing the cast to flesh them out into the kind of people we look forward to spending time with.
Perhaps even more encouraging, the mockumentary format, rather than simply being a convention in which the actors talk to the camera, is taken a bit further in "Flatch." Though we never see the documentary crew, we are reminded of their existence frequently – characters address them off-camera, and their presence in the room becomes a factor that affects outcomes, though to go into any more detail about that would warrant a spoiler alert.
Finally, though, what makes "Welcome to Flatch" worth jumping on board for might just be its refreshing – and frankly, for the genre, unprecedented – diversity. Though our expectations of a rural Midwest community tend to lean toward a very white and very straight demographic, the series goes out of its way to defy them. Much like "Schitt's Creek," "Flatch" is a place where people are accepted, no matter their race, gender, body type, or sexual orientation – just as long as they're not from Pockton.
"Welcome to Flatch" airs on Fox on Thursday nights.