D.C. judge orders Casa Ruby placed under temporary receivership
Wanda Alston Foundation, Safe Haven being considered to take over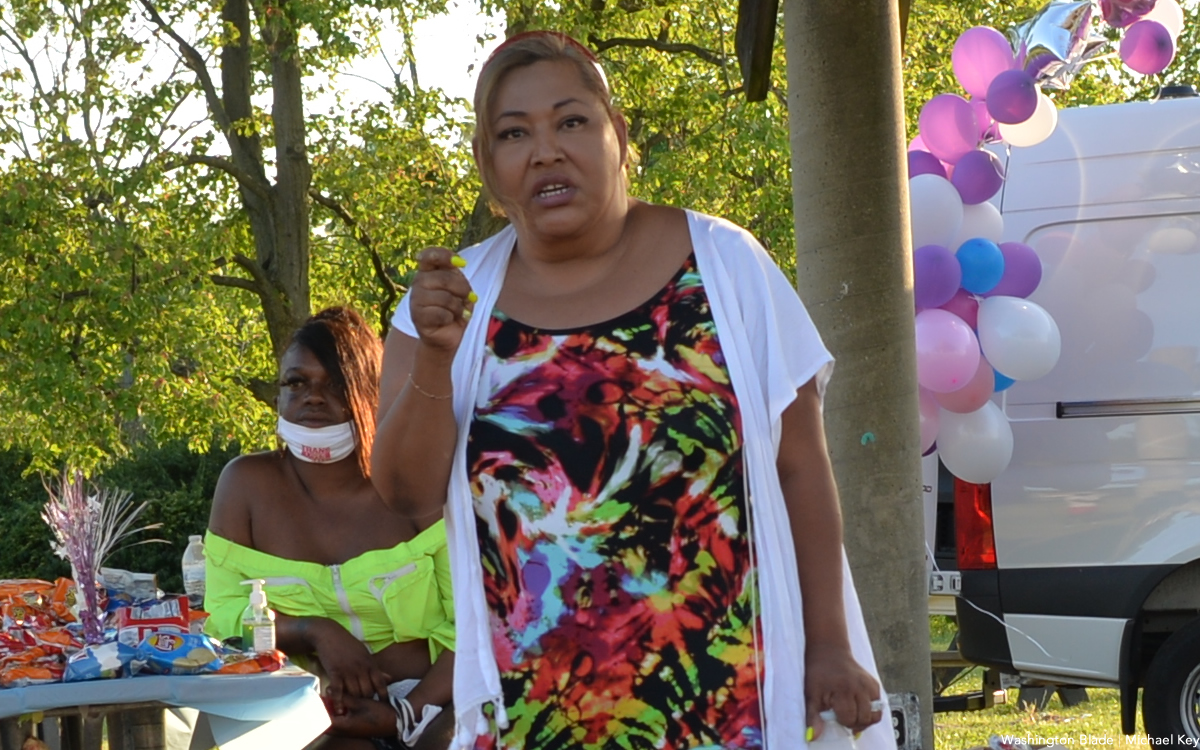 A D.C. Superior Court judge on Thursday, Aug. 11, approved a request by the Office of the D.C. Attorney General to place D.C.'s LGBTQ community services center Casa Ruby under temporary receivership to stabilize its finances and determine whether it can resume operating after it shut down its programs last month.
Among those who spoke at the virtual hearing was Casa Ruby founder and former executive director Ruby Corado, who said she did not oppose a limited receivership order. Corado spoke through an audio connection rather than appearing on video as did the judge and representatives of the Attorney General's Office.
Also appearing on video for the hearing were representatives of two LGBTQ organizations that the AG's office has named as candidates to become the Casa Ruby receiver – the D.C.-based Wanda Alston Foundation and the Baltimore-based Safe Haven, which has announced plans to open a facility in D.C.
In response to a request by Adam Gitlin, chief of the AG office's Public Integrity Section, Judge Danya A. Dayson agreed to give the AG's office one more day to decide which of the two groups would be named as the Casa Ruby receiver. After listening to testimony by June Crenshaw, the Alston Foundation executive director, and Iya Dammons, Safe Haven's founder and executive director, Dayson said either of the two groups would be acceptable to her as the receiver.
The judge directed the AG's office to submit a proposed order naming the receiver by the end of the business day on Friday, Aug. 12.
Dayson's ruling approving a receivership for Casa Ruby came eight days after she approved a separate request by the D.C. AG's office calling for a temporary restraining order to freeze all bank accounts and PayPal accounts held by Casa Ruby.
The call for both the restraining order and the receivership were introduced in court by the AG's office on Aug. 1 in an emergency motion asserting that both Casa Ruby and Corado had violated the city's Nonprofit Corporations Act in connection with their financial dealings.
"Casa Ruby's operations suggest clear patterns of gross mismanagement and poor oversight of its programs and finances," D.C. Attorney General Karl Racine said in a statement at the time the motion was filed in court. "Instead of fulfilling its important mission of providing transitional housing and support to LGBTQ+ youth, Casa Ruby diverted hundreds of thousands of dollars of District grants and charitable donations from their intended purpose," Racine said.
He was referring to allegations in the AG office's civil court filing that Corado used funds from the D.C. Casa Ruby to open a Casa Ruby LGBTQ shelter in El Salvador without any documented authorization from the Casa Ruby board of directors, which the court filings say rarely met and failed to provide oversight over Corado or Casa Ruby.
During the Aug. 11 virtual court hearing, Corado disputed the allegations, saying among other things, that claims that she was not in communication with the Casa Ruby board was a "misconception."
Corado did not say in her remarks at the virtual court hearing where she is currently residing. Members of the Casa Ruby staff have said Corado had been in Salvador for most of the time this year and in recent weeks the staff was unable to reach her to discuss Casa Ruby related business. Staff members also reported that they had not been paid for over a month and a financial crisis prevented them from continuing any of Casa Ruby's remaining programs.
In her comments at the Aug. 11 hearing, Corado said the funding crisis was caused by D.C. government agencies that she said failed to reimburse Casa Ruby close to $150,000 in grant funds that she said the city was committed to pay for services that Casa Ruby had already performed.
But email correspondence between officials with the D.C. Department of Human Services, which has provided most of the Casa Ruby grant funding, and Casa Ruby officials other than Corado, indicates the funding was withheld because Casa Ruby failed to comply with various grant requirements, including not having a functioning board of directors. One or more of the employees released the correspondence to the media.
"I believe that when the facts, as someone stated earlier, stop being allegations and actually become facts that you, Your Honor, will have an opportunity to understand the ramification of the allegations," Corado said during the hearing. "There are people, including myself, who have received death threats over things that are not true," she told the judge.
Gitlin of the AG's office, while not specifically responding to Corado's allegations, said his office has met the legal requirement needed to have Casa Ruby placed under receivership.
"In short, we do have reason to believe that Casa Ruby currently continues to be out of compliance with the Nonprofit Corporations Act, continues to be unable to meet its obligations, and its assets are in serious question," he told the judge. "And so, we believe the requirements for the receivership statute have been met."
He said the two groups under consideration to become the receiver are "both nonprofits in good standing with experience doing many of the services that Casa Ruby performed." He added, "Both have pledged that even if they are not appointed receiver, they are happy to help because they care about the community that needs to be served."
He concluded by saying the AG's office would like whichever group is chosen as the receiver to "first assess the assets and liabilities that are outstanding for Casa Ruby, figure out whether a board can be reconstituted, and assess otherwise whether there is a path forward for the organizations." Gitlin said the other option that the receiver should consider is whether its recommendation should be for "an orderly wind down in the way a nonprofit normally would" to end its operations.
Judge Dayson ordered that whichever group is chosen to be the receiver, which she was to approve the following day on Aug. 12, will be required to submit a report to the court on Sept. 13, 2022, on the status of its work. She scheduled a status hearing on the case for Sept. 29 at which time she directed Corado to arrange to have an attorney representing her.
White House officials, HHS secretary praise local monkeypox response
D.C. Health points to data showing sharp decline in new cases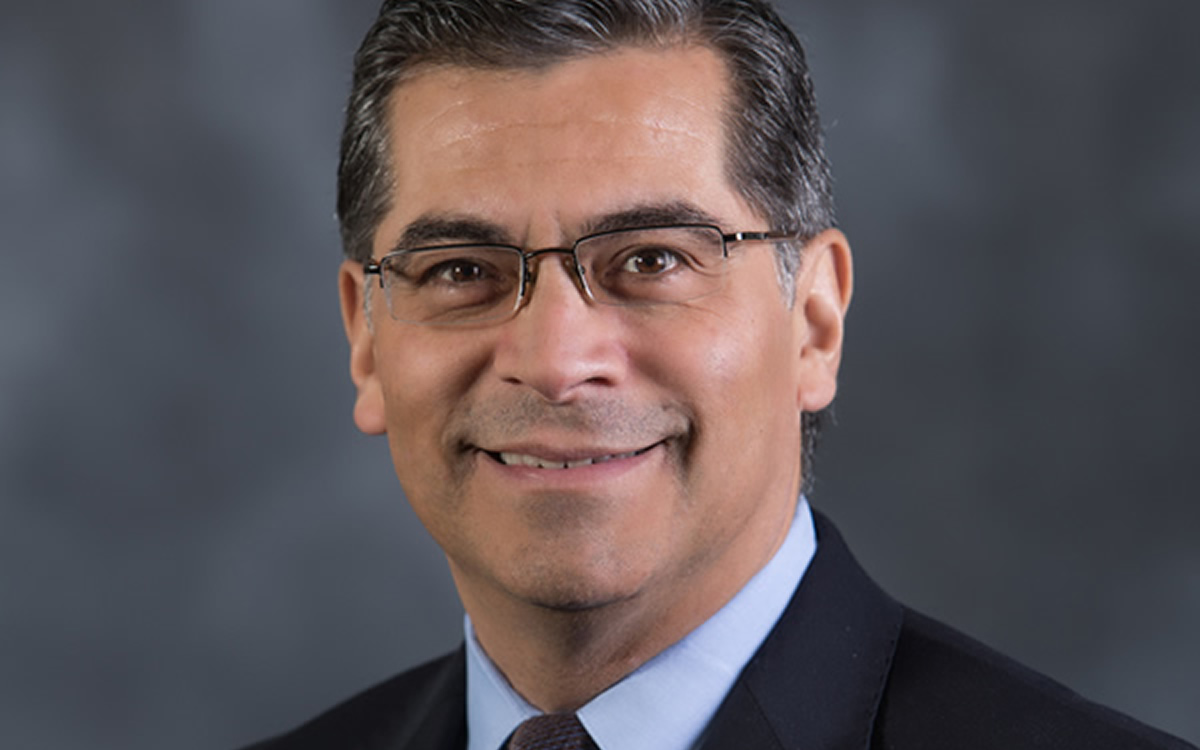 U.S. Department of Health and Human Services Secretary Xavier Becerra and two leaders of the White House monkeypox response team joined officials with the D.C. Department of Health on Thursday for a visit to D.C.'s recently opened Monkeypox Vaccine Clinic on Martin Luther King Jr. Ave., S.E. in Ward 8.
In a briefing for reporters, who were invited to join Becerra and the White House officials on a tour of the clinic, the D.C. and federal officials pointed to a sharp decline in new monkeypox cases in D.C. as a sign of a successful federal and local government partnership in dramatically boosting the number of people at risk for monkeypox who have been vaccinated.
"I welcome you all to our Ward 8 Monkeypox Vaccine Clinic," said Dr. Sharon Lewis, Interim Director of the D.C. Department of Health, which is also referred to as D.C. Health.
"Please take note that D.C. Health was very active in initiating back in May" the city's effort to address monkeypox, she said. "We started our planning and as soon as we were aware of the first case in June, we had actually set up vaccines and were ready to implement our plan."
Dr. Anil Mangla, the State Epidemiologist for the D.C. Department of Health, told the gathering the number of D.C. monkeypox cases peaked during the week of July 17, and new cases in the District have declined since then by an average of over 20 percent per week.
"I would call it our success story in D.C.," Mangla said. "So, our cases peaked nine weeks ago, the week of July 17. If you look at the national trends and statistics, the nation essentially peaked about six weeks ago, so we were already three weeks in advance," he said.
Mangla pointed out that the clinic where the HHS and White House officials visited on Thursday at 3640 Martin Luther King Jr. Ave., S.E. and the city's two other Monkeypox vaccination clinics are walk-in facilities where D.C. residents can go for a vaccination without an appointment. The other two are located at 1900 I St., N.W. and 7530 Georgia Ave., N.W.
Becerra praised Mangla and his boss, Dr. Lewis, and their team of public health officials for aggressively reaching out to those at risk for monkeypox, including gay and bisexual men, to encourage them to get vaccinated and promptly treating those who tested positive for the monkeypox virus.
"So, let me first say to Director Lewis, Dr. Mangla, and to all your team, thank you for being affirmative in bringing in the steps to stop monkeypox," Becerra said. "And more importantly, to go where the people are rather than waiting for the people to come to you."
He said D.C. efforts in addressing monkeypox were among the efforts in other cities and states across the country where a joint federal-local partnership was taking place.
"We need strong partnerships," he said. "We need your help, because you know the many trusted voices in the communities that you've got more of than we would," he said. "We'll provide the vaccine," said Becerra, noting that the Biden administration in partnership with various federal agencies, including the Food and Drug Administration, has distributed more than a million vaccine doses nationally.
Among the White House officials who spoke at the briefing and joined the tour of the Ward 8 Monkeypox Vaccination Clinic was Robert Fenton, who President Biden on Aug. 2 named as White House National Monkeypox Response Coordinator. Also speaking was Dr. Demetre Daskalakis, who Biden named as White House National Monkeypox Response Deputy Coordinator.
A statement released by the White House at the time Biden appointed the two men says Fenton has served as Regional Administrator of the Federal Emergency Management Agency's Region 9 in the western part of the U.S. and was considered one of the nation's most experienced emergency management leaders.
The statement says Daskalakis, a leading public health expert, is currently the Director of the Center for Disease Control and Prevention's Division of HIV Prevention.
"Widely known as a national expert on health issues affecting the LGBTQIA+ communities, his clinical practice has focused on providing care for the underserved LGBTQIA+ communities," the White House statement says.
In his remarks at the briefing on Thursday, Daskalakis also praised D.C. Health officials and the communities they have reached out to for encouraging behavioral changes among the groups most at risk for monkeypox.
"So, the clear message is that gay, bisexual, and other men who have sex with men, transgender individuals, and other gender diverse folks who have sex with men are not only getting the vaccine and testing, but also what they can do in their daily lives to be able to prevent infection," he said. "I think that is another testament to the work you've done and is another example of the great partnership between federal public health and local public health."
The D.C. Department of Health's most recent data on monkeypox cases in the city shows that as of Sept. 15, the city had a cumulative total of 488 cases, with 19 hospitalizations and no deaths. Out of the 488 total, 97.3 percent were male, and 1.2 percent were female.
Regarding the sexual orientation of those who make up the 488 cases, 48 percent were listed as gay, 5.7 percent as bisexual, 3.9 percent as straight/heterosexual, 1 percent as "other," and 41.4 percent as "Unknown." The data released included an asterisk for the number of lesbian cases, which a footnote says could be four or fewer such cases.
At the briefing on Thursday, the Blade asked Dr. Mangla, the D.C. Health epidemiologist, to explain why he thought the number of D.C. monkeypox cases in gay men and other men who have sex with men were initially listed by D.C. Health officials to be over 90 percent of the total cases. But in recent weeks, the Blade pointed out, the data show the number of "gay" cases were at about 50 percent or a little lower and a new category of "unknown" sexual orientation cases was in the 40 percent to 50 percent range.
Mangla said he thought the discrepancy was due to a flaw in the data gathering during the early stage of the monkeypox outbreak in D.C. that has since been corrected. "It took us a few weeks to make that kind of adjustment and to say we are now confident enough that the data is accurate for policy decisions and anything else," he said.
He did not say whether he or D.C. Health knows which demographic groups made up the "Unknown" category of 41.4 percent in the most recent data released.
Gay man gets 6.5 years in prison for stealing $2.1 million in pandemic funds
Former D.C. Catholic official pleaded guilty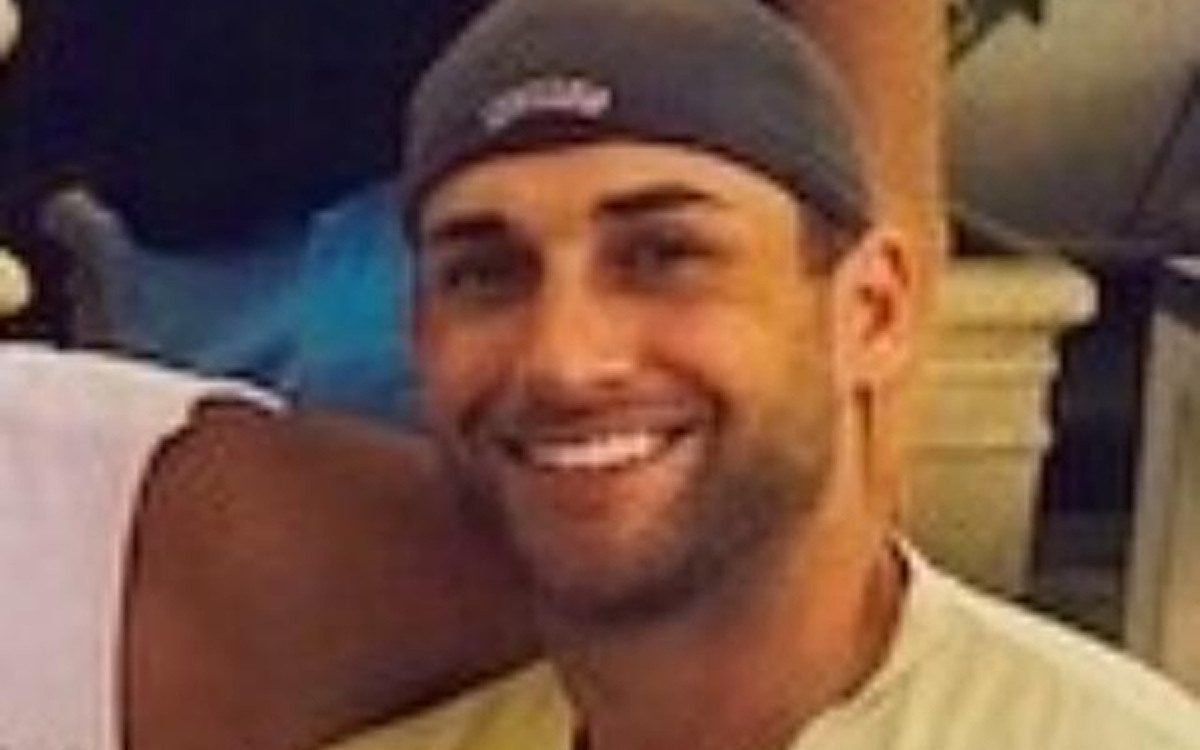 In a little-noticed development, a federal judge on Sept. 2 sentenced Kenneth P. Gaughan, a gay former assistant superintendent and contracting liaison for the Catholic Archdiocese of Washington, to six years and six months in prison on charges that he fraudulently obtained more than $2.1 million in funds for personal use from two federal COVID relief programs.
Records from the U.S. District Court for the District of Columbia show that Gaughan pleaded guilty on March 2, 2022, as part of a plea bargain offer by prosecutors to partially reduced charges related to the COVID relief program case as well as to a charge that he embezzled more than $438,000 from the Archdiocese of Washington, where he was employed from 2008 to 2018.
A statement released by the Office of the U.S. Attorney for D.C. says Gaughan pleaded guilty to one count of wire fraud and one count of money laundering in the federal relief fund case and one count of wire fraud in the case involving the Archdiocese of Washington.
Gaughan was released while awaiting trial after his arrest on Aug. 11, 2020, on a criminal complaint that combined the charges from the federal relief fund case and the Archdiocese of Washington case.
In addition to the six years and six months prison term, U.S. District Court Judge Tanya S. Chutkan sentenced Gaughan to three years of supervised probation upon his release. She also ordered that he pay restitution for the money he is charged with stealing through fraud and embezzlement at an amount to be determined at a Nov. 15 restitution hearing, according to court records.
"For a decade, Kenneth Gaughan stole money meant to help needy people, businesses, and organizations, starting with a scheme defrauding his own employer and later looting government COVID-relief efforts," said U.S. Attorney for D.C. Matthew M. Graves in a statement released at the time of the sentencing.
"He went to great lengths to conceive, carry out, and conceal his crimes," Graves said. "Now, he will be facing the consequences of his greed with confinement in a federal prison."
The statement released by the D.C. U.S. Attorney's Office says Gaughan's work at the Archdiocese of Washington, which oversees churches and Catholic schools in D.C. and Maryland, included overseeing services such as anti-bullying programs, crisis intervention, and professional development efforts at approximately 95 Catholic schools.
"Beginning in at least June 2010 and continuing through April 2018, Gaughan caused the Archdiocese to pay invoices manufactured by Gaughan purportedly for anti-bullying and crisis intervention programs, as well as for software used to send mass messages to Archdiocese students and families," the statement says. It says he concealed his ownership and control of three companies that billed the Archdiocese for services the fake companies never performed.
The statement says Gaughan targeted the COVID-related Federal Paycheck Protection Program (PPP) and the Economic Injury Disaster Loans (EIDL) program for his fraud scheme in which he allegedly stole more than $2.1 million. It points to evidence gathered by the FBI and the IRS showing that Gaughan created at least nine fake companies to apply for COVID relief loans that, under the relief programs, do not have to be repaid.
Charges filed in court show that most of the fake companies Gaughan created purported to provide support for animals, using such names as Service Dog of America, Inc. and Therapy Dog Incorporated.
"Gaughan made false representations to receive the loan funds, including forged paperwork and bank records," the U.S. Attorney's statement says. "Gaughan then used a portion of the loan proceeds to purchase a 2020 Cruisers Yachts 338 CX 33-foot watercraft, a 2020 Kia Stinger, and a rowhouse in Northeast Washington," according to the statement.
A sentencing memorandum filed in court by prosecutors in August called on the judge to hand down a sentence of 78 months in prison, which is what the judge handed down at the Sept. 2 sentencing. The sentencing memo also notes that Gaughan agreed in his plea deal to pay restitution in the amount of $2,620,665.99, a higher amount than the amount prosecutors initially said he stole through the government relief programs and from the Archdiocese of Washington.
"The higher amount includes additional victim requests made after the entry of the plea that should be awarded as mandatory restitution," the sentencing memo says.
The memo makes no mention of whether Gaughan has the financial ability to pay that amount.
Property records from the D.C. Office of Tax and Revenue show that the townhouse that Gaughan allegedly bought with stolen and embezzled funds at 112 V St., N.E. in June 2020 for $1,089,000 was sold by the city in a tax sale in August of this year. The city property records show the owner, which was identified as 112 V St., NE Trust, was $24,596 in arrears in property taxes. The Blade couldn't immediately determine whether Gaughan or someone else owned the 112 V St., NE Trust company.
Court records also show that Gaughan's attorney, Jonathan N. Rosen, filed a motion in court on Sept. 15 requesting that Gaughan be placed in the Federal Correctional Institution prison in Morgantown, W.Va. "and that the defendant be allowed to self-surrender after the restitution hearing in these matters," which is scheduled for Nov. 15.
Although the public court records do not show whether Gaughan was ordered to begin his prison sentence at the time of the Sept. 2 sentencing, the motion by his attorney suggests he may not have been sent to jail at the time the motion was filed on Sept. 15.
Rosen couldn't immediately be reached for comment.
'Casa Ruby should be dissolved': report
Court filing by Wanda Alston Foundation paints grim picture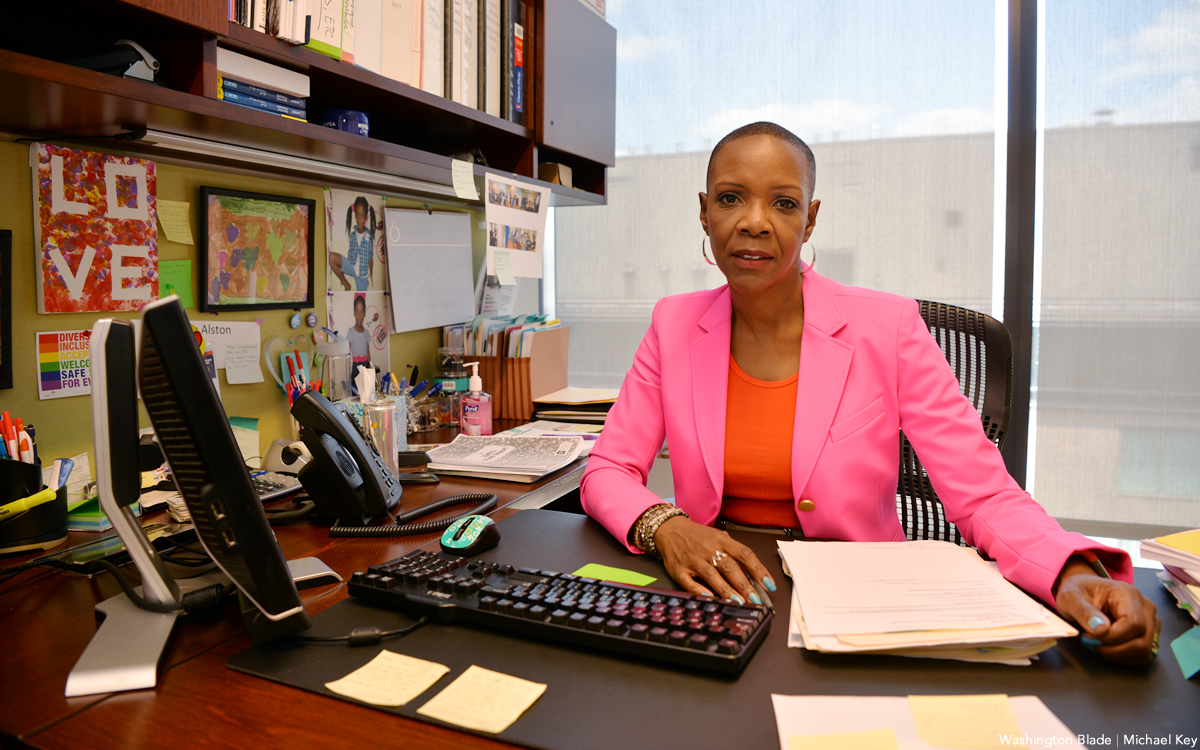 The Wanda Alston Foundation, which a D.C. Superior Court judge named last month as the city's receiver for the LGBTQ community services center Casa Ruby, issued a preliminary finding in an interim report filed in court on Tuesday, Sept. 13, declaring that "Casa Ruby should be dissolved in an orderly manner pursuant to D.C. Code."
The seven-page Receiver's First Interim Report says an ongoing examination of Casa Ruby's financial records, which it says were in disarray, indicates outstanding liabilities exceeding $2 million.
"Other than an assortment of donated furnishings at the two leased properties, there are no other meaningful assets," the report says.
It says the Alston Foundation took immediate steps to secure financial records and sensitive documents pertaining to Casa Ruby's clients and employees that were abandoned in two leased offices in the Dupont Circle area.
"Casa Ruby's landlords and employees had gone unpaid for some time and both sites were abandoned and appeared to have been ransacked," the report says. "The documents which remained were in complete disarray and would require time to collect, organize, and analyze," it says.
"Eighty percent of the critical records and files at 1635 Connecticut Avenue [N.W.] have been secured and removed," the report says, enabling the receiver to vacate the property prior to an eviction underway by the landlord.
"However, additional time may be required to go through the records and files at 2033 Connecticut Avenue," according to the report, which says may require the court to order a temporary stop on the pending eviction at that property.
Superior Court Judge Danya A. Dayson issued an order on Aug. 12 naming the Alston Foundation as the Casa Ruby receiver at the recommendation of the Office of the D.C. Attorney General. The AG's office stated in court filings that Casa Ruby and its founder and longtime executive director, Ruby Corado, had violated the city's Nonprofit Corporations Act by failing to account for the expenditure funds provided by D.C. government grants and private donors.
The judge's order came one day after she approved the AG office's request that Casa Ruby be placed under receivership and two weeks after the judge approved the AG's request that all of Casa Ruby's bank and credit card accounts be frozen.
D.C. Attorney General Karl Racine said his office's action put forward in a civil lawsuit against Casa Ruby came after he opened an investigation that found the LGBTQ community services center had failed to pay landlords more than $1 million in back rent and could no longer pay the salaries of its employees, forcing the organization to cease most of its operations before a full shutdown in late July.   
The receiver's report filed in court on Monday says in its capacity as receiver, the Alston Foundation attempted to contact Ruby Corado for any additional documents or information related to Casa Ruby's finances, but Corado did not respond to an email message requesting the information.
"The Receiver did reach out to the D.C. Attorney General's Office to advise them of potential criminal misconduct that it had uncovered and to make arrangements for the transfer of items deemed to have a significant potential evidentiary value," the report says. "The details of those discussions and arrangements are omitted from this report in the interest of protecting anticipated ongoing criminal investigations," it says.
The Alston Foundation, a longstanding LGBTQ organization, has provided housing and support services for D.C. homeless and at-risk LGBTQ youth since its founding in 2008.
In her Aug. 12 order naming the Alston Foundation as the Casa Ruby receiver, Judge Dayson directed the Alston Foundation to submit a preliminary status report by Sept. 13 on its findings on whether Casa Ruby had or could obtain the financial resources to resume operating as an organization supporting LGBTQ people in need, such as emergency housing and immigrant related services, or whether it should be dissolved in an orderly manner.
The judge also asked that the report assess whether the Casa Ruby board of directors "should be reconstituted" following allegations by the D.C. Attorney General's office that the board for years failed to provide legally required oversight of Casa Ruby's finances and actions by Ruby Corado.
"Casa Ruby's Board of Directors failed to provide any meaningful oversight and Casa Ruby should be dissolved in an orderly manner pursuant to D.C. Code 29-412.23," the Alston Foundation interim report states.
Alston Foundation Executive Director June Crenshaw and its Board of Directors chairperson, Darrin Glymph, couldn't immediately be reached to determine whether they might reconsider the recommendation of dissolving Casa Ruby as an organization if new members could be recruited to serve on the Casa Ruby board.
The judge, who is expected to make the final decision on the fate of Casa Ruby, called all parties in the case, including Ruby Corado, to appear in court or appear virtually through a phone or video hookup on Sept. 29 for a status hearing.