September 17, 2010 at 12:05 pm EDT | by David Bediz
PMI, FHA, LTV … OMG!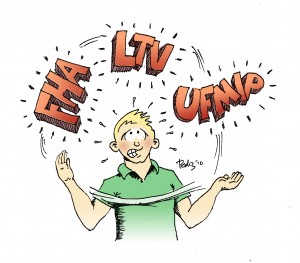 Much like in the world of texting, acronyms abound in real estate. But in a real estate transaction, acronyms can have profound financial implications.
For example, PMI, or Private Mortgage Insurance, is a monthly charge that can be hundreds of dollars when buyers have most loans that exceed 80 percent of the property's appraised value (80 percent Loan to Value, or LTV). Nobody wants to pay that fee, since it's there only to protect the lender in the event of borrower default, and especially since it could be paying your cell phone bill instead (and maybe your cable bill too!).
Federal Housing Administration (FHA) loans are attractive to many buyers with low cash on hand because the interest rates are very competitive and the minimum downpayment is only 3.5 percent. However, all FHA loans have a mandatory monthly PMI payment for five years, even if the original LTV (Loan To Value, remember?) is lower than 80 percent and even if, over time, the loan value drops below 80 percent by appreciation or increased equity from making payments against the principal.
In addition, FHA loans also have a UFMIP, or Upfront Mortgage Insurance Premium, which is currently 2.25 percent of the loan amount but will drop to only 1 percent on Oct. 4, and which is generally added to the loan amount. It can be paid off "up-front," hence the name, but usually buyers lump it into the loan and forget it's there, until they want to sell and need to get that much more money for their home to pay it off. The Oct. 4 date is no early Christmas present, however, as the monthly PMI payments will nearly double under the new program.
VA (Veteran's Administration) loans are similar to FHA because both are loans on properties that have to be approved by HUD and both are government-backed. VA loans have a "funding fee" similar to the UFMIP, but it is 1.25 percent to 3.3 percent depending on downpayment and repeated use of eligibility, but it is waived for qualified disabled veterans or surviving spouses of vets killed in service.
Conventional loans (i.e., non-FHA, Fannie/Freddie loans) also will charge you PMI for an LTV greater than 80 percent but will allow you to re-appraise the home after a shorter period to show the greater equity and remove the PMI requirement. Conventional loans also do not have the 2.25 percent or 1 percent upfront premium. However, nearly all conventional loans require at least 5 percent downpayment, and some require 10 or 15 percent, depending on the bank, the type of property and some other qualifications. For condos in buildings that have more than 30 percent tenant-occupants, many banks require 20 percent down or more.
PMI payments can be avoided by taking a higher-interest-rate loan, which is typically called a "Lender-Paid MI option," but most opt against this since they can lock in a lower rate and eventually eliminate their PMI payment with increased equity. The only good candidates for LPMI are those whose incomes are too high for them to deduct PMI payments from their taxable income.
All this may be TMI depending on your ETA to buy your HOC, but it pays to get a mortgage vocabulary primer ASAP if you're considering a purchase or refinance. To help you navigate these important and complex decisions, talk to your Realtor or a qualified lender so you don't let too much of your money go AWOL.