October 26, 2010 at 12:04 am EDT | by Chris Johnson
Education Dept. ramps up anti-bullying efforts
The Education Department has issued new guidance to schools and colleges throughout the country in an effort to stave off the bullying of LGBT students.
On Tuesday, Russlynn Ali, assistant secretary of education for civil rights, sent a "Dear Colleague" letter to educators clarifying when student bullying violates federal anti-discrimination laws. 
The letter states that while federal statute provides no specific protection against bullying on the basis of sexual orientation or gender identity, LGBT students are protected on the basis of gender under federal law.
Additionally, Ali states that while federal laws don't provide explicit protection from bullying on the basis of religion, they do offer protection against the harassment of members of religious groups based on their shared ethnic characteristics.
Federal laws that offer these protections to students include Title IX of the Education Amendmenst of 1972, which prohibits discrimination on the basis of gender.
"School personnel who understand their legal obligations to address harassment under these laws are in the best position to prevent it from occurring and to respond appropriately when it does," Ali writes.
Also on Tuesday, the Obama administration announced a new planned initiative to help combat bullying in schools. Early next year, the White House plans to host a conference to raise awareness and equip young people and community leaders with tools to address bullying and harassment.
The letter and announcement comes on the heels of numerous reported suicides of young gay men who reportedly took their own lives because they had been bullied at school.
In a statement accompanying the letter, President Obama decried the bullying of students and said "we've got to dispel the myth" that bullying is "just a normal rite of passage."
"It's not," Obama said. "We have an obligation to ensure that our schools are safe for all of our kids. Every single young person deserves the opportunity to learn and grow and achieve their potential, without having to worry about the constant threat of harassment."
In the letter, Ali cites several examples of bullying  and recommends the appropriate response from school administrators. 
In one cited example, a gay male student was harassed — both in person and on social networking web sites — prompting him to drop out of the drama club. While the schools reprimanded some who perpetuated the bullying, others continued to harass the student, according to the letter.
"As noted in the example, the school failed to recognize the pattern of misconduct as a form of sex discrimination under Title IX," the letter states. "Title IX prohibits harassment of both male and female students regardless of the sex of the harasser — i.e., even if the harasser and target are members of the same sex. It also prohibits gender-based harassment, which may include acts of verbal, nonverbal, or physical aggression, intimidation, or hostility based on sex or sex-stereotyping."
In a conference call Monday, the Education Department further clarified the new guidance with reporters.
Ali said the U.S. government could respond to schools that allow bullying against LGBT students in a variety of ways, including the restriction of federal funds.
"We could either refer them to the Department of Justice to essentially go to court or [go] through our own … process that could result in the withdrawal, or termination or conditioning of all federal funds received from the Department of Education," she said.
Still, officials maintained that cutting off funds for a school would be an unusual occurrence. Ali said the Education Department hasn't withheld funds from schools at least in the decade from schools because they "usually come into compliance during negotiations."
Chris Johnson is Chief Political & White House Reporter for the Washington Blade. Johnson is a member of the White House Correspondents' Association. Follow Chris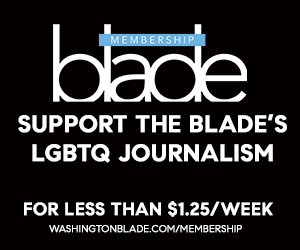 Sign Up for Blade eBlasts