May 12, 2011 at 2:39 pm EDT | by David J. Hoffman
Built with pride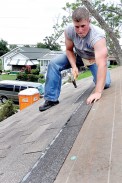 There's an old saying that if all you have is a hammer, everything looks like a nail.
Usually, that's not a compliment. But it's a good place to begin — with hanging wallboard, and pounding nails — if the task at hand is to rehab a home through volunteer labor and sweat equity, with the dwelling to be turned over to a family needing a hand up, not a handout.
To secure affordable home ownership one family at a time in Montgomery County, one of the nation's most affluent suburban areas, is the goal of the county's Habitat for Humanity affiliate, founded in 1982 but now in a new partnership with activists in the LGBT community and their allies in an initiative called Pride Build 2011.
Michael Meller, who is gay and chairs the effort, hopes to raise the $60,000 needed to bring the 67th Habitat-sponsored home in Montgomery County to fruition later this year.
"Too often the LGBT community may be viewed as separate from the community at large, and that's just false," Meller says.
"We do care, we do give back, we do want to make a better life for everybody, not just ourselves, and this kind of project makes it clear that the LGBT community is in fact an integral part of the greater community as a whole," says Meller, a business consultant specializing in real estate financial and market feasibility studies. "In doing this, we're bringing together a very high-profile and renowned organization, Habitat for Humanity, which doesn't just go out and ask for money, but also for blood, sweat and tears from volunteers to get invested in the project."
The group has $25,000 saved but needs $30,000 to get started, then another $30,000 to complete the project. So the group is hosting a fundraising reception next week featuring blue-ribbon LGBT sponsors such as state Sen. Rich Madaleno, and three delegates from the county, Bonnie Cullison, Anne Kaiser and Heather Mizeur, all from Montgomery County, as well as Elizabeth Birch, former Human Rights Campaign executive director. Acting as special guest host will be Tom Sherwood, a reporter for NBC News Channel 4 who specializes in politics and D.C. government. Guest admission is $50 and host committee admission is $75.
The group will start if it reaches its $5,000 goal. Organizations contributing include the Washington Blade, PFLAG, the National Gay & Lesbian Task Force, the National Gay & Lesbian Chamber of Commerce and the Sanford and Doris Slavin Foundation. The lead corporate sponsor is Marriott International, which is donating two vacations for a live auction to be held at the reception.
The reception will take place on Thursday at 5706 Warwick Place, from 6:30-8:30 p.m. at the home of Jeffrey Slavin, mayor of Somerset, Md., an affluent community of little more than 1,000 people wedged near Chevy Chase and Bethesda close to Friendship Heights. Joining Slavin, first elected Somerset's mayor in 2008, will be two other mayors, also gay, David Lublin, mayor of Chevy Chase and professor of government at American University; and Peter Fosselman, a civil engineer and since 2006 mayor of Kensington, Md., and also as of last month, an appointee of Maryland Governor Martin O'Malley as the state's deputy secretary of state.
Meller says his group is using this project to get a feel for how receptive the local LGBT community is to helping Habitat.
Meller points to Bob Bernstein, a Bethesda resident, as the "genesis for this idea," after Bernstein, a Pride Build donor, saw a similar idea at play in Portland.
"It was so exciting to see this as a good example of the equality movement today, where much progress is being made by people meeting openly LGBT people interested in the broader community," Bernstein, whose daughter is a lesbian, says. "I thought, 'Here's a way to step that up and also meet a need, so a family can get an affordable home,' so I contacted Habitat for Humanity in Montgomery County, and they were equally excited to get something similar started here."
It's unknown who the family receiving the home will be. The group isn't targeting an LGBT family. Habitat's Amanda Fein says the project "will definitely" be done by year's end. It will likely be a house needing significant rehab work. She says they hope to have it selected this month.
Habitat's modus operandi is using volunteers — sometimes hundreds — to build or rehabilitate houses that are sold to qualified families at no profit and are financed with affordable, no-interest mortgages.
Monthly payments are deposited into a local Habitat fund that helps to build or rehab more homes. In addition to a down payment and the monthly mortgage payment, the new homeowners invest, says Fein, on average between 200 and 500 hours of their own labor into building their homes. In addition to working on their own homes, these "partner families" also attend workshops on handling money and basic home maintenance and repair.
The next local Habitat homeownership information session is Wednesday at 6:30 at the group's offices at 9110 Gaither Road in Gaithersburg, Md. Interested people must live or work in the county for at least one year prior to application and be permanent legal residents of the U.S. People must be currently living in substandard housing conditions. They must pre-register to attend and must pre-qualify based upon family size and family income, ranging from $31,050 to $36,250 for one person to $31,050 to $68,350 for eight or more people.
For more details, visit habitat-mc.org. The Pride Build homeowner will be selected by Habitat's Family Selection Committee based on housing need, willingness to put in a set number of hours of work themselves and their ability to repay when the house is sold to the selected homeowner at a below market price and with a 30-year, no-interest mortgage, gaining equity in the home each year.