November 2, 2011 at 11:30 pm EDT | by Sean Cotter
'It Gets Better' campaign jumps the shark
Since Dan Savage started his "It Gets Better" campaign, it has seen a surprising amount of support in the media and from unexpected sources. It seems nearly each day, a new video makes headlines because of the high-profile person who appears in it — athletes, celebrities, politicians. The vast majority of these news-making videos come from straight people, many of whom might not have been expected to come out in support of gay youth in the past.
But for some time now, it has seemed that these videos have failed to live up to everything that made the "It Gets Better" campaign so powerful when it began, and have instead become a publicity tool for making straight public figures look good.
Why did "It Gets Better" seem like such a noble cause in the beginning? Because it achieved a very specific goal: It gave LGBT youth who are feeling scared, confused, uncomfortable about their feelings and their futures a hopeful voice to listen to. As difficult as it is for LGBT kids to find peers who understand them and are going through the same thing, it can be nearly impossible for them to have a direct talk with someone who has already been through it, who has grown up, understands what they're going through from personal experience, and can say that it really does get better.
As a kid, it can be difficult to see beyond your current situation, and this is amplified for LGBT youth who often have no one they can talk to about what they are going through. What these kids need more than anything else is to be told that they have a future. The first "It Gets Better" videos seemed to be about just that.
Then straight people made videos. They couldn't say they'd been in the intended audience's shoes, but they had good intentions and wanted to provide moral support. The president of the United States made one, and that was historic so it made headlines. It was a nice gesture, but also vague and less personal because President Obama couldn't really say he knew what it was like to grow up gay. Secretary of State Hillary Clinton made a video, which was historic as well, given the State Department's own "bullying" of its gay employees during the Cold War. It was important, notable, newsworthy, but again didn't do any of the things a heart-to-heart conversation between an out gay adult and a confused, scared, closeted teen was supposed to do.
Bullying and gay teen suicide became mainstream news stories in 2011, and they were generally the focus of the "It Gets Better" videos, despite the fact that direct bullying is just one of the factors that can make life miserable for gay teens (loneliness, pressure for most to stay closeted, fear that they'll never find people who are like them are other factors). As more straight celebrities, politicians and athletes made videos, they began to focus primarily on the general idea of "being picked on." Congressman Jim Moran's video is uncomfortable to watch because, having no experience to relate to troubled gay teens with, he resorts to talking about how he was a "shy kid" growing up. He looks like he doesn't know what else to say, and how could he? He never grew up with the broad, institutional persecution that LGBT youth face. But with so many other politicians making similar videos, his office must have felt that it needed to make its own.
Perhaps the new "It Gets Better" video from the United States congressional delegation from New Jersey, which features several politicians who have voted against pro-gay legislation in Congress, marks the point when this campaign has truly jumped the shark. As reported by Elizabeth Flock of the Washington Post, Rep. Leonard Lance, who appears in the video, voted against repeal of "Don't Ask, Don't Tell." Rep. Frank LoBiondo, who says in the video, "There are actions we can take to make things better now," voted against repeal of DADT and for the Marriage Protection Act, which would prohibit federal courts from hearing cases that involve challenges to the Defense of Marriage Act. Rep. Jon Runyan appears in the video and has said in the past that he supports civil unions but that gay people should not be allowed to be married. The congressmen may tout their disapproval of classic schoolyard bullying, and yet they are contributing to a public culture that enshrines discrimination against LGBT people into law.
The fact that a YouTube video can be seen as more important than an anti-gay congressional record signifies that the "It Gets Better" campaign has now become just as shallow as our political discourse.
Direct bullying is not the only thing that pressures gay kids to either stay closeted or risk facing social consequences. Public disapproval on a broad level can make a gay teenager's situation seem more hopeless, and it can make traditional "bullying" seem supported by society – in the eyes of both the bully and the person being bullied. This type of bullying is more pervasive and can cause deep damage to self-esteem.
What these kids need is love, respect, and for somebody to tell them that they've been where they are and know what it's like. It is still too early to tell how the intended audience is being affected by the "It Gets Better" campaign. We can only hope that when they are older and when they can answer back and tell us about what they went through, they will say that they were inspired by the campaign, that it didn't seem like a cynical ploy for people to grab media attention by feigning tolerance, and a tool for politicians to conceal their hypocrisy.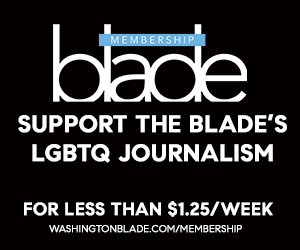 Sign Up for Blade eBlasts