Capital TransPride draws nearly 150 to Southwest
Panel discussed anti-trans violence and District police's response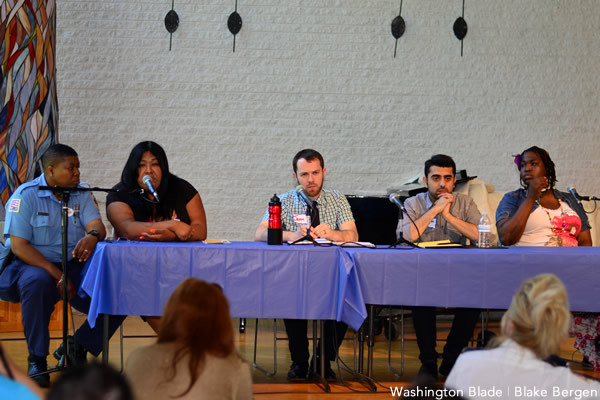 Nearly 150 people gathered at the Westminster Presbyterian Church in Southwest on Saturday for the sixth annual Capital TransPride.
Author Everett Maroon delivered the keynote address; while Helping Individual Prostitutes Survive executive director Cyndee Clay, Rainbow History Fund founder Mark Meinke and TransPride founder SaVanna Wanzer were honored for their work on behalf of trans Washingtonians. Transgender Health Empowerment, the Latino History Project, the Gay and Lesbian Activists Alliance and Equality Maryland were among the more than 20 organizations that co-sponsored the event.
"We reached a much larger audience than we did last year," noted Capital TransPride Co-Chair Holly Goldmann, who is also a D.C. LGBT Community Center board member.
Former Sexual Minority Youth Assistance League member Terra Moore, Gays and Lesbians Opposing Violence vice chair Hassan Naveed, Jason Terry of the D.C. Trans Coalition, trans activist Ruby Corado and Officer Juanita Foreman of the Metropolitan Police Department's Gay and Lesbian Liaison Unit discussed anti-trans violence in the District on a panel that former TransPride chair Danielle King moderated.
Corado, whose community center for LGBT Latinos in Columbia Heights is slated to open on June 6, said the situation for trans Washingtonians has improved over the last decade. Challenges, however, remain.
"These days we do have the ability that we can be ourselves and we can actually function during the day," said Corado. "We come out in different neighborhoods in this city. There are people who are really willing to embrace us and have done so well. However, we still have other people that are not quite receptive of the idea of a trans person being themselves."
MPD statistics show that there were 10 reported bias-related crimes based on gender identity and expression in the city in 2010, compared to five in 2009 and four in 2008.
A National Coalition of Anti-Violence Programs report indicates that 70 percent of anti-LGBT murder victims in 2010 were people of color—and 44 percent of them were trans women. The NCAVP study further noted that trans people and people of color are twice as likely to experience violence or discrimination than non-trans white people. The report also indicates that trans people of color are more than twice as likely to experience discrimination than whites.
Lashay Mclean's murder last July in Northeast and the subsequent spate of anti-trans violence that included an off-duty District police officer allegedly shooting three trans women and two male friends while they sat in a car underscores the problem. Prosecutors charged Gary Niles Montgomery with second-degree murder while armed in connection with the stabbing death of Deoni Jones at a Northeast Metro bus stop on Feb. 2.
"It's time we look at ourselves and come together," said Corado in response to King's question about what trans women of color can do to curb violence directed against them. "You really need to take an active role because until we become part of the solution, you can't expect someone else to do it for us."
Corado and several other panelists were quick to applaud GLLU and the MPD's efforts over the last year to combat anti-trans violence in the city. Terry described D.C. Mayor Vincent Gray as the most trans-friendly administration the city has ever seen, but he stressed that City Hall has not done enough to ensure trans Washingtonians' safety.
"We have to get serious in addressing biased policing in this city," Terry said.
Terry also cited Police Chief Cathy Lanier's comments during a WTOP interview in February that trans people need to do more to keep themselves safe as another example of what he described as blaming the victim. "It's not your fault if you're victimized," he stressed. "It's not your fault."
Assistant Police Chief Diane Groomes stressed at the end of the panel that the department remains committed to combating bias-related crimes in the city. She added the MPD has a system in place to respond to officers who do "not do what they're supposed to do."
"If there is an issue, do let us know," said Groomes.
Police spokesperson Gwendolyn Crump further defended the MPD's approach.
"One of the District's most attractive qualities is that it is open and welcoming to people of all nations, races, sexual orientation and gender identity.  Intolerance and hate crimes have no place in our vibrant city," she told the Blade. "With 100 officers and almost all detectives trained to work with the LGBT community to address crimes of all types, we have more resources dedicated than ever before. This in turn helps us to make arrests, as we did in the recent IHOP shooting, and prevent the next crime and victimization."
Jeffrey Richardson, director of the Mayor's Office of GLBT Affairs, echoed Crump.
"While our city as a whole, still has much work to do on these issues, the Gray administration has made major strides to open the lines of communication with community partners and leverage resources to address some core issues facing the community," he said, noting that the District's community engagement remains far more advanced than in other cities around the country. "There's always going to be more we can do to respond to trends, shift culture and change behavior. It is our commitment to keep our lines of communication open and work in partnership to make the District a safer place for all residents."
Virginia Beach high school students stage walkouts to support transgender rights
City's school board approved policy to out trans students to parents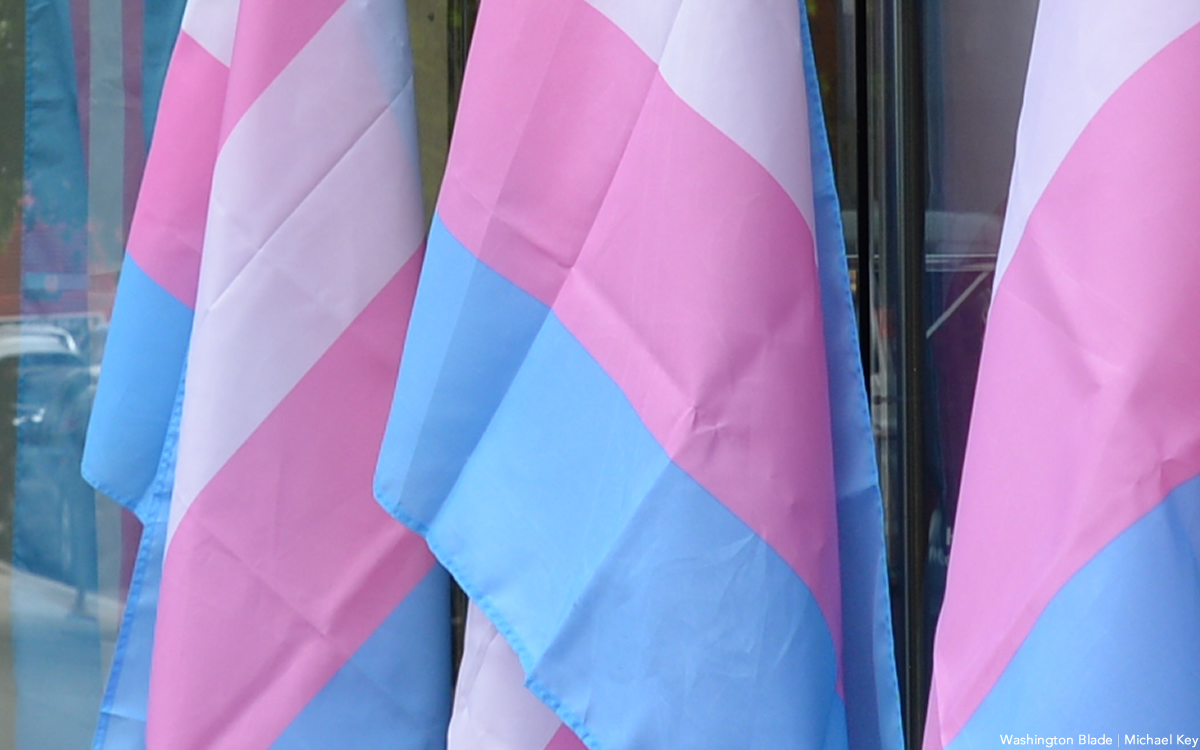 Students at five Virginia Beach high schools on Friday staged walkouts in support of transgender rights.
The walkout is in response to the Virginia Beach School Board approving policy 5-31, which the Pride Liberation Project says will require schools to out trans students to their parents.
Students have been organizing walkouts across the state since Republican Gov. Glenn Youngkin earlier this year announced new guidelines for trans and nonbinary students.
"Students like me aren't going to be able to talk to our teachers if we're constantly worried about our school officials calling home to forcibly out us," AJ, a trans Kellam High School Student, told the Pride Liberation Project.
Pepco, Exelon announce $2.7 million in funding for four minority-owned businesses
'It's good business sense to bring more people to the table'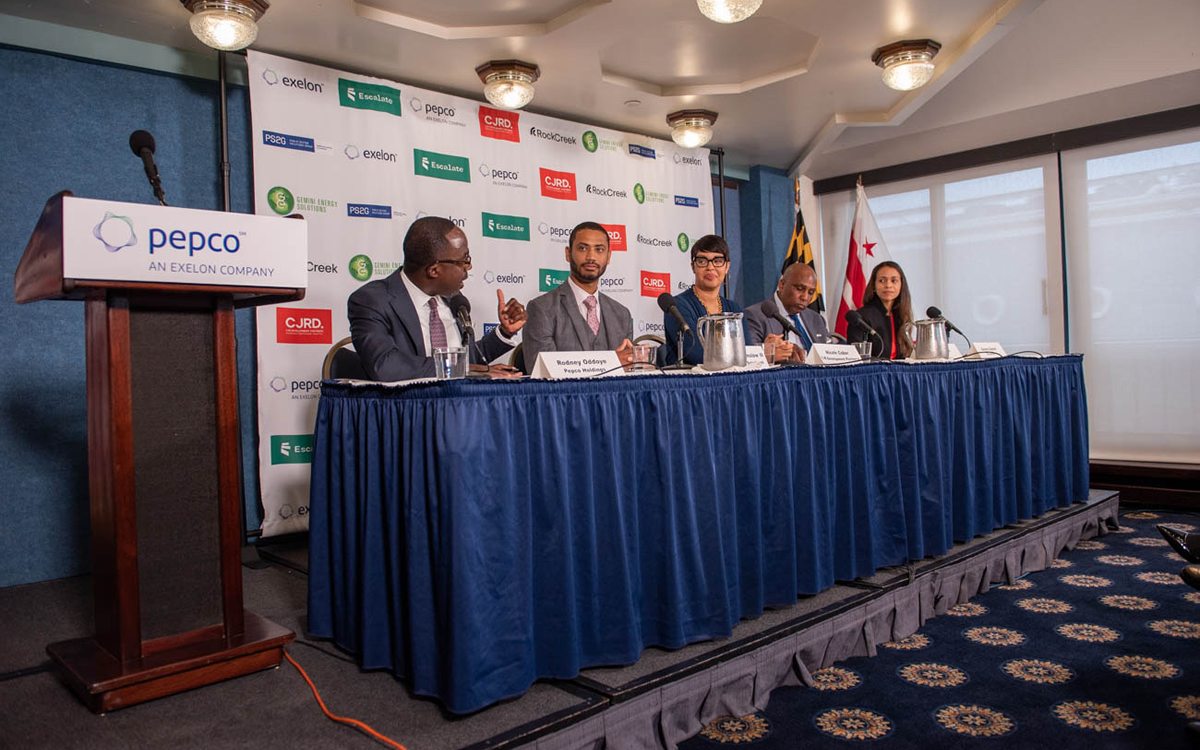 Pepco and Exelon announced a $2.7 million investment in four minority-owned businesses on Friday.
"Today's been a long time coming," said Pepco Vice President of Governmental and External Affairs Valencia McClure.
Pepco's parent company, Exelon, launched the Racial Equity Capital Fund (RECF) in 2022 to expand capital access to diverse businesses. This latest $2.7 million investment is just a portion of RECF's $36 million in funding.
At the announcement, D.C. Mayor Muriel E. Bowser spoke about the other ways Pepco and Exelon have "put their money where their mouth is" through their partnership with the D.C. Infrastructure Academy. She reported that all 22 of the residents that graduated from the program last week have a job offer from Pepco.
"We know that is not just a job, but a career," she said to the crowd's applause. "We know that working together, we can invest in D.C. residents, provide opportunity, and ensure that our D.C. businesses are a part of D.C.'s growing prosperity."
The four minority businesses that received funding were Gemini Energy Solutions, Public Sector Solutions Group, CJR Development Partners, and Escalate.
"It's good business sense to bring more people to the table," said fund recipient Nicole Cober, CJR Development's Principle Managing Partner.
Gemini Energy Solutions, which is Black owned, received $1 million, the most of the four companies. Its mission is to equitably scale energy efficiency to marginalized communities. For the founder and CEO Anthony Kinslow II, this investment means that he is able to get paid and advance the work of his organization.
"We are now able to accelerate the work in our software and technology development," he said. "What we were going to do in two years, we are now going to do in six months."
For Escalate, a workforce development platform focused on frontline worker retention, the funding means that it will be able to double the pay for frontline workers.
Public Sector Solutions Group CEO Darryl Wiggins emphasized that this investment was not just 'charity' work, but mission-driven work.
"The principle and the intent is greater than the money we receive," he said. Public Sector Solutions is Black owned.
Public Sector Solutions Group received a $600,000 debt investment; CJR Development, a minority and woman-owned small business, received a $600,000 debt investment; and Escalate, a majority Black and woman-owned company, received a $500,000 equity investment.
Exelon launched the RECF in partnership with RockCreek, one of the world's largest diverse-owned global investment firms, in 2022. The RECF expands capital access to diverse businesses so they can create more jobs, grow their companies and reinvest in their neighborhoods and communities, according to a statement from Exelon.
New RECF applications are accepted on a rolling basis. Interested businesses may apply online or contact RockCreek at [email protected] for more information.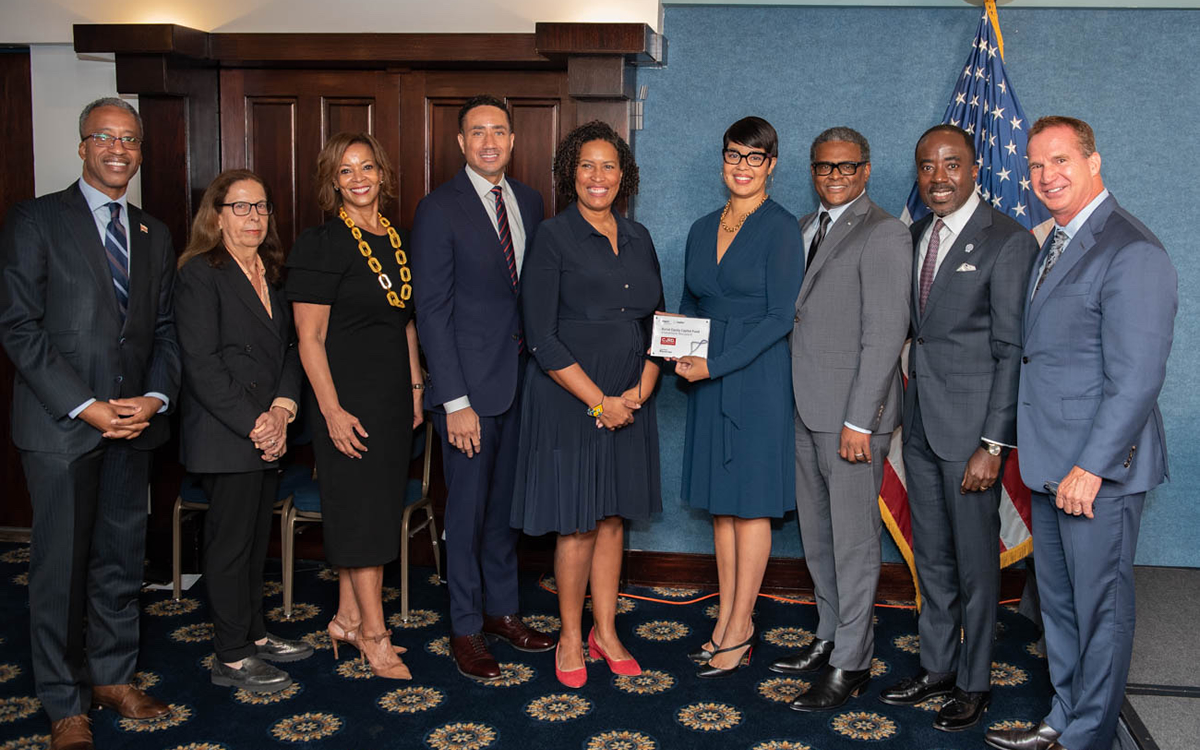 Comings & Goings
Armstrong recognized with Lifetime Achievement Award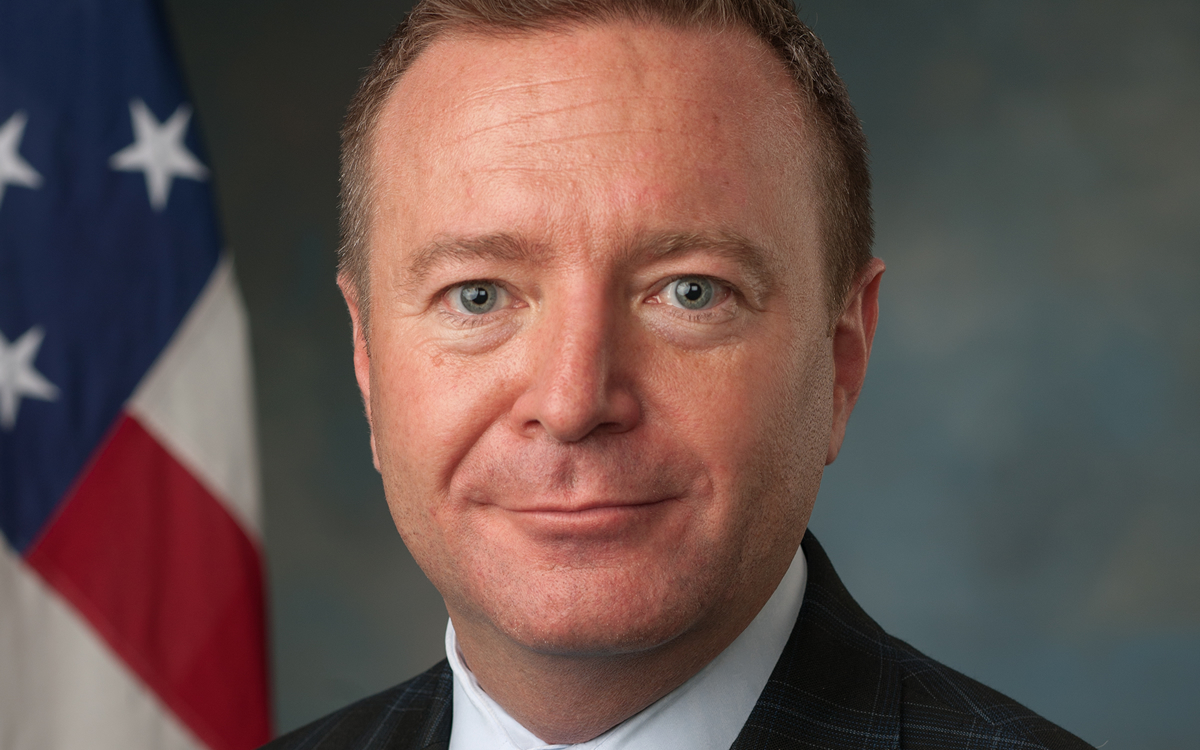 The Comings & Goings column is about sharing the professional successes of our community. We want to recognize those landing new jobs, new clients for their business, joining boards of organizations and other achievements. Please share your successes with us at: [email protected].
Congratulations to Lynden C. Armstrong on his Lifetime Achievement award from the Congressional Management Foundation in recognition of his exemplary public service in Congress.
Upon receiving the award Armstrong said, "This recognition is not just a personal achievement, but a testament to the unwavering dedication and hard work of colleagues and mentors who have been with me on this journey. I've dedicated my entire career to public service within the Senate, where recognition isn't the primary motivation for our work, making this recognition even more humbling." He is currently Deputy Assistant Senate Sergeant at Arms and Chief Information Officer.
Armstrong started his career with Sen. Pete Domenici (R-N.M.), where he rose to Deputy Chief of Staff in his more than 13-year stint. In 2004, during his tenure with Domenici, amid a debate on the Federal Marriage Amendment, Armstrong became a co-founder of the Gay, Lesbian and Allies Senate Staff (GLASS) Caucus. In 2014, he moved to the Sergeant at Arms CIO organization, where he established a new department within the CIO that was crafted to engage Senate offices in comprehending and harnessing technologies provided by the SAA.
Lynden has previously served as Chief Clerk on the U.S. Senate, Committee on Rules and Administration, and with the U.S. Senate, Joint Congressional Committee on Inaugural Ceremonies, as Deputy Inaugural Coordinator, 2012–2013. In that role among other responsibilities, he served as civilian liaison to the National Special Security Event Executive Steering Committee and subcommittees, including the Capitol, USCP, Crowd Management, Public Relations, Transportation, and credentialing, and as liaison to the Joint Task Force – National Capital Region.