Area sports teams adopt gay-inclusive policies
DC United player Dwayne De Rosario appears in anti-discrimination campaign
Local professional sports teams continue to make strides towards protecting their gay employees from discrimination and harassment in the workplace.
A spokesperson for the Washington Nationals noted to the Washington Blade the team's policies and procedures "are designed to support the provisions" of the D.C. Human Rights Act that ban discrimination based on more than a dozen factors that include sexual orientation and gender identity and expression. The Baltimore Orioles have a zero-tolerance policy for anti-gay harassment and discrimination as outlined in Major League Baseball's Workplace Code of Conduct.
"Harassment and discrimination based on sexual orientation are against MLB's values and will not be tolerated anywhere in the major or minor leagues," the policy reads.
FIND MORE OF THE WASHINGTON BLADE SPORTS ISSUE HERE.
The Baltimore Ravens have also adopted a policy that bans discrimination based on sexual orientation and gender identity and expression.
The franchise repeatedly defended then-linebacker Brendon Ayanbadejo's advocacy for marriage rights for same-sex couples after state Del. Emmett Burns (D-Baltimore County) urged Ravens owner Steve Bisciotti that Ayanbadejo "should concentrate on football and steer clear of dividing the fan base" after he learned he had donated two Ravens tickets as part of a Marylanders for Marriage Equality fundraiser.
"Brendon is permitted to express his viewpoints," team spokesperson Patrick Gleason told the Blade before the Ravens defeated the San Francisco 49ers in this year's Super Bowl. "The Ravens have always supported his right to free speech."
The Washington Wizards did not respond to the Blade's request for comment, but the collective bargaining agreement the NBA reached in 2011 includes sexual orientation in its anti-discrimination policies. The league also has those protections in place for its employees.
Both NBA Commissioner David Stern and Wizards President Ernie Grunfeld applauded Jason Collins after he came out as gay in an op-ed published to Sports Illustrated's website in April.
"We are extremely proud of Jason and support his decision to live his life proudly and openly," Grunfeld said. "He's been a leader on and off the court and an outstanding teammate throughout his NBA career. Those qualities will continue to serve him both as a player and as a positive role model for others of all sexual orientations."
The Washington Capitals did not respond to the Blade's request for comment, but the National Hockey League's anti-discrimination policy has included sexual orientation since 2005. The National Football League's handbook states harassment and discrimination based on sexual orientation "are contrary to our values."
National Center for Lesbian Rights Sports Director Helen Carroll told the Blade that more fans are asking professional sports teams to adopt LGBT-inclusive policies.
She said she feels Ayanbadejo, Chris Kluwe of the Oakland Raiders and other athletes who back marriage rights for same-sex couples have contributed to this increased support. Carroll added societal shifts in support of LGBT rights are also a factor.
"It has put everything front and center in a brand new light," she said.
Teams host LGBT fan nights, support anti-discrimination campaigns
Team D.C. organizes LGBT fan nights that take place during Wizards, Nationals and Washington Mystic games and Washington Kastles matches. Ayanbadejo and the Orioles each made a video for the "It Gets Better" project against bullying.
The San Francisco Giants, the Chicago Cubs, the Boston Red Sox and Seattle's four professional sports teams are among those that have also made their own "It Gets Better" video.
Dwayne De Rosario of DC United, Landon Donovan of the Los Angeles Galaxy and Kyle Beckerman of Real Salt Lake appear in a gay-inclusive anti-discrimination campaign that Major League Soccer launched last year. AS Roma in July backed the "Don't Cross the Line" initiative that also seeks to combat racism in professional soccer before they played against each other during the MLS All-Star Game that took place in Kansas City, Kan., on July 31.
"The response has been really well received from the soccer community," de Rosario told the Blade during a recent interview. "A lot of people are on board and want to see certain things that are involved in sports out of sports."
http://www.youtube.com/watch?v=aHmTvpmLFKA
Victory Fund honors Maine House speaker at D.C. conference
Ryan Fecteau is gay Catholic University alum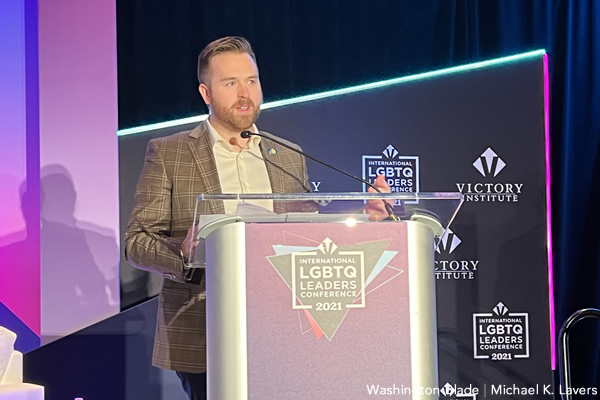 The Victory Fund on Saturday honored Maine House Speaker Ryan Fecteau on the last day of its International LGBTQ Leaders Conference in D.C.
Fecteau — an openly gay Catholic University of America alum — won a seat in the Maine House of Representatives in 2014. He became the chamber's speaker in 2018.
"Hate and intolerance will not derail us," said Fecteau after Florida state Rep. Carlos Guillermo Smith presented him with the Tammy Baldwin Breakthrough Award, which is named after U.S. Sen. Tammy Baldwin (D-Wis.). "Our community will not be intimidated."
The Victory Fund on Friday honored Guatemalan Congressman Aldo Dávila, a gay man who is living with HIV.
Victory Fund honors gay Guatemalan congressman at D.C. conference
Aldo Dávila a vocal critic of country's government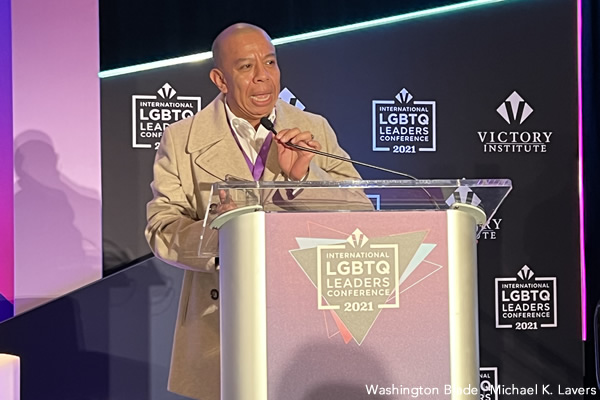 The Victory Fund on Friday honored an openly gay Guatemalan congressman who has faced death threats because of his efforts to fight corruption in his country.
Dávila — a member of the Winaq movement, a leftist party founded by Rigoberta Menchú, an indigenous human rights activist and Nobel Peace Prize winner — in 2019 became the first openly gay man elected to Guatemala's congress. Dávila, who also lives with HIV, had previously been the executive director of Asociación Gente Positiva, a Guatemala City-based HIV/AIDS service organization.
Supporters of President Alejandro Giammattei have lodged several formal complaints against Dávila after he publicly criticized the government over corruption, its response to the pandemic and other issues.
Three men on April 19 approached Dávila's vehicle near Guatemala's National Library and tried to rob him. One of Dávila's bodyguards shot one of the men, but the two other assailants fled the scene before police officers and passersby arrived.
Dávila told the Washington Blade in September during an interview at a Guatemala City hotel that he and his partner installed cameras in their apartment after someone killed their dog.
Two female police officers who arrived at the hotel with Dávila sat in the lobby while he spoke with the Blade. The government a few weeks later reduced his security detail.
"Guatemala is living through the worst democratic crisis in the last 40 years," said Dávila after he accepted the Victory Fund's Global Trailblazer Award at its 2021 International LGBTQ Leaders Conference that is taking place in-person at the JW Marriott in downtown D.C. "Guatemala right now is being paralyzed by corruption and impunity and my voice is uncomfortable because of this."
Dávila became emotional at the end of his remarks.
"I will keep fighting for our rights," he said.
Comings & Goings
Nathanson takes role at Outright Action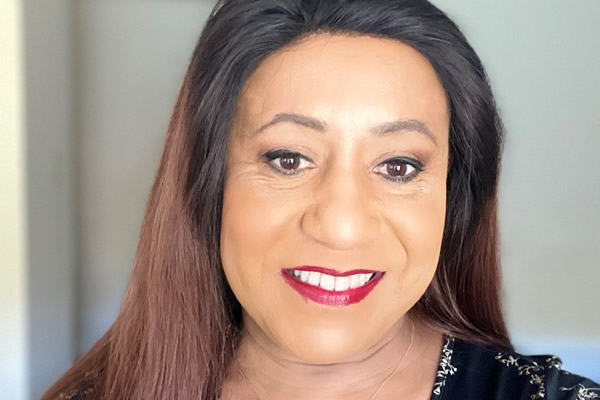 The Comings & Goings column is about sharing the professional successes of our community. We want to recognize those landing new jobs, new clients for their business, joining boards of organizations and other achievements. Please share your successes with us at: [email protected]
The Comings & Goings column also invites LGBTQ+ college students to share their successes with us. If you have been elected to a student government position, gotten an exciting internship, or are graduating and beginning your career with a great job, let us know so we can share your success.
Congratulations to Rikki Nathanson on her new position as Senior Advisor – Global Trans Program with OutRight Action International in New York. Nathanson will be based in D.C.
"I am absolutely thrilled to be taking on this new role as Senior Advisor in OutRight's Global Trans Program," said Nathanson. "I have finally found the perfect fit for me: as a trans woman who has been fighting for equality not only for myself, but for others globally, this position is not only a job, it's intrinsically part of who I am. So, what better way to live, nurture and grow myself."
Nathanson will be working closely with all program staff to ensure a cohesive and intentional approach to gender issues throughout OutRight's programs, including its approach to gender ideology movements. She will lead new initiatives on gender advocacy and policy change, focused but not limited to legal gender recognition and anti-discrimination legislation and policies.
Prior to this Nathanson was director of housing programs at Casa Ruby in D.C. She has also held a number of other positions including: founder/executive director of Trans Research, Education, Advocacy & Training (TREAT), Zimbabwe; chairperson Southern Africa Trans Forum, SATF, Cape Town, South Africa; executive director, Ricochet Modeling Agency, Zimbabwe; and company secretary for Dunlop Zimbabwe Limited, Zimbabwe.