Reid to set up ENDA vote before Thanksgiving
Bill to stop anti-LGBT job bias to come to Senate floor this work period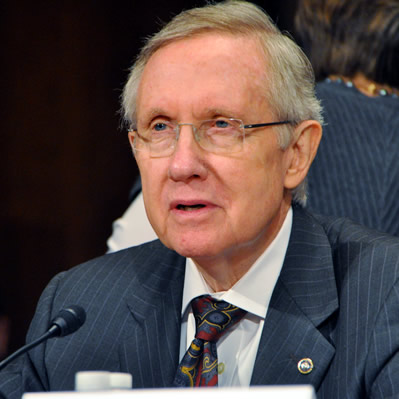 Senate Majority Leader Harry Reid (D-Nev.) announced on the Senate floor Monday that he'll bring up the Employment Non-Discrimination Act for a vote before Thanksgiving.
In his first remarks following a short recess, Reid said the bill, which would prohibit anti-LGBT bias in the workforce, would be among the items the Senate will take up during the four-week work period.
"We're going to consider the act known as ENDA," Reid said, adding that it "failed in the House of Representatives before, but we're going to take it up here again."
Adam Jentleson, a Reid spokesperson, said the exact floor timing "remains to be determined based on how votes go this week," but a vote on the long pursued legislation to prohibit anti-LGBT job bias could come up as early as next week.
Sen. Jeff Merkley (D-Ore.), chief sponsor of ENDA, praised Reid in a statement for the decision to bring ENDA to the floor in the coming weeks.
"I thank Majority Leader Reid for committing to bring ENDA to the floor this work period. Americans understand that it's time to make sure our LGBT friends and family are treated fairly and have the same opportunities," Merkley said. "Now it's time for our laws to catch up. People should be judged at work on their ability to do the job, period."
The Senate Health, Education, Labor & Pensions Committee reported out ENDA on bipartisan basis in July by a 15-7 vote. Sen. Mark Kirk (R-Ill.), an original co-sponsor of the bill, and Sens. Orrin Hatch (R-Utah) and Lisa Murkowski (R-Alaska) joined all 12 Democratic members of the committee in voting in favor of the legislation.
The legislation is unlikely to proceed to the floor by unanimous consent, so 60 votes will be necessary to end a filibuster. That hurdle is higher than the 54 senators who currently sponsor the bill.
Fred Sainz, vice president of communications for the Human Rights Campaign, expressed gratitude that Reid is poised to bring the bill to floor vote and said 60 votes are within sight.
"We're gratified that Senator Reid is bringing this important bill to the floor," Reid said. "Over the course of the past six months, we've worked hard to ensure that senators know their constituents support this bill. We're in the homestretch of securing the 60 votes necessary and remain optimistic that the support will be there when we need it."
Tico Almeida, president of Freedom to Work, was more bullish and said 60 votes are already present on the floor to pass ENDA.
"We're ready for a winning vote," Almeida said. "After months of Republican outreach led by our Legislative Director Christian Berle and teamed with Log Cabin Republicans, we're confident we have the 60 votes to defeat any attempted filibuster."
The goal of finding 60 votes to pass ENDA in the Senate is a small hurdle in comparison to finding sufficient support for passing the bill in the House, where Republican control will make passage daunting to say the least.
Mara Keisling, executive director of the National Center for Transgender Equality, expressed gratitude that a Senate vote on ENDA would take place, but suggested that a House vote will have to come at later time when the makeup is different.
"Because of all the work people have done over th­­e years at the grassroots level and on Capitol Hill, we're optimistic that the Senate vote will go our way," Keisling said. "The forthcoming Senate vote will change the playing field once we have a friendlier House that can tackle ENDA."
Advocacy groups have been ramping up their efforts on ENDA in expectations that a Senate vote on the bill would take place sometime this fall. The most prominent among them is Obama's political arm, Organizing for Action.
Last week, Organizing for Action held a conference call with supporters and Matt McTighe, campaign manager for Americans for Workplace Opportunity, to discuss the legislation. The organization has also sent out to email blasts to supporters asking them to let the senators know that backing ENDA "is about standing up for what's right."
Ben Finkenbinder, an OFA spokesperson, said his organization is helping to pass ENDA because it's about making sure all Americans have equal opportunity in the workplace.
"OFA is working to make sure Americans know what is at stake in the ENDA fight, ensuring all Americans who work hard have a fair shot — which means every American having the same protections in the workplace, no matter who they are or whom they love," Finkenbinder said.
With the exception of three lawmakers, every Democrat in the Senate is an ENDA co-sponsor. The three holdouts are Sens. Mark Pryor (D-Ark.), Joe Manchin (D-W.V.) and Bill Nelson (D-Fla.). Additional Republicans that Log Cabin has said could support the bill are Sens. Rob Portman (R-Ohio), Kelly Ayotte (R-N.H.), Dean Heller (R-Nev.), Jeff Flake (R-Ariz.) and Pat Toomey (R-Pa.).
According to a Friday report in the Washington Post, Cindy McCain has also engaged in lobbying efforts to encourage her husband Sen. John McCain (R-Ariz.) to back ENDA. She signed a postcard from the Human Rights Campaign urging her husband to support the bill.
The Post reported that HRC organizer John Gomez spotted Cindy McCain at a Staples in Arizona. After talking with her about ENDA, Cindy McCain said she shared her support for the bill, signing the postcard and addressed it to her husband, according to the Post.
Freedom to Work's Almeida said his organization has been pursuing Latino voters in efforts to encourage senators in Florida, Arizona in Nevada, which have significant Latino populations, to support the legislation.
"Last week we launched phone-banking to thousands of registered Latino voters in Arizona and Nevada asking them to patch-through to Senators McCain, Flake and Heller to urge them to vote 'yes,'" Almeida said. "We're using bilingual call centers and the same parameters for Latino voter lists that national Latino organizations used earlier this year to flood the Senate with calls in favor of immigration reform."
Victory Fund honors gay Guatemalan congressman at D.C. conference
Aldo Dávila a vocal critic of country's government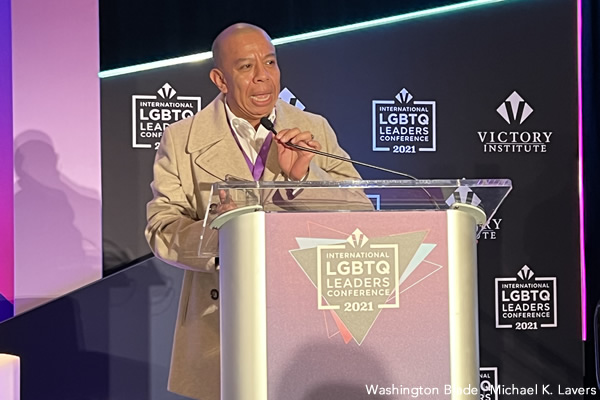 The Victory Fund on Friday honored an openly gay Guatemalan congressman who has faced death threats because of his efforts to fight corruption in his country.
Dávila — a member of the Winaq movement, a leftist party founded by Rigoberta Menchú, an indigenous human rights activist and Nobel Peace Prize winner — in 2019 became the first openly gay man elected to Guatemala's congress. Dávila, who also lives with HIV, had previously been the executive director of Asociación Gente Positiva, a Guatemala City-based HIV/AIDS service organization.
Supporters of President Alejandro Giammattei have lodged several formal complaints against Dávila after he publicly criticized the government over corruption, its response to the pandemic and other issues.
Three men on April 19 approached Dávila's vehicle near Guatemala's National Library and tried to rob him. One of Dávila's bodyguards shot one of the men, but the two other assailants fled the scene before police officers and passersby arrived.
Dávila told the Washington Blade in September during an interview at a Guatemala City hotel that he and his partner installed cameras in their apartment after someone killed their dog.
Two female police officers who arrived at the hotel with Dávila sat in the lobby while he spoke with the Blade. The government a few weeks later reduced his security detail.
"Guatemala is living through the worst democratic crisis in the last 40 years," said Dávila after he accepted the Victory Fund's Global Trailblazer Award at its 2021 International LGBTQ Leaders Conference that is taking place in-person at the JW Marriott in downtown D.C. "Guatemala right now is being paralyzed by corruption and impunity and my voice is uncomfortable because of this."
Dávila became emotional at the end of his remarks.
"I will keep fighting for our rights," he said.
Comings & Goings
Nathanson takes role at Outright Action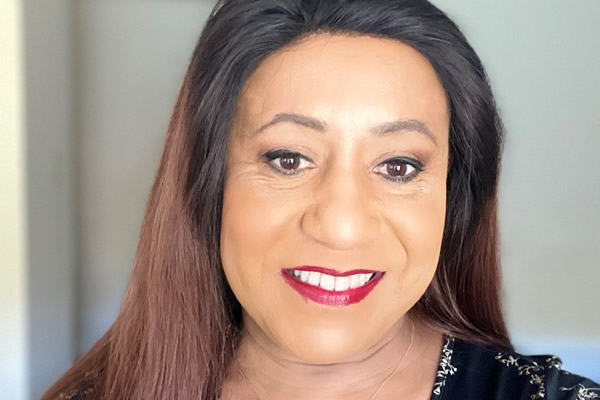 The Comings & Goings column is about sharing the professional successes of our community. We want to recognize those landing new jobs, new clients for their business, joining boards of organizations and other achievements. Please share your successes with us at: [email protected]
The Comings & Goings column also invites LGBTQ+ college students to share their successes with us. If you have been elected to a student government position, gotten an exciting internship, or are graduating and beginning your career with a great job, let us know so we can share your success.
Congratulations to Rikki Nathanson on her new position as Senior Advisor – Global Trans Program with OutRight Action International in New York. Nathanson will be based in D.C.
"I am absolutely thrilled to be taking on this new role as Senior Advisor in OutRight's Global Trans Program," said Nathanson. "I have finally found the perfect fit for me: as a trans woman who has been fighting for equality not only for myself, but for others globally, this position is not only a job, it's intrinsically part of who I am. So, what better way to live, nurture and grow myself."
Nathanson will be working closely with all program staff to ensure a cohesive and intentional approach to gender issues throughout OutRight's programs, including its approach to gender ideology movements. She will lead new initiatives on gender advocacy and policy change, focused but not limited to legal gender recognition and anti-discrimination legislation and policies.
Prior to this Nathanson was director of housing programs at Casa Ruby in D.C. She has also held a number of other positions including: founder/executive director of Trans Research, Education, Advocacy & Training (TREAT), Zimbabwe; chairperson Southern Africa Trans Forum, SATF, Cape Town, South Africa; executive director, Ricochet Modeling Agency, Zimbabwe; and company secretary for Dunlop Zimbabwe Limited, Zimbabwe.
SMYAL Director Shakir to step down Dec. 31
Board to launch Executive Search beginning in January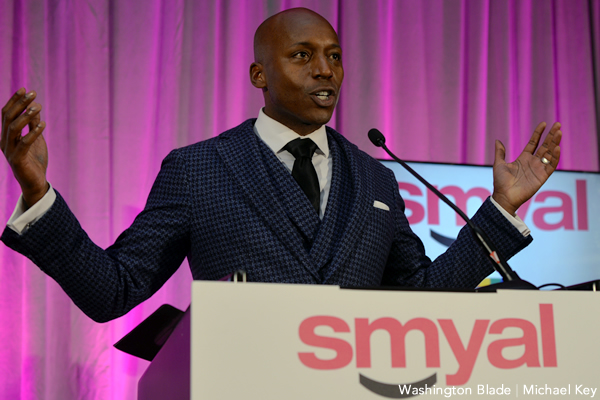 Sultan Shakir, who has served as executive director of D.C.'s LGBTQ youth advocacy organization SMYAL since August 2014, announced on Friday that he will be stepping down from his position effective Dec. 31.
In a Dec. 3 announcement, SMYAL said details of Shakir's future career plans would be announced in the coming weeks.
"While we are sad to see Sultan leave, we wish him nothing but the same success in his new endeavor as he had at SMYAL," said Rob Cogorno, SMYAL's board chair. "His leadership and vision enabled SMYAL to expand greatly needed services to LGBTQ youth in the DC metro area throughout his tenure," Cogorno said.
"I am immensely proud of the work we have been able to accomplish together in my time at SMYAL," Shakir said in a statement released by SMYAL. "SMYAL has been an integral and vital resource in the DMV community for over 37 years, and while we have come a long way in combating homophobia, transphobia, racism, sexual health stigma, homelessness, violence against the LGBTQ community, and oppression, we have a long way to go," he said.
"This work has never been about one person," said Shakir. "SMYAL was founded by our community and we're still around because of our community," he said. "I leave knowing that the commitment and passion of the SMYAL Board, staff, volunteers, and youth leaders have created a solid foundation from which our work will continue to grow until LGBTQ youth no longer need us."
The SMYAL statement says that under Shakir's tenure, SMYAL, which stands for Supporting and Mentoring Youth Advocates and Leaders, expanded its programs and services for LGBTQ youth. Among other things, in 2017 SMYAL opened its first of several housing facilities for homeless LGBTQ youth that include culturally competent case management, education and employment assistance.
"The Youth Housing Program now comprises five programmatic models that serve a combined 61 youth residents," the statement says.
It points out that also under Shakir's leadership, SMYAL expanded the age range of the youth its programs serve under a new Little SMYALs program, which welcomes LGBTQ youth ages 6-12. And earlier in 2021 under Shakir's guidance, SMYAL began a new Clinical Services Department "which provides affirming and accessible mental health counseling," the statement says.
"The SMYAL Board of Directors will officially launch an Executive Search beginning in January 2022 and expects to have named a new Executive Director by summer 2022," the statement says. It says the board will soon name an interim executive director to work with SMYAL's Deputy Executive Director, Jorge Membreno, and the organization's leadership team to oversee the day-to-day activities until a new executive director is named.