Gay couples sue Utah to recognize their marriages
ACLU files lawsuit on behalf of four couples who wed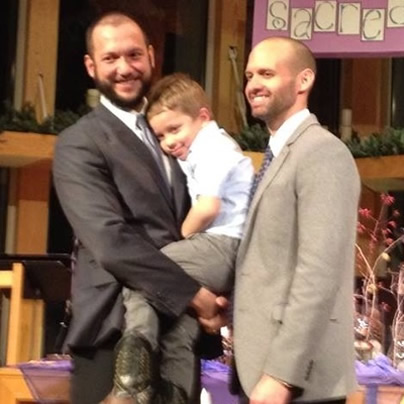 For Matt Barazza, government recognition of his marriage in Utah is important not only to him and his spouse, Tony Milner, but also to the four-year-old child whom they've raised since his birth.
After marrying in their home state of Utah on Dec. 20 — the first day same-sex marriage came to Utah — the couple submitted paperwork for a second-parent adoption of the child, Jesse, and received a hearing date of Jan. 10. But plans changed after Gov. Gary Herbert announced the state wouldn't recognize Utah same-sex marriages in the wake of a stay on the weddings from the U.S. Supreme Court.
As a consequence, the judge presiding over the request for second-parent adoption pushed back the hearing to Jan. 31, and Barazza and Milner elected to join a proposed lawsuit by the American Civil Liberties Union to ensure Utah would recognize the more than 1,300 gay weddings performed in the state.
"That's the primary reason for us filing the lawsuit at this point was to have the Utah courts make a decision and recognize that our marriage is legal, so that we can go forward with the second-parent adoption and try and get the protections that we can for our son," Barazza told the Washington Blade on Monday.
While Barazza, 38, an attorney, and Milner, 33, a director of a non-profit that serves homeless families, are both raising Jesse in Salt Lake City, only Barazza is recognized as the adoptive parent because under Utah law, only one of the two was able to adopt the child. The couple also legally married in D.C. in 2010, but elected to do so again when same-sex marriage came to Utah so they could wed in their home state.
But with their marriage no longer recognized by Utah, Barazza said he lives in constant fear of what might happen because of the lack of legal recognition between his partner and their son.
"You fear the worst case scenario always," Barazza said. "As the one who's the legal parent, if anything were to happen to me, it would leave [Jesse] basically an orphan as far as the law is concerned…All that would be in spite of my husband Tony being there from Day One and being just as much a parent as I am."
On Dec. 20, U.S. District Judge Robert Shelby ruled that Amendment 3, Utah's ban on same-sex marriage, was unconstitutional as a result of a federal lawsuit seeking marriage equality, allowing gay couples to wed in the state immediately. But upon the request from the state, the U.S. Supreme Court placed a stay on the weddings on Jan. 9 pending appeal of the lawsuit. The next day, Herbert said the state wouldn't recognize the same-sex marriages of couples that married in Utah before the stay was in place.
Although U.S. Attorney General Eric Holder would later announce the marriages would be recognized for federal purposes, as it stands now the couples will have to wait for the outcome of the federal lawsuit — which could take years — to find out whether the state will recognize their marriage.
Barazza and Milner are one of four couples seeking recognition of their marriage from Utah after having wed in the 18 days when same-sex marriages were legal there. The lawsuit was filed Tuesday in state court by the American Civil Liberties Union, the ACLU of Utah and the Salt Lake City-based firm Strindberg & Scholnick, LLC.
The 32-page complaint alleges Herbert's decision not to recognize the marriages violates both the due process clause under Utah's  constitution and the Fourteenth Amendment to the U.S. Constitution. Additionally, it seeks relief under declaratory judgment and Rule 65B, which allows individuals in Utah to seek extraordinary relief against wrongful use of public authority.
"By placing recognition of their marriages 'on hold,' the State of Utah has placed the legal status of plaintiffs' families, including their children, in legal limbo and created uncertainty as to their rights and status in virtually all areas of their lives," the complaint states.
Joshua Block, a staff attorney with the ACLU's LGBT project, said the goal of the lawsuit is to achieve a result similar to what the California Supreme Court decided after state voters in 2008 approved Proposition 8.
"What happened in Prop 8 is they said if you got married before the amendment went into effect, the marriages are valid and continue to be recognized in California, but no new marriages could happen," Block said.
In addition to Barazza and Milner, the other plaintiff couples in the lawsuit are Marine Gomberg and Elenor Heyborne of Salt Lake City; JoNell Evans and Stacia Ireland of West Valley, Utah; and Donald Johnson and Fritz Schultz of Sandy, Utah.
After being together for nine years, Gomberg, 29, told the Blade she and Heyborne, 28, wanted to wed immediately on Dec. 20 upon learning that a court has instituted marriage equality in Utah. The couple held a commitment ceremony in 2009, but weren't legally married until last month.
"There was a huge sense of immediacy because this was something we waited so long for, and we didn't know how long the window would be," Gomberg said.
Soon after, Heyborne, a state employee who works in communications, learned that Utah would no longer recognize their union and she sent a text message to Gomberg, who also works in communications, to inform her of the news.
"Obviously, this put all our hopes and dreams to have a kid on hold because the state of Utah doesn't recognize same-sex adoption, so we would have to go out of state, establish residency somewhere, and then come back here," Heyborne said. "When we got married, we kind of thought that that was a hoop we would not have to jump through now that we were legally married."
Marty Carpenter, a Herbert spokesperson, said the governor is standing by his decision not to recognize the same-sex marriages performed in Utah.
"Gov. Herbert has said throughout this process that his responsibility is to follow the law," Carpenter said. "That is exactly what the administration is doing and we respect the rights of those who disagree to take their grievances before a judge."
Although state officials announced they're not recognizing the marriage, the Utah Tax Commission issued guidance last week saying that same-sex couples married in 2013 can be recognized as such for tax purposes for that year if they filed federal returns as married.
Block said the new lawsuit is completely independent of the existing marriage equality lawsuit, known as Kitchen v. Herbert, which brought the same-sex marriages to the state and is pending before the U.S. Tenth Circuit Court of Appeals.
In the event that court or the U.S. Supreme Court rules that state bans on same-sex marriages like Amendment 3 are constitutional, Block said the outcome wouldn't affect gay couples married in Utah if the new lawsuit succeeds because "they had vested rights that  can't be taken away just like if Prop 8 had been upheld as constitutional."
"But then, even if Kitchen is affirmed on appeal," Block added, "and the marriage amendments need to stop being enforced again, that doesn't really solve the problem of legal implications of what happens over the course of people's lives of the course of this year and next year until the Kitchen litigation comes to an end."
Block was unable to predict the length of time it would take for the new lawsuit to be resolved, but noted the case was filed before state district court and said he expected requests soon for summary judgment before the Utah Supreme Court.
Each of the plaintiff couples that spoke to the Blade was optimistic about the lawsuit moving forward. Barazza said he's "really confident" the lawsuit will succeed based on growing public support for marriage equality.
"Public opinion is going in that direction, and I think the courts are recognizing that," Barazza said. "Also, just with the fundamental fairness and equality as being recognized under the Constitution, I think that is where the country's headed."
Block was also optimistic because he said Utah has "a long history" of protecting vested rights under its constitution, such as when the court rebuffed the state legislature's attempt to change a person's right to sue under tort law.
"That's very similar to your legal obligations and rights that come with a marriage license and recognition," Block said. "Once you got married, you accrued vested rights and all the legal implications of that marriage. And under those principles, I think this right is more important than all the other vested rights that have been protected."
Upwards of 30,000 march in Jerusalem Pride parade
Anti-LGBTQ violence reported after event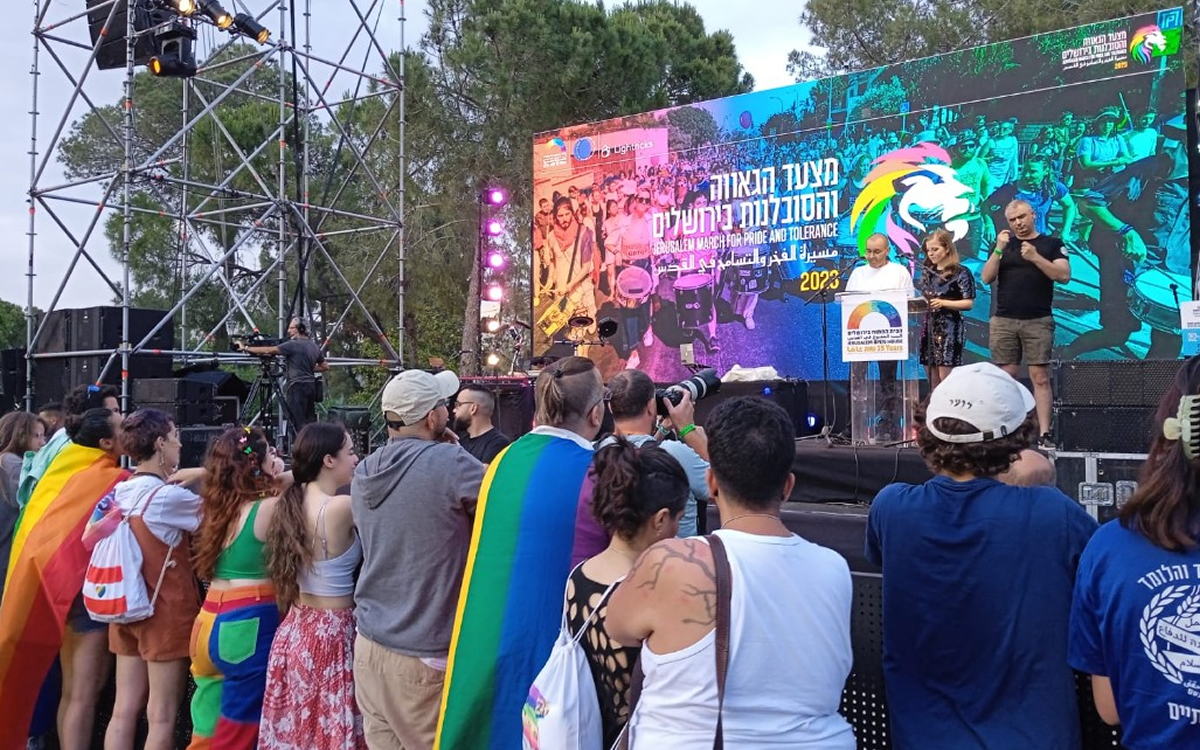 WDG is the Washington Blade's media partner in Israel. WDG originally published this article on Friday.
JERUSALEM — Upwards of 30,000 people on Thursday marched in the Jerusalem Pride and Tolerance Parade, which marked the beginning of Pride month in Israel.
The parade, organized by the Jerusalem Open House for Pride and Tolerance, began with the traditional gathering at Gan Happamon. Many politicians also came to support and encourage the marchers.
Opposition leader Yair Lapid, who chairs the Yesh Atid party, in his speech referred to the counterprotest the Lahava movement organized near the parade's starting point. Several dozen LGBTQ and intersex rights opponents participated in the protest.
"Outside are standing, like every year, the wretched thugs of Lahava movement, demonstrating against us," said Lapid. "Only this year these people are no longer just a ridiculous bunch of dark extremists — they are part of the government. Bezalel Smotrich, (Internal Security Minister) Itamar Ben-Gvir [and] Avi Maoz, are trying to push us all back into the closet, to the dark closet of their foreknowledge. In Israel there is not one fight for democracy and a separate fight for LGBT rights. It's the same struggle against those enemies. in the name of those values. Those who attack Israeli democracy attack the LGBTs, those who attack the LGBTs attack democracy."
Benny Gantz, chair of the National Unity Party, referred to the need to hold parades in the capital.
"We won't have to march when in this parade we won't need security, we won't need snipers and undercover policemen. We won't have to walk when each and every one can walk in any neighborhood they want, holding hands like any couple. We will not have to march when gay will not be a curse in school but simply self-determination, when each and every one can fill out any government form according to what he is," he said. "We will not have to march when a prime minister in Israel would not think of giving the keys to the education system to a dark racist and allocating hundreds of millions to oversee liberal education programs. I am ashamed of this and I tell you that even at the most difficult political price, I will never do such a thing. We will not have to march when there are no racists in the government. Such people would be denounced and would not be elected, not because of the law — but because no one would want to elect them. We won't have to step when simple love won't be complicated or will be as complicated as any simple love."
At the end of the gathering, the marchers began marching towards Independence Park where Ran Danker, Ivri Lider, Roni Duani, Rinat Bar and others were performing.
More than 2,000 police officers and soldiers, visible and hidden, secured parade participants with the assistance of reinforcements and volunteers.
As with every year, the police commissioner and the Minister of internal Security came to the parade area to examine the work of the police in the field. But unlike previous years, Ben-Gvir was received with shouts of "shame." Ben-Gvir came to supervise the parade, despite a prior demand from the parade organizers that he refrain from doing so.
"In my position as a minister, I do and will do everything so that there is no crazy case, as was the case with the murder of Shira Banki," said Ben-Gvir, "My policy is to give freedom of speech to those who oppose the parade, even to those who speak against the parade, that is their right. They are not breaking the law yet. Our job on this day is to allow the parade and protest, this is democracy, this is the beautiful mosaic in the state of Israel and this is how I act as minister of national security."
Several serious incidents of violence against the LGBTQ community took place after the parade ended and marchers dispersed. In one of them, boys and young men were seen setting Pride flags on fire, and in the second, a group of young people attacked a number of LGBT people near Jerusalem's Central Station. They shouted at them to "go back to Tel Aviv, you son of a bitch."
"This is a resounding slap in the face that reminds us that no matter how much we spread light, the struggle is not over yet, and the hatred towards us exists and understands," Jerusalem Open House for Pride and Tolerance said in response to the violence. "In Jerusalem those who walk around the city tonight, are asked to be alert and take care of themselves. Don't worry, we will win."
"The Jerusalem parade is the strongest expression of our opposition to hatred, and to the plans of the hate lobby to fight in our community," Hevruta, an LGBT religious organization, said. "Even hundreds of millions of shekels, the authority and standards of Avi Maoz and the Noam party will not be able to extinguish our love for God, for who we are and for our families."
Texas governor signs bill banning transgender youth healthcare
Senate Bill 14 to take effect on Sept. 1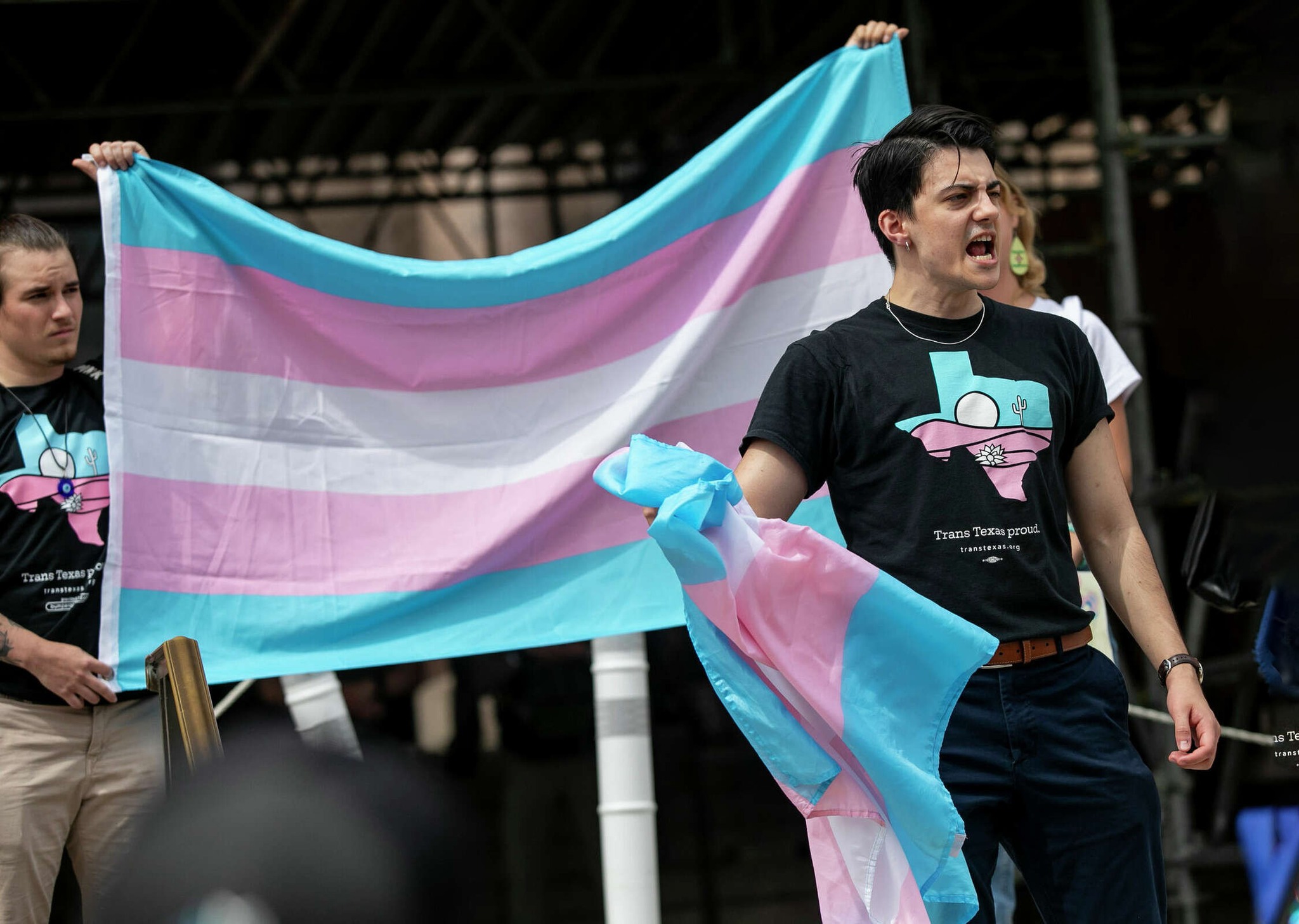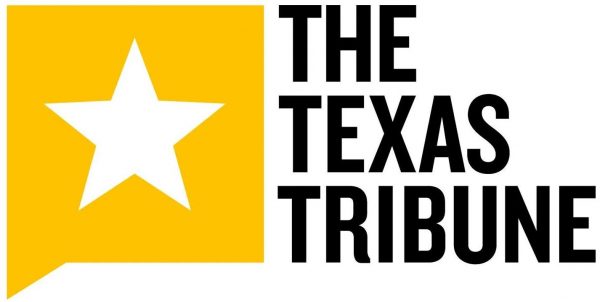 By Alex Nguyen and William Melhado | Gov. Greg Abbott signed into law Friday a bill that bars transgender kids from getting puberty blockers and hormone therapies, though the new law could face legal challenges before it takes effect on Sept. 1.
Senate Bill 14's passage brings to the finish line a legislative priority for the Republican Party of Texas, which opposes any efforts to validate transgender identities. Trans kids, their parents and LGBTQ advocacy groups fiercely oppose the law, and some have vowed to stop it from going into effect.
Texas — home to one of the largest trans communities in the U.S. — is now one of over a dozen states that restrict transition-related care for trans minors.
"Cruelty has always been the point," said Emmett Schelling, executive director of the Transgender Education Network of Texas. "It's not shocking that this governor would sign SB14 right at the beginning of Pride [month]; however this will not stop trans people from continuing to exist with authenticity — as we always have."
Authored by New Braunfels Republican state Sen. Donna Campbell, the law bars trans kids from getting puberty blockers and hormone therapies, treatments many medical groups support. Children already receiving these treatments will have to be "weaned off" in a "medically appropriate" manner. The law also bans transition-related surgeries for kids, though those are rarely performed on minors.
Those who support the law claim that health care providers have capitalized on a "social contagion" to misguide parents and push life-altering treatments on kids who may later regret their decisions. SB 14's supporters have also disputed the science and research behind transition-related care.
But trans kids, their parents and major medical groups say these medical treatments are important to protecting the mental health of an already vulnerable population, which faces a higher risk of depression and suicide than their cisgender peers. At the same time, doctors say cutting off these treatments — gradually or abruptly — could bring both physical discomfort and psychological distress to trans youth, some of whom have called it forced detransitioning.
In response, the American Civil Liberties Union, the ACLU of Texas, Lambda Legal and the Transgender Law Center pledged on May 18 to fight SB 14 in court. They have yet to file a lawsuit.
"Transgender people have always been here and will always be here," Ash Hall, policy and advocacy strategist at the ACLU of Texas, said Friday. "Our trans youth deserve a world where they can shine alongside their peers, and we will keep advocating for that world in and out of the courts."
This legal threat is not new; some of these groups have sued several other states over their restrictions. Earlier this year, the Department of Justice also joined the legal fight against Tennessee's ban.
While the lawsuits are tailored to each state, Sasha Buchert, a senior attorney at Lambda Legal and the director of its Nonbinary and Transgender Rights Project, told the Texas Tribune last month that a major common challenge to the laws hinges on the 14th Amendment's Equal Protection Clause and the argument that these laws are stopping trans kids from accessing the same medical treatments that are still available to their cisgender peers.
Buchert added that the lawsuits' immediate goal is generally to get a preliminary injunction to stop these laws from taking effect, a tactic that has seen some success.
"It's one thing to see some of the things that state legislators do, but it's a completely different thing when you're under the white-hot spotlight of judicial scrutiny," she said.
And prior to SB 14, the ACLU and Lambda Legal successfully sued Texas last year to halt state-ordered child abuse investigations of parents who provide their trans kids with access to transition-related care. Impeached Attorney General Ken Paxton later appealed the decision in March, but the 3rd Court of Appeals has yet to issue a ruling on it.
"It's a privilege to be able to fight," Buchert said about the ongoing court challenges that Lambda Legal is involved in.
Editor's note:
In a late Friday evening phone call, Landon Richie, with the Transgender Education Network of Texas, told the Washington Blade:
"Today Governor Abbott signed cruelty into law. Legislation that purports to 'protect youth' while stripping them of the life-saving, life-giving care that they receive will cost lives, and that's not an exaggeration. Trans kids deserve not only to exist, but to thrive as their authentic selves in every facet of their lives, and we will never stop fighting to to actualize a world where that is undisputed. Despite efforts by our state, trans people will always exist in Texas, as we always have, and we will continue to exist brilliantly and boldly, and with endless care for one another."
******************************************************************************************
The preceding article was previously published by The Texas Tribune and is republished by permission.
The Texas Tribune is a nonprofit, nonpartisan media organization that informs Texans — and engages with them — about public policy, politics, government and statewide issues.
Disclosure: The ACLU of Texas has been a financial supporter of The Texas Tribune, a nonprofit, nonpartisan news organization that is funded in part by donations from members, foundations and corporate sponsors. Financial supporters play no role in the Tribune's journalism. Find a complete list of them here.
**********************
Quality journalism doesn't come free
Perhaps it goes without saying — but producing quality journalism isn't cheap. At a time when newsroom resources and revenue across the country are declining, The Texas Tribune remains committed to sustaining our mission: creating a more engaged and informed Texas with every story we cover, every event we convene and every newsletter we send. As a nonprofit newsroom, we rely on members to help keep our stories free and our events open to the public. Do you value our journalism? Show us with your support.
Federal judge rules Tenn. drag ban is unconstitutional
Law was to have taken effect April 1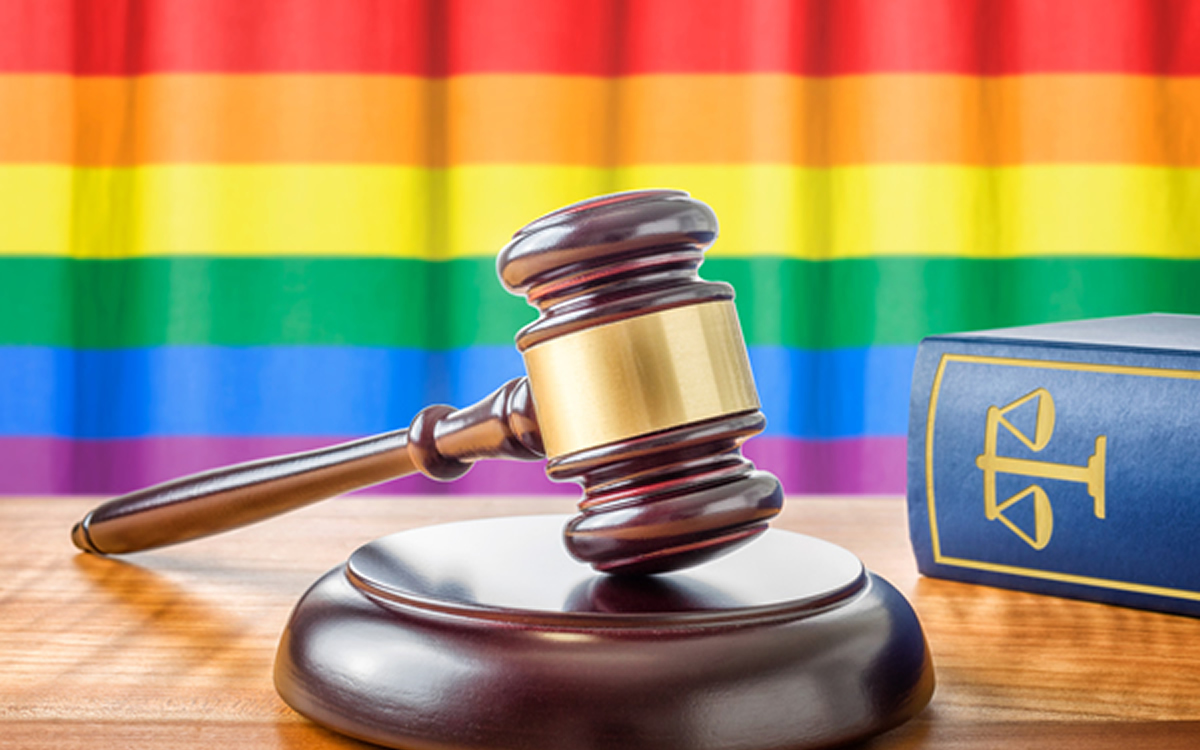 U. S. District Court Judge Thomas L. Parker of the U. S. District Court for the Western District of Tennessee declared Tennessee's anti-drag Adult Entertainment Act to be unconstitutional.
Parker's ruling comes after a two-day trial last month. A Shelby County-based LGBTQ theatre company, Friends of George's, had sued the state of Tennessee, claiming the law unconstitutional under the First Amendment.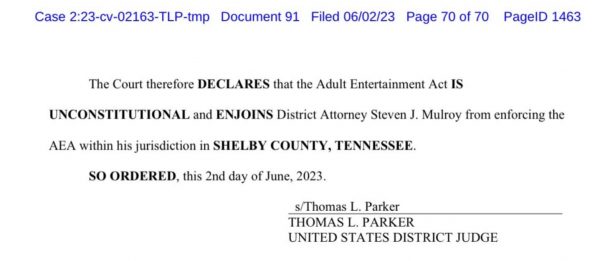 Parker ordered a temporary injunction halting the just enacted Tennessee law that criminalizes some drag performances, hours before it was set to take effect April 1. In his 15 page ruling ordering the temporary injunction Parker wrote:
"If Tennessee wishes to exercise its police power in restricting speech it considers obscene, it must do so within the constraints and framework of the United States Constitution. […] The court finds that, as it stands, the record here suggests that when the legislature passed this statute, it missed the mark."
Attorneys for the theatre company had argued that drag performances were an artform and protected speech under the first amendment.
In his 70 page ruling Friday, Parker wrote:
"After considering the briefs and evidence presented at trial, the court finds that — despite
Tennessee's compelling interest in protecting the psychological and physical wellbeing of
children — the Adult Entertainment Act ("AEA") is an UNCONSTITUTIONAL restriction on
the freedom of speech."
"The court concludes that the AEA is both unconstitutionally vague and substantially
overbroad. The AEA's 'harmful to minors' standard applies to minors of all ages, so it fails to
provide fair notice of what is prohibited, and it encourages discriminatory enforcement. The
AEA is substantially overbroad because it applies to public property or 'anywhere' a minor
could be present."
Read the entire ruling:
Related: