Gay couples sue Utah to recognize their marriages
ACLU files lawsuit on behalf of four couples who wed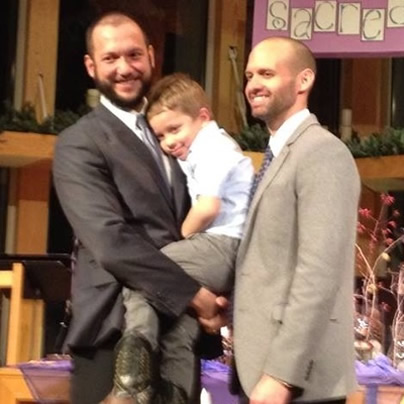 For Matt Barazza, government recognition of his marriage in Utah is important not only to him and his spouse, Tony Milner, but also to the four-year-old child whom they've raised since his birth.
After marrying in their home state of Utah on Dec. 20 — the first day same-sex marriage came to Utah — the couple submitted paperwork for a second-parent adoption of the child, Jesse, and received a hearing date of Jan. 10. But plans changed after Gov. Gary Herbert announced the state wouldn't recognize Utah same-sex marriages in the wake of a stay on the weddings from the U.S. Supreme Court.
As a consequence, the judge presiding over the request for second-parent adoption pushed back the hearing to Jan. 31, and Barazza and Milner elected to join a proposed lawsuit by the American Civil Liberties Union to ensure Utah would recognize the more than 1,300 gay weddings performed in the state.
"That's the primary reason for us filing the lawsuit at this point was to have the Utah courts make a decision and recognize that our marriage is legal, so that we can go forward with the second-parent adoption and try and get the protections that we can for our son," Barazza told the Washington Blade on Monday.
While Barazza, 38, an attorney, and Milner, 33, a director of a non-profit that serves homeless families, are both raising Jesse in Salt Lake City, only Barazza is recognized as the adoptive parent because under Utah law, only one of the two was able to adopt the child. The couple also legally married in D.C. in 2010, but elected to do so again when same-sex marriage came to Utah so they could wed in their home state.
But with their marriage no longer recognized by Utah, Barazza said he lives in constant fear of what might happen because of the lack of legal recognition between his partner and their son.
"You fear the worst case scenario always," Barazza said. "As the one who's the legal parent, if anything were to happen to me, it would leave [Jesse] basically an orphan as far as the law is concerned…All that would be in spite of my husband Tony being there from Day One and being just as much a parent as I am."
On Dec. 20, U.S. District Judge Robert Shelby ruled that Amendment 3, Utah's ban on same-sex marriage, was unconstitutional as a result of a federal lawsuit seeking marriage equality, allowing gay couples to wed in the state immediately. But upon the request from the state, the U.S. Supreme Court placed a stay on the weddings on Jan. 9 pending appeal of the lawsuit. The next day, Herbert said the state wouldn't recognize the same-sex marriages of couples that married in Utah before the stay was in place.
Although U.S. Attorney General Eric Holder would later announce the marriages would be recognized for federal purposes, as it stands now the couples will have to wait for the outcome of the federal lawsuit — which could take years — to find out whether the state will recognize their marriage.
Barazza and Milner are one of four couples seeking recognition of their marriage from Utah after having wed in the 18 days when same-sex marriages were legal there. The lawsuit was filed Tuesday in state court by the American Civil Liberties Union, the ACLU of Utah and the Salt Lake City-based firm Strindberg & Scholnick, LLC.
The 32-page complaint alleges Herbert's decision not to recognize the marriages violates both the due process clause under Utah's  constitution and the Fourteenth Amendment to the U.S. Constitution. Additionally, it seeks relief under declaratory judgment and Rule 65B, which allows individuals in Utah to seek extraordinary relief against wrongful use of public authority.
"By placing recognition of their marriages 'on hold,' the State of Utah has placed the legal status of plaintiffs' families, including their children, in legal limbo and created uncertainty as to their rights and status in virtually all areas of their lives," the complaint states.
Joshua Block, a staff attorney with the ACLU's LGBT project, said the goal of the lawsuit is to achieve a result similar to what the California Supreme Court decided after state voters in 2008 approved Proposition 8.
"What happened in Prop 8 is they said if you got married before the amendment went into effect, the marriages are valid and continue to be recognized in California, but no new marriages could happen," Block said.
In addition to Barazza and Milner, the other plaintiff couples in the lawsuit are Marine Gomberg and Elenor Heyborne of Salt Lake City; JoNell Evans and Stacia Ireland of West Valley, Utah; and Donald Johnson and Fritz Schultz of Sandy, Utah.
After being together for nine years, Gomberg, 29, told the Blade she and Heyborne, 28, wanted to wed immediately on Dec. 20 upon learning that a court has instituted marriage equality in Utah. The couple held a commitment ceremony in 2009, but weren't legally married until last month.
"There was a huge sense of immediacy because this was something we waited so long for, and we didn't know how long the window would be," Gomberg said.
Soon after, Heyborne, a state employee who works in communications, learned that Utah would no longer recognize their union and she sent a text message to Gomberg, who also works in communications, to inform her of the news.
"Obviously, this put all our hopes and dreams to have a kid on hold because the state of Utah doesn't recognize same-sex adoption, so we would have to go out of state, establish residency somewhere, and then come back here," Heyborne said. "When we got married, we kind of thought that that was a hoop we would not have to jump through now that we were legally married."
Marty Carpenter, a Herbert spokesperson, said the governor is standing by his decision not to recognize the same-sex marriages performed in Utah.
"Gov. Herbert has said throughout this process that his responsibility is to follow the law," Carpenter said. "That is exactly what the administration is doing and we respect the rights of those who disagree to take their grievances before a judge."
Although state officials announced they're not recognizing the marriage, the Utah Tax Commission issued guidance last week saying that same-sex couples married in 2013 can be recognized as such for tax purposes for that year if they filed federal returns as married.
Block said the new lawsuit is completely independent of the existing marriage equality lawsuit, known as Kitchen v. Herbert, which brought the same-sex marriages to the state and is pending before the U.S. Tenth Circuit Court of Appeals.
In the event that court or the U.S. Supreme Court rules that state bans on same-sex marriages like Amendment 3 are constitutional, Block said the outcome wouldn't affect gay couples married in Utah if the new lawsuit succeeds because "they had vested rights that  can't be taken away just like if Prop 8 had been upheld as constitutional."
"But then, even if Kitchen is affirmed on appeal," Block added, "and the marriage amendments need to stop being enforced again, that doesn't really solve the problem of legal implications of what happens over the course of people's lives of the course of this year and next year until the Kitchen litigation comes to an end."
Block was unable to predict the length of time it would take for the new lawsuit to be resolved, but noted the case was filed before state district court and said he expected requests soon for summary judgment before the Utah Supreme Court.
Each of the plaintiff couples that spoke to the Blade was optimistic about the lawsuit moving forward. Barazza said he's "really confident" the lawsuit will succeed based on growing public support for marriage equality.
"Public opinion is going in that direction, and I think the courts are recognizing that," Barazza said. "Also, just with the fundamental fairness and equality as being recognized under the Constitution, I think that is where the country's headed."
Block was also optimistic because he said Utah has "a long history" of protecting vested rights under its constitution, such as when the court rebuffed the state legislature's attempt to change a person's right to sue under tort law.
"That's very similar to your legal obligations and rights that come with a marriage license and recognition," Block said. "Once you got married, you accrued vested rights and all the legal implications of that marriage. And under those principles, I think this right is more important than all the other vested rights that have been protected."
Victory Fund honors gay Guatemalan congressman at D.C. conference
Aldo Dávila a vocal critic of country's government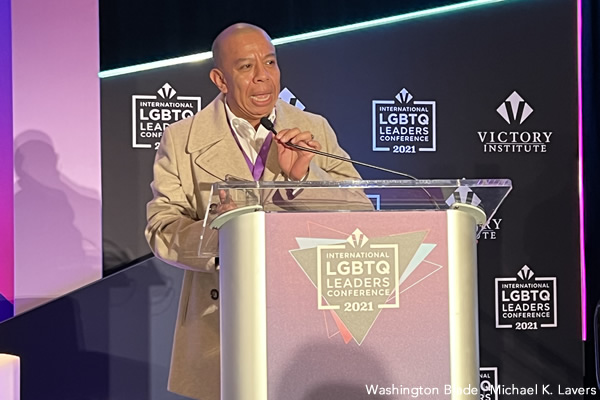 The Victory Fund on Friday honored an openly gay Guatemalan congressman who has faced death threats because of his efforts to fight corruption in his country.
Dávila — a member of the Winaq movement, a leftist party founded by Rigoberta Menchú, an indigenous human rights activist and Nobel Peace Prize winner — in 2019 became the first openly gay man elected to Guatemala's congress. Dávila, who also lives with HIV, had previously been the executive director of Asociación Gente Positiva, a Guatemala City-based HIV/AIDS service organization.
Supporters of President Alejandro Giammattei have lodged several formal complaints against Dávila after he publicly criticized the government over corruption, its response to the pandemic and other issues.
Three men on April 19 approached Dávila's vehicle near Guatemala's National Library and tried to rob him. One of Dávila's bodyguards shot one of the men, but the two other assailants fled the scene before police officers and passersby arrived.
Dávila told the Washington Blade in September during an interview at a Guatemala City hotel that he and his partner installed cameras in their apartment after someone killed their dog.
Two female police officers who arrived at the hotel with Dávila sat in the lobby while he spoke with the Blade. The government a few weeks later reduced his security detail.
"Guatemala is living through the worst democratic crisis in the last 40 years," said Dávila after he accepted the Victory Fund's Global Trailblazer Award at its 2021 International LGBTQ Leaders Conference that is taking place in-person at the JW Marriott in downtown D.C. "Guatemala right now is being paralyzed by corruption and impunity and my voice is uncomfortable because of this."
Dávila became emotional at the end of his remarks.
"I will keep fighting for our rights," he said.
Comings & Goings
Nathanson takes role at Outright Action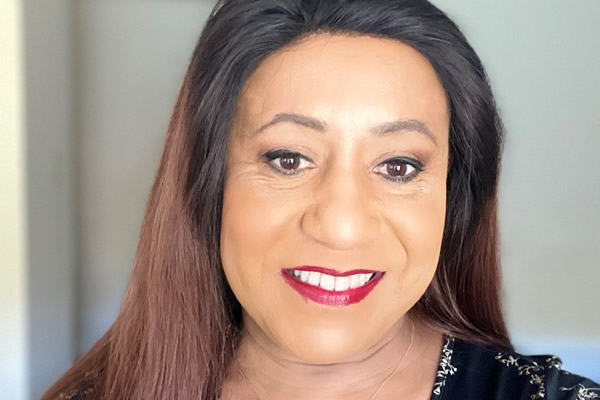 The Comings & Goings column is about sharing the professional successes of our community. We want to recognize those landing new jobs, new clients for their business, joining boards of organizations and other achievements. Please share your successes with us at: [email protected]
The Comings & Goings column also invites LGBTQ+ college students to share their successes with us. If you have been elected to a student government position, gotten an exciting internship, or are graduating and beginning your career with a great job, let us know so we can share your success.
Congratulations to Rikki Nathanson on her new position as Senior Advisor – Global Trans Program with OutRight Action International in New York. Nathanson will be based in D.C.
"I am absolutely thrilled to be taking on this new role as Senior Advisor in OutRight's Global Trans Program," said Nathanson. "I have finally found the perfect fit for me: as a trans woman who has been fighting for equality not only for myself, but for others globally, this position is not only a job, it's intrinsically part of who I am. So, what better way to live, nurture and grow myself."
Nathanson will be working closely with all program staff to ensure a cohesive and intentional approach to gender issues throughout OutRight's programs, including its approach to gender ideology movements. She will lead new initiatives on gender advocacy and policy change, focused but not limited to legal gender recognition and anti-discrimination legislation and policies.
Prior to this Nathanson was director of housing programs at Casa Ruby in D.C. She has also held a number of other positions including: founder/executive director of Trans Research, Education, Advocacy & Training (TREAT), Zimbabwe; chairperson Southern Africa Trans Forum, SATF, Cape Town, South Africa; executive director, Ricochet Modeling Agency, Zimbabwe; and company secretary for Dunlop Zimbabwe Limited, Zimbabwe.
SMYAL Director Shakir to step down Dec. 31
Board to launch Executive Search beginning in January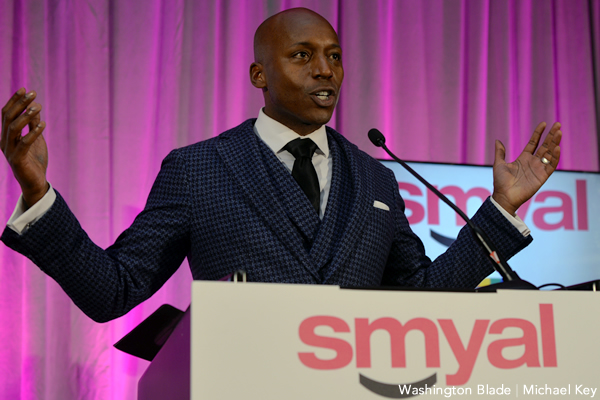 Sultan Shakir, who has served as executive director of D.C.'s LGBTQ youth advocacy organization SMYAL since August 2014, announced on Friday that he will be stepping down from his position effective Dec. 31.
In a Dec. 3 announcement, SMYAL said details of Shakir's future career plans would be announced in the coming weeks.
"While we are sad to see Sultan leave, we wish him nothing but the same success in his new endeavor as he had at SMYAL," said Rob Cogorno, SMYAL's board chair. "His leadership and vision enabled SMYAL to expand greatly needed services to LGBTQ youth in the DC metro area throughout his tenure," Cogorno said.
"I am immensely proud of the work we have been able to accomplish together in my time at SMYAL," Shakir said in a statement released by SMYAL. "SMYAL has been an integral and vital resource in the DMV community for over 37 years, and while we have come a long way in combating homophobia, transphobia, racism, sexual health stigma, homelessness, violence against the LGBTQ community, and oppression, we have a long way to go," he said.
"This work has never been about one person," said Shakir. "SMYAL was founded by our community and we're still around because of our community," he said. "I leave knowing that the commitment and passion of the SMYAL Board, staff, volunteers, and youth leaders have created a solid foundation from which our work will continue to grow until LGBTQ youth no longer need us."
The SMYAL statement says that under Shakir's tenure, SMYAL, which stands for Supporting and Mentoring Youth Advocates and Leaders, expanded its programs and services for LGBTQ youth. Among other things, in 2017 SMYAL opened its first of several housing facilities for homeless LGBTQ youth that include culturally competent case management, education and employment assistance.
"The Youth Housing Program now comprises five programmatic models that serve a combined 61 youth residents," the statement says.
It points out that also under Shakir's leadership, SMYAL expanded the age range of the youth its programs serve under a new Little SMYALs program, which welcomes LGBTQ youth ages 6-12. And earlier in 2021 under Shakir's guidance, SMYAL began a new Clinical Services Department "which provides affirming and accessible mental health counseling," the statement says.
"The SMYAL Board of Directors will officially launch an Executive Search beginning in January 2022 and expects to have named a new Executive Director by summer 2022," the statement says. It says the board will soon name an interim executive director to work with SMYAL's Deputy Executive Director, Jorge Membreno, and the organization's leadership team to oversee the day-to-day activities until a new executive director is named.