May 11, 2016 at 10:45 am EDT | by Mark Lee
The year of voting despondently
Never in the history of polling has a political party nominated a candidate for president so disliked and distrusted as to be viewed negatively by a strong majority of the country.
This year we're likely to get two.
Americans haven't taken to torching voter registration cards in a throwback to the draft-card-burning Vietnam era but would we really be all that surprised if it occurred? Given the overwhelming disdain presumptive nominees Hillary Clinton and Donald Trump evoke, lining up at the polls to vote may be remembered more as a scene from a zombie apocalypse film than doing our civic duty.
Irrespective of the outcome, there is not likely to be much joy in the air come Nov. 8 at the conclusion of the 58th quadrennial U.S. presidential election. Nor can we reasonably expect much improvement in the performance or productivity of the national government.
Outside relatively rarified environs like the politics-company town of Washington, overflowing with party hacks and political partisans, voters elsewhere can't wait for this electoral episode to come to its inevitably ignoble end. Even the aligned mostly posit the argument in terms of the other candidate being worse.
For the somber-minded among us, it's often difficult to discern where these candidates actually stand on many issues. Trump wins for being the most egregious on that score, a totally freewheeling candidate when contrasted with his acutely disciplined and overly dreary opponent.
Clinton, however, is being dragged to the extreme, and kooky, far left where the Democratic Party now exists and she has been forced to adopt untenable general election positions by socialist challenger Bernie Sanders. Clinton has always been plagued by the notion that she shifts positions easily.
Voters get the sense that the poll-driven, message-tested, focus-grouped, micro-targeted and slice-of-the-electorate litany-listing Clinton might not actually mean what she says. Trump is likewise viewed as a political chameleon, rooted more in a keen ability to decipher the national zeitgeist than possessing concrete pillars for crafting what are all-over-the-place and constantly changing views.
What may be the most significant aspect about Trump is the possibility he may wean the GOP away from a longstanding anxiety and debilitating angst over social and lifestyle issues. He may or may not win the general election, but he might generally free Republicans from their losing agenda worrying how Americans conduct and construct their personal lives. And that, as they say, would be "good for the gays."
Both parties should have seen this situation coming.
Democrats, with few rising political personalities and an aging stable of office-holding stalwarts due devastating election losses at the federal, state and local levels over the past couple of decades, had few real options.
Republicans, with a plethora of objectively credible candidates, discovered that all except Trump were unable to excite the party cadre or capture the decidedly sour mood of voters.
There are, of course, abundant ironies in this now-anticipated contest. Both Clinton and Trump are first and foremost crony capitalists, comfortable with picking winners and losers among large corporate business and with scant concern for smaller enterprise except to intone the usual pithy platitudes that localized smaller-scale entrepreneurs have learned mean nothing. Both are believers in an even bigger government exercising even more control over the economy while deploying even greater hyper-overregulation – as long as they're in charge.
The pundits might well be correct, and Trump may lead the Republicans to a blowout loss this fall. Or it might be much closer than predicted. He might even win.
Maybe Clinton is simply unelectable and the oddest and wildest candidate in, well, maybe ever, is uniquely poised to overcome the nearly insurmountable advantage Democrats enjoy by Electoral College measure.
Regardless of how we cast our votes, we could feel the need to take a long hot shower after exiting the polling place.
If very many actually do vote.
Mark Lee is a long-time entrepreneur and community business advocate. Follow on Twitter: @MarkLeeDC. Reach him at OurBusinessMatters@gmail.com.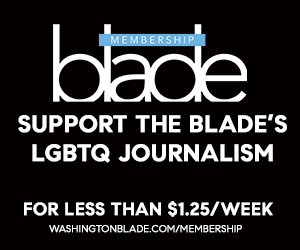 Sign Up for Blade eBlasts