May 26, 2016 at 2:54 pm EDT | by David J. Hoffman
Bernie leads the revolution we need
That the Blade would decide to endorse Secretary Hillary Clinton for president was not a big-whoop surprise. You could feel it coming long before it arrived, like a train chugging its way around the far bend of the tracks.
I'm not saying it was a "railroad" deal, however. That endorsement came, I'm sure, only after careful thought about what will be best for the same-sex-affection minority and equal rights for all.
After all, the Human Rights Campaign and other members of the Establishment Episcopacy within the national Democratic Party have also rallied to Hillary's side and against Sen. Bernie Sanders.
Even though Bernie is the right choice on the issues — as well as the politics. And on that calculus the Blade has simply gotten it quite wrong.
Bernie was long almost alone, rare among national political figures in the Democratic Party, who stood four-square for LGBTQ rights, including marriage equality and of course an end to discrimination in military recruitment. And Hillary was dilatory, dragging her feet, ever-cautious, never aspirational, just a pillar of the status quo. Because that's who she is in her political DNA.
But for the Blade's editorial to condemn Sanders as a "shrill voice" — on key issues of inequality when it comes to wealth and income, and political power — that eye-rolling charge is really a bit much. After all, these issues are crucial, both to the future of this country as well as to a Democratic Party that is now so far down in the dumps electorally that the last time its strength in the U.S. House of Representatives was this low, it was 1928, before the Great Depression of the 1930s.
But call me optimistic. There is a way forward to a new and powerful progressive majority, to take back not only the U.S. Senate, but also to take a big bite out of the apple of winning back the House. That way forward does not lie through the too-cautious-by half, Clinton-style "triangulations" of Hillary's small-bore incrementalism. It will spring instead from a full-throated cry (not shrill, but certainly sharp) for a new "New Deal" and a "decent society" as Paul Goodman used to say.
The electoral map is spinning beneath our feet, as Donald Trump (narcissistic, bullying, yet entertaining no doubt, in a crude and racist and sexist way) now moves into a tie with Hillary. Trump is beaten, however, by Bernie whenever they are paired head to head.
If Establishment Democrats were smarter (they aren't), they would recognize that it will indeed take something BIG to win this year, both in ideas and in efforts. No, it won't be easy, not in an era of SuperPACs like Hillary's and the Citizens United decision on campaign spending rights by the rich to buy elections and rig conventions. But it's a "political revolution" that we need in 2016, something that's happened before, with Andrew Jackson in the 1820s, though few men even then, in his now-distant era, were as racist as Jackson; and of course with FDR in the 1930s, when huge Democratic majorities in Congress, elected on Roosevelt's coat-tails, enacted Social Security. In other words, standing tall instead of kneeling.
But what's so wrong with Hillary?  So you might ask, and the Blade appears to believe, that the answer is very little. But I disagree. Let me count the ways.
She opposes a single-payer Medicare-for-all healthcare system, which America needs, and would cut costs, the way every other advanced nation does. She opposes free tuition for public universities and colleges and opposes a national $15 minimum wage.
And we need to push ahead further for card-check unionization and a full-court press to end mass incarceration, the system of "the new Jim Crow" enacted in great measure by Bill Clinton, and Hillary as first lady was his enabler, and who only now seeks to wash her hands, to cleanse herself of guilt, in effect crying aloud, "Out, out damned spot!"
Also, Hillary's personal negatives are "yuge," as The Donald would say, based on way too many Clinton scandals.
Bernie should remain in the race all the way through the California primary, where he can pile up a large number of pledged delegates, and then comes the final election, the one we hold here in the District on June 14.
That's exactly why Bernie's supporters will ask for your votes on June 14. Only with a large body of delegates pledged to Bernie, not Hillary, will we stand a real chance of writing a progressive platform.
Yes, all sides must finally rally at the end to support the eventual nominee, whoever she will be. But until that time, the fight is on! And that's where you come in. Join the "political revolution" we need, the one right here in D.C. and feel the Bern!
David Hoffman is a D.C.-based writer.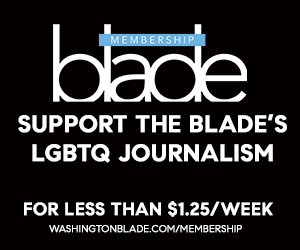 Sign Up for Blade eBlasts