Jared Polis announces bid to become Colorado governor
Out congressman could be first openly gay person elected governor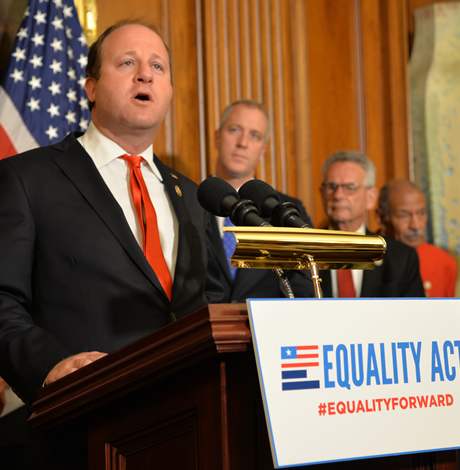 The most senior out member of the U.S. House on Sunday announced his intent to run for governor of Colorado. If successful, he'd be the first openly gay person elected governor in the United States.
Rep. Jared Polis (D-Colo.), who's served in Congress since the start of the Obama administration in 2009, said in an email to supporters he'd formally declare his bid Monday to become governor and to succeed retiring Gov. John Hickenlooper.
"I'm running to be your next governor because I want to turn bold ideas into real results for your family," Polis wrote. "Colorado can lead the way into the future and, together, we can build an economy that works for everybody — not just those at the top."
Included in the email blast is video featuring Polis as well as supporters — the owner of Jones' Scones, a graduate of the New America School founded by Polis, a teacher and a former state senator.
"My life has been about taking big ideas and turning them into results," Polis said. "I'm running for governor to preserve what makes Colorado special. We're working to make sure our state works for everyone, not just a few.
Among the goals cited by Polis are making Colorado "completely energy independent" and ensuring the state entirely runs on renewable energy by 2040 with green energy jobs that he says can't be outsourced overseas. Polis also pledges free full-day preschool and kindergarten for Colorado and "an inclusive economy where workers make more, not just CEOs."
As a member of Congress, Polis took the lead on legislation seeking to enhance LGBT rights, such as the Employment Non-Discrimination Act and the Student Non-Discrimination Act. Polis is a co-chair of the LGBT Equality Caucus and a co-sponsor of the Equality Act.
If Polis were to succeed in his bid to become Colorado governor, he'd be the first openly gay person elected governor in the United States and the only sitting openly gay governor.
However, the more general milestone of an openly LGBT person winning election as governor has been achieved. Last year, Oregon Gov. Kate Brown, who's bisexual, won election after being appointed to the position in 2015 following the resignation of her predecessor.
Another governor came out as gay after having been elected and serving in office. In 2004, New Jersey Gov. Jim McGreevey, came out as gay prior to resigning amid scandal involving an affair with a male aide.
Polis might have some competition for the distinction of becoming the first openly gay person elected governor. In Maryland, gay State Sen. Richard Madaleno (D-Montgomery County) has declared his candidacy to unseat Gov. Larry Hogan (R). In Connecticut, State Comptroller Kevin Lembo, who's gay, has opened an exploratory committee to run for governor, but hasn't made an official declaration.
Polis is running in a crowded field for the Democratic nomination. Other Democrats vying for the nomination are former State Sen. Michael Johnston, Denver businessperson Noel Ginsburg, U.S. Rep. Ed Perlmutter (D-Colo.), former Colorado treasurer Cary Kennedy and businessperson Moses Humes. The primary will take place on June 28 next year.
On the Republican side, declared candidates are Arapahoe County District Attorney George Brauchler, Larimer County Commissioner Lew Gaiter, former State Rep. Victor Mitchell, businessperson Doug Robinson and retired banker JoAnne Silva.
D.C. mayor to lift all restrictions on bars, nightclubs on June 11
'We will definitely be celebrating Pride' next month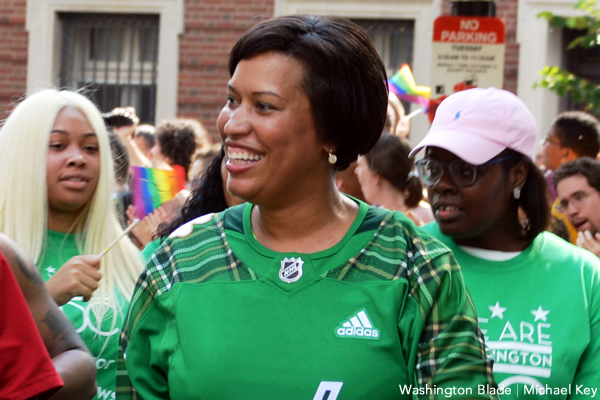 D.C. Mayor Muriel Bowser announced at a news conference on Monday that a continuing trend of significantly lower numbers of coronavirus cases and deaths in the city has enabled her to fully lift capacity and other restrictions on most businesses, including restaurants and places of worship, on May 21.
The mayor said bars and nightclubs will be allowed to increase indoor capacity from the current 25 percent to 50 percent on May 21, with all capacity restrictions for bars and nightclubs to be removed on June 11.
The mayor's announcement came after representatives of the city's nightlife businesses, including the city's gay bars and restaurants, expressed concern that D.C. had yet to lift its capacity restrictions beyond 25 percent while surrounding jurisdictions in Maryland and Virginia had already lifted most restrictions.
"On May 21, restrictions on public and commercial activity, including capacity limits, types of activities, and time restrictions, will be lifted," the mayor's directive says.
It says restrictions for bars and nightclubs would continue at a 50 percent capacity from May 21 through June 11. The directive says restrictions for large sports and entertainment venues would also continue from May 21 to June 11, which includes a requirement such events apply for a waiver of the restrictions on a case-by-case basis.
"On June 11, capacity limits and restrictions will be lifted on those venues that cannot fully reopen on May 21," the directive says.
In response to a question at the news conference, Bowser said the June 11 date would essentially end all restrictions on nightclubs and bars, including the current requirement that they close at midnight rather than the pre-epidemic closing times of 2 a.m. on weekdays and 3 a.m. on weekends.
In a development that could have a major impact on plans for D.C.'s LGBTQ Pride events, the mayor's revised health directive announced on Monday includes the lifting of all capacity restrictions on large outdoor and indoor sports and entertainment events beginning on June 11.
That change would remove restrictions that have, up until now, prevented D.C.'s Capital Pride Alliance from holding its annual Pride Parade and Festival in June during Pride Month.
Capital Pride Executive Director Ryan Bos told the Washington Blade shortly after the mayor's announcement that Capital Pride is assessing its options for expanding its current plans for in-person events in June.
"We will definitely be celebrating Pride in June," Bos said. "We just received this information as well. So, we will be getting further information," he said. "We have not been informed that they will be issuing any permits yet, so at this time we are moving forward with our original plans for doing things."
Bos was referring to a city requirement for obtaining permits for street closings and use of other public spaces for events such as a parade or street festival. He said existing plans, among other things, call for an informal parade of cars and other vehicles on June 12 that will drive throughout the city to view homes and businesses that will be decorated with Pride displays such as signs, photos, and other symbols of Pride.
Those familiar with the city's past Pride events don't think there will be enough time for Capital Pride to organize the traditional large parade and street festival in time for June. But Capital Pride officials have talked about holding a possible parade and festival in October, and the lifting of the capacity restrictions announced by Bowser on Monday would likely make that possible.
In addition to lifting all capacity restrictions on May 21 for restaurants, the mayor's May 21 timeframe for lifting restrictions includes these additional venues and events:
Weddings and special events
Business meetings and seated conventions
Places of worship
Non-essential retail
Personal services
Private at-home gatherings
Libraries, museums, galleries
Recreation Centers
Gyms and fitness centers
Pools
Office space
Schools
Childcare
"We're very pleased that over the last several days, we have seen our case spread, our community spread numbers, venture out of the red into the yellow and fast approaching the green," Bowser said in referring to a health department chart that shows the changes in coronavirus cases in the city.
"You might remember that our daily case rate peaked in January at 45.9. And today you can see it's down to 6.6," she said at her news conference on Monday.
"Throughout this process I have said how proud I am of D.C. residents and businesses who have responded, who have followed health guidance and have worked together to help protect our community throughout the pandemic. And we see it in these numbers today," she said.
"Containing the virus will continue to require all of us to be focused on maintaining a robust health system," the mayor said, adding that while over 200,000 D.C. residents have been fully vaccinated since December 2020, "many more thousands" still need to be vaccinated. "Vaccines are free and available on demand at walk-up sites across the District," she said.
The mayor also noted that the city will continue to require residents and visitors to use a mask in accordance with existing and updated guidance set by the U.S. Centers for Disease Control and Prevention.
Mark Lee, coordinator of the D.C. Nightlife Council, an association that represents restaurants, bars, nightclubs and other entertainment venues, said the mayor's directive on May 10 leaves some details to be addressed but will open the way to bring nightlife businesses back to life.
"What we do know is that on Friday, May 21, businesses begin returning to normal operations and, three weeks later, on June 11, all restrictions for all businesses in the District will end," Lee said. "It's a day we've long awaited and one that will save much of our community enterprise from financial ruin."
Biden administration to ban discrimination against LGBTQ patients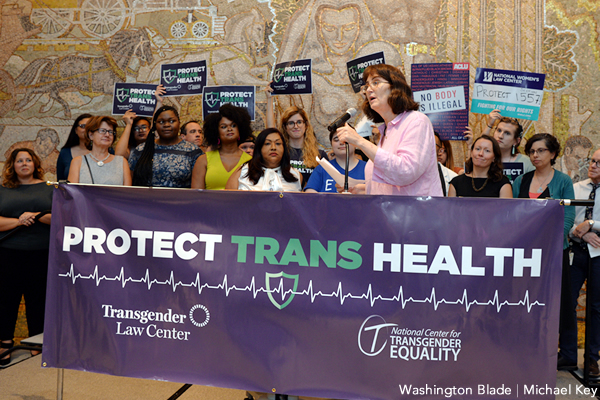 The Biden administration announced on Monday it would enforce civil rights protections under Obamacare to prohibit discrimination in health care against patients for being LGBTQ, reversing policy during the Trump years excluding transgender status as a protected characteristic under the law.
The Department of Health & Human Services declared it would enforce Section 1557 of the Affordable Care Act, which prohibits discrimination in health care on the basis of sex, and begin to take up cases of discrimination based on sexual orientation and gender identity.
HHS Secretary Xavier Becerra said in a statement the Supreme Court has "made clear that people have a right not to be discriminated against on the basis of sex and receive equal treatment under the law, no matter their gender identity or sexual orientation."
"Fear of discrimination can lead individuals to forgo care, which can have serious negative health consequences," Becerra said. "It is the position of the Department of Health and Human Services that everyone — including LGBTQ people — should be able to access health care, free from discrimination or interference, period."
The move is consistent with the executive order President Biden signed on his first day in office directing federal agencies to implement the U.S. Supreme Court's decision last year in Bostock v. Clayton County to the furthest extent possible. Federal agencies were directed to comply within 100 days of the executive order, which is about now and a short time after Biden's first 100 days in office.
The announcement with respect to Section 1557 comes on the same day as the hearing took place this morning in Bagly v. HHS, a case before a federal court in Massachusetts challenging Trump's undoing of transgender protections under the law. An attorney with the U.S. Justice Department announced a new notice of proposed rule-making is coming with respect to Section 1557.
Sharita Gruberg, vice president for the LGBTQ Research and Communications Project at the Center for American Progress, said in a statement the change "assures LGBTQ people that their rights will be upheld at the doctor's office, vaccine sites, and everywhere else they seek health care and coverage."
"The administration's announcement that it will enforce these protections are a critical step toward addressing vaccine hesitancy among LGBTQ people, a population that has been disproportionately impacted by the pandemic and seriously harmed by the previous administration's attempts to permit discrimination against LGBTQ patients, Gruberg added.
The past three administrations have instituted policy on LGBTQ protections based on their interpretation of Section 1557. Each move had varying implications and directions for LGBTQ patients.
The Obama administration issued a rule in 2016 interpreting Section 1557 to apply to cases of anti-transgender discrimination and discrimination against women who have had abortions, which was consistent with court rulings at the time. However, that move was enjoined by a nationwide court order in Texas as a result of litigation filed by Texas Attorney General Ken Paxton.
The Trump administration, shortly after the Supreme Court's ruling in Bostock, made final a regulation proposed last year rescinding the Obama administration's transgender protections under Section 1557. Faced with criticism, the Trump administration defended itself by saying its move was consistent with the court order in Texas, although it seemed to ignore the decision from the higher court.
The new rule from HHS goes above and the beyond the Obama administration by instituting protections based on both sexual orientation and gender identity. It wasn't immediately clear whether the proposed rule would be a new regulation entirely, or seek to modify the changes that were made in the two previous administrations. The Blade has placed a request seeking comment with HHS.
Susan Bailey, president of the American Medical Association, said in a statement the new HHS rule is a welcome change after the Trump administration rescinded protections for transgender patients.
"It's unfortunate that such an obvious step had to be taken; the AMA welcomes this common-sense understanding of the law," Bailey said. "This move is a victory for health equity and ends a dismal chapter in which a federal agency sought to remove civil rights protections."
Discrimination in health care is an experience transgender people commonly report. The U.S. Transgender Survey in 2015 found one-third of responders said they had at least one negative experience in health care related to being transgender. Further, 23 percent of responders said they didn't seek health care because they feared being mistreated and one-third said they didn't go to a provider because they couldn't afford it.
A Center for American Progress survey from 2018 had similar findings with respect to transgender people and patients with being gay, lesbian and bisexual or queer. Eight percent of responders said a doctor refused to see them because of their perceived or actual sexual orientation, while 28 percent of providers said a doctor refused to see them because of their actual or perceived sexual orientation.
Hospitals, especially religiously affiliated providers, refusing to provide transition-related care, including gender assignment surgery, is another frequently reported incident for transgender patients. The American Civil Liberties Union, for example, has filed litigation against hospitals under Section 1557 for refusing to perform the procedure.
Rachel Levine, assistant secretary of health and the first openly transgender presidential appointee to obtain Senate confirmation, hailed the HHS rule change in a statement.
"The mission of our Department is to enhance the health and well-being of all Americans, no matter their gender identity or sexual orientation. All people need access to healthcare services to fix a broken bone, protect their heart health, and screen for cancer risk," Levine said. "No one should be discriminated against when seeking medical services because of who they are."
Although the Biden administration's announcement is a welcome move for LGBTQ advocacy groups, the change is not without critics.
John Banzhaf, a law professor at George Washington University who declares himself a supporter of transgender rights, said the policy could have unintended consequences, which he said has become evident in the British health system.
"[Transgender] individuals with a penis but no vagina are being asked to have medical tests on their non-existent cervices, while [transgender] persons with a vagina and cervix will not be asked, under new guidelines which appear to place lives at risk and encourage a physically impossible medical exam on organs which simply do not exist," Banzhaf said. "And, carrying this absurdity to its totally illogical conclusion, a patient with a penis and a full beard was offered a cervical test because, despite his clearly masculine appearance and style of dress, he registered himself as being gender neutral."
Family code bill to be introduced in Cuban Parliament in July
CENESEX made announcement during May 4 press conference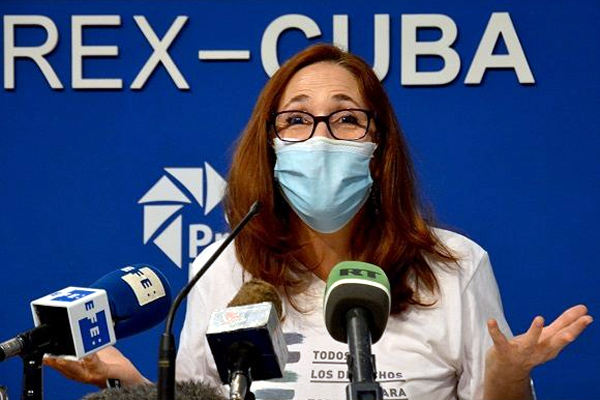 Tremenda Nota is the Washington Blade's media partner in Cuba. A Spanish version of this story was published on May 6.
HAVANA — The National Center for Sexual Education on May 4 during a press conference in which it unveiled the program for the 14th annual International Day Against Homophobia, Transphobia and Biphobia events in Cuba announced a bill to amend the family code will be introduced in Parliament in July.
CENESEX Director Mariela Castro Espín said during a meeting with official and foreign media outlets at the International Press Center that this year's events are part of the process of amending the family code.
She added that this legal change will reflect several rights guaranteed in the constitution, which is why it is necessary to sensitize and educate the Cuban population to avoid prejudice and discrimination.
"I was able to appreciate that the majority of the population … is in favor of recognizing the rights of LGBTI+ people and especially the rights in the family sphere that include the possibility, the option, of marriage," said Mariela Castro during the press conference.
The official referred to the results of the National Survey on Gender Equality in Cuba, conducted in 2016 and published in 2019. According to this official study, 77 percent of the Cuban population between 15 and 74-years-old said that gays, lesbians, bisexuals and transgender people should have the same rights as any other citizen.
CENESEX's director, however, did not use this information in the 2018 parliamentary debates sparked by Article 68 of the bill to amend the constitution. The idea that it was not the appropriate time to implement same-gender marriage in Cuba eventually won out.
Mariela Castro told Tremenda Nota a few days before the referendum in which Cuban voters approved the current constitution that she was aware of the survey, but she did not explain why she did not use the data it revealed as an argument (in favor of marriage equality.)
"It was a wasted tool that now we can only use in the next referendum," then-MP Luis Ángel Adán Roble told Tremenda Nota during a February 2019 interview, as did Mariela Castro.
The moment that Adán Roble mentioned has arrived.
It became known during the May 4 press conference that the family code will be introduced in the scheduled parliamentary session in July. The Council of State on March 22 appointed a commission that will be in charge of preparing the bill, but the list of its members was not made public until April 30. None of them are openly LGBTI+.
Activists over the last few weeks have demanded that Parliament reveal the identities of those who make up the commission and the deadline they have to prevent the Family Code. The May 4 press conference resolved the last outstanding point.
The Cuban IDAHOBiT program
Mariela Castro and CENESEX Deputy Director Manuel Vázquez Seijido explained that numerous activities with the goal of making visible and fighting against all types of discrimination based on sexual orientation and gender identity will virtually take place from May 4 through May 30.
The IDAHOBiT events in Cuba have a program that includes academic dialogue, social activism and artistic presentations from virtual spaces.
Forum debates are among the activities. The Juventud Rebelde newspaper will host the first one with the theme "Deconstructing myths around same-sex families and partners" and Cubadebate will hold the second called "Constitution and Sexual Rights in Cuba: Progress and Main challenges."
They also announced at the press conference the books "Paquito el de Cuba: A Decade of Online Activism" and "Non-Heteronormative Sexualities and Gender Identities. Tensions and Challenges for Human Rights" will be presented.
There will be virtual panels titled "Diverse Families: Histories of Non-Hegemonic Lives," "National Program for the Advancement of Women: Opportunities to Confront Homophobia and Transphobia," "Keys for Inclusive Communication" and "Sexual Rights and Religious Fundamentalisms."
Castro Espín explained that CENESEX will use its social media accounts to promote the program, contribute to the sexual education of Cubans and the recognition of rights for all people, regardless of gender or sexual orientation.
A show against homophobia and transphobia that will officially end the events will be broadcast on social media and on television.