October 6, 2017 at 10:32 am EDT | by Lou Chibbaro Jr.
Man found not guilty in murder of lesbian caterer
A Fairfax County Circuit Court jury on Oct. 4 found a former county parks employee not guilty in the August 2016 stabbing death of lesbian chef and caterer Tyonne Johns during an altercation at a wedding reception in a park that Johns catered.
Kempton A. Bonds, 20, had been charged with second-degree murder after he told police he stabbed Johns two times while fearing for his life. He testified that Johns began to strangle him with her hands during a scuffle that started over a disagreement about who owned a set of folding chairs used by wedding guests.
Assistant Commonwealth's Attorney Brandon Shapiro, the lead prosecutor in the case, argued that Bonds' decision to stab Johns was an overreaction and unnecessary response to the altercation.
Several of the wedding guests told police Bonds had acted in a hostile way to Johns and guests during the course of the outdoor wedding reception, which was held at Ellanor C. Lawrence Park in Chantilly, Va.
The not-guilty verdict came three months after a mistrial was declared on July 14 at the conclusion of an earlier trial when the jury became deadlocked and could not reach a verdict.
Similar to the first trial, Bonds' defense attorney during the second trial that began last week played a dramatic audio recording that Bonds made with his cell phone during his scuffle with Johns. Some court observers believe the recording was pivotal in persuading the jury they could not find Bonds guilty beyond a reasonable doubt.
According to an account by the Washington Post, wedding guests could be heard on the audio recording angrily hurling insults at Bonds for several minutes before Johns approached him and said, "I'm going to knock you out."
Bonds, who was 19 at the time of the incident, testified at both trials that Johns had attacked him following a lingering argument over aspects of the wedding reception that Johns, as a seasonal employee of the Fairfax County Park Authority, believed violated park rules.
He testified he pulled out a pocketknife he used at his parks job and stabbed Johns after fearing for his life. An autopsy showed one of the knife wounds punctured Johns' heart and caused her death.
"I couldn't breathe and she was strangling me," the Post quoted Bonds saying on the witness stand. "I tried to push her off me, but she wouldn't let go," the Post quoted him as saying.
"She did not have to die," the Post quoted prosecutor Shapiro saying in his closing arguments at the trial earlier this week. "A knife was not necessary. Mr. Bonds could have left the scene," the Post quoted him as saying.
Friends and family members said Johns, a native of Hopewell, Va., was a highly acclaimed chef and operated her own catering business in the D.C. area during the past several years. Readers of the Washington Blade in October 2016 voted to posthumously award Johns the honor of "Best Chef" in the Blade's 2016 Best of Gay D.C. competition.
When the not-guilty verdict was announced by the jury foreperson on Oct. 4 Johns' family members and friends who had been attending the trial began crying, and one of them shouted that Bonds was a "murderer," the Post reported.
The verdict in Bonds' case marked the second time in two months that a suspect charged in the murder of an LGBT person in the D.C. area was found not guilty. On Aug. 16 a D.C. Superior Court jury found a District man not guilty in the February 2012 stabbing death of transgender woman Deoni JaParker Jones, 23, at a bus stop near her home in Northeast Washington.
Attorneys representing defendant Gary Montgomery, who was 55 at the time of the murder, argued that police misidentified him as the person who stabbed Jones in the head in an unprovoked attack and it was an as-yet-unidentified person who committed the murder.
Similar to the Bonds case, the verdict shocked Jones' friends and family members, including her parents, who emerged shortly after their daughter's death as advocates for the transgender community.
Lou Chibbaro Jr. has reported on the LGBT civil rights movement and the LGBT community for more than 30 years, beginning as a freelance writer and later as a staff reporter and currently as Senior News Reporter for the Washington Blade. He has chronicled LGBT-related developments as they have touched on a wide range of social, religious, and governmental institutions, including the White House, Congress, the U.S. Supreme Court, the military, local and national law enforcement agencies and the Catholic Church. Chibbaro has reported on LGBT issues and LGBT participation in local and national elections since 1976. He has covered the AIDS epidemic since it first surfaced in the early 1980s. Follow Lou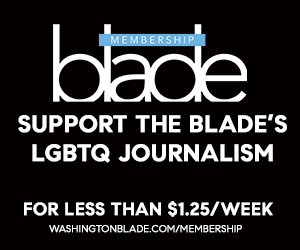 Sign Up for Blade eBlasts