Keri Hilson ready for some 'Pretty Girl Rock' at Capital Pride
Grammy-nominated hitmaker is psyched for D.C. energy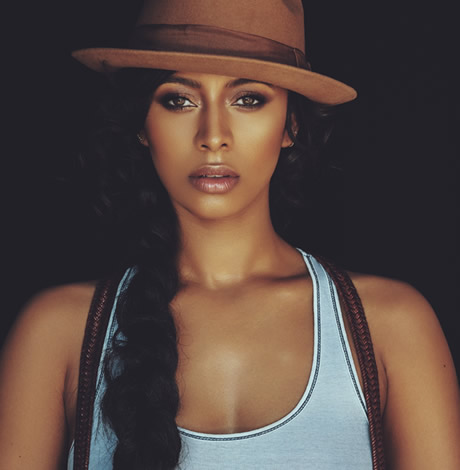 After a seven-year hiatus dedicated to her personal health and well-being, Keri Hilson is back in the spotlight once again. The 35-year-old Georgia native has had an impressive singer/songwriter career.
She began her career writing hit songs like Britney Spears' "Gimme More" and Ciara's "Like a Boy," and has since had several Billboard Hot 100 songs of her own.
Released in 2009, her debut studio album "In a Perfect World…" boasts two of these songs: hit singles "Knock You Down" and "Turnin Me On." This album also earned Hilson her first two Grammy nominations for Best New Artist and Best Rap/Sung Collaboration. The following year, she released "No Boys Allowed" with the platinum single "Pretty Girl Rock" which has 100 million listens across Spotify and YouTube.
Hilson will perform at the Capital Pride Festival/concert at 5 p.m. on the CAPITOL Concert Stage (3rd & Pennsylvania) as part of the HOT 99.5 event. It's free. Details here.
Hilson called the Blade from Atlanta where she had just returned from a trip to Mexico. She was leaving for L.A. Pride the following day, her final trip before coming to D.C. for Capital Pride. Her comments have been slightly edited for clarity and length.
WASHINGTON BLADE: You mentioned that you're doing L.A. Pride as well. Have you done other Pride concerts in the past or is this the first year that you're doing the circuit?
KERI HILSON: Oh no … we've done Atlanta a few times, we've done Indianapolis last year. Throughout the years, whenever my schedule allows me to do it, I make sure I come out.
BLADE: What has that experience been like, and why do you like to do Pride concerts?
HILSON: You know what, there's just a freedom in the air, you know, there's such a good vibe; the energy is always just perfect. I don't know, I think it's just the fun. Ever since the first one I did here in Atlanta, maybe seven or eight years ago or maybe even longer than that … it's just the energy. Like I said, freedom in the air, everyone is just completely being themselves — just loud and proud — and I just love that. I love that energy.
BLADE: You also supported the It Gets Better campaign. What inspires you to be an LGBT ally?
HILSON: Well, I think it's important that people understand that everyone is human and everyone is entitled to believe what they believe, live how they wanna live, love who they wanna love. I mean, that just goes with my beliefs in general about humans — whatever their choices are, whatever their fascinations or preferences are, we all are different human beings and we're all made to be unique. I don't know why that's so hard for the world to grasp. … There's so much scrutiny and it forces the LGBT community …(to) feel afraid and ashamed to be who they are. … There's no reason we should live in the closet about anything. We should be who we are; we were made to be unique, we were made the way we are. … It saddens me when I hear stories about — especially the youth — who are trying to figure it out and they may be withdrawn from society in a real way. That just makes me really sad. So, I think that's my main reason, is just we're all allowed to be who we are; there's no person who's better than another person based on anything.
BLADE: What do you have planned for Capital Pride? Any new material?
HILSON: It's possible, but I'm not sure at this time, so we'll just have to wait and see. But I will say we're gonna have a great time, it's gonna be a very energetic show, I'm gonna be doing the hits for sure. I just look forward to giving my all and just going hard and making everyone feel the love that I'm gonna feel on stage, I already know, I've done it a few times, so I'm just excited to give and receive the love, that's all. And I love D.C. too.
BLADE: Any updates about the upcoming release of "L.I.A.R.," your next album?
HILSON: Well, no, but I'm handling the business first. It's really important to me to make great business decisions, and that has afforded me the luxury of taking my time, the luxury of not having to rush. … I'm really grateful that I've made great business decisions in the past, so I just have to handle this first, and then I'm ready to go. Once we handle this, I'm pushing the button, so it should not be long. I can't wait. I know my fans are waiting and I know people are anticipating and I'm here for them, I hear them. I feel the same, I'm ready, it's just that I pride myself on doing good business, and that's just the thing that has to happen first.
BLADE: How did you come to share your story on the panel for "Silence the Shame" (an initiative working to fight mental health stigma)?
HILSON: As I'm sitting here listening to you ask questions, I'm realizing how much it relates to the community that we're talking about. I think that there is a lot of depression in the LGBTQ community, so it's just now becoming aware to me that they can also relate to what I was going through, though it was not the same exact struggles. So, there is purpose in it. I hope that people will understand that they are not alone; we all have an inner struggle. … Since that panel, which was the first time I had ever spoken about it, I've realized how impactful it was and how impactful talking about it can be and should be for others, just from the outpour of support and people that related to it. I didn't expect any of that; these days you expect ridicule. I've had a couple here-and-there of, "Oh that's fake depression, you're rich and famous," and I'm like, "Yeah, yeah you don't get it." But for the most part, the purpose is in how many people can relate and how many don't feel alone, and I think that's what it was all about for me. You know, God wrote my story and I believe he wanted me to share it and that's the reason why.
BLADE: How do you plan to continue promoting mental health awareness?
HILSON: I plan on doing it through my foundation. … A big part of my foundation deals with mental health and physical health as well — just health in general — through the arts, through physical health meaning sports, physical education and things like that and we plan on giving donations in schools because I believe that the arts are a very powerful tool for our mental health you know, finding an outlet — it being an outlet of expression. We go through different traumas, people have different life stories, but if you're unable — you can't find a way — or you're not exposed to the importance of expression then you know, that to me is a very sad situation so we want to give education where it's needed, tools where they're needed, instruments for the arts, visual and audible arts and things like that. So that's where I'm attacking that through the foundation from this point forward because it is a big part of my heart; you've seen the tearful story, you've heard my words and I'm super sincere about helping women find their way — women in particular and children — finding their way through life and through difficulties of life using the arts.
Gay Men's Chorus of Washington celebrates 40th anniversary with virtual concert, retrospective
Veteran choir soldiers undeterred through pandemic with Zoom rehearsals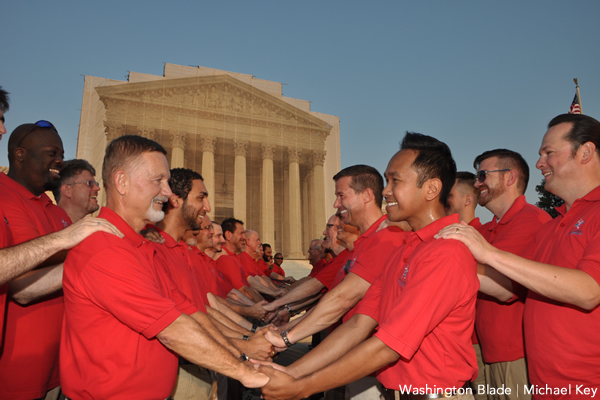 GMCW Turns 40
Streaming begins Saturday, June 5 at 7 p.m.
Available through June 20
Tickets: $25
gmcw.org
Discussion of the Gay Men's Chorus of Washington quickly becomes emotional for its members both veteran and newbie(-ish). They're the kind of strong feelings that only exist when one has sacrificed and invested in something.
"It's an experience that touches our soul in a way that not that many LGBTQ+ people get to experience," says tenor Javon Morris-Byam, a gay 28-year-old music teacher who joined three years ago. "We have music tying us together and in the end, we make a product that we can share with the public and that's a humbling experience."
Steve Herman, 79, is a founding member, though he doesn't sing. One of a group of "non-singing members," he joined in June 1981 and has helped over the decades painting scenery, designing ads, serving on the board and more. His partner at the time had joined the chorus as a singer.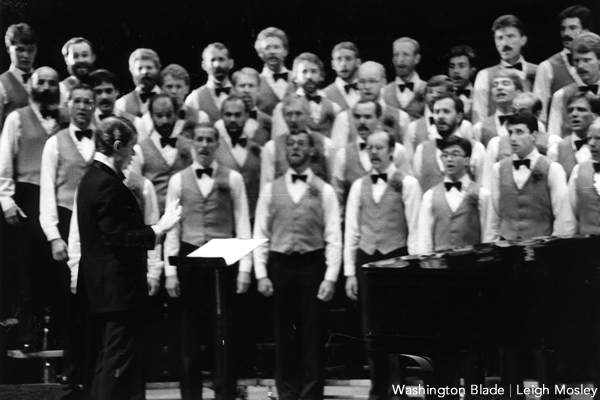 Now retired after 47 years in the federal government, he says the Chorus "has been a major centerpiece of my life."
"This may sound corny, but I couldn't imagine my life without the chorus," Herman says.
The chorus is celebrating its 40th anniversary this weekend with a streaming concert simply dubbed "GMCW turns 40" that can be streamed starting Saturday, June 5 at 7 p.m. and can be viewed until June 20.
Selections will include "From Now On" (from "The Greatest Showman"), "Rise Up," "Make Them Hear You" (from "Ragtime"), "Truly Brave" and a new song called "Harmony's Never Too Late!" written for the occasion by Stephen Flaherty and Lynn Ahrens, composers of "Ragtime." Video clips of past performances will also be included in a montage. Tickets are $25 at gmcw.org.
Thea Kano, the Chorus's artistic director since 2014 (she was associate director for a decade prior), says "Make Them Hear You" has "kind of become our anthem over the last 10 years," so contacting its composers for a commission made sense. They premiered it last summer virtually at the Chorus's Summer Soiree, a COVID-induced postponement of its usual Spring Affair.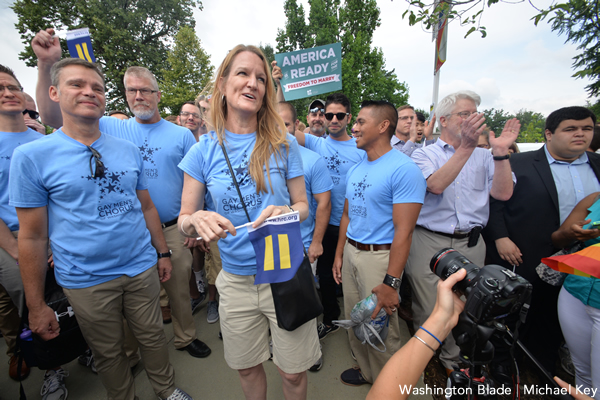 Kano, a straight ally, directs the Chorus with aid from Associate Conductor C. Paul Heins, Assistant Conductor Joshua Sommerville and accompanist Teddy Guerrant. Justin Fyala has been the Chorus's executive director since 2016. Staff also includes Craig Cipollini (director of marketing), Kirk Sobell (director of patron services) and Alex Tang (accompanist).
Under the main Chorus umbrella are five ensembles: 17th Street Dance, a 14-member performance troupe started in 2016; Rock Creek Singers, a 32-voice chamber ensemble; GenOUT Youth Chorus, a teen choir of about 25; Potomac Fever, a 14-member harmony pop ensemble; and Seasons of Love, a 24-voice gospel choir.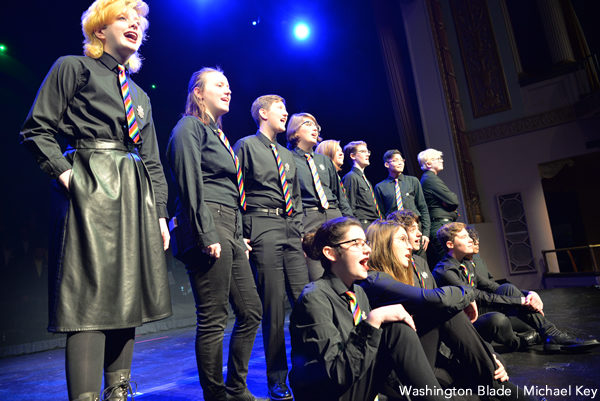 Musically, the Chorus's repertoire is eclectic.
"(We sing) everything from spiritual to glam rock to punk to traditional classical, and everything in between," Morris-Byam says. "I love when the chorus is all together and able to produce a big powerful sound."
Kano says working with Fyala is "a dream" and says under his leadership the Chorus is "in a very healthy financial place, which is wonderful and a very humble thing to be able to say right now particularly given that we're in a pandemic — that's not the case with a lot of arts organizations."
The D.C. Chorus is a quasi-unofficial spin off of its San Francisco counterpart. During an early '80s national tour, the San Francisco group performed at Washington's Kennedy Center and had a profound effect on local audiences. Marsha Pearson, a straight woman who lived in Dupont Circle at the time and enjoyed hanging out with gay men, was one such person.
"I couldn't believe we didn't have one of these," she told the Blade 10 years ago for a story on the Chorus's 30th anniversary. "I thought, 'We're the nation's capital, how come we don't have this?'"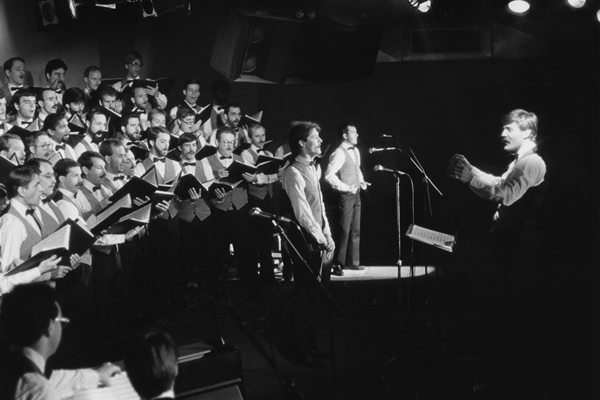 She hand wrote fliers — four to a sheet — had her sister photocopy them at her office, cut them up by hand and passed them out at Capital Pride in 1981. Accounts vary about how many showed up to the first practice at the long-defunct gay community center (no connection to the D.C. Center) on Church Street. Pearson remembers about 30. Others say it was more like 15-ish. It was June 28, 1981 and, by all accounts, an innocuous beginning.
Pearson never sang with the group — it was exclusively a men's chorus. She asked if anybody had any conducting experience. The late Jim Richardson did and became the first director.
"I still remember the first chord," Pearson told the Blade in 2011. "It was just a simple thing, you know, like do, mi, so, do, but I just got goosebumps. I was just elated that even one note came out, I was so excited. I got those same goosebumps at the anniversary concert last weekend. I put their CDs on and I get the same thing, especially on certain things they sing. You just can't believe it sounds so great."
Click here for more about the history of the group. A bio/history is also available at gmcw.org.
COVID has, of course, wreaked havoc on the operation. Thankfully, Kano says, no members have died from it, though a handful (she says fewer than 10 that she knows of), including Kano, have had it and recovered.
The Chorus continued its Sunday evening rehearsals via Zoom, which, because of the precision required for musical performance, was tougher to take online than, say, a business meeting. It never occurred to the Chorus leadership to take a hiatus.
"I look back now like, 'Why didn't we take some time off,' but I think off the top of my head at the time it was like, "We sing and we're a social justice organization and community is such a big part of who we are,'" Kano says. "And so for suddenly, with no notice, to have something that we love so much and are so passionate about …. to suddenly just turn the lights off, that wasn't even an option."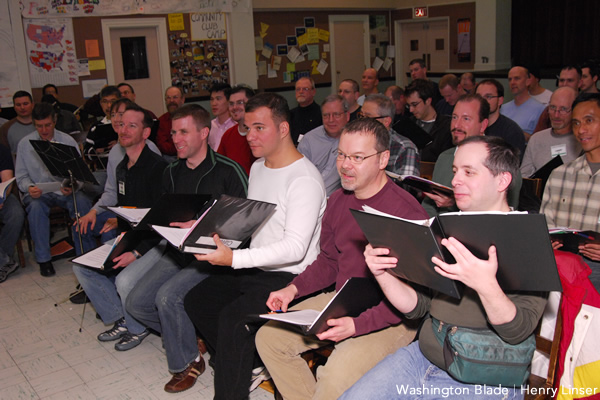 With the Chorus and dancers and GenOUT, there are about 200 current volunteer performers. It's been slightly higher at times. Some were deterred by the thought of rehearsing via Zoom although some former members no longer in the D.C. area — even a few overseas — rejoined when virtual participation became possible.
The murder of George Floyd and the Black Lives Matter movement last summer and beyond was a galvanizing event. The Chorus responded with its "Let Freedom Sing" concert, which Kano says celebrated the intersection of Black and LGBTQ people.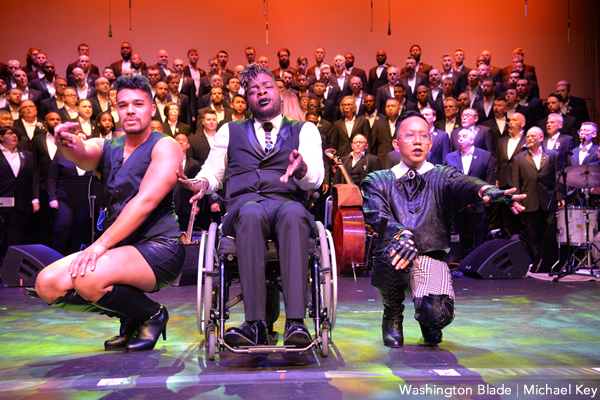 "It was our way of saying we raise our voice in solidarity with those facing injustice," Kano says.
But does that get messy at times? Surely not everyone in a choir of this size is on the same page politically, even in a progressive city like D.C., right?
As a nonprofit, the Chorus avoids anything ostensibly political. Kano says the issue did arise when they were invited to sing at a Virginia-based gun-reform event last year. They participated, but carefully.
"So anytime you mentioned guns, it becomes political," Kano says. "It's not about whether or not we support the Second Amendment. It's us standing in solidarity with those who have been victims of gun violence."
Kano says there's "a very good chance had this been a non-pandemic year," they would have been invited to sing at the Biden-Harris inauguration, which she says they "absolutely" would have agreed to.
"We did wonder, though, a few years ago what we would have said if 45 were to ask us," she says. "We didn't spend a lot of time on it because we knew that wasn't gonna happen," she says with a chuckle.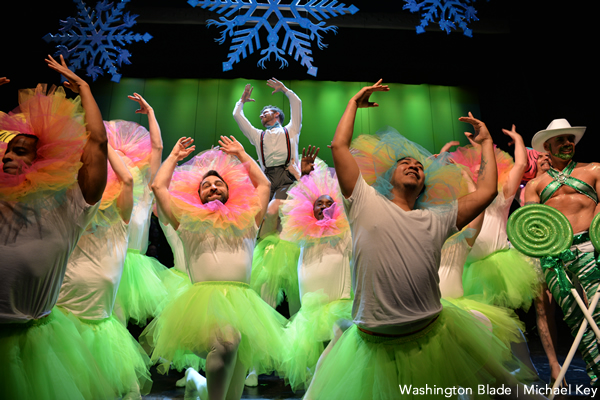 Herman says performing at big, pro-LGBTQ "statement"-type events is woven into the Chorus's history and is understood.
"Every Christmas Eve, we'd sing for the patients at NIH," he says. "We still do, only then it was primarily AIDS patients. We sang special concerts when the (AIDS) Quilt was first displayed and when there was a March on Washington. We did a lot of community work and outreach at a time when it was really needed."
Morris-Byam says even today, with so much progress having been made, the Chorus still is needed. He, by the way, calls Kano "one of the most brilliant musicians I've ever met."
"I believe the Chorus is a strong political statement in itself," he says. "When we're making a strong, joyful noise, it's celebrating everything we are, what we can be, and everyone who has gotten us where we are.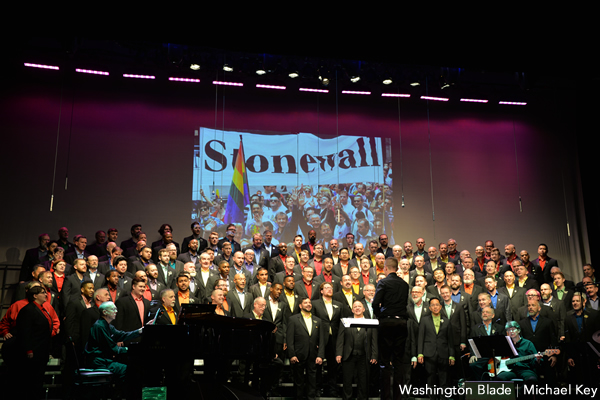 There have been challenges over the years — finding new office space, patching together individual vocal parts for virtual performances — but no warring factions. Kano is, by most accounts, extremely well liked.
The future, Kano says, is bright. She hopes to resume in-person rehearsals in the fall. She spent a big chunk of early lockdown transcribing a Puccini "Gloria Mass" for tenor/bass chorus. She plans to program it with works by Cole Porter eventually.
Ultimately, Kano says, her goals for the Chorus are about making great art.
"Art comes first," she says. "Because that's how we deliver our mission. And if we put great art first, it's going to attract great people. It's going to both as members and as audience members and patrons, and therefore it's going to attract great funding, and then all that goes right back into the arts we can further our expansion and our ability to get the mission out."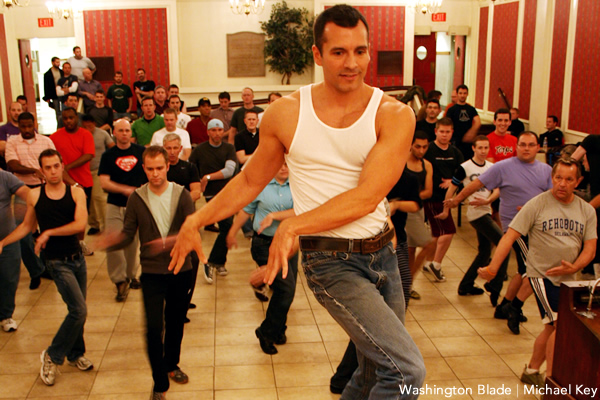 Billy Porter talks about his HIV diagnosis and keeping secrets
The Tony, Emmy, and Grammy-Award winning actor revealed the secret he's been keeping for 14 years in the Hollywood Reporter Wednesday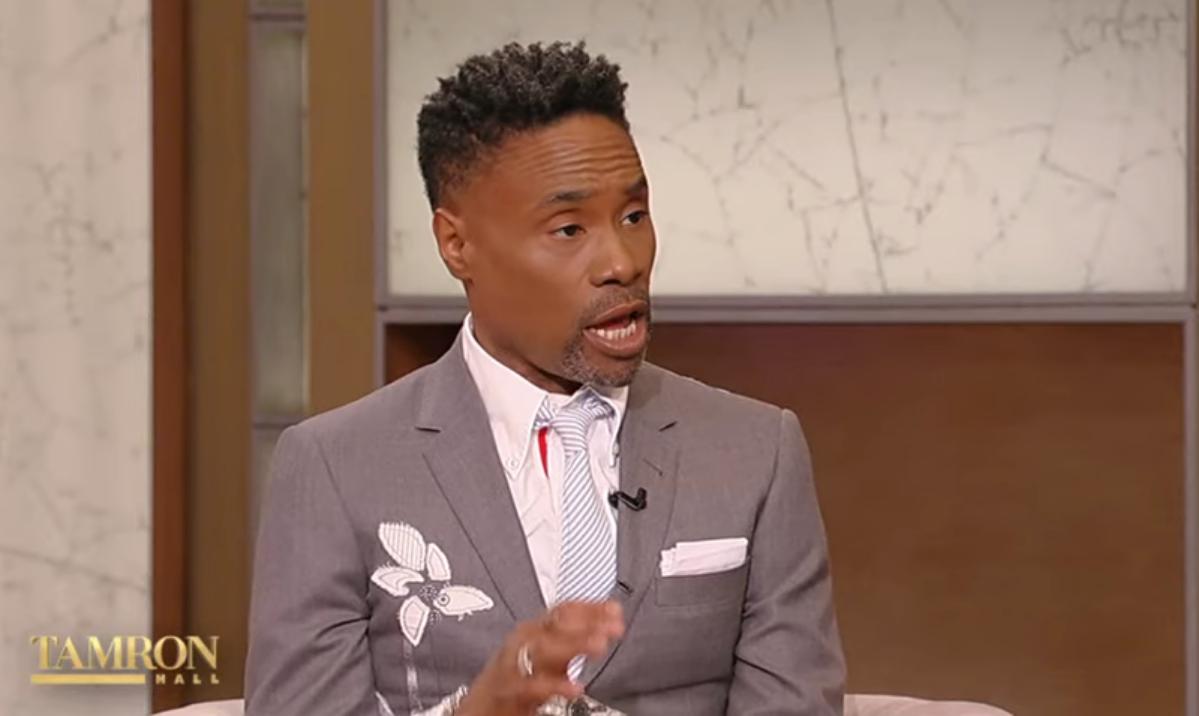 NEW YORK – Daytime talk show host Tamron Hall welcomed Broadway icon and star of the hit tv show "Pose," Billy Porter on her show that aired Wednesday. The Tony, Emmy, and Grammy-Award winning actor revealed the secret he's been keeping for 14 years that was made public in a piece for the Hollywood Reporter published Wednesday.
Porter discusses his HIV diagnosis from over a decade ago which the actor said he felt a sense of shame that compelled him to hide his condition from his castmates, collaborators and even his mother, and the responsibility that now has him speaking out. "The truth is the healing," Porter said.
"I was on the precipice of obscurity for about a decade or so, but 2007 was the worst of it. By February, I had been diagnosed with Type 2 diabetes. By March, I signed bankruptcy papers. And by June, I was diagnosed HIV-positive," he wrote. "The shame of that time compounded with the shame that had already [accumulated] in my life silenced me, and I have lived with that shame in silence for 14 years. HIV-positive, where I come from, growing up in the Pentecostal church with a very religious family, is God's punishment," the actor wrote.
Final season of 'Pose' is must-see TV that matters
Groundbreaking FX drama has left its mark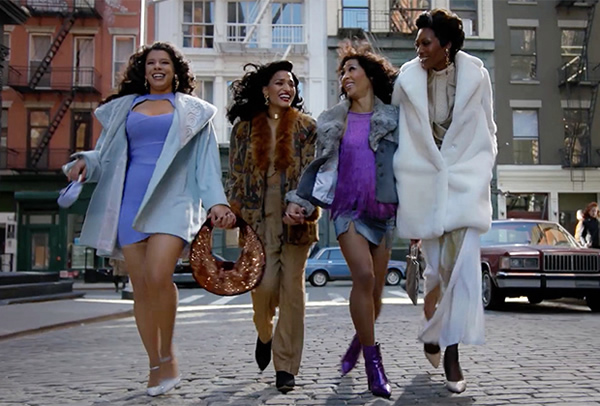 When the COVID pandemic hit in the early months of 2020, there were certainly more pressing and essential worries for us to grapple with than how it would impact the next season of a TV show. Yet it's a testament to the power of "Pose" that many among its legion of fans were at least as concerned about the show's disruption as they were about the possibility of running out of toilet paper.
The powerhouse FX drama — which spotlights the legends, icons and ferocious house mothers of New York's underground ball culture in the late 1980s — had already made history. Not only did it feature the largest cast of transgender actors in regular roles, it boasted the largest recurring cast of LGBTQ actors ever included in a scripted series. In its first two seasons, the show racked up accolades and honors (including a Primetime Emmy for Billy Porter as Outstanding Lead Actor in a Drama Series) while breaking new ground for the inclusion and representation of queer people — and especially transgender people of color — in television, both in front of the camera, and behind it. With the end of its second season in August 2019, fans were hungry for a third — but thanks to COVID, its future was suddenly in question.
So, when word came that the show's third season would have its debut on May 2, it was the best news since finding out the vaccines were finally going to start rolling out. But it was bittersweet: Along with confirmation of the series' imminent return came the sad revelation that the new season would also be the last. "Pose" would be coming to an end with a final, seven-episode arc.
As any viewer of show can attest, there were a lot of threads left hanging when last we saw its characters. That means there's a lot of ground to cover in these last chapters in order to give everyone — characters and audience alike — the closure they deserve.
The show's official synopsis goes like this: It's now 1994 and ballroom feels like a distant memory for Blanca, who struggles to balance being a mother with being a present partner to her new love, as well as her latest role as a nurse's aide. Meanwhile, as AIDS becomes the leading cause of death for Americans ages 25 to 44, Pray Tell contends with unexpected health burdens. Meanwhile, a vicious new upstart house is emerging in the ballroom world, and the members of the House of Evangelista are forced to contend their legacy.
Obviously, there are a lot of details left hidden in that broad overview, and fans are undoubtedly full of questions about what they can expect to see.
Fortunately, the bulk of the show's main cast convened on Zoom last week (along with show co-creator and Executive Producer Steven Canals and Executive Producer Janet Mock) for a press conference to discuss their "Pose" experience, and while they didn't exactly give away any spoilers, they definitely dropped some tantalizing hints about what's in store for audiences in the farewell season.
In truth, most of the discussion was dominated by reminiscences and expressions of mutual appreciation, sure signs that the feeling of family we see onscreen is something that has taken hold off screen, as well. But in between the affectionate banter, the cast and creatives addressed several questions that might be most on viewers' minds.
Perhaps the most pressing of these — why, after only three seasons, is the critic-and-audience-acclaimed show calling it quits? — was taken on by Canals, who explained:
"I always knew what the beginning and what the end of the narrative would be. And when Ryan Murphy and I first met in September of 2016, we felt really strongly that that particular narrative made sense. And so, while we certainly could have continued to create narrative around these characters and in this world, and we certainly had a conversation in the writers' room about it … I think we all agreed that it just made sense for us to 'land the plane,' if you will, comfortably — as opposed to continuing to give an audience story that just simply didn't have any real core intention or a real thrust towards specificity."
Also of interest was the obvious subject of how the parallels between the current pandemic and the AIDS crisis that looms over the show's narrative might be reflected in the new episodes. While he didn't hint at any direct connections in "Pose," Porter used the subject to underscore a theme that has always been one of the show's most important elements:
"I think the parallels are quite profound. I know that as a Black gay man who lived through the AIDS crisis, I have been dealing with a lot of PTSD during this COVID time. It's very reminiscent of what it was like then. The best news about that is that I survived. We got through it, and there is another side to it. We can get to the other side.
"I feel like that's what 'Pose' really accomplishes this season, reminding the public that it's when we come together and when we lead with love [that] we get to the other side."
Mock elaborated on the theme of resilience by discussing the importance of showing the strength of House mothers like Blanca and Electra (Dominique Jackson), who hold together — and lift up — their entire community:
"It's that matriarchal power and lineage that I think the ballroom is, and what trans women are to one another, that then feeds everyone else and enables them to shine and have all the things that they want in the world. For me, it is [about] that celebration […] of Black trans women — that they've created this space, that they brought everyone else in with them, and that, at the end of the day, they are often the ones most often forgotten.
"I think with this season, I want everyone across the industry, the audience, to realize that. I think it's essential, and it's important."
Mock also talked about the way "Pose" focuses on the small, day-to-day lives of its characters as much as it does the larger-than-life splendor of the ballroom culture in which they participate:
"We wanted to ensure that we show the everyday, mundane moments, as well as the great, grand celebrations. The ballroom is are presentation of what it means to congregate and share testimony and to love on each other, and our show is a celebration of the everyday intimacies. So, for us, while we were plotting these big, grand moments […] we wanted to bring in traditions — weddings, matrimony, all this stuff — that our characters get to engage in. We wanted to be a part of the tradition of that, and all the moments that a family shares together. We wanted to make sure that all of those things were celebrated in this."
When discussion turned to the unprecedented level of support and collaborative inclusion with which the show's queer cast were bestowed by Ryan Murphy and the rest of the creative staff — from the presence of trans women like Mock and Co-producer Our Lady J in the writers' room to the extensive reliance on the insights and talents of real-life members of the ballroom community — Jackson was quick to add that besides giving the show its ferocious authenticity, it gave her an increased recognition of her own worth:
"I will never, ever, ever walk into a space thinking that I need to impress them […] I will never walk into a space being fearful of my identity stopping me from anything. Because of this journey, when I walk into spaces now, my identity is not because I'm an abomination. My identity is a plus. My identity is my value. So, when I walk into spaces now,they need to impress me. You can be the biggest Hollywood director, producer, whatever, but you're not going to take my story or relay stories that are reflective of my life or my existence and make them into anything you want, because of 'Pose,' because of Ryan, because of Steven, because of Janet and Brad [co-creator/executive producer Falchuk), because of Our Lady J, because of my cast members.
"I will never walk into spaces or live a life or an existence thinking that I need to impress anyone."
Porter concurred, adding:
"There was never, ever a space in my brain to dream what'Pose' is, what Pray Tell is. I spent the first 25-plusyears of my career trying to fit into a masculinity construct that society placed on us so I could eat.'Pose,' and Pray Tell in particular, really taught me to dream the impossible […] the idea that the little, Black church sissy from Pittsburgh is now in a position of power in Hollywood in a way that never existed before. You can damn sure believe that I will be wielding that power and there will be a difference and a change in how things go from here on out."
If the cast members themselves have found themselves feeling more empowered thanks to "Pose," so too have the millions of LGBTQ people — and allies — who have tuned into it since its premiere in 2018. The show is one of those rare entries into the cultural lexicon that simply allows its queer and trans people to live authentic lives, giving long-withheld representation to countless viewers who were able to see themselves reflected back from the screen for perhaps the very first time. It's that powerful sense of validation provided by "Pose" that keeps it standing tall in an entertainment market now providing so much LGBTQ inclusion that it's becoming dangerously easy to take it for granted.
Whatever moments of heartbreak, joy, and celebration "Pose" brings us as it plays out its final act — and there are sure to be many — we can all be sure it will leave us with a message expressed through an oft-heard line of dialogue that Mock says she found herself writing "over and over again" during the series' run:
"You are everything, and you deserve everything this world has to offer." It's that nurturing sentiment the "Pose" has been instilling in us from the beginning, like a mother to us all.
And that's why so many of us can't wait until the first two episodes of its final season air at 10 p.m. (both Eastern and Pacific), Sunday, May 2, on FX.