September 12, 2019 at 11:21 am EDT | by Thom Murphy
FALL ARTS 2019: ALBUMS — 'Judy' soundtrack, Lana, Taylor and more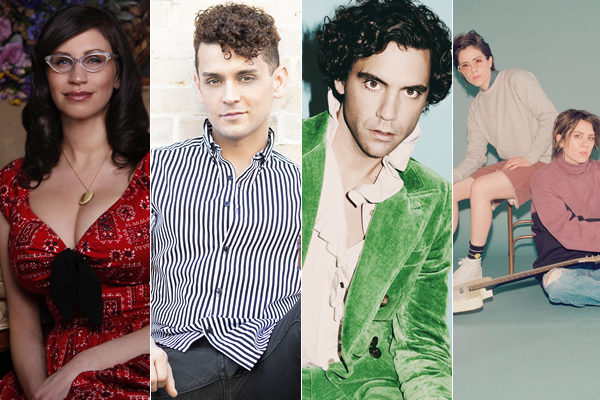 To say that new album releases have started with a bang this fall would be an understatement. Taylor Swift and Lana Del Rey have both just released highly anticipated albums. And there are several more to look forward to in the coming months.
Taylor Swift just released her seventh studio album, "Lover," which was preceded by singles "Me!," "You Need to Calm Down" and "Lover." And it has been doing incredibly well on the charts, hitting the Billboard No. 1 spot. As many have remarked, Swift is becoming more politically outspoken and the new song "You Need to Calm Down" speaks directly about LGBT issues.
Longtime favorite Lana Del Rey came out with the new album "Norman Fucking Rockwell!" that has already become a subject of controversy with critics. It was preceded by a number of singles, including the popular "Venice Bitch." It's a formidable new album, in step with her best music.
Charli XCX's new album "Charli" comes out today, her first full album since 2014's "Sucker." Preceded by six singles, it includes many of the hits that have made her popular on the dance floor, including the lead single "1999."
Also today, singer-songwriter Paula Cole will release her ninth studio album entitled "Revolution." In the lead-up, she has released the single "Go On." And the Denver-based indie group The Lumineers is coming out with "III," their first release since their 2016 "Cleopatra."
On Sept. 20, American pop-rock group Blink-182 will release "NINE," continuing the band's comeback that started with the 2011 album "Neighborhoods." Five singles have already been released from the new album, including "Blame It on My Youth," "Generational Divide" and most recently "I Really Wish I Hated You."
Kristin Chenoweth is set to release her new album "For The Girls" on Sept. 27, and there is much to look forward to. The album will feature a rendition of "I Will Always Love You" performed as a duet with Dolly Parton. The track "I'm A Woman" features both Jennifer Hudson and Reba McEntire, and "You Don't Own Me" was recorded with Ariana Grande.
On the same day, Renée Zellweger will come out withsoundtrack for the new film "Judy," the anticipated biopic about the life of Judy Garland. The soundtrack seems as though it will have no shortage of gems, including a duet with out singer Sam Smith on the song "Get Happy," and a new rendition of the holiday classic "Have Yourself A Merry Little Christmas" with gay songwriter/singer (and frequent Garland interpreter) Rufus Wainwright. 
Also on Sept. 27, the indie group Tegan and Sara are scheduled to release their ninth album entitled "Hey, I'm Just Like You." The out twins have long been vocal supporters of LGBT rights. The new album will focus on their teen years and will be released in conjunction with their new memoir "High School." In anticipation of the new album, they have released the lead single "I'll Be Back Someday."
On Oct. 4, multilingual pop artist Mika will release his fifth album "My Name Is Michael Holbrook." The gay singer has had successful pop hits in several languages, including the French track "Elle Me Dit" from his third studio album. So far he has released the singles "Ice Cream," which is heavy on theatrics in a way reminiscent of Jake Shears, and "Tiny Love."
The queer country group Karen & the Sorrows is set to release the new album"Guaranteed Broken Heart" Oct. 11, with the title cut having been released as a single. The group joins an ever-growing number of out singers, songwriters and musicians in the country music scene.
On the same day, Michael Longoria, one of the original cast members of the musical "Jersey Boys," will release his third solo album entitled "Like They Do In The Movies." The aptly titled album is filled with classic songs from films like like "Wind Beneath My Wings" from the movie "Beaches," "Rainbow Connection" from "The Muppet Movie" and "My Heart Will Go On" from "Titanic."
Also anticipated sometime this fall is the new album "Courage" from Celine Dion, as well as the album "Sketchbook" from American Idol-winner Fantasia, who will be bringing her "Sketchbook Tour" to town in October.
On vinyl, look for Kim Petras' "Turn Off the Light Vol, I" (Sept. 20), Goldfrapp's "Black Cherry" (Sept. 27), Christina Aguilera's eponymous first album on picture disc (Oct. 4), Freddie Mercury's "Mr. Bad Guy," "Never Boring" and "Barcelona" (Oct. 1), Fleetwood Mac's "Rumours in Concert: the Legendary Broadcasts" on limited edition clear vinyl (Oct. 18) and Cyndi Lauper's 1998 release "Merry Christmas — Have a Nice Life" on colored vinyl (Nov. 1).