November 2, 2019 at 4:40 pm EDT | by John Paul King
"Sherlock" creators tease new homoerotic "Dracula" series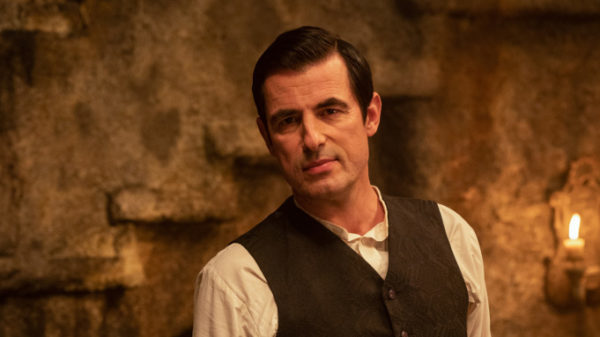 Halloween may be over, but that doesn't mean we have to wait a whole year for more sexy scares.
The BBC just dropped a teaser trailer for their highly anticipated "Dracula" series, in which Danish actor Claes Bang portrays the iconic count, and it's clear that this iteration of the classic tale plans to take a more pansexual approach than we've seen in the past.
In the trailer, Dracula is seen gently caressing the face of an obviously terrified young man as he tells him, "Try and stay calm, you're doing very well."
The series comes from writers Mark Gatiss and Steven Moffat, who created the wildly successful modern-day "Sherlock" reboot that won legions of fans and turned actor Benedict Cumberbatch into a household name. Produced by Hartswood Films and inspired by Bram Stoker's classic novel, it's set in 1897 Transylvania and re-introduces us to the blood drinking Count as he prepares his plans against Victorian London.
Gatiss, who is gay, says "He's got broad tastes, this Dracula. It's not just a collection of sixties women with push-up bras this time. Dracula has never been discriminative, in so far as he can tell the difference between the sexes. He goes for his food but also people who interest him."
Gatiss and Moffat are also known for their work on another popular British show, "Dr. Who." They previously introduced LGBT themes and characters in that series as well as in "Sherlock," where they portrayed the fictional detective's arch-nemesis Moriarty as a gay man (memorably portrayed by out actor Andrew Scott, now known as "Sexy Priest" from the Emmy-winning "Fleabag") and often playfully tipped the hat to fans who "ship" the duo of Holmes and Watson – though they never went so far as to actually suggest any sexual or romantic relationship between them.
The shadow of "Sherlock" looms large – literally – over the new series.
According to Gatiss in an interview with Pilot TV magazine, the entire idea for "Dracula" sprung from something that happened while filming the first season of the previous show.
"Well, I'm conscious whatever we say now will be the story we'll be telling for the next ten years, so I might pretend that we were in a hot-air balloon over Marrakech," he joked.
"The truth is we were making Sherlock, two days into shooting the first series… I had this photo on my phone of Benedict Cumberbatch silhouetted against Mrs. Hudson's door, and I showed Ben Stephenson, who was then head of BBC drama, [saying] 'Oooh it looks like Dracula, doesn't it?' and he went, 'Do you want to do it?'"
Gatiss is also an actor, known best to American audiences for appearing in "Sherlock" as the detective's brother, and also for a juicy turn as shrewd banker Tycho Nestoris in HBO's "Game of Thrones." He takes on an as-yet-undisclosed role alongside Bang in "Dracula," which will also feature John Heffernan ("The Crown"), Joanna Scanlan ("Hold The Sunset"), Dolly Wells ("Can You Ever Forgive Me"), Morfydd Clark ("His Dark Materials," "Patrick Melrose") and Lujza Richter ("Phantom Thread").
The new series has yet to air, but Gatiss has already teased the possibility of a second season, saying, "It's very hard to kill a vampire."
"Dracula" will follow the same format as "Sherlock," consisting of three feature-length episodes and airing in the UK on BBC One. It will be available in the US and other parts of the world on Netflix. No release date has been set but it is expected to debut in January of 2020.