June 12, 2020 at 5:55 pm EDT | by Joey DiGuglielmo
QUEERY: Natalie Thompson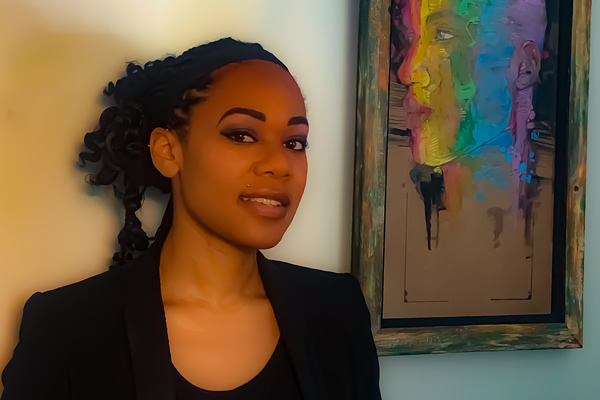 Pride season is different this year for sure, but for Capital Pride board member Natalie Thompson, it's not anti-climactic in the least.
As co-chair for Global Pride, a June 27 worldwide virtual event (globalpride2020.org), she says, "We're determined to have the largest Pride event ever."
"We're working with Prides from around the world to highlight their stories," says the 35-year-old Northern Virginia native. "We are focusing our attention on highlighting the origination of Pride as a riot spearheaded by black and brown trans leaders and bringing attention to how we have much work to do to ensure all people are able to live their trusts free from persecution and discrimination."
She says the momentum of the Black Lives Matter movement is being harnessed into Pride season.
"To me, this is an exciting time to transform what Pride can be so that it includes all the intersectionality of our global community," she says.
Thompson, who grew up in the region, began volunteering for Capital Pride in 2016 and joined its board in 2018. She is also on the board of InterPride (a member-led association for Pride organizers around the world) and co-chair of Global Pride, a program broken up into the 24 time zones starting at noon on June 27 NZST (New Zealand Standard Time) where Prides from each region will be highlighted with local leaders and performers.
"The idea … is to pay homage to how Pride began, honor those who have come before us, celebrate our diversity and address the work still left to do," she says.
Thompson works as a director of programs for Shelters to Shutters. She lives with her partner, Corbin Shansky, in Kensington, Md. She enjoys volunteering, cooking, painting, sculpting, crafting, singing and watching TV in her free time.
How long have you been out and who was the hardest person to tell?
I have been out since I was 16 years old, and believe it or not, my friends were always the hardest to tell. My family was amazing when I finally told them; my mom already seemed to know. I remember her telling me there was no need to make this whole production to tell her I was queer. I believe she said, "Girl, I don't care as long as you are happy!" This might have been the most affirming moment of my life.
Who's your LGBTQ hero?
I don't have a hero. I respect anyone who lives a life of purpose and authenticity. Everyone has the ability to impact the world in a positive way and I'm here for all of their efforts.
What LGBTQ stereotype most annoys you?
Stereotypes are all annoying. We don't exist in a world where people fall into categories so why do we always try to put people in boxes?
What's your proudest professional achievement?
When I reconnect with clients who have broken the cycle of homelessness and share their successes. That lets me know the work I do in the community has a positive impact.
What terrifies you?
Failure
What's something trashy or vapid you love?
Reality television. It's terrible but I can't get enough of those types of shows.
What's your greatest domestic skill?
I'm a pretty good caregiver.
What's your favorite LGBTQ movie or show?
I love "Set It Off" and "The Color Purple." "Noah's Arc" would have to be my favorite show. Queer black love on screen is amazing to see and we need more of that in the media. I'm also a big fan of "Fried Green Tomatoes."
What's your social media pet peeve?
People live tweeting their day. It's just not that interesting to know you just had your first cup of coffee. I guess this is why I don't really use social media too often.
What would the end of the LGBTQ movement look like to you?
I don't think there will be an end but a transition where we can fully celebrate because all people around the world have the right to live their truth without fear of discrimination, persecution or death.
What's the most overrated social custom?
Now I would say shaking hands due to COVID-19.
What was your religion, if any, as a child and what is it today?
Raised Catholic. I'm no longer religious but I very much believe. When I was a child, I could think of nothing I wanted to be more than a priest. I wanted to inspire people and I had a profound connection to my faith. When I learned women could not aspire to this role, it shook me to my core.
What's D.C.'s best hidden gem?
D.C. is changing so rapidly; all the hidden gems seem to be disappearing.
What's been the most memorable pop culture moment of your lifetime?
I would say, when we lose a great pop icon, like Michael, Prince, Whitney, Tupac, Biggie, etc. Those moments have stayed with me. I remember where I was, what I was doing, the weather that day — I remember everything.
What celebrity death hit you hardest?
Amy Winehouse. She was an incredible talent and gone too soon. Her music will forever be in my rotation.
If you could redo one moment from your past, what would it be?
I don't think I would redo anything. As much as I would love to have not made certain mistakes, I know that I would not be who I am and where I am without them. I don't think it's healthy for my well-being to dwell in the past but learn from it and make better choices in the future.
What are your obsessions?
I'm obsessed with music. Music gives me so much life. When I find an artist I dig, I can play the same song or album over and over again for hours. I think I get that trait from my dad. He does the same exact thing and when I was young it used to annoy me, but I get it now.
Finish this sentence — It's about damn time:
… we dismantle the systems spawned from white supremacy.
What do you wish you'd known at 18?
That I didn't need to be afraid to be myself. I was timid and quiet which didn't allow me to fully express myself. I wish I hadn't waited so long to find my voice.
Why Washington?
Why not Washington? This is an amazing area — it's HOME!