August 19, 2020 at 9:12 am EDT | by Lou Chibbaro Jr.
Gay Young Dems of Md. leader found dead in D.C. apartment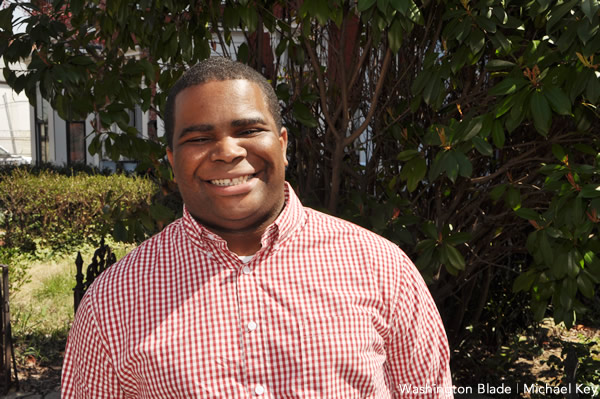 Joseph L. Kitchen Jr., an LGBTQ rights advocate who served as president of the Young Democrats of Maryland since 2013 and was a beloved figure among Democratic Party activists across the state and in Prince George's County, was found dead in his D.C. apartment on Sunday, Aug. 16 of unknown causes, according to D.C. police and the Office of the D.C. Chief Medical Examiner.
A spokesperson for the Medical Examiner's office said a determination of the cause of death was still pending as of early this week. Members of Kitchen's family told media outlets that authorities do not believe foul play was involved.
Prince George's County police said Kitchen, 34, was found deceased one day after friends and family members reported him missing to P.G. Police and appealed to the public for help in finding him. P.G. police said in an announcement on Aug. 15 that Kitchen was last seen in person on Aug. 8 at Sandy Point State Park in Annapolis and he last spoke to colleagues during a Zoom meeting on Aug. 11.
"In everything Joseph did, he advocated for young people," Maryland Del. Jazz Lewis (D-Prince's George's County) told NBC 4 Washington. "He was fearless in calling out local, state, federal, and even party leadership if he felt young people weren't given a fair hand," Lewis said.
At the time he was reported missing, P.G. County police described his appearance and said he owned a 2014 Silver Dodge Charger with Virginia license plates. The missing person's announcement did not say he had a residence in D.C.
Jeffrey Slavin, the gay mayor of Somerset, Md. located just outside D.C., said he was among the Maryland elected officials who got to know Kitchen and admired him for his advocacy for progressive causes, including the Black Lives Matter movement. But Slavin said he was puzzled over why Kitchen had a D.C. apartment and drove a car registered in Virginia.
"There is much about him that has always been a mystery to me," said Slavin.
Kitchen's LinkedIn page says he has worked since August 2011 as an administrator at the Washington Middle School for Girls in Southeast D.C.
Maryland State Del. Nicole Williams (D-PG County) told the Washington Blade she too admired Kitchen's political activism and has been good friends with him for at least a decade. Williams said she believed that Kitchen also had a residence in Maryland, which would have been a requirement for him to serve as president of the Young Democrats of Maryland.
Kitchen contacted the Washington Blade in April 2013, two months after he was first elected president of Young Democrats of Maryland, to disclose that he had decided to come out publicly as gay to his Democratic Party colleagues and friends. He said his public coming out was part of his own transformation as a person of faith and an ordained minister to a place of full self-acceptance.
"I had to believe and come to realize, as a person of faith, that I am made in God's image and he has made me to be who he wants me to be, that God made me this way because this is who I am and I'm made in his image," he told the Blade in a published interview.
He said in the interview that he moved to Maryland in 2006 from his hometown of Fresno, Calif., and settled in Prince George's County. He said his decision to come out marked the culmination of a path that had taken him from the position of voting for California's Proposition 8, which banned same-sex marriage in 2008, to an active role in 2012 in campaigning for Maryland's same-sex marriage law.
He said he had retained his California residency during his first few years living in Maryland, which enabled him to vote for the anti-gay Proposition 8, an action he attributed to his initial inability to accept himself as a gay person.
Among other things, Kitchen told the Blade in the interview that he helped direct the Young Democrats of Maryland's efforts to support a same-sex marriage bill when it came before the Maryland General Assembly and when it came before voters in a referendum in November 2012. The measure won approval by Maryland voters in what was considered a major breakthrough for LGBTQ rights.
Kitchen stated in his interview with the Blade that he did not expect his coming out to interfere with his longstanding advocacy for social justice for all people.
"So I want this to be out there and of course I'm going to have to deal with it for a while," he said. "But then I want to return to the issues that I've made the passion of my life, which are education equality, crime and justice and economic justice for people of color. Those are the issues that are important to me."
Slavin said he regrets not becoming more personally supportive of Kitchen in recent months when, like many others during the stress of the coronavirus pandemic, Kitchen may have been struggling emotionally. Slavin pointed to a Twitter posting by Kitchen a week or two before Kitchen was reported missing.
"For the last few days (possibly even weeks) I have been struggling. Mostly in silence," Kitchen wrote in his Twitter post. "Surviving with a jam-packed schedule of meetings, phone calls, and even some Facebook Live events," he wrote. "Last week I realized, I am not okay. It first came when I became literally too 'sick' to get out of bed every morning for two weeks."
Kitchen concluded his post saying, "Then last Friday I couldn't get out of bed at all. It was my body's way of saying, we are not okay."